This post was sponsored by JOLLY TIME. Thank you for supporting
the brands that help make The Sweetest Occasion possible!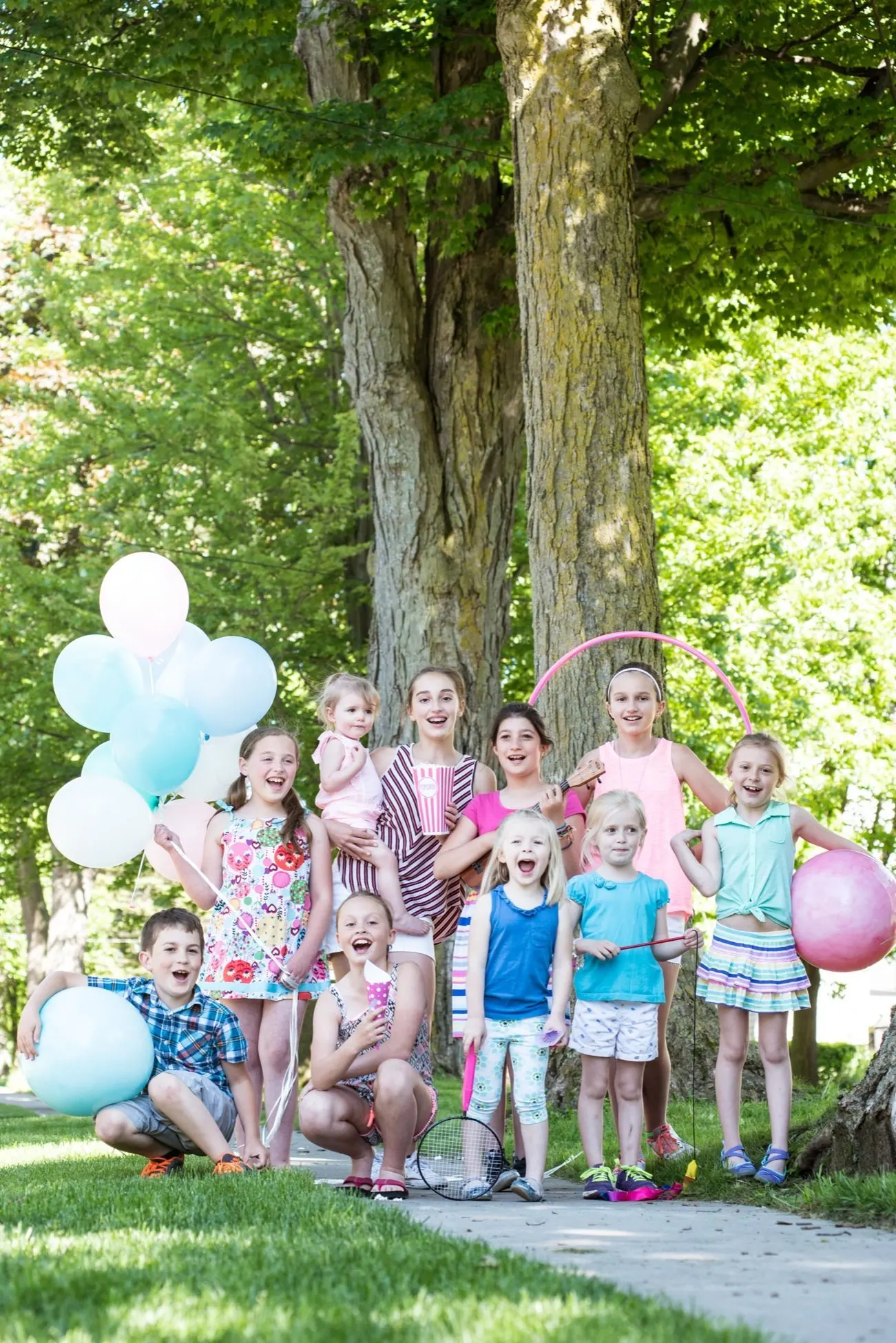 When we moved into our neighborhood a year ago we were thrilled to discover that we had unknowingly bought a house on the coolest block in town. Our neighbors have become incredible friends and we love that they all have kids, and that they also share our family-centric yet fun-loving ways. This time of year the afternoons mean nearly a dozen kids running up and down the street riding bikes, throwing lacrosse balls and chasing down the ice cream truck. When JOLLY TIME asked if I wanted to host a fun summer party for our neighborhood crew, there wasn't a chance I'd turn that down. Enter one brilliantly sunny June afternoon, a serious stash of lawn games and a whole of bunch of yummy yet healthy snacks inspired by JOLLY TIME's new Simply Popped Microwave Pop Corn, and we had some insanely happy kids who spent hours playing and laughing. (While us moms looked on and marveled at how each and every one of them was immediately ready to ham it up for the camera.) Today I'm sharing all the details (including all the adorable photos that Alice captured), plus my tips for hosting a fun summer lawn game party of your own!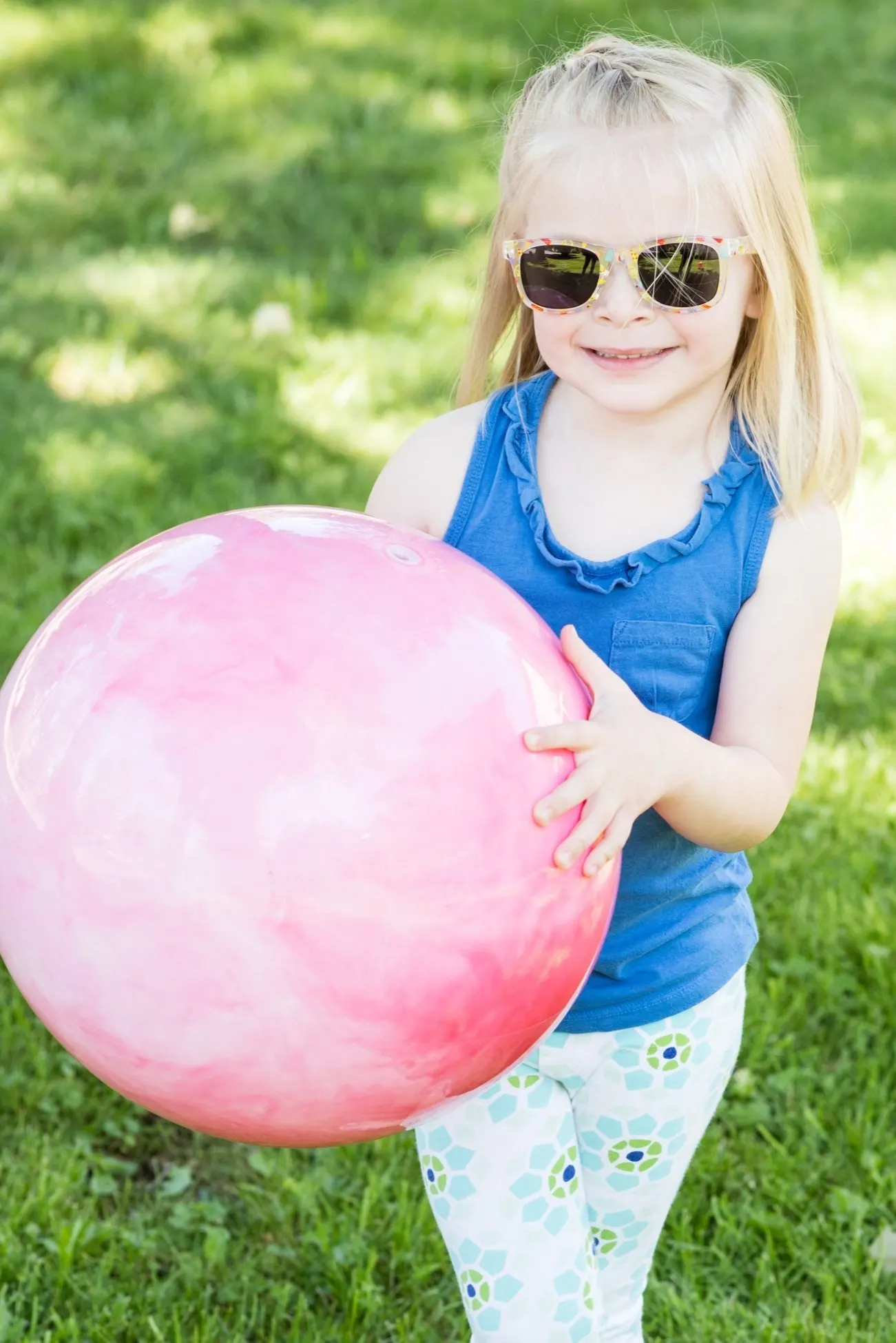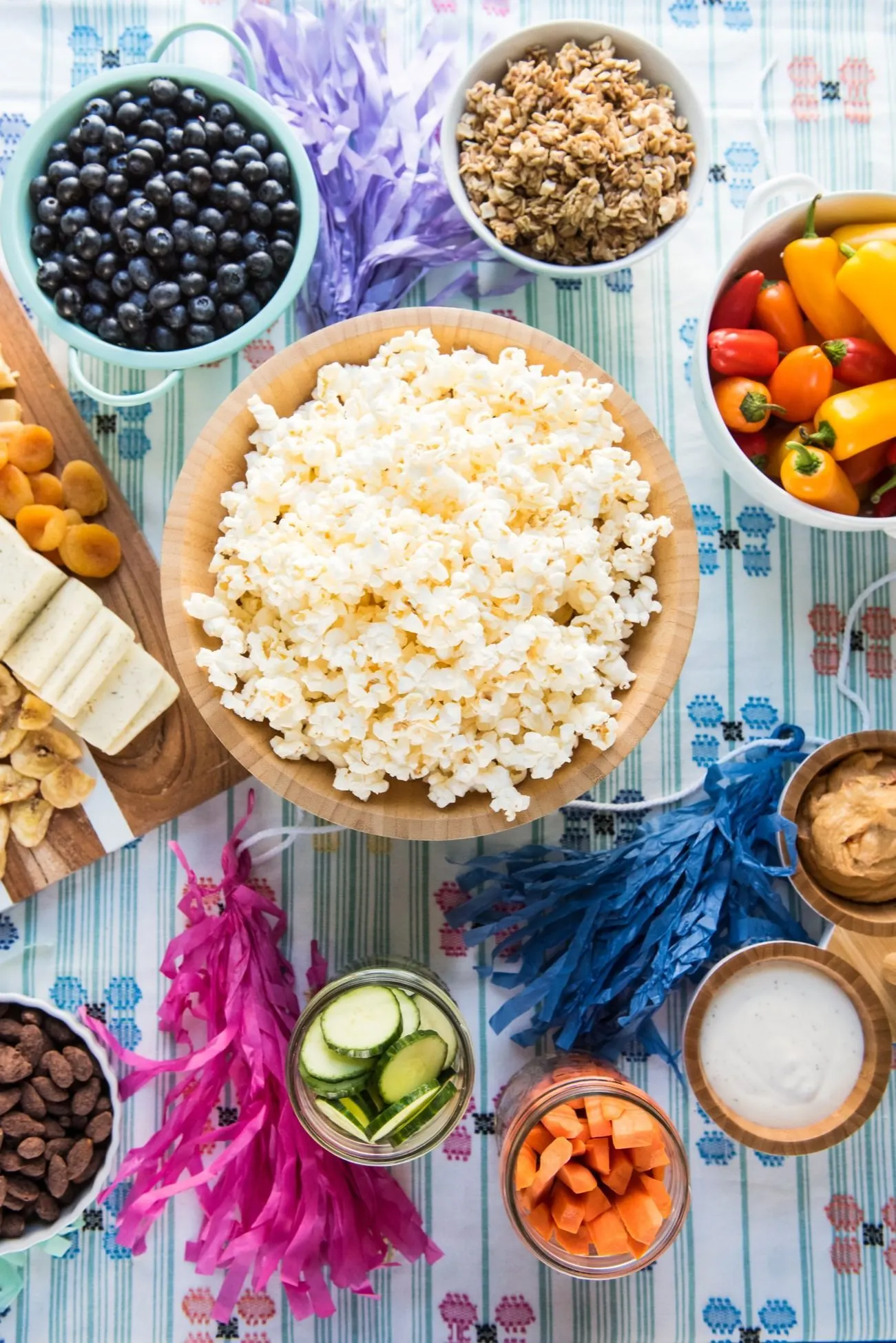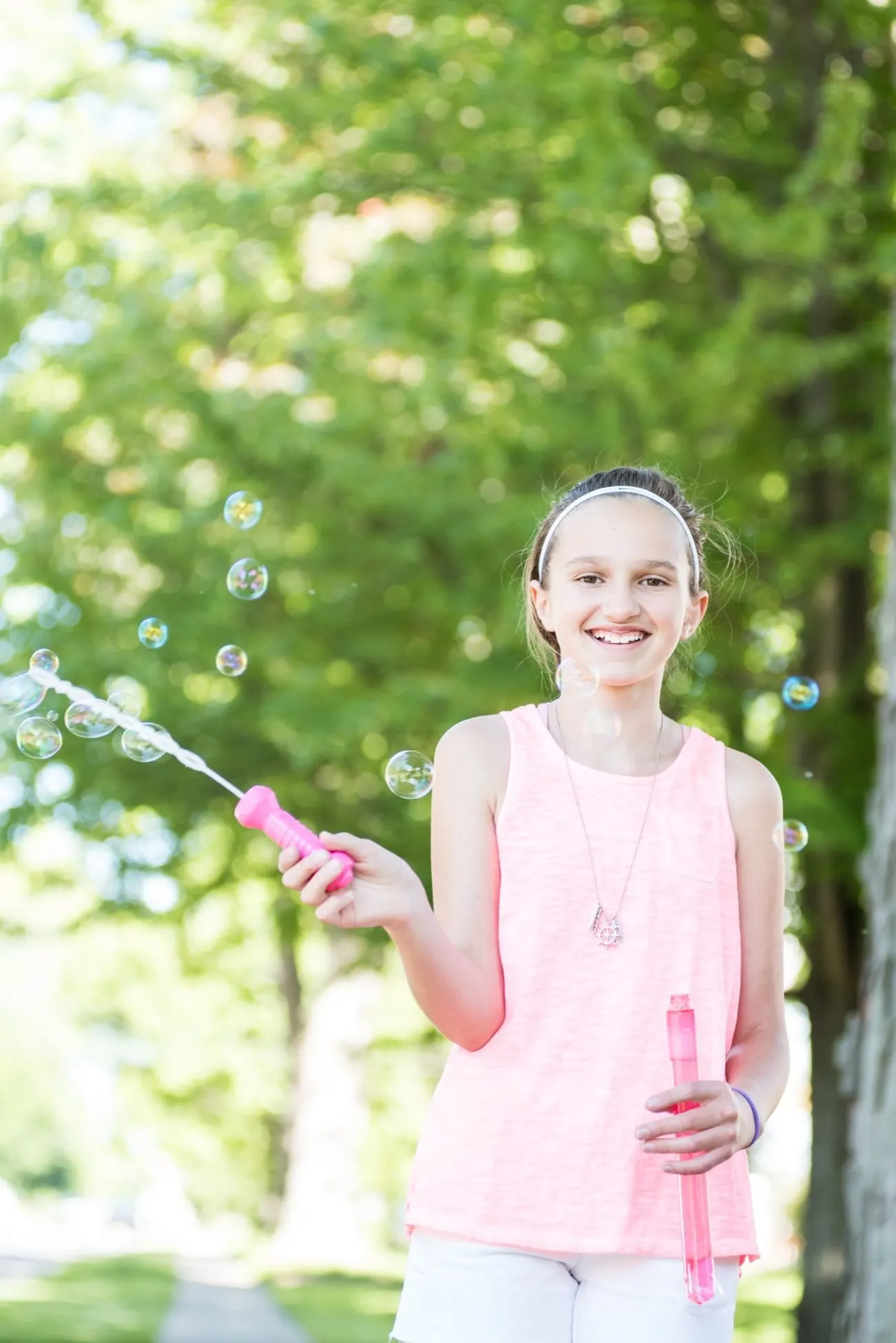 With many years under my belt as an aunt, stepmom and now mother, there is one universal constant about kids that I'd be willing to hang my hat on any time, anywhere. Kids are always starving. As in, always. A solid 100% of the time. Accordingly, I try to keep a stash of kid-friendly snacks at the ready at all times. Our neighborhood has this weird yet awesome obsession with popcorn so it tends to make an appearance at every gathering, small or large, impromptu or intricately planned. JOLLY TIME's new microwave butter popcorn Simply Popped is made with just four simple ingredients that you can actually pronounce: butter, sea salt, non-GMO popcorn and oil, making it the perfect party or everyday snack. It's also gluten-free, and rich in fiber and whole grains with only 35 calories per cup and a great buttery taste that pops up hot, fresh and steaming. With the popcorn as the star of the show, I created a big spread of healthy snacks for our little party with things like fruit, nuts, cheese, veggies, hummus, granola and dried fruit. For kids I recommend keeping the flavors fairly simple with just a couple cheeses that are milder in flavor (such as cheddar and munster), plus lots of easily identifiable fruits like grapes, blueberries and cherries. (So, skip the figs and dragon fruit on this one!) You can prep these snacks easily while they're running around in the backyard or even if you find yourself overrun with kids unexpectedly, because Simply Popped has the taste of stovetop, homemade popcorn with the convenience of microwave popcorn so it's ready in just a few minutes!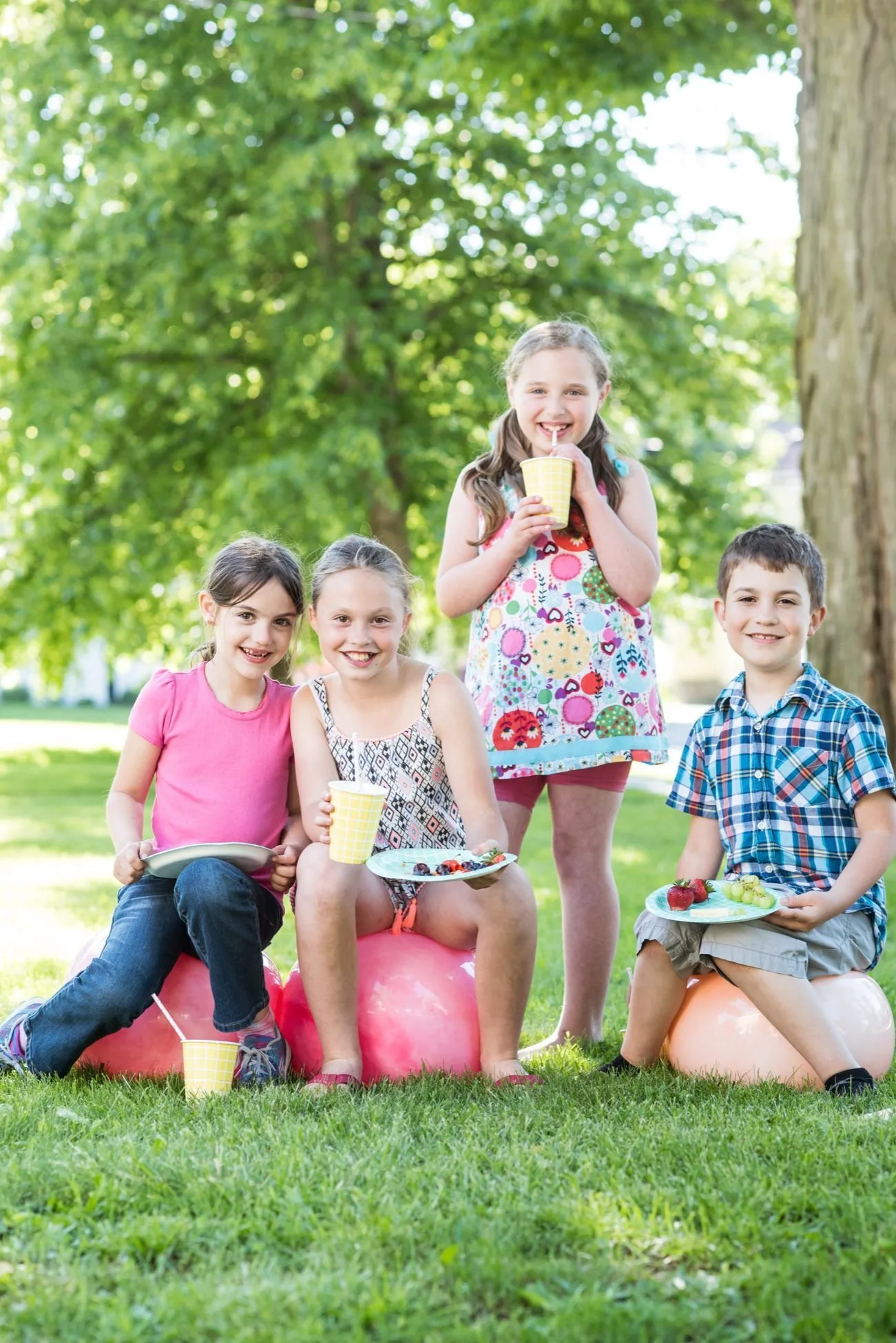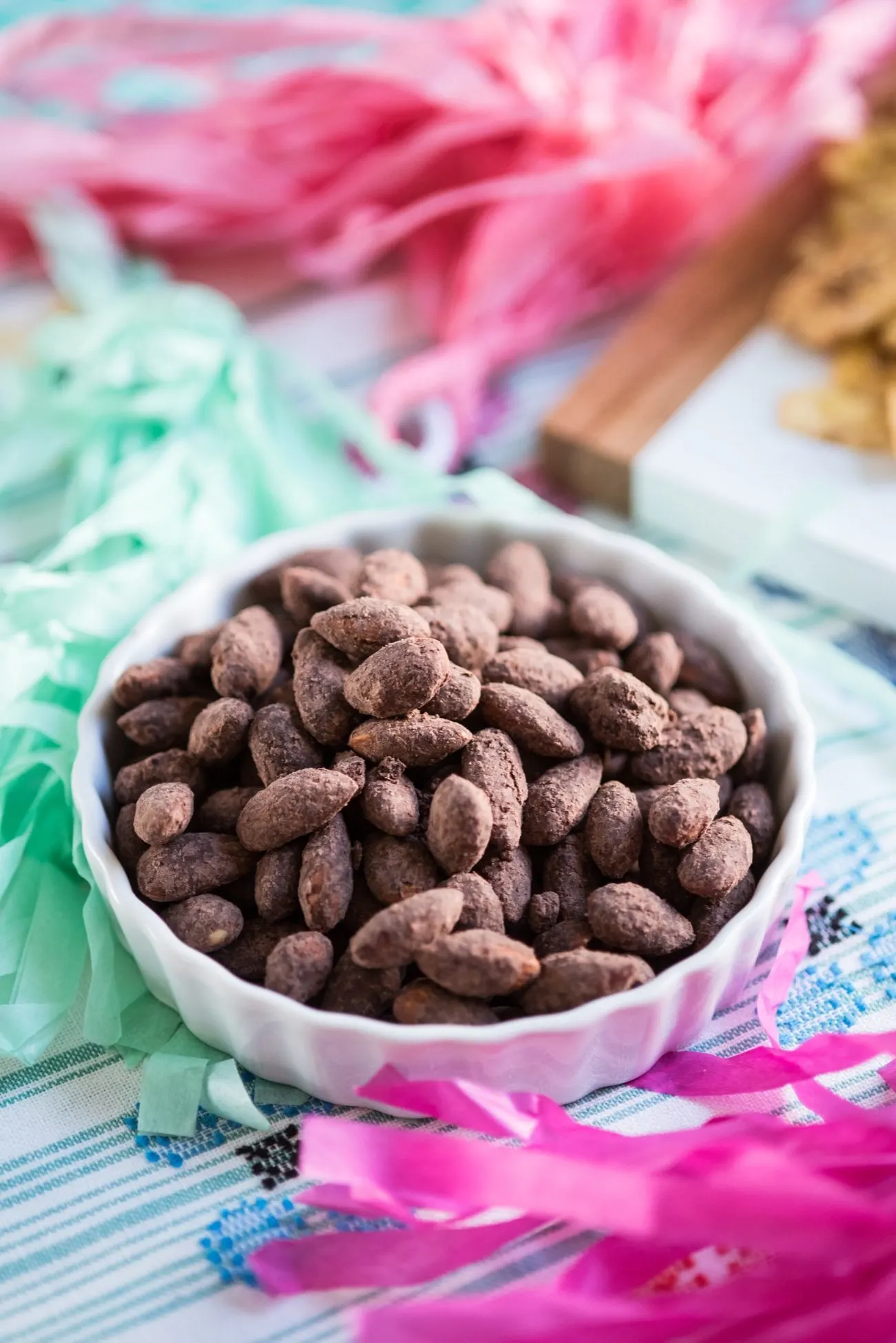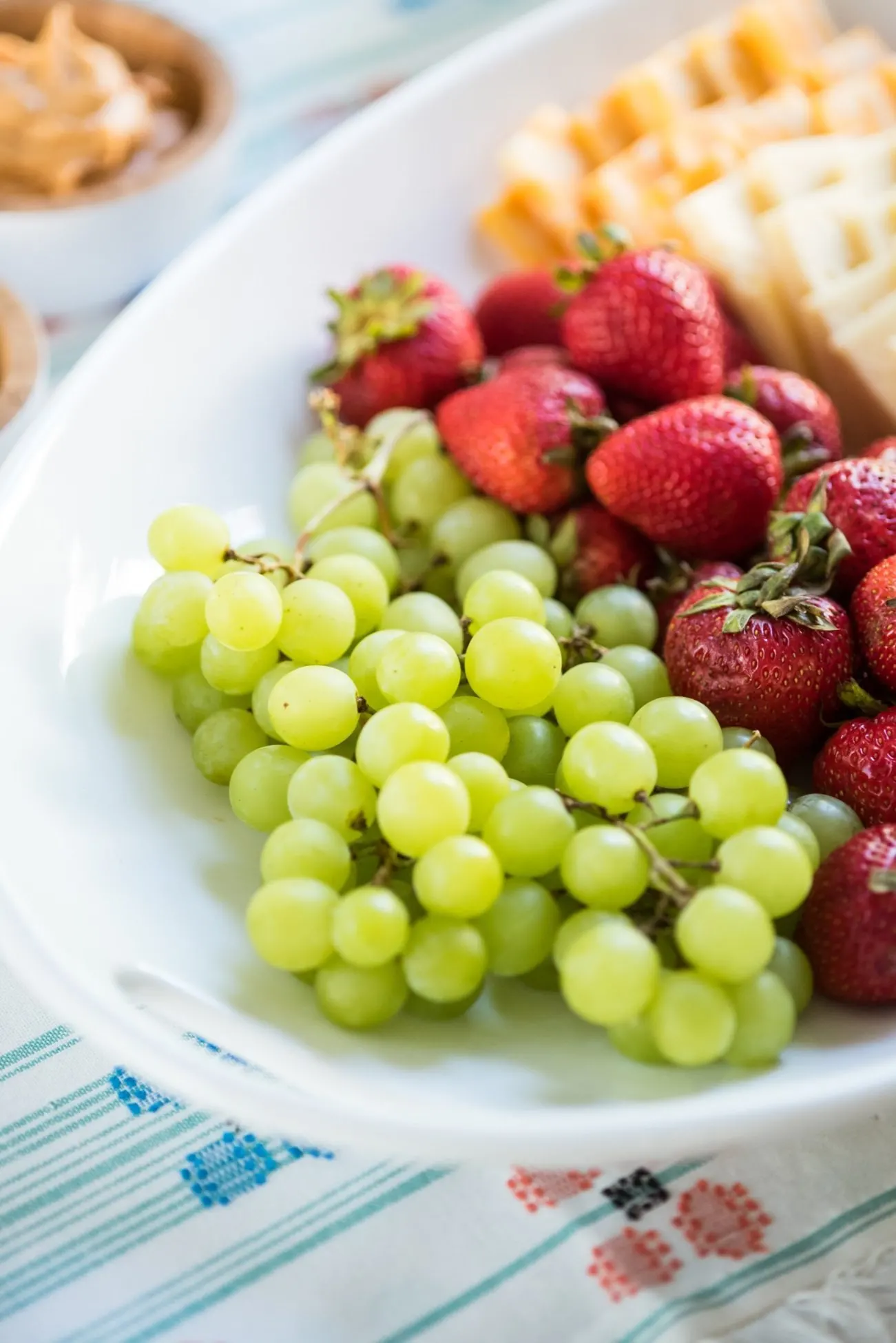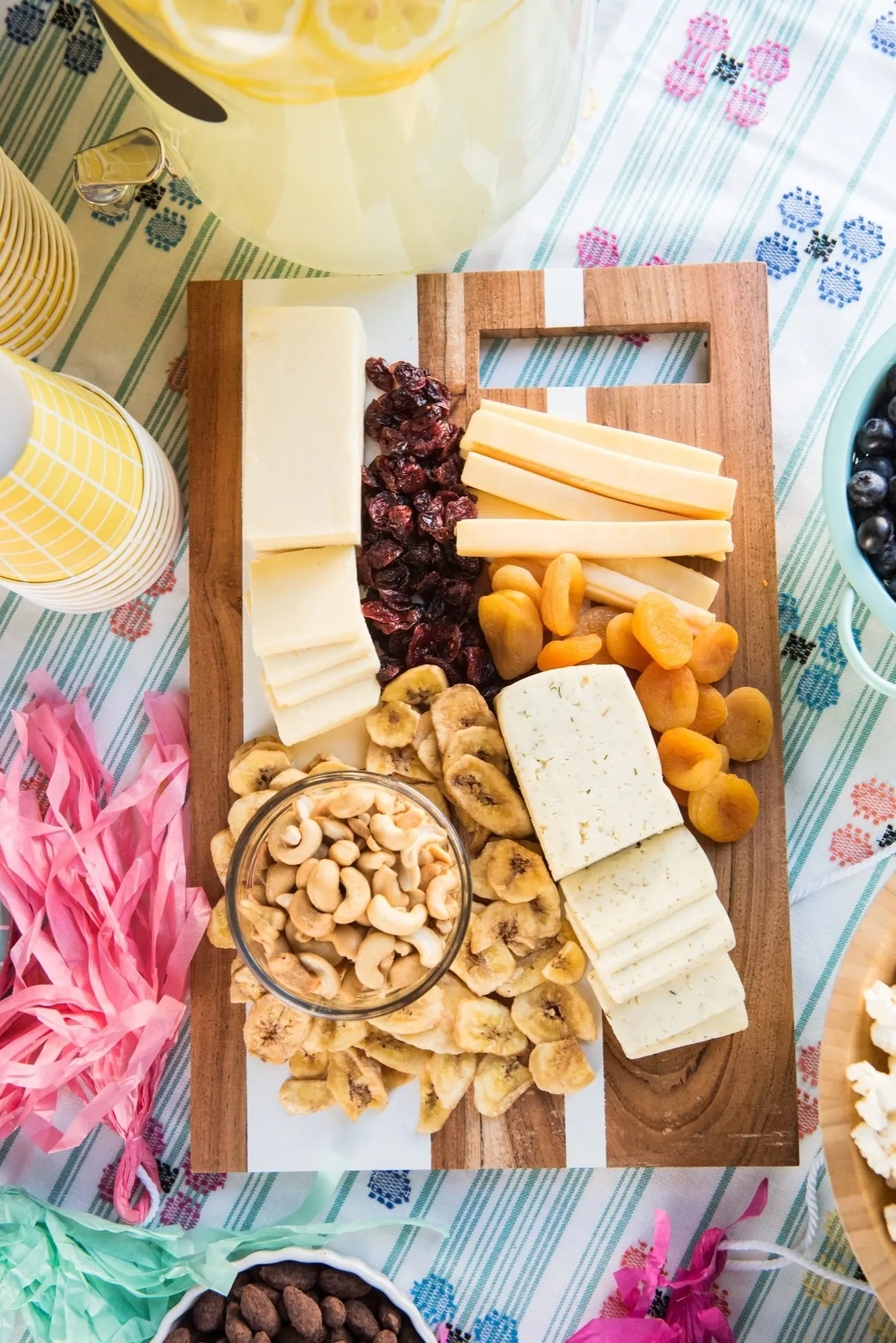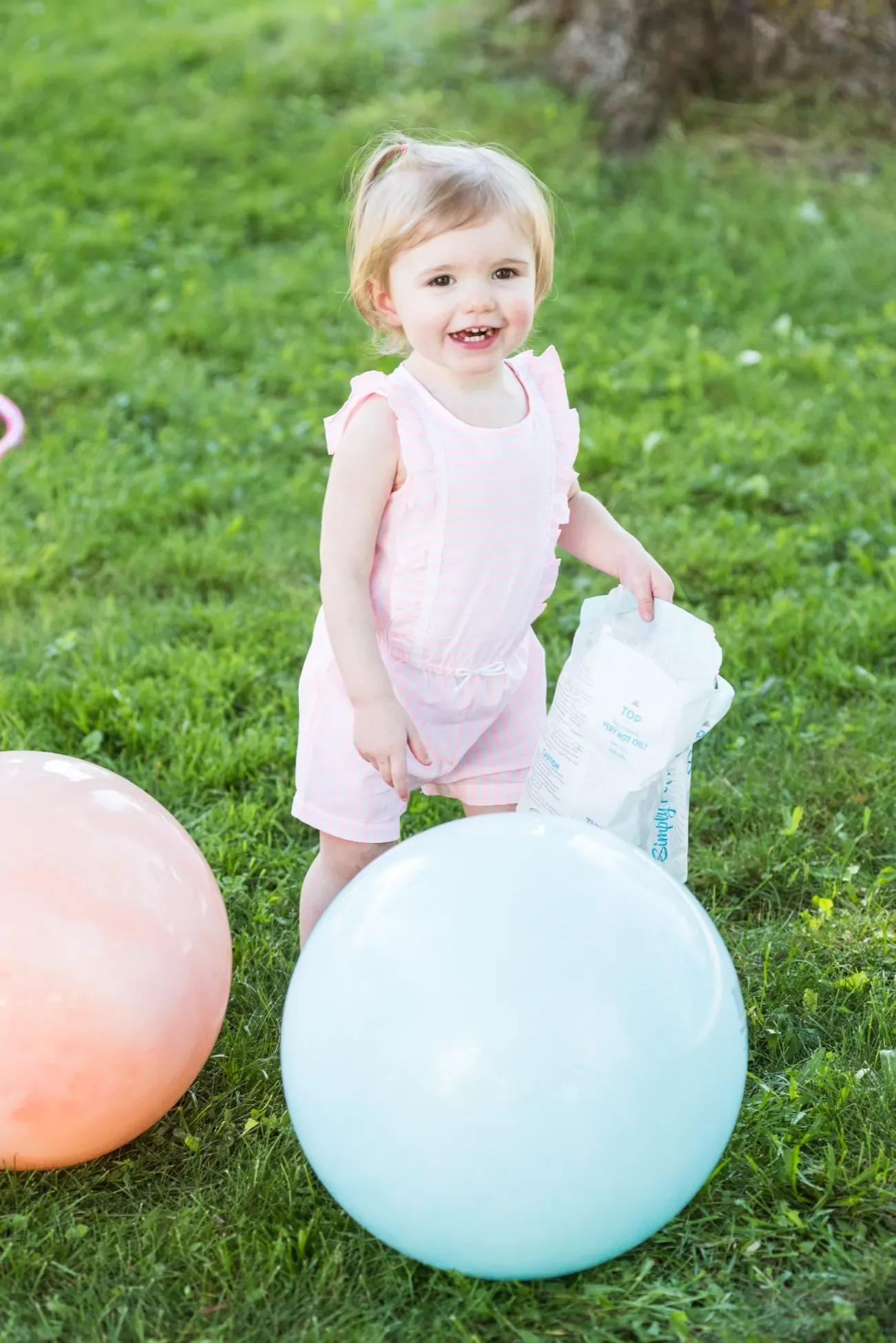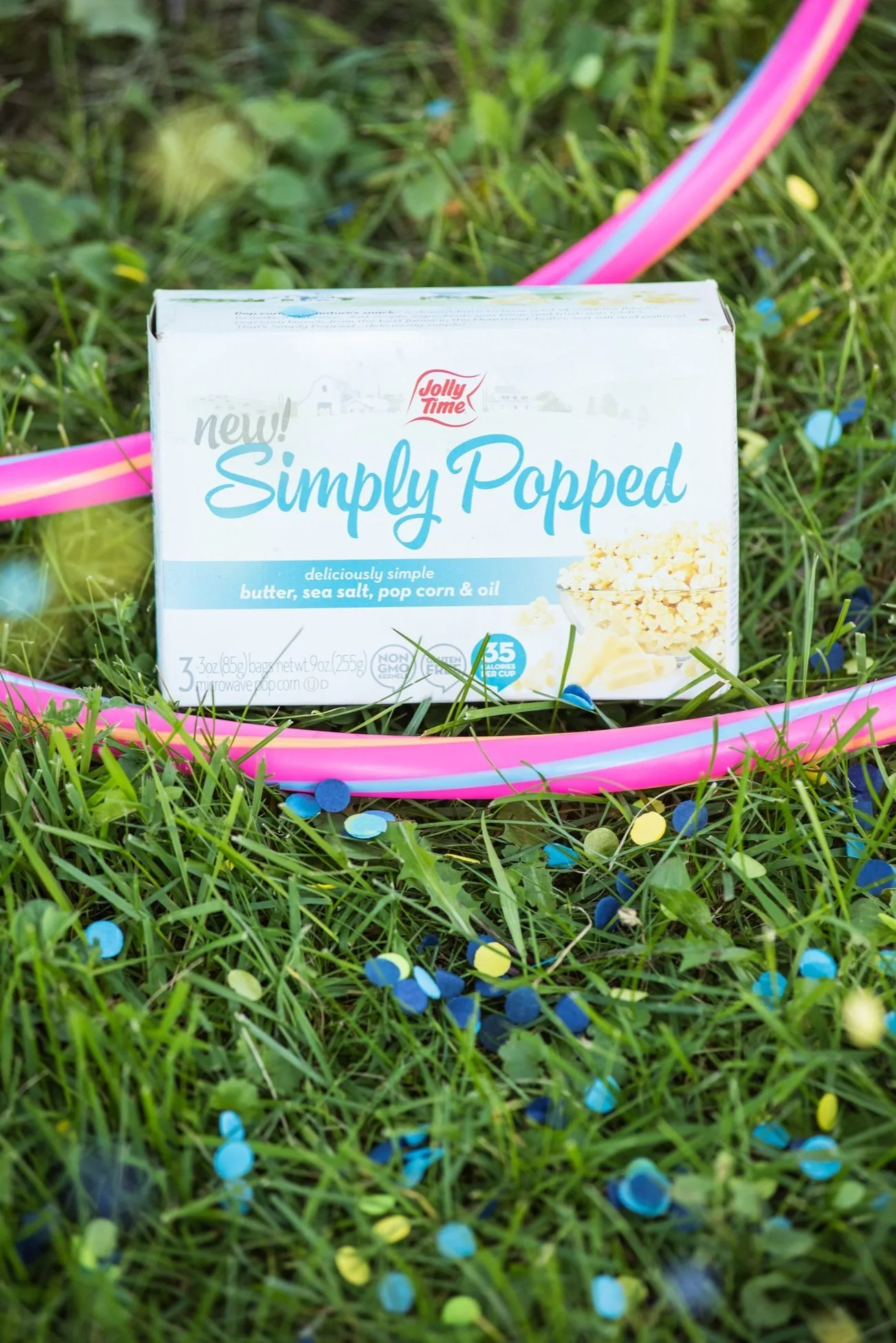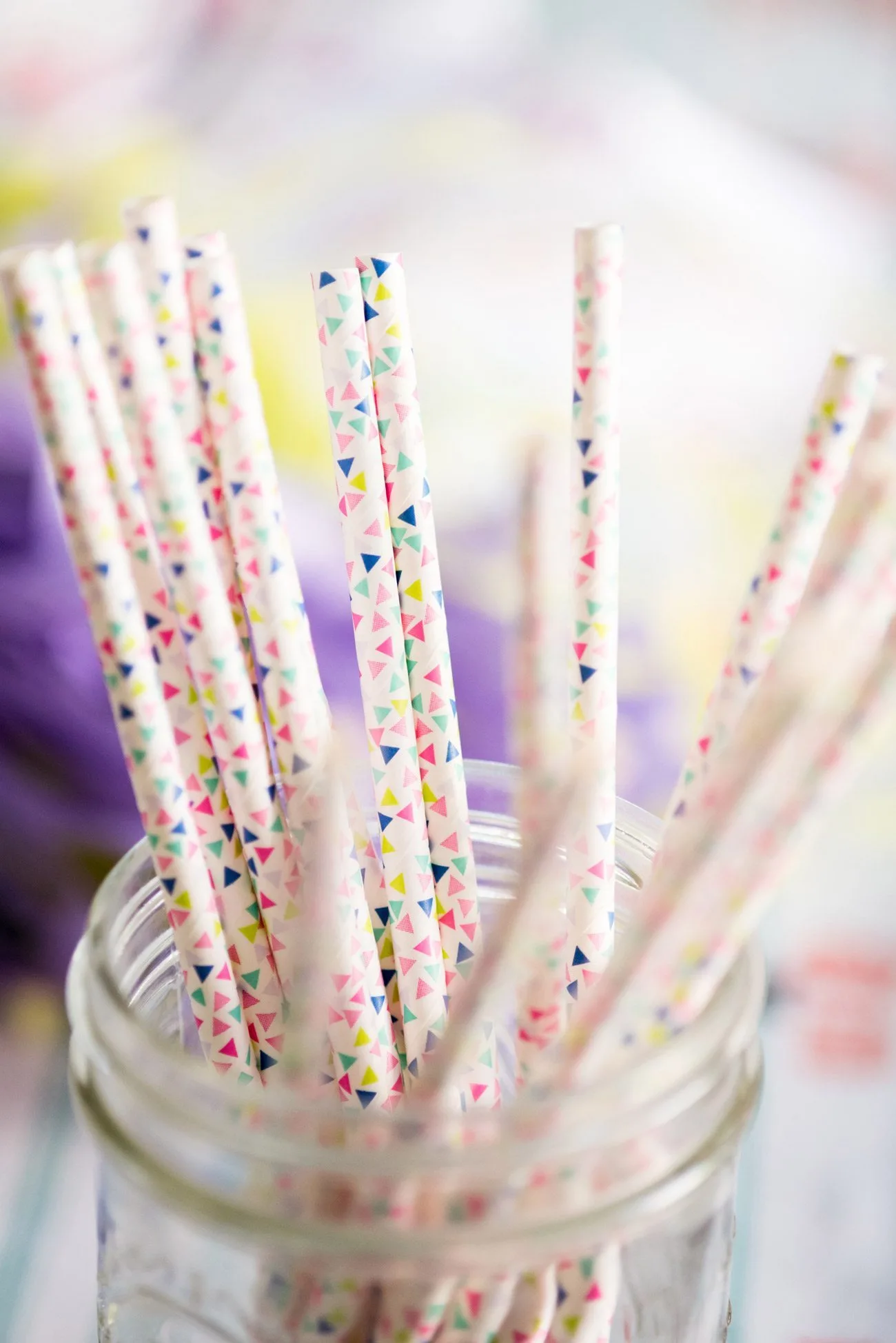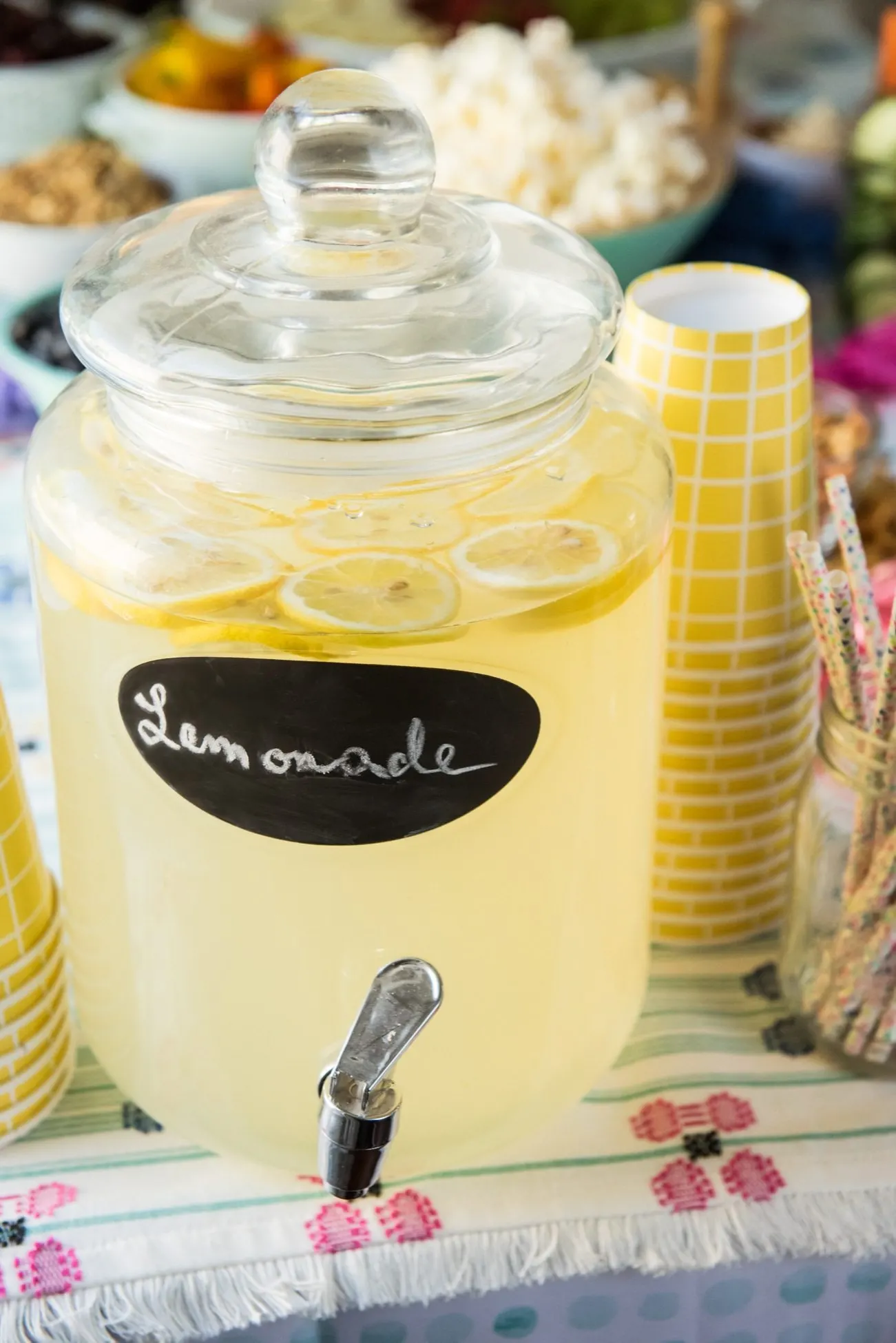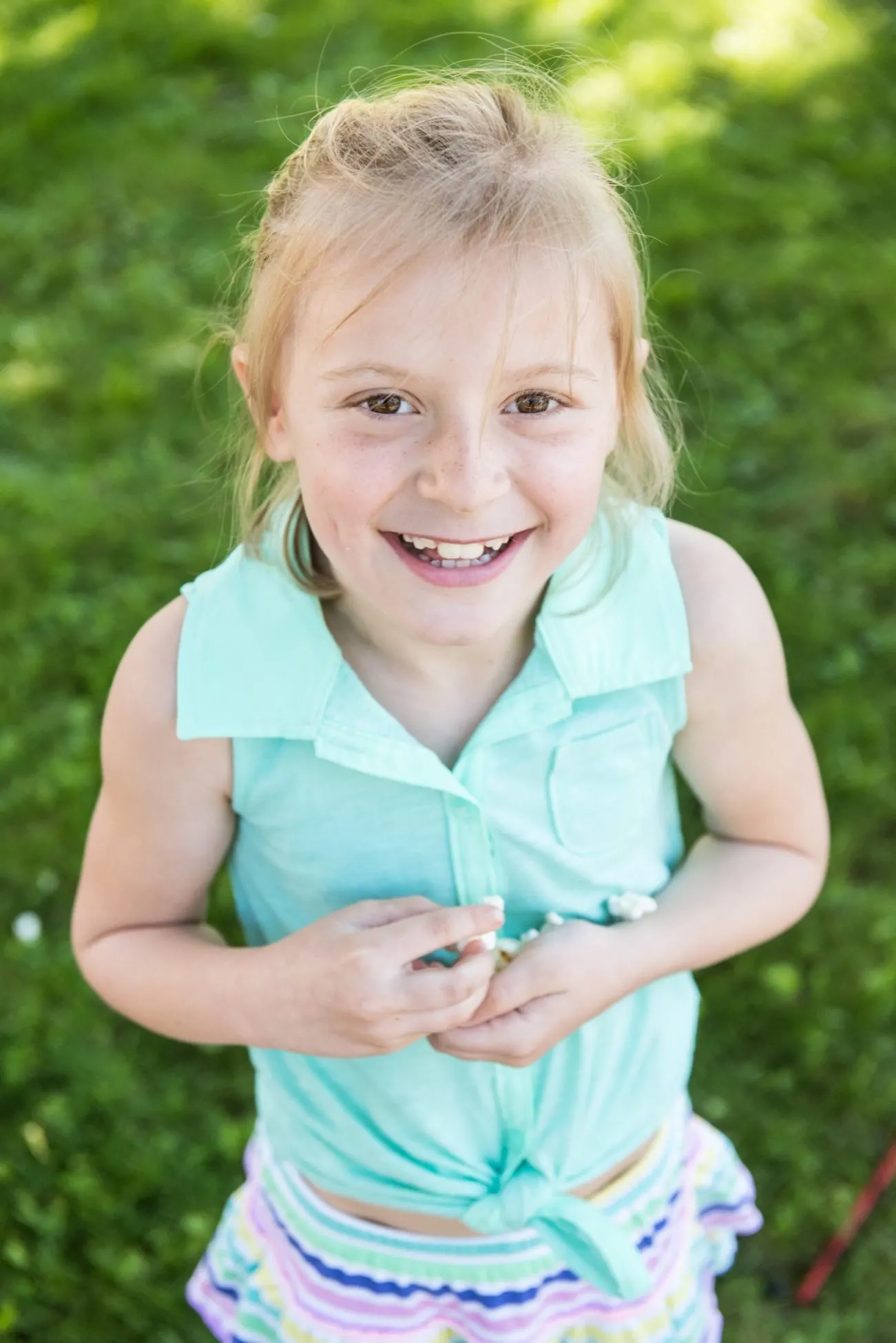 THE ACTIVITIES + GAMES

For our lawn party I wanted to have a ton of fun things for the kids to do so I busted out our stash of hoola hoops, ribbon sticks, kick balls and bubble wands and largely let the kids go wild on their own. I also bought inexpensive burlap potato sacks on Amazon for a few bucks so we could organize a few good old fashioned sack races, which were a huge hit! While they largely didn't know or follow the rules I also gave the kids free reign with the badminton rackets, croquet and bocce ball and it was a blast watching them all make up their own games and run around laughing and picking on each other. One of the sweet little ladies in the neighborhood can also play a mean ukulele so she brought hers along to provide us all with a bit of live entertainment. How cute is that? Not included were water balloons, which would also be a lot of fun especially as summer heats up! The bottom line? Toss a bunch of fun games and toys out on the lawn, add kids and snacks, then sit back and watch the fun commence.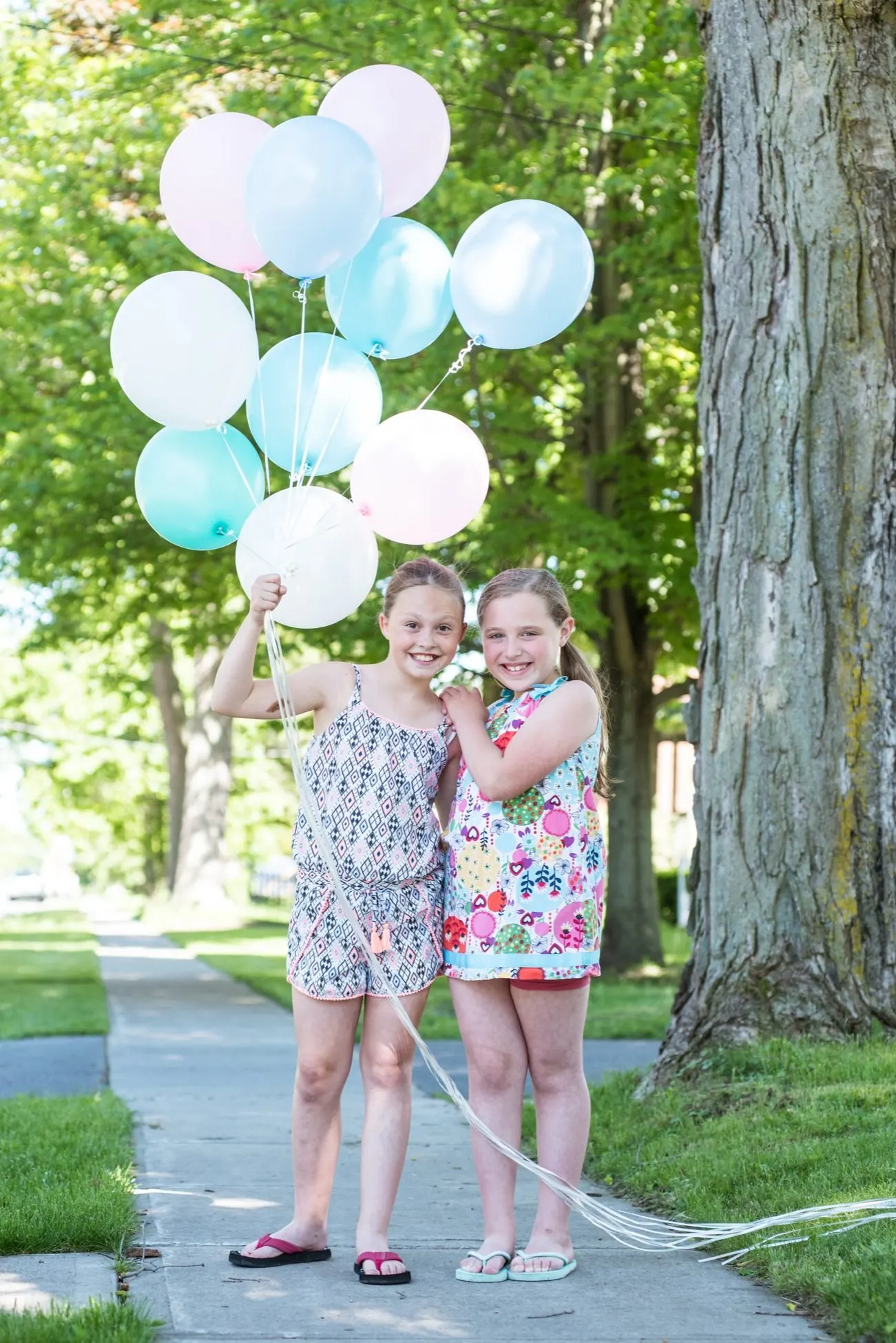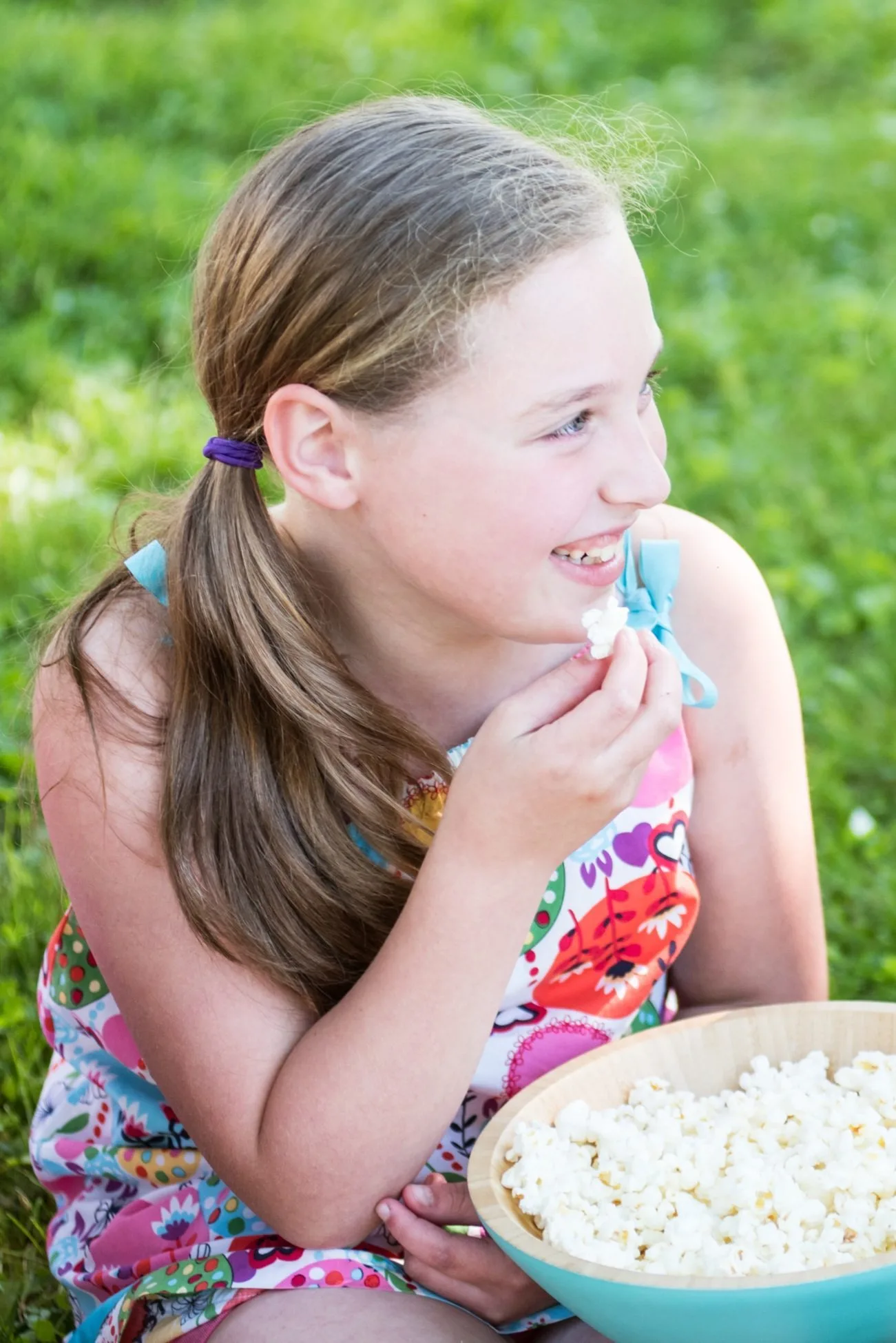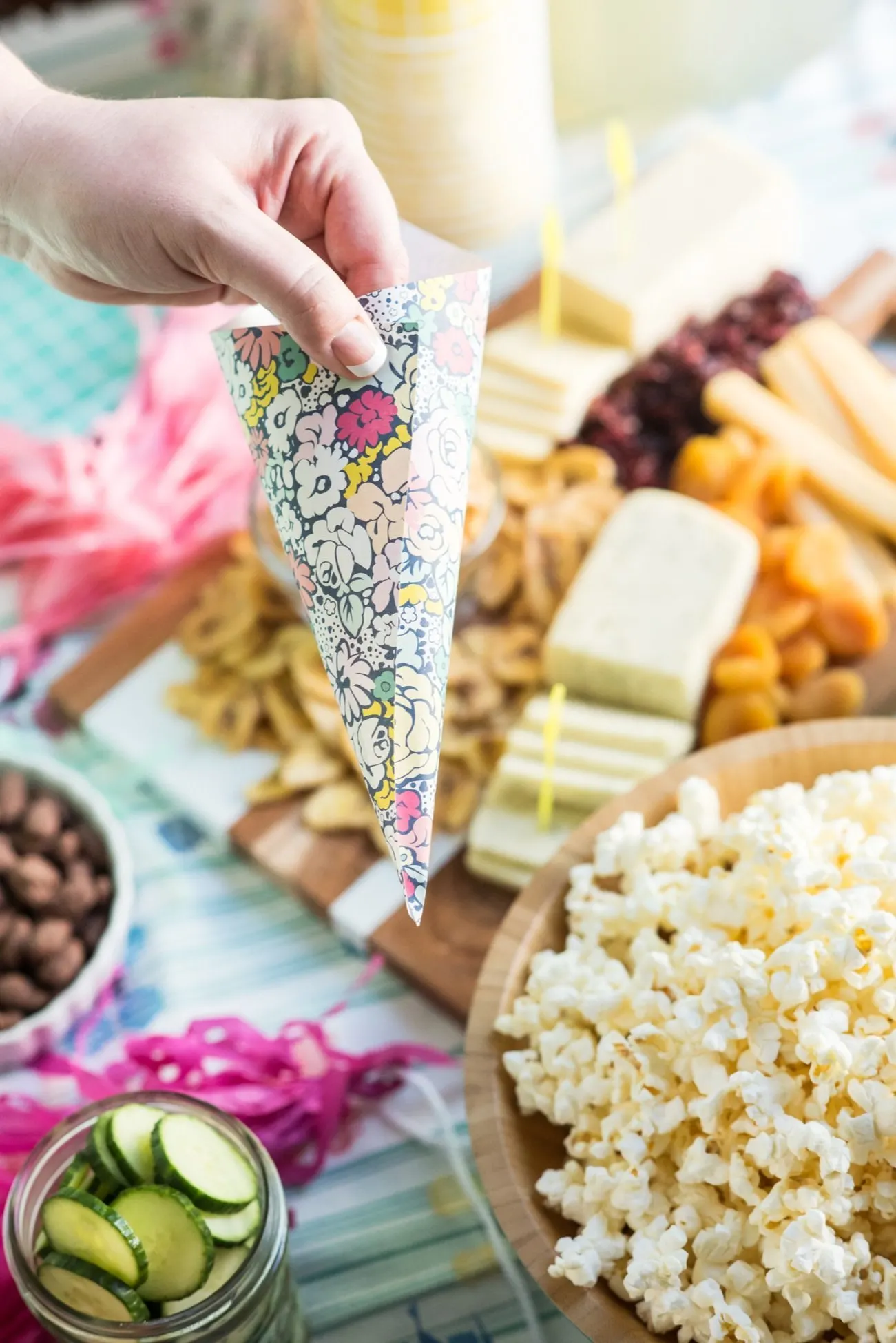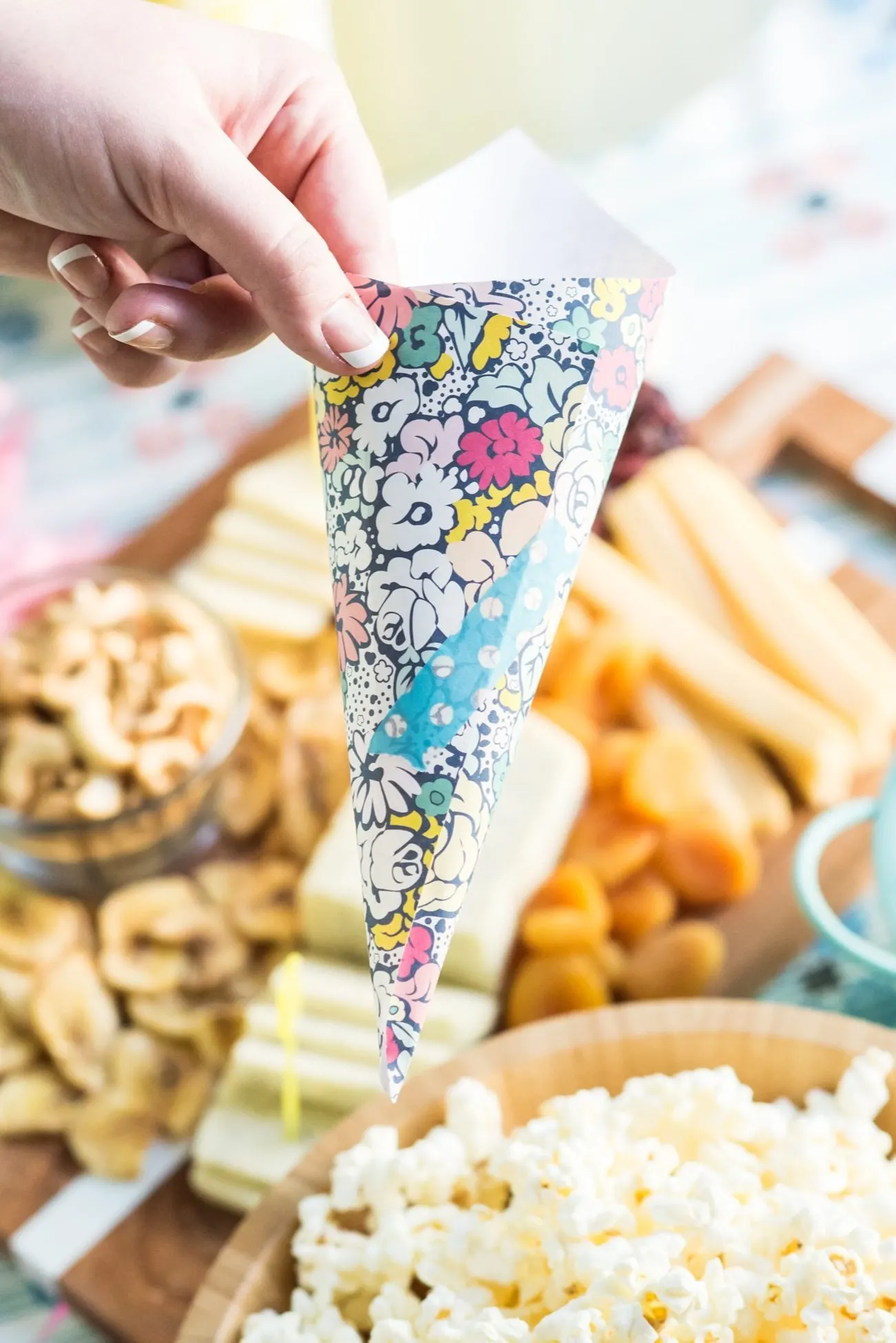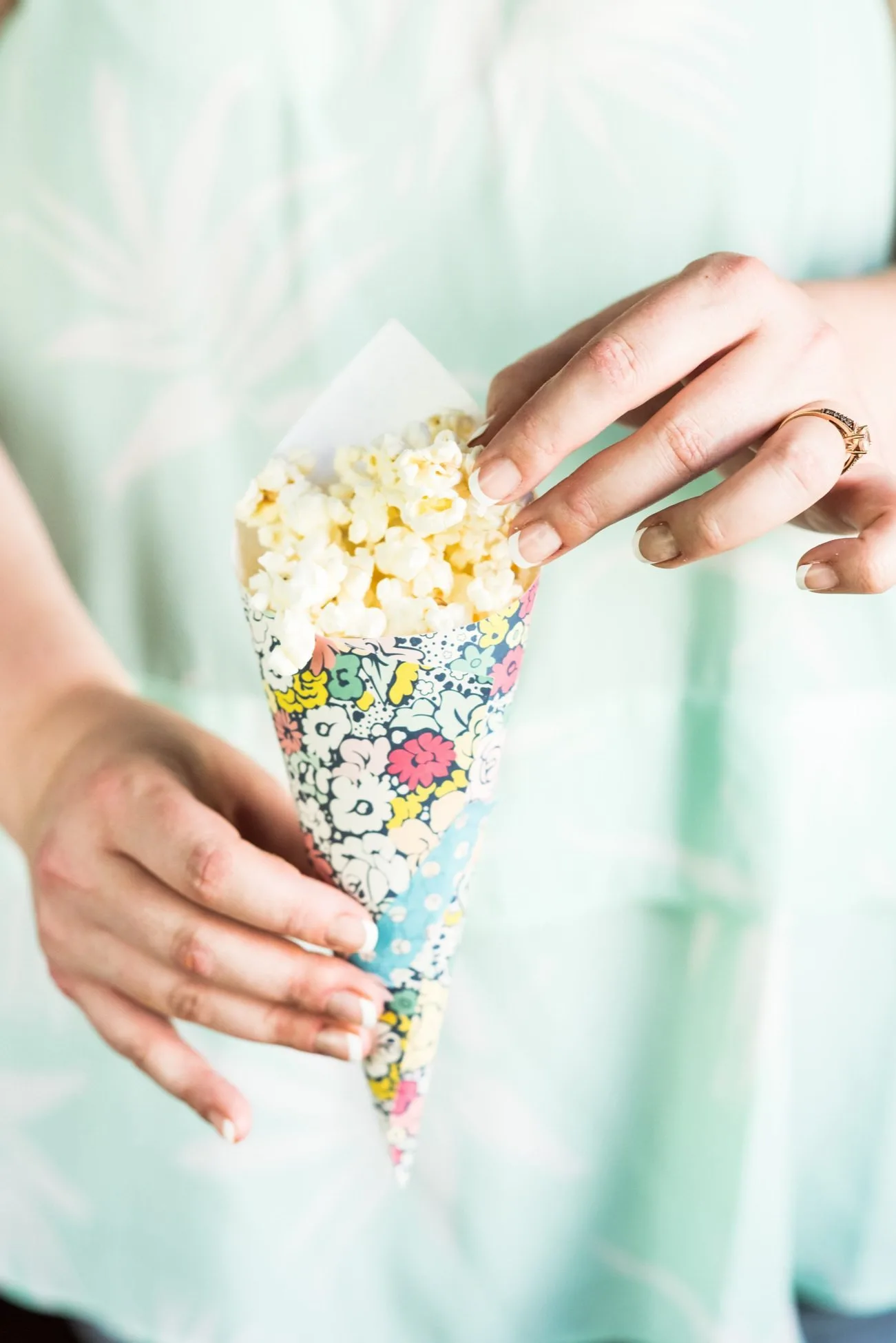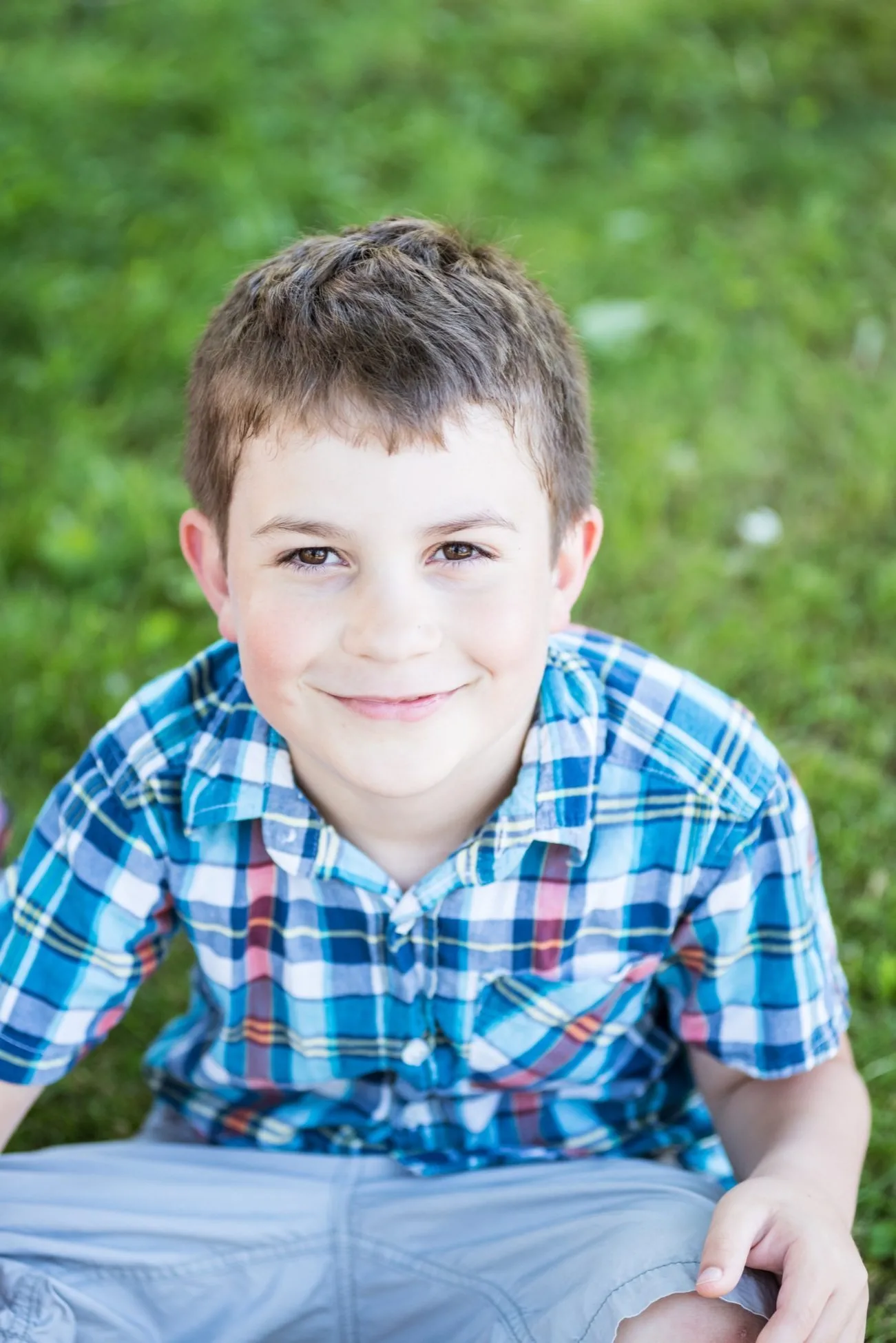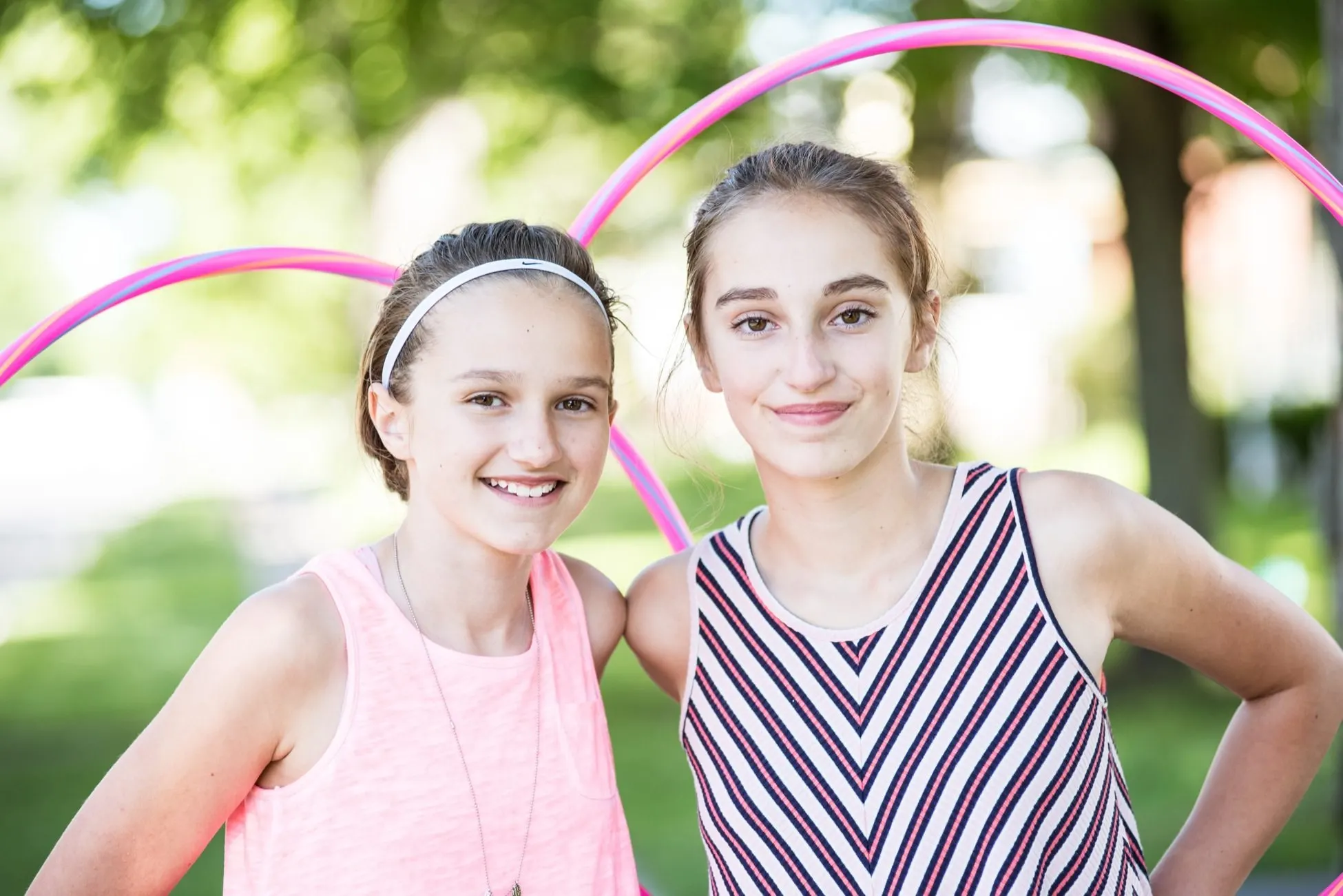 THE DETAILS

Because for me a party is never complete without a few extra special details, I made cute paper popcorn cones from festive, summery scrapbook paper and let the kids fill them up with big handfuls of JOLLY TIME Simply Popped Microwave Pop Corn. I love that this popcorn is a simple, delicious and cleaner snack choice so I really wanted the kids to get even more excited about munching on it! I cut each sheet of paper into a square roughly 8″ x 8″ then rolled it into a cone shape and secured it in place with colorful washi tape. I also ran out a few hours before I expected the kids over in the afternoon to buy a big bunch of balloons, which instantly gave everything that party vibe we were going for with this shindig. Cute paper straws, a few decorative touches on the food table like tissue paper tassels and a great embroidered table cloth, plus a big dispenser full of lemonade and things were looking and feeling especially summery and exciting when the kids showed up to party.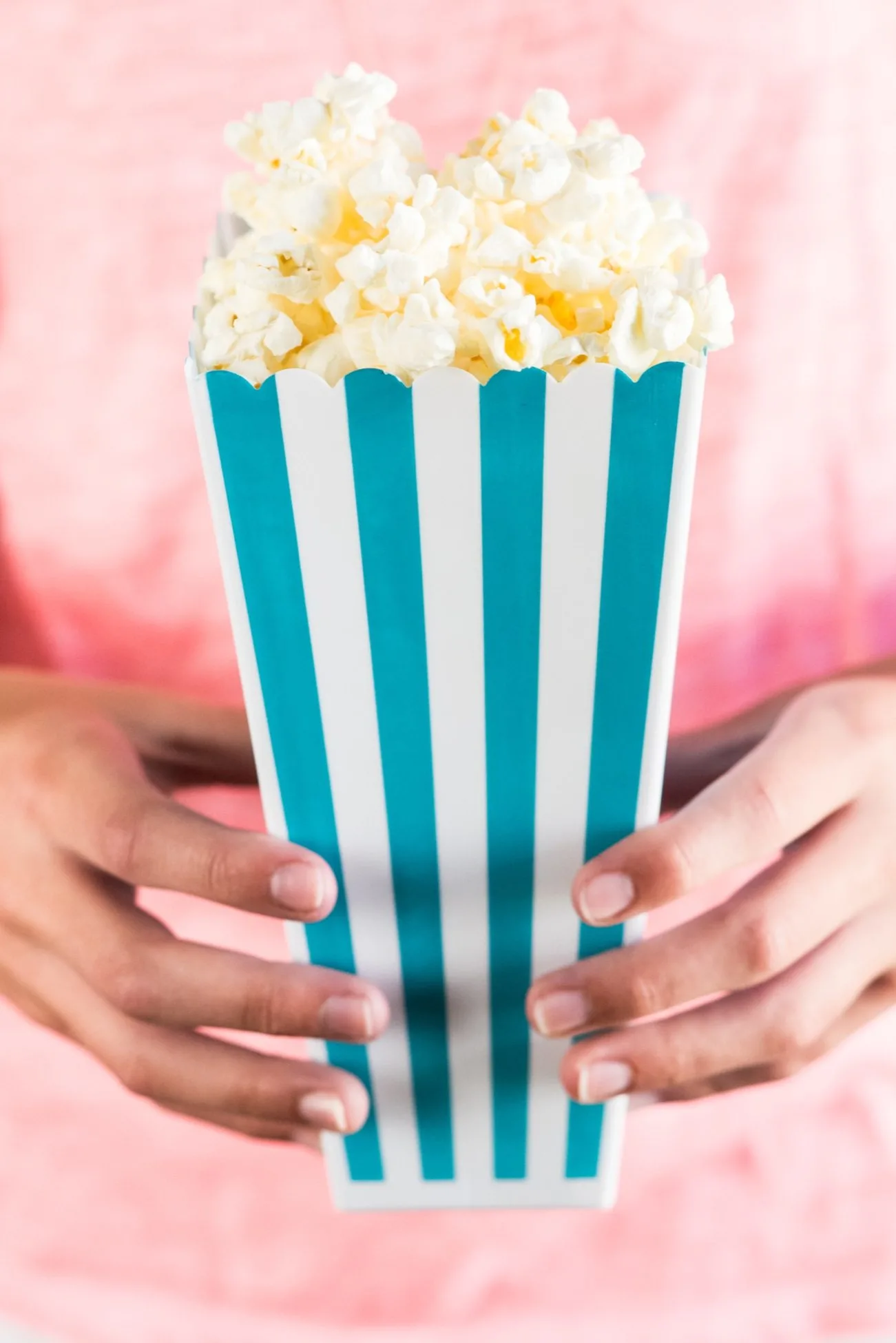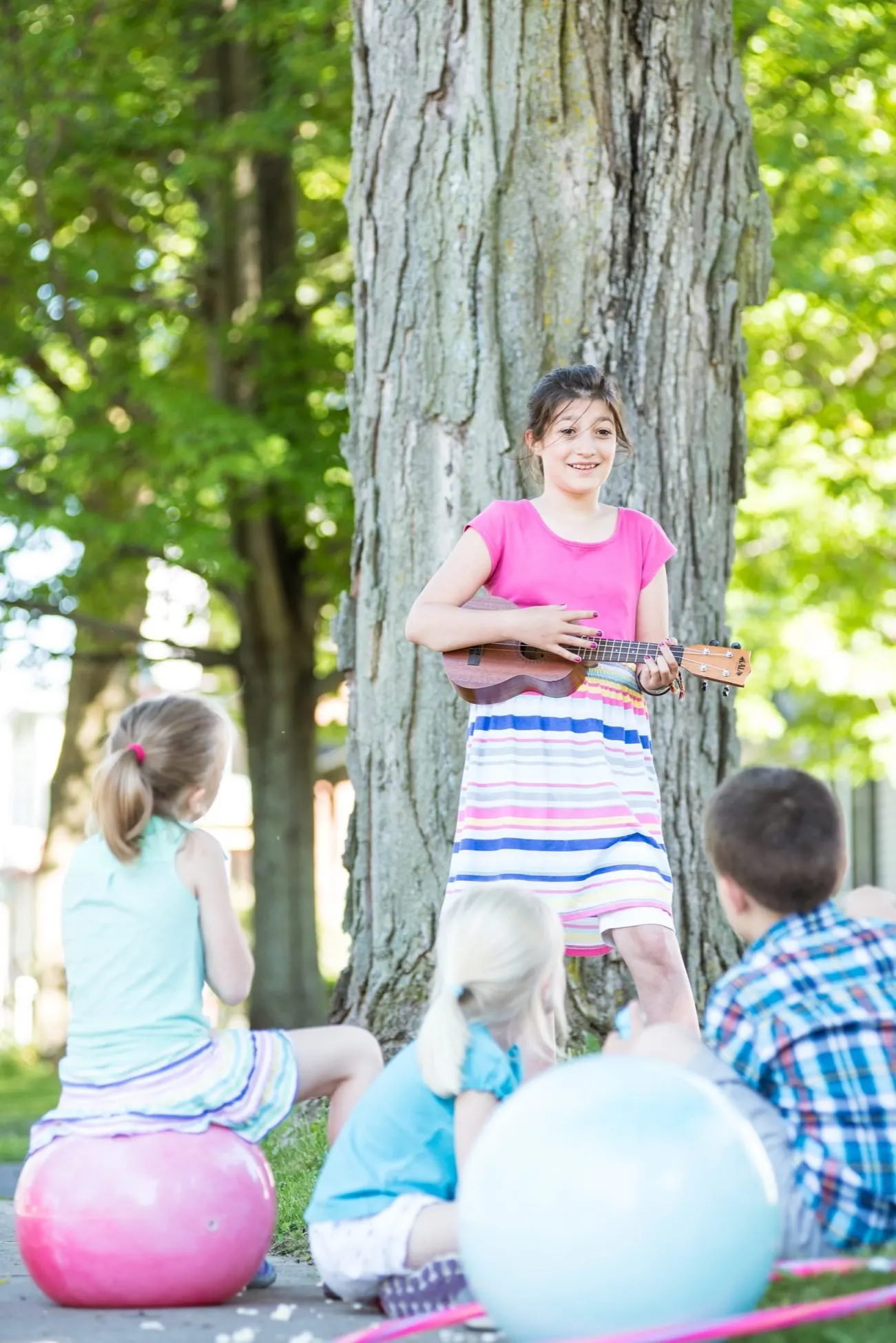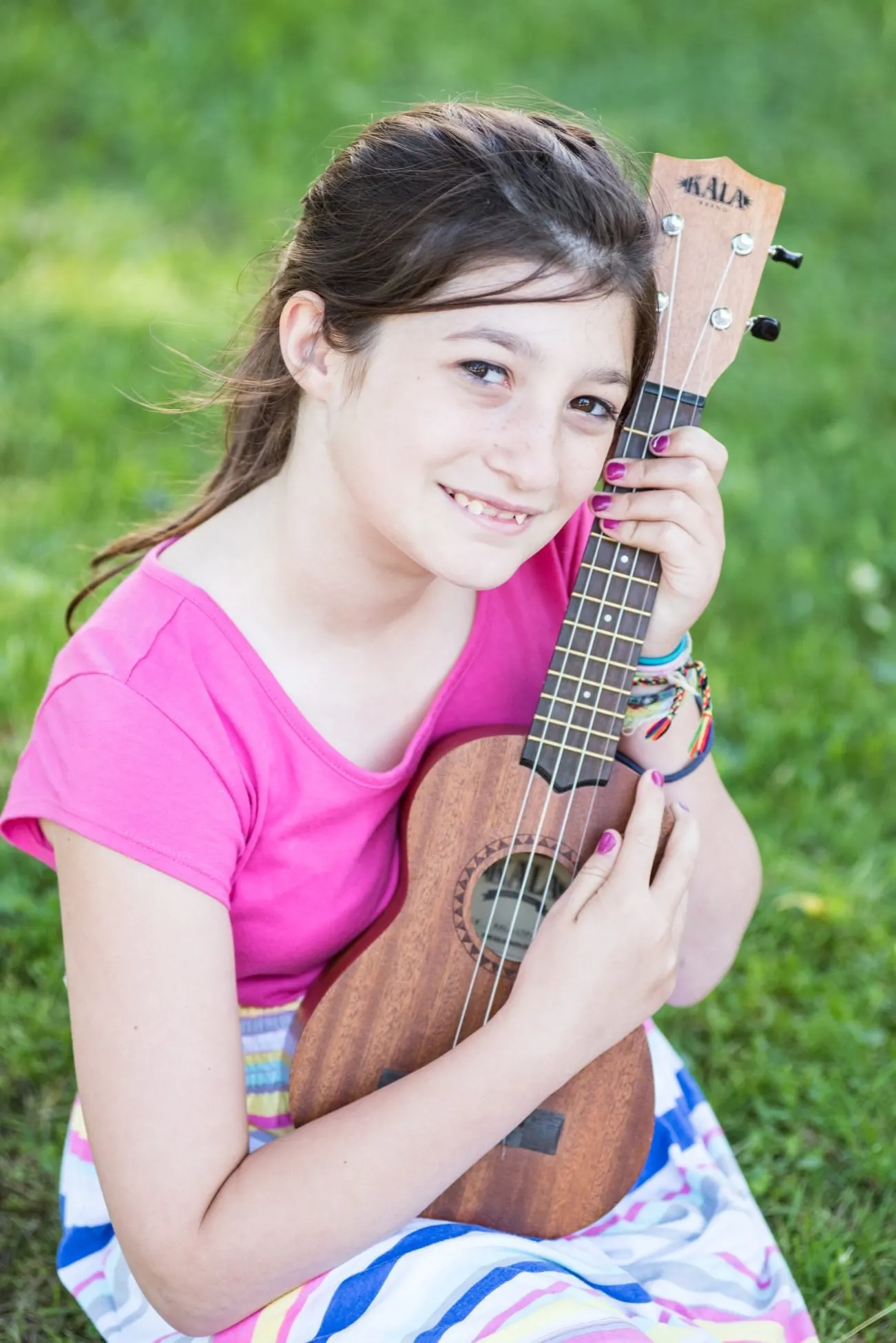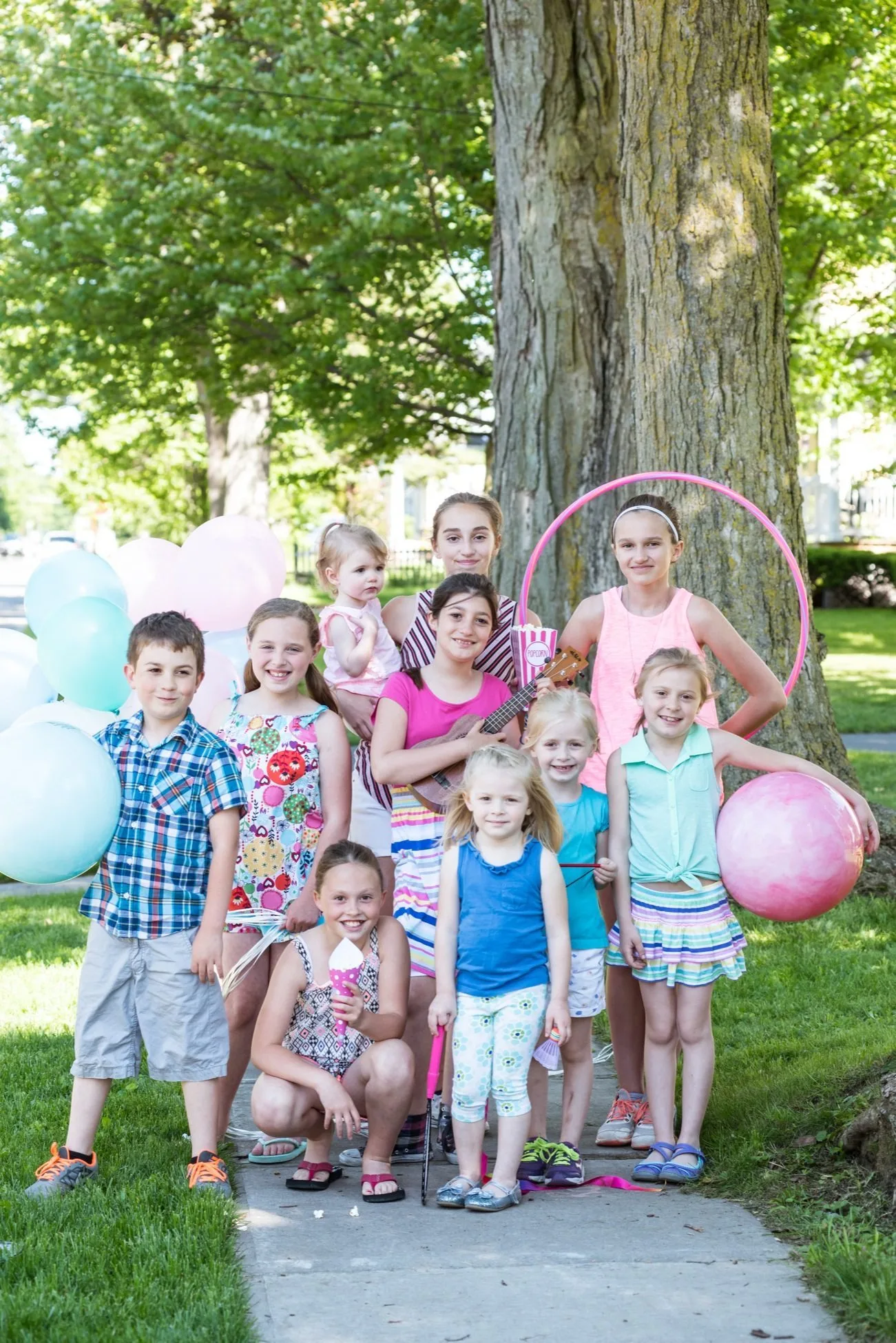 A huge thanks to JOLLY TIME for inspiring and collaborating with me on this party! You can check out more fun ideas on the JOLLY TIME Facebook page! It was a sincere treat to be able to host the neighborhood kids for an afternoon that had them all laughing and running around joyfully. And an especially big thanks to all of my little pals (Ella, Charlie, Jillian, Amelia, Olivia, Maddy, Alex, Kate, Gabby, Dana, Nathan and Gus) for joining Emerson, Alice and I to eat a bunch of popcorn and run around like a pack of wild animals. Very delightful, impossibly cute, happy little wild animals.
[Art direction + styling by Cyd Converse | Photos by Alice G. Patterson.]
This post was sponsored by JOLLY TIME Pop Corn. I received compensation for this post, but all opinions are my own. Read more about our editorial policies.