I am so excited to announce that starting right now with this amazing cake, the super sweet Melina of Sugary & Buttery will officially be joining us once a month to share one of her amazing confections. Melina is an infinitely talented baker and food photographer, and she's also a new mom. In short, she's awesome. I can already promise you that if you're not already following her blog you definitely should be, because I know she's going to be serving up some amazing treats throughout the holiday season. (Currently these peach cupcakes with vanilla bourbon buttercream are rockin' my world!) Today we're kicking things off with this hazelnut cake with marzipan and apple buttercream. Consider this one perfect for all your fall festivities and the yummiest addition to your Thanksgiving feast. Also, I won't judge if you want to eat a piece with your morning coffee. Cake + coffee = always ok.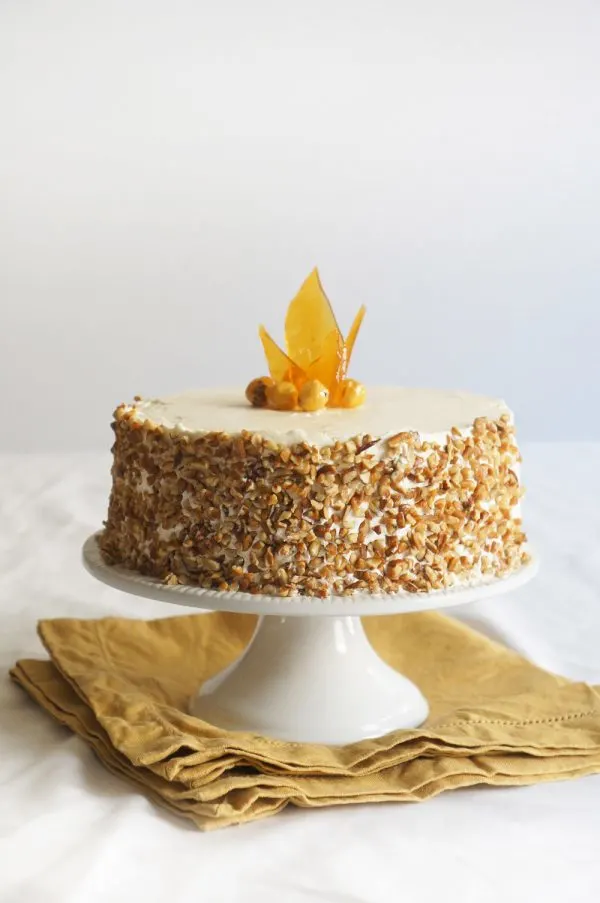 For the Cake
1/2 cup whole hazelnuts
3/4 cup brown sugar
1 cup cake flour
1/2 teaspoon baking powder
3 large eggs, at room temperature
3 large egg yolks, at room temperature
3/4 cup vegetable oil
For the Buttercream
1-1/4 cups sugar
1/3 cup apple juice
5 large egg whites
Pinch cream of tartar
4 sticks unsalted butter, room temperature
1/2 teaspoon natural apple extract
Additional
6oz of marzipan
1-1/2 cups chopped hazelnuts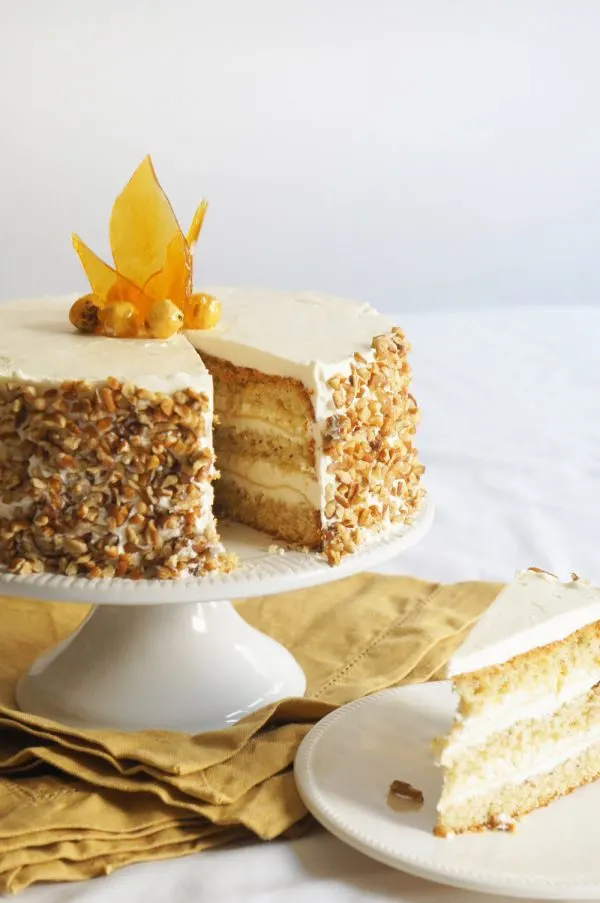 Preheat oven to 375°. Grease 8-inch round cake pan.
Grind the hazelnuts in a food processor. In a medium bowl, sift together flour and hazelnut mixture; set aside. In the bowl of an electric mixer fitted with the whisk attachment, beat the whole eggs, the yolks and the brown sugar on high speed until thick and pale yellow in color (8 mins). Remove bowl from mixer and gently and quickly fold in flour mixture. Gradually drizzle in oil, while folding. Pour batter into prepared cake pan and bake until a tester comes out clean when inserted into the center of the cake, about 30 minutes. Remove from oven and turn cake out immediately onto a wire rack. Let cool for at least 1 hour.
In a small saucepan over medium heat, bring sugar and apple juice to a boil. Boil the syrup until it reaches 240 degrees (soft-ball stage) on a candy thermometer. In the bowl of an electric mixer fitted with the whisk attachment, beat egg whites on low speed until foamy. Add cream of tartar, and beat on medium high until stiff but not dry peaks form. With the mixer running, pour the sugar syrup down the side of the bowl into the egg whites. Turn the mixer on high speed and beat for about 10 mins. Add the butter, piece by piece, and the apple extract and keep beating. If it looks curdled at any point during the beating process, continue beating until smooth.
Roll out the marzipan and cut out two 8 inch rounds. Cut the cake horizontally into 3 layers. Spread buttercream on the first layer, cover with marzipan and some more buttercream. Continue accordingly with the second layer. Frost the cake and cover the sides with chopped hazelnuts.

[Photos by Sugary & Buttery for The Sweetest Occasion.]