This post was sponsored by Georges Duboeuf. Thank you for supporting the sponsors that so
generously help The Sweetest Occasion keep on keepin' on!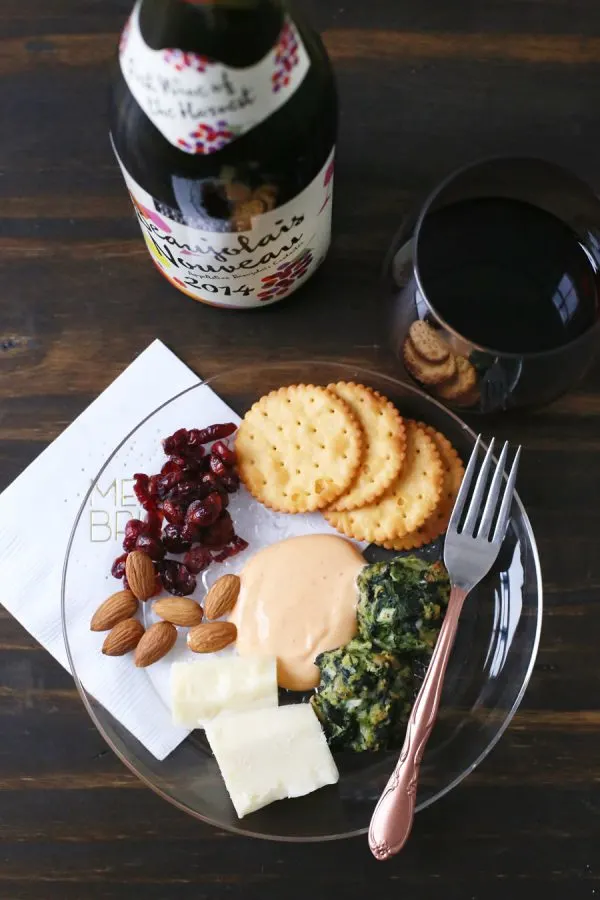 Some of you may remember that last year we hosted nearly thirty people for Christmas dinner. While we're not going all out in quite that fashion this year, we are hosting family and friends at our home on Christmas evening. Which is why today I'm sharing a few delicious and easy holiday dinner appetizers with you! Whether you're just inviting a small handful of friends over for wine and snacks at some point this holiday season or hosting the whole extended family, these yummy little bites will keep the hunger at bay without dramatically increasing your workload in the kitchen. We love that! Plus, if you're preparing a big dinner, having wine and snacks for nibbling on at the ready takes the pressure off a bit as you're finishing up the meal. Win-win!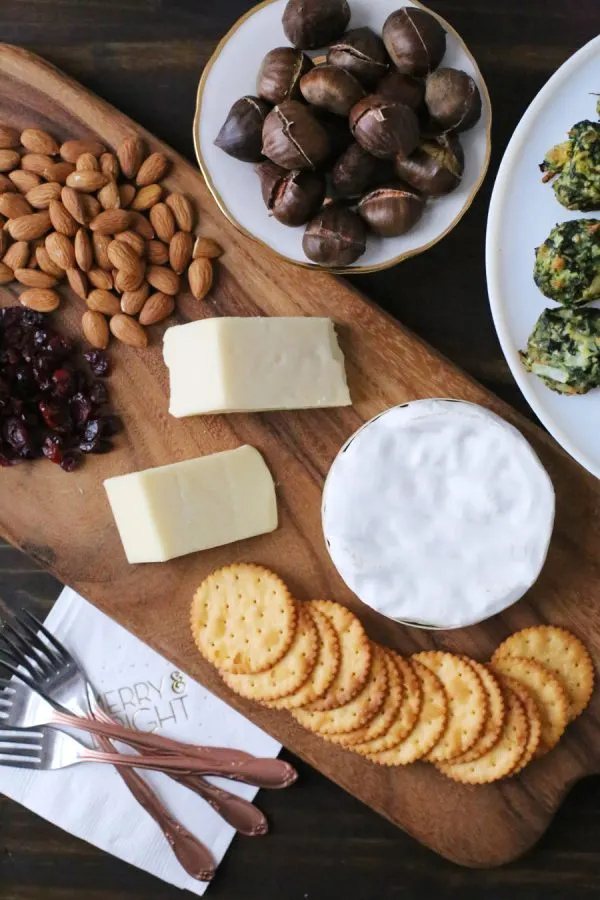 Here I paired my favorite spinach balls (which are basically super delicious vegetarian-friendly bite-sized balls of awesome) with a very simple cheeseboard and fresh roasted chestnuts. Open up a bottle of Georges Duboeuf Beajoulais Nouveau, and you're ready for guests in a flash. The spinach balls are deceptively delicious and they're perfect for preparing in advance. You can mix them up and prep everything several days beforehand and then freeze them. From the freezer, just pop them right onto a baking sheet (no need to thaw), bake them and you're in business! When I made this batch to share with you, more than half of them went right into the freezer so I can pull them out on Christmas. That's my kind of entertaining, just saying. I like to the serve them with sriracha aioli on the side. You can use your favorite pre-made aioli and just add a dash of sriarcha, more or less to suit your taste, and it makes the easiest, quickest dipping sauce ever.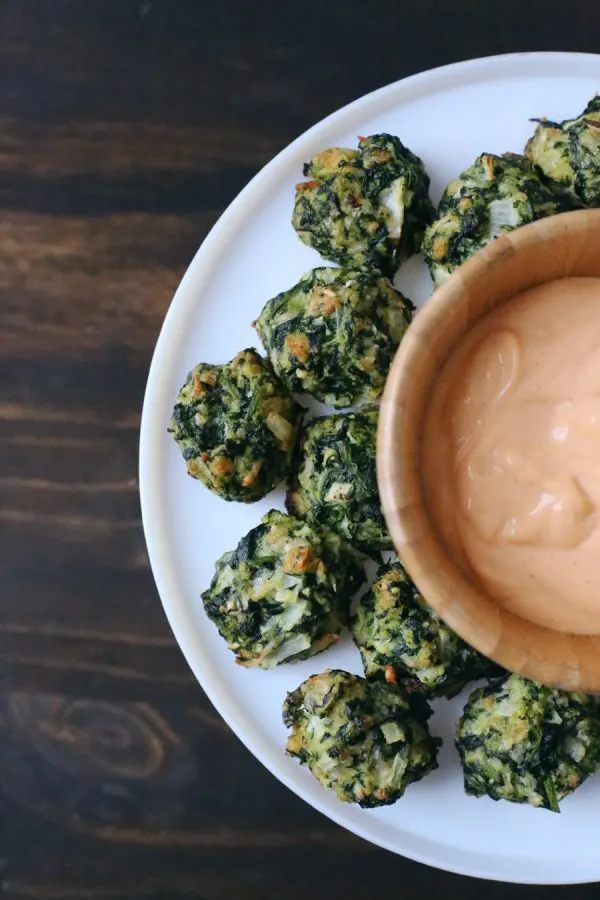 Makes approximately 60
(2) 10 oz. packages of frozen, chopped spinach
1 medium white onion finely diced
3 cloves of fresh minced garlic
6 eggs, slightly beaten
1 teaspoon chopped fresh thyme
3 cups seasoned stuffing bread
¾ cup melted butter
1 cup freshly grated parmesan cheese
Salt + pepper to taste
Begin by preparing the spinach according to the package directions in salted water. Drain, cool, and squeeze out all of the liquid. Melt the butter over low heat, then transfer to a mixing bowl and combine with all ingredients except the eggs. Once combined, add the eggs and mix well. Let the mixture rest for 15 minutes.
Form into balls roughly 1/2″ in size. Bake at 350° for 20 – 25 minutes on a lightly greased baking sheet until slightly golden brown on top. Alternately, prepare in advance to bake later! To do so, place the balls on a very lightly greased baking sheet in the freezer for approximately 1 hour. Then transfer to a freezer bag or container and place back in the freezer until you're ready to bake. To bake from frozen, remove from the freezer and place on a baking sheet. Bake at 325° for approximately 1 hour or until slightly golden on top.

Preheat oven to 350°. Then, begin by using a sharp knife to make a cut around the width of each chestnut. You want to just go through the shell and cut most of the way around the shell, without cutting it all the way around. Place chestnuts in a single layer in a cast iron skillet or shallow baking dish. You can lightly drizzle the chestnuts with a bit of good olive oil and a pinch of coarse sea salt if you'd like, but it's not necessary. Roast at 350° for 30 – 35 minutes. Remove from the oven and allow to cool slightly. While still warm, remove the shells and enjoy!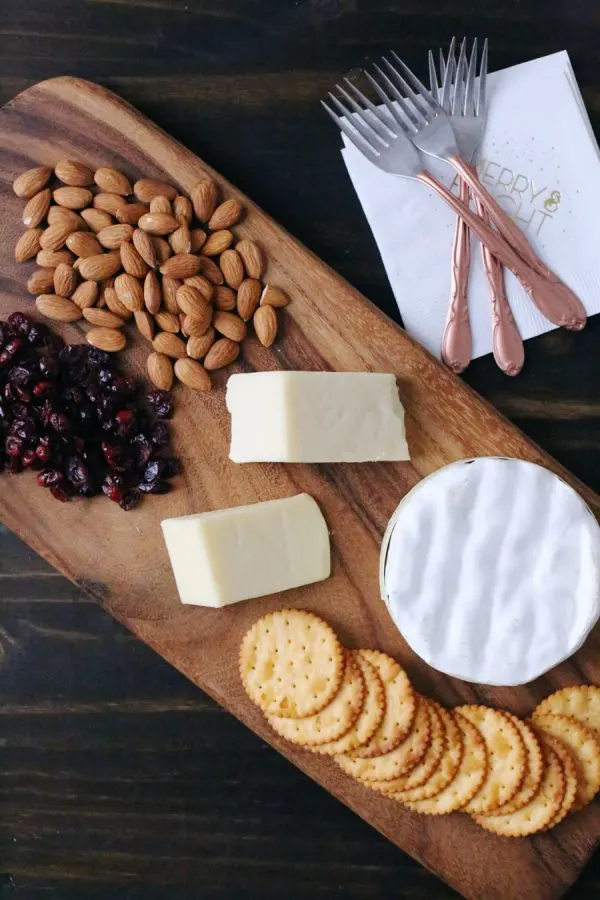 Crackers and/or crostini bread
1 – 2 dried fruits (cranberries, figs, apricots, etc.)
1 – 2 hard cheeses
1 – 2 soft cheeses
Nuts (almonds are always my go-to)
Select a pretty platter, cheese or cutting board. Arrange cheeses, crackers, dried fruit and nuts in a fashion that pleases you. Serve! I told you this was easy.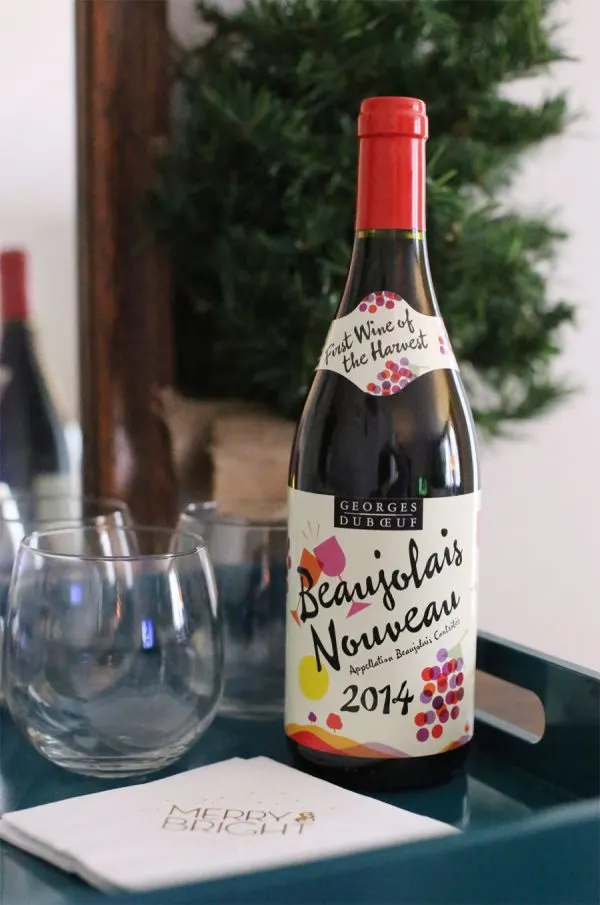 If you're not familiar with Beajoulais Nouveau, it's a special wine with a pretty awesome holiday tradition. Under French law, each year at 12:01 on the third Thursday in November, Beaujolais Nouveau wine is uncorked and big, glamorous celebrations ensue. It marks the start of the holiday season with a bang! I'm a huge fan, because it's a rich, red wine that's fruity and light enough to appeal to a wide range of wine drinkers. It's best served slightly chilled and it pairs beautifully with cheese, of course, and these spinach balls I love so much. Plus, it just tastes festive. And, yes, you know wine can taste festive. With a bottle of the good stuff and these quick and delicious appetizers in your party-hosting arsenal you can't go wrong.

[Photos, recipes + styling by Cyd Converse for The Sweetest Occasion.]
This post was sponsored by Georges Duboeuf. Read more about our editorial policies.