As I'm preparing to welcome our little one in a couple weeks, I've asked some of my best blogging
buds to drop by here and there. Today please welcome Beth from Daily Dog Tag!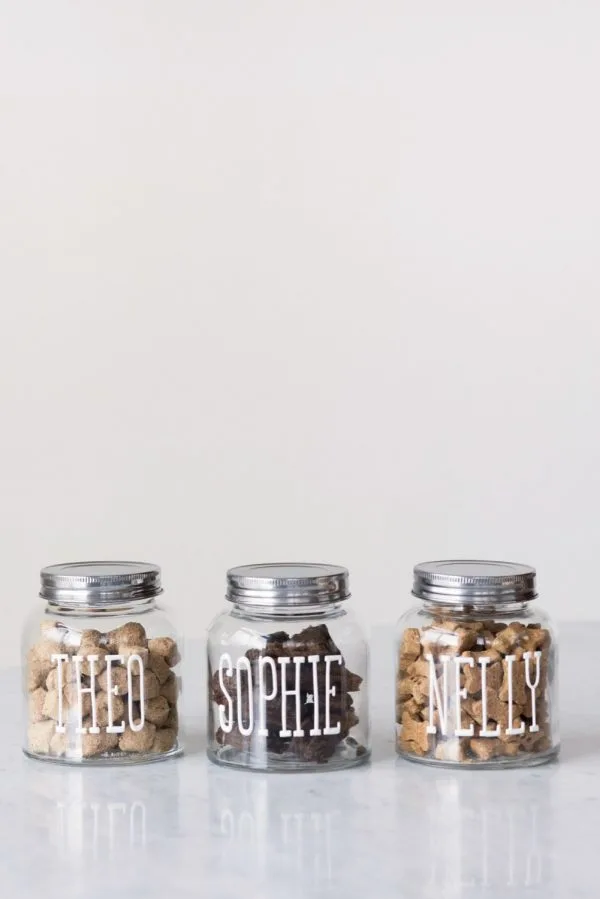 This project is one going out to all of you dog lovers! (Or really, any animal lover.) We're talking really super sweet DIY dog treat jars that are personalized with your furkid's name and can easily be whipped up in 15 minutes or less. With the holidays coming up, these would make fun little gifts for your pets or a really thoughtful handmade gift for the pet lover in your life. You know your friend who is on the edge of becoming a crazy cat lady? (In a good way, of course.) Yeah. She'd absolutely love these!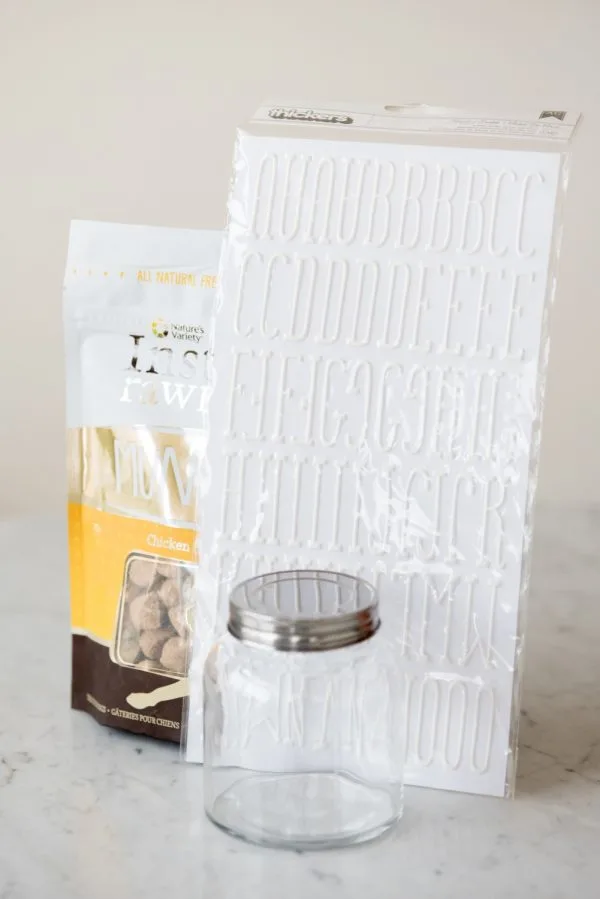 Small lidded glass jars
Painter's tape or washi tape
Alphabet stickers (such as Thickers)
Dog treats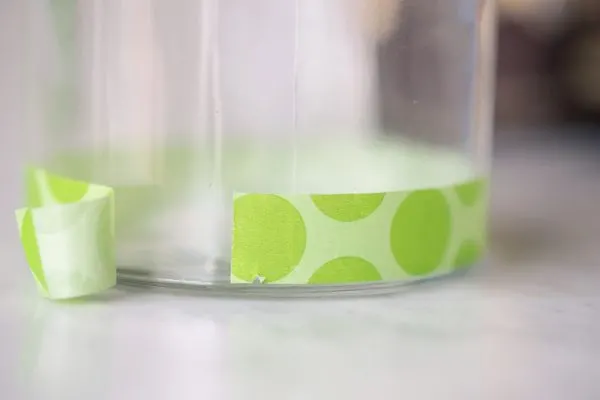 Begin by making sure your jars are thoroughly clean and dry. Then determine where you'd like the name to appear on each jar. Once you've done so, use a piece of painter's tape, washi tape or similar to create a guide to help keep the letters nice and straight.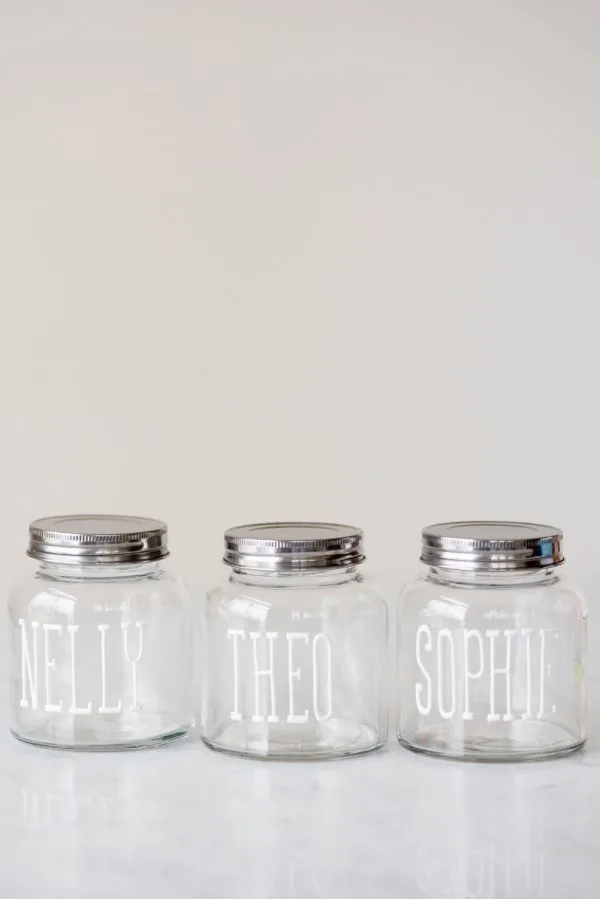 Next up, it's a simple process of applying the letters one by one to spell out your pet's name. Keep in mind you could also use these jars to store other things such as sewing or craft supplies or spare change so you can have fun with how you label them! If you have a longer name or word you might find it useful to start with a middle letter and work outward so you can position it just how you'd like it to appear on the jar.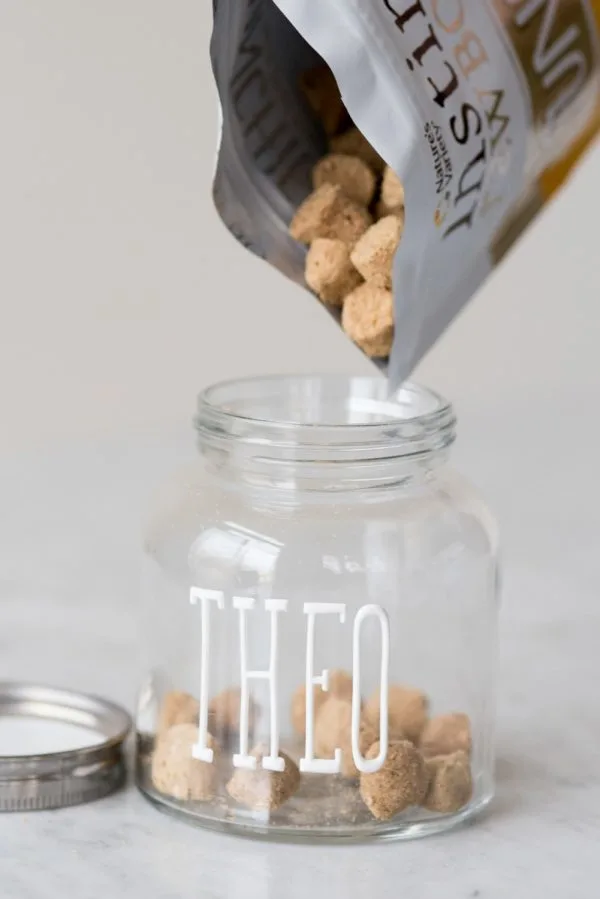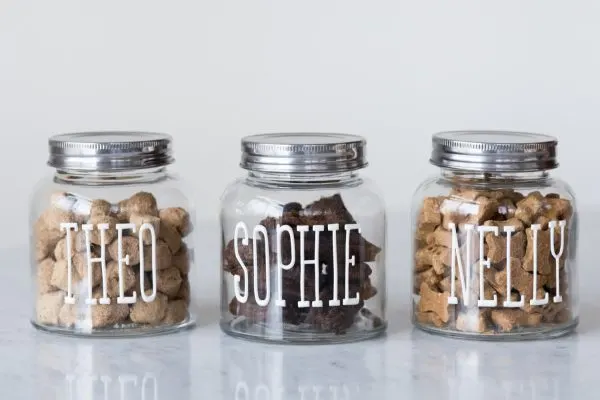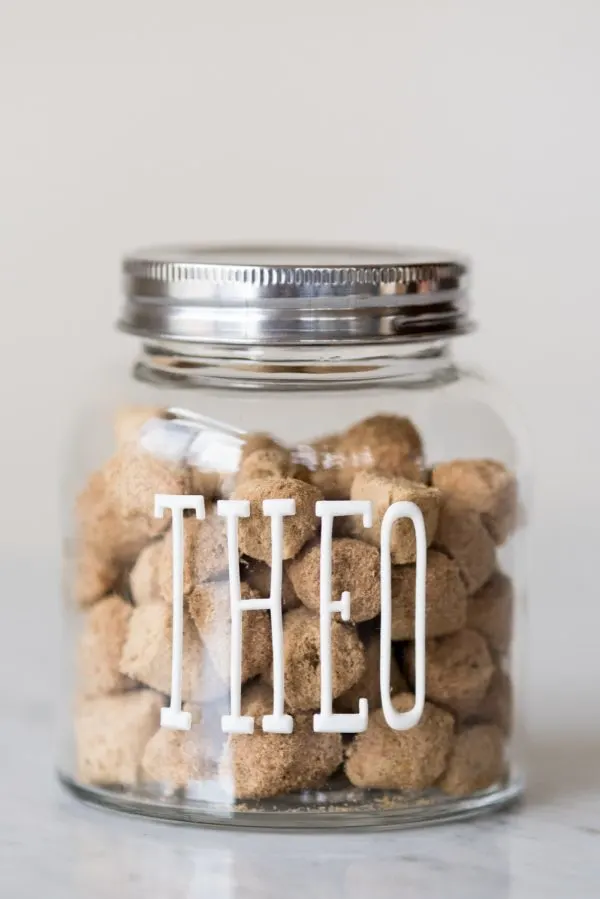 And that's it! Just fill your jars up with treats and you're all set. Aren't these fun? And I love that they're so quick and easy to make! Keep in mind you won't want to submerge these in water or use the dishwasher for cleaning, so just spot clean as necessary with a damp cloth. Happy snacking!
For more DIY ideas, tips and tricks (all inspired by man's best friend, of course) visit Beth at Daily Dog Tag! You can also find her on Instagram, Pinterest and Facebook. Thanks so much for sharing, Beth! xoxo


[Project by Daily Dog Tag | Photos by Alice G. Patterson.]
The fine print: Please link with love! As with all of our posts, DIY projects featured on The Sweetest Occasion may not be copied, distributed or reproduced without express written permission. Love and links are always appreciated! If you'd like to share a maximum of 1 – 2 images from this post, please link to this post directly for the DIY tutorial and do not include the instructions in your own post. Thanks so much! xoxo