This post was sponsored by Dr. Oetker Virtuoso Pizza. Thank you for supporting
the sponsors that help make The Sweetest Occasion possible!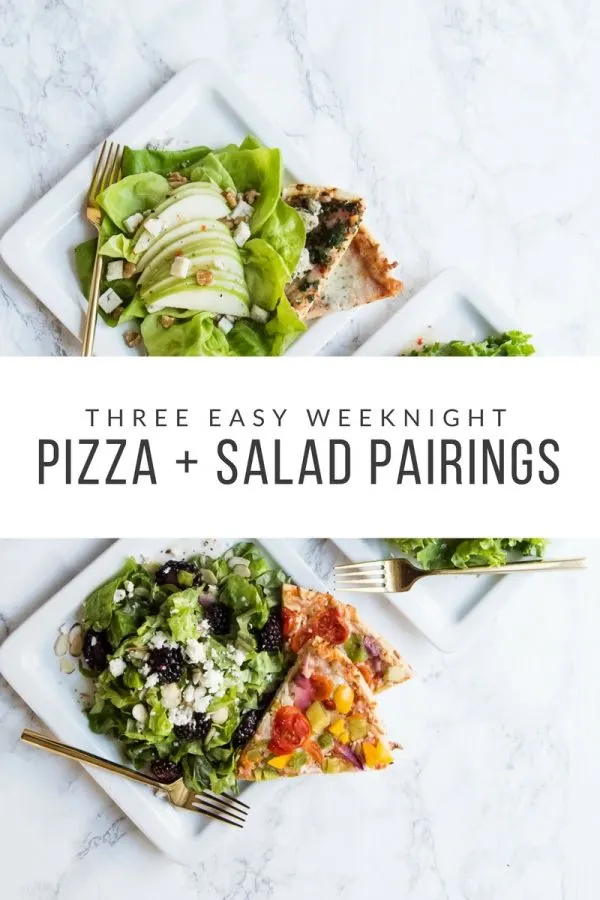 I was looking at my calendar a few days ago and realized that from now straight through the holiday season is pretty much maxed out. Between work obligations, various holiday parties, family gatherings, and chorus concerts, there are very few days without some kind of commitment. Add in the need to tackle the organizational aspects of the holidays (gift shopping, wrapping, food shopping and prepping, etc. etc.), I think we all know just how busy November and especially December can prove to be. With that in mind, today I once again teamed up with the fine folks at Dr. Oetker Virtuoso Pizza (formerly Dr. Oetker Ristorante Pizza) to share three easy weeknight dinner ideas with you! Specifically, we're talking about the most delicious pizza and salad pairings that are a cinch to toss together while totally elevating your weeknight dinner game. Inspired by the seriously delicious flavor combinations of Virtuoso and their and commitment to fresh, whole ingredients, these salad pairings are about to become your new go-to during the week. We're also teaming up on a really fun giveaway so keep scrolling for the details and be sure to get entered for your chance to win as the giveaway will close one week from today!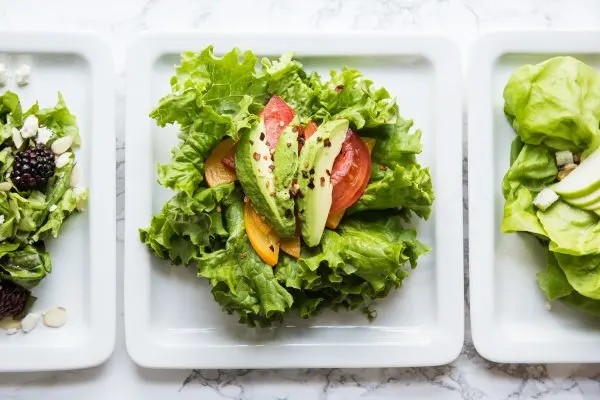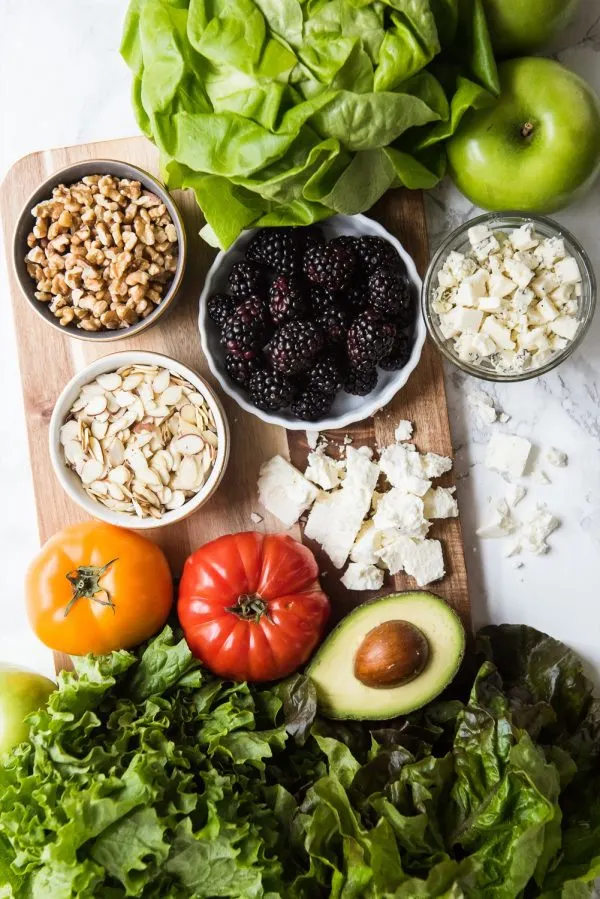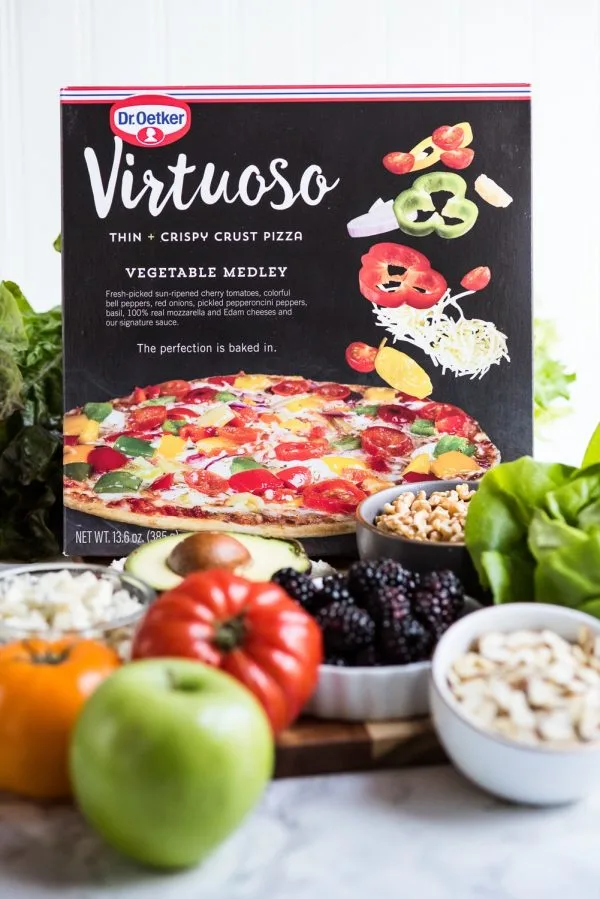 Virtuoso has nine gourmet flavor varieties with a thin, crispy crust that makes it about the best frozen pizza you're ever going to taste. You can track down your favorite variety by checking out the store locator to find out where it is sold near you, or put in a request with the manager at your favorite store! The pizzas (now showcasing a new name and a sleek new box) feature the same fresh ingredients as they always have and bake at 425° in jus about 12 minutes. With these salads, we baked up the Seasoned Chicken, Vegetable Medley and Four Cheese although you can pick any of your favorites for the perfect weekday meal!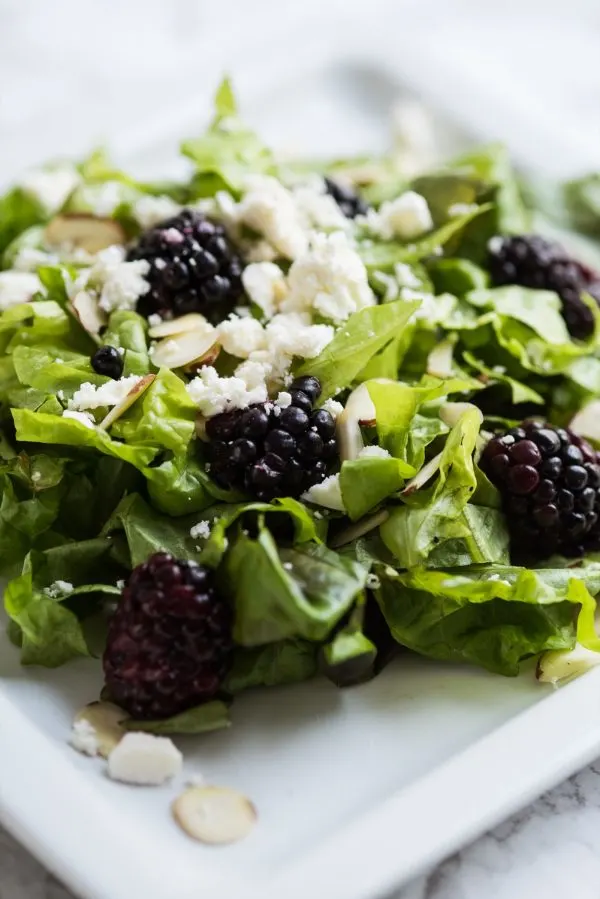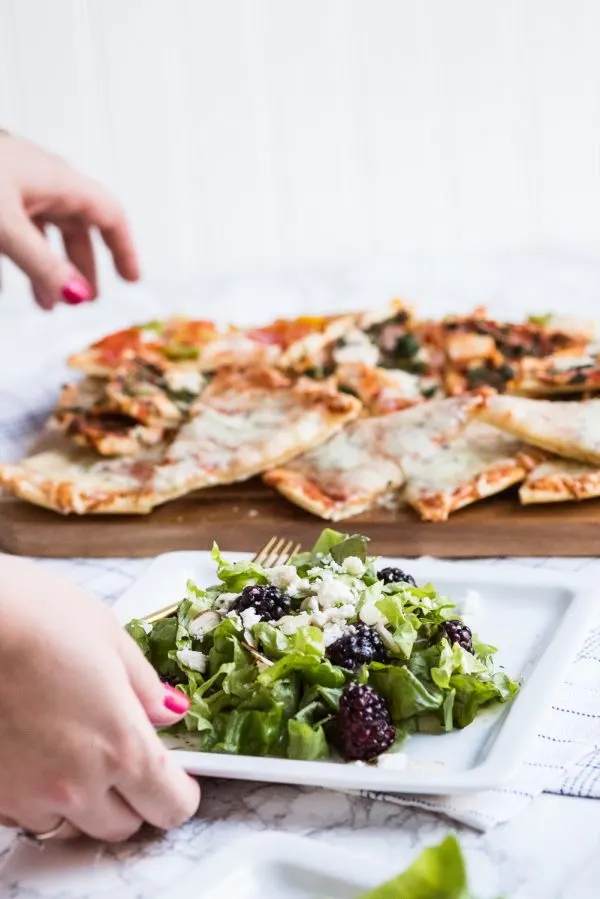 Blackberry Feta Salad
I love fruit on salads, specifically berries and think the flavor is even better when paired with good, crumbly feta! Here red leaf lettuce provides the perfect base, then I just sprinkled on the blackberries, a small handful of thinly sliced almonds and then crumbled a bit of feta over top. A nice drizzle of lemon vinaigrette and you're in business! Of course, you can switch up the greens and specific berries to suit your taste, but I suggest thinking beyond iceberg and romaine when making your selection so your salads feel a bit elevated and special. That's the beauty of these salad and pizza pairings! Good, simple ingredients that taste awesome, especially when paired with the Four Cheese pizza. (Which, for the record, is one of my personal favorites!)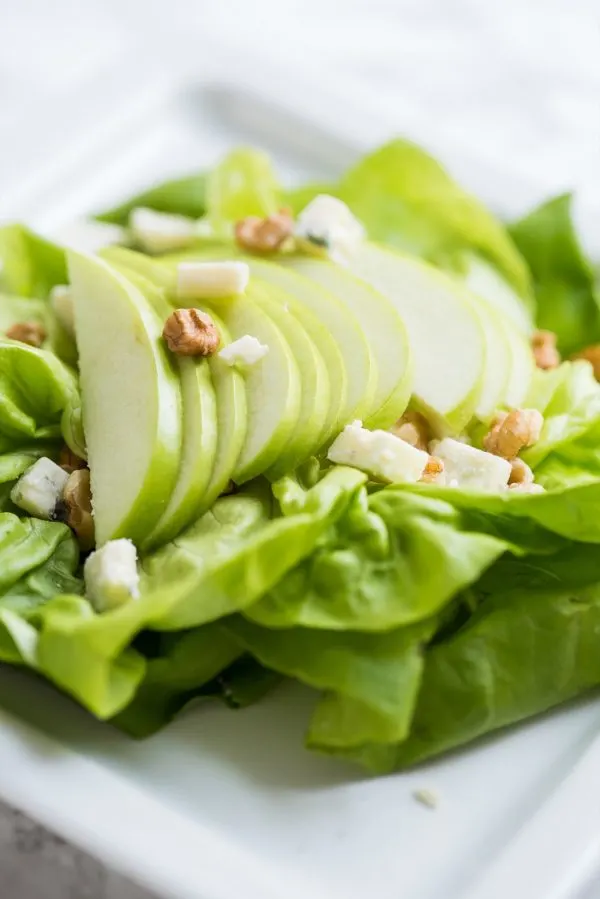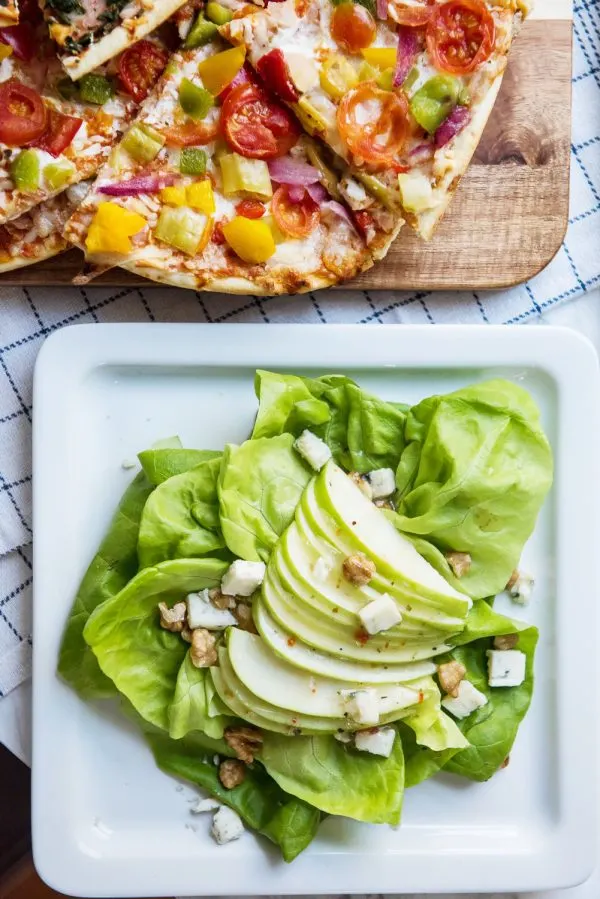 Gorgonzola Green Apple Salad
Again with the fruit on salads! In this case, thin slice of granny smith apples and a good sprinkling of gorgonzola bring it home. Walnuts make the perfect pairing with gorgonzola and the tart green apple flavor so just chop 'em rough and toss them on top. For the greens here, I kept things simple with butter lettuce, which is just really clean in flavor and nice and crisp, so everything tastes super fresh. Pile your plate up with a few slices of Vegetable Medley pizza and you're set! All the veggies on the pizza taste amazing paired with the apples on this salad.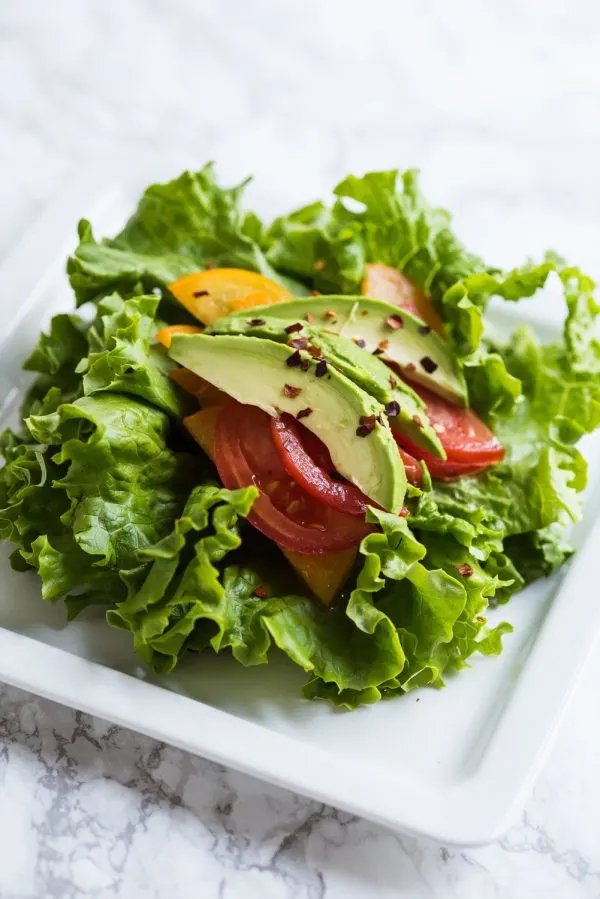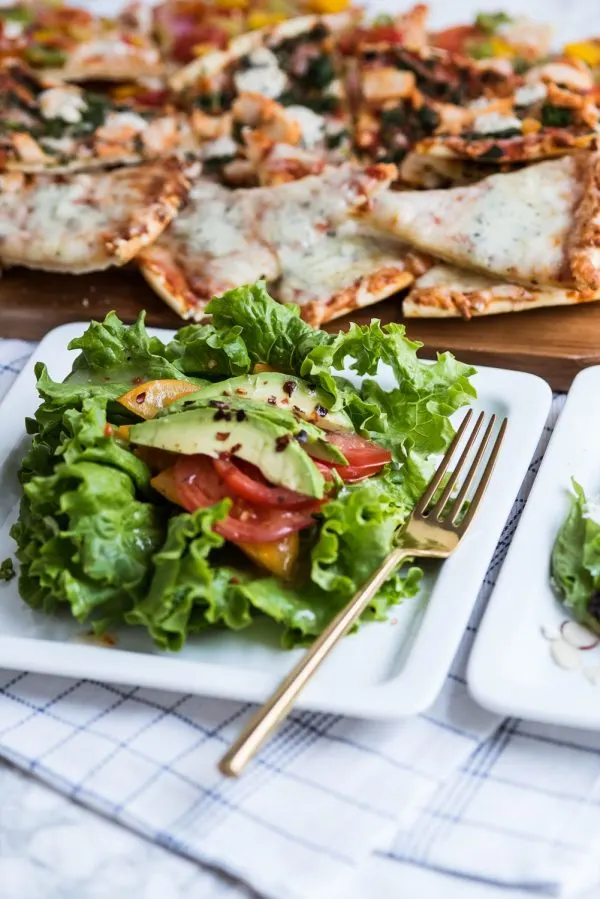 Avocado Heirloom Tomato Salad
I'm such a salad junkie that it might be impossible for me to pick a favorite of these three, but if you twisted my arm and I had to, I'd probably say this one! Green leaf lettuce topped with slices of avocado and heirloom tomato, then sprinkled with a bit of red pepper flake. Coincidentally, this is pretty similar to how I like to eat my bagels, too, so there may or may not be a recurring theme happening in my life. At any rate, this one is also as delicious as it is easy to make. Keep the ingredients handy and then after work you can pop a pizza into the oven, slice everything up and be ready to eat in just a few minutes so you can tackle your evening's agenda. The gentleman of the household is a huge fan of the Seasoned Chicken pizza and loved it alongside the avocado!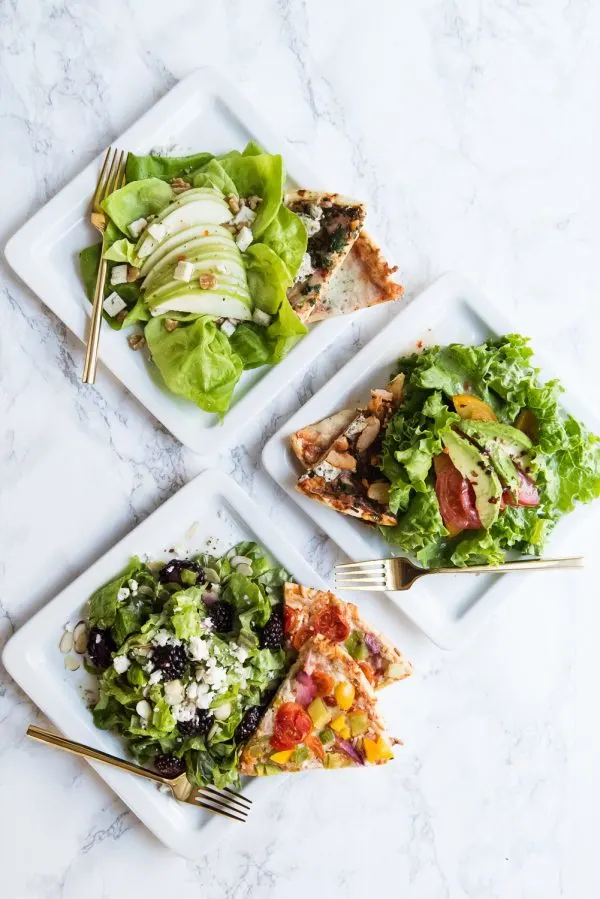 A Cozy Pizza Prize Pack Giveaway
One lucky reader is going to win a cozy pizza prize pack valued at over $200! You can enter using the Rafflecopter widget below. (It's as easy as can be, promise!) What are you going to win? Lots of really good stuff from the likes of Crate & Barrel and Pier 1, plus lots of yummy pizza, of course! Also known as everything you need to cozy up for the perfect night at home. So, get yourself entered to win! The giveaway will run through 12:00 AM (eastern) on Friday, November 25th. One winner will be announced here on this post later that day – good luck and see below for what you could win!

[Art direction + styling by Cyd Converse | Photos by Alice G. Patterson for The Sweetest Occasion.]
This post was sponsored by Dr. Oetker USA LLC. I received compensation for this post, but all opinions are my own. Read more about our editorial policies. For more recipes, tips and entertaining ideas, follow Virtuoso on Facebook!