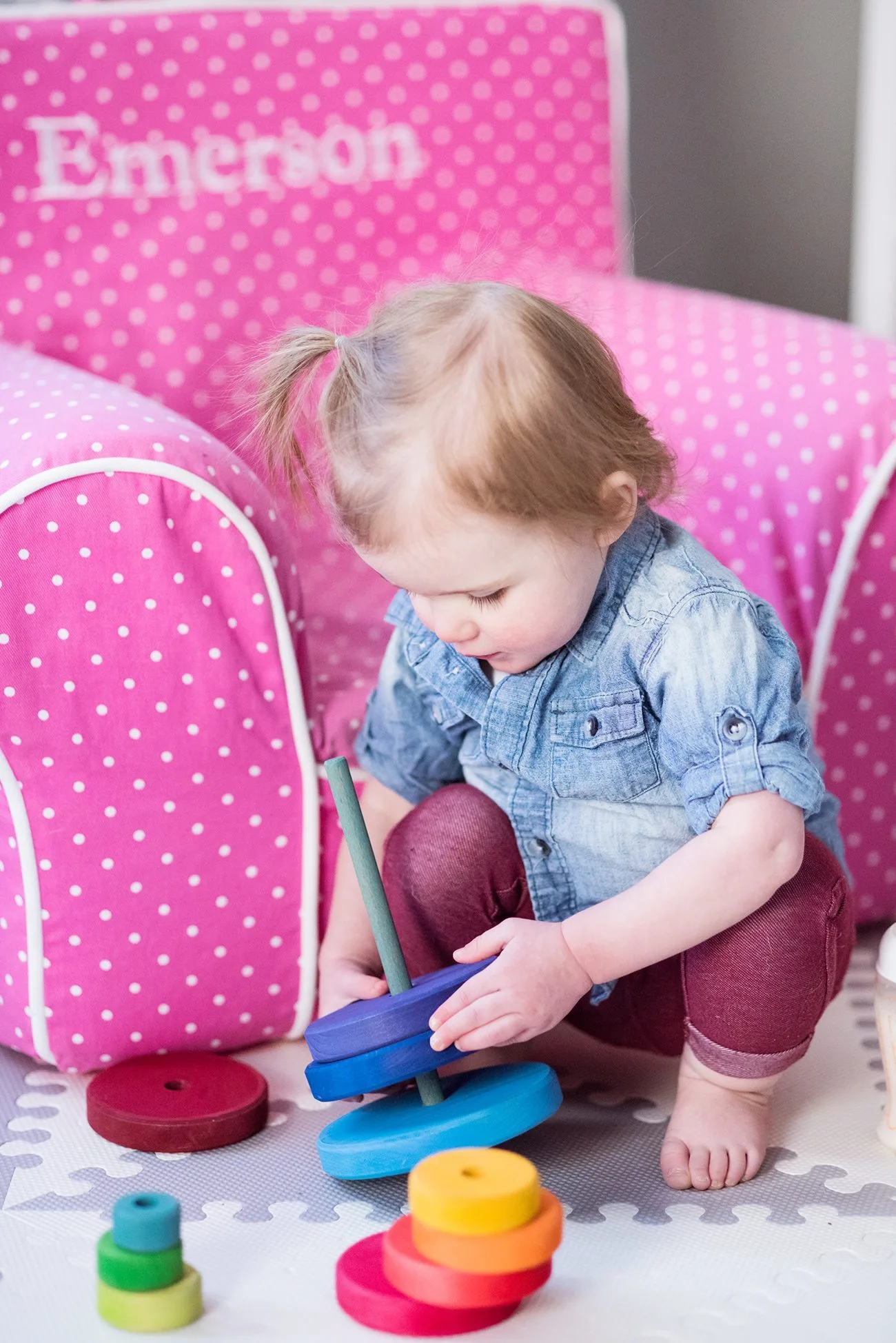 In a shocking turn of events, our sweet little Emerson turns two in just a few weeks. Two! It is so so true what they say. The days are long, but the years are short. It's immensely bittersweet for me, which I'll ruminate on at great length as her birthday approaches, but suffice it to say that I love watching her grow up, I just wish it were happening a little slower. (Classic Mom feels, I guess.) As I prepare her little wish lists for her birthday and Christmas for grandparents, aunts and uncles, I realized it was perfect timing to share some of our favorite toddler toys! I am really committed to the idea that fewer, higher quality toys (and things in general) is the way to go, both from the standpoint of not wanting to waste money on things that feel really disposable, but also because it helps keep clutter in check. I am someone who gets really stressed out by visual clutter, so choosing toys that look great, function even better, keep her happy and are easily tucked away at the end of the day keeps me feeling sane. Plus I love that idea that we try to mostly select toys that are really well made and could easily be passed down to her kids someday. I am all about that nostalgia life. Keeping reading for a bunch of our current favorites and please comment with links to your favorites so I can check them out!

Please note, some of these links contain affiliate links.
1 | Cuddle + Kind hand-knit dolls
Cuddle + Kind is an amazing brand that was launching via an Indiegogo campaign the summer before Em was born. I pre-ordered her first doll during that launch campaign as her first Christmas present and had it stashed away for a couple of months before she even joined us. For her first birthday, we added another. And recently the Cuddle + Kind folks sent us our third doll. From left to right, we have Isla, Maximus and Lucy. These dolls are all hand-knit, of exceptional quality and for every doll purchased they donate 10 meals to hungry kids. Em will be getting another doll this year for her birthday as well! Check them out to learn more.
2 | Grimm's rainbow stacker from Land of Nod
A good ol' classic rainbow stacker, but this one is made of wood, this has long been one of our girl's favorite toys. You can see her playing with it above in a photo we took earlier this spring. (She already looks so much bigger!) I also love that it looks really pretty on a shelf when not in use. No shame here, friends.
3 | Two-ty fruity wood abacus
You'll notice a recurring theme here with lots and lots of wood toys. This abacus is so pretty and I love all the fun fruit shapes in lieu of the standard little balls. And again, I won't deny that it just looks good when it's hanging out in the playroom area of our living room.
4 | Melissa & Doug car carrier truck set
A friend of ours got Em a similar Melissa & Doug set to this one for her first birthday, and we recently added this one into the rotation. She loves all the little wooden cars and trucks and loading them on and off the trailer. Trucks aren't just for boys!
5 | Grimm's mosaic cube block tray set
Ok, admittedly, these blocks are a total pain to keep away from our one year old yellow lab, but I just love this set. The colors are beautiful, it's so simple and leaves lots of room for creative play. I think this set will be one she uses for a lot of years.
6 | Little Tikes tap-a-tune piano
This is an oldie but a goodie, one that I honestly wouldn't have thought to buy her, but she received it as a first birthday gift last year and loves this thing. In short, babies love banging on things that make noise and this has that department all taken care of in a petite little package.
7 | Hape gourmet kitchen starter set
Bring on all the tiny kitchen stuff! In the last month we've hit the adorable stage where Em is starting to really mimic everything mommy does so she's at the perfect age to introduce all the kitchen things. She loves trying to put diapers and pajamas on her dolls and is always serving me lunch and coffee with these adorable wooden dishes.
8 | Fisher-Price corn popper
Another classic toy that she received last year as a Christmas gift, I can't hype up this corn popper enough! Yes, there are times I'm on a work call and have to confiscate it because it's totally obnoxious, but overall it is great and keeps both Em and the puppy totally occupied and happy running around the house. (And there you get a little glimpse of my daily life, friends. Ha!)
9 | Wood alphabet blocks
I bought these blocks last year for 50% off when our local Hallmark store was closing, but I think they are easily worth full price. They are so pretty, timeless and she loves stacking them up and knocking them over. As she gets older, each block also has words and little illustrations for each letter so these should get a lot of use over the years.
10 | Hape wooden peg puzzle set
I discovered Hape toys when I was first researching the best baby toys and we now own several of their wooden beauties. This peg puzzle piece set has been in her daily rotation for over a year now, she has a lot of fun fitting all the pieces on the right pegs and, again, if fits our love of simple, beautiful toys that will last for the ages.
[Lead photo by Alice G. Patterson for The Sweetest Occasion.]