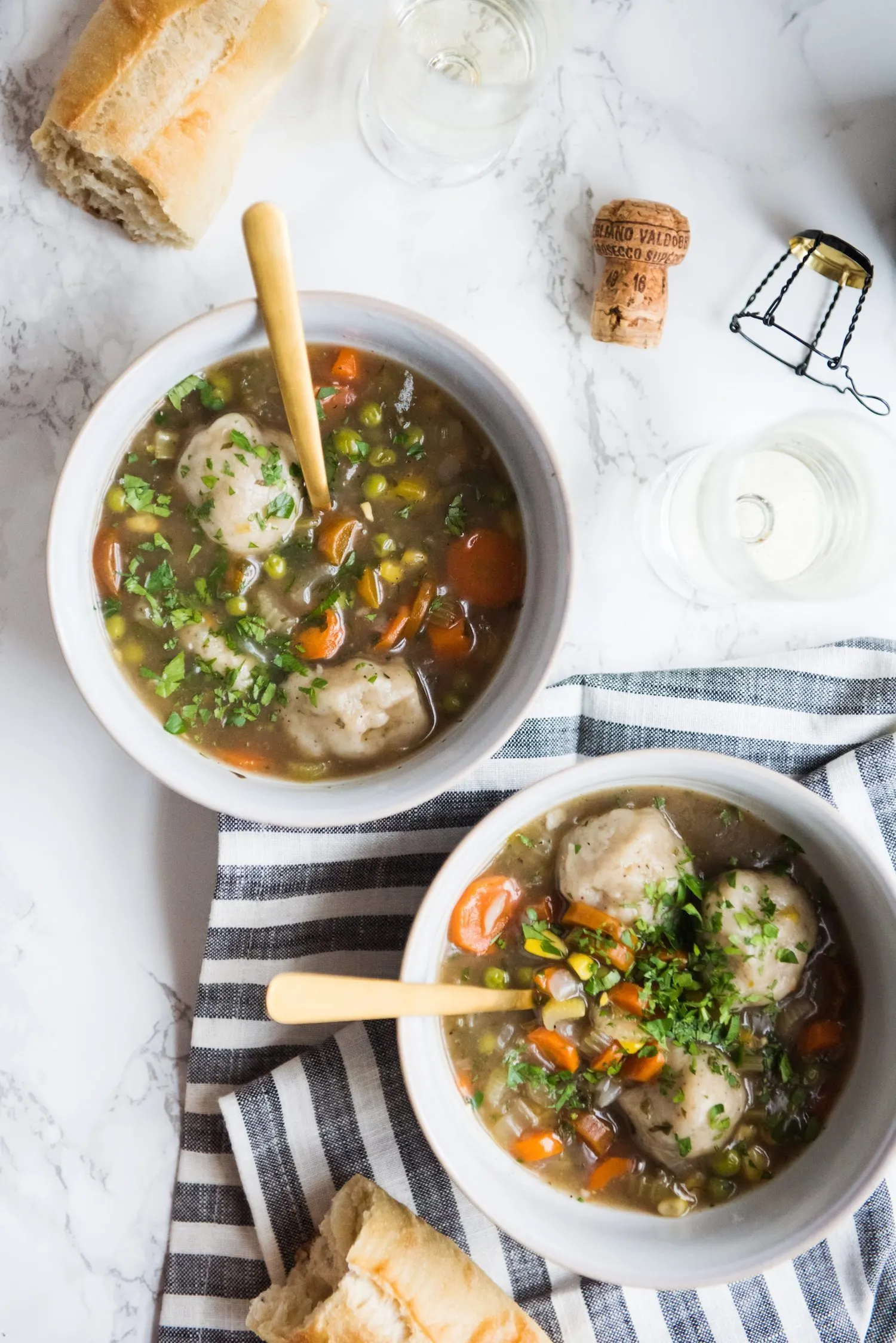 Basically, it was a "warm bowl of soup and all the wool blankets" kind of week last week, a week that practically begs for my favorite homemade veggie soup with vegan dumplings. I had a very sick two year old on my hands. High fevers, a cold, a touch of a stomach bug. It was also sub zero temperatures most of the week, with wind chills hitting -30 far more than once.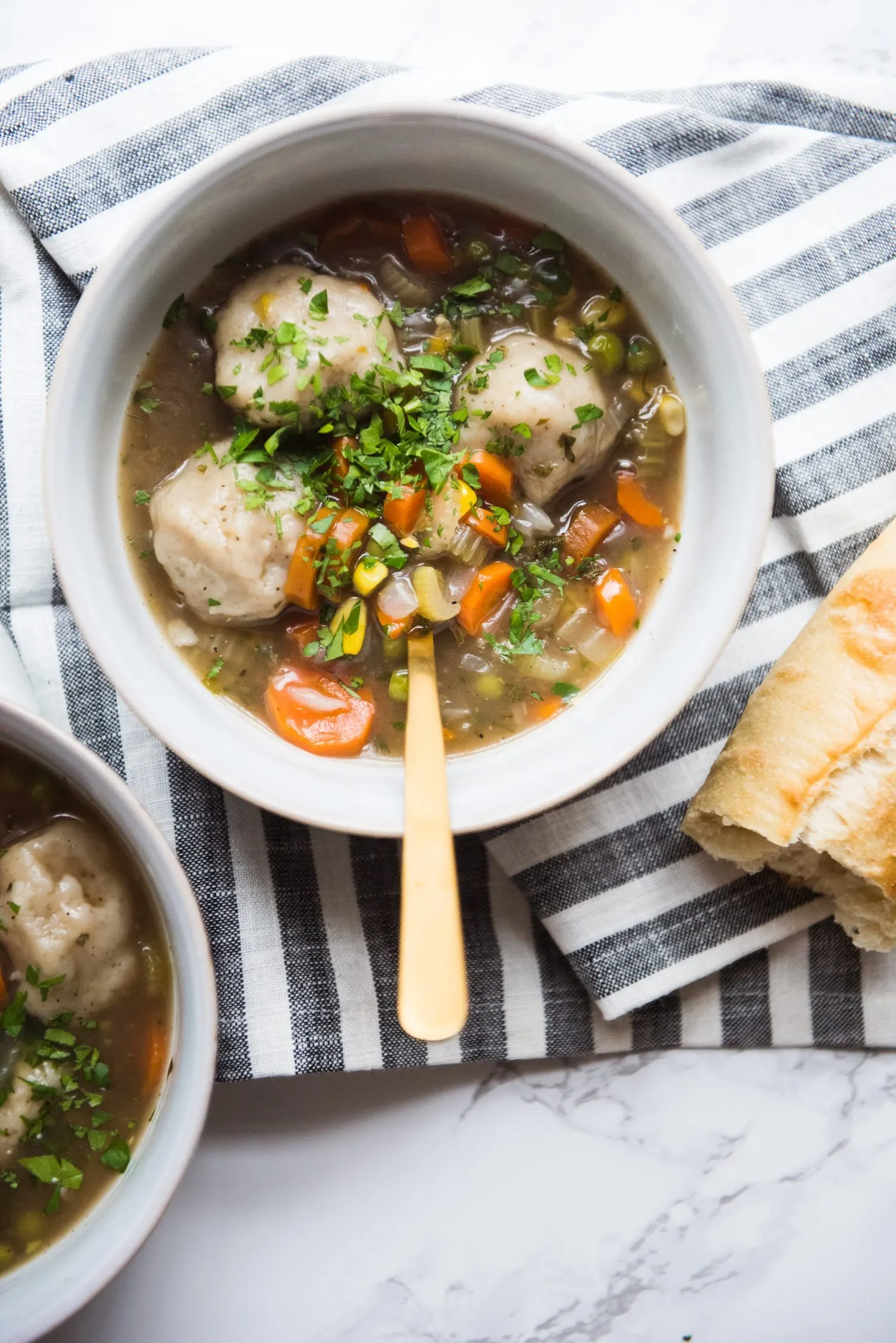 It was a long week, for sure. The kind of long week that always seem to fall during the darkness of winter when you're resisting the need to take down your holiday decor and already longing for spring. One of those. But this soup saw us through!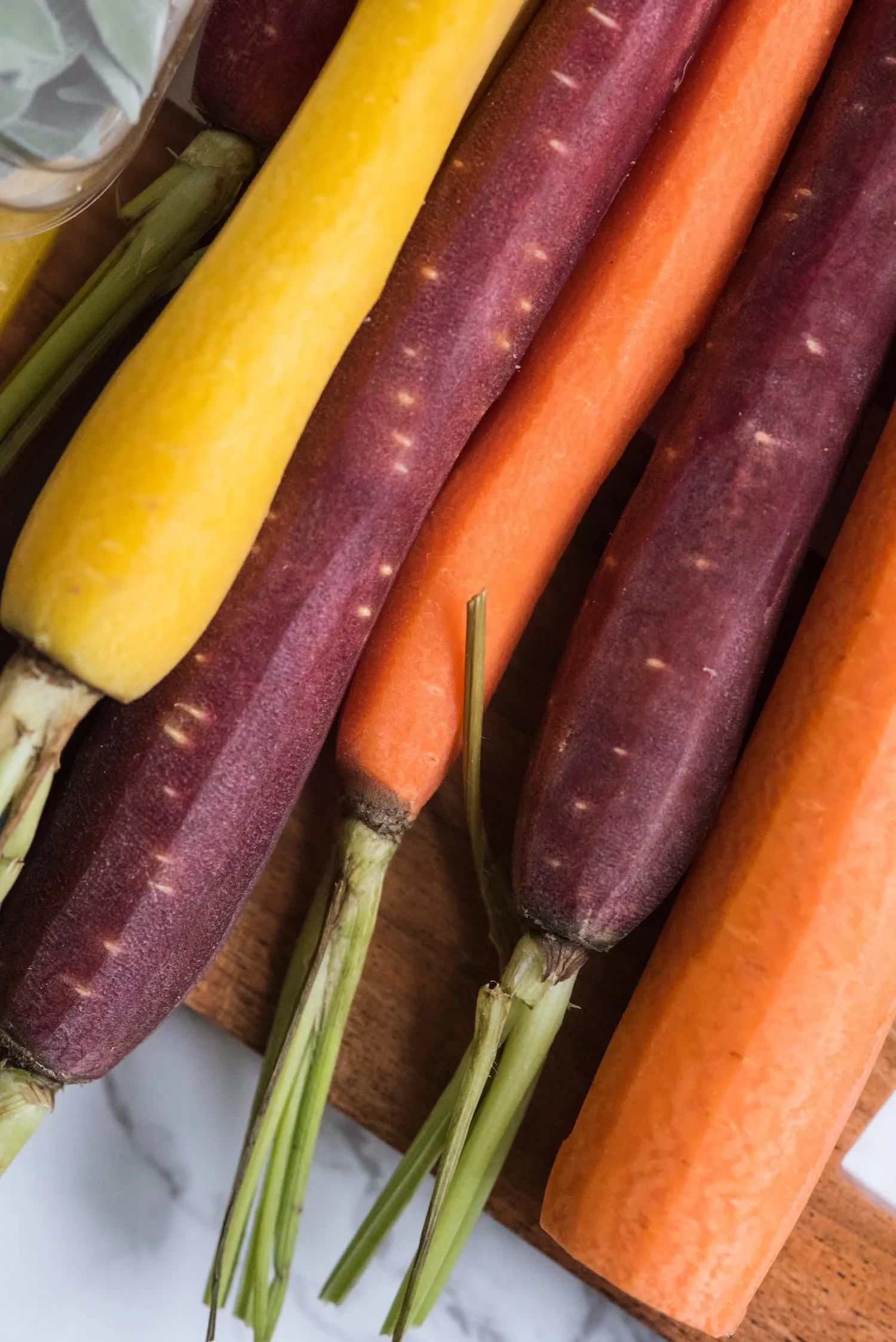 This is the very best "chicken soup" recipe for those of us who don't eat chicken, but still need that warm, yummy hug of a dish to make you feel better on crappy winter days when your kid's fever won't break and the air outside hurts to breathe. It's good for all that ails you, mentally, emotionally and spiritually.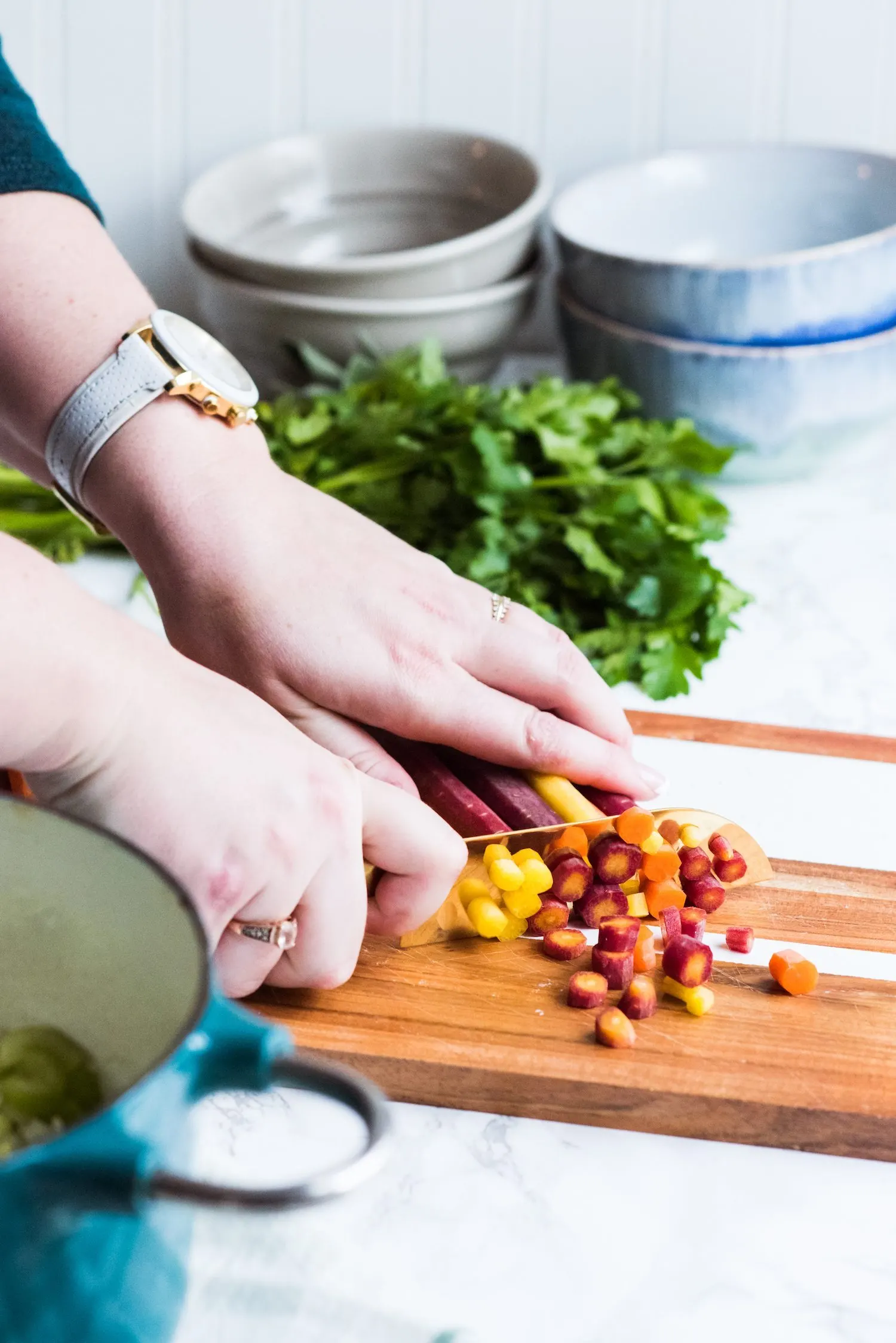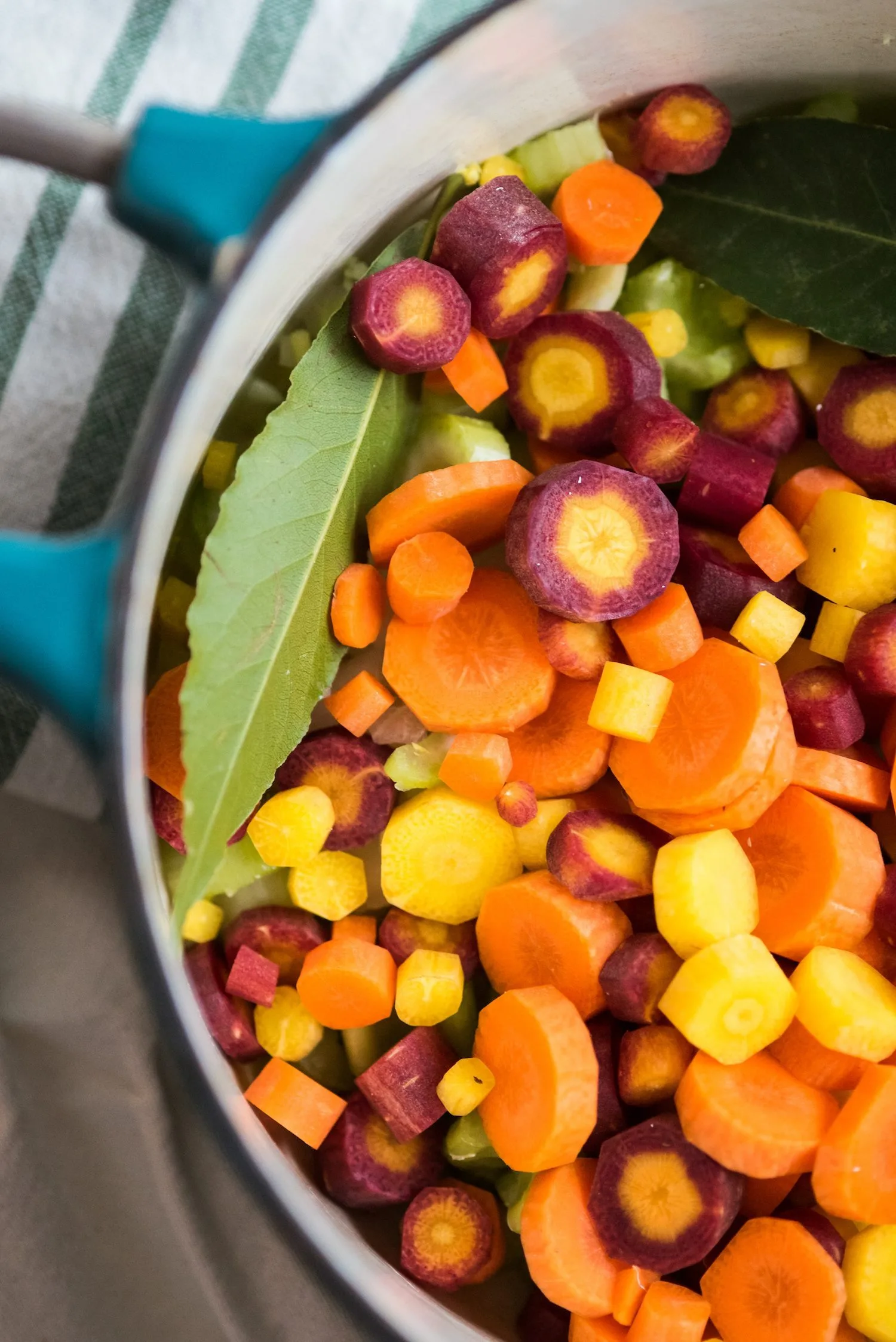 Among our friends, I often refer to this recipe as my "vegetarian chicken and dumplings," which is a pretty accurate description. The key to this recipe is building up loads of flavor, just like you do with a chicken-based soup, minus all the animal ingredients.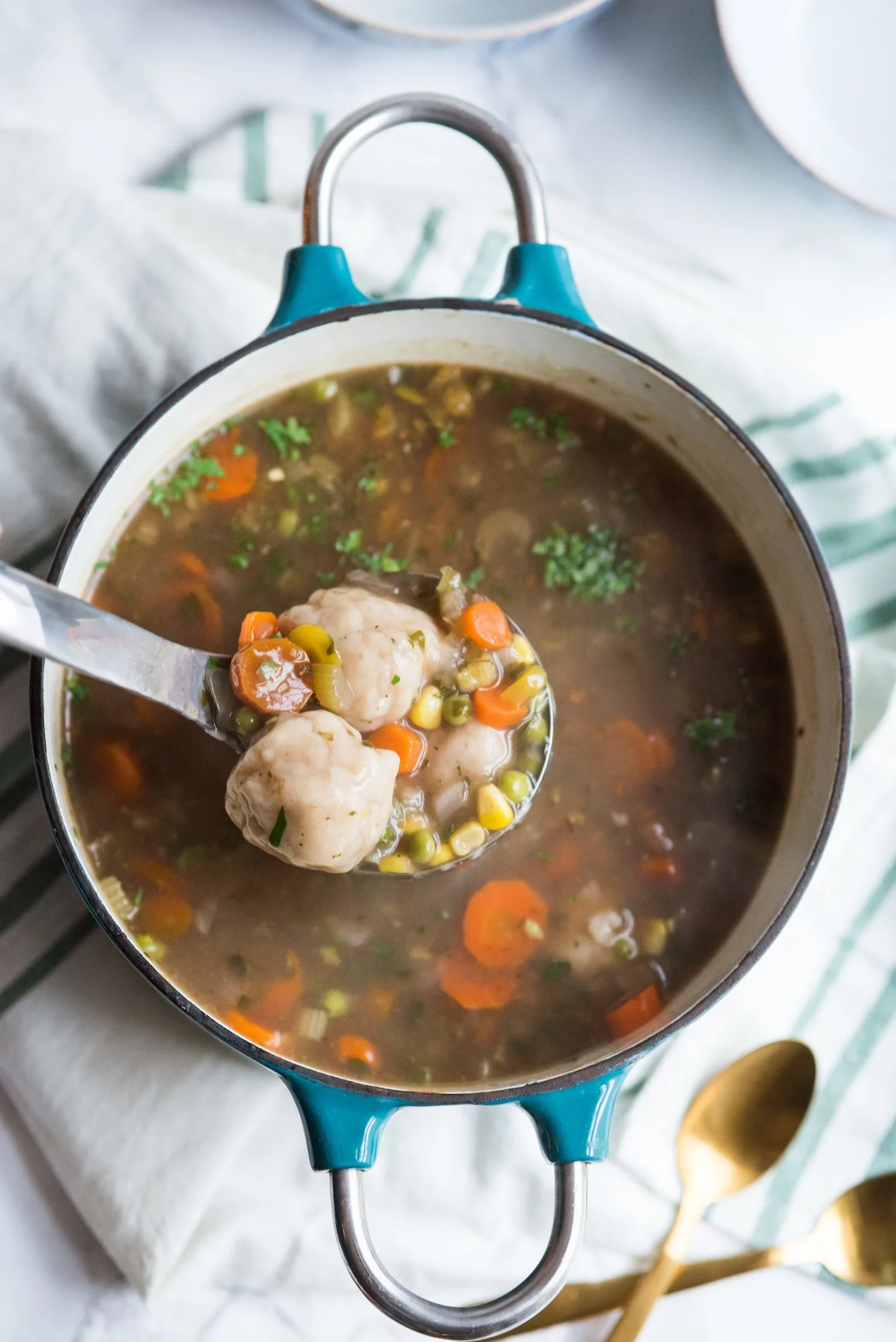 I fully, passionately believe that any good soup begins with a good broth or stock and that any good stock begins with a classic mirepoix of celery, carrots and onion. (For the love of all that is soup, people, can everyone stop using chicken stock in otherwise vegetarian dishes?!) From there it's all about the herbs like loads of fresh sage, bay leaves, marjoram, thyme, pepper, salt and oregano. You can make this soup rather quickly, but also it only gets better and more flavorful if it lingers in the pot for longer over a low heat and really develops and stews in its own goodness.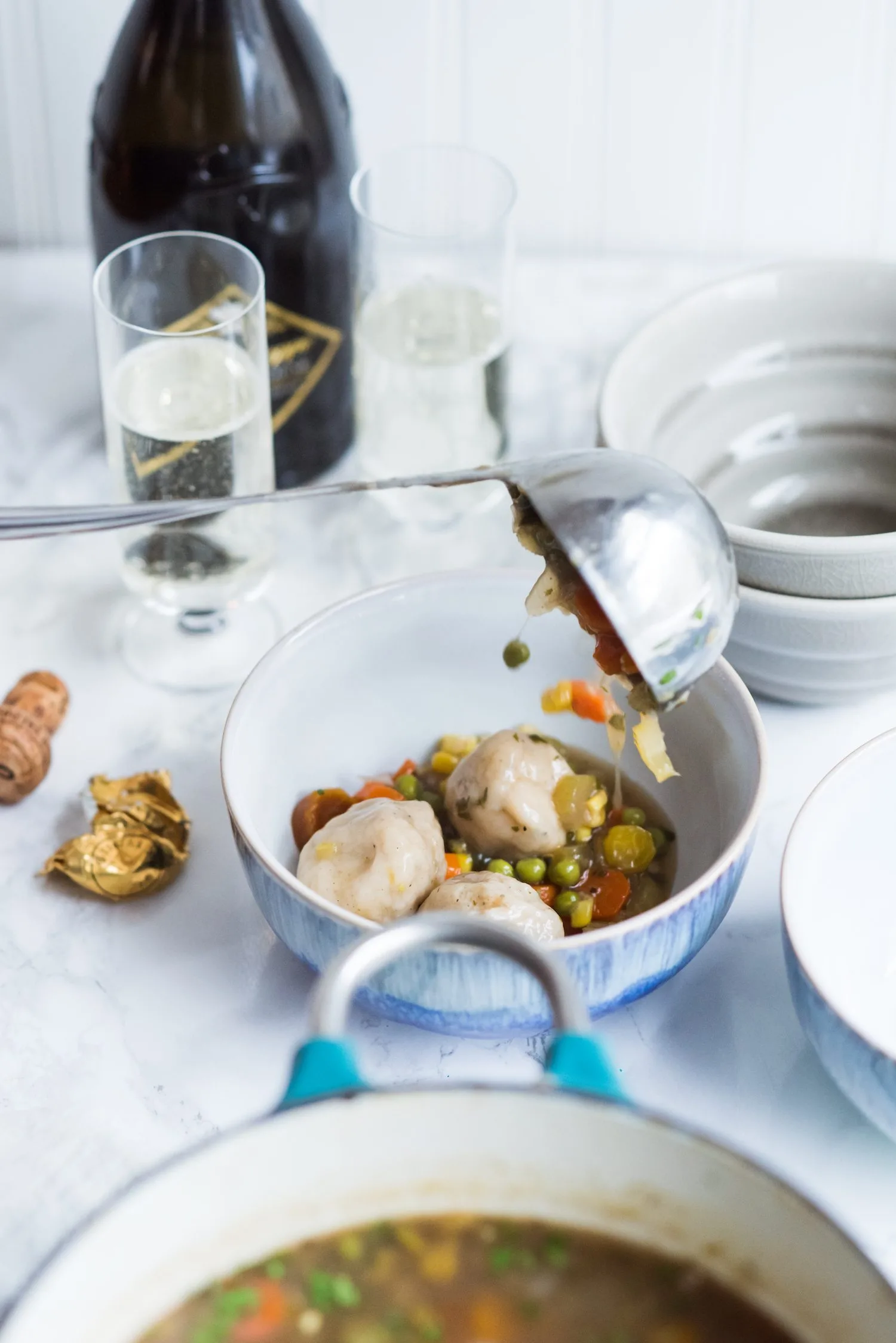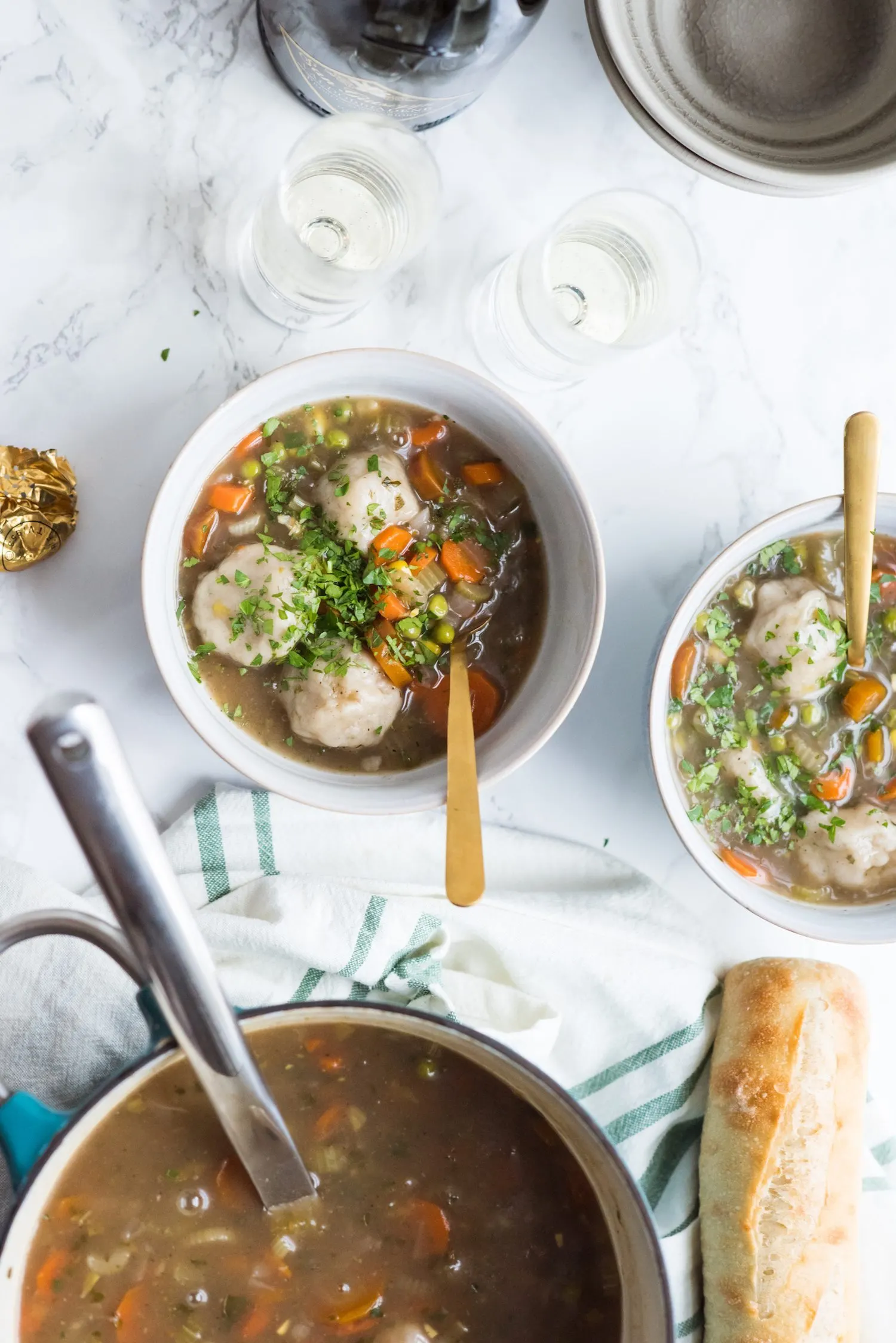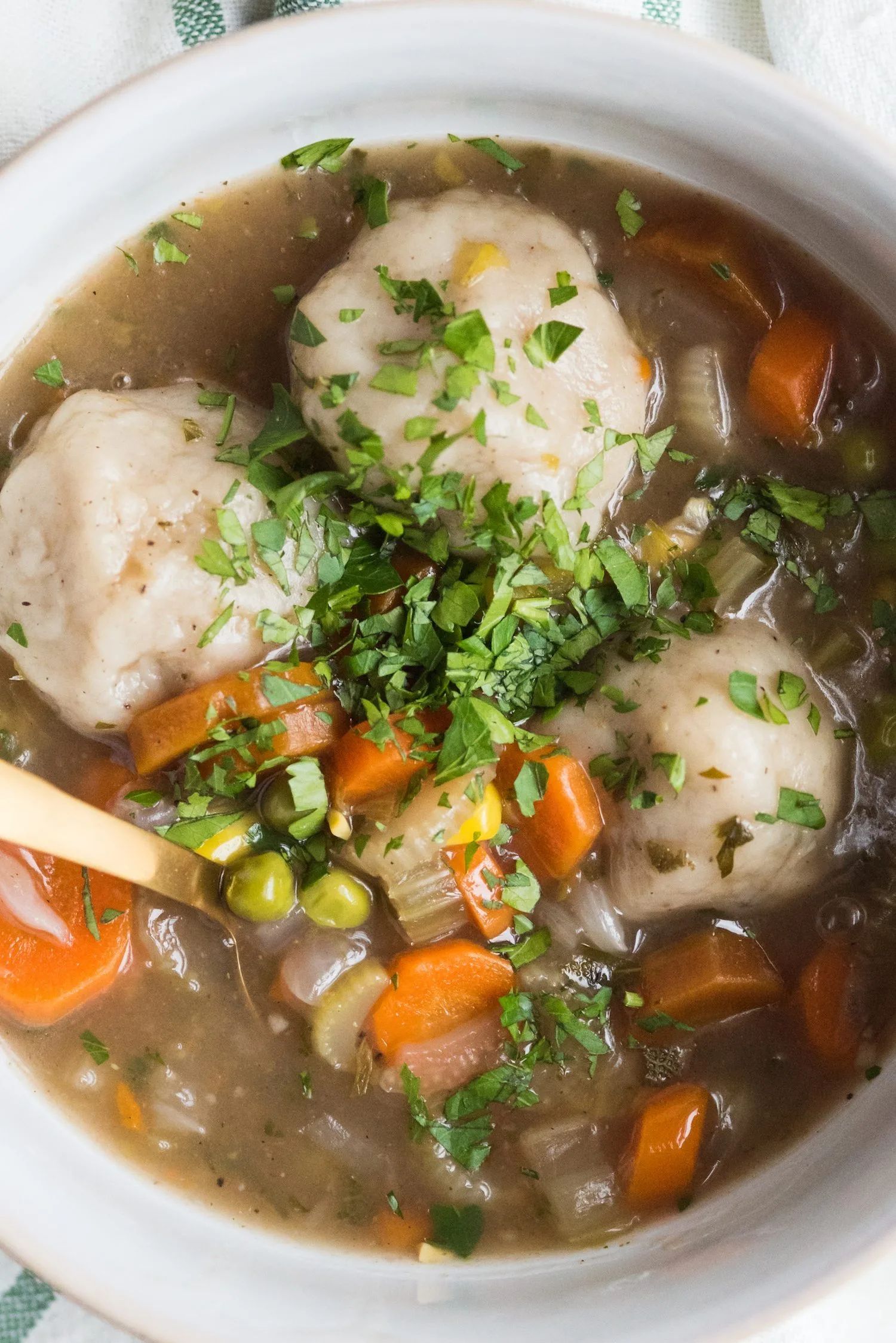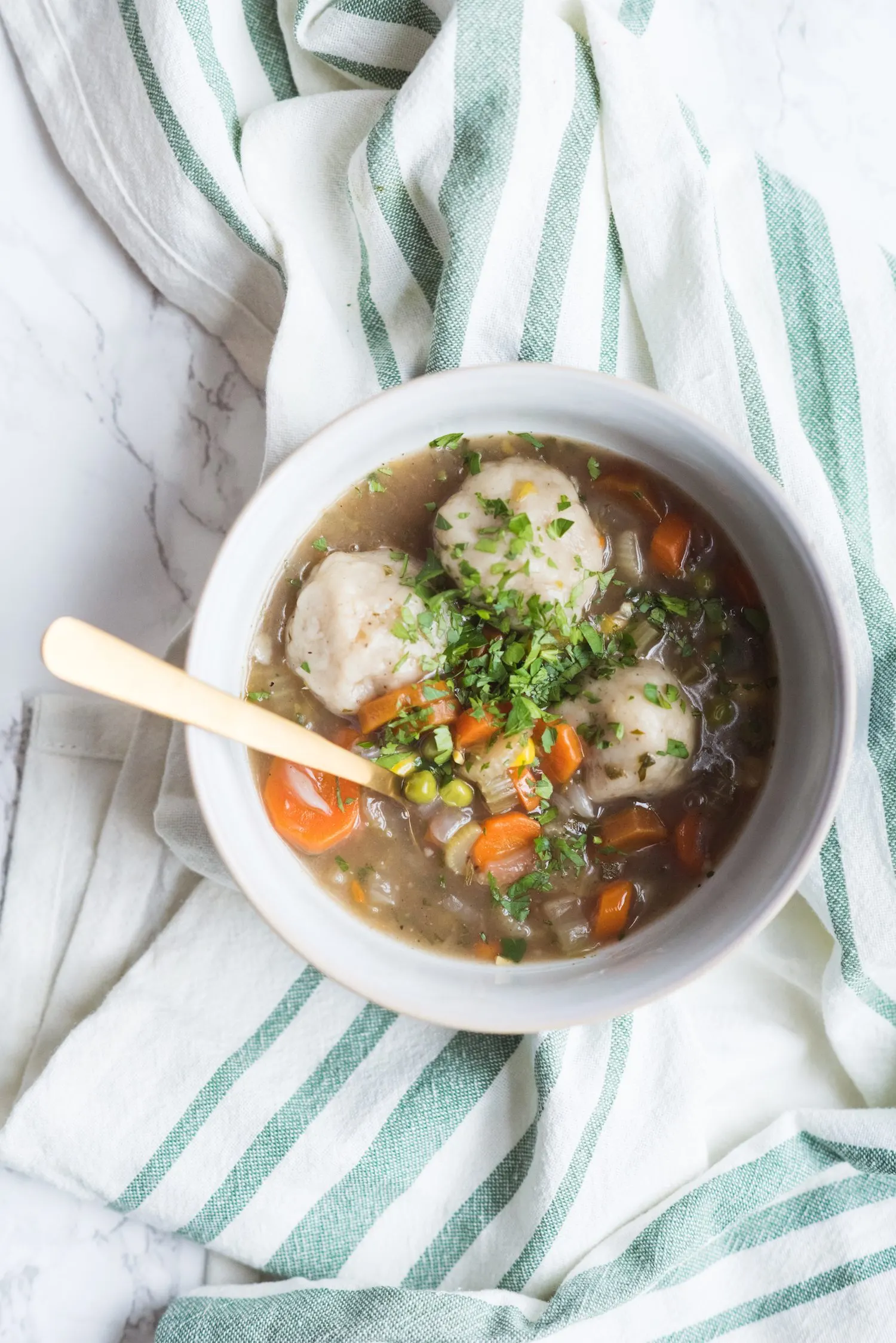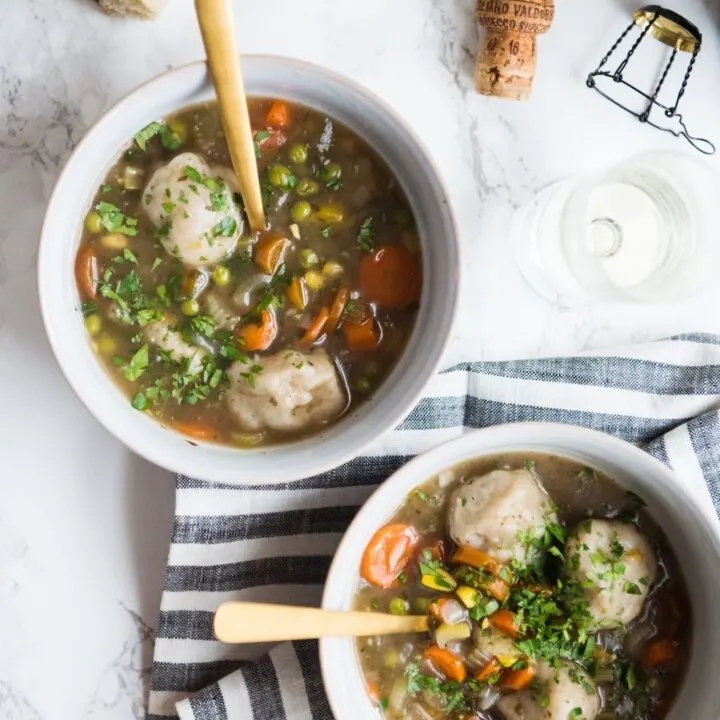 Homemade Veggie Soup with Vegan Dumplings
Prep Time: 30 minutes

Cook Time: 1 hour

Total Time: 1 hour 30 minutes

This homemade veggie soup with vegan dumplings is the vegan answer to chicken and dumplings - good old fashioned comfort food
Ingredients
For the Soup
8 large carrots, finely sliced
8 celery sticks, finely diced
1/2 large vidalia onion, finely diced
3 - 4 tablespoons olive oil
8 cups organic veggie stock
2 cups frozen corn
2 cups frozen peas
3 fresh bay leaves
1/3 cup finely chopped fresh parsley
2 tablespoons finely chopped fresh sage
2 tablespoons Bell's Seasoning (or similar)
Salt and pepper to taste
Fresh parsley to garnish
For the Dumplings
1-1/2 cups all purpose flour
2 teaspoons baking powder
3/4 teaspoon kosher salt
3 tablespoons veggie shortening
3/4 cup non-dairy milk (I use unsweetened almond milk)
1/2 teaspoon ground black pepper
2 teaspoons garlic powder
2 teaspoons onion powder
1 tablespoon fresh thyme, destemmed
Instructions
For the Soup
In a heavy bottomed soup pan, warm olive oil over medium heat.
Add celery, carrots and onion, season with salt and pepper, and continue to cook over medium heat until softened and onions are transparent, being careful not to burn or brown.
Add veggie stock, frozen corn and frozen peas. Then add herbs, bay leaves and Bell's Seasoning.
Cook fifteen minutes, then reduce to a simmer and cook for an additional 40 - 45 minutes, stirring occasionally.
Before dropping dumplings into the soup, taste the seasoning level and add additional salt and pepper as necessary, being sure to add small amounts at at time and then tasting after a couple minutes before adding more.
Bring soup to a gentle boil, then drop raw dumplings into the soup pan.
Allow dumplings to simmer in the soup, uncovered, for 10 minutes. Cover and cook an additional 10 minutes.
Ladle soup into a bowl, sprinkle with fresh parsley and serve!
For the Dumplings
Sift together the flour, baking powder and salt into large mixing bowl.
Add black pepper, garlic powder, onion powder and thyme and mix to combine.
Cut shortening into the flour mixture using a pastry cutter or the back of a fork until a crumbly texture is achieve.
Add milk and mix into the flour mixture with a fork until just combined.
Drop by spoonfuls into boiling soup to cook, being sure not to overcook so they don't get tough.
[Art direction + recipe by Cyd Converse | Photos by Alice G. Patterson.]