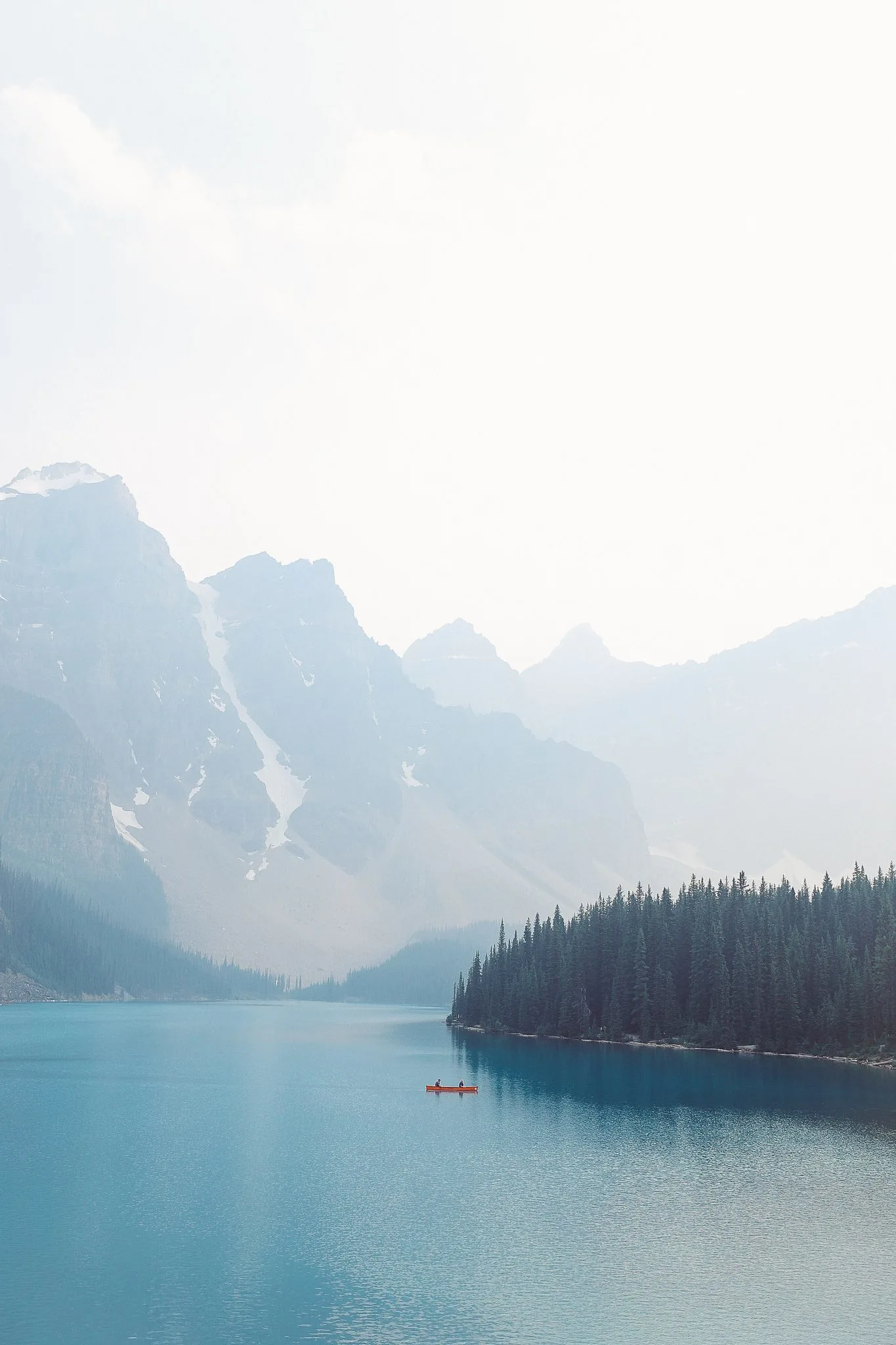 For nearly 10 years now I've been obsessed with going to Banff National Park. It's a dream that both Bob and I share. In fact, we have the ultimate bucket list goal of visiting all of the U.S. National Parks in our lifetime. We've visited some individually, but we need to revisit those so that we can hit them all together. (So, why not start by visiting a Canadian National Park, right?!) We skipped a honeymoon when we were married back in October, with the full intentions of doing a belated honeymoon/first anniversary/Bob's 40th birthday trip this year. Banff it is. (I previously mentioned this trip when sharing my goals for 2018!) This is our total, ultimate bucket list trip. Of all the places we want to experience across the world, Banff has been calling to us for so long. Game on. It's time. We're leaving the kids behind and we're heading off to Banff! We're still in the planning stages of our trip, which is why I thought it would be fun to share how we're planning our trip and what we're taking into consideration as we get ready to book flights and accommodations. Banff is one of those places that people go crazy talking about when it comes up in conversations. If you've seen photos of Banff or any of the surrounding lakes, chances are it's on your bucket list too, so I am going to share our planning process and, of course, loads of photos while we're there and recapping our trip once we're home. So, let's go to Banff!
[Photo from Aspyn Ovard. I love her Banff trip recap and video of what they did in Banff!]
What to See
Tucked into the Canadian Rockies, Banff is a little town within Banff National Park. It is then surrounded by huge mountain ranges, endless hiking and the most stunning lakes like the famous Lake Louise. (If you've seen photos, Lake Louise is that gorgeous emerald green lake that is nearly synonymous with Banff.) Banff has a relatively newly constructed gondola which allows you see incredible distances across the park in an unsurpassed way. At the top there is fine dining and shopping and you can spend time on the lookouts really just soaking in that view. We'll be doing that for sure. Did I mention the hot springs? Banff's world famous hot springs are definitely happening, too. Yes, I will sit in a hot spring and stare at gorgeous mountains, yes I will. In the town of Banff, though small, there is world class dining and some really interesting boutique hotels. We'll definitely be kayaking and doing some hiking, too. It's been a long time since I've done any real hiking so I'll most likely be on the easy hikes, but I'm still really excited about it. Driving the Icefields Parkway is a must-do on my list, with a drive that is supposed to be filled with some of the most amazing views in the world. (Guys, I'm all about those views. I'm a "cry because this view is so damn beautiful" kind of girl!) The Icefields Parkway itself can be a couple days worth of adventuring and sight seeing so I am still working on more research there, too. Which is where you come in! Has anyone been to Banff? What were your favorites? What destinations do you wish you'd seen? We'll likely spend four to five days there total so I need all the tips!
When to Go
Banff is located in Alberta, Canada in what can best be described as a super cold climate. Their summers are mild, their winters are intensely cold and prone to blizzards. Originally we had planned to go in September, since the kids would be back in school here and it just seemed to make the most sense for our schedule. Winter doesn't typically set in until October, when a lot of locations require chains on vehicles to be accessible, so we thought it would give us a good window between Banff's busy season and the winter season. I also love visiting popular destinations in a bit of an off season scenario. Generally prices are cheaper, restaurants are less crowded and the lines are shorter when you're trying to check out some of the more famous attractions or views. That said, I am starting to think we might want to go a little earlier in the year and risk the crowds in exchange for more of a guarantee that we'll have some good weather and be able to get out there hiking, kayaking and seeing the sites we're longing to see. Has anyone been? When did you go? I want all of your advice on what season is the best season in Banff!
How to Get There
Because we live on the east coast we've decided to extend our trip by a few days and fly from somewhere in Upstate New York (airport TBD based on flights and prices) into Vancouver. The closest airport to Banff is Calgary, but we've decided to make a Vancouver side trip as part of great Canadian adventure. (Again, without spending tens of thousands of dollars, we're really looking at this one as a "big" trip for us and we're making the money and time away from home worth it!) As of right now the plan is to fly into Vancouver, spend a couple days there and then road trip the 530 or so miles from Vancouver to Banff. The drive is supposed to be incredibly scenic and it's a part of Canada where neither of us have spent much time. (I've never been that far west in Canada and Bob has just passed through quickly.) Because we live so close to the Canadian border between New York and Ontario, we have spent a lot of time in Ontario and Quebec, and Bob even has a lot of time logged in Nova Scotia. We're really looking forward to driving across British Columbia and Alberta. Has anyone ever made the drive? Anywhere we should stop and visit or take photos or grab lunch along the way? We will be booking two one-way flights so on the way out we'll fly home from Calgary.
Where to Stay
Because Bob and I are both movers and shakers, we've been torn about what kind of accommodations we're after. In part we'd love to be in the town of Banff, where we can walk to restaurants and meander around a bit in the evenings or find great coffee in the morning. At the same time, we also love the idea of being holed up in some cabin in the woods or a cozy mountain lodge where we're off the beaten path a bit and really soaking up the nature part of the park at every turn. I think we've decided to do both! While we're in town, I think we're going to look to book a room at Elk + Avenue, which is a fairly modern hotel with a cool mountain-inspired vibe. It's the kind of place I love the stay when traveling in more urban areas. The rooms look gorgeous and it's right in the heart of town. We're also really loving the looks of the rustic little cabins at Storm Mountain Lodge, which is a five acre property nestled in the woods where everything is off the grid (meaning generator power), and there's no WiFi and where you can make a fire in your cabin in a little fireplace each night. Sounds kind of magical, doesn't it?
Visiting Vancouver
And now, tell me all about Vancouver! This is the bonus leg of our trip so I estimate we'll be in the area no more than 48 hours. We'll likely fly in, stay overnight, spend one full day, stay overnight again and head out for Banff on the second morning. Any recommendations on where to stay? If you had 24 to 48 hours in Vancouver, where would you suggest we go and eat and sip cocktails and all of that fun stuff? I honestly haven't spent any time researching the Vancouver end of our trip just yet, since it's a lot easier to figure out what to see and how to get to a major urban area than it is figure out everything you want to do and see in a national park setting. (Or at least it is for me!) Fill me in all on the Vancouver sites and scenes! It's a city I've long wanted to visit so I'm so excited that we'll be packing that into this trip, too.
[Photo from Aspyn Ovard | Check out her Banff travel video!]