This post was sponsored by Keep, my favorite new site for all things shopping and inspiration. Thank you for supporting the sponsors that so generously help keep The Sweetest Occasion rockin'!
A few weeks ago I shared photos of our new apartment and announced that I'm working with the awesome folks at Keep to make our new place a home. I also made mention of one particular room for which there were big plans. Truthfully, it's one of the rooms I'm most excited about designing! If you haven't caught onto my hint-dropping ways by now, I'm sharing this new pad with my better half. And turns out, he's not just my best friend and the absolute light of my life, but he's also father to some seriously amazing kids. So planning a room for his two boys to share? It's kind of a whole lot of fun for me. Not to mention, I think shared rooms can be so much fun. Need proof? I present you with this awesome room…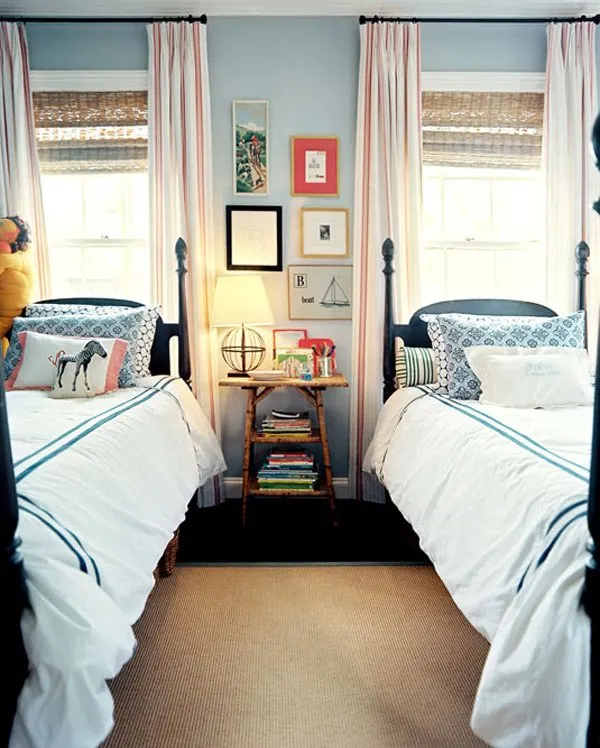 [Photo from Lonny.]
While a bit more traditional than the look I'm going for, I love how this room feels youthful without being too "little kid." B's boys are 10 and 12 and right on the cusp of going from little boys to teenagers in what promises to be about a split second. Their favorite colors are orange and blue so I am using that to dictate the color palette, while also wanting to avoid anything that feels too athletic team. (Not that I don't bleed orange during basketball season alongside my fellow Cuse fans!) I want the room to be fun for them, a place they love to hang out and that can grow with them as their tastes mature.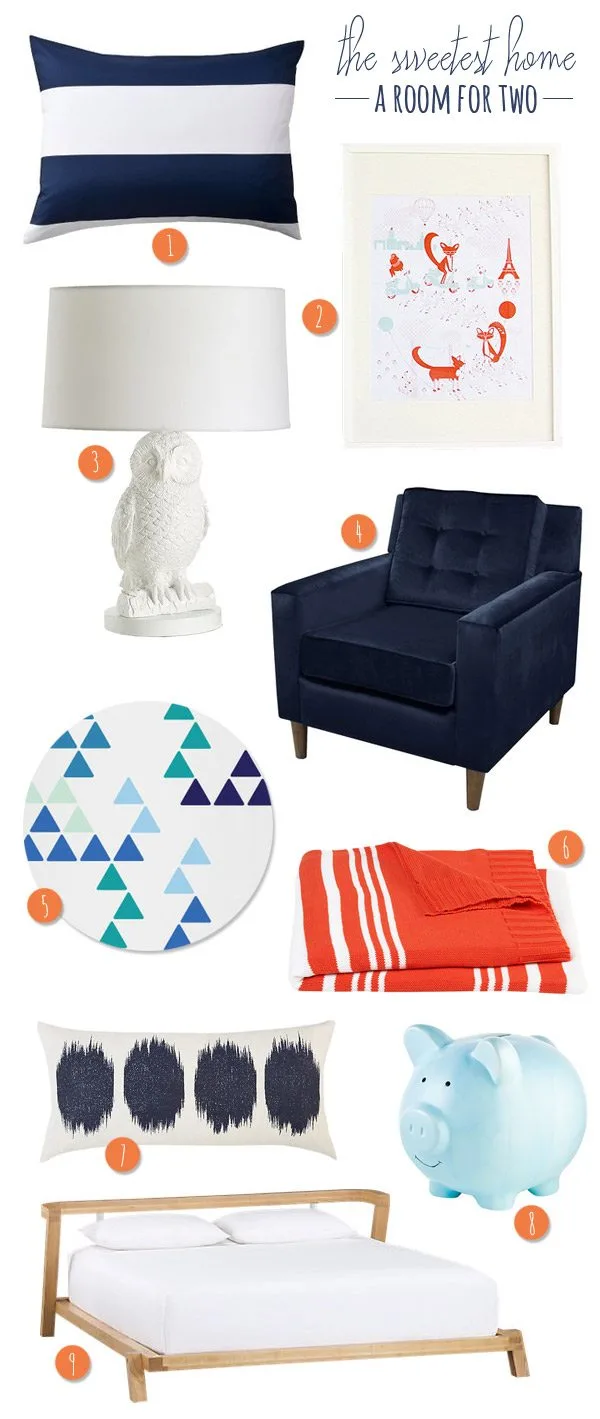 Here's the inspiration I'm currently working with! It's all about mixing rich shades of blue with pops of orange and some fun graphic patterns. The rugby stripe bedding is a definite (and, in fact, I ordered it this week) as is the Ink + Wit art print, which my friend Tara (the designer behind Ink + Wit) gifted me a few years ago. I'm currently debating between a few specific beds, all of which have a low profile and clean lines in a natural wood finish. Oh and it should be noted that our budget here isn't massive, despite the fact that this room is the one that requires the most amount of purchasing. Mixing a few attention grabbing pieces with budget finds, thrifted pieces and vintage scores will be the name of the game to bring it all together.
Have any of you decorated a room for two boys before? I'd love to hear your tips and tricks for making it work!

1: Rugby stripe bedding | 2: Foxy Friends in Paris Poster | 3: Owl lamp | 4: Blue velvet chair | 5: Triangle wall decals | 6: Orange striped throw | 7: Ink blot pillow | 8: Piggy bank | 9: Bed
This post was sponsored by Keep. Read more about our editorial policies.