This post was sponsored by Keep, my favorite new site for all things shopping and inspiration. Thank you for supporting the sponsors that so generously help keep The Sweetest Occasion rockin'!
A couple of weeks ago I hinted about an upcoming giveaway that was going to be pretty gosh darn awesome. Well, today is the day to spill the beans! As you know by now, I'm working with Keep to bring you all of my inspiration, ideas and tips as I design and decorate our new apartment. (Like the boys' shared room or my crush on bar carts or my vision for the living room.) Well guess what? Keep is also going to help one reader get to sprucing up their own home by gifting them a $250 Visa gift card! So that gorgeous lamp you've been eyeing, the new bedding you're dying to buy for your bedroom, or that bar cart you can't help but drool over? They could totally be hanging out in your house, all thanks to Keep!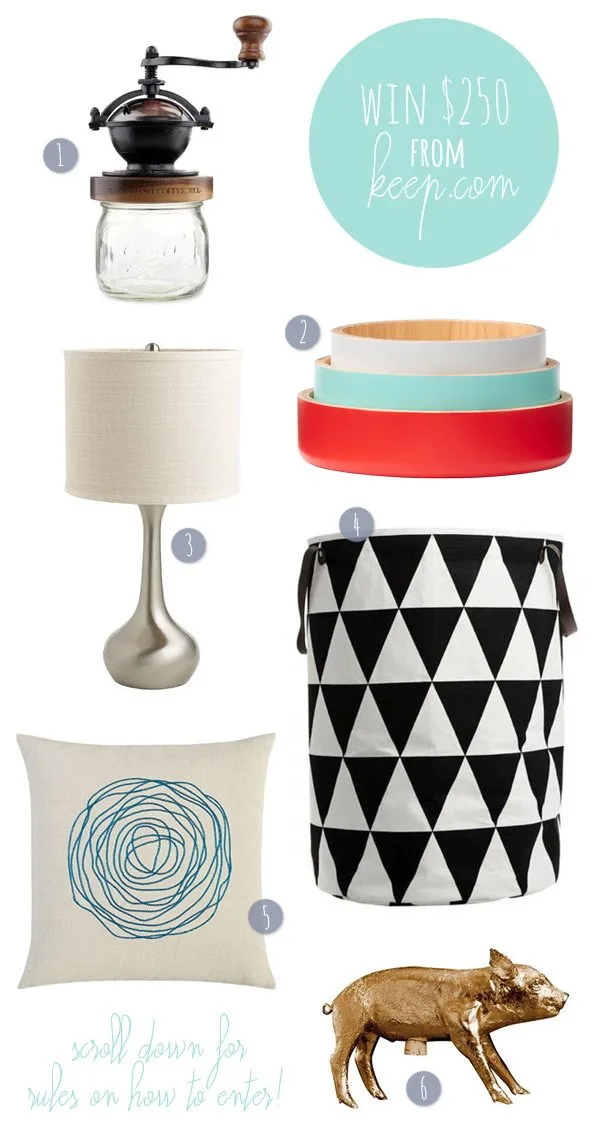 In addition to one grand prize winner going on their own little shopping spree, one lucky second place winner is also going to win their pick from my favorite home accessories to add a little pop of style to their pad! Two winners. Two awesome prizes. And you could be one of those winners! You know you want to add something a little sweet to your home this spring so read below for all the details on how to enter!

To Enter:
Pop over to Keep and sign up for an account, if you aren't already a member
Create a collection called 'The Sweetest Home' and start filling it up with the things you'd love to have in your own home!
Over the next few weeks click around, fall in love with Keep and add a minimum of 20 items to your collection
Leave a comment here with a link to your collection and letting me know you've entered!
Bonus points: Follow Keep and The Sweetest Occasion on Facebook and leave a second comment here letting me know you did!
The Details:
The contest is open to all readers (Please allow for adequate shipping time if you are international!)

Entry is open now through Wednesday, May 8 at 11:59pm EST
One grand prize winner will win a $250 Visa gift card to use to spruce up their home!
One second prize winner will get to choose one item from my collection The Sweetest Home: Favorite Finds Under $100
Neither The Sweetest Occasion nor Keep is responsible for any duties associated with the winnings for international readers

1: Coffee mill | 2: Nested serving bowls | 3: Lamp | 4: Hamper | 5: Pillow | 6: Piggy bank
This post was sponsored by Keep. Read more about our editorial policies.