This post was sponsored by Keep, my new favorite site for all things shopping. Thank you for supporting the sponsors that so generously help keep The Sweetest Occasion rockin'!
Weather pending, over the weekend I am planning to tackle painting the end tables for the living room. I'm pretty excited about it, I have to say! Which, naturally, has me thinking pretty long and hard (ridiculously so if I'm honest) about the other pieces I want to put in the room. A few things I'm certain of – I know I want a boldly patterned navy or cobalt blue rug. And I'm pretty settled on this industrial steel cart to hold the television. And from there, it's all the fun things like pillows and lamps and little accessories to really bring the room together. I'm definitely going for a mix of color and pattern, pairing more industrial pieces with softer lines and textures to keep it cozy. You know you want those pig bookends, too. Don't you dare lie to me.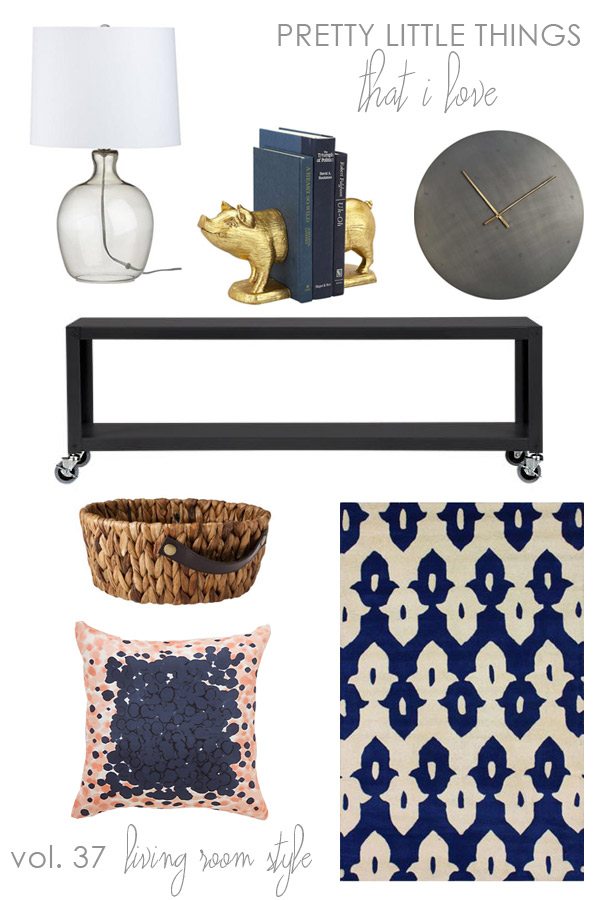 Last night, I asked readers to chime in on Instagram, Twitter and Facebook with what color you think I should paint our end tables! If you haven't already, I'd love to have you give your input. Pop over to Facebook to see what everyone else is suggesting and to give me your two cents. Right now the leading suggestions are coral and mint (paired with shiny gold hardware) with teal following closely behind. I'd love to have your opinion so don't be shy! Seriously. I need help here, people. I can't wait to keep you posted on what I decide!

[Shop: Lamp | pig bookends | clock | media cart | rug | pillow | basket.]
This post was sponsored by Keep. Read more about our editorial policies.