This post was sponsored by Keep, my favorite new site for all things shopping and inspiration. Thank you for supporting the sponsors that so generously help keep The Sweetest Occasion rockin'!
You guys have heard me talk an awful lot about moving in the last few weeks, so I thought today I would take a few moments to share a little apartment tour introducing you to the new space I'm calling home these days. Right now I'm tackling the initial phases of unpacking, getting organized and daydreaming about ways to infuse what is largely a blank canvas with loads of charm and personality. All of the existing furniture you see here is staying, more furniture is coming out of storage and I'll be adding in a lot of new pieces and textiles to bring it all together. And guess what? Thanks to the awesome folks over at Keep, I'll be taking you along for the entire journey! Tomorrow I'll be sharing more about Keep and why I am loving this new site, but for now let's get this tour underway, shall we?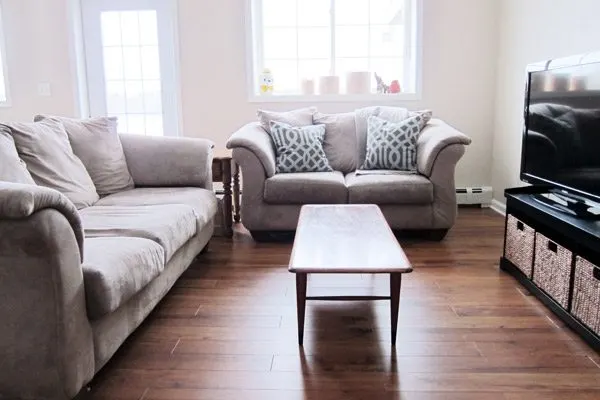 Here's a little view of the living room area, which is really part of a larger family/great room. I love the vintage coffee table (a $65 Craigslist score a couple of years ago), but otherwise there is so much I want to do here. New couches are not in the budget although these aren't my favorite. I am just glad they're neutral and, honestly, they're ridiculously comfortable. So we're calling that a win-win combination for the moment!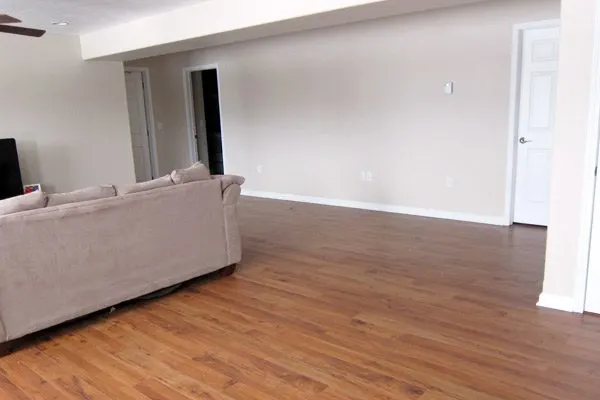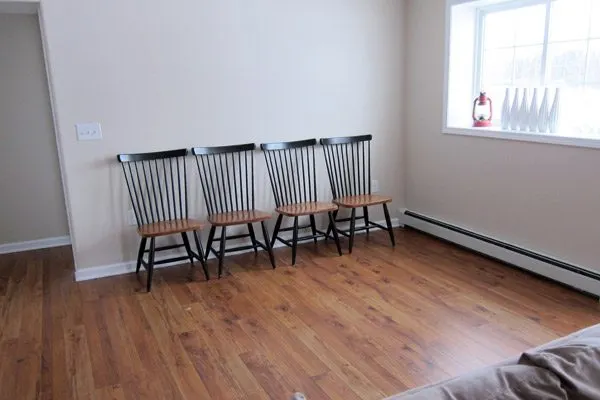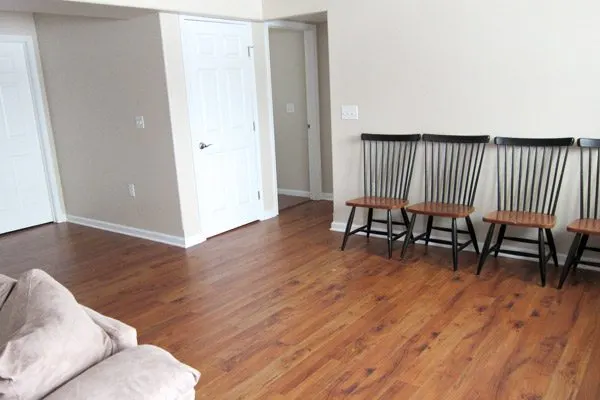 When looking at that first living room photo, to the left is where the dining room will be. The Windsor back chairs (another Craigslist score), will be staying and I'll also be bringing in my dining table, which is currently hanging out in a storage unit. It has a teak top and iron legs and I love it. I am envisioning a lot of fun dinners here!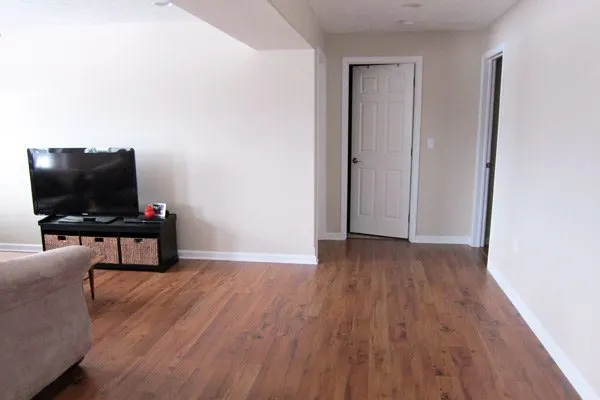 To give you a bit of orientation, looking ahead is the door to the single bathroom. The doorway to the right goes into the kitchen and the doorway across from that leads into the master bedroom. For the large blank wall to the right I am dreaming of loads of shelving and storage. (And likely a pretty little bar cart, too!)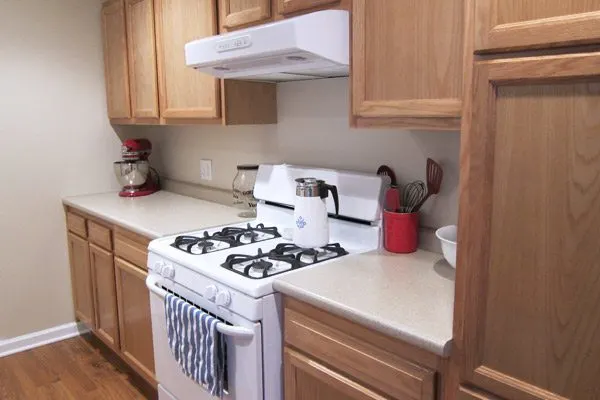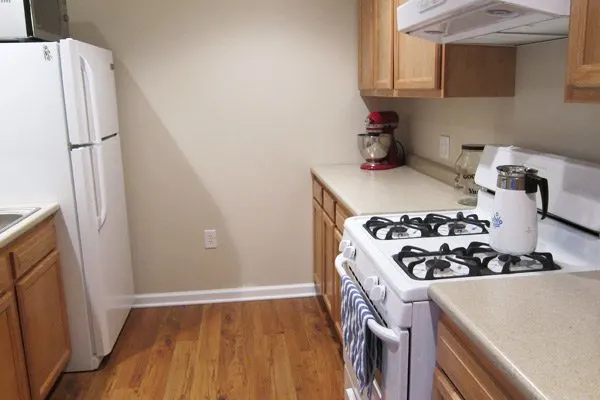 And here's the kitchen! It's small and windowless, but it's surprisingly bright and charming and I know there's going to be a lot of serious cooking going down in here in the not too distant future. This room also serves as the laundry room with a stackable front loading washer and dryer, so I'll be sure to share how I'm organizing the space and dealing with storage. (You know, once I have it all worked out and operational.)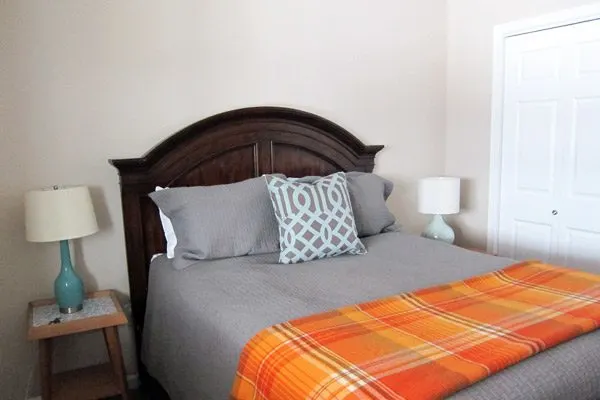 Here's the master bedroom as it stands at the moment. I am positively in love with the vintage plaid wool blanket I picked up this summer – a steal for just $10! It's likely not staying here (the mismatched nightstands and lamps are also getting nixed and repurposed elsewhere), but for now it makes cold late winter nights a bit more cozy. The bed was my graduation present to myself upon finishing graduate school and it's one of my favorite purchases to date. I still love it over six years later!
The bathroom is also fairly small and sans windows, but it's bright and clean. Which is kind of key in a bathroom, no? This room needs some help in the storage department, but overall it just needs a healthy dose of color and personality and then it will be just about perfect. After years of living in older homes, I am loving the squeaky clean look of new construction when it comes to the bathroom department!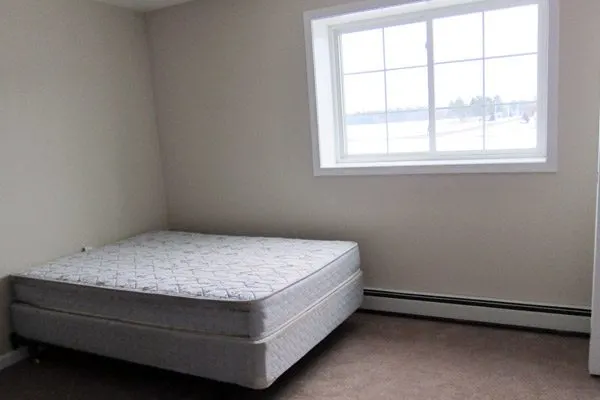 Ohhh, this bedroom. I am so excited about this room! We have big plans for this room, but I'll be sharing more details as we move along. In the meantime I just have to say that I am loving all the natural light that floods in through these huge slider windows. Even if the view right now is still rather cold and snowy. (Oh, did you catch the "we" there? Yeah. I'll share more on that later, too. I swear I'm not being intentionally vague. Or maybe I am. *wink wink*)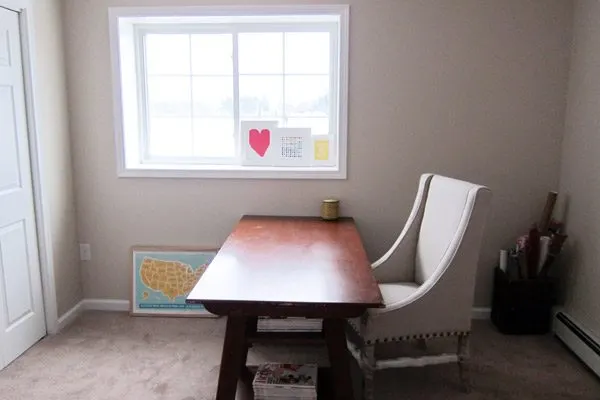 And here's the final room! This room will serve as my office and also as a bedroom, so it's probably the one I have the least clear vision for right now. It needs to be organized and inspiring, but also pack a lot of punch into one space so I am excited to share the process with you. (Oh, do you see my art prints from Minted are already unpacked? They just make me happy.)
And that's a little look at our new home as it stands right now! For anyone keeping count, we have three bedrooms and one bath in about 1350 square feet, great flooring, neutral walls, crisp white trim and loads of natural light. While there are a few storage and space issues to contend with and a pretty tight budget to outfit the entire space, I'm feeling pretty confident that I've got this one covered. Please let me know what you think and stay tuned for lots more to come! xoxo

[Photos by Cyd Converse for The Sweetest Occasion.]
This post was sponsored by Keep. Read more about our editorial policies.