This post was sponsored by Keep, my favorite new site for all things shopping and inspiration. Thank you for supporting the sponsors that so generously help The Sweetest Occasion keep on keepin' on!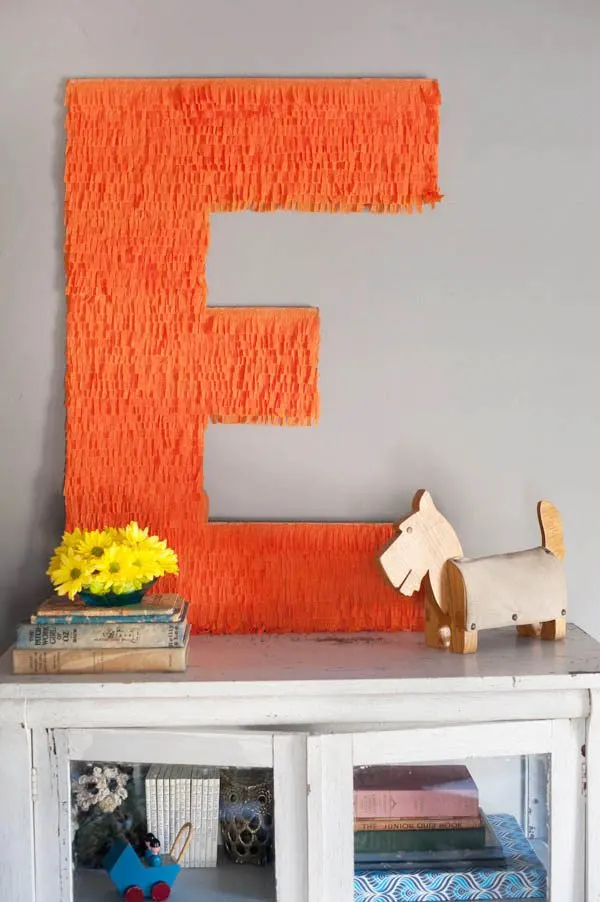 When thinking about decorating our new place, and in particular the boys's room, I wanted to come up with some inexpensive DIY decor ideas that would help us fill the space with personality without breaking the bank. (Because, seriously, we already had a lot of pretty big purchases to make!) After loads of brainstorming, I finally settled on making giant fringe monograms for over each of the boys' beds, inspired by a whole host of incredible projects that Jordan and the DIY crew at Oh Happy Day have dreamed up. The best part about this project? Each monogram cost roughly $1 to make (seriously) and the technique is incredibly easy, even if a touch time consuming. Oh, and they're crazy cool! Who doesn't love that?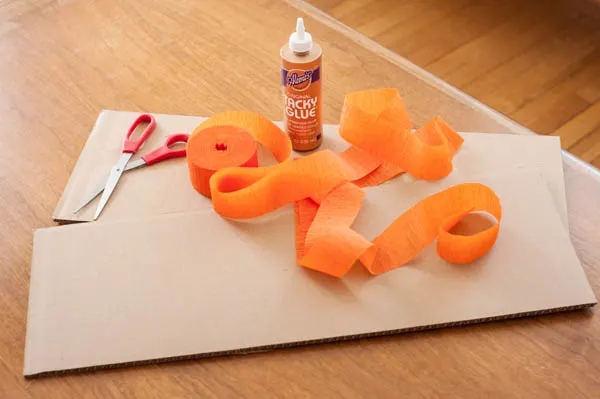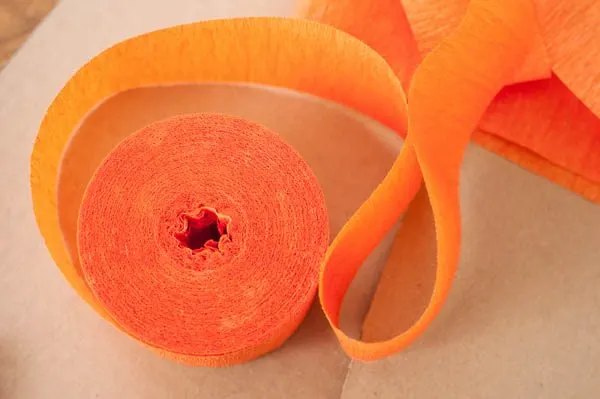 Crepe paper streamer rolls (I used less than 1 roll per letter)
Tacky Glue or a similar glue
Scissors
Cardboard
X-Acto knife and cutting surface
Metal straight edge ruler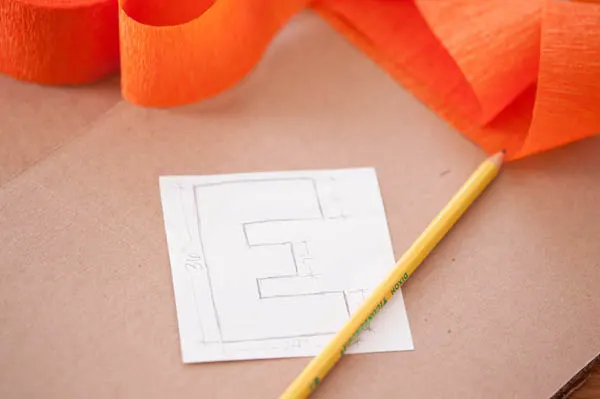 The first step in the process is to sketch and cut out your letters from a large sheet of cardboard. I used leftover boxes from moving! I knew I wanted the overall size to be 3′ tall and 2′ wide for each of the letters, which I determined by first holding various sizes of cardboard above each bed to see what size made the most sense to me. From there I sketched it out on a piece of paper before using a straight edge to draw the letters out on the cardboard. Then using a metal straight edge ruler and an X-Acto knife, simply cut the letter out, making sure to have a protective surface under your knife.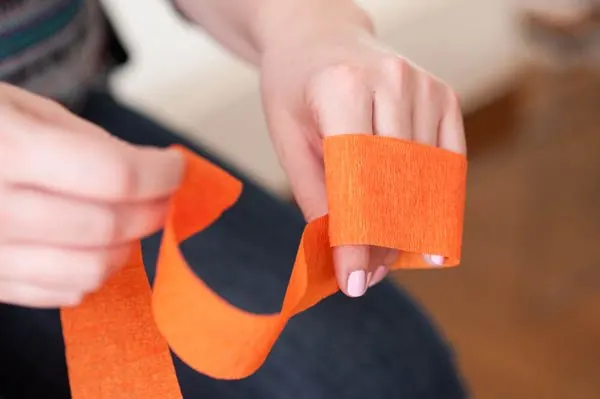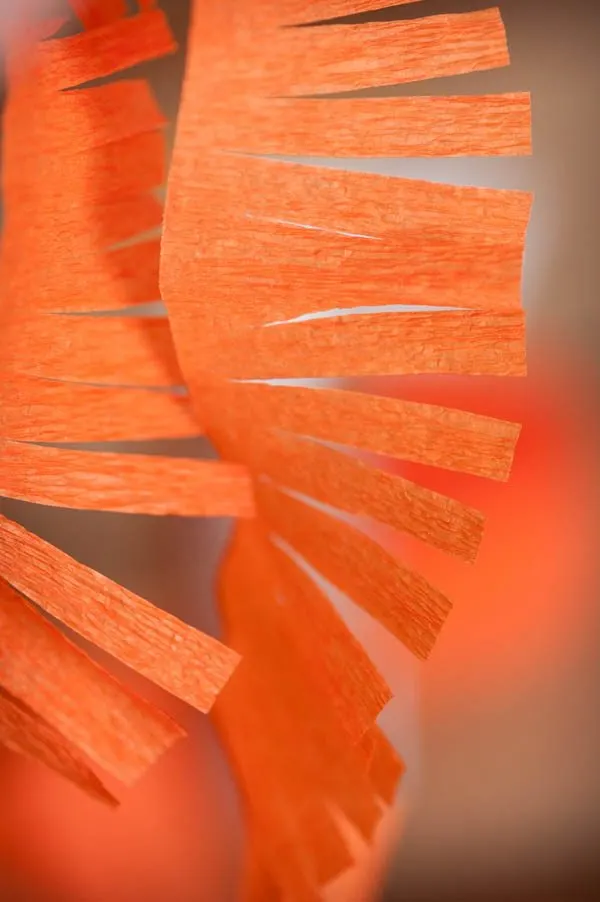 Similar tutorials I scoped out before getting started use crepe paper sheets, but my stash had run dry and I didn't want to wait to order them so I opted to use inexpensive rolls of crepe paper streamers from the party supply aisle at Target. To create the fringe, just wrap a long length of crepe paper around your hand then use scissors to cut it into fringe. You'll need a lot of fringe, depending on the size of your letters, so you can make it in batches as you move along – that's what I did!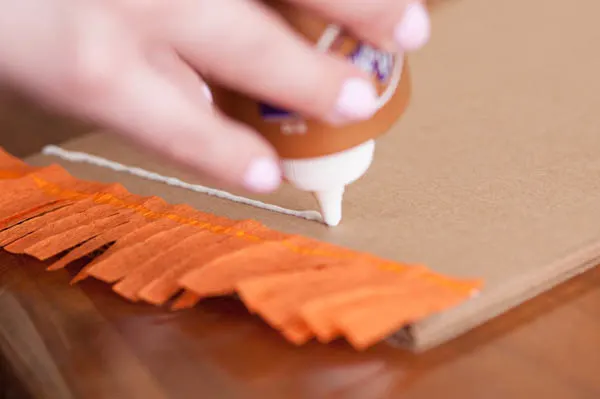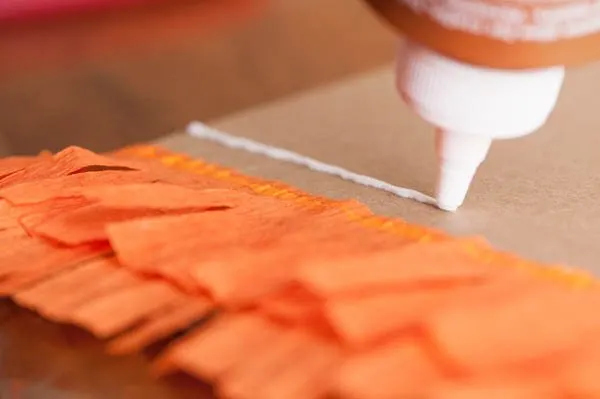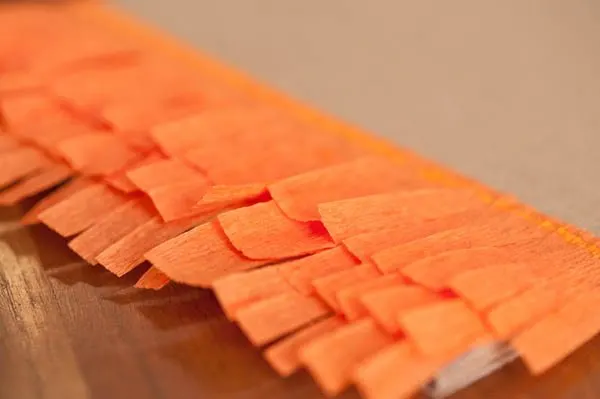 Next up, it's time to start gluing fringe! Just run a small bead of glue across your cardboard and then gently place your fringe, trimming on either end as necessary. Be sure to start at the bottom of your letter and move upward gluing down subsequent layers of fringe, being sure to overlap each row of fringe over the top of the one below it slightly. Keep on gluing and fringing, cutting more fringe as you go along as necessary.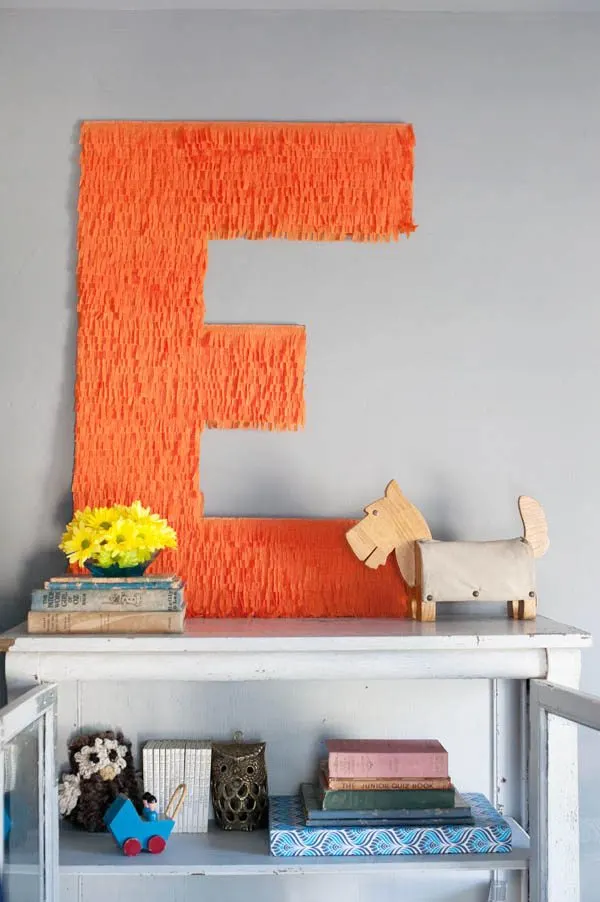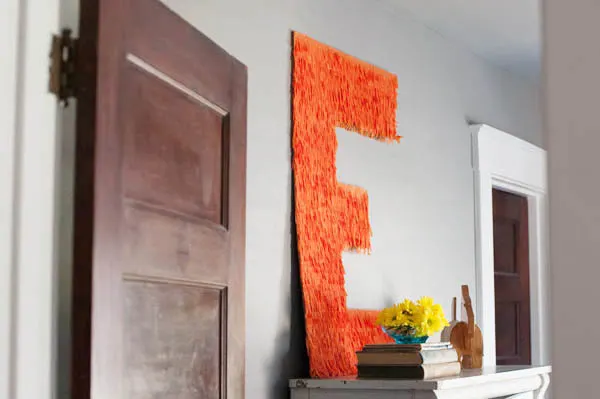 And that's it! Just keep gluing fringe down until your letter is completely covered, going back to trim if need be to get the look you like. We're going to be hanging these above the boys' beds (once we finish another project on that wall that's currently in the works), likely with 3M strips, but I'll be sure to break that down once we get to that step. In the meantime, these letters are perfect for room decor (naturally) but would also look killer at a birthday party or graduation celebration. Happy fringing!

[Design + styling by Cyd Converse for The Sweetest Occasion. | Photos by Alice G. Patterson.]
Sources –
Cardboard leftover from moving
Crepe paper streamer rolls from Target
Tacky Glue from Michaels
Styling props, accessories + books are all vintage
The fine print: Please link with love! As with all of our posts, DIY projects featured on The Sweetest Occasion may not be copied, distributed or reproduced without express written permission. Love and links are always appreciated! If you'd like to share this post, please link to this post directly for the DIY tutorial and do not include the instructions in your own post. Thanks so much! xoxo
This post was sponsored by Keep. Read more about our editorial policies.