This post was sponsored by Fab. Thank you for supporting the sponsors that so generously help The Sweetest Occasion keep on keepin' on!
Do you guys know Fab? Because if you're like me and you love to shop, but equally love a great deal on really high quality stuff that's beautifully designed, you need to know about Fab. A carefully curated shop offering fresh modern designs in home, decor and fashion (among so much more), Fab brings you the hottest trends at amazing prices. With a number of summer events coming up shortly (parties, weddings, photo shoots, business trips, you name it), I've been on the hunt lately for a few key new pieces to add to my wardrobe. In particular I'm looking for a handful of new accessories and jazzy additions in bright, tropical colors and Fab is delivering on the goods with some serious style!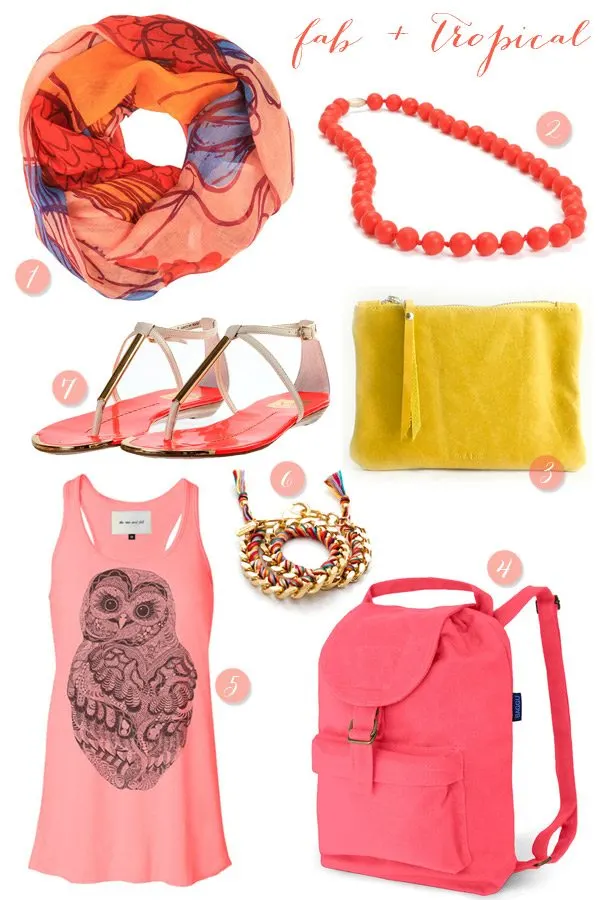 While playing around checking out the gorgeous collection of summer wares and wears that Fab has to offer, I had no trouble rounding up a whole bunch of pretty little things I definitely want to make mine. In particular, this Koi fish scarf would be the perfect little addition to my ever-growing collection of scarves. (I swear it's not time for an intervention. Yet.) And paired with a cute pair of shorts and these great sandals, the look could easily transition perfectly from day to night for an upcoming business trip I have where I'm going to be going from workshop during the day to business dinner at night without time to get back to the hotel to change.
To start your own love affair with all things tropical and summery, pop on over to Fab and be sure to sign up so you can receive the latest news on their freshest designs and sales. Oh and don't forget to pick up a cute owl tank top or bright pink backpack while you're at it! You so deserve a little something fab this summer.

[Shop | 1: Koi fish scarf | 2: Red beaded necklace | 3: Mini yellow pouch | 4: Pink backpack | 5: Owl tank top | 6: Double wrap bracelet | 7: Sandals.]
This post was sponsored by Fab. Read more about our editorial policies.