Have I mentioned how much I love brunch? It's kind of the most perfect meal in the whole entire universe if you ask me. There's something about waking up late, lounging over coffee and then chowing down on delicious food. Add in a gaggle of friends and an abundance of good conversation and you've got an awesome day made with just one meal. And the holiday season? It practically begs for hosting brunch. Whether it be for house guests the morning after a holiday party or just as a good excuse to spend time with friends during what can turn into a hectic month, Andrea, Samantha and Jade and Matthew have your menu covered. From the make your own Bloody Mary bar to the perfect French toast. Done and done.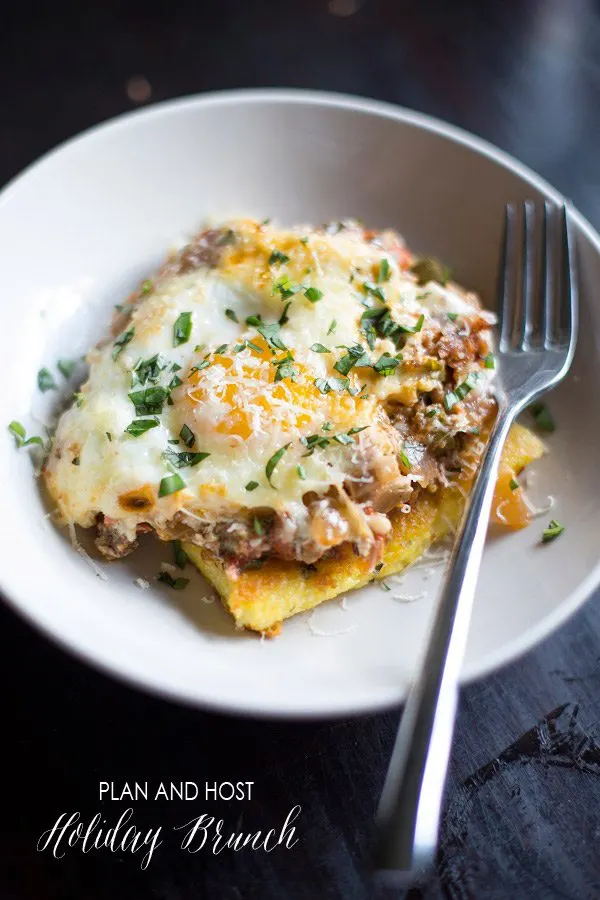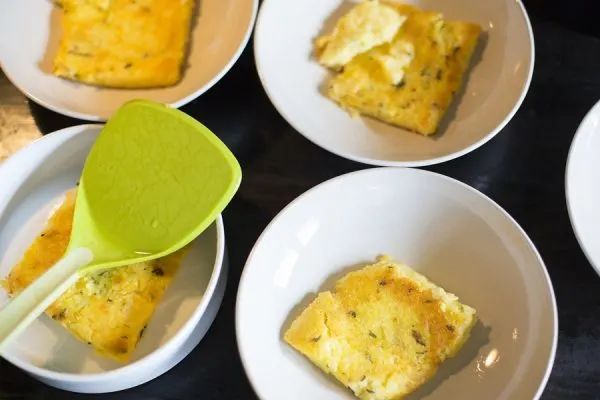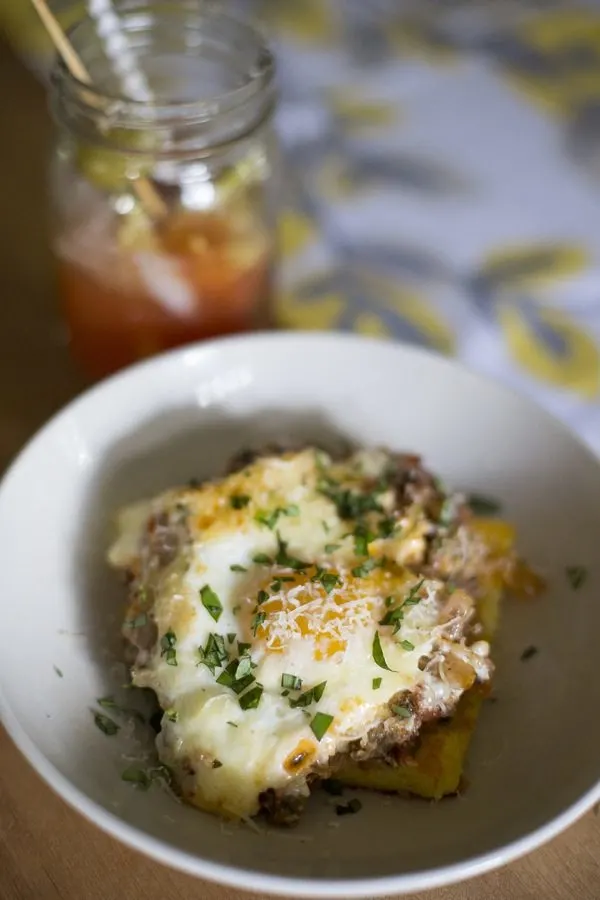 For the polenta cakes –
Prepare as directed on polenta package. Once polenta is cooked, but still hot, mix in 1/2 cup of finely chopped basil and 1/2 – 1 cup of fresh grated parmesan, salt and pepper to taste. Then pour mixture into rimmed backing sheet lined with parchment. Chill.
For Southern inspired sauce –
1 package of ground breakfast sausage
1 medium yellow onion diced
1 jalapeño – sliced lengthwise but left whole with seeds intact
4 cloves garlic
5-6 ripe tomatoes
15-20 whole pieces of okra chopped with stems discarded
1/2 cup basil
1 cup ricotta cheese
Freshly grated parmesan
6 eggs
In a sauce pan or dutch oven over medium high heat cook sausage until its thoroughly browned. Drain sausage and set aside reserving 2 tablespoons of drippings. Over medium heat cook onions in drippings until softened. Add chopped garlic and continue cooking until fragrant. Add in tomatoes, jalapeño, okra, half of the fresh basil, sausage, salt and pepper. Cook until vegetables are tender and sauce begins to thicken, 20-30 minutes. Remove jalapeño and discard. Add in remaining basil, salt and pepper to taste.
Preheat oven to 400°. Place sauce mixture in 9×13 baking dish. Make six indentions evenly spaced into sauce. Place a heaping tablespoon of ricotta into each indention. Gently crack 1 egg over each indention. Top with a handful of grated parmesan. Bake until whites are just set. 15-18 minutes. While eggs are baking heat 2 tablespoons of oil in a frying pan. Cut prepared polenta into 6 equal size portions. Cook polenta cakes until brown on each side and heated through, about 8-10 minutes flipping halfway through. Place polenta cakes in dish first topping each with one of the eggs and sauce mixture. Top with a little fresh grated parmesan and chopped basil.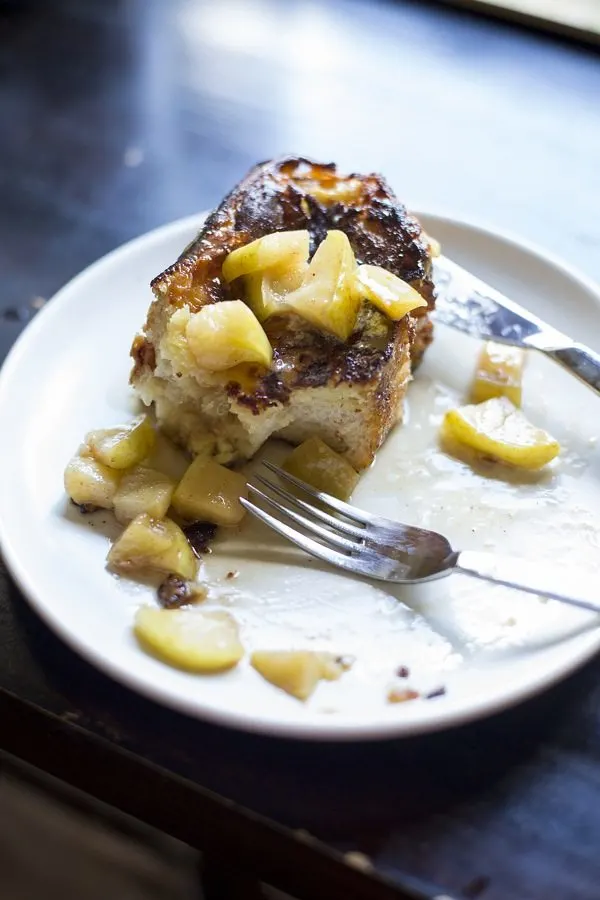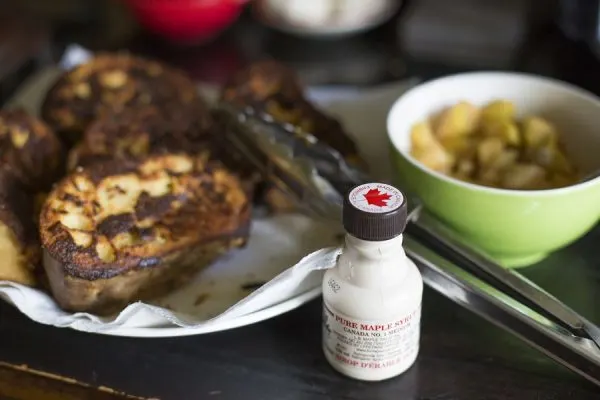 10 eggs
1/2 cup sugar
1 teaspoon salt
1 teaspoon grated nutmeg
2 cups cream
1 cup whole milk
1 loaf farm/country bread, cut 1 1/4-inch thick to yield 4–6 slices
Butter
Preheat oven to 500°. In a bowl, whisk eggs with sugar and salt until well blended, add nutmeg, cream, and milk. Soak bread in egg mixture for 15 to 20 minutes in a deep, wide baking dish so bread is fully submerged. Drain bread in a perforated sheet pan or pastry cooling rack on top of a baking sheet. In an oven-safe, nonstick sauté pan, melt butter over medium-high heat. Place soaked slices in pan, and let brown slightly on one side. This will help it set. Flip the bread, and place the pan in the oven for 4–5 minutes. Remove from the oven, and flip bread to the other, pan-seared side. Place in the oven, and cook until brown, another 4–5 minutes. Flip one last time, and again place in the oven for about 4 minutes. Serve with butter, maple syrup, and 
caramelized apples for the perfect holiday brunch!

3 tablespoons butter
5 apples (A mix of Honeycrisp and Granny Smith apples is delicious!)
1/2 teaspoon ground cinnamon
1/4 teaspoon lemon zest
1/3 cup apple cider
A pinch of salt
Peel and cut apples into cubes. Melt the butter in a large skillet over medium heat. Add the apples and 1tbsp sugar. Cook until the apples are tender, stirring occasionally, about 8 minutes. Add the rest of the sugar, cinnamon and lemon, stir and cook for another two minutes or until apples are caramelized. Transfer apples into a bowl using a slotted spoon. Turn the heat to high and add the apple cider to the skillet, scraping up any browned bits. Reduce the heat slightly and simmer for about 3 minutes, until the sauce has reduced and thickened slightly. Pour the finished sauce over apples and stir, serve warm.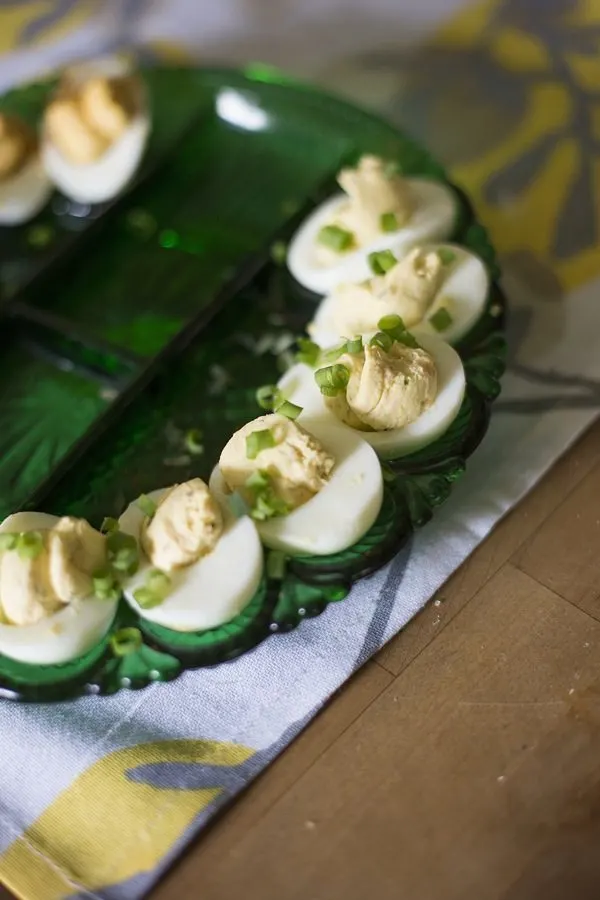 Pimento Cheese Deviled Eggs
6 large hard-cooked eggs, peeled and cut in half lengthwise
2 tablespoons mayonnaise
2 pieces cooked bacon, chopped
1 clove garlic, finely minced
1/4 cup shredded cheddar cheese
2 tablespoons jarred or fresh pimientos, diced
1/4 teaspoon cayenne
Salt and pepper to taste
Paprika and thyme to garnish
Scoop the yolks out from the eggs into a bowl and mash until smooth. Stir in the bacon, mayonnaise, garlic, cheddar cheese, pimientos, and cayenne. Add salt and pepper to taste. Scoop or pipe mixture into halved eggs and sprinkle with paprika and thyme.
Smoked Salmon Deviled Eggs
6 large hard-cooked eggs, peeled and cut in half lengthwise
2 ounces cream cheese, at room temperature
2 tablespoons mayonnaise
1 tablespoon freshly squeezed lemon juice
2 tablespoons minced fresh chives, plus extra for garnish
4 ounces good smoked salmon, minced
1 teaspoon kosher salt
1/2 teaspoon freshly ground black pepper
2 teaspoons capers
Scoop the yolks into a bowl of an electric mixer fitted with the paddle attachment and arrange the whites on a platter in a single layer with the cut sides up and sprinkle with salt. To the egg yolks, add the sour cream cheese, mayonnaise, lemon juice, chives, salmon, salt, and pepper. Beat on medium speed until fluffy. Scoop or pipe the mixture to fill the egg whites with the egg yolk mixture. Garnish with the extra chopped chives. Sprinkle with salt and pepper and serve.

[Styling by Andrea Harper of Gray Harper Event Maker | Photos by Jade + Matthew Take Pictures.]