I've mentioned before how much I adore Leif so I'm pretty excited about today. (See said Leif obsession here in this post entirely comprised of some of my favorites from Leif's pretty accessories and housewares!) Today is my day on the 24 Merry Days calendar and girl has the goods for you! As in, an amazing gift pack full of goodies worth $200 hand selected by Leif just for one of you lucky folks! (Oh man, I'm so jealous right now.) This is the perfect opportunity to treat yourself to a whole bunch of pretty little things this holiday season! But you know what I'd do? I'd totally split everything up and use them as sweet little gifts for some of my favorite ladies. Cha-ching! Consider a whole bunch of your holiday shopping done, friends. Scroll down for the details on how to enter the giveaway and many thanks to Leif for offering up such an amazing gift pack!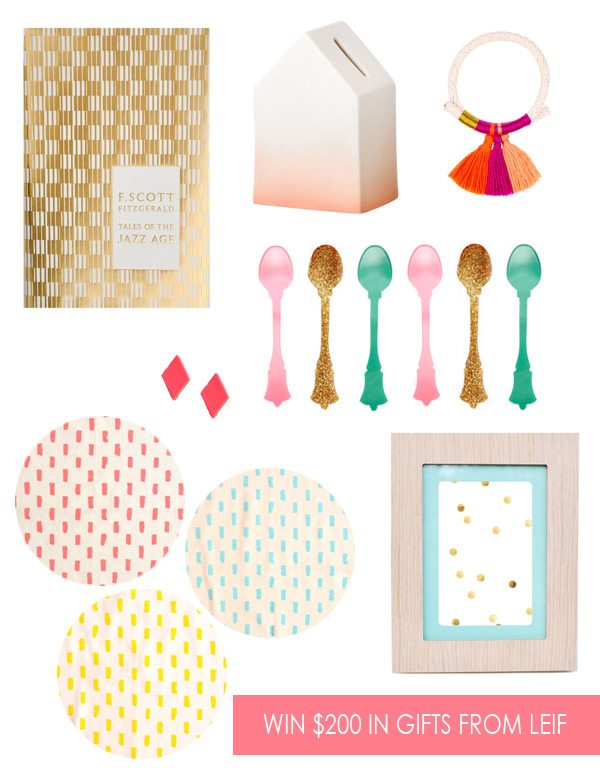 Oh, but before you get to entering, here's a rundown of what's in store for you! A selection from the F. Scott Fitzgerald book collection with a stunning cover designed by Coralie Bickford-Smith. A pretty porcelain bank for stashing your loose change. This vibrant tassel bracelet that I absolutely love. A set of party-ready teaspoons perfect for serving up holiday desserts. These cute leather triangle stud earrings. A gorgeous tea towel to add to your collection. (I'm not the only one with a tea towel collection, am I?) And a beautiful wood and pastel frame for those holiday photos you want to relive all year long.
So who's ready to enter for your chance to win? This year we're using Rafflecopter to organize each of the 24 Merry Days giveaways! The form below will give you a whole bunch of chances to win now through December 13, 2013 at 11:59PM PST. Note: Unfortunately this giveaway is only open to U.S. readers but stay tuned because Sunday's giveaway is available for all of you awesome international readers, too. (Woohoo!)
p.s. Don't miss your chance to enter Nicole's giveaway yesterday (featuring a whole wall of gorgeous framed art from Artfully Walls) and Brittni's giveaway being unveiled tomorrow morning. And follow along at 24 Merry Days for a new giveaway each day until Christmas!

[24 Merry Days site design + logo by Gloria Chen.]