By now we all know that Fridays during the holiday season are reserved for talking about gift. And because they apparently picked up on the fact that I love giving awesome gifts, the folks at T.J. Maxx, Marshalls and HomeGoods sent me out shopping with the challenge of scoring three amazing gifts for those people on your holiday list that might be a little trickier to shop for each year. Maybe it's the new neighbor who just moved into town that you've become close with or the best friend from high school with whom you've recently reconnected. I worked at T.J.Maxx back in my early college years and have continued to be a loyal shopper ever since, so I was pretty excited to take on this challenge. Now I'm here to share with you what I scored! While I won't be sharing specifically who is getting what (because I would hate to spoil the surprise for them), I will definitely give you my thoughts on the people in your life that these gifts might be perfect for, cool? Cool. Let's get gifting!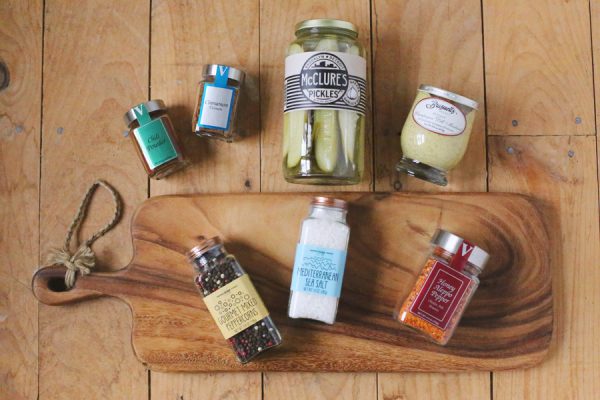 The Gift for the Foodie Dude Friend from HomeGoods
This gift is my pick for the dude who is into cooking and who, more specifically, is into all kinds of condiments, spices, rubs and things that are pickled. Frankly, this describes a number of the men in my life and this is the type of gift I've given far more than once. And it's always a hit! People love trying out new things and they also love it when someone else comes along and stocks up their spice cabinet. (Or cooks and foodies do anyway!) Pair a collection of spices, condiments and staples (these ranged in price from $2.99 to $6.99 each) with an awesome cutting board ($16.99), which can also double as a serving board. This also makes an awesome gift for a neighbor or a killer hostess gift, too! It's worth noting that we're huge fans of McClure's pickles in our house and we usually have a handful of the Victoria Gourmet spices in our cabinet, too, so these ones are tried and true in my world.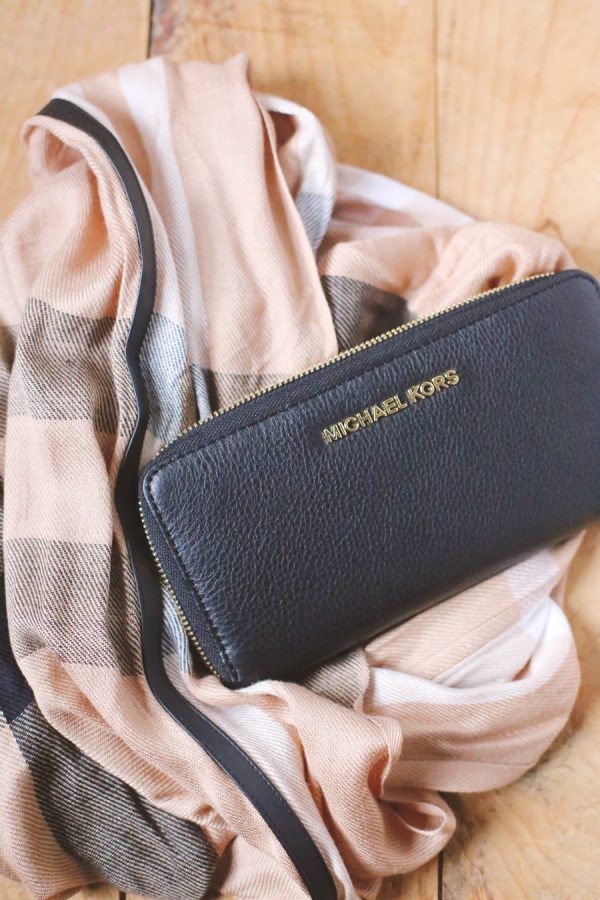 The Gift for Your Long Lost Best Friend from T.J.Maxx
I really want to spills the beans about who is getting this one, because it's my favorite gift of the bunch for a couple of pretty obvious reasons. That said, this is the type of gift that's super special and it's reserved for really making a statement and treating someone to a bit of lady-like luxury. Think that aforementioned long lost best friend, a new friend you've found yourself really close with all of a sudden or the neighbor who has helped you out with this or that on what feels like a million different occasions. So here we're pairing a gorgeous Michael Kors wallet ($79.99) with this pretty Vince Camuto scarf ($16.99) and really making Christmas awesome for someone who deserves to be treated like a queen. What I particularly love about these pieces is the gold hardware on the wallet and the leather detailing on the scarf because it just makes it even more lovely.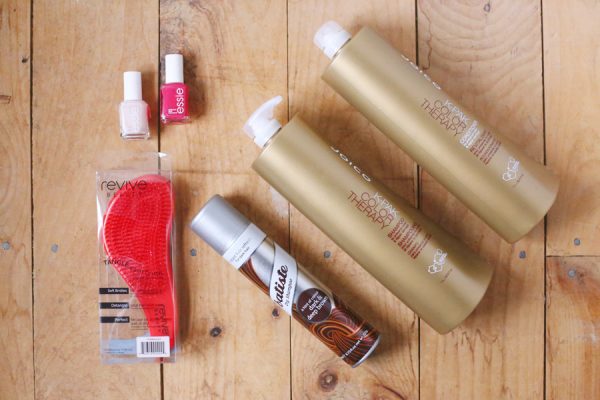 The Gift for the Teenage Girl from Marshalls
B and I have a special teenage girl in our life who, while technically not family, is someone we always add to our holiday shopping list. This gift is perfect for either a teenage girl who is really starting to come into her own when it comes to beauty and hair care, or the lady friend who is a YouTube beauty guru in the making. I absolutely love receiving gifts of this kind! Gifts that are functional and practical while still being super thoughtful, so in return I love giving this kind of gift, too. Big pump bottles of Joico K-Pak shampoo and conditioner ($16.99 each), a bottle of Batiste dry shampoo ($5.99), a detangling brush ($5.99) and a couple of Essie nail polishes ($3.99 each) and you're gifting that lucky lass with a bit of everyday pampering. I got the inspiration for this one from my mom, who is the queen of making sure each Christmas that my sister and I are fully stocked up on our favorite lip glosses, eyeliner and heat protectant. It sounds so simple, but it's basically the best gift ever and I love that I don't have to dole out the money for that stuff myself. As in, I haven't bought eyeliner in years and it's amazing.
So there you have it! I hope you found a few ideas here that are fun or that might inspire you to pick up something special for that "extra" person in your life who might not otherwise be on your holiday shopping list this year. For my continued rambling about all things gifts, be sure to keep up with The Gift Guide each week. Share your favorite gift ideas from T.J.Maxx, Marshalls and/or HomeGoods with me on Instagram by tagging me and using the hashtag #bestgiftever. I'd love to see what you're gifting this year!

[Photos by Cyd Converse for The Sweetest Occasion.]
I received no compensation for this post. All opinions are my own. TJX (T.J.Maxx, Marshalls and HomeGoods) did provide me with a gift card to cover the cost of the gifts purchased. Read more about our editorial policies.