Hello, friends! I owe you all a post a little later today or tomorrow to fill you in on the last couple of weeks, but in the meantime, this is your friendly heads up that I'm back in the saddle this week and posting is officially going to be back to normal. What better way to kick things off than with these super pretty DIY gold glitter dipped mugs? Made with dishwasher safe Mod Podge, you don't even have to worry about glitter floating in your coffee! These are guaranteed to add a little glam to your morning, but I also think these would make a really sweet gift for a friend.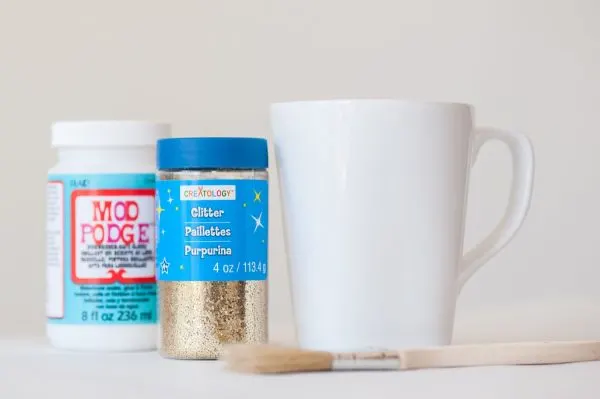 Basic ceramic mugs
Large particle glitter
Dishwasher safe Mod Podge
Craft brush
Begin by making sure your mugs are well cleaned and completely dry. I went with white mugs, but I think any solid color would be gorgeous here. Like black! So fun. Once clean and dry, apply a medium thick layer of dishwasher safe Mod Podge to the bottom third of your mug using a clean craft brush.
Cover the Mod Podge with a generous spray of glitter. For this project I think a large particle glitter is particularly appropriate, but you can really choose whatever color and style of glitter you prefer. Rotate the mug as you go until all of the Mod Podge is covered, then give the mug a good few taps to shake loose any excess. Allow to dry, then repeat the Mod Podge and glitter steps as necessary until you get the coverage you'd like. Finish with a final, very light coat of Mod Podge to seal everything in place and allow to dry one final time.
Overall, I'm pretty darn impressed with how the dishwasher safe Mod Podge is allowing the glitter to hold up on my mugs. I still recommend hand washing these mugs just to make sure they stay looking their best, but I don't think you'll have a catastrophe if they do go through the dishwasher. I am seriously loving this stuff, it opens up a whole new world of fun craft possibilities! Also, gold glitter dipped mugs for the win, always.

[Design + styling by Cyd Converse | Photos by Alice G. Patterson for The Sweetest Occasion.]
The fine print: Please link with love! As with all of our posts, DIY projects featured on The Sweetest Occasion may not be copied, distributed or reproduced without express written permission. Love and links are always appreciated! If you'd like to share this post, please link to this post directly for the DIY tutorial and do not include the instructions in your own post. Thanks so much! xoxo