Why hello, friends! I'm back from a whirlwind long weekend in Florida celebrating my niece's high school graduation and ready to jump right into the week. It has been a bit since we chatted about books, but as I was standing in the airport bookstore yesterday in search of a new book for the flight home, I realized I have read quite a few lately that I really loved. Easy reads that are easy to get sucked into and that are just really enjoyable. Today I thought we'd boil those down into a short and sweet little summer reading list comprised of my recommendations for really great beach reads this season! Any recommendations I should check out?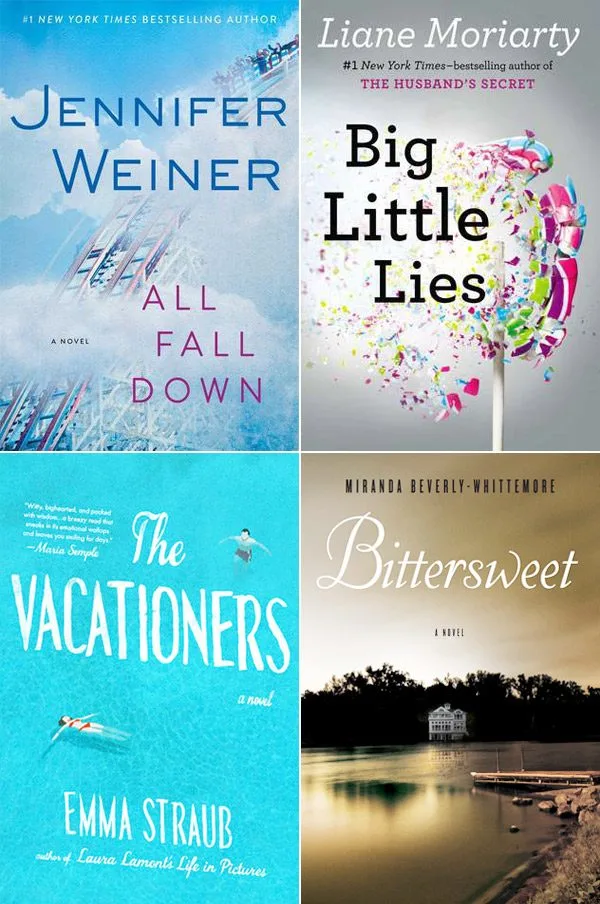 All Fall Down, by Jennifer Weiner
If you've read any of Jennifer's other books, this one might surprise you a bit. I actually don't read her books regularly, but I do know they typically fall along the vein of being light-hearted chick-lit. This isn't quite that as it explores one seemingly put together woman's struggles in her marriage and dealing with substance abuse. While it isn't necessarily light and cheery, it's a heartfelt and quick-paced read, making it appropriate for lounging poolside with a frosty drink this summer.
Big Little Lies, by Liane Moriarty
This was the first book of Liane's that I had read, but I have since read two others. In reality I'd recommend any of her books that I've read to add to your summer reading list. Her stories are gripping with really unique characters and unexpected, dramatic twists, but all packaged up in a way that doesn't feel too heavy. I never saw the plot twist coming at the end of this book and Liane's writing had me sucked in pretty much immediately.
The Vactioners, by Emma Straub
This book makes the list because (a) when on vacation or on the beach, one should read books about people on vacation or on the beach (am I right?), and (b) because the family around which this book centers is so hopelessly messed up it will make you feel totally normal. Or it will make you feel right at home being totally messed up. In all seriousness though, the characters here are quirky and dynamic and they feel completely real, making this family's struggles feel very close to home, even if you have a much less dramatic existence.
Bittersweet, by Miranda Beverly-Whittemore
This pick is actually the book I picked up on a whim yesterday at the airport, and I've already breezed through 2/3 of the pages. It's a classic summer read and I am not ashamed to admit that I am loving every chapter. It's one part intrigue, one part wealthy kids summering at their extravagant lakefront estate, one part cliche summer romance and one part guilty pleasure. This one is actually topping my list for beach read recommendations, just be prepared to blow through it no time!