This post was sponsored by Dr. Oetker Ristorante. Thank you for supporting
the sponsors that help make The Sweetest Occasion possible!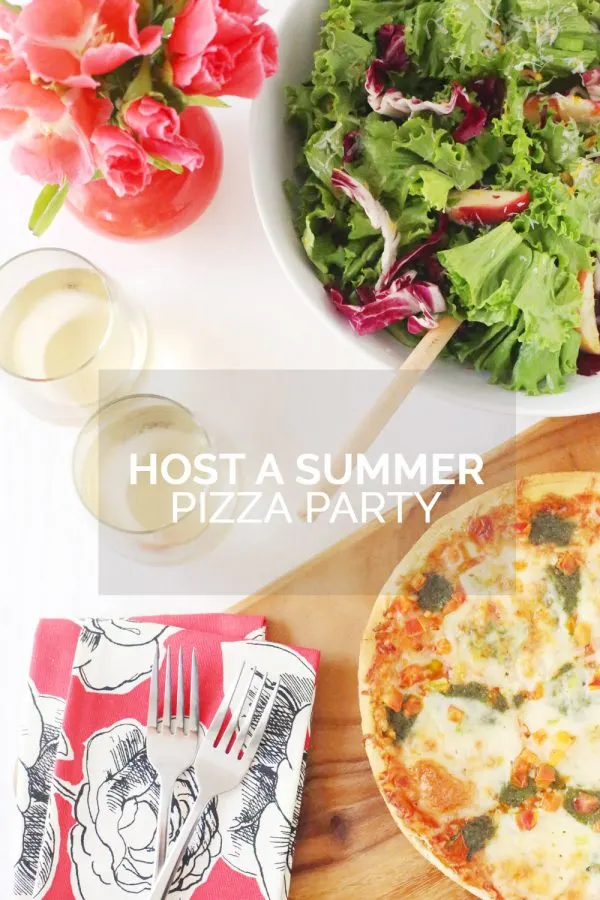 Hosting a casual pizza party is one of my favorite ways to entertain. It helps that we love pizza, or really, that everyone loves pizza. It also helps that it's one of the easiest ways to throw a dinner party on the fly. Today I'm sharing a few tips for hosting a fuss-free elegant summer pizza party and my friends at Dr. Oetker Ristorante are sweetening the deal with an amazing giveaway! We're talking everything you need to host your own pizza party for you and your friends this summer. Keep reading to snag all the giveaway details and get yourself entered to win a prize pack valued at over $250!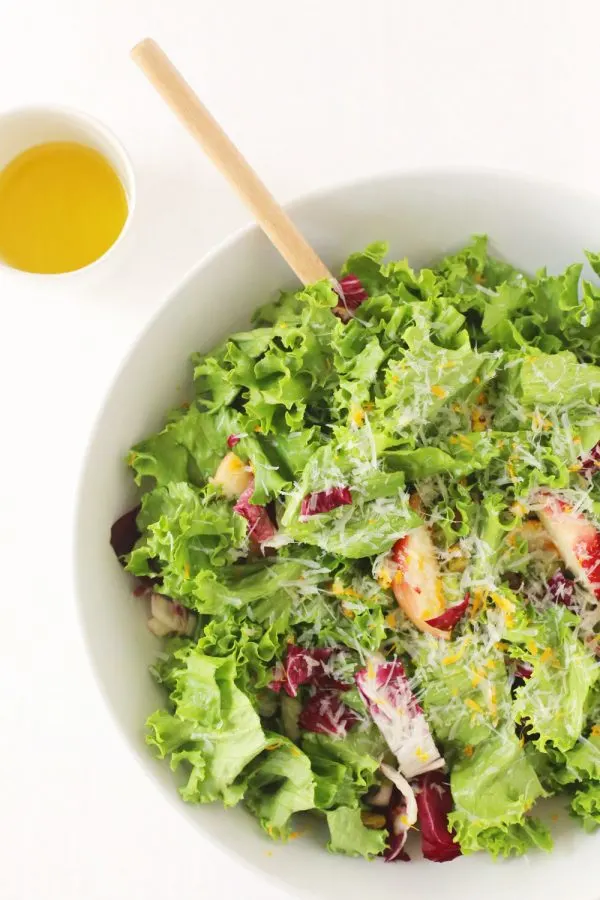 Let's talk about salad! That might not sound super exciting, but trust me it is. If you start the evening by tossing your favorite Dr. Oetker Ristorante pizza in the oven, all you really need is an amazing fresh salad and a good wine to set the stage for a casual but elegant dinner party. I made my salad to pair with the Pizza Mozarella flavor, which has quickly become one of my favorites. The mozzarella, spice and tomato flavors are so good, and we find that 14 minutes at 425° bakes the perfect crispy pizza. (We love a good crispy pizza in this house.) Prefer something a little different? With nine unique, gourmet flavors there's something for every palate whether you be a meat-lover (check out their Pepperoni Pesto and Pollo varieties) or a veggie-lover like me. Check out the store locator to find where Ristorante pizzas are sold near you or put in a request with the manager at your favorite grocery store if they don't already carry them!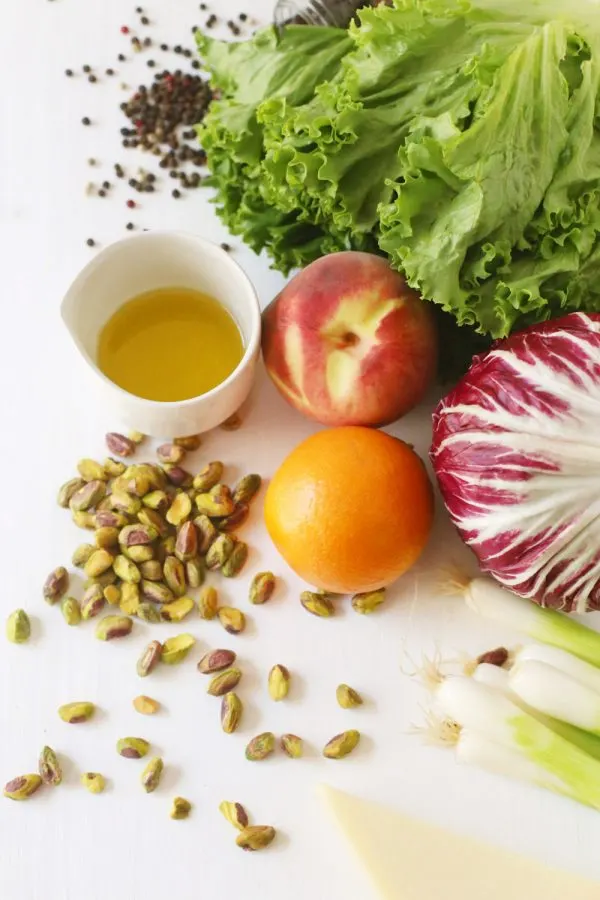 For this salad we're talking a mix of fresh, delicious ingredients sure to take your salad game up a few notches. Green leaf lettuce, radicchio, scallions, fresh peaches, good parmesan, pistachios and a simple dressing made with your favorite olive oil, the juice of an orange and freshly cracked black pepper. The sweet lettuce paired with the more bitter radicchio, the saltiness of the cheese and pistachios paired with the peaches and orange juice, all come together to create a perfect complement to the mozzarella and spices of the pizza. So so good! I rounded everything out with a favorite pinot grigio, but a dry rosé would also be brilliant.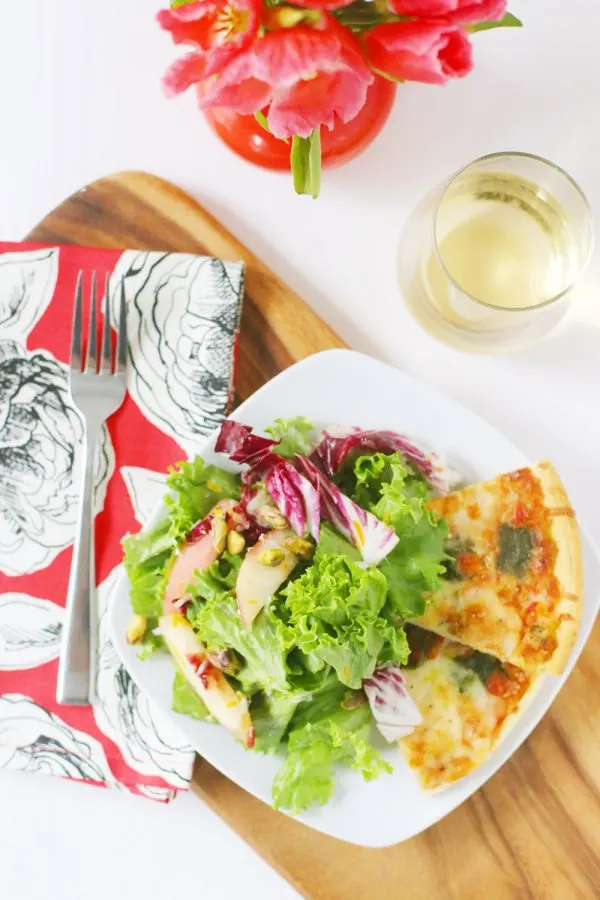 Now onto the good stuff! One lucky reader is going to win a pizza party prize pack valued at over $250! You can enter using the Rafflecopter widget below. What are you going to win? Lots of really good stuff! Also known as everything you need to host the ultimate summer pizza party. We're talking everything from the plates to the crystal wine glasses. All you'll have to do is bake up a pizza or two, whip up a salad and pour the wine.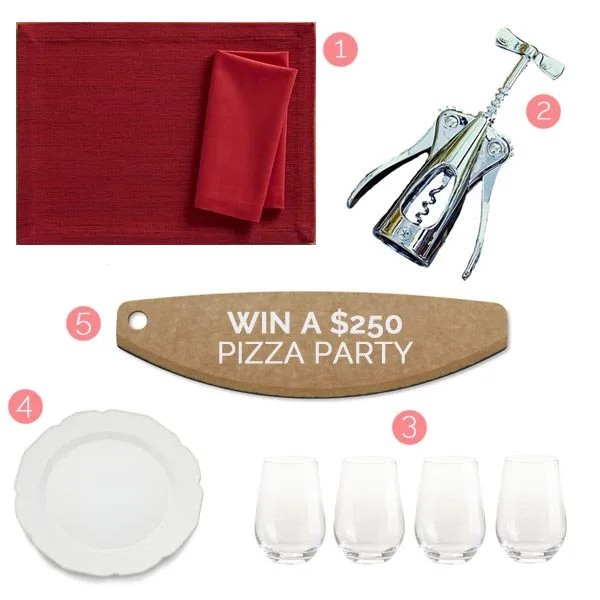 [(4) Dr. Oetker Ristorante pizzas | 1: (8) place mats and matching napkins from Crate & Barrel | 2: wine opener from Williams-Sonoma | 3: (8) crystal wine glasses from Pier 1 |4: (8) dinner plates from Crate & Barrel | 5: (1) pizza cutter from Williams-Sonoma.]
Need more pizza in your life? Follow Dr. Oekter on Facebook, Twitter and Pinterest for more delicious ideas!


[Photos + recipe by Cyd Converse for The Sweetest Occasion.]
This post was sponsored by Dr. Oetker USA LLC. I received compensation for this post, but all opinions are my own. Read more about our editorial policies.