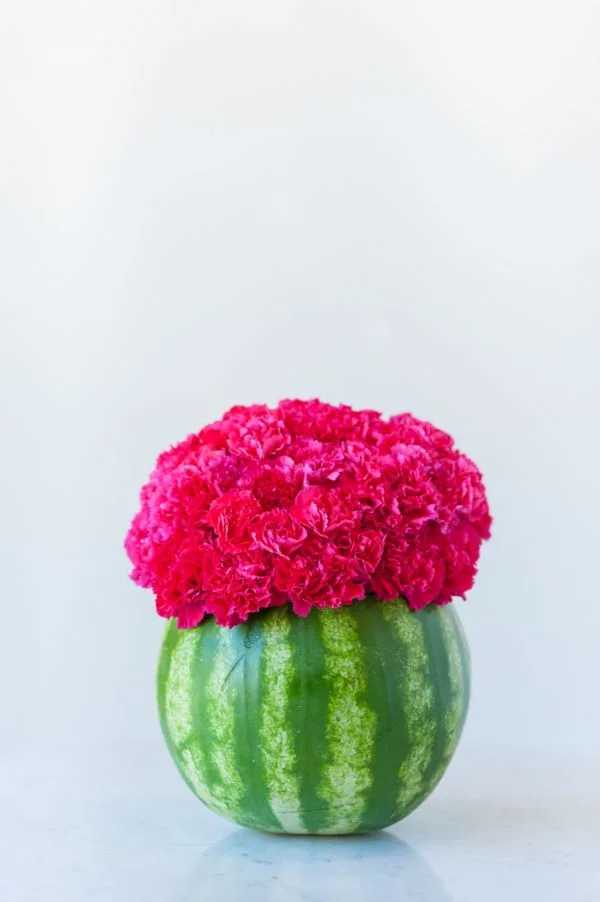 I keep both a notebook and a very detailed spreadsheet for brainstorming, cataloging and organizing DIY ideas that I'd like to eventually turn into posts. I scribble down ideas as they strike me and also occasionally sit down for longer, more formal brainstorming sessions. And then there are the days you're about to shoot a batch of posts and you wander into the grocery store to pick up a few last minute props only to be inspired by the bins piled high with watermelons. Such a day, friends, happened to me last week. And here we are! About to embark on a super easy DIY tutorial, one sure to make a killer statement at all of your parties and shindigs through the end of summer.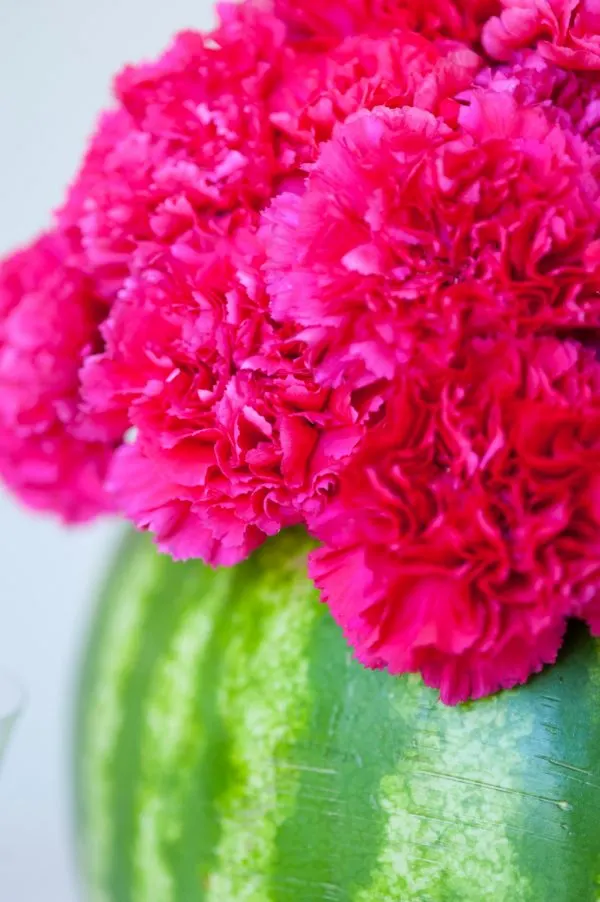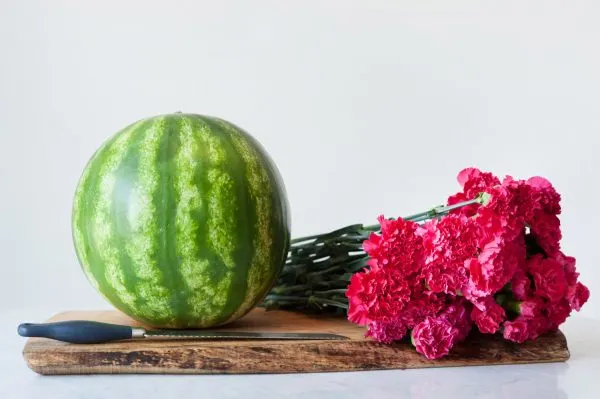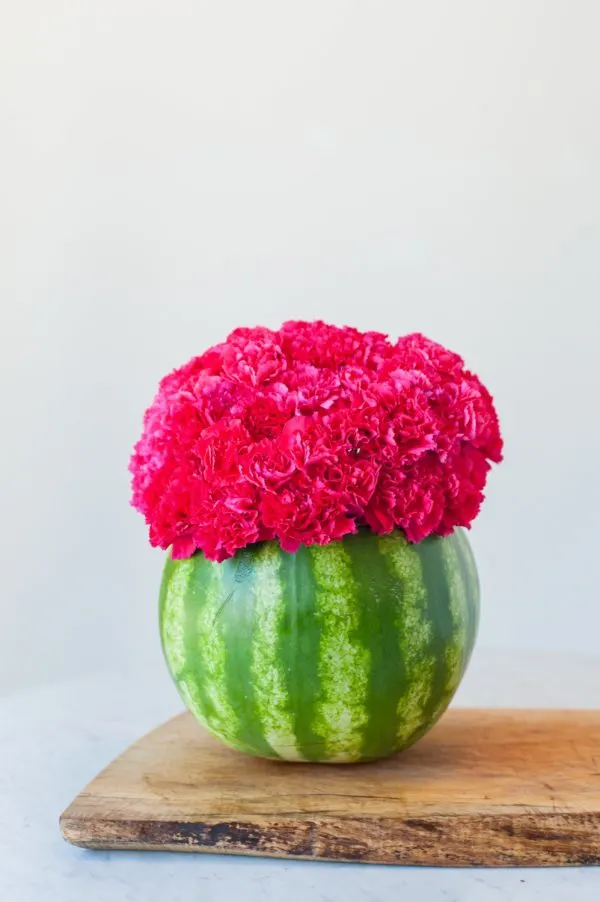 (1) medium sized round watermelon
Serrated bread knife or similar
5 – 6 bunches of carnations in dark pink
Scissors or floral snips
Large spoon and bowl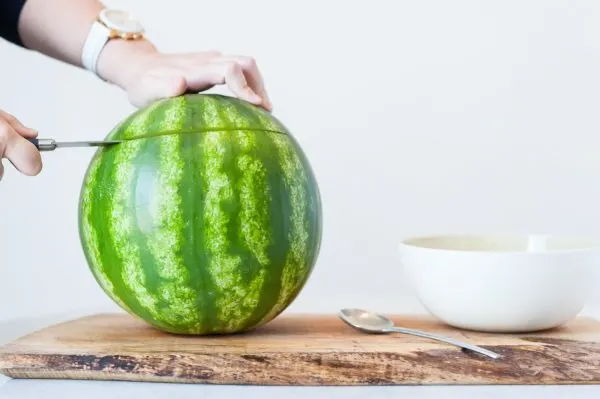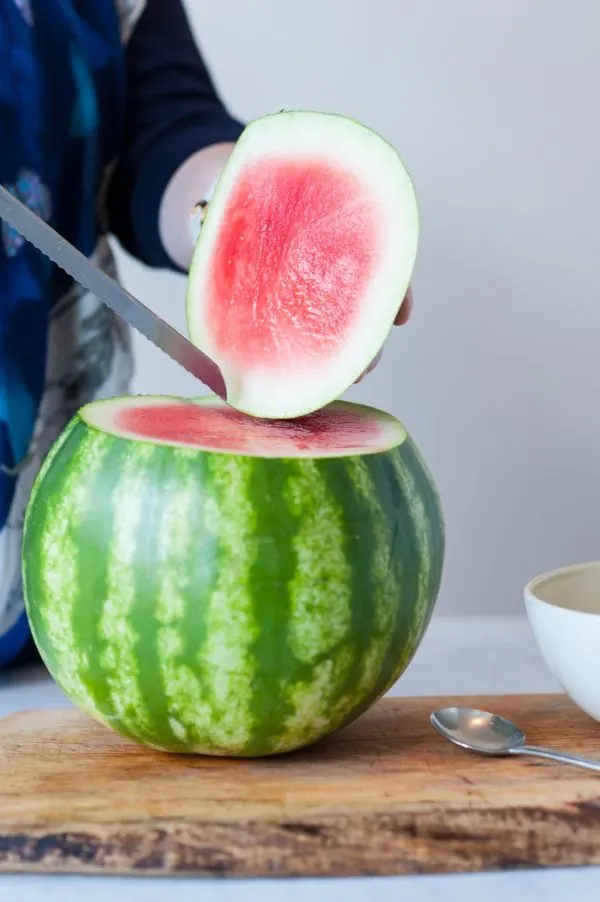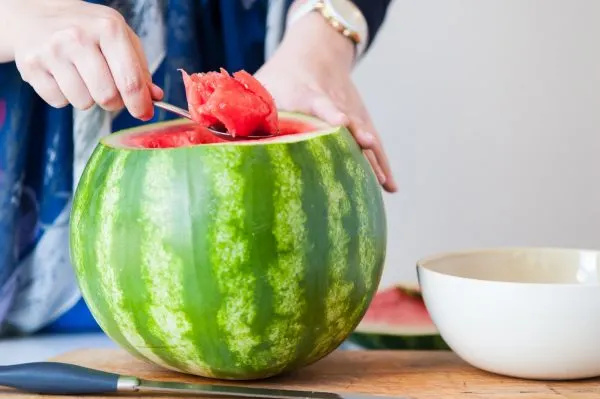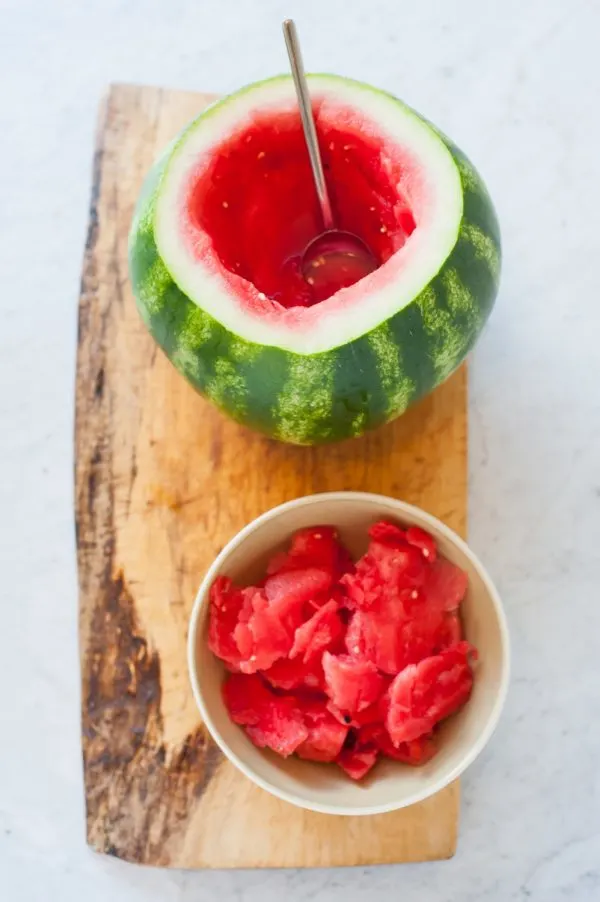 Begin by cutting off the top of your watermelon using a serrated knife. I found that using a large bread knife was easiest for this job. I simply chose a spot a few inches down from the top of the watermelon and cut off the top, working to keep my cut a fairly consistent line all the way around. Then I used the same knife to run a cut along the inside of the watermelon just to help loosen up the fruit. The next step is to use your spoon to scoop out most, if not all, of the watermelon fruit into your bowl. Once you insert the flowers into the watermelon it won't be edible so scoop it out first so you can still enjoy it in all of its yumminess.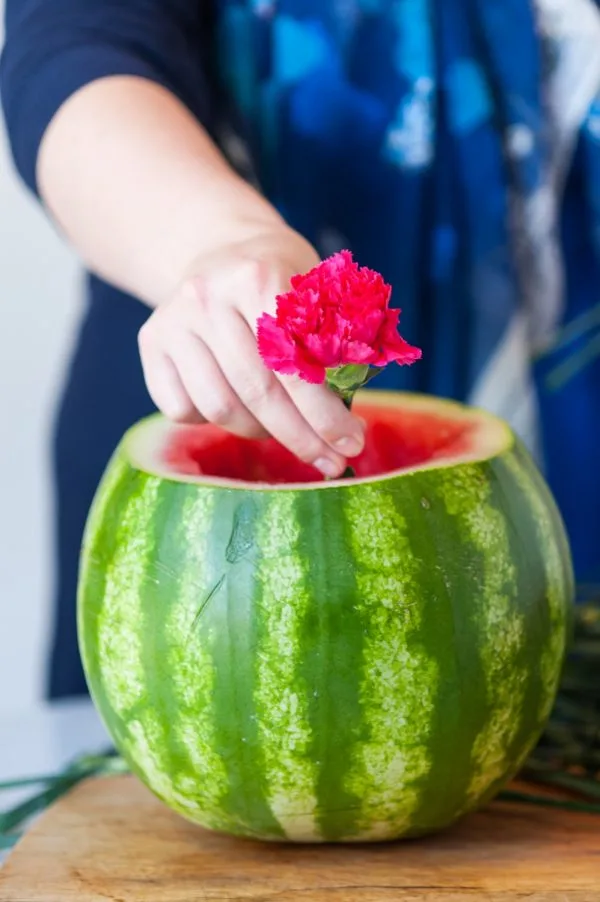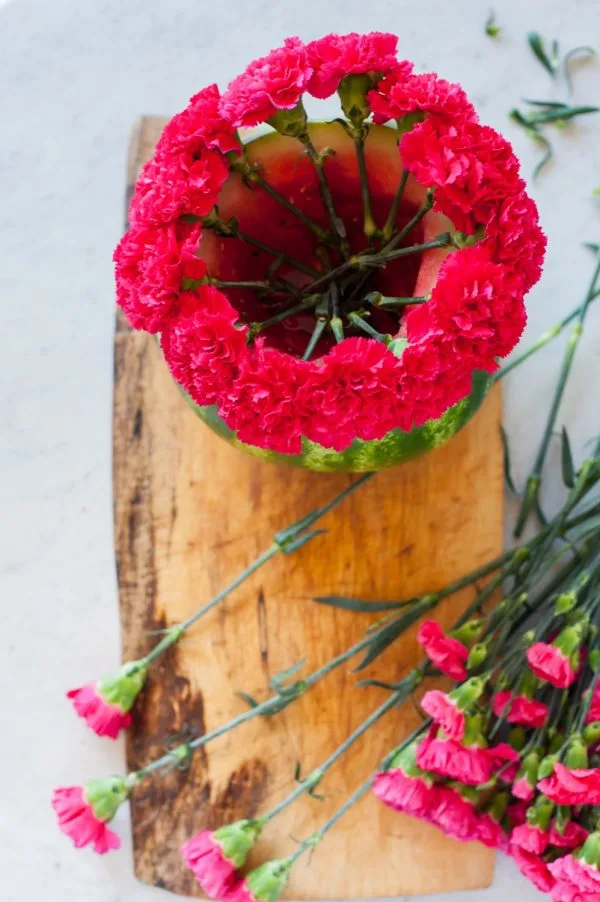 Next up, it's time to work with flowers! I chose dark pink carnations because they're inexpensive and quite underrated. When packed tightly together they look amazing! Also, the dark pink is kind of a cheeky play on the color of watermelon and I just couldn't resist. Use your scissors or floral snips to cut each carnation to roughly 8 – 10″ in length. Place the first one so it rests along the rim of the watermelon, pushing the stem directly into the flesh of the watermelon to hold it in place. Place a second alongside it, placed tightly next to it, then repeat until you have a ring of flowers around the entire top of the watermelon.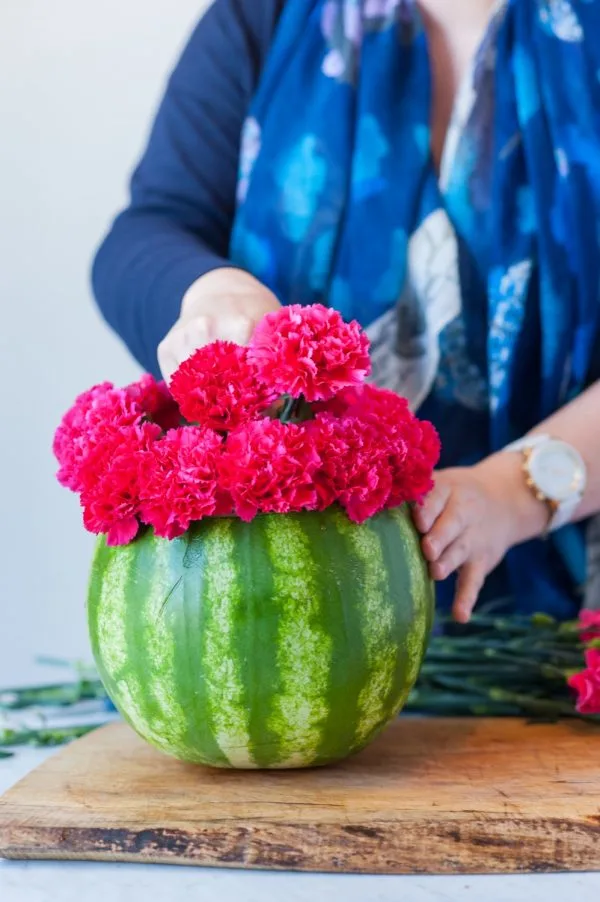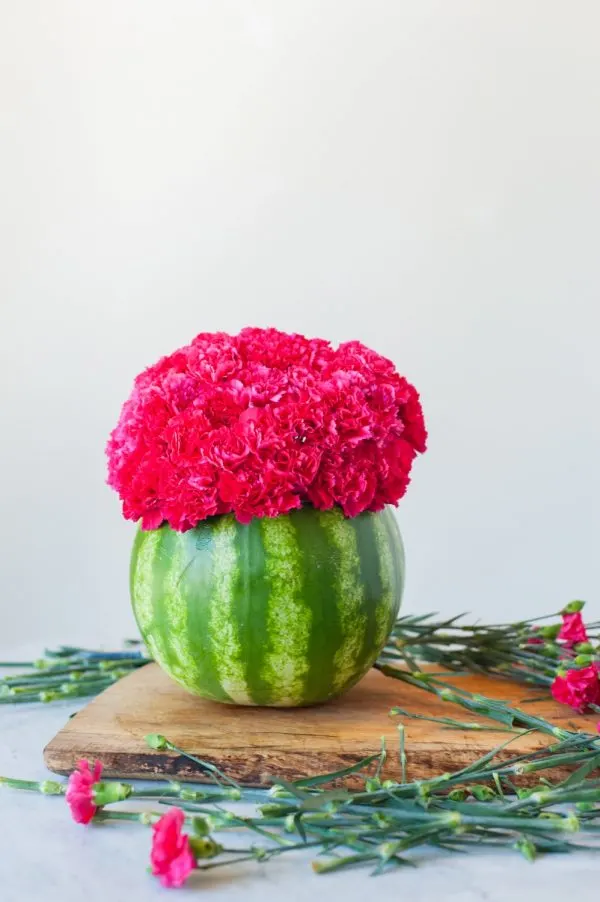 Keep moving along in the same fashion, forming a second ring of carnations on top of the first, and then a third and so on until you form a dome of carnations. You may need to cut the subsequent flowers longer to accommodate for the extra height. Once your dome is complete, go back through and fill in any blank spots or areas that look a little light with smaller carnations. There's no need for things to be perfectly symmetrical, just eyeball it as you work until you get a dome shape that makes you happy. Then fill the watermelon up with water and you're all set! (After you marvel at how much your watermelon centerpiece looks like Frida Kahlo like I did, of course.)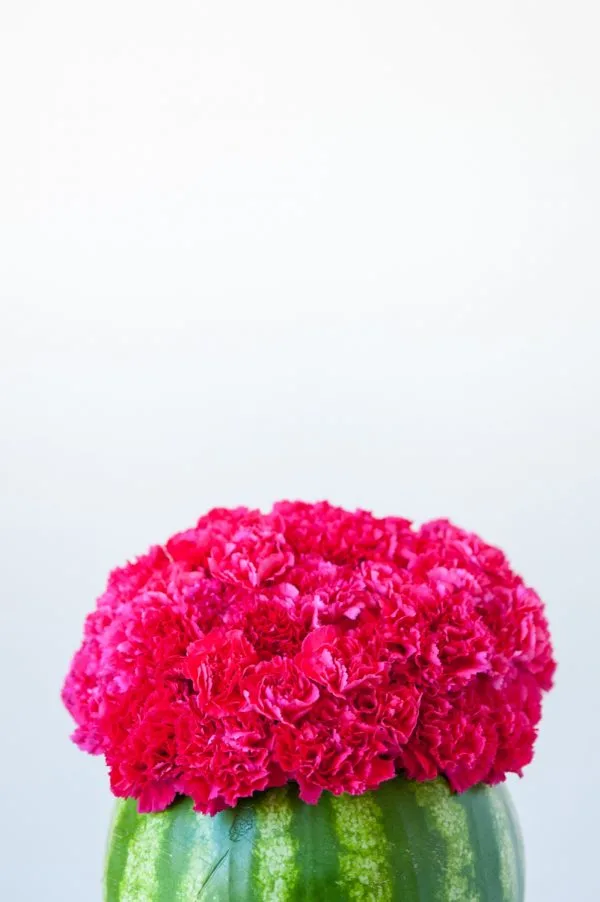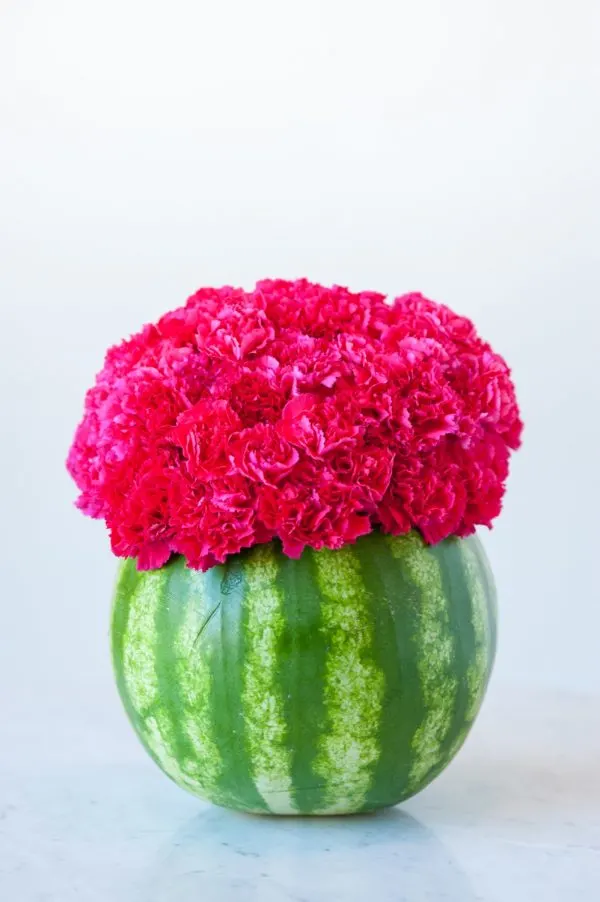 Depending on heat and other environmental factors, your watermelon centerpiece should easily keep for at least a few days, possibly even longer. If you're making them for an event (such as a pool party or bridal shower) where you might want a few, you can prep these the day before and stick them in the fridge to make sure they keep nice and fresh until the big event. As always, if you give this project or any others a try, I'd love to have you share with me! Use the hashtag #thesweetestDIY on Instagram so I can take a look! xoxo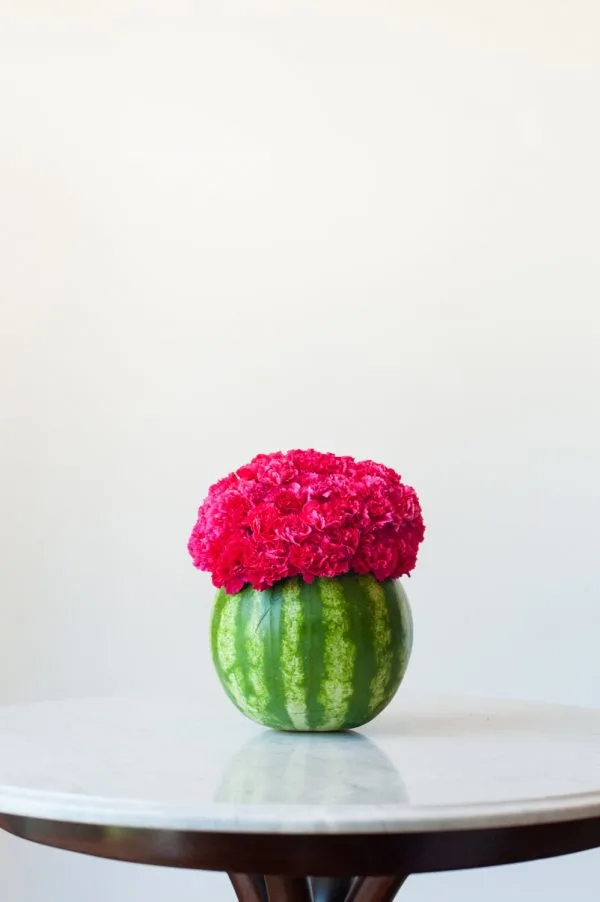 [Art direction + styling by Cyd Converse | Photos by Alice G. Patterson for The Sweetest Occasion.]
The fine print: Please link with love! As with all of our posts, DIY projects featured on The Sweetest Occasion may not be copied, distributed or reproduced without express written permission. Love and links are always appreciated! If you'd like to share a maximum of 1 – 2 images from this post, please link to this post directly for the DIY tutorial and do not include the instructions in your own post. Thanks so much! xoxo