This post was sponsored by Foodadz. Thank you for
supporting the sponsors that help make The Sweetest Occasion possible!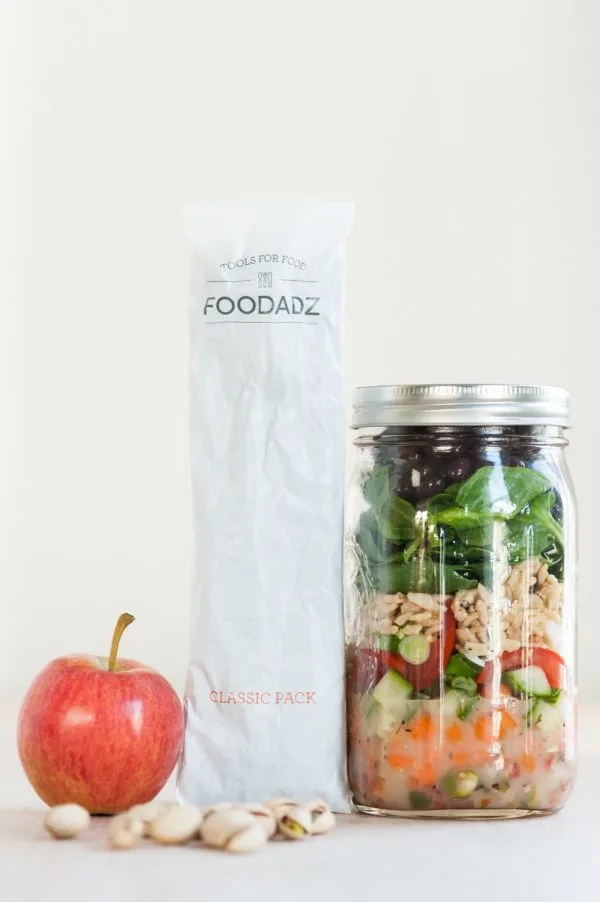 Back in January I shared that one of my goals for 2016 was to work on getting back to healthier habits and so far I've been making good on that commitment, particularly over the last couple of weeks. One of my biggest sticking points is trying to prepare meals and eat during the day when I'm juggling a full inbox, a newborn baby and a to-do list that just won't quit. I realized pretty quickly that having lunch already prepped is pretty much the only chance I stand of eating some days, particularly if I don't want to just end up snacking on whatever is quickest and easiest when I'm already ravenous. So today I'm sharing my go-to healthy lunch ideas along with a few tips for making work day lunches go a bit smoother when things generally feel hectic and takeout always sounds delicious.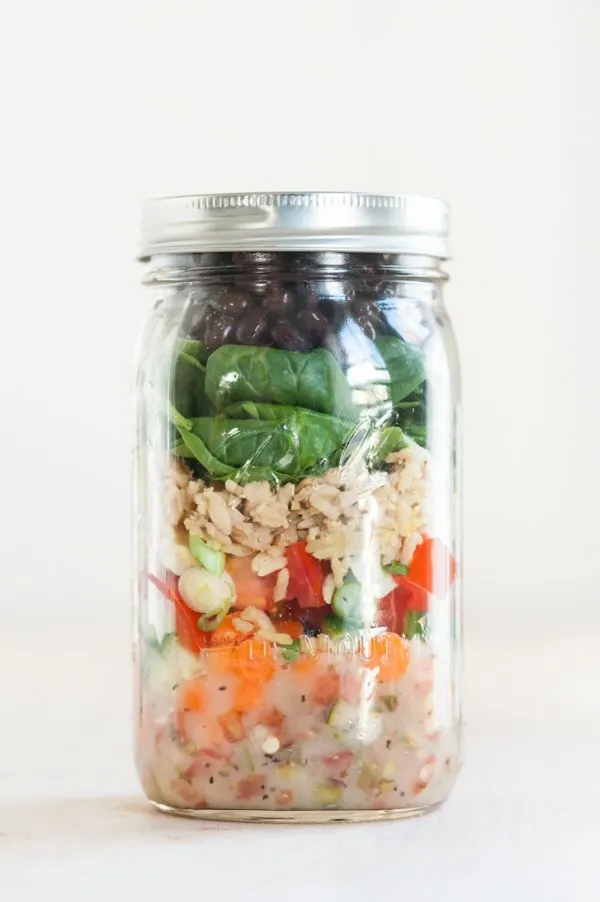 Enter the mason jar salad, friends. I know. You've seen them a million times while scrolling Pinterest. But have you tried making them yet? Up until a few weeks ago I had not, but after too many days of living off string cheese and whatever I could quickly get in my mouth during the day, I decided I needed to get it together. I now prep salads in mason jars a couple of times a week and have lunch ready to go whenever I am. It's honestly genius. Also, it's quick and easy. Exactly what I need in my life these days. That said, I've figured out a few tips along the way so I'm going to break this whole deal down for you today so you're good to go.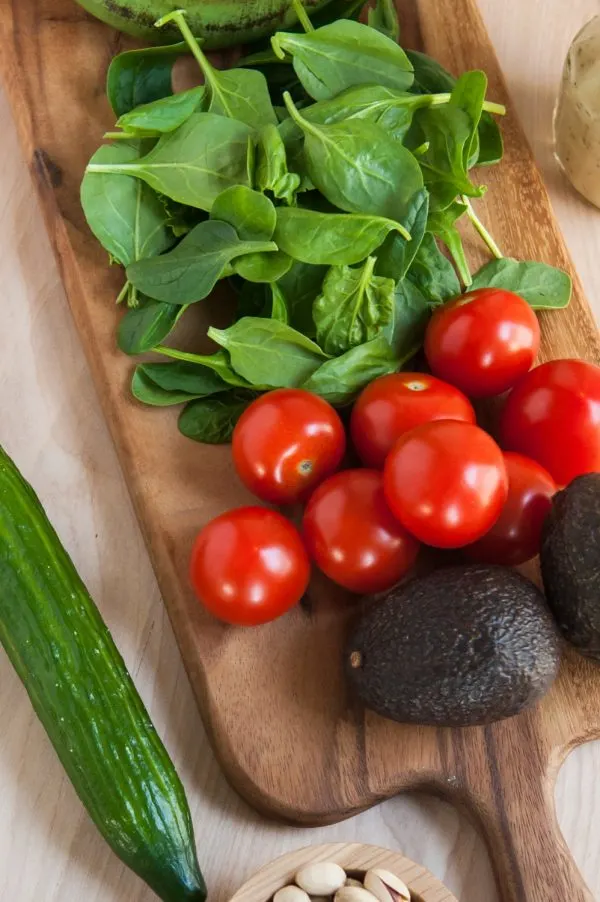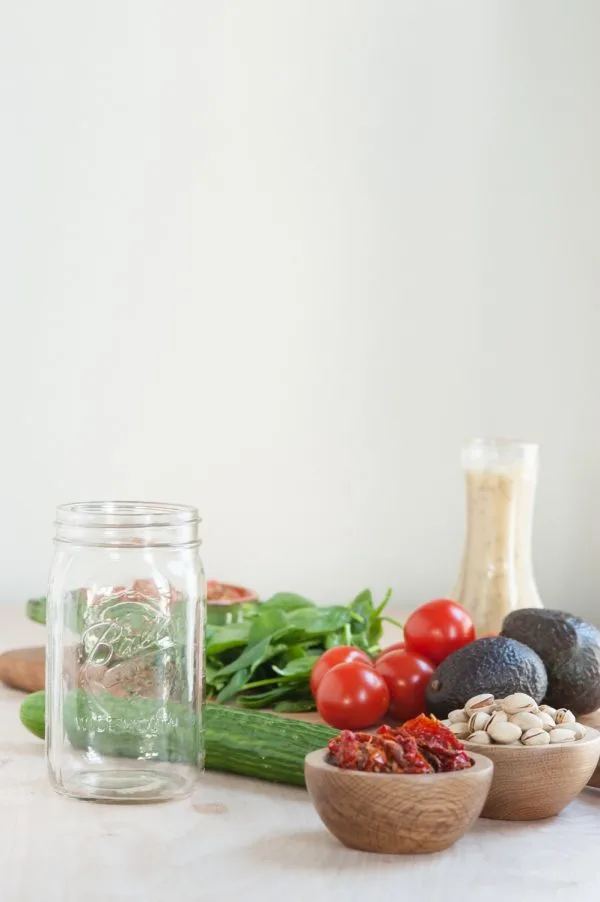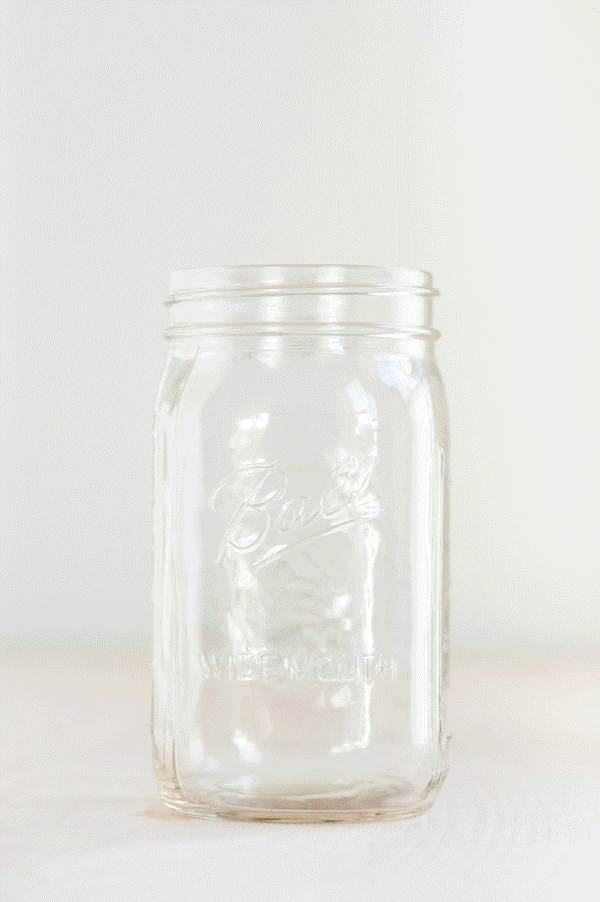 The beauty of the mason jar salad is that you can use just about any veggies and greens that you like or whatever you have on hand. I use a large quart size jar and start with the dressing at the bottom, which helps to keep everything fresh and crisp. Oftentimes I'll then add in a couple spoonfuls of salsa or pico de gallo before adding in crunchy veggies first, the kind that won't soak up the dressing. (Typically things like carrots, snap peas or cherry tomatoes.) Next up, I'll do softer veggies, usually cucumbers or sliced scallions. I don't always include grains, but if I do, I add those next, usually quinoa or brown rice or whatever might already be left over in the fridge. Finally, it's greens followed by beans. (Usually black beans or chickpeas.) I'm a vegetarian, as most of you know, so I don't add meat of any kind but if you're of the meat-eating persuasion, add that in last.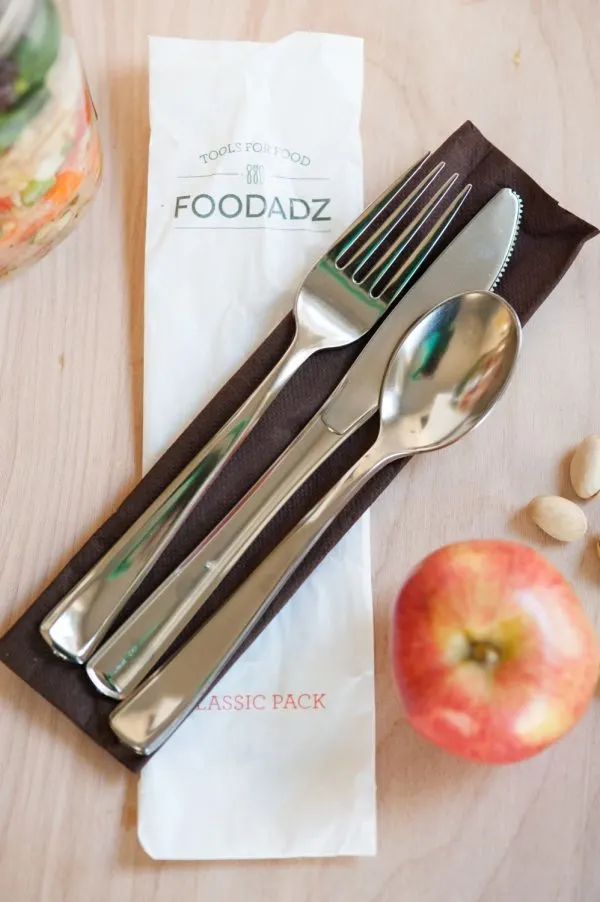 Back when I worked in an office, I ate at my desk most days. While it's undoubtedly best to take a real lunch break, we all know that's just not possible sometimes. I will tell you that if I worked in an office these days, I'd keep a stash of Foodadz at the ready at all times. They come with a full set of cutlery, a napkin, a wet wipe and a salt and pepper pack so you're ready to go at lunch without even having to pack a fork from home. Boom! Add in an apple and maybe some almonds or pistachios and a healthy meal is yours, with virtually no excuse to end up eating a stale donut from the break room as your lunch. (Been there. Done that. Oops.) If I know I'm going to be out for a while, I'll toss a mason jar salad and a Foodadz pack in the diaper bag and away we'll go!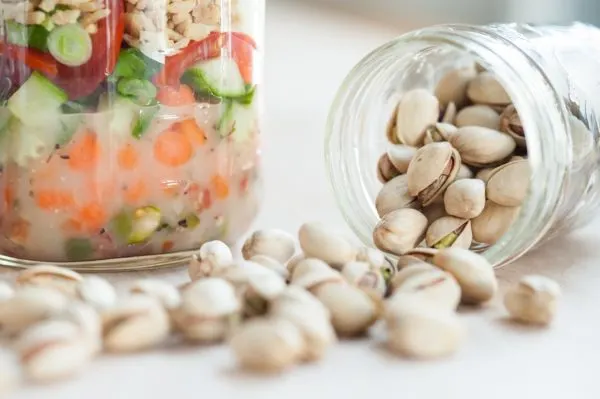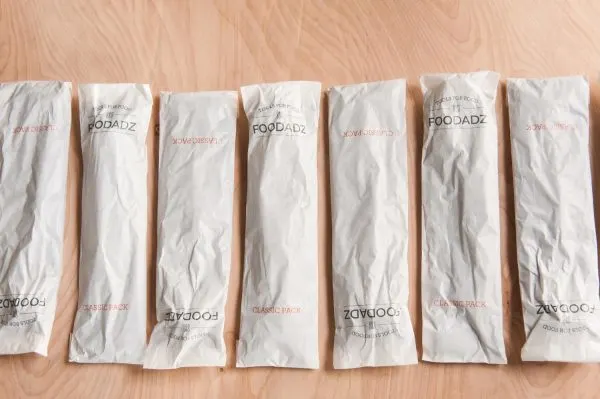 For me, eating healthier during the week is all about preparation. If my veggies are cleaned and ready to go in the fridge, if I cook up a bunch of grains at once, if I pack up a few salads in advance, I stand a better chance of avoiding junk food or mindless snacking. It's such a simple thing to do, but it's so easy to get busy and just put it off, so I can't recommend taking a little bit of time each week to prepare lunches enough. I'm definitely hoarding quick yet healthful meal ideas like it's my job right now so I'd love to know – what is your go-to lunch during the week?

[Art direction + styling by Cyd Converse | Photos by Alice G. Patterson for The Sweetest Occasion.]
This post was sponsored by Foodadz. Read more about our editorial policies.