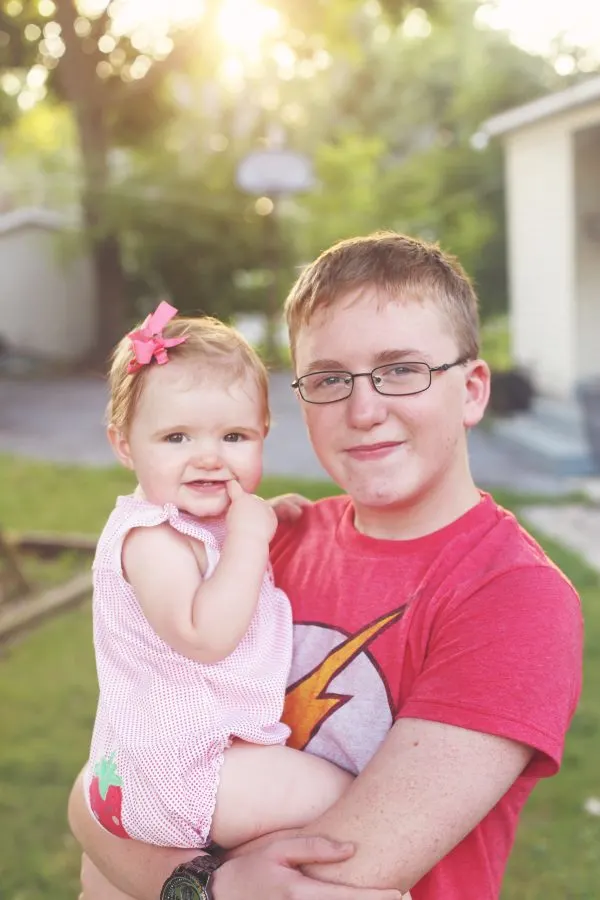 Our tiny little lady turned nine months old last week on the same day her big brother turned 14 so I snagged these photos of them one evening when the light was just perfect to mark the occasion. Nine months old! I'm not sure how we got here already, but I am loving this age. This crawl-everywhere-put-everything-in-her-mouth age. Because it has been a couple of months I thought I'd share a quick little update, plus a quick round-up of the baby toys and baby gear we're using the most at the moment. This is the first stage where I've really had to go out and buy things that weren't gifted to us at some point, which has been interesting as you suddenly realize your kid has very few toys that are right for them developmentally. I've found myself asking around and reading online to try and figure out the best things to get for her right now, so I thought I'd share the things we're ranking as essentials right now.

1. Green Tones wooden maracas – Emerson has been continuing to love her baby music classes so we're trying to encourage more music-oriented play at home. These maracas are nice because they're made from wood and all ecofriendly materials so I don't worry about her chewing on them, which she does frequently. Plus they are just adorable.
2. Safety 1st activity walker – Somedays this walker is the only thing that keeps our girl happy! Ours is a very simple one without too many bells and whistles, but it gets the job done perfectly. She is zipping right along at lightning pace these days!
3. Green Tones tom tom drum – At music class they have a big drum that babies can smash on together so I wanted to get her a little drum for her home. This little tom tom isn't obnoxious in tone or volume, but keeps her very entertained.
4. Vtech alphabet activity cube – This thing has all the bells, whistles, lights and moving parts to keep our active little girl happy. If she's still into it when she's a bit older, it also aims to teach numbers and letters, which is great.
5. Bumbo seat – Some people say a Bumbo is unnecessary, but we've used ours daily for months now. We're using her high chair a bit more than her Bumbo recently, but it's still worth mentioning because we've used it so much for both feeding and play.
6. Munchkin Latch trainer sippy cup – Now that she is drinking some water and juice, this sippy cup is great for teaching her to drink on her own. The handles are easy for her to grab and also make it fun to smash around like a hammer. Ha!
7. JuJuBe diaper bag – I am obsessed with our diaper bag and have been since I got it a handful of months ago. I like that it's sleek and doesn't look like a diaper bag, plus I love the versatility. It can be worn cross body, as a shoulder bag or as a backpack. I wear it mostly as a shoulder bag or cross body when my hands are full. The fabric is amazing and wipeable, plus the inside has loads of organization. A total win!
8. WubbaNub puppy pacifier – Emerson weened herself of a pacifier around two months, before she ever used her puppy pacifier, so I thought we'd never end up pulling this guy out of our stash. However, we've found that she loves playing with him and she uses the pacifier bit as a chew toy and seems to prefer it over actual chew toys so Mark (as we've named him) is a must have around here!
9. Octopus hoopla bath toy – This guy was a Christmas gift last year when she was still too teeny to need bath toys, but this summer she has been loving him and the little rings in the kiddie pool in the backyard.
10. Land of Nod rainbow stacker – I am all about the wooden toys whenever possible and the rainbow stacker is another favorite of all of ours. She loves playing with the rings and clapping them together. And chewing on them, of course. I love that she's not chewing on plastic.
11. Barnyard Dance! board book – We have a lot of favorite books around here, but this one ranks high! She seems to really get into this one and she's even started to try and help with the turning of pages. In general, we love all of the Boynton board books.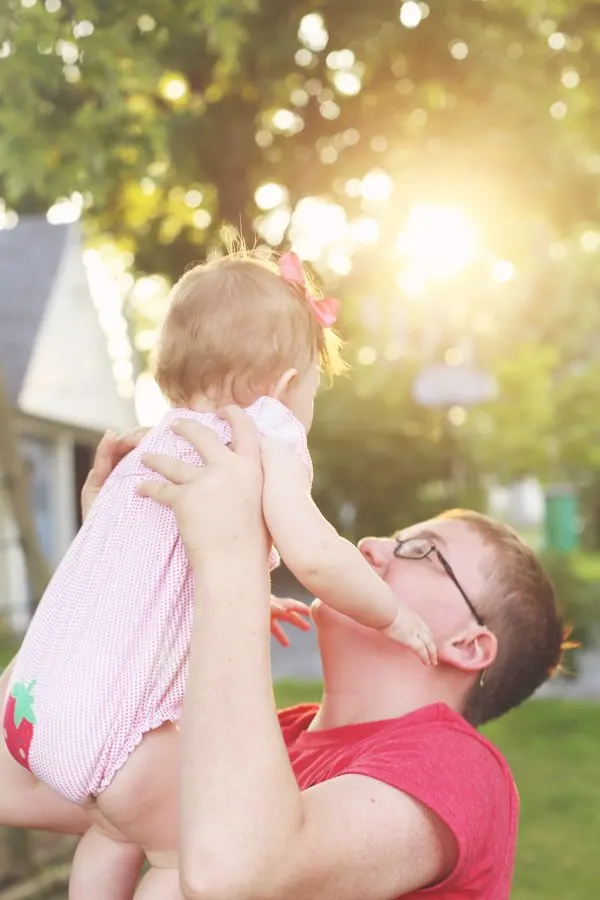 At nine months, Baby E is a busy little bee! She is crawling quicker by the day, having mastered the fine art of the Army crawl a couple of months ago and most recently a "real" crawl a week or two ago. She is pulling herself up on furniture or on your leg, and watch out if she's in her walker! She will take you out at the heels, turn on a dime and then run over you again. After months of no teeth, she popped out her two front bottom teeth at almost exactly eight months old although we have yet to see any more. She loves clapping and giving kisses, and she waves and smiles at everyone she sees. We are quickly becoming the most well liked people in our town, because our baby is just so damn happy and friendly that she makes everyone around her happy in return. We're talking random old ladies at the grocery store, cashiers, the mail man, you name it! She is babbling more all the time and giggles up a storm, too. Every day it seems she gets bigger!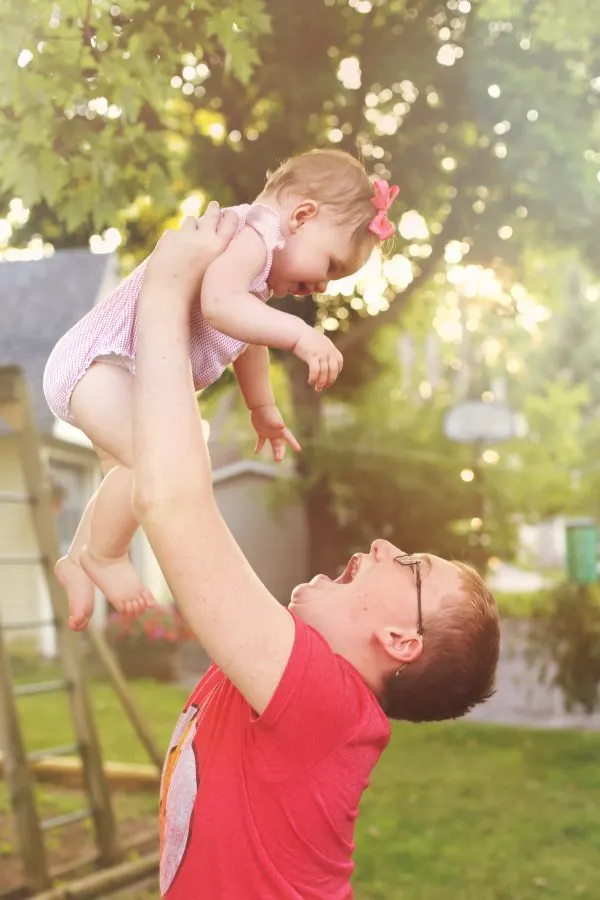 Sleeping has become much much much better, too! She now regularly sleeps from 8 o'clock or slightly thereafter until about 7 o'clock in the morning. Her resistance to naps has given way to a couple of naps daily including a regular morning nap, which has been allowing mommy to do things like shower and try to get a bit of work done or catch up on housework, etc. In the afternoons we just try to play and in the evenings we try to take a walk through the neighborhood. She gets a little cranky as we get closer to bedtime and those walks seem to keep her occupied and content a little longer into the evening most days. At last check she was 18 pounds 5 ounces and measured just shy of 28″ although that was several weeks back now, so I'd guess we're more like 20 pounds now and over 29″ for sure. She has been consistently measuring around 50th percentile for weight and in the 90th percentile or higher for height. She's definitely going to be tall like her daddy with her long legs and big feet. It's crazy to think, but I'm already starting to put loose plans together for her first birthday party! In the meantime, she's keeping us on our toes and I'm soaking up every last second I can of this first year before the time comes with daycare is inevitable and mommy has to get back to a more normal work schedule. More on that another day! xoxo

This post contains affiliate links. Read more about our editorial policies.