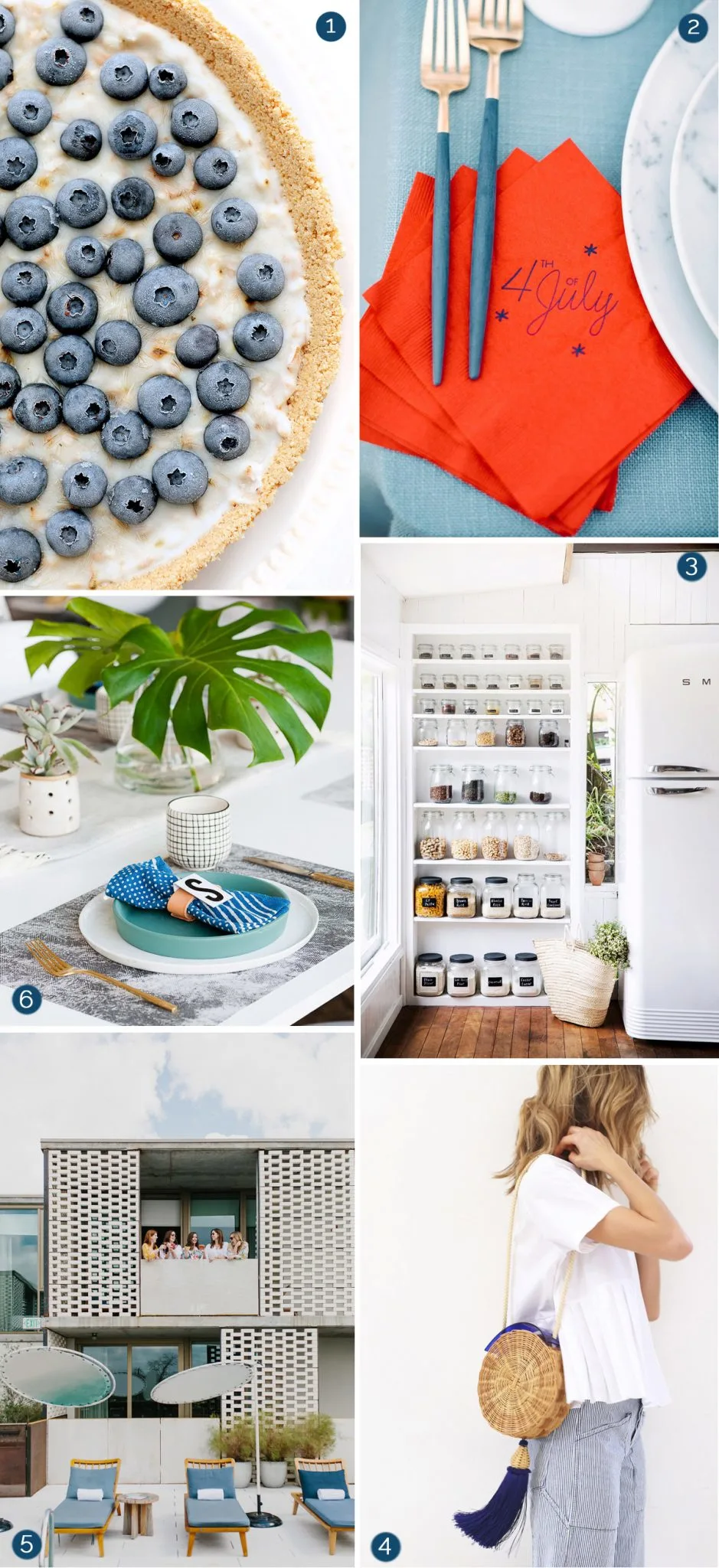 Because I've already mentioned to excess that the 4th of July is one of my favorite days of the year, I'm going to be cutting out for the next few days. I'll be here on Wednesday following a long holiday weekend where I hope there are copious fireworks and champagne in my future, in addition to a bunch of work I need to tackle behind the scenes for some big upcoming projects I can't wait to share with you. Have you been following along on my Instagram Stories? We put in a new back patio this week and I've been sharing updates on the progress there. I'll be sharing more over the weekend so you can see how it's coming together since I know so many of you love these home renovation sneak peeks. In the meantime, here's wishing you a beautiful 4th of July weekend for those of you here in the States! I'll leave you with some of my favorite things from the week.
1 | Frozen blueberry coconut yogurt pie
Another super pretty dessert idea for the 4th of July! Or for anytime this summer really. It's frozen so it's sure to be really refreshing, too!
2 | The ultimate 4th of July party
All the details from this al fresco 4th of July party are so good. These chic cocktail napkins take the cake for me though! So simple but so festive.
3 | The prettiest white pantry
Since our (not-so) mini kitchen makeover reached the 90% done point a few weeks ago, I have completely stalled out. This weekend I am hoping to tackle some of the finishing details and this pantry is inspiring me for days!
4 | Super chic woven summer bags
I love this round-up of cool woven bags for summer. They're such a great look for the hotter months and the texture dresses up any outfit. This one is my favorite with that great tassel!
5 | Jen's ultimate guide to a girl's weekend in Austin
Guys, I'm going to Texas for the first time at the end of next week! While I won't have much time there, I am flying in and out of Austin so I am hoping I can at least grab a great lunch or something. Any suggestions?
6 | Brittni's modern masculine place settings
While created for Father's Day, I love this mix of modern color, pattern and texture for all of your upcoming parties. A great place setting goes so far in setting the stage for a killer party!