This easy sugar cookie fruit pizza makes a simple and delicious 4th of July dessert or the perfect addition to any summer party menu! Easily change the flavors by changing out the berries for any other combination you prefer.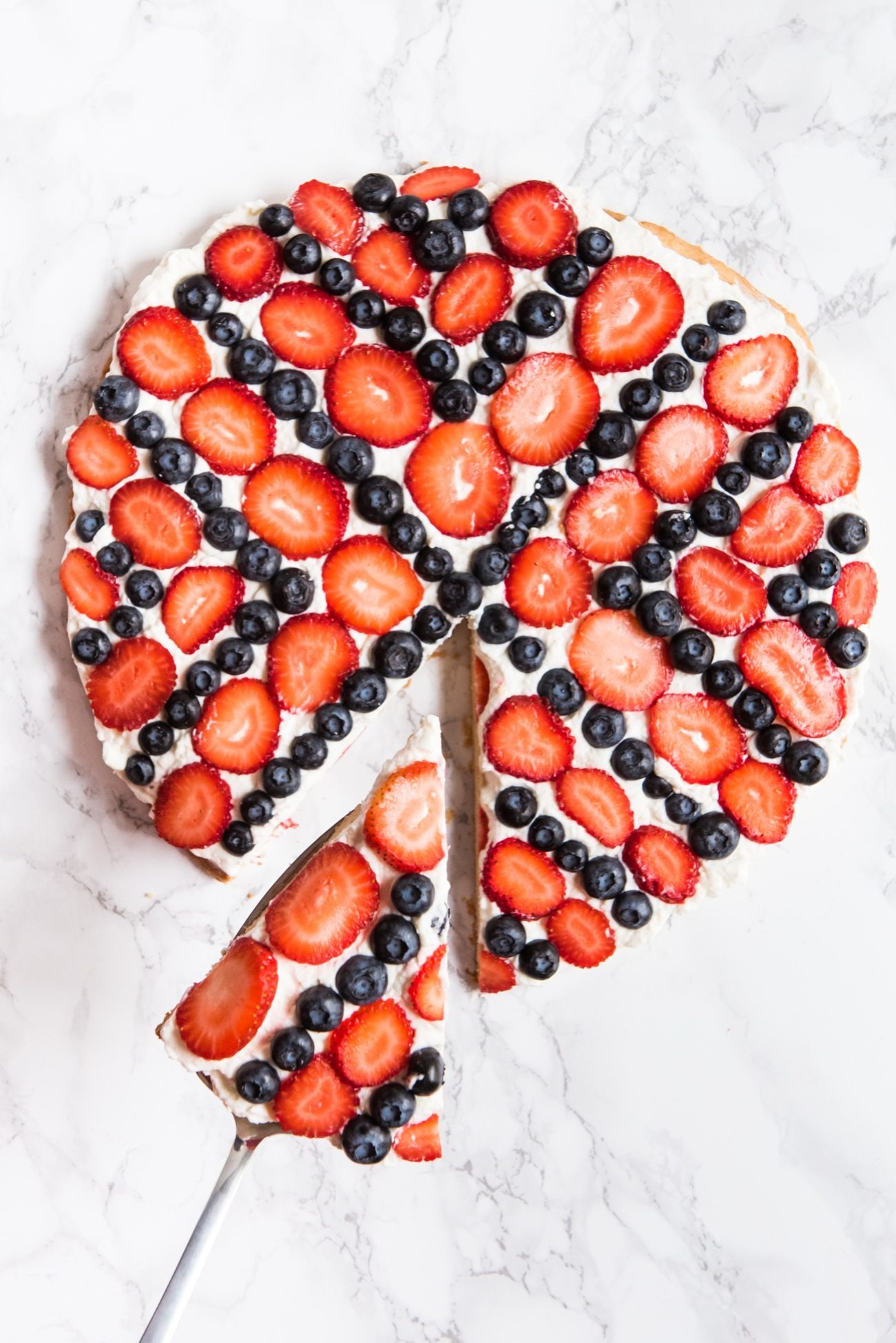 I made this sugar cookie fruit pizza with rows of blueberries and strawberries intended to mimic some kind of cool, vintage Americana quilt and I'm kind of thinking I hit the nail on the head with this one.
Ok, admittedly I'm kind of a sucker for a well done red, white and blue 4th of July dessert. Does it get any more patriotic than that? I'm saying no!
The topping is a whipped cream and cream cheese combo spread over top of a sugar cookie base. A sugar cookie base that I made from a mix, because simple is as simple does and I wanted this one to be especially easy.
The result is a sincerely tasty fruit pizza dessert that you can bring together in under an hour, and you can even prep the berries and the cookie crust the night before. This also makes a perfect bring-along dessert if you're attending a 4th of July party.
Give this one a try! You'll love it. Promise.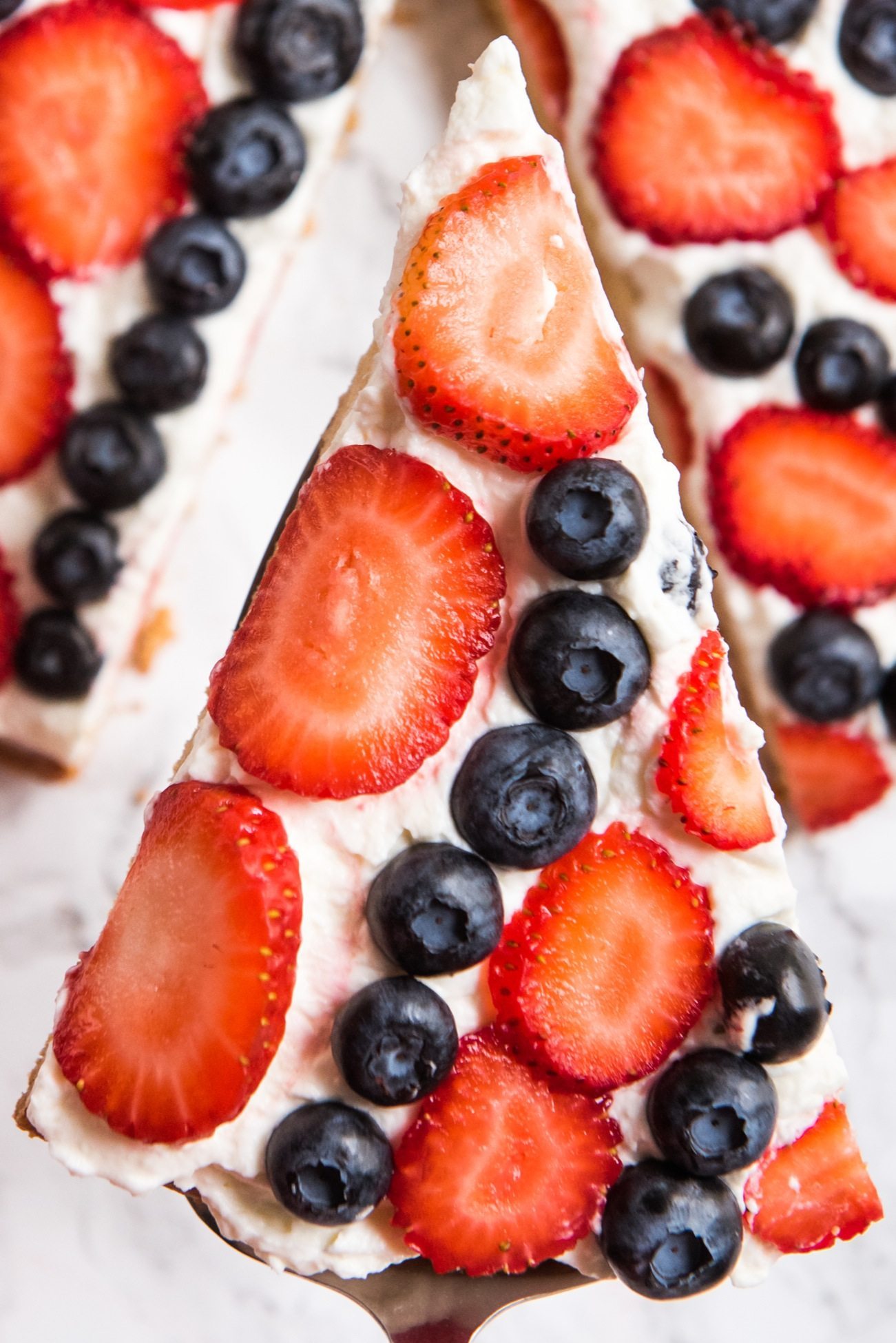 Sugar Cookie Fruit Pizza Ingredients
Sugar cookie dough – Use your favorite sugar cookie recipe or make the dough from a mix
Flour – The flour helps to stiffen up the cookie dough to make it easier to roll
Heavy cream – Cream is the basis of the whipped cream for the creamy topping
Vanilla extract – Vanilla is added to the whipped cream to give it the perfect flavor
Sugar – A touch of sugar is used to sweeten the cream
Cream cheese – Cream cheese is blended with the whipped cream to make a thicker, richer topping
Strawberries – Sliced fairly thinly in the horizontal direction so the slices are round
Blueberries – Washed, rinsed and dried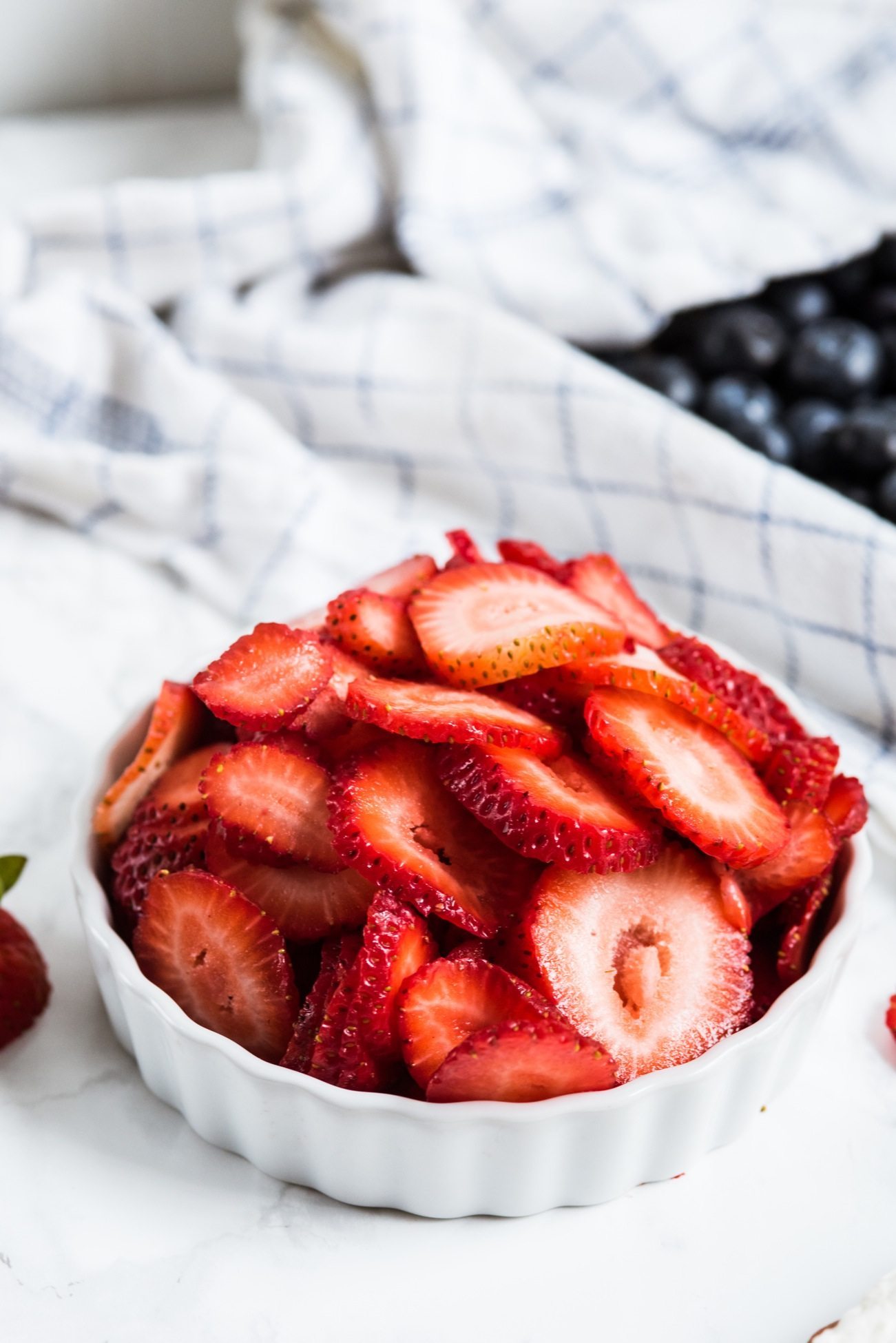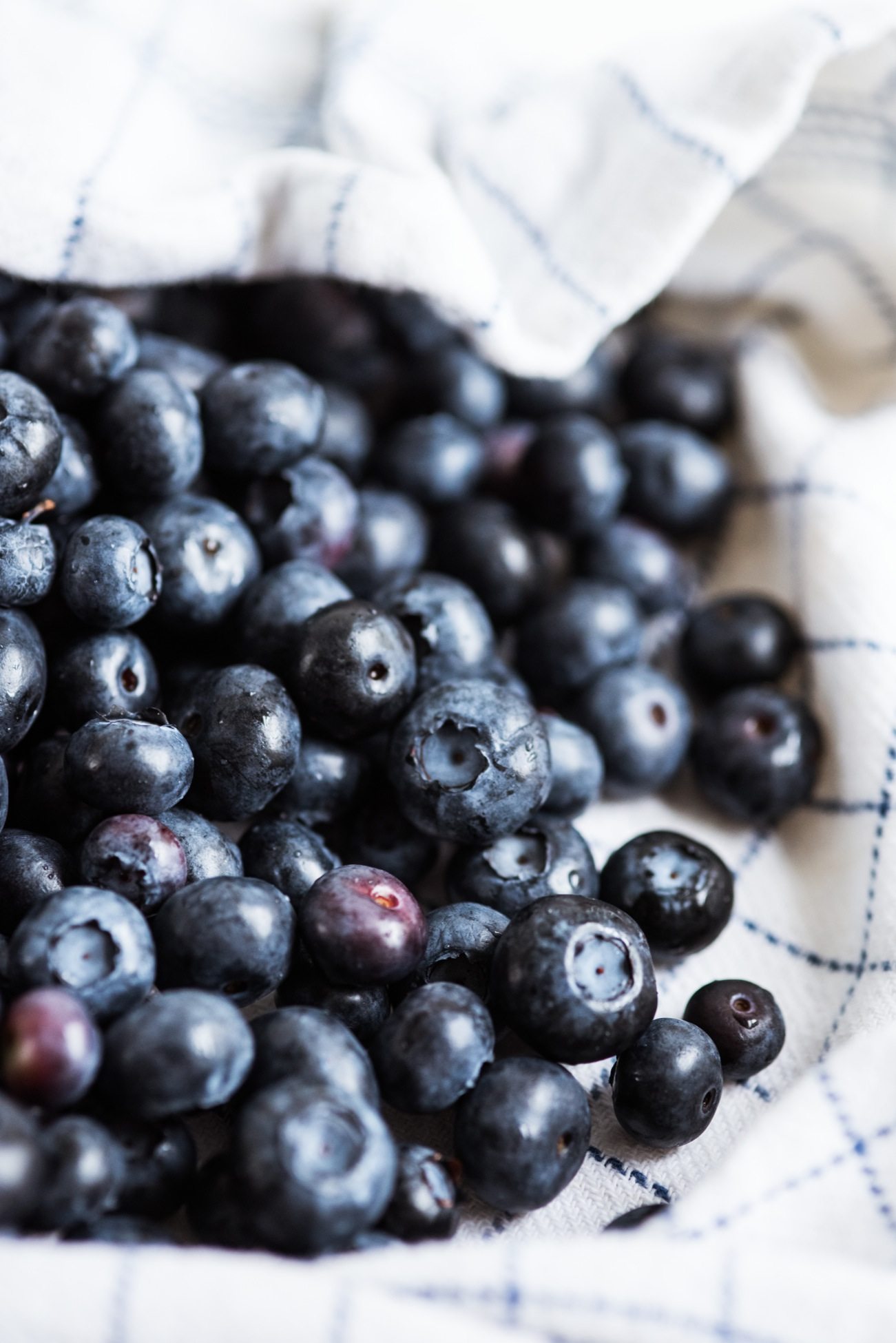 How to Make Fruit Pizza with Sugar Cookie Dough
Begin with the prepared sugar cookie dough and roll it out in a pizza-like shape approximately 1/3″ thick. Bake on a cookie sheet or pizza pan until golden and then allow it to cool.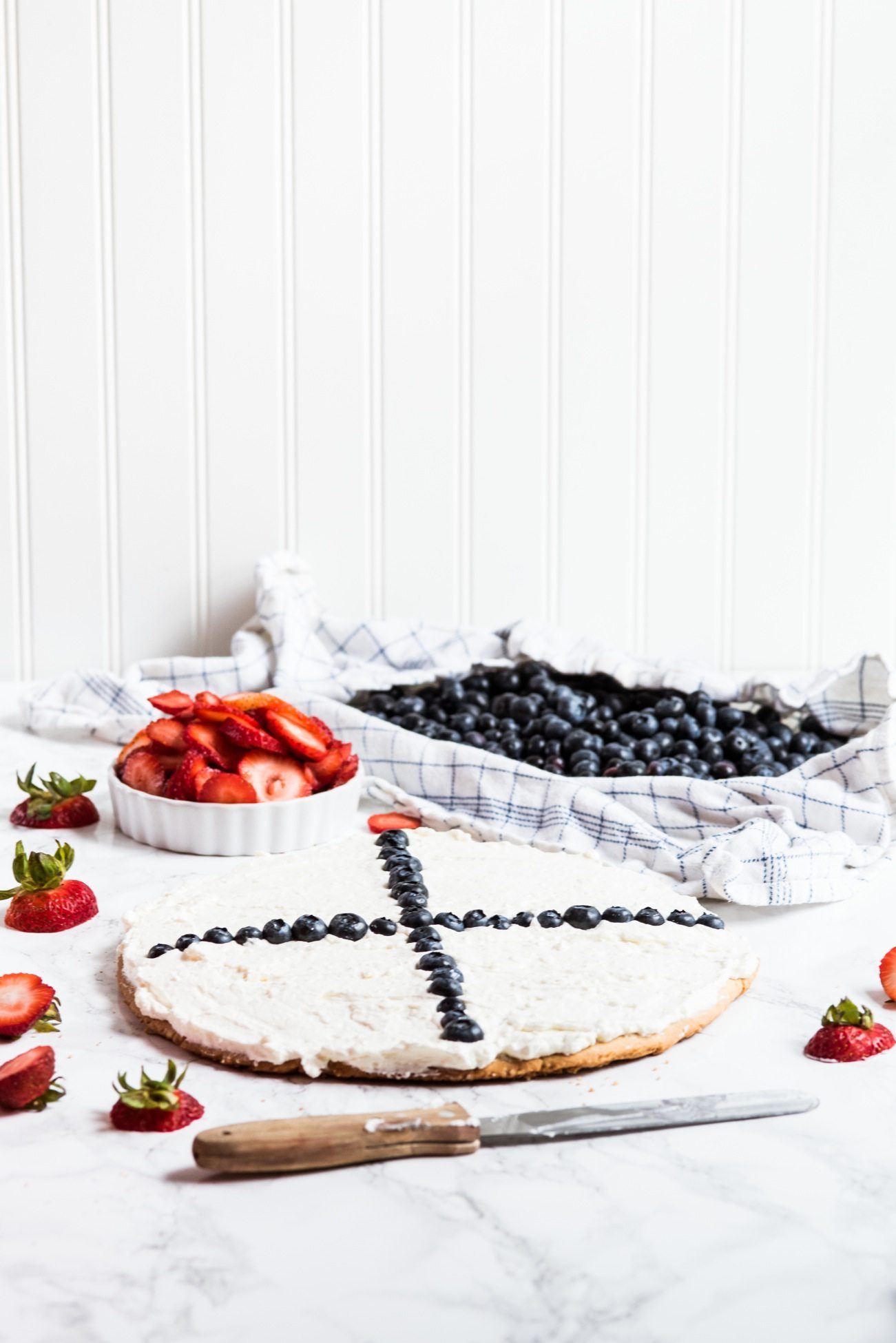 While the fruit pizza crust is cooling, combine the whipped ingredients and whip until thick and creamy. Beat the cream cheese separately until smooth and then fold the two together.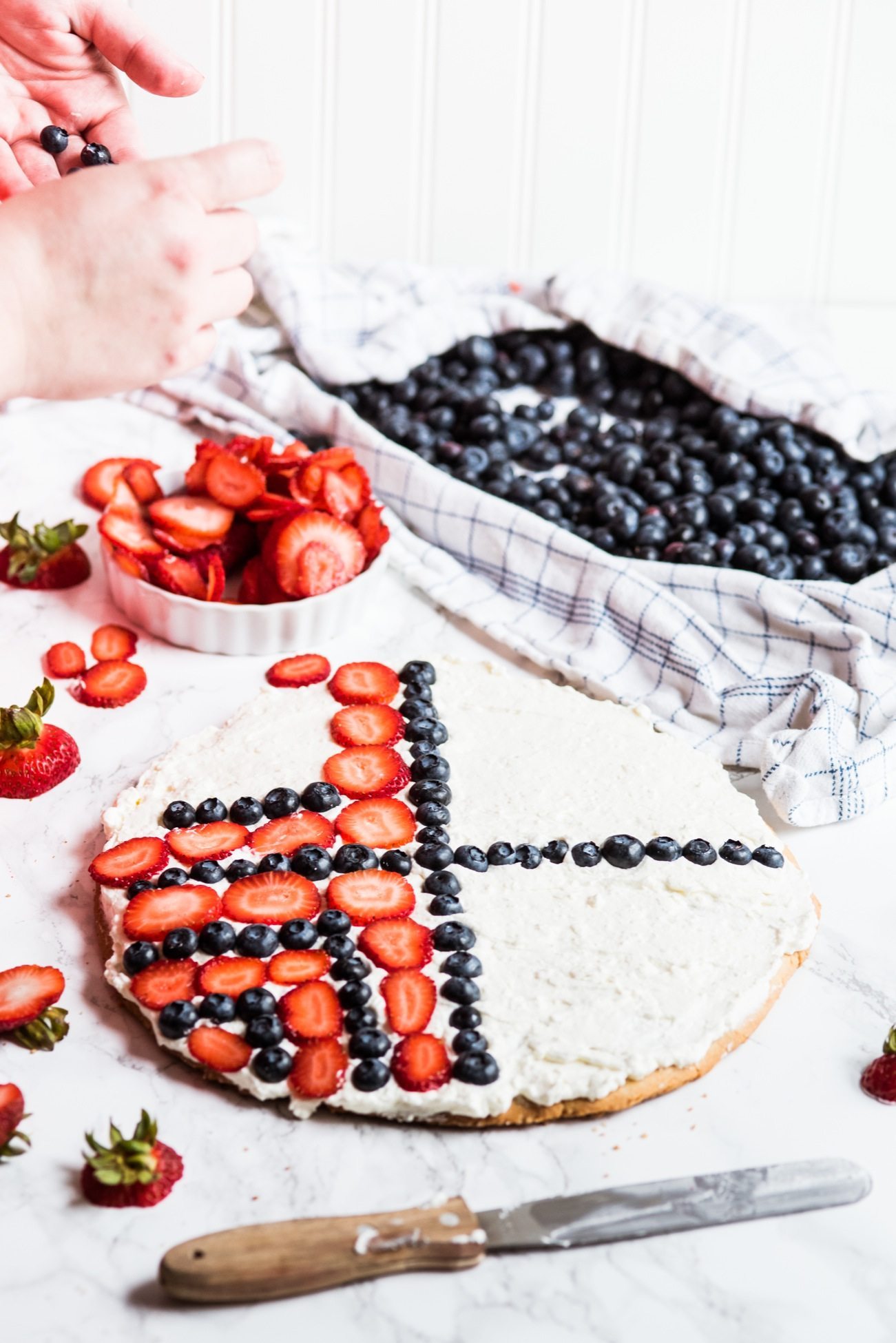 Generously spread the whipped cream mixture over the entire top of the sugar cookie crust. I like using a metal spatula for this part since it spreads the topping smoothly and evenly.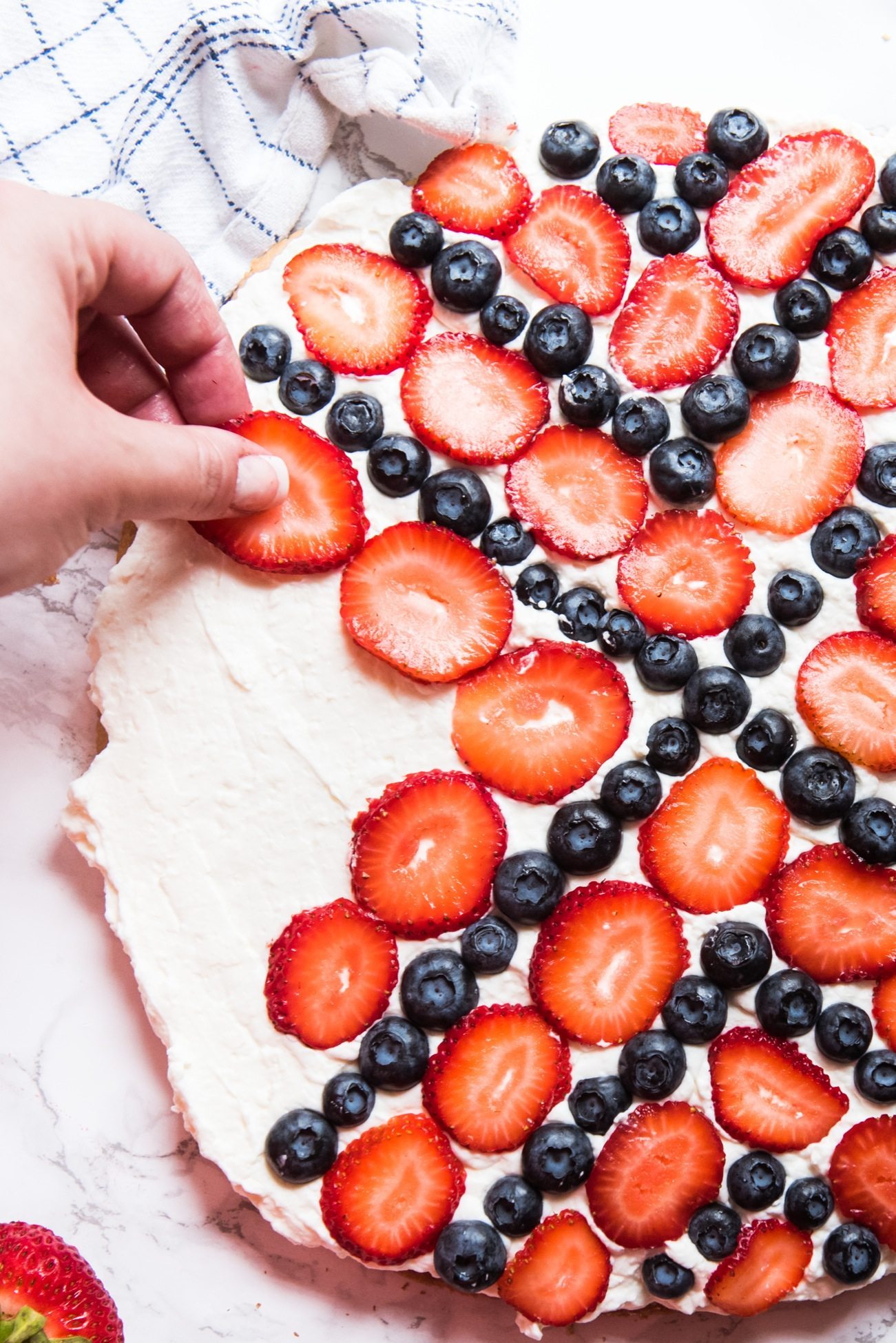 Arrange the berries in any pattern you love, alternating rows by blueberry and strawberry to give the patriotic effect we're going for here. I chose this pattern inspired by an old Americana quilt and it was simple to make!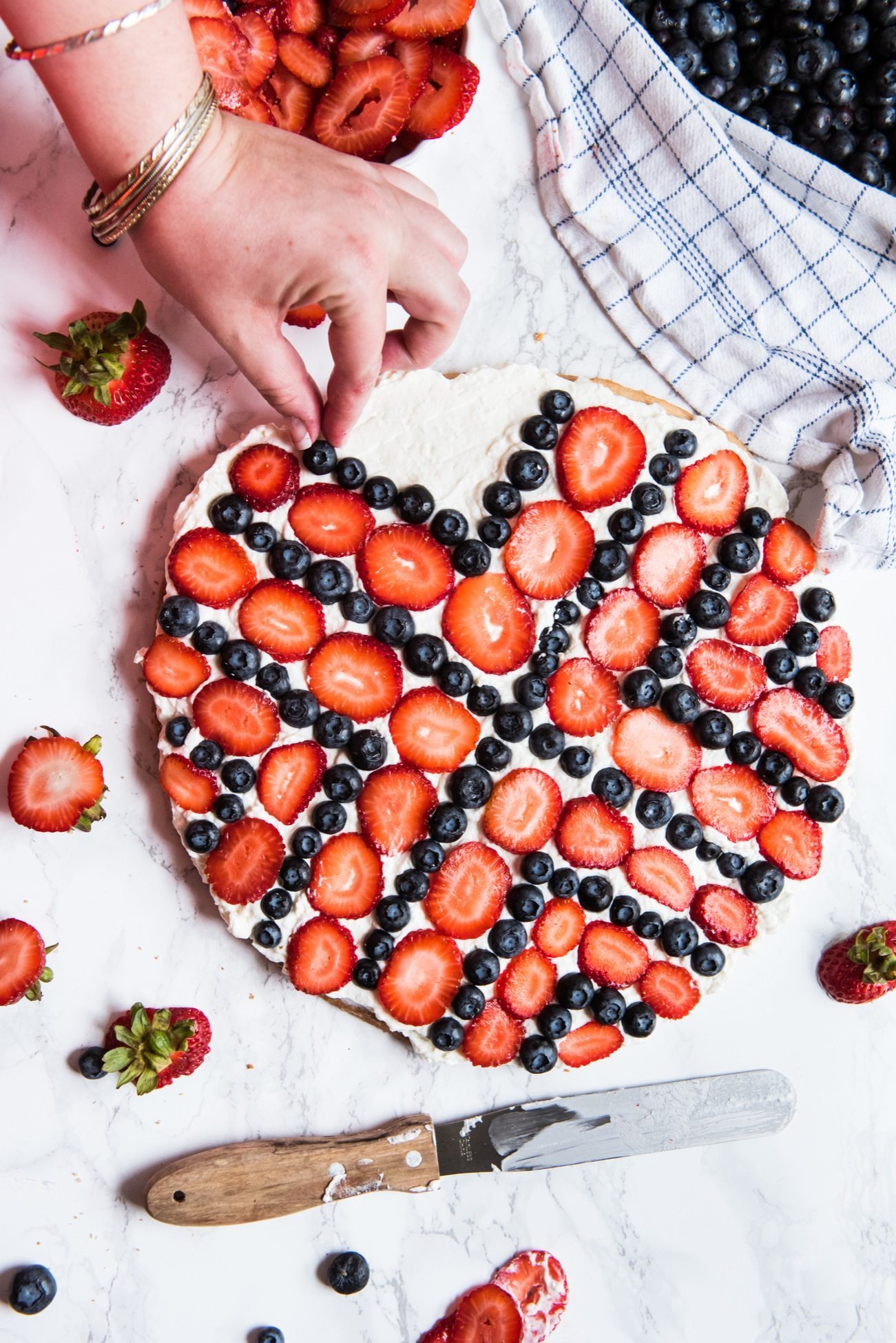 Can Fruit Pizza Be Made a Day Ahead?
I prefer to assemble my fruit pizza the day I am serving it so the sugar cookie crust stays nice and crisp. To help with prepping the day before, I suggest preparing and baking the sugar cookie crust a day head, but assembling the same day as serving.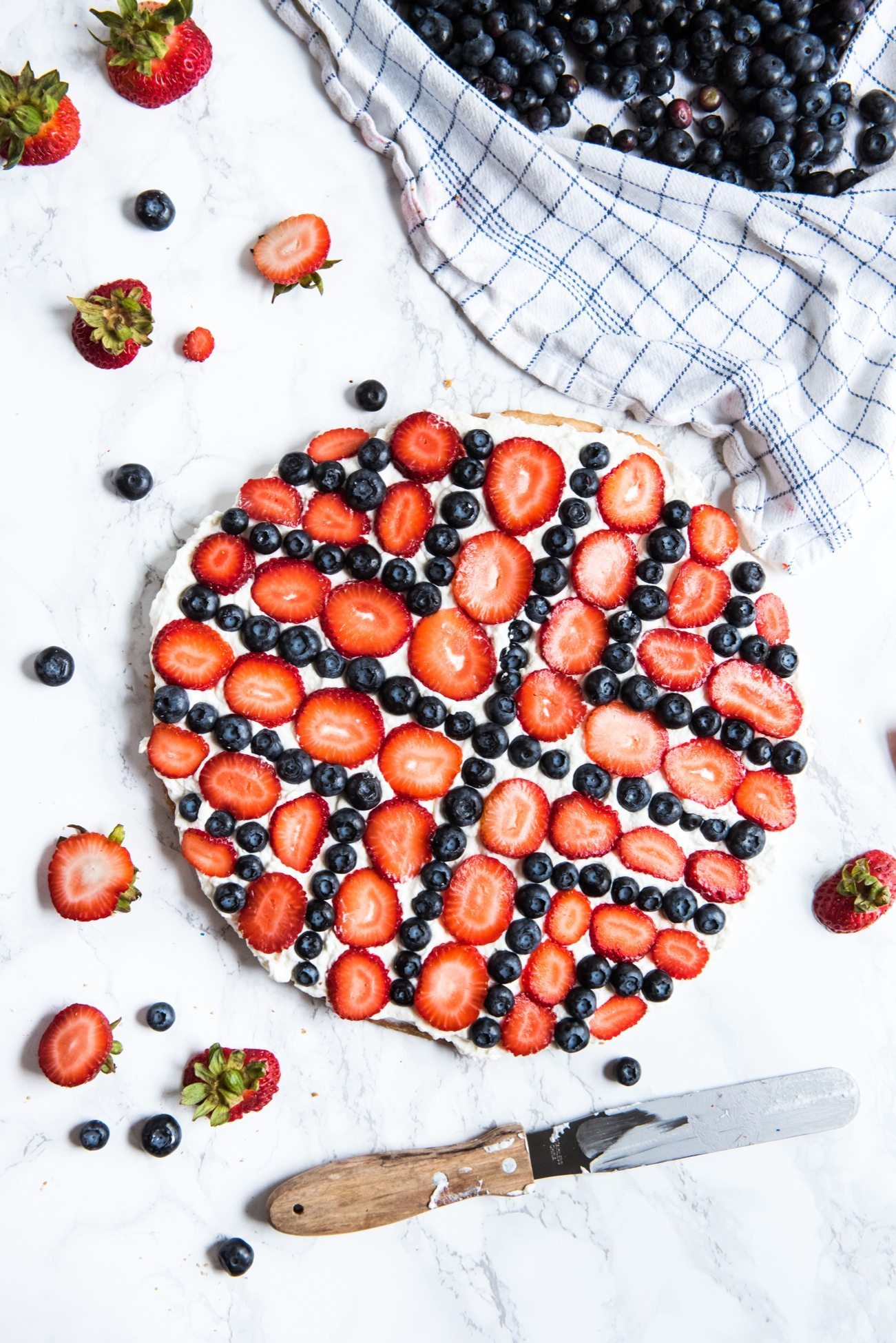 How Long Will Fruit Pizza Keep?
With a dairy based topping and sliced berries leftovers from this fruit pizza recipe should be stored in the refrigerator. It is generally most delicious if eaten within a day as the strawberries will start to get mushy and then the crust will get soft.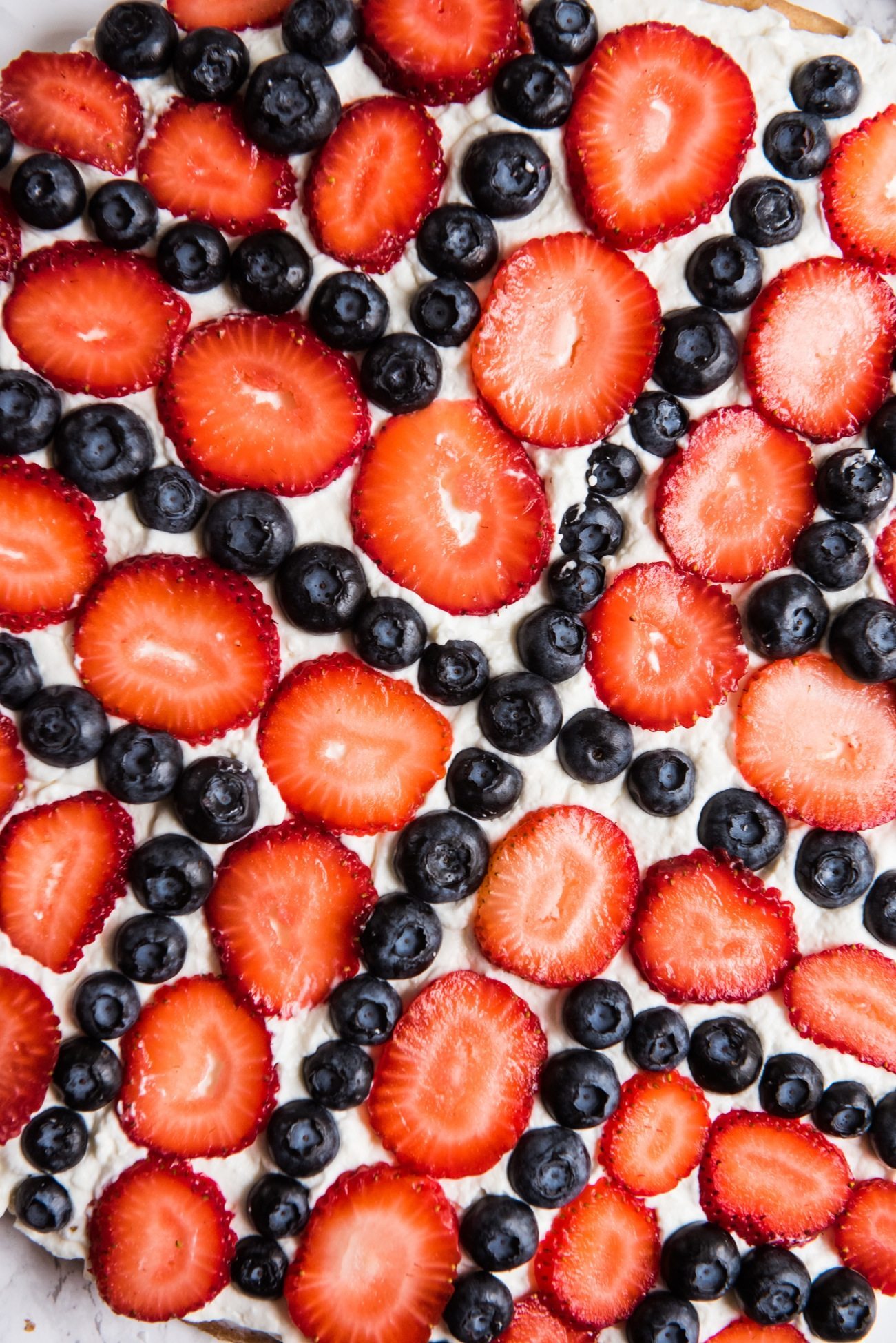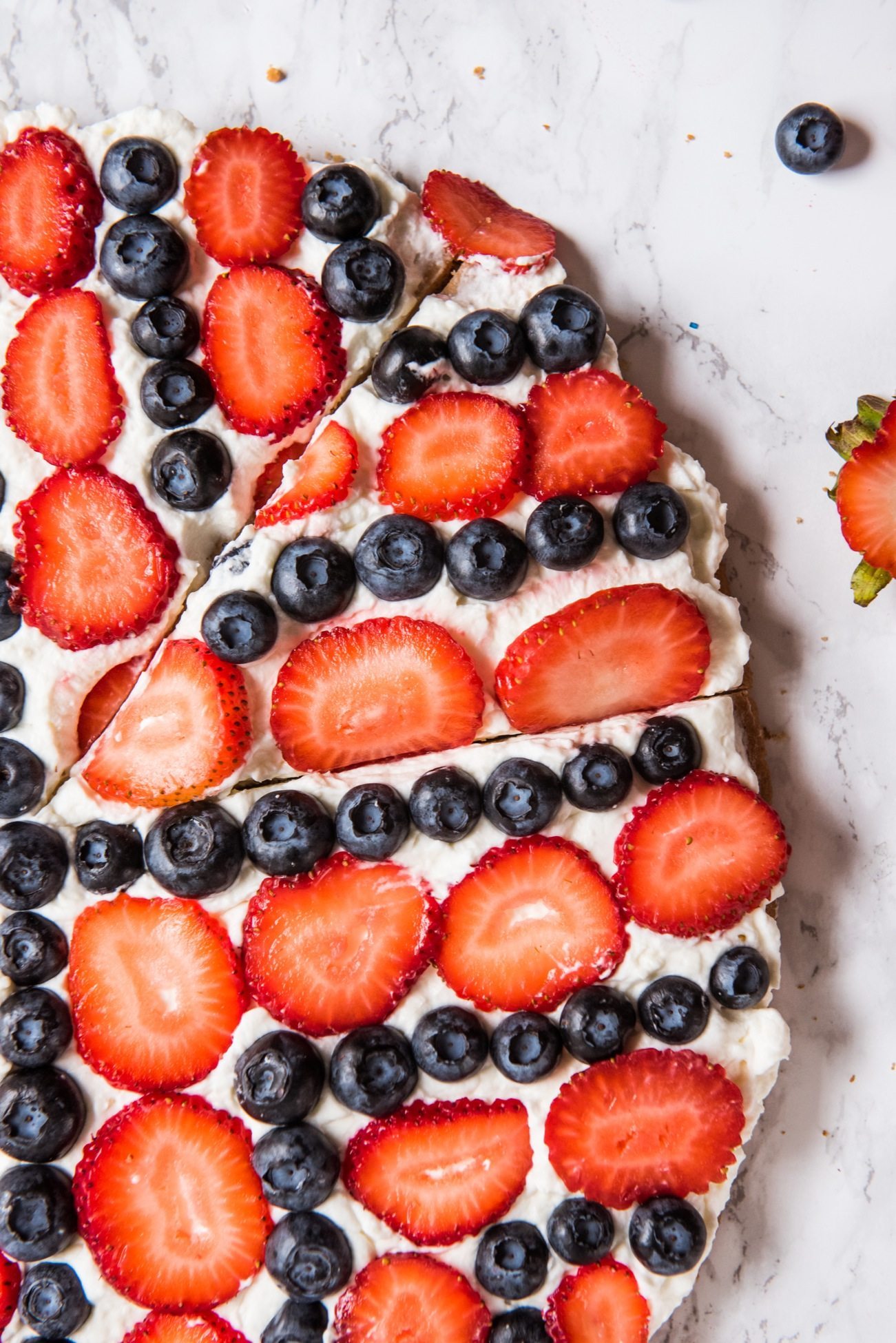 This fruit pizza recipe is one of those 4th of July desserts that just screams festive. Plus it's light in the sense that it's not some overly decadent dessert, so if it's one of those hot days where a heavy treat doesn't sound appealing, this one is the perfect pick.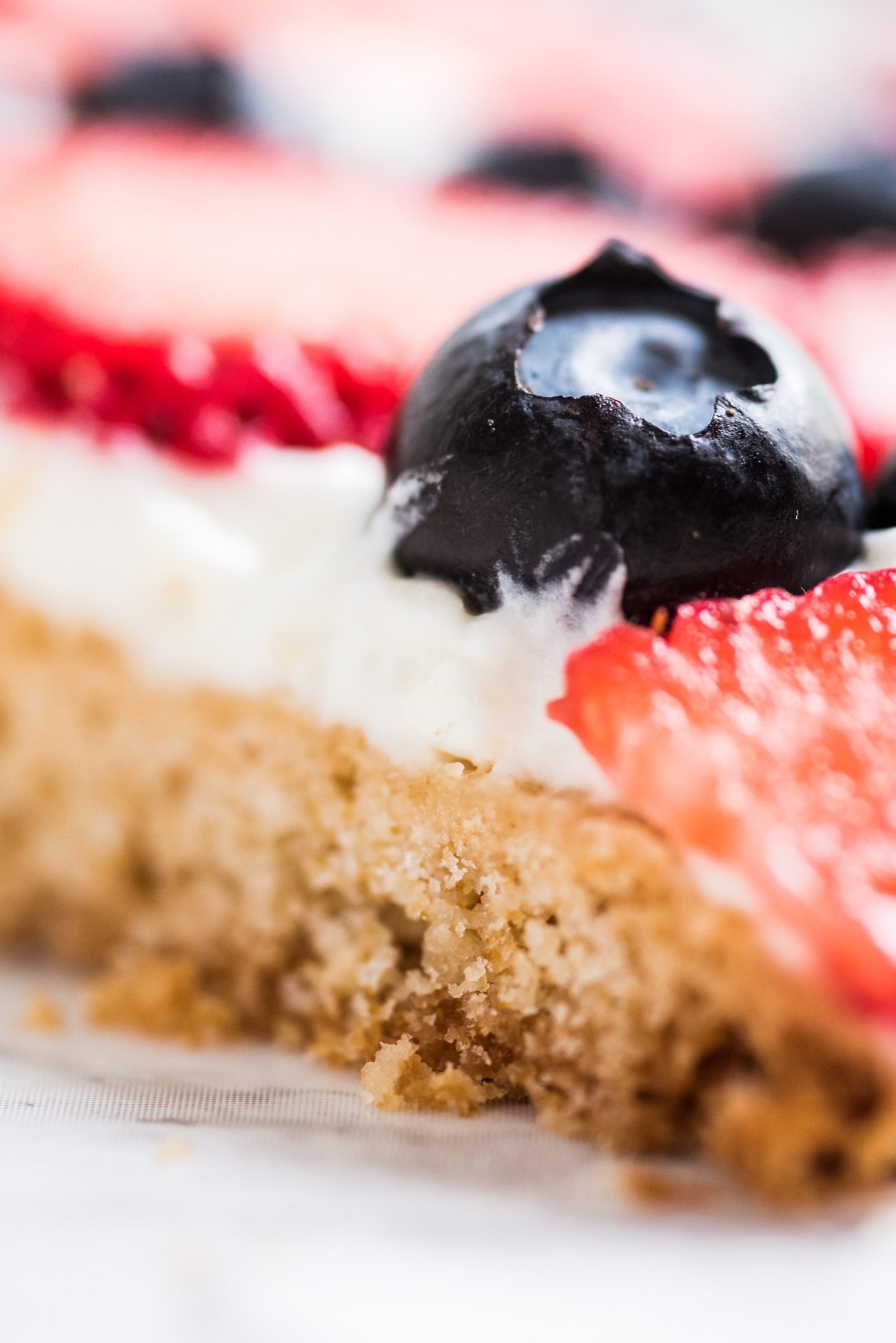 Keep in mind that after the Fourth, it's an equally delicious dessert, too, just switch up your toppings and enjoy! Raspberries would also be crazy delicious on this fruit pizza, or consider tropical fruits like kiwi.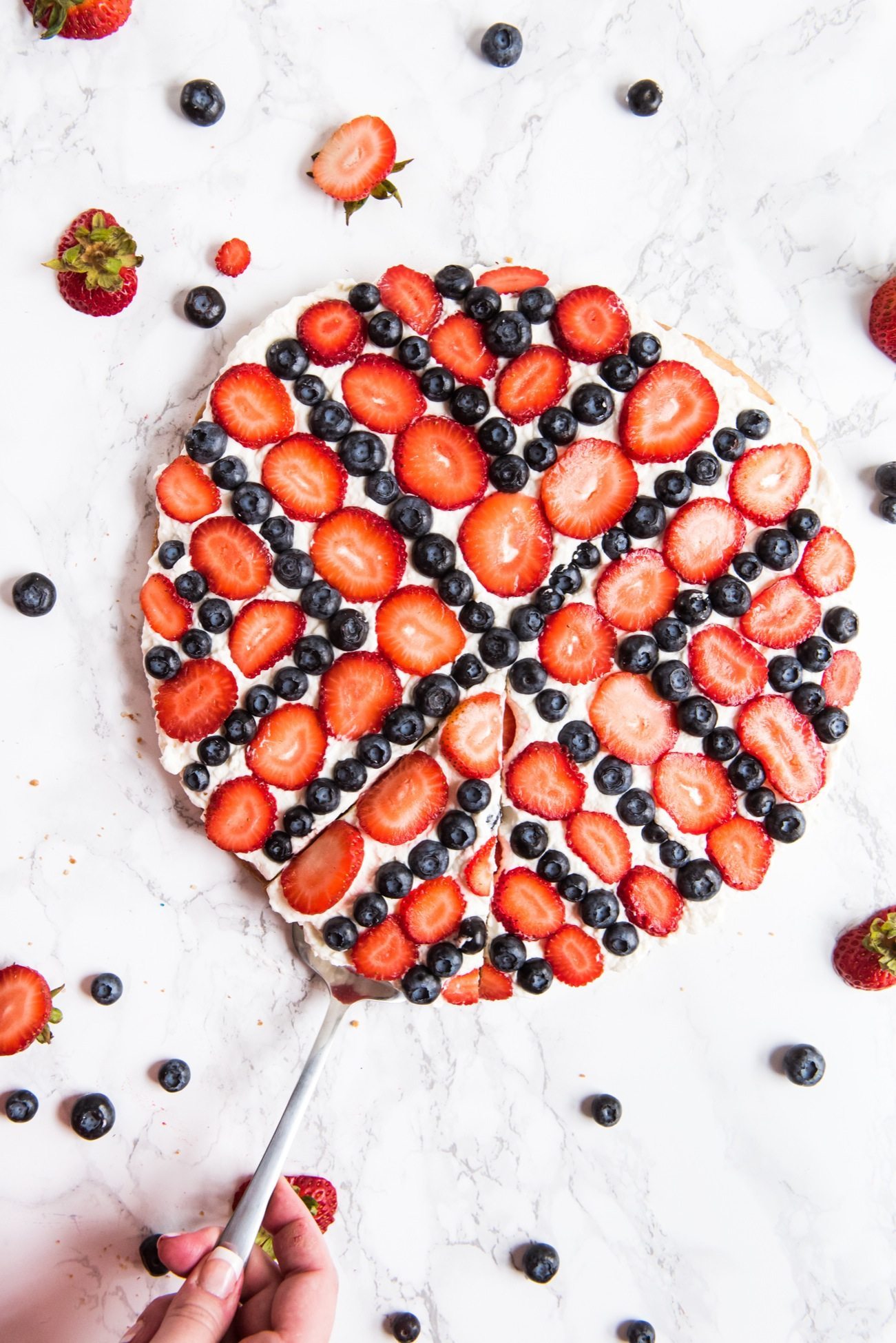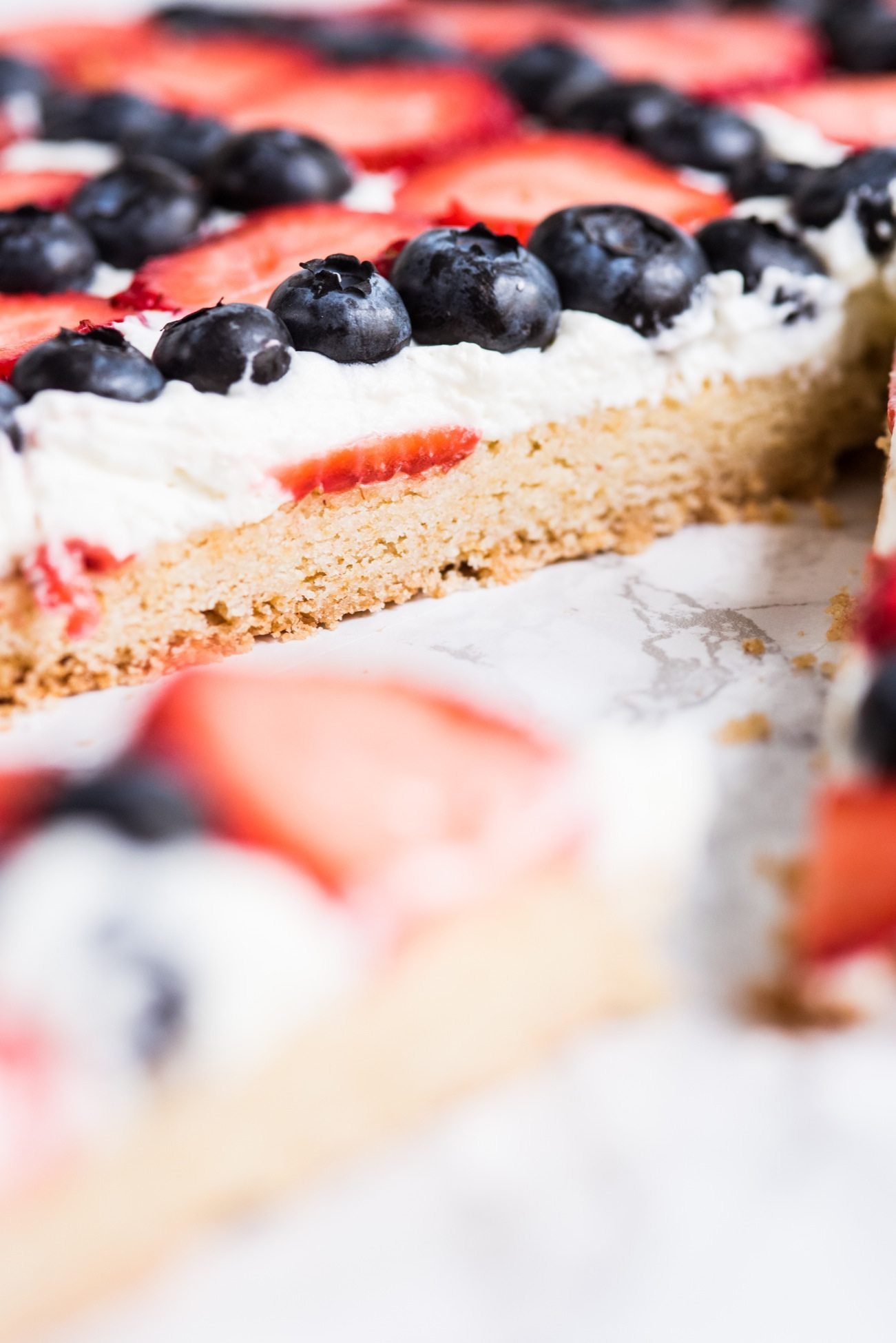 Looking for More July 4th Ideas?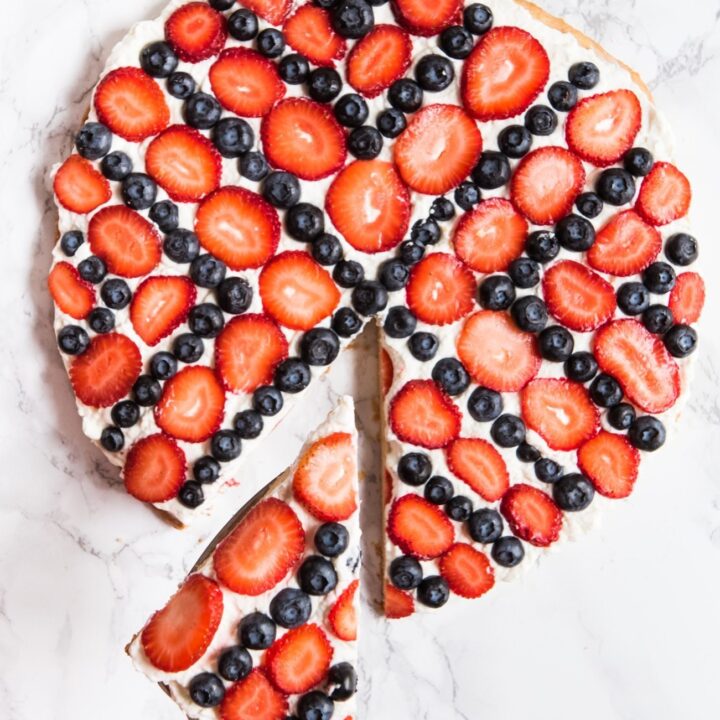 Americana Sugar Cookie Fruit Pizza
Prep Time: 30 minutes

Cook Time: 12 minutes

Total Time: 42 minutes

This easy sugar cookie fruit pizza makes a simple and delicious 4th of July dessert or the perfect addition to any summer party menu! Easily change the flavors by changing out the berries for any other combination you prefer.
Ingredients
For the Cookie Base
1 batch of sugar cookie dough
3 tablespoons all-purpose flour
For the Topping
1 cup heavy cream
1/2 cup sugar
1/2 tablespoon vanilla extract
4 oz softened cream cheese
2 cups sliced strawberries
1 cup blueberries
Instructions
For the Cookie Base
Preheat oven to 350°
Prepare your favorite sugar cookie recipe OR prepare (1) package of sugar cookie mix per the package instructions.
Add flour to prepared dough and work in with hands, then form into a ball.
Using a rolling pin that is well floured, roll the cookie dough ball into a round pizza-like shape roughly 1/4" thick and about 12" across.
Bake on a cookie sheet or baking pan until golden and crispy around the edges, about 12 - 14 minutes.
Remove from the oven, allow to cool slightly, then transfer to a wire rack and allow to cool completely to room temperature.
For the Topping
In a mixing bowl with a hand mixer or in the bowl of a stand mixer, combine heavy cream, vanilla and sugar and whip on medium-high until soft peaks form.
In a separate bowl, beat the cream cheese until soft and creamy.
Fold whipped cream into the cream cheese, and combine, taking care not to mix too vigorously.
To Assemble
Use a spatula to spread the whipped cream and cream cheese mixture over the top of the cooled cookie base.
Add strawberries and blueberries to the top in whatever pattern you'd like.
I created my pattern by first creating a criss-cross of blueberries sectioning the top into quarters, then filled the berries in within each quadrants in alternating rows.
Serve immediately or chill for up to 3 hours before serving.
[Recipe + art direction by Cyd Converse | Photos by Alice G. Patterson.]