This post was sponsored by Keep, my favorite new site for all things shopping and inspiration. Thank you for supporting the sponsors that so generously help keep The Sweetest Occasion rockin'!
It's been a bit since I've updated you on how things are progressing around our new apartment in the decorating department. Quite simply, that's because summer has been insane in the best possible way and I still have a laundry list of things I want to tackle before really calling the job done. That said, with fall knocking on our doors, I'm feeling the pull toward all things domestic so I'm hoping to button up a handful of final projects soon so I can finally share a home tour with you. (You can revisit the bare bones space here!) Also, we're trying to be really deliberate in our purchases and acquisitions so sometimes even things like shopping for a dresser take forever. But then I scored the mid-century dresser of my dreams on Craigslist for $20 and all of a sudden going four months sans dresser in the master bedroom seemed more than worth the effort. (Yeah, that really happened.)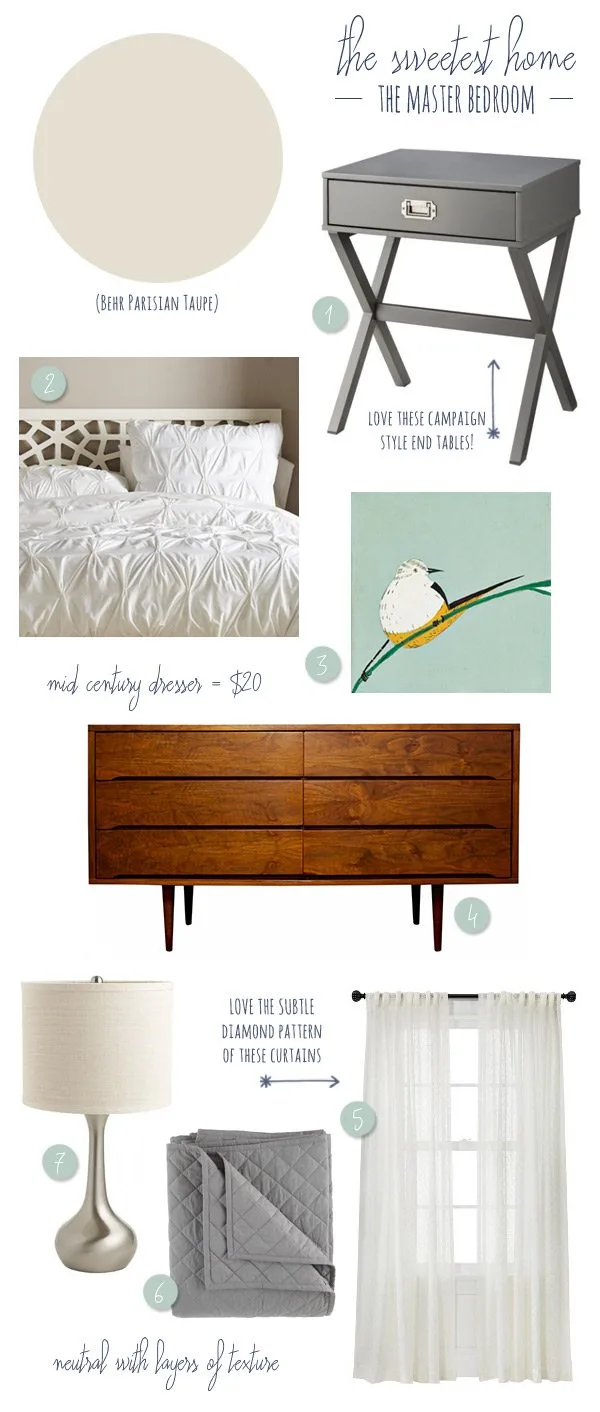 Now that we finally have a dresser, the master bedroom is where I'm focusing a lot of my attention these days. As much as I love bold, bright color and patterns, I always seem to come back to neutrals for the bedroom. Our bedding is a mix of a dark gray quilt we've had for a couple years and white pintuck bedding from West Elm. The furniture defines eclectic, pairing a more traditional bed with a pretty tall headboard with the new mid-century dresser. (It works because of the wood tone, but I'll show you that in photos soon!) For end tables, I am thinking a painted or metal finish because the room is quite small so adding more wood seems like it would really overwhelm the space. These incredible Campaign style side tables from Target are currently topping my list! Otherwise it's about art work, some soft and billowy curtains with a bit of texture, and scoring the perfect lamps. When it's finished this room is actually going to read pretty simple but quite soft and pretty. Or, at least that's the goal.
Don't forget that I do update on Instagram quite regularly as I tackle little projects at home. (So you probably already know about that $20 vintage dresser if you follow along!) I'm using the hashtag #thesweetesthome for all things decor related so be sure to pop over and join me as I try to finish things up around here. You know, hopefully without going another four months searching for one piece of furniture.

[Shop: Paint color | 1: Campaign side table | 2: Pintuck bedding | 3: Art print | 4: Mid-century dresser | 5: Diamond print curtains | 6: Quilt | 7: Genie lamp.]
This post was sponsored by Keep. Read more about our editorial policies.