I am so excited this morning to be welcoming back the lovely Chelsea Costa to The Sweetest Occasion. Chelsea started her reign as our original DIY contributor back in early 2011 and now she's rejoining us once a month with easy and inspired DIY floral ideas for dressing up your celebrations and your home. See more of her amazing work over at Lovely Indeed!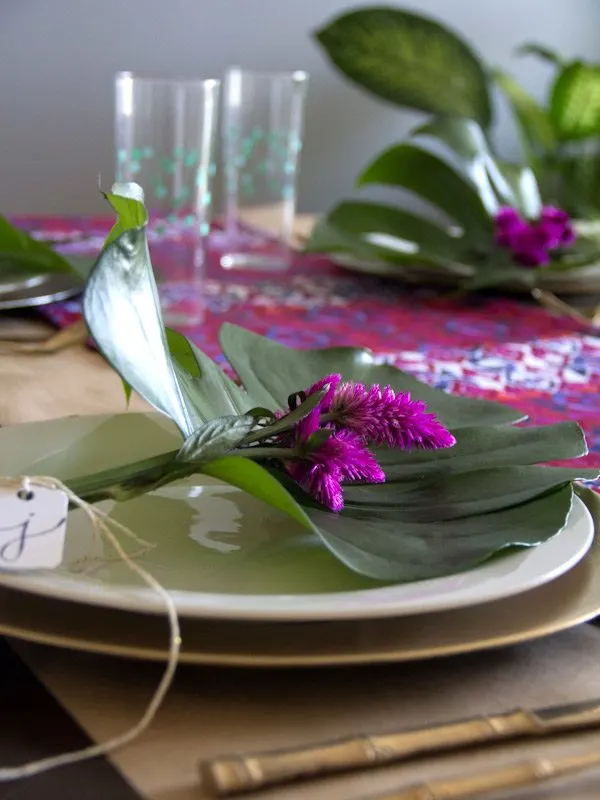 Hey gang! Chelsea here – I'm so excited to be coming back to The Sweetest Occasion, and even more excited to dive into a new column, all about using florals to jazz up the great indoors. I've been so inspired by flowers and plants of all kinds lately, so we thought it would be fun to have a series all about making your table settings even prettier with some stems. We're jumping into the deep end today to say goodbye to summer with a bold and colorful take on place cards. Set these out at your next dinner party and get ready for some oohs and aahs!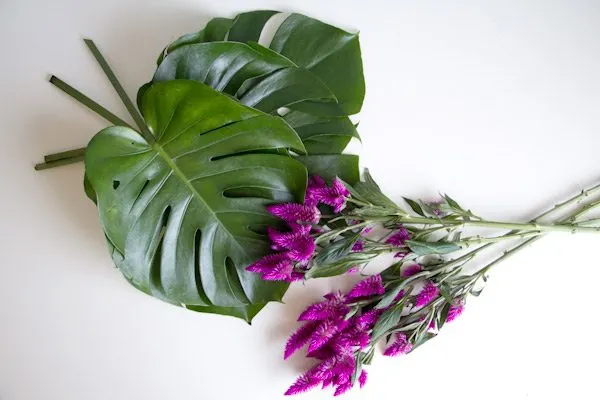 Supplies –
Oversized leaves (we used monstera leaves)
Pink celosia
Baker's twine
Scissors
Small tags or pieces of cardstock
Hole punch
Pen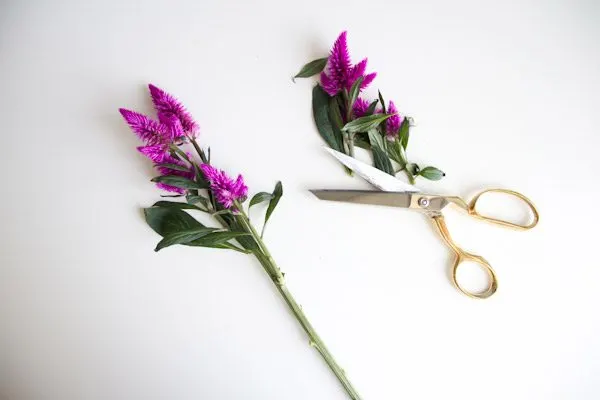 Prepare your florals by gently wiping the leaves and stems with a clean, damp cloth to remove any excess debris. Cut the stems of the monstera leaves to about 6″ in length. Take a stem of pink celosia and trim the lower leaves and blooms until there are just a few remaining at the top.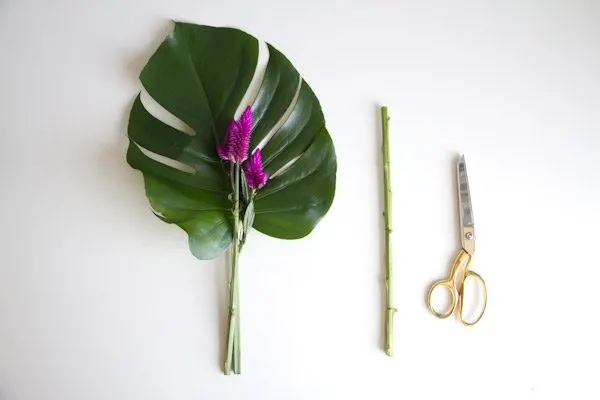 Lay the pink celosia over the leaf so that the blooms are centered the way you'd like, and trim the celosia stem even with the monstera stem.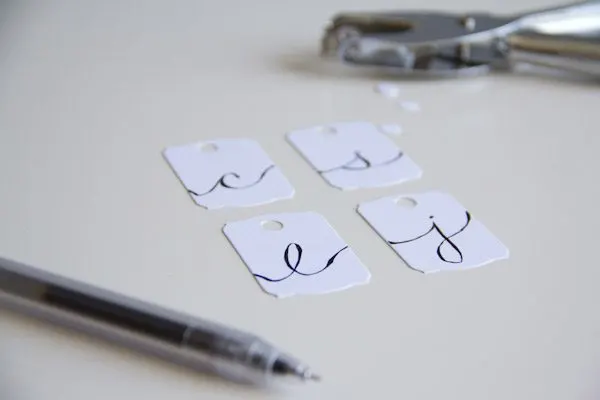 On the paper tags, write the initial of each of your dinner guests. Punch a hole at the top of each tag.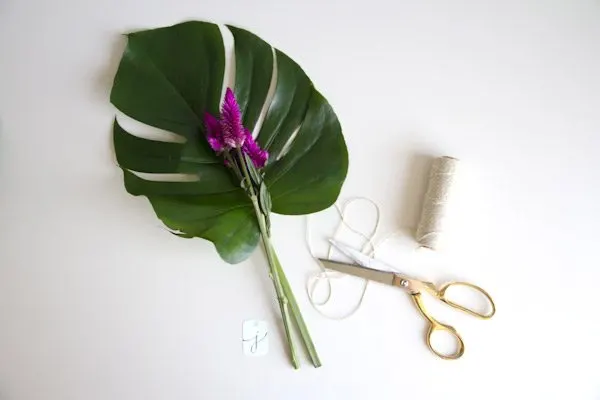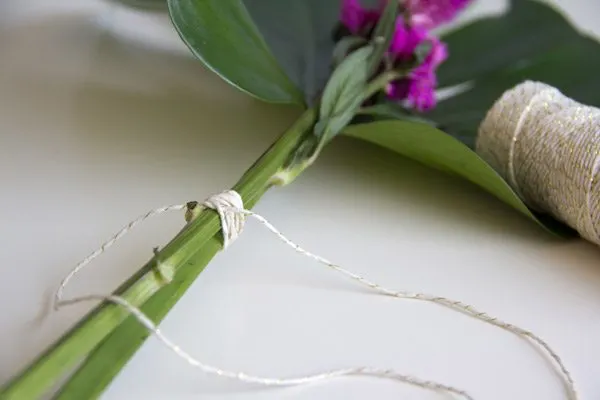 Cut a length of twine to approximately 18″. Wrap the twine repeatedly around the two stems, about halfway down. Wrap tightly enough that the leaf and the celosia are secured together. Tie a single knot with the two ends of the twine.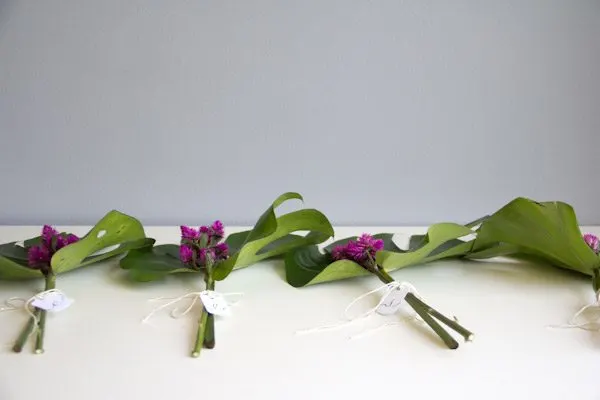 String a tag onto one side of the twine and tie a knot and bow around the tag to secure it. You may have to work the tag a bit to get it to lay flat.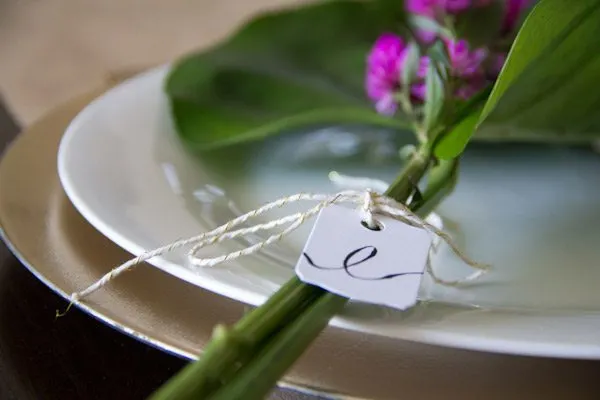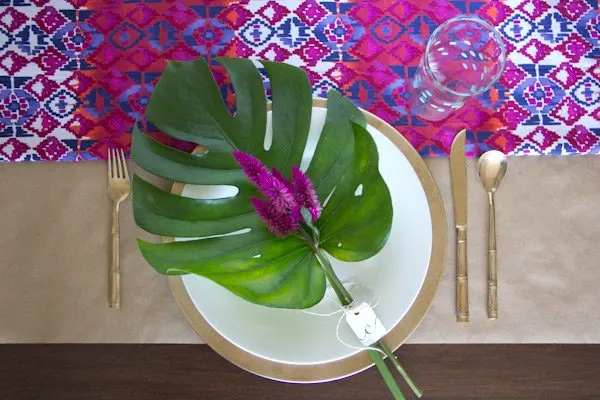 Lay an arrangement at each guest's place, and get ready to party! I love the look of these — they're the perfect sendoff for a last summer meal, and pretty festive to boot. (If you like, keep a vase in the center of the table where guests can put their "placecards" and make them into an instant bouquet.)
Stay tuned for another installation of my new favorite column — we'll be bringing you fresh ideas each month!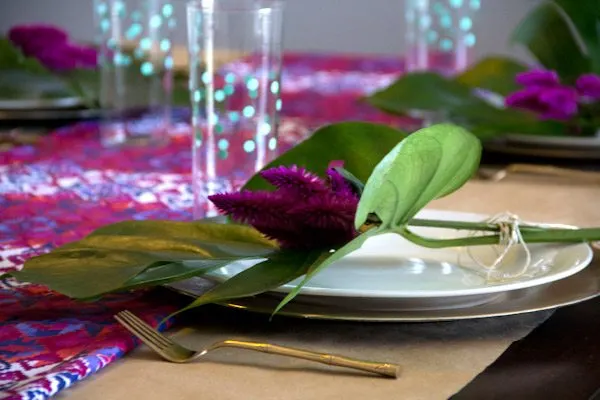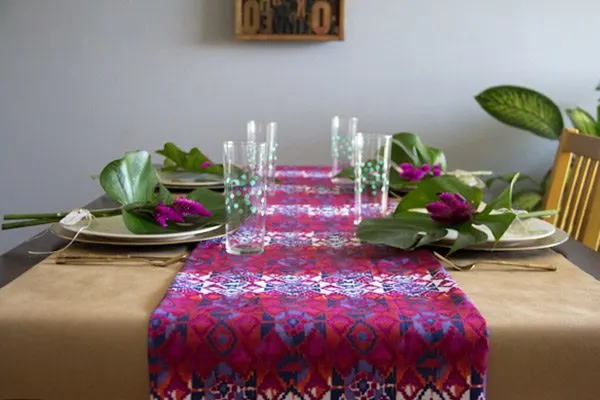 [Photos by Lovely Indeed for The Sweetest Occasion.]
Sources –
Baker's twine from The Twisted Twine
Tiny tags from Clear and Simple Stamps
Table runner fabric from JoAnn (discontinued, similar here)
Glassware from west elm
Gold flatware thrifted
The fine print: Please link with love! As with all of our posts, DIY projects featured on The Sweetest Occasion may not be copied, distributed or reproduced without express written permission. Love and links are always appreciated! If you'd like to share this post, please link to this post directly for the DIY tutorial and do not include the instructions in your own post. Thanks so much! xoxo