A few weeks ago I promised you my favorite recipe for sangria and today's the day! (Better late than never, right?) I'll be honest and admit that a lot of sangrias aren't exactly my cup of tea. I find most sangria to be overly sweet and generally loaded with fruit that I don't necessarily have any interest in having in my drink. So a few years back I went hunting for a crisp citrusy sangria and ultimately decided to just wing it and make up my own. The results? An absolute hit! Every time I make it for a party it's a serious crowd pleaser, making it one of my go-to cocktails for entertaining. Whip it up the evening before and it's already prepped and ready to go when guests start strolling through the door. The key here is the fresh citrus paired with a crisp white wine. I hope you'll give it a try!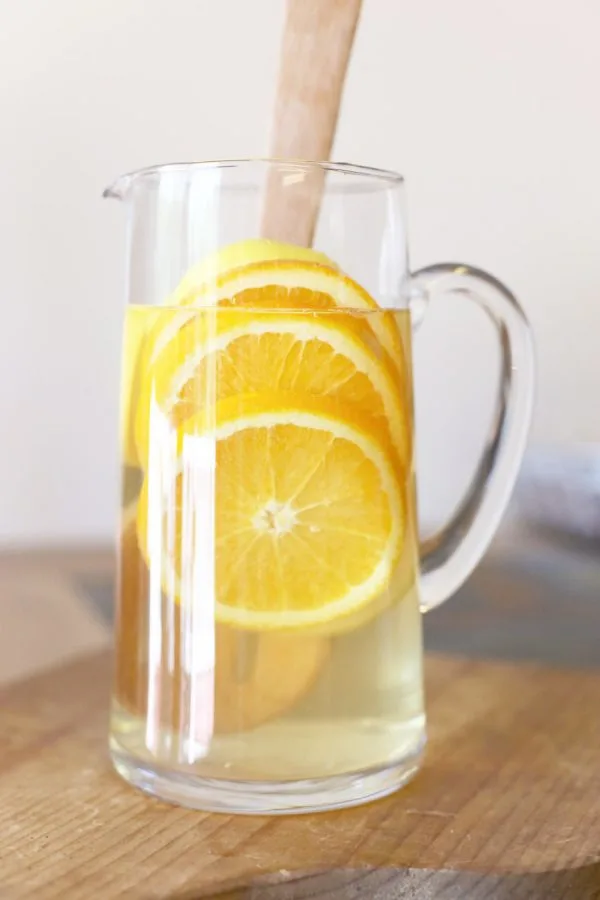 1 bottle of crisp white wine (like sauvignon blanc or pinot grigio)
6 – 8oz of triple sec
1 large orange, sliced
1 lemon, sliced
4 tablespoons sugar

Place orange and lemon slices in the bottom of a pitcher and muddle together with sugar, using a wooden spoon. Pour in triple sec and stir gently. Top with white wine, stir and refrigerate at least 2 – 3 hours before serving. Overnight is best! Serve with slices of fresh citrus for garnishing. To scale the recipe up for larger parties, I suggest doubling everything for crowds of more than six people.

[Photos by Cyd Converse for The Sweetest Occasion.]