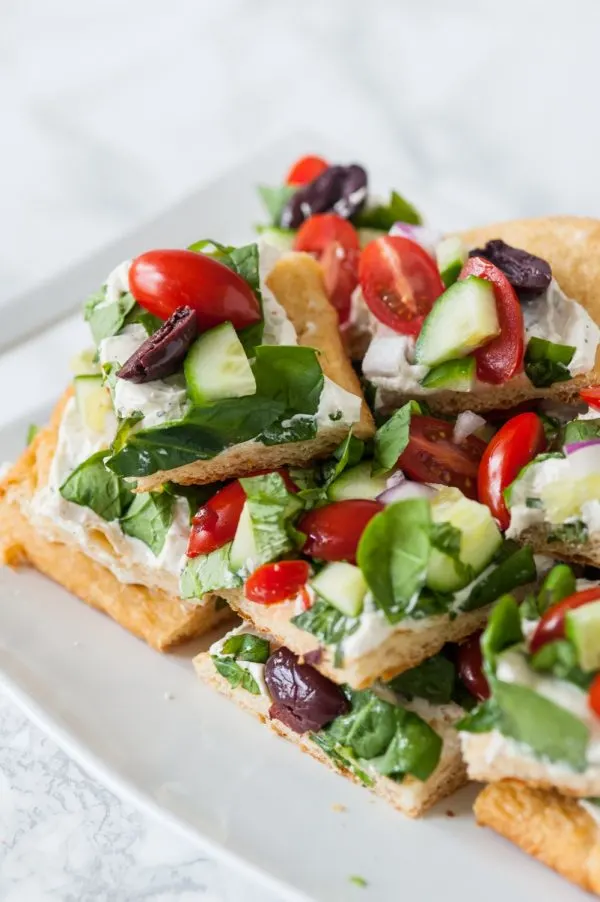 This veggie flatbread is about to become your new party food mainstay. Are you ready? The women in my family have been serving up some version of this flatbread recipe as a party appetizer for as long as I can remember. Rumor has it my mom started making it first, but honestly I remember it as being something my Aunt Candy has always made. Now I make it, too, only I give my version a bit of a Mediterranean twist, simply because that's how I roll. Here's what I love about this stuff! First of all, it's delicious. Secondly, it's really easy to make. As in, this barely qualifies as cooking it's so easy. Third, if people pop over unexpectedly or you forgot to make something in advance for a party or a brunch you're attending, you can be done and good to go in about as little as 20 minutes flat. Yes! Quick, easy, delicious, amazing. I've made this for baby showers, Christmas parties, housewarming parties, just-because brunches and numerous occasions. Now, you can make it, too!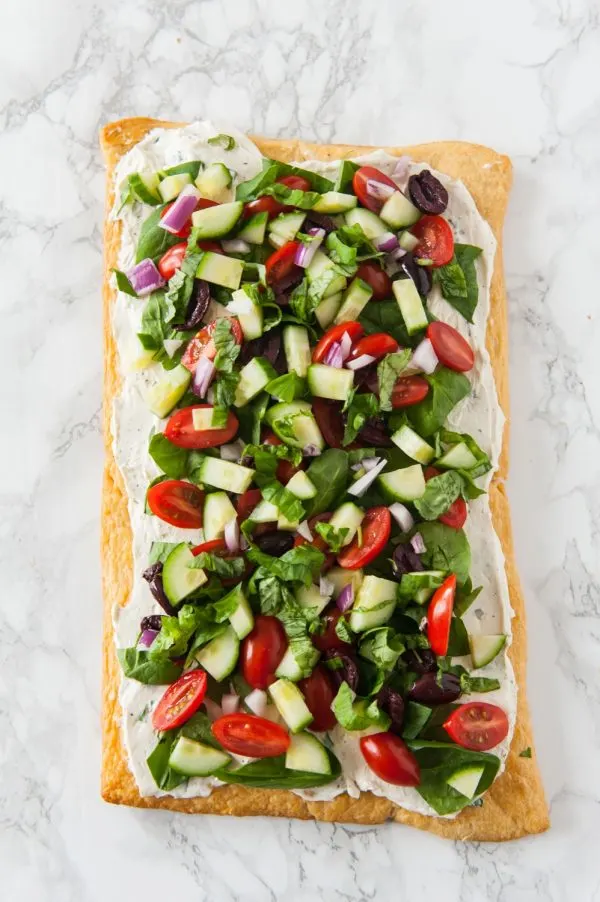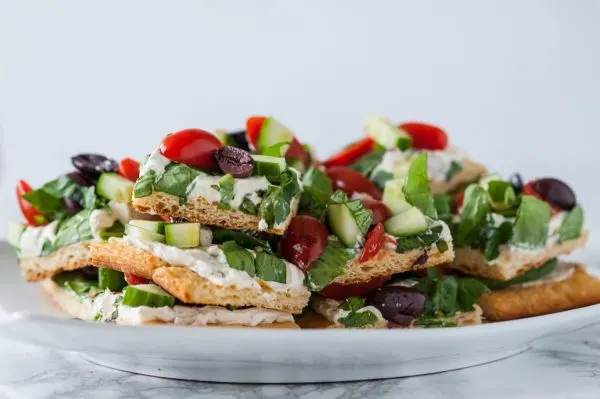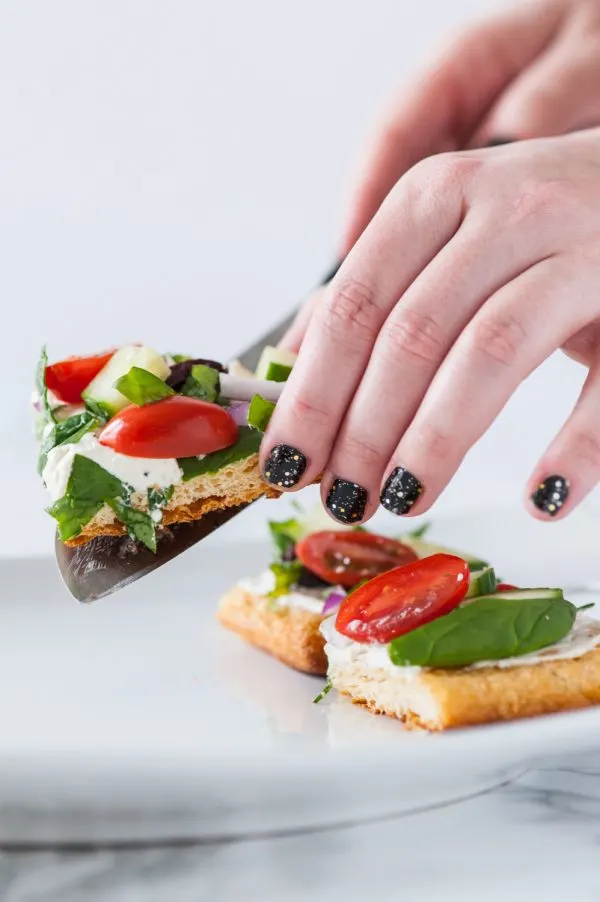 1 can crescent rolls
8 ounces cream cheese
1/2 cup mayonnaise
1/2 cup fresh basil, chopped
1 cup grape tomatoes, halved
1/2 cup kalamata olives, halved
1 cup fresh spinach, chopped
1 cup English cucumber, chopped
1/4 cup red onion, diced
Salt and pepper to taste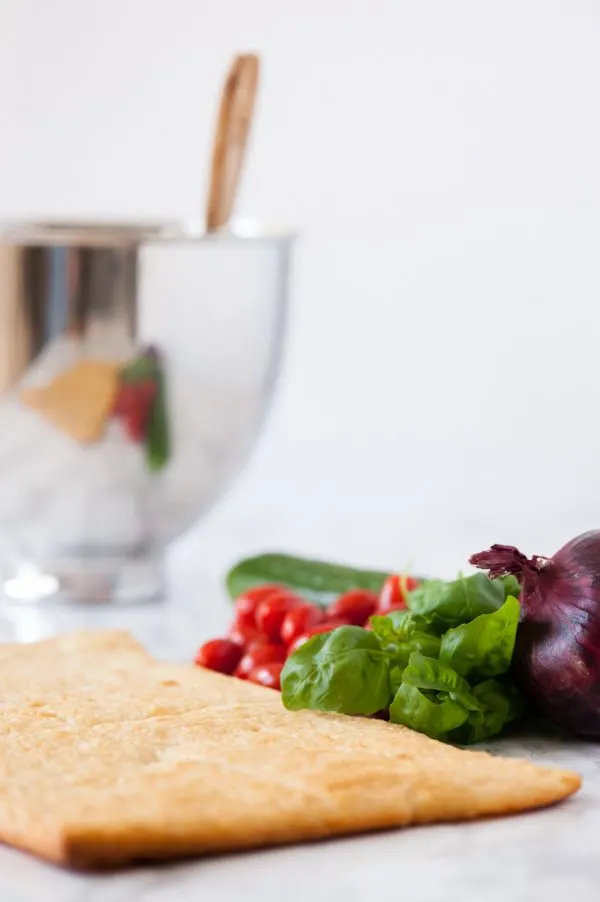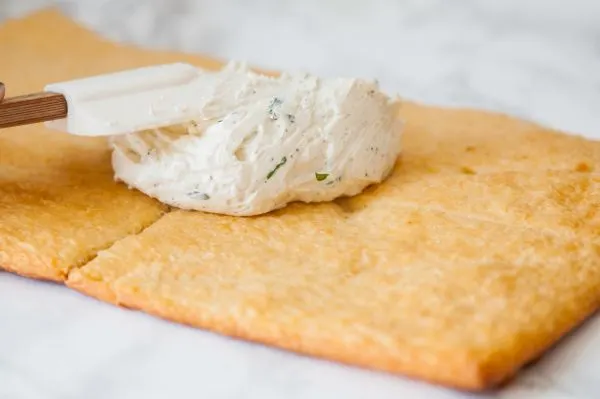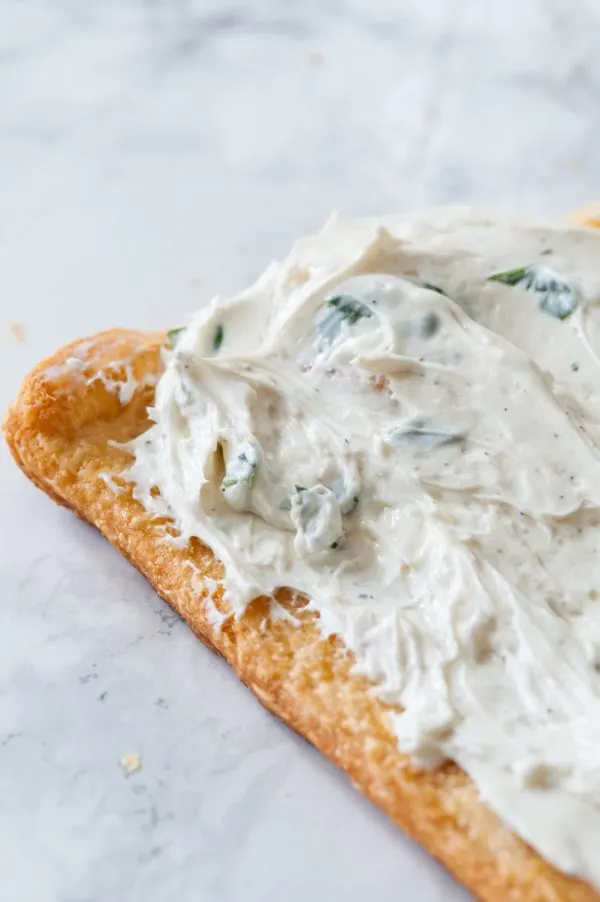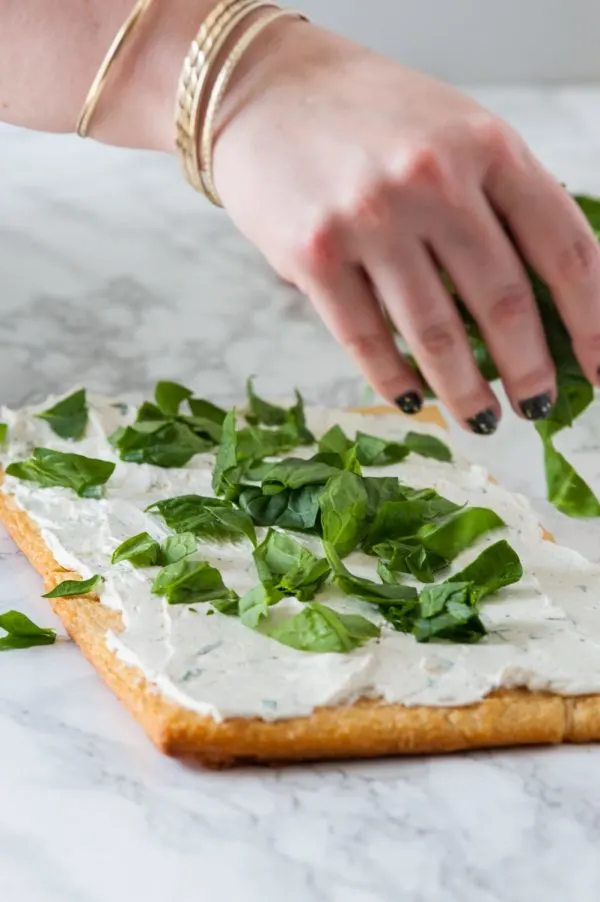 Preheat oven to the temperature specified on the crescent rolls package. Then, roll the entire sheet of crescent roll dough out on a very lightly greased baking sheet, being careful not to break it apart and bake for 12 – 14 minutes or until golden brown. Remove from the oven and allow to cool completely. In the meantime, combine cream cheese (at room temperature), mayonnaise, roughly 3/4 of the basil (reserve the rest for the end), and salt and pepper to taste in a mixing bowl. Mix thoroughly until well combined then spread out in an even layer on top of the cooled crescent bread. Sprinkle spinach all over the top, then add grape tomatoes, kalamata olives, cucumber and red onion. Finish by sprinkling the remaining basil on top and add freshly cracked black pepper to taste.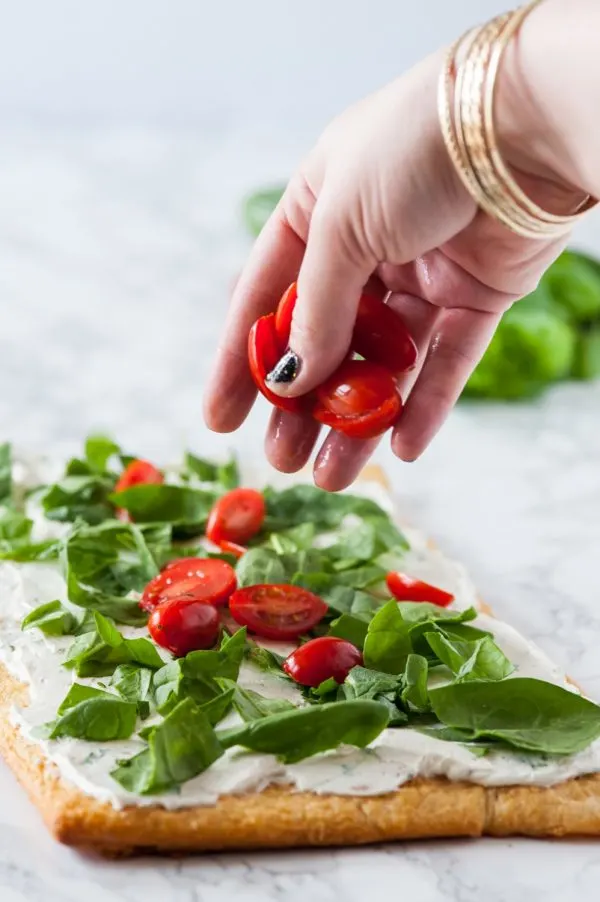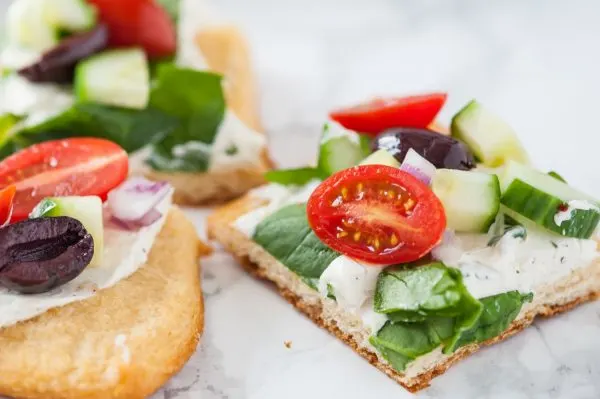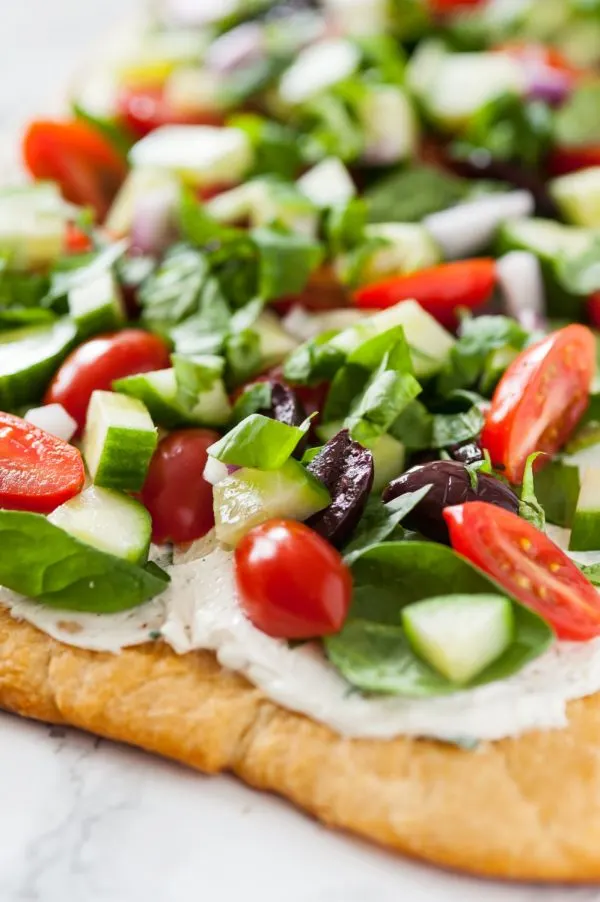 If you're making this in a hurry (which is totally feasible), just pop the baked crescent dough sheet into the freezer for 5 to 10 minutes before layering on the good stuff. If you assemble things too early, the cream cheese mixture can melt and get kind of sloppy, so a quick chill in the freezer will get you taken care of just right. Experiment with whatever veggies you like best! They're all delicious. (My aunt always includes chopped fresh broccoli and bell pepper on hers. Yum!) A drizzle of a balsamic reduction over top also won't steer you in the wrong direction. Go forth, friends, and make the easiest, yummiest flatbread you ever did eat.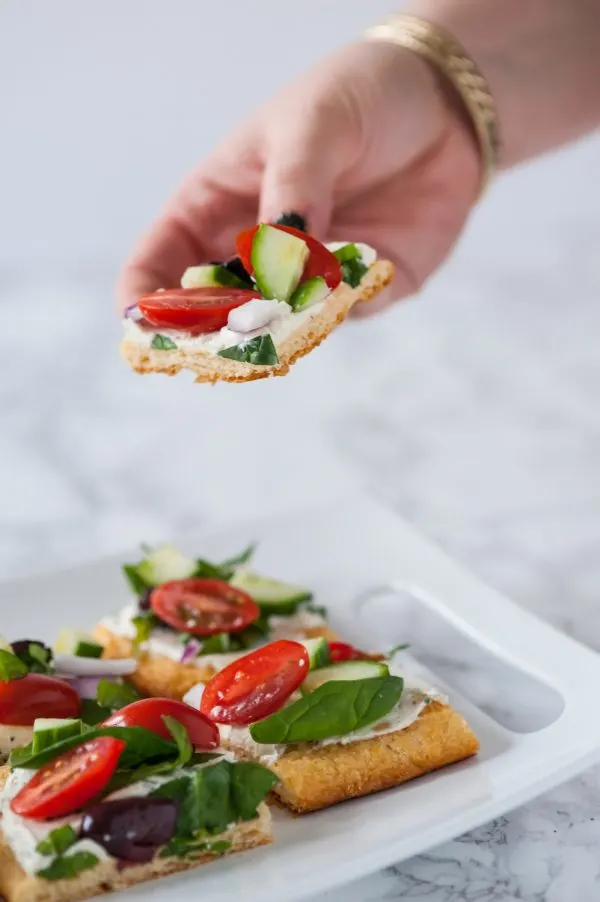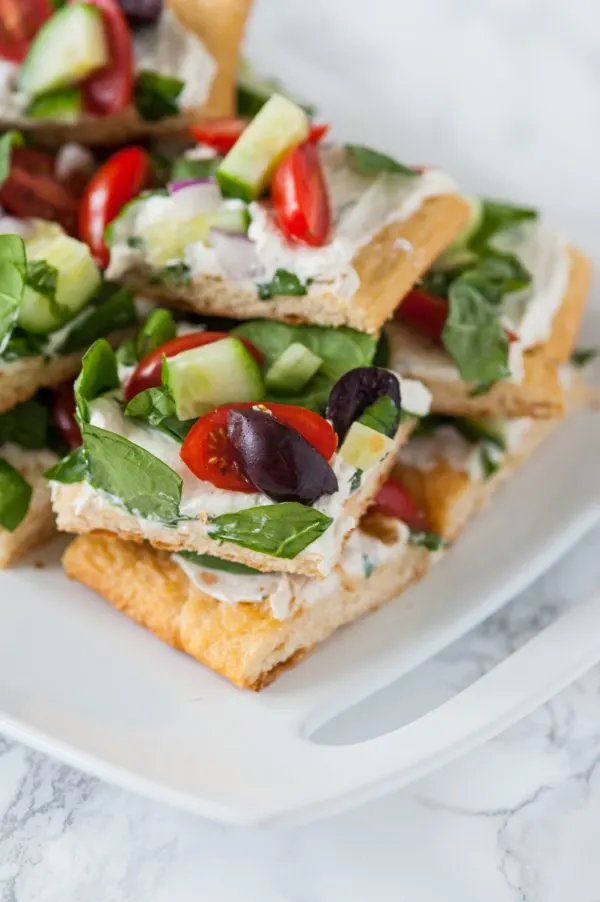 [Recipe + art direction by Cyd Converse | Photos by Alice G. Patterson for The Sweetest Occasion.]