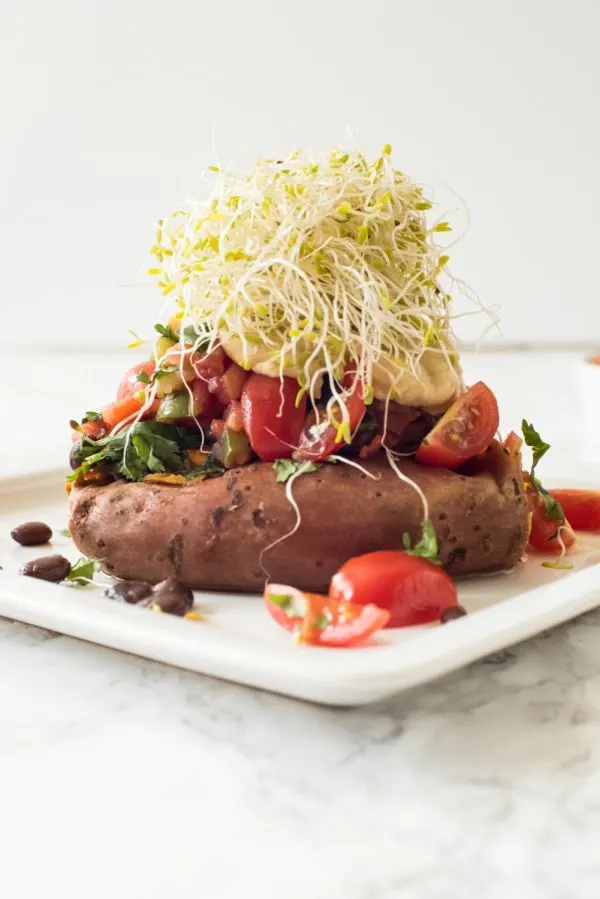 When I shared our round-up of favorite cookbooks, I mentioned I'd be working to share more recipes and examples of what I eat in a typical day. Enter stuffed baked sweet potatoes! This is one of my go-to meals during the week, whether it be for lunch or dinner. It's filling enough to stand alone or you can pair it with any kind of roasted vegetable or a salad on the side. As shown, this recipe is vegetarian, vegan and gluten-free but you can't wrong with the addition of an over-easy egg on top if you're not worried about keeping things vegan. I eat a baked sweet potato like this at least once a week, oftentimes twice or more, and it's seriously delicious every single time.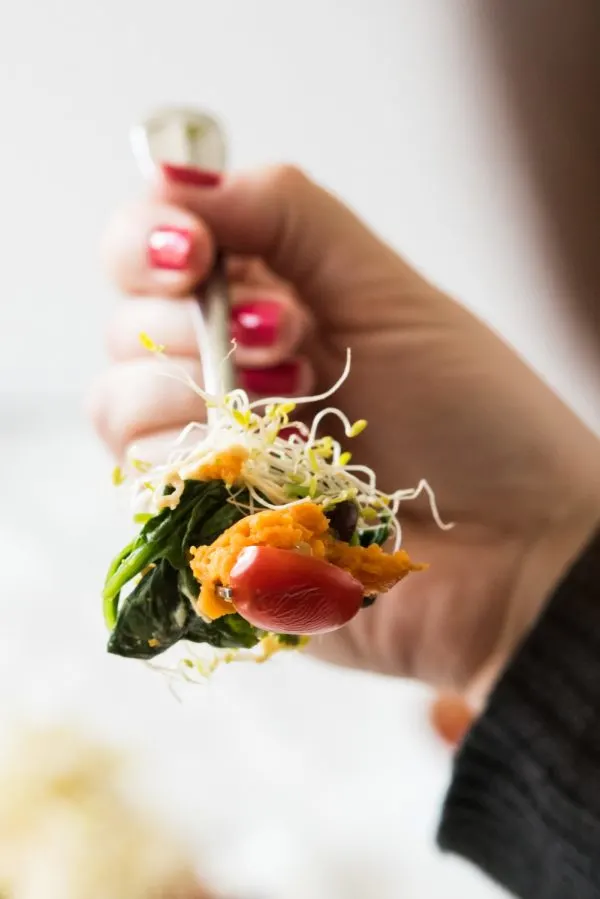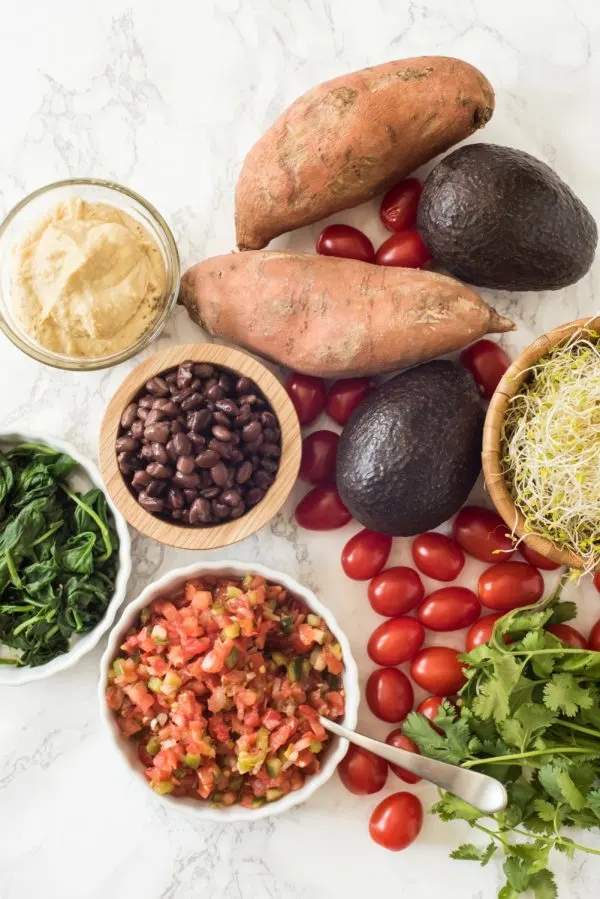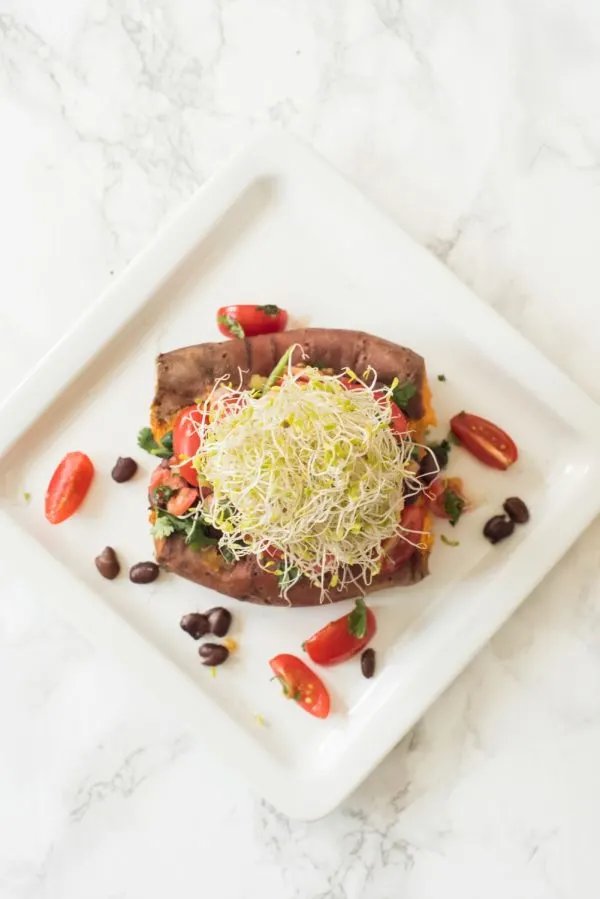 Stuffed Baked Sweet Potatoes
Makes 1 serving
1 medium to large sweet potato
2 tablespoons hummus
2 tablespoons salsa or pico de gallo
1/2 avocado sliced
1/2 cup wilted spinach
5 grape tomatoes, quartered
1/2 sprouts
1/4 black beans
1/2 tablespoon cilantro, diced
Begin by cleaning a sweet potato, then slicing off the ends. Spear liberally with a fork all over the potato then wrap in aluminum foil. Place in an oven set to 400° F (directly on the rack is fine) and bake for 45 minutes to an hour or until fork tender. When baked, carefully remove from the foil and place the potato on a plate or in bowl. Split it down the middle and add spinach and black beans first before layering on your other toppings. (I think the sprouts like best piled on top if you're going for style points!) Eat immediately.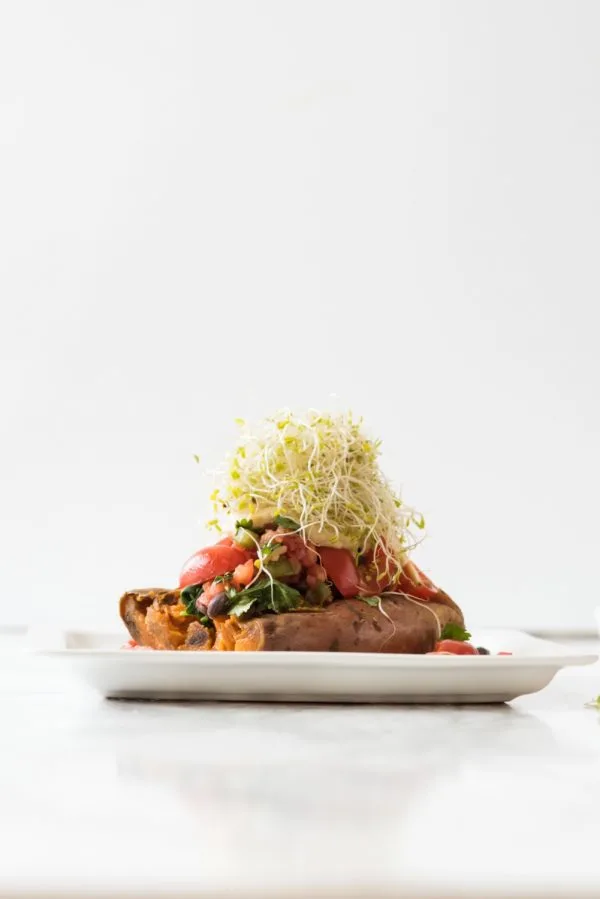 I know this seems really simple, but here's the thing – simple food is just really really good. Fresh ingredients, loads of veggies, prepared while you're working on other things (like feeding the kids and the dog), that's the best kind of eating in my world. We try really hard to avoid anything that comes in a package, but I also don't have endless time to cook so these potatoes, which I can bake while I'm focusing on other things and then just top quickly before eating, are perfect in my world. Let me know if you give this one a try! I hope you do, because it's my favorite thing in the world these days. No exaggeration.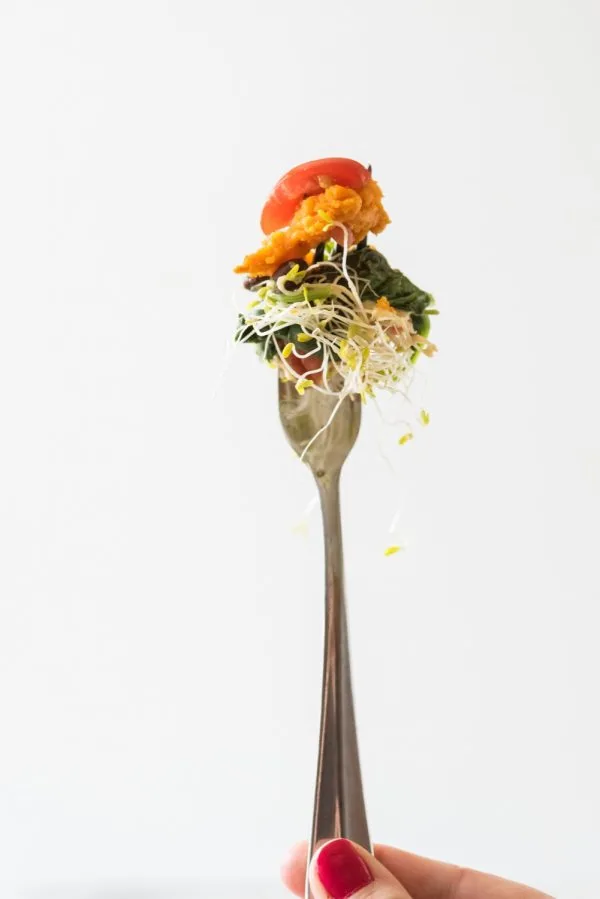 [Art direction + styling by Cyd Converse | Photos by Alice G. Patterson for The Sweetest Occasion.]