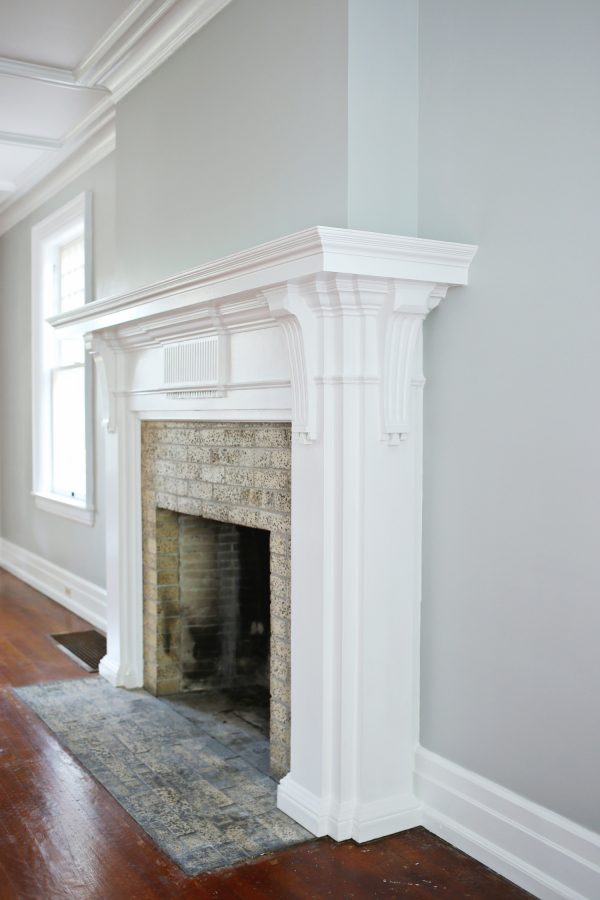 I am so excited today to share photos of our living room renovation with you! If you've been following along on Snapchat, you know we have countless hours into renovating this room. As a quick recap, when we began we thought there was just a single layer of wallpaper on the walls. As it turns out, there were three. Three very stubborn layers over plaster walls hiding some pretty big cracks. In total we spent the better part of three weeks in this room scraping wallpaper, having the walls repaired, priming and painting, painting, painting. Then I spent another few days on my hands and knees scrubbing and scraping grime off the hardwood floors that was leftover from the years of being covered in foul blue carpet. But today, finally, I have some real before and after photos to share with you! Click through for more plus details on paint colors, too.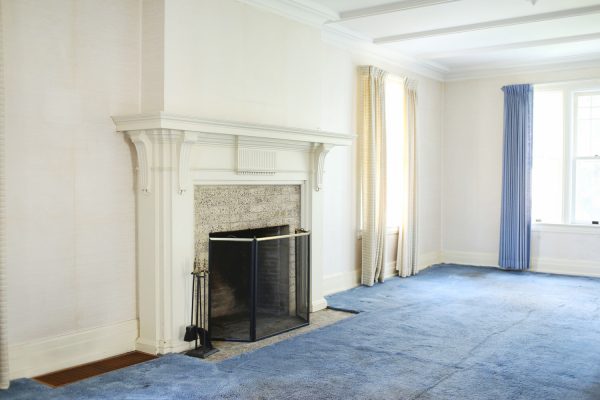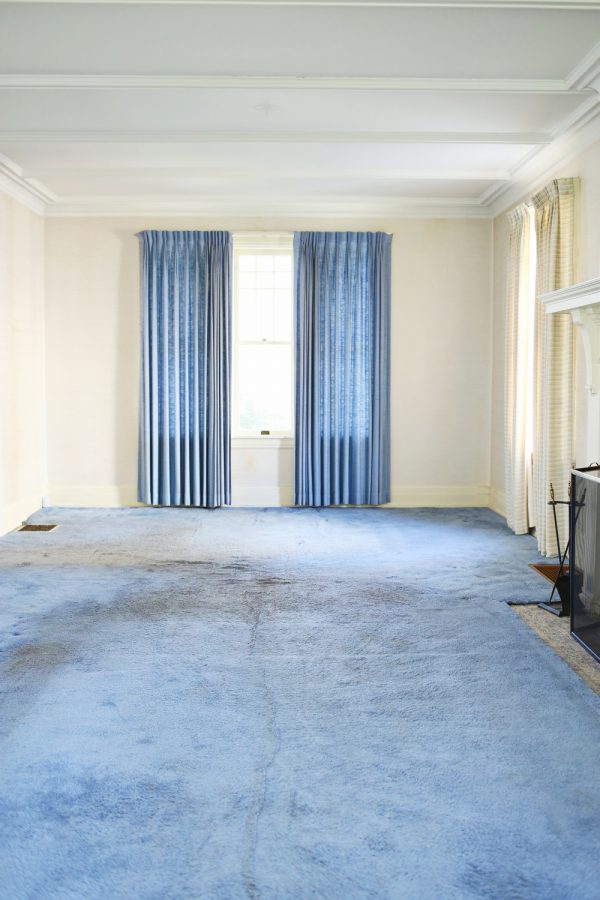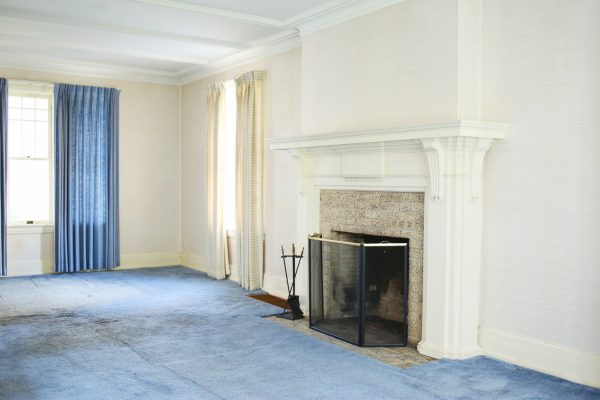 To remind you, this is where we started a month and a half ago when we closed on the house! Our immediate plans were to strip the wallpaper, remove the carpet and paint. The nice thing about this plan is that it's not some huge costly renovation, just primarily a bunch of elbow grease. Of course, at this point we had no clue just how much elbow grease would be involved (something exaggerated by the size of the room), but we still maintain it was worth all of our combined efforts. In my last update post I broke down the details about what work we did ourselves (most of it) and which work we hired out, if that's helpful for you. Take one good last look at the blue carpet! And those custom drapes from the 1970s? I bet they were amazing at the time, but those met their end, too. And rightfully so.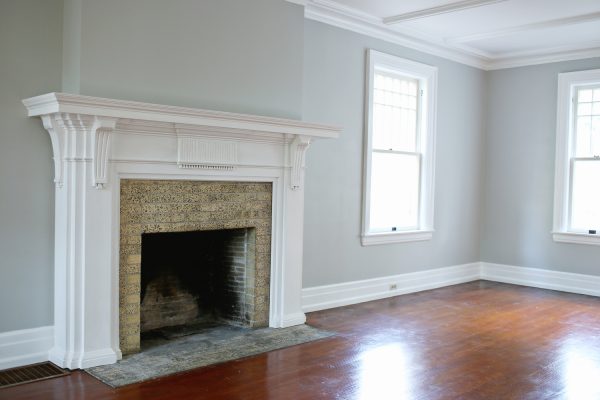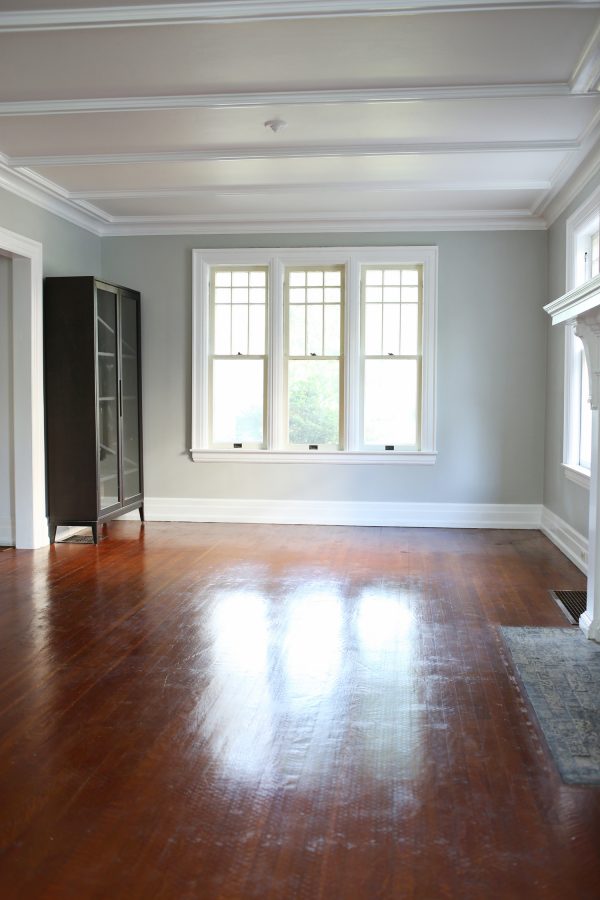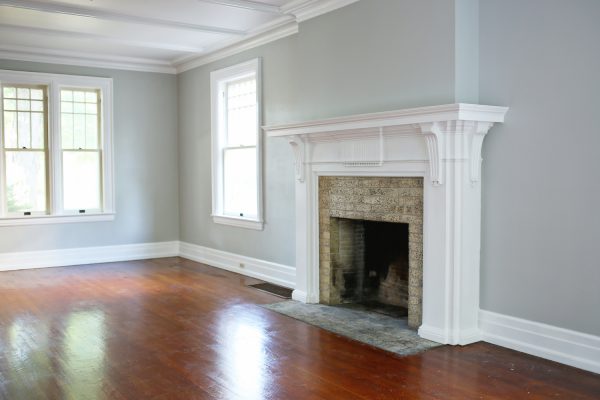 Ta-da! I swear it doesn't even look like the same room, guys. Why oh why were those floors ever covered? (Oh, and pardon the fact that I have zero clue how to effectively take interior shots without huge glares off those super shiny floors. My bad!) I knew from the beginning that I wanted crisp, bright white trim because I love the contrast it creates even with soft or light wall colors, so I opted to use Valspar Ultra White 7006-24 for all of the trim throughout the house. Before it was an aged, yellowy ivory/off-white in a flat paint finish that just felt so old and dingy and dirty. A friendly reminder to always use semi-gloss for trim, friends! It helps the light reflect and show off the woodwork details, plus it's way easier to clean which is always nice for getting dog hair off baseboard and that kind of thing. Pro tip! The ceilings are painted Valspar Bistro White 7006-4, which is an ever so slightly warmer white, in a flat finish. I wanted to be sure we didn't totally lose the trim to the ceiling, so in person there is actually a slight variation between the whites that help all of the ceiling trim stay dominant.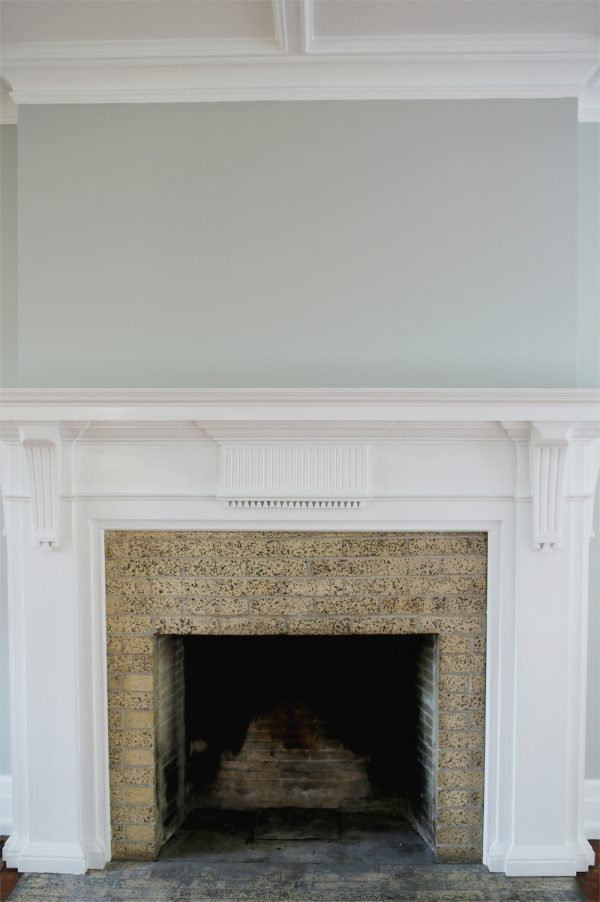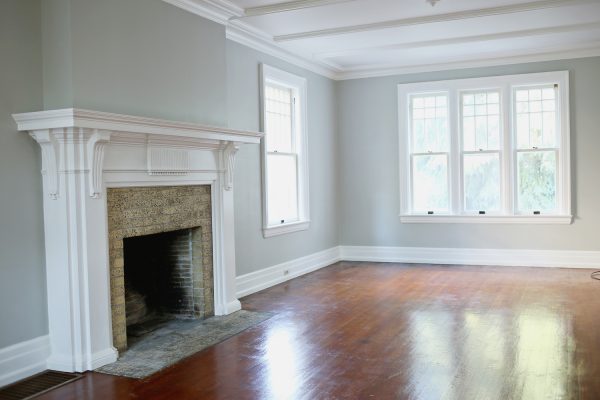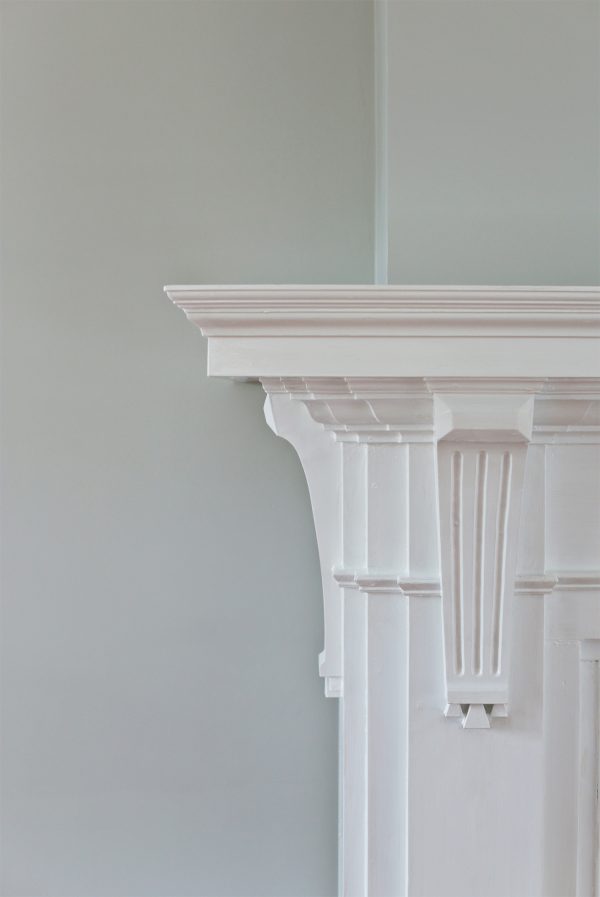 The wall color is Valspar Owlet VR107E which is a really beautiful medium gray. If you have been following along on Snapchat, I mentioned that this was a last minute change, as I had a much lighter gray picked out initially, which would have made the living room, dining room and foyer all the same color. However, once I saw all that trim painted bright white, I knew I couldn't lose it visually to a too light wall color so I decided to darken it up a bit. This is a fairly cool gray but with a bit of a green undertone if anything, so no worries if you're like me and get hives thinking about gray walls reading as either blue or purple. It feels really rich and elegant in this room, and even though it's darker than I typically go, it feels like the absolute best decision. And when I say it was a "last minute" change, I mean it literally. The paint cans were popped and the paintbrushes were about to be dipped and I just knew we had to make a change. So a change we made!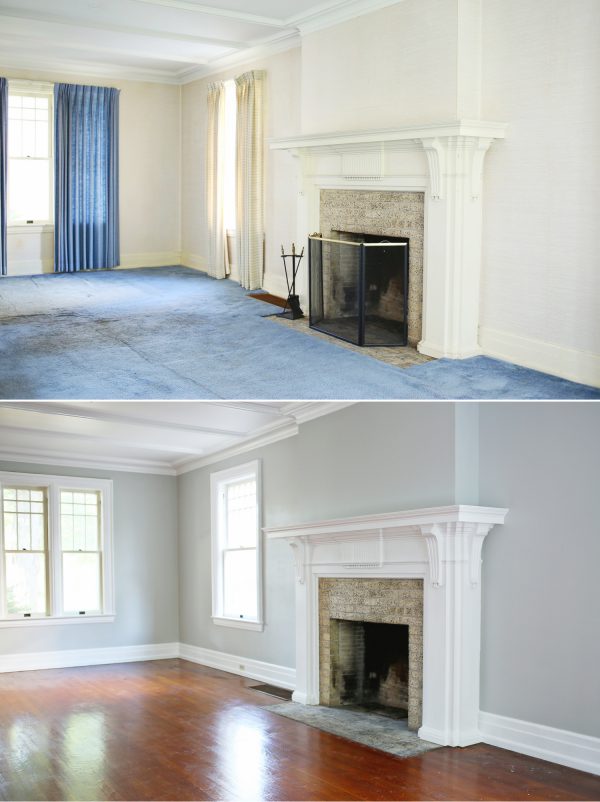 I figure one last look at the before and after doesn't hurt. You know, for posterity. And because I like remembering why my wrists felt arthritic and my knees were bruised after hours of working on those floors. Up next is painting the fireplace brick! We had debated what to do here and have decided that longterm (or midterm) we'd like to resurface the fireplace surround with white subway tile so in the meantime I'll paint it white to help neutralize that weird brick color. We figure doing so will also help us determine if the subway tile is what we want for the long haul, since the white brick will somewhat mimic that look. I might do that this week. Or, I might take a nap.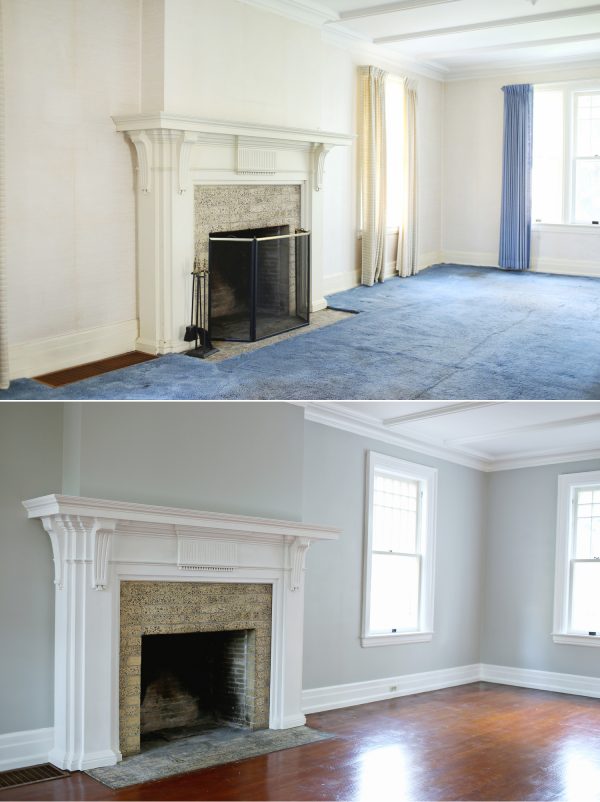 Now the fun part of decorating and enjoying this room can finally begin! And if you're wondering, no. We still don't have any furniture in there, but this week it's happening! Little Baby E was baptized this weekend, plus my sister was home from Florida for her bridal shower among other wedding related tasks and the last few days have been a flurry of dresses, champagne and cheese. (See what I mean over on Instagram!) This week I am slowing down on the renovating and beginning to unpack and get us settled and comfortable in this house. In the meantime, I'll be announcing the winner of last week's giveaway on Instagram later today in honor of the first day of summer so stay tuned!


[Photos by Cyd Converse for The Sweetest Occasion.]