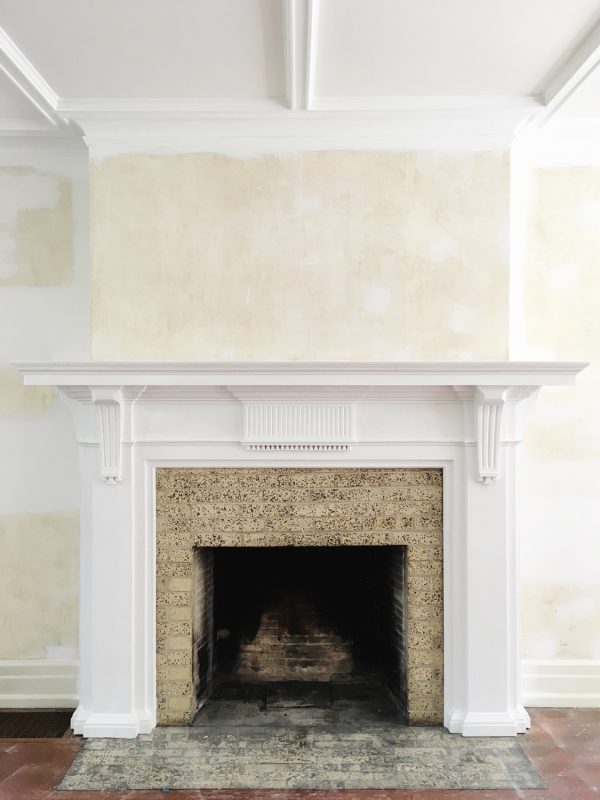 One month ago we went to the bank for a really large check and then drove to an office across town to hand that check over to some people we had never met before. We were really nervous and both felt fairly sick to our stomachs over the whole thing. Turns out, we got a pretty sweet deal though because less than an hour later they handed us two huge rings full of old keys and we became the very emotional, very proud owners of one crazy beautiful old house. Since then it has been a whirlwind of activity! We've removed all the carpet, spent hours stripping wallpaper, packed and moved our entire apartment and are currently living out of essentially two rooms of the house while the rest of our earthly possessions hang out in our garage. I have been trying to share regular updates over on Snapchat, but today I wanted to catch you up to speed with some of the progress to date. Specifically, some of you wanted to know what work we're doing ourselves and what work we're hiring out so I am going to break that down a bit here and more so in upcoming posts. Get ready for a wordy one full of lots of very unglamorous, entirely unstyled iPhone photos, friends! This is real life as I'm living it every single day right now. I'll be following up with more detailed looks at the before/process/after stages of each of the rooms we're nearing completion on before we start any of the fun decorating and styling parts so stay tuned for that!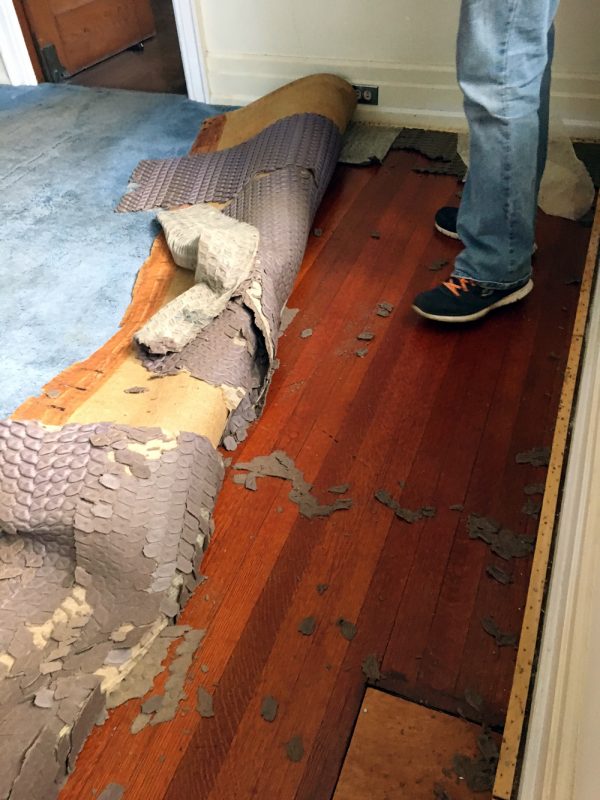 On our first official work day in the house, step one was carpet removal! Now technically, you should probably wait to remove carpets until the last step (so you can keep the hardwoods protected), but since it had been forty years since anyone had seen the hardwoods, we needed to get them uncovered to find out what we were dealing with underneath all that blue. In the event we needed to fully refinish them, we needed to get that work lined up and somehow scrape together the budget, so we went against reason and we pulled the carpets right away. But, guys, it was so worth it! As soon as that blue carpet started to come up and we saw these beautiful floors underneath we were in heaven. Talk about instant gratification! Of course the ripping it up and throwing it in the dumpster is the easy part. The endless hours of carefully prying up tack strips and removing thousands of staples by hand one by one is much less fun but just as satisfying in the end.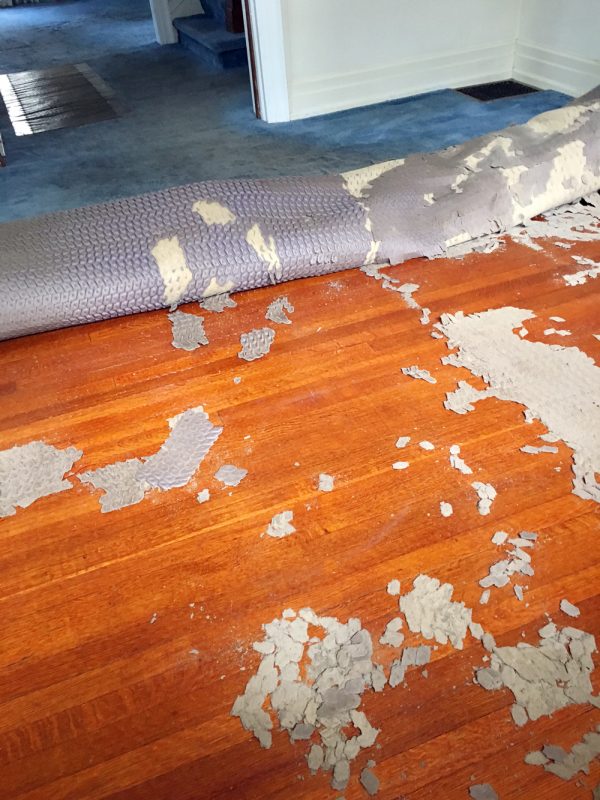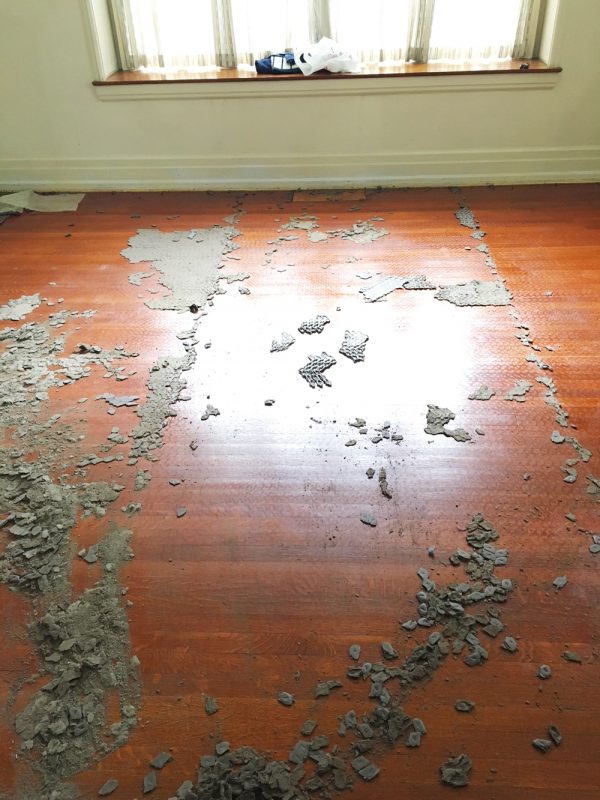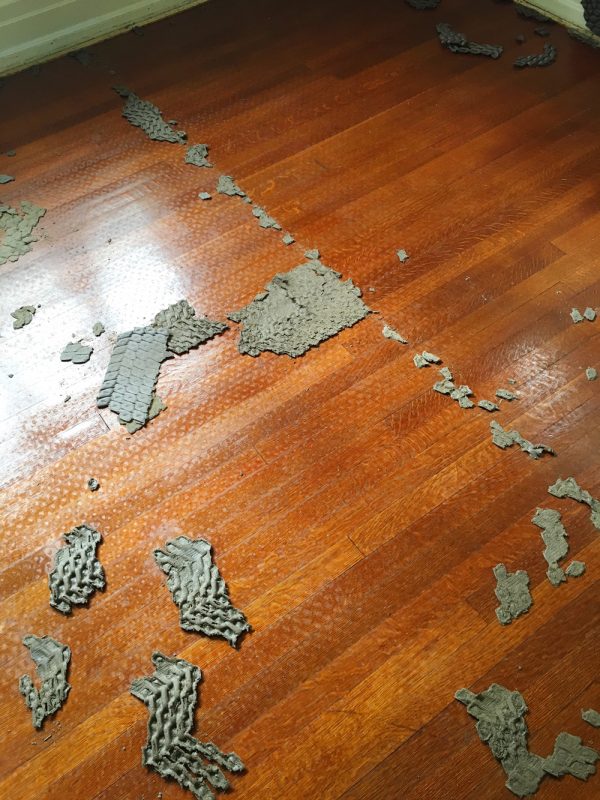 At this point you can see how gorgeous and beautifully maintained the floors turned out to be under the carpet. There are certainly some areas that show wear and age, but overall they are stunning and don't need more than a good cleaning and shining. (I'll detail that process in a separate post soon!) There is one section in my office, which saw significant damage at some point years ago and it's not really salvageable so we'll need to patch and repair that somehow. That's not on our short term radar though to be honest since it's a fairly contained area (measuring maybe 3′ x 6′) in a room that most people won't see but me, so for now it will get ignored for a while until we have the bandwidth to wrap our heads around that process.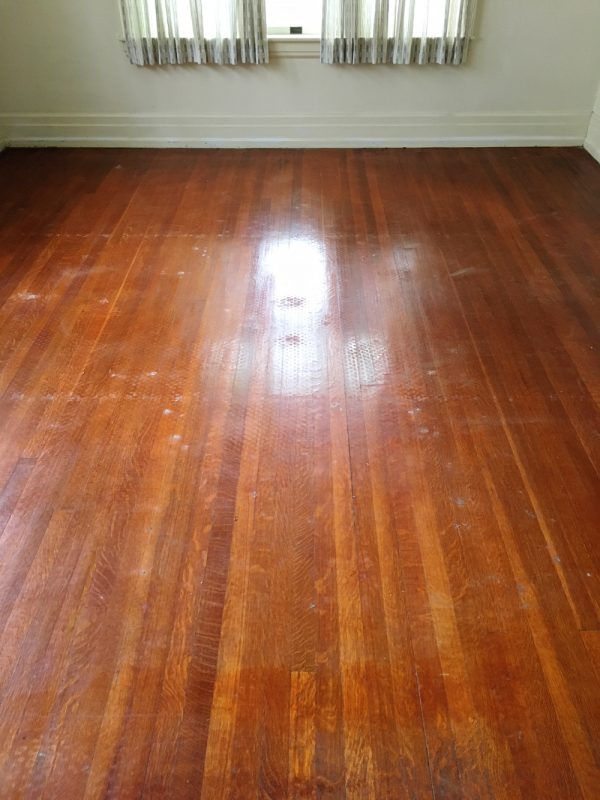 After countless hours of removing tack strips and staples, and sweeping up the last remnants of the pad we were left with this! Up the stairs, across the landing and throughout the upstairs hallway we then finished things up with a hardcore cleaning and shining that left the floors looking amazing. We didn't do the same downstairs right away because we knew we were moving into the plaster repair and painting phase so we covered the floors as best we could and got to stripping wallpaper! For those of you wondering specifics about what we're doing ourselves and what we're hiring out – the floors were a total in-house job! We rented a dumpster and recruited a few friends to assist us with ripping them out and then between us and the little gents of the house, we tackled all of the tack strip and staple removal and clean up on our own.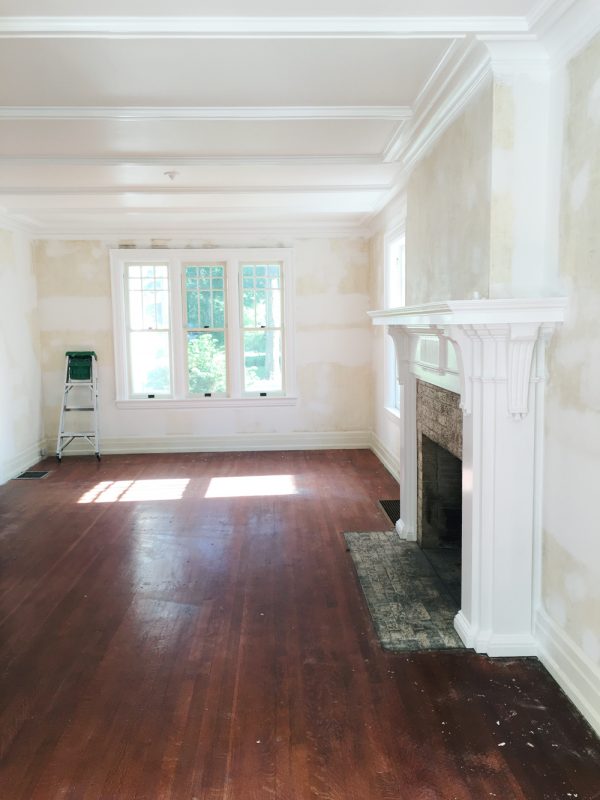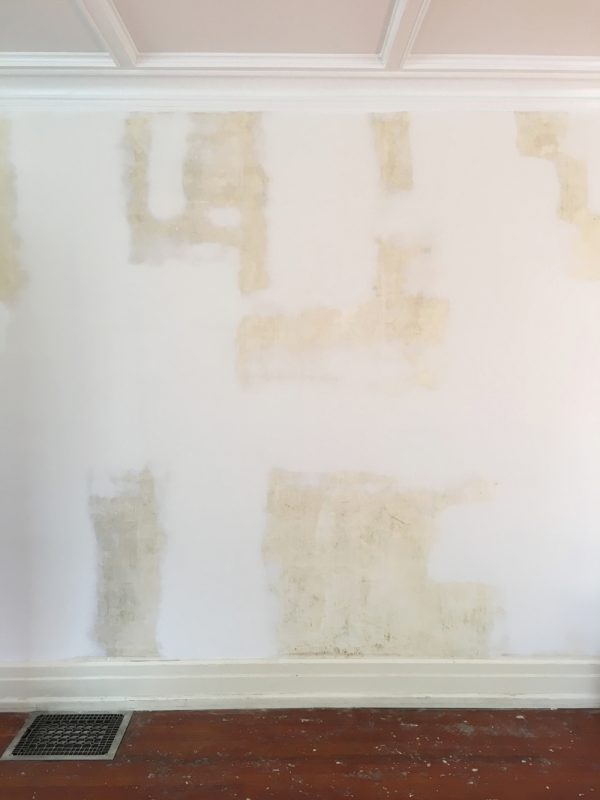 After the floors, we tackled the wallpaper with wild abandon. And then very very quickly had our spirits deflated when we realized that the anticipated single layer of wallpaper turned out to be three. It took two full weekends before we had all of the wallpaper down in the living room, during which time we decided we'd be once again wallpapering the wall going up the stairs instead of stripping it and painting. We just can't deal with anymore wallpaper. Along the way we got pretty good at it though thanks to polling lots of friends with experience and some trial and error. Unfortunately things were so nuts along the way that I didn't get any process photo shots but if you're interested I will definitely pull together a post sharing our tips and tricks and what worked best for us.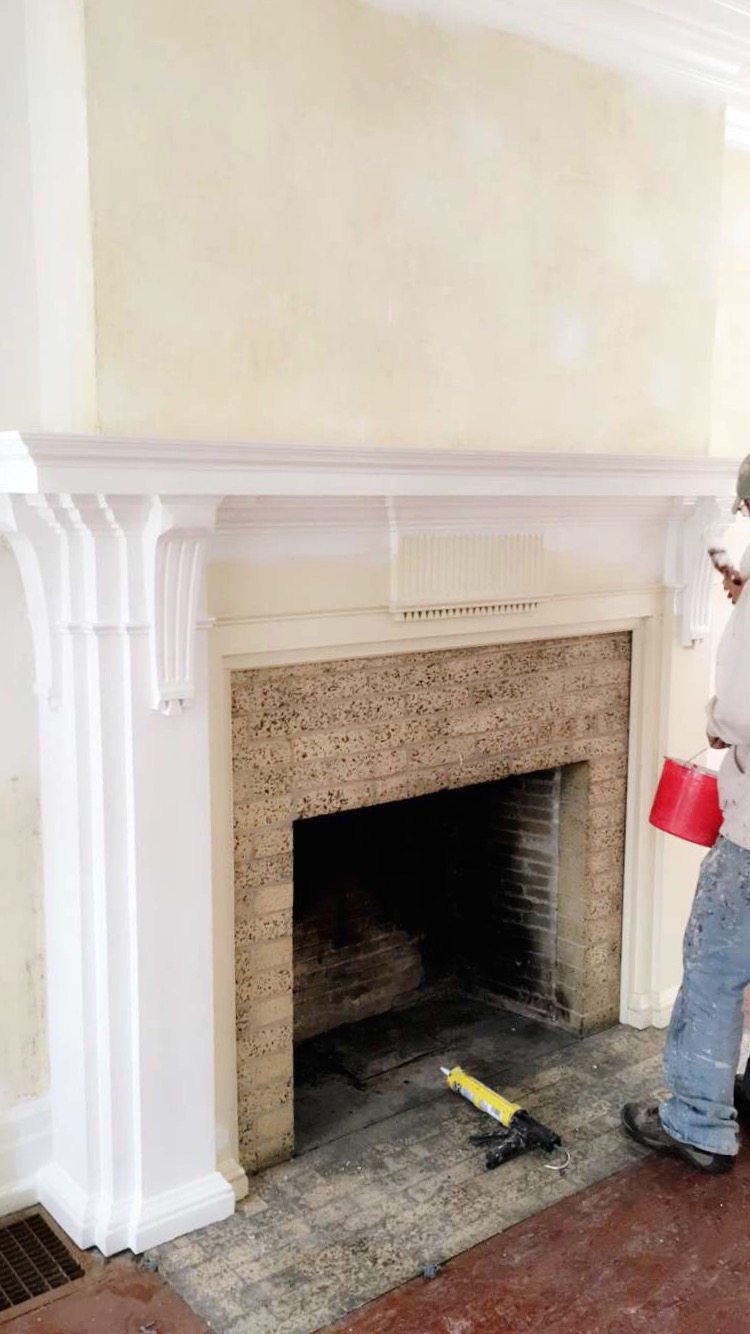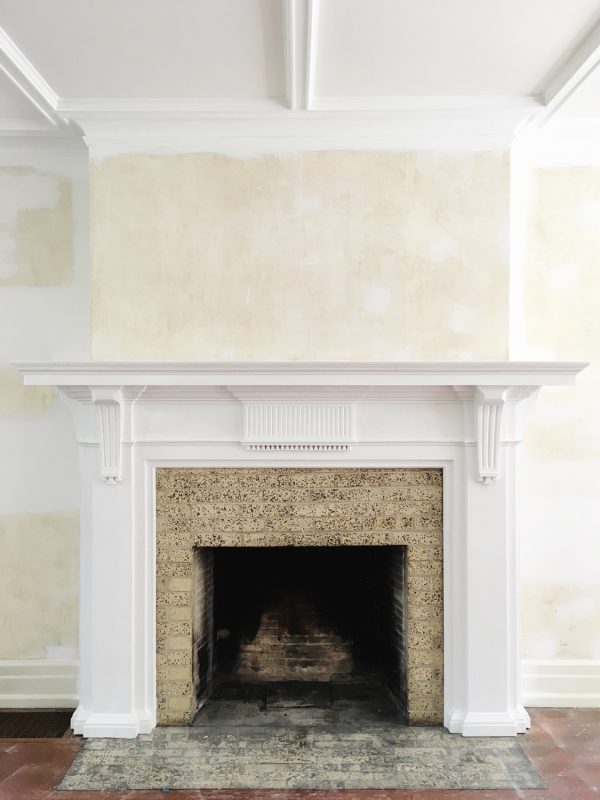 Concurrently, my stepbrother (who is a professional paint contractor) got to work on the plaster repair in the dining room. He repaired and sanded all of the superficial cracks, then caulked all the trim and painted it bright white. Once that was done and we finally had the living room wallpaper gone, he moved onto the living room where he did the same in that room, only to a much greater extent because low and behold all of that wallpaper was hiding some fairly gnarly plaster issues. It wasn't anything that required extensive repairs, but more it was previous repairs that were done well but never cosmetically finished since they must have known it was going to be hidden under paper. As of yesterday afternoon he is all finished up in the living room and even just that bright white trim and the freshly painted fireplace mantle and ceiling are the stuff of dreams. For those of you keeping score, we did initially intend to strip down the mantle to the original oak finish, but after investigating we realized it was going to be a pretty huge process due to some "repair" work that had been done over time so for now the best solution was a fresh coat of paint. It may stay that way. Or in 10 years I may get crazy and decide it needs to be stripped after all. For now, it's gorgeous and we love it, and I may even be glad it worked out this way.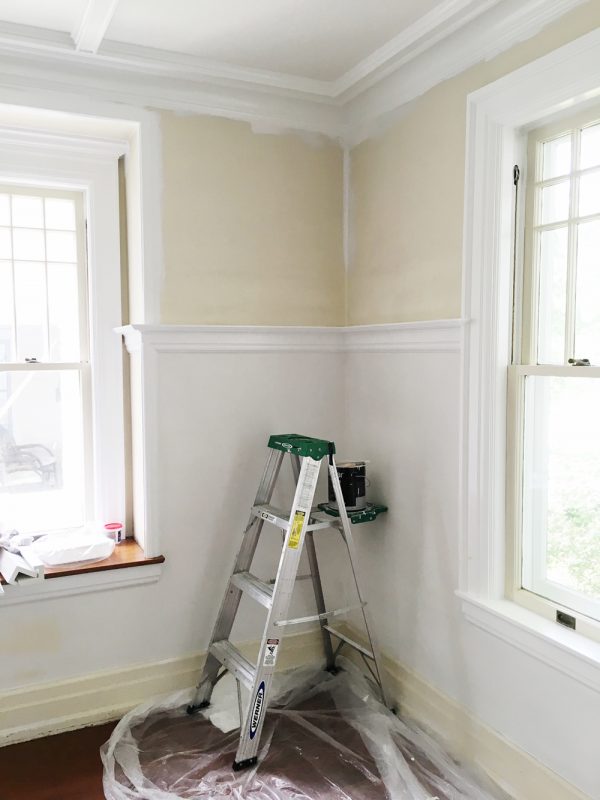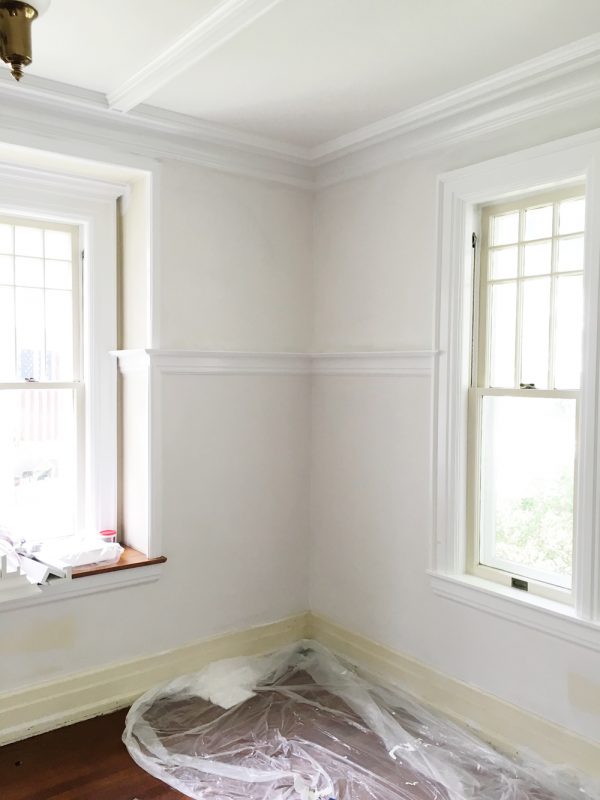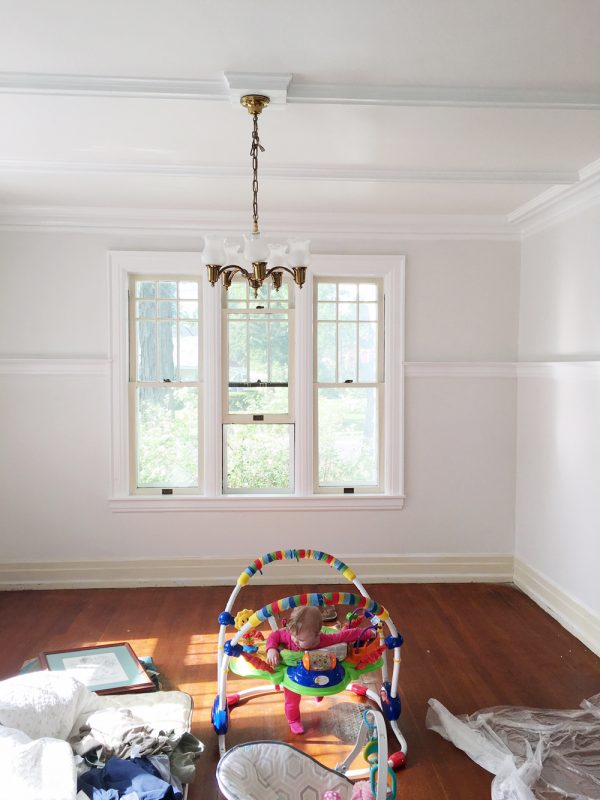 While Derek moved to the living room, I tackled priming and painting the walls in the dining room. Basically, that's how we decided to get the best bang for our buck when it came to hiring out the plaster and painting work. Derek did repair, sanding, caulking, ceiling and trim paint and we're taking care of all the walls where it's easy enough for us to cut in and roll. As of this morning, I am planning to spend a few hours this afternoon priming the living room and hope that it is fully painted by the end of the weekend. Then we'll work on getting the floors properly cleaned and shined up, which I'll share in a detailed post with you due to popular request via Snapchat.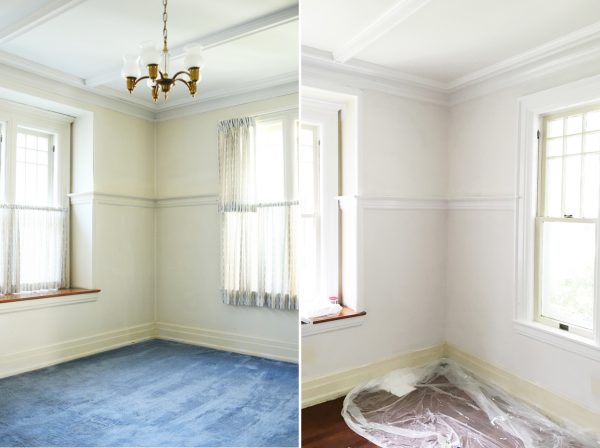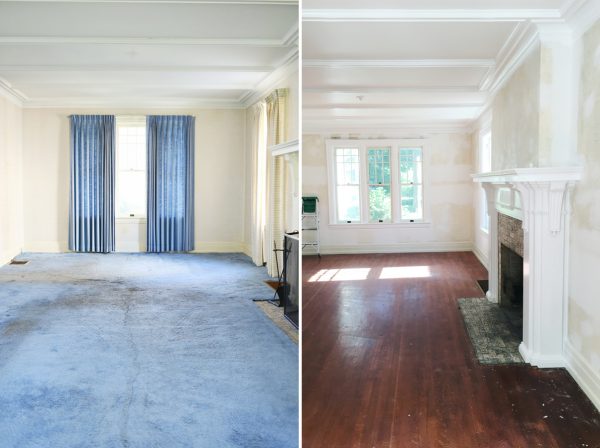 Here is a quick peek at the dining and living room progress, side by side. The "progress" photos are just quick iPhone photos but they do a pretty good job of illustrating the changes to date, which are honestly fairly dramatic. Sometimes I forget just how far it has come and how much it has changed until I look at photos! In part these update posts are a bit of a personal diary, too, and I love that years from now I'll have a record of everything we did and how it all came together. I'm getting excited all over again just seeing the progress like this in photos! That's why sometimes though, I'll be sharing rougher photos because again, this is real life at the moment. We are working with a real budget (read: a small one) for these initial renovations, while still wanting to make smart updates that add to and restore the character of the house. Sometimes we're slowing down and taking more time to really make sure things are done perfectly (such as with the plaster repair) and sometimes we're realizing that now is not the time to take on a project (such as the fireplace restoration) and adapting. Occasionally the process is maddening (like today on what feels like day 1000 of not knowing where anything I own currently resides), but overall we're enjoying and getting more excited each day with the progress being made.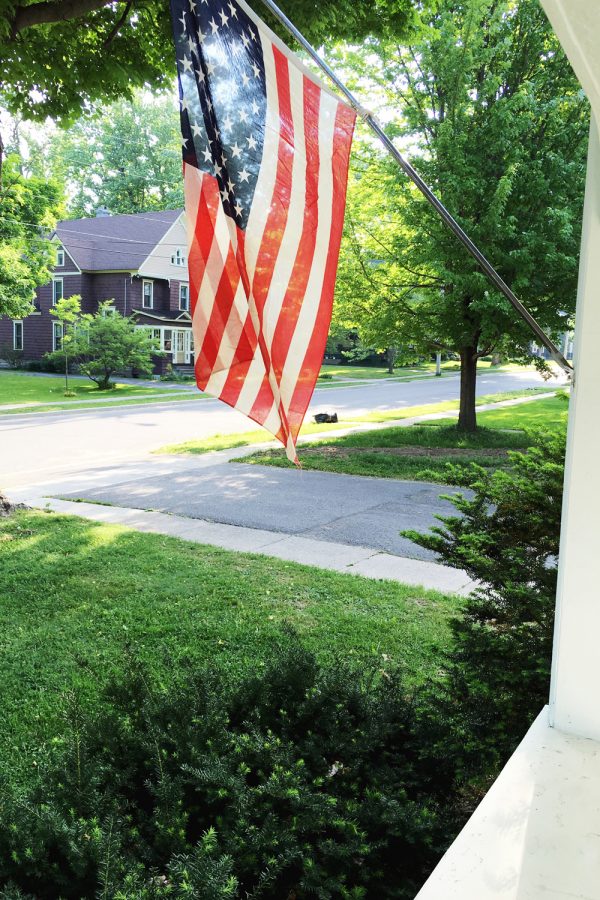 Finally, I wanted to share this photo that I snagged quickly on Memorial Day. It was our first morning waking up at the house after a tornado of a weekend spent moving in insane heat and humidity. Somewhere along the way as we were starting renovations we'd discovered this old vintage flag rolled up carefully and lovingly in the entry hall closet and we had been itching to put it out once we were officially moved in and residents of our old house. So with coffee mugs filled to the brim and boxes and renovation dust covering every surface, we made our way out the front porch and unrolled that flag as a salute to not only our servicemen and women lost, but also to the family who loved this house for 64 years before we came along. We are so honored to be the next family to love this house.
For more day to day behind the scenes, Snapchat is the place to be! At least a few days a week I'm updating our progress off the cuff as we move along. I'll also be working on more of the detailed posts I promised, so you can keep an eye out for lots more on the home renovation front in the coming weeks and months…and probably years.


[Photos by Cyd Converse for The Sweetest Occasion.]