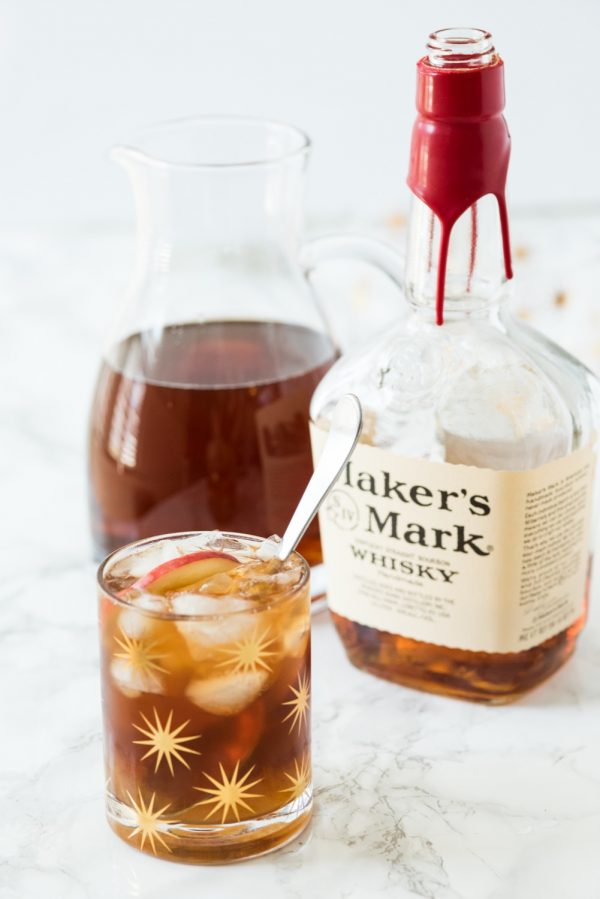 I don't share too many whiskey cocktail recipes around these parts, because I think whiskey is a fairly polarizing spirit. That said, we always keep our bar stocked with whiskey because Bob and I both enjoy a good whiskey cocktail from time to time. So today, for all of you whiskey lovers or soon-to-be whiskey fans, I present you with a delightfully summery whiskey drink! Made with fresh fruit and jam, this peach whiskey smash is the type of drink that feels both really casual and super elegant in turn as needed. Want to whip up a drink that will impress your friends? This will do that! Need to take the edge off at the end of a long, hectic week? Yup, this will do that, too.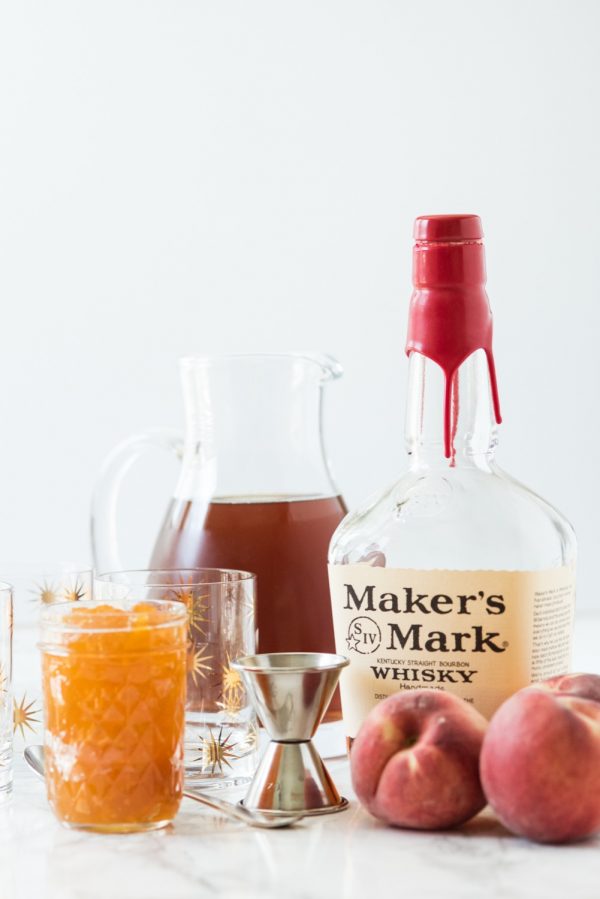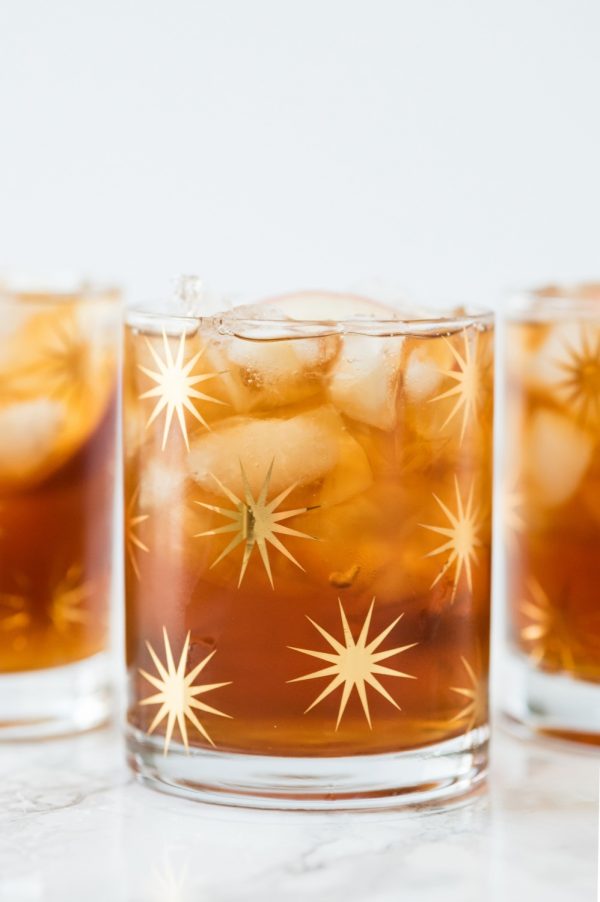 Peach Whiskey Smash Cocktail
Makes 1 serving
2 oz whiskey
2 tablespoons peach jam
1 small peach (or 1/2 of a larger peach)
4 – 6 oz iced tea
Begin by spooning the peach jam into the bottom of an old fashioned glass. Add 3 – 4 slices of fresh peach, pour in the whiskey and muddle the three ingredients together with the back of a spoon. (This is where the "smash" part comes into play!) Fill your glass with ice, then top with iced tea. We prefer a less sweet drink so we use unsweetened iced tea, which leaves a robust whiskey flavor. If you prefer a sweeter drink, use sweet tea or peach iced tea, either of which would be really delicious! Stir well to combine and garnish with another slice or two of peach. Sip and enjoy!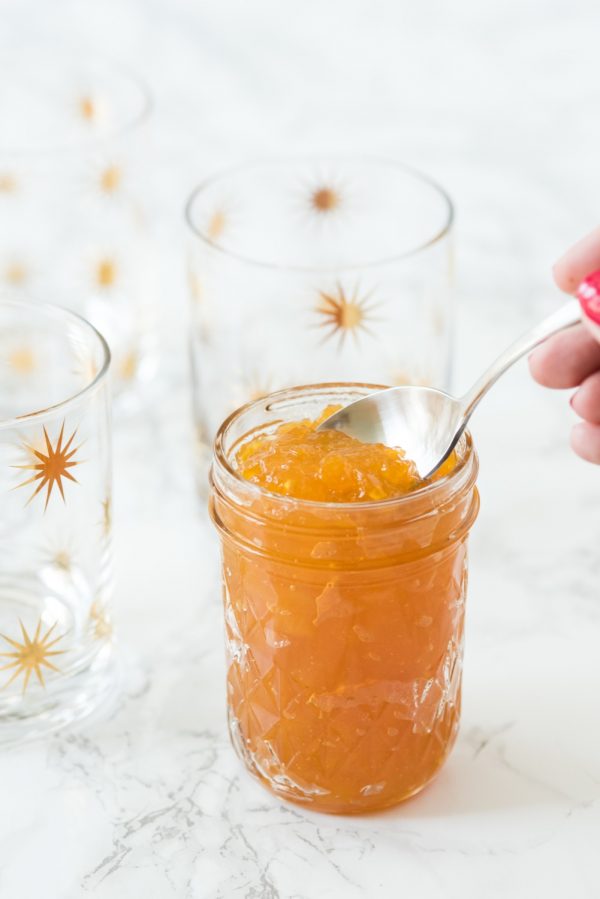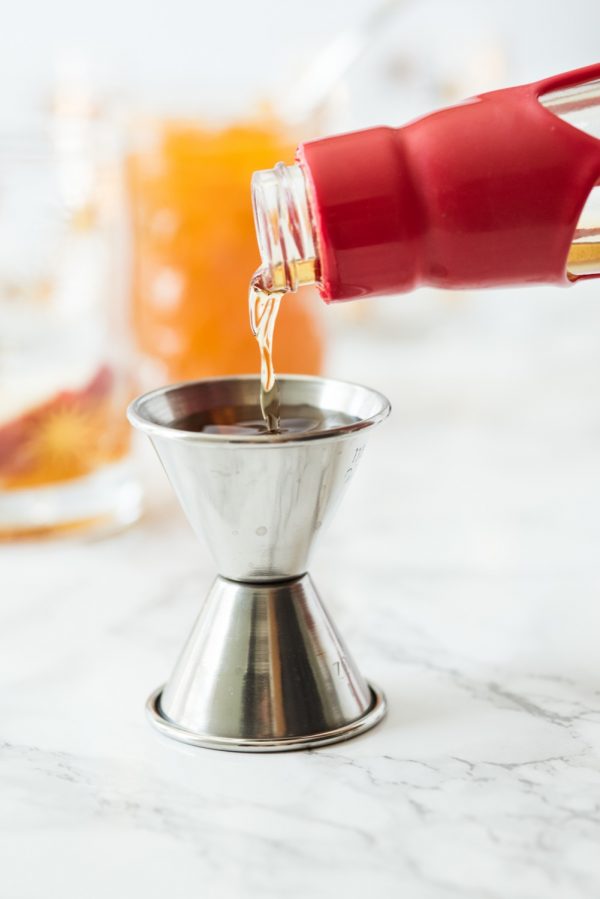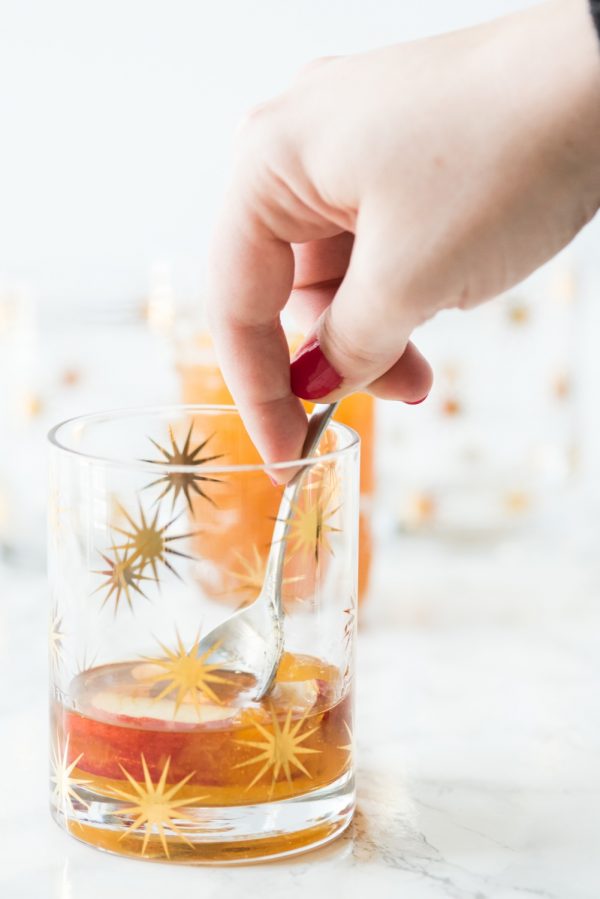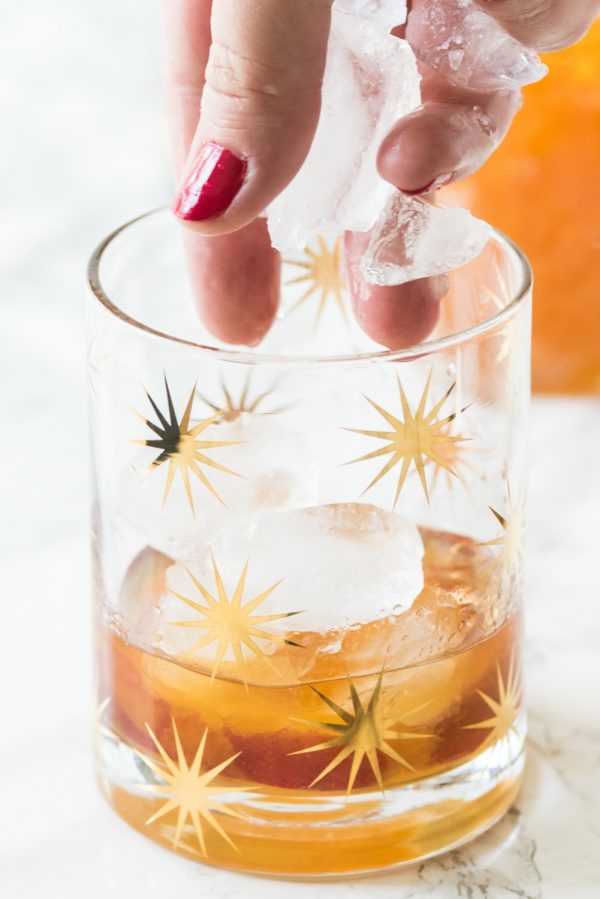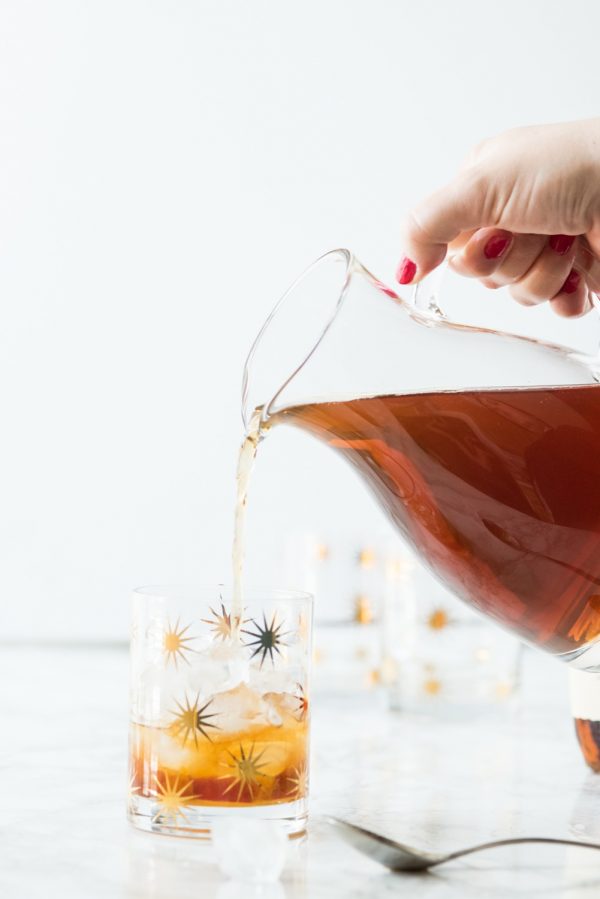 It dawned on me recently that my cocktail recipe posts tend to be quite photo heavy compared to a lot of other bloggers, but that's actually very intentional on my part. When I share any instructional posts (recipes, cocktail recipes, DIY tutorials, etc.) I try to style things and capture images as if you're right there with me in my kitchen or at my craft table working away. For us, we love playing with and experimenting with new cocktail concoctions so the process of deciding which spirits and fruits and mixers to pair together, slicing the fruit, mixing the cocktail, choosing the glass and all of those details is just as enjoyable for us as the cocktail itself. Sometimes we just grab a cold beer out of the fridge or mix an old standby. (This cocktail recipe is very quickly becoming one of those for us!) That said, when Alice and I shoot these posts, I work really hard to give you the sense that you're in our home, watching me mix up a cocktail just for you. I hope to some extent that comes through! And, hell, if all else, hopefully you just discover something new that you really love. If you do, share with me on Instagram using the hashtag #thesweetestoccasion! Pretty please? It would absolutely make my day. Cheers!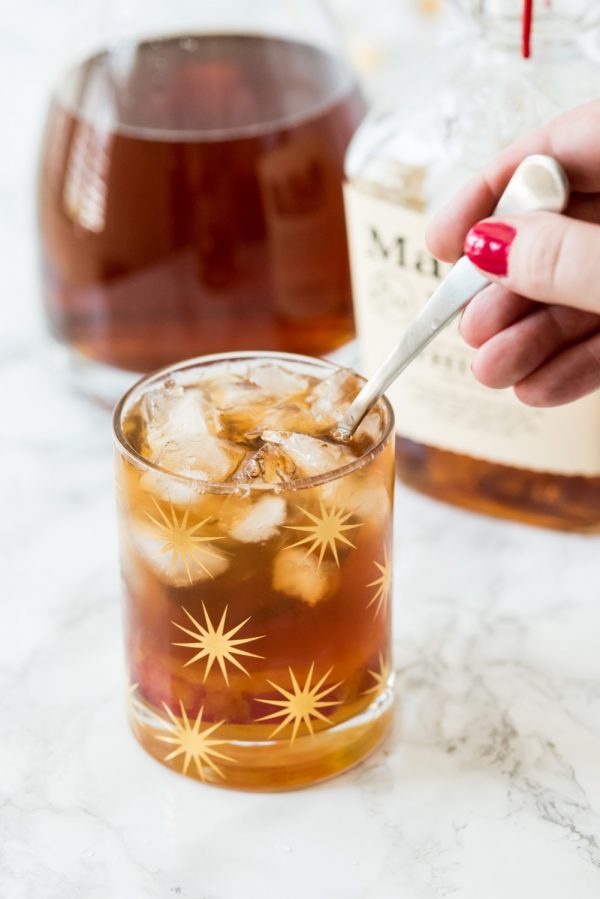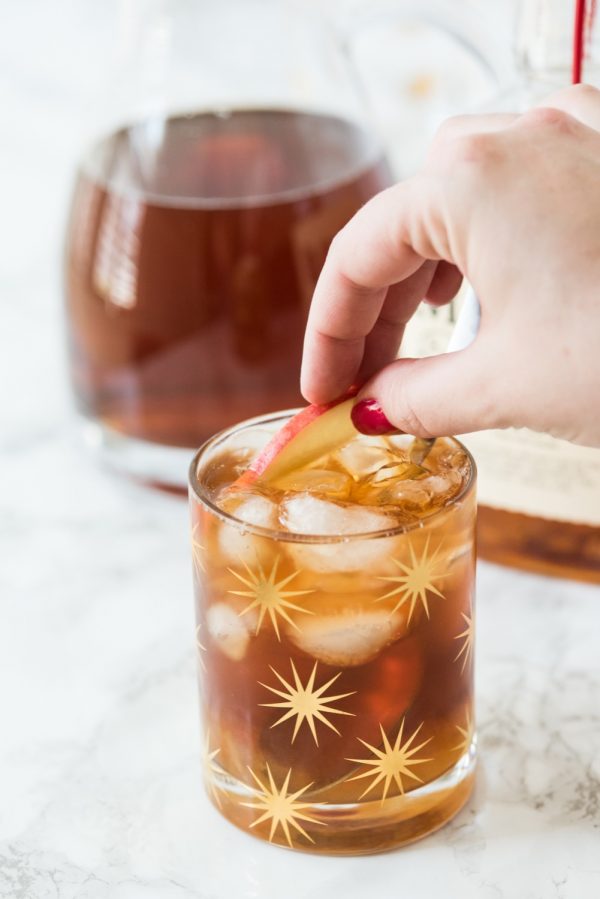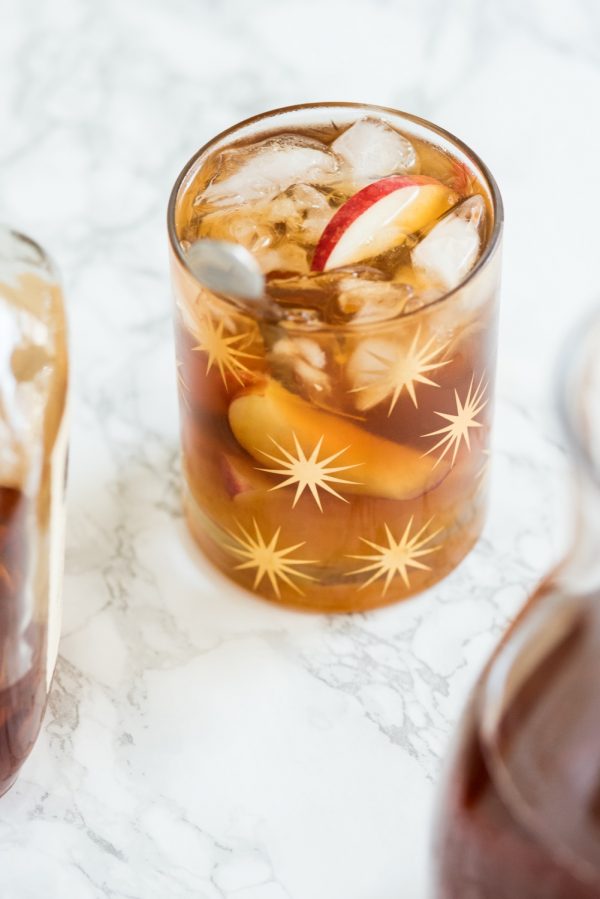 [Art direction + styling by Cyd Converse | Photos by Alice G. Patterson for The Sweetest Occasion.]