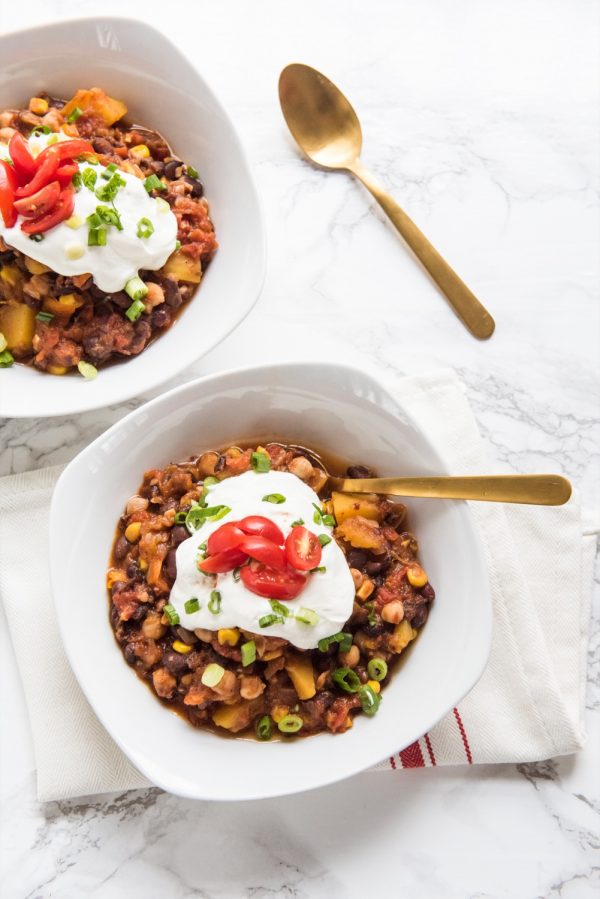 Because I have chili on the brain this week with our Super Bowl chili cook-off going down on Sunday, I've got the second of two crazy yummy vegetarian chili recipes to share with you today. This one is a black bean butternut squash recipe that is really quite special. The addition of chipotle peppers in adobo sauce adds a bit of smokiness that really balances out the sweetness of the squash perfectly. Like my the four bean veggie chili that is a mainstay in our house, this chili stands on it's own, no meat required. Skip the sour cream on top, and you've got a vegan dish that will please everyone at your table without a doubt. I'm pretty sure we are going to make both of these chili variations for the chili cook-off this weekend, because even though they're both vegetarian, the flavor profiles are entirely different. Both of them are worthy of adding to your repertoire!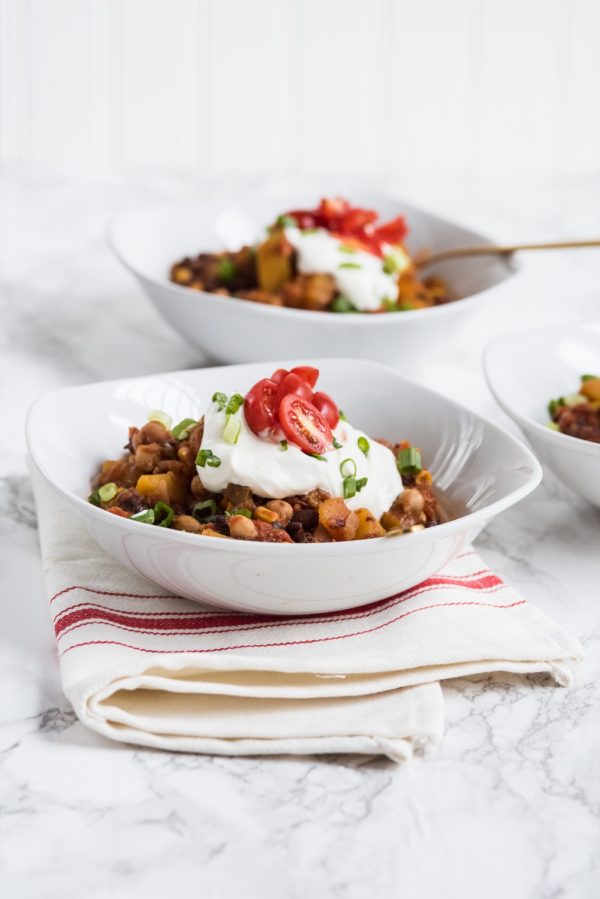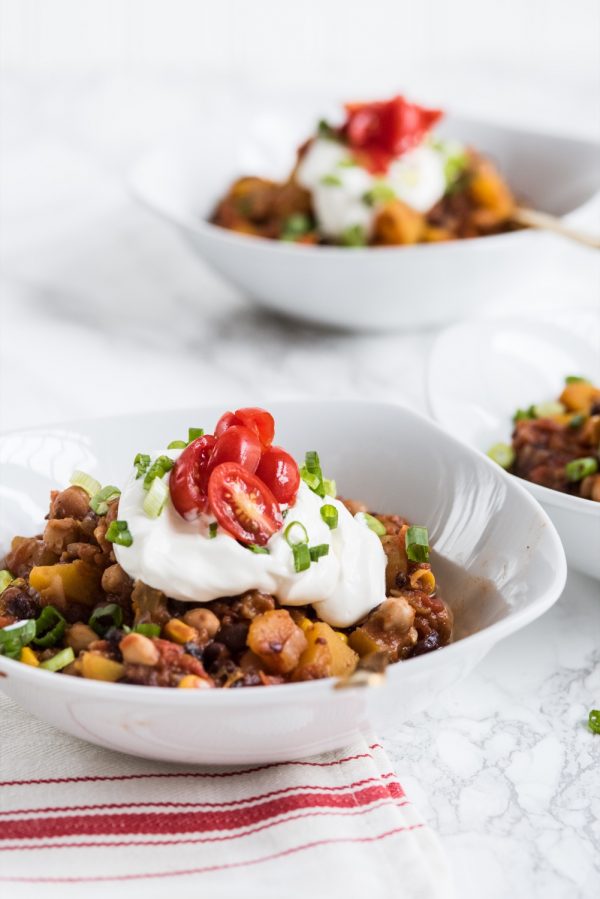 Black Bean Butternut Squash Chili
Ingredients
(3) 15 oz cans black beans
(1) 15 oz can garbanzo beans
(1) small butternut squash, cubed
1-1/2 cup frozen corn, thawed
(3) 15 oz cans of stewed tomatoes
(1) small red onion
(1) small orange bell pepper
3 chipotle peppers (the canned kind in adobo sauce)
1 tablespoon of adobo sauce
2 large cloves of garlic, minced
1 teaspoon ground cumin
¾ tablespoon chili powder
Instructions
Drain and rinse beans very well until all the packing liquid is completely rinsed.
Peel, deseed and chop up butternut squash into roughly 1" cubes.
Place beans and squash in the crock of a large slow cooker.
Dice the bell pepper and onion, then add to the crock.
Chop up the chipotle peppers finely then add them and all other ingredients to the crock.
Mix well to combine and cook on high heat for two hours.
Reduce to low heat and allow to simmer for another hour.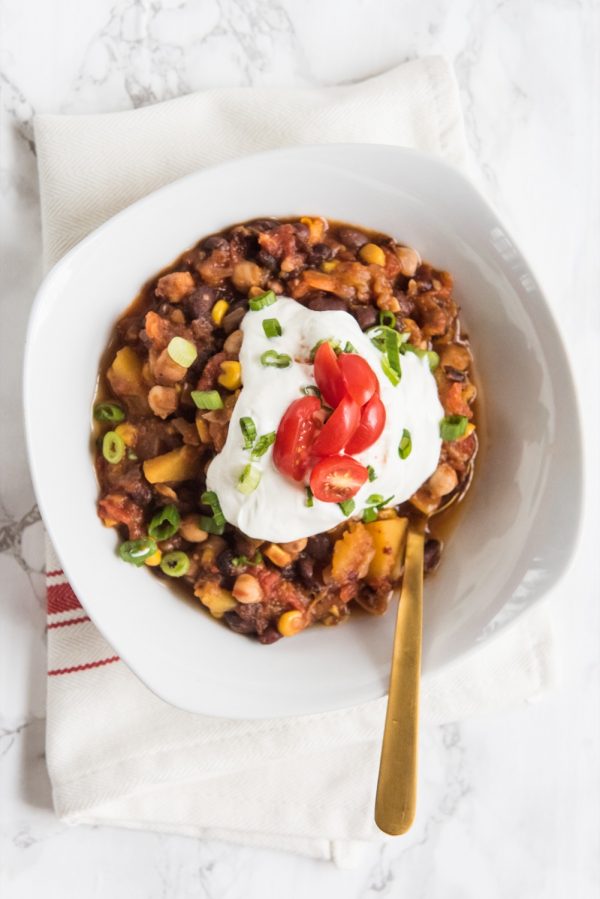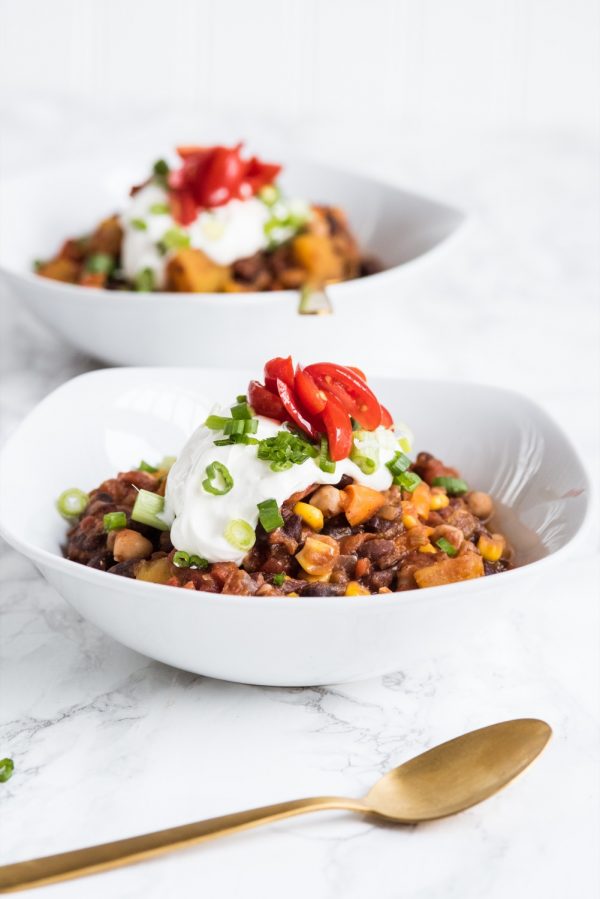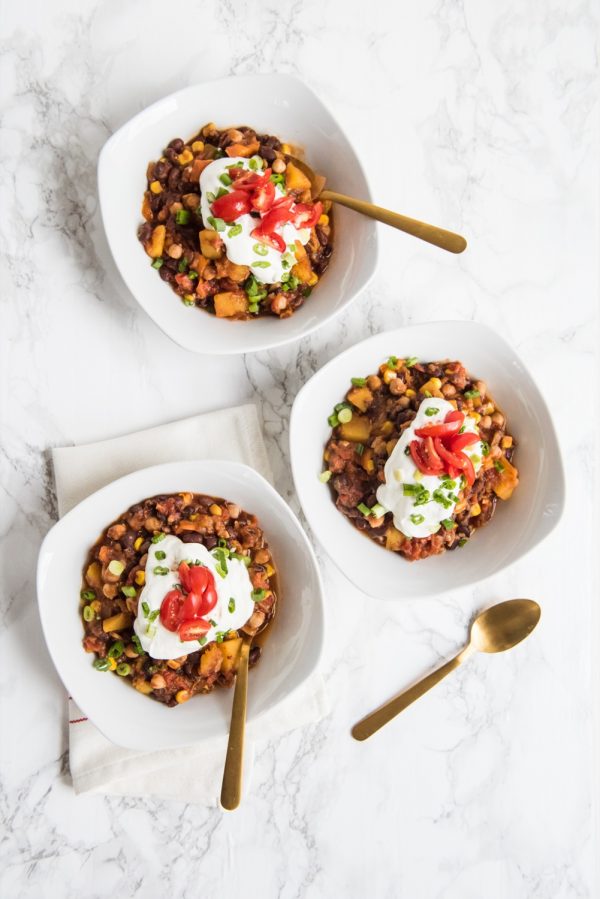 [Recipe + art direction by Cyd Converse | Photos by Alice G. Patterson.]