This butternut squash black bean chili features loads of delicious flavor and a little bit of heat, making it the perfect dish for a cold winter day or a great tailgate party recipe.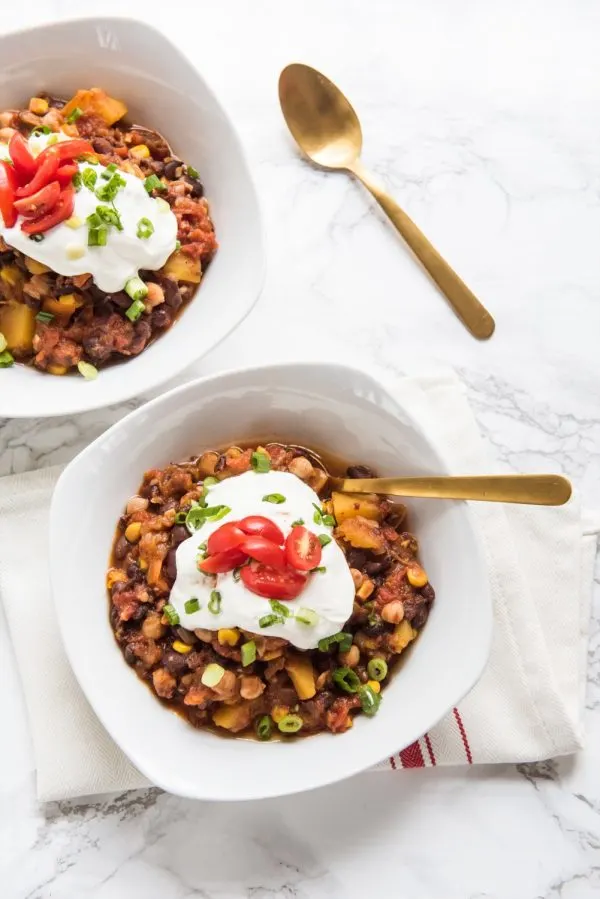 Because I have chili on the brain this week with our Super Bowl chili cook off going down on Sunday, I have the second of two super tasty vegetarian chili recipes to share with you today! This one is a butternut squash black bean chili recipe that is really quite special. The addition of chipotle peppers in adobo sauce adds a bit of smokiness that really balances out the sweetness of the squash perfectly.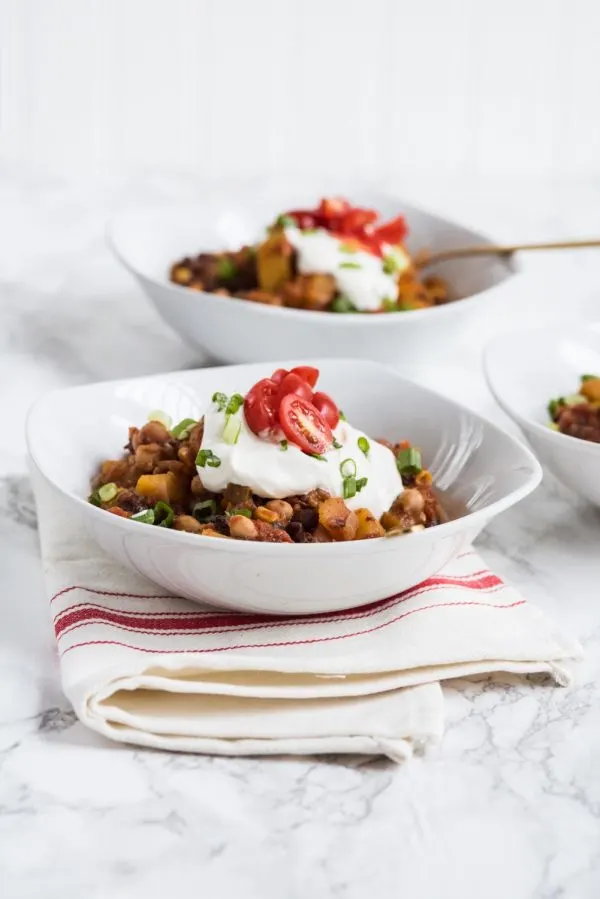 Is Black Bean Chili Vegan?
Like my four bean veggie chili that is a mainstay in our house, this vegetarian black bean chili stands on it's own, no meat required. Skip the sour cream on top, and you've got a vegan chili recipe that will please everyone at your table without a doubt. We are going to make both chili variations for our cook off, because the flavor profiles are entirely different. Both are worthy of adding to your chili recipe repertoire!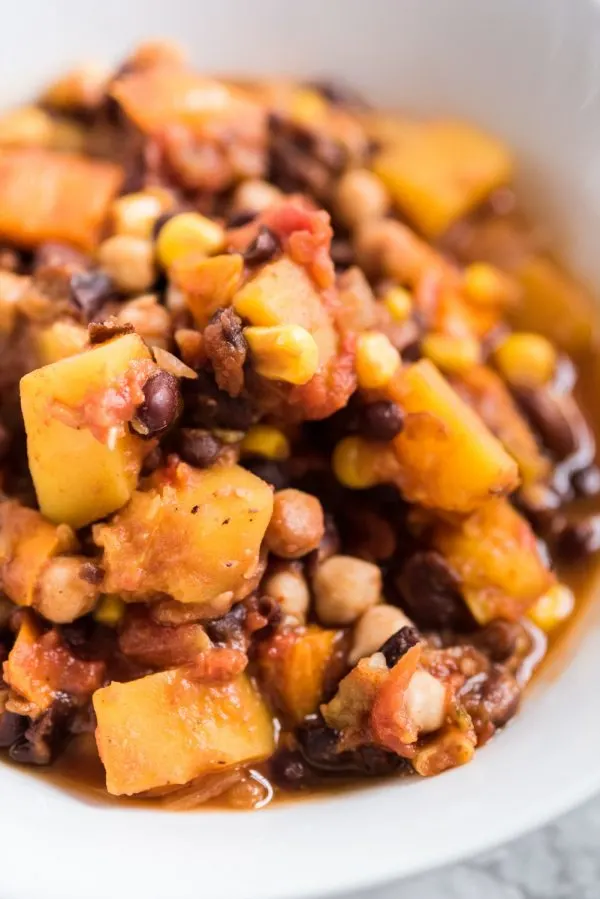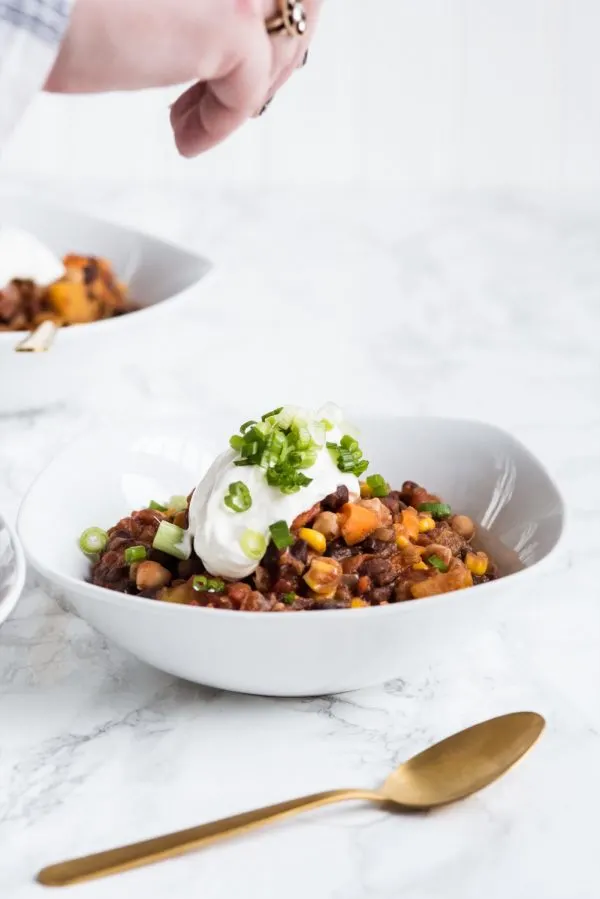 What Ingredients Do You Need for Black Bean Chili?
I like to use two kinds of beans in my black bean chili – black and garbanzo beans. I like the texture the two different beans lend to this dish. You'll also need roasted butternut squash, corn, stewed tomatoes, chipotle peppers in adobo sauce, onion, bell pepper, garlic, cumin and chili powder. I like to keep lots of beans and stewed tomatoes on hand at all times so we can make chili whenever the mood strikes us!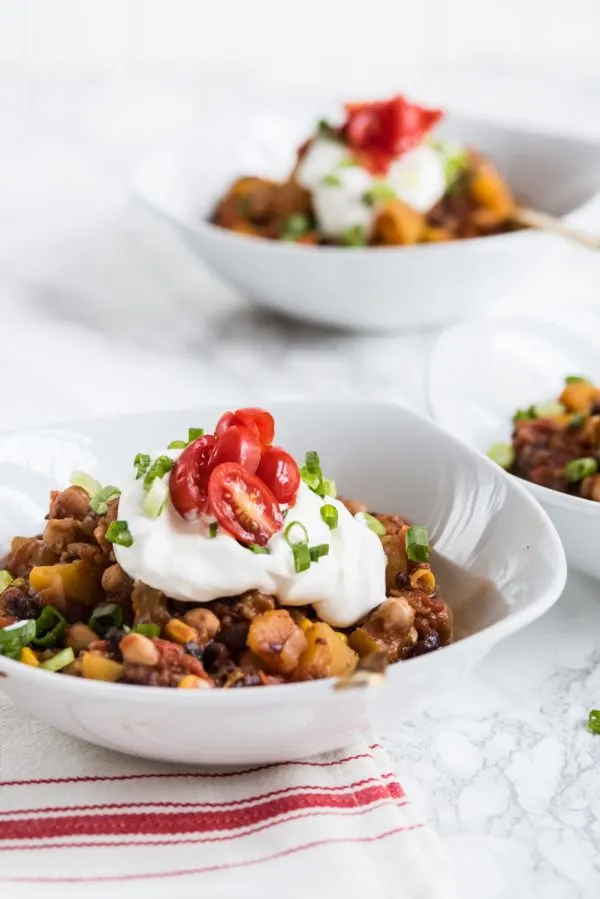 What Chili Toppings are Good with Black Bean Chili?
I am a firm believer that every bowl of chili is made better with toppings! Here is a list of my personal favorite chili toppings most of which are vegan! Those that are not vegan chili toppings are indicated with an asterisk.
Sour cream*
Scallions
Cilantro
Diced tomatoes
Shredded cheese*
Jalapeño slices
Sliced red onion
Pico de gallo
Fresh lime juice
Avocado
Vegan cheese crumbles
Pickled red onions
Tortilla chips
Corn
Thinly sliced radishes
Hot sauce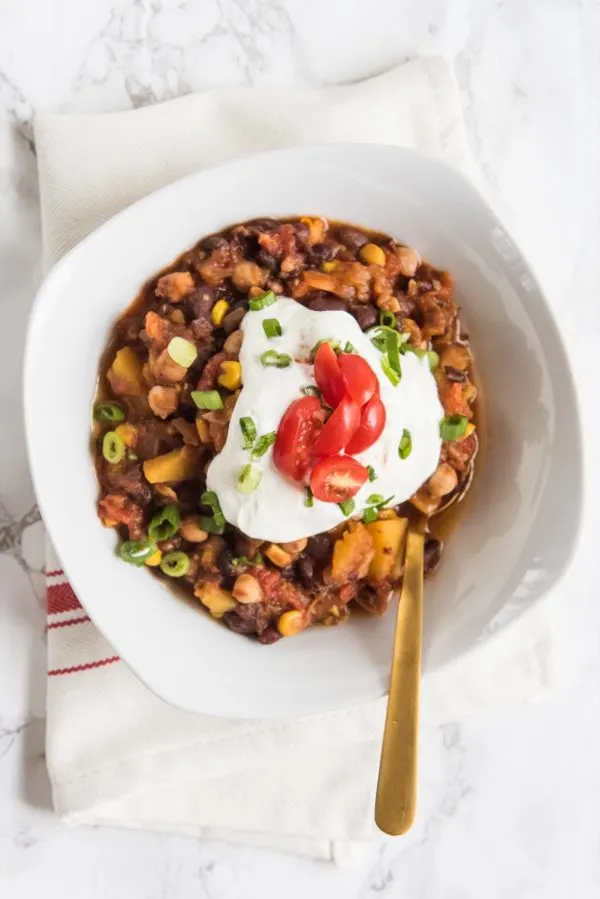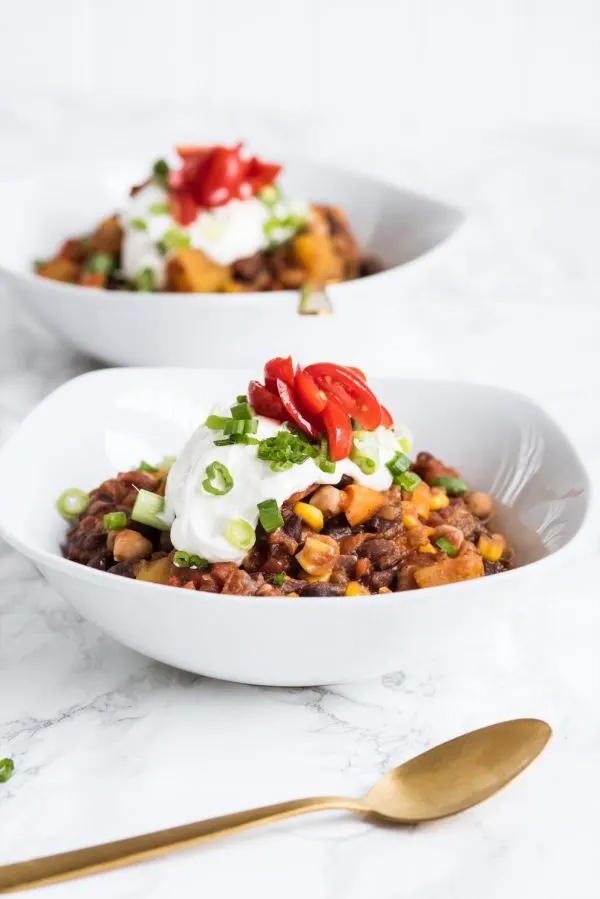 How Long Does Chili Last in the Fridge?
When stored properly, chili can last in the fridge for 3 to 4 days, making it a great option for make ahead lunches for the week. As a general rule of thumb, no leftovers of any kind should be kept in the fridge for longer than 7 days. Chili should be maintained at a temperature of 140° and discarded if it has sat out at room temperature for more than two hours.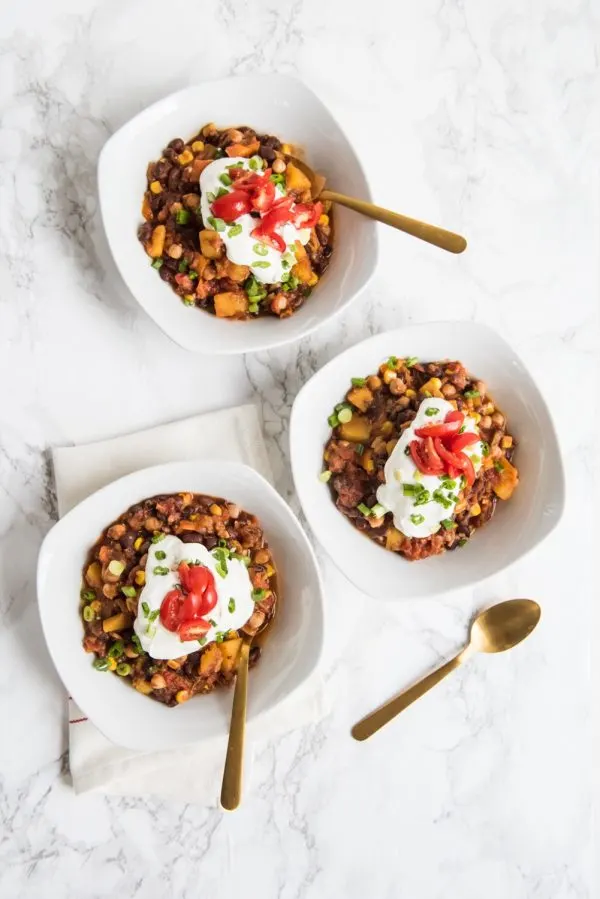 Looking for another great black bean chili recipe to try? Check out my friend Leah's easy turkey and black bean chili!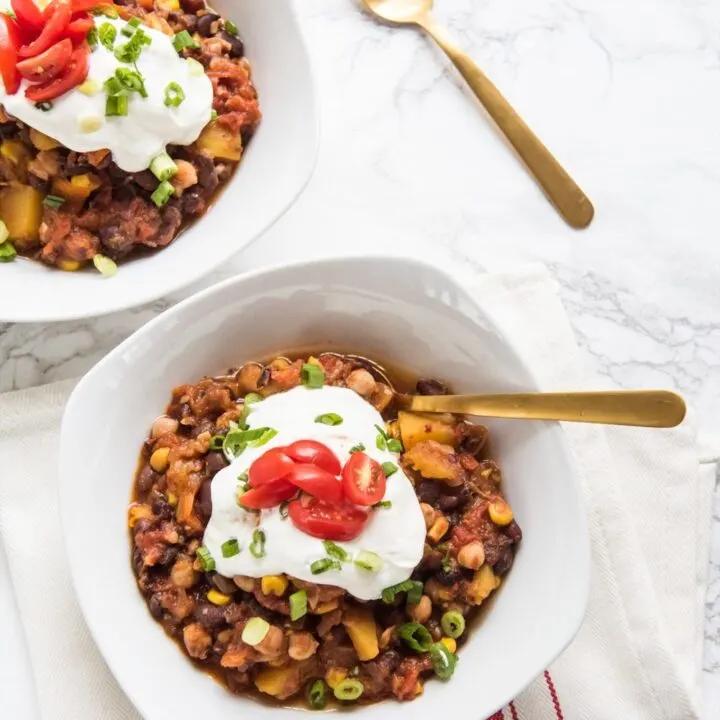 Butternut Squash Black Bean Chili
Prep Time: 20 minutes

Cook Time: 3 hours

Total Time: 3 hours 20 minutes

This yummy vegetarian chili recipe for butternut squash black bean chili is great to serve on a cold winter day or at your next tailgate party!
Ingredients
(3) 15 oz cans black beans
(1) 15 oz can garbanzo beans
(1) small butternut squash, cubed
1-1/2 cup frozen corn, thawed
(3) 15 oz cans of stewed tomatoes
(1) small red onion
(1) small orange bell pepper
3 chipotle peppers (the canned kind in adobo sauce)
1 tablespoon of adobo sauce
2 large cloves of garlic, minced
1 teaspoon ground cumin
3/4 tablespoon chili powder
Instructions
Drain and rinse beans very well until all the packing liquid is completely rinsed.
Peel, deseed and chop up butternut squash into roughly 1" cubes.
Place beans and squash in the crock of a large slow cooker.
Dice the bell pepper and onion, then add to the crock.
Chop up the chipotle peppers finely then add them and all other ingredients to the crock.
Mix well to combine and cook on high heat for two hours.
Reduce to low heat and allow to simmer for another hour.
[Recipe by Cyd Converse | Photos by Alice G. Patterson.]