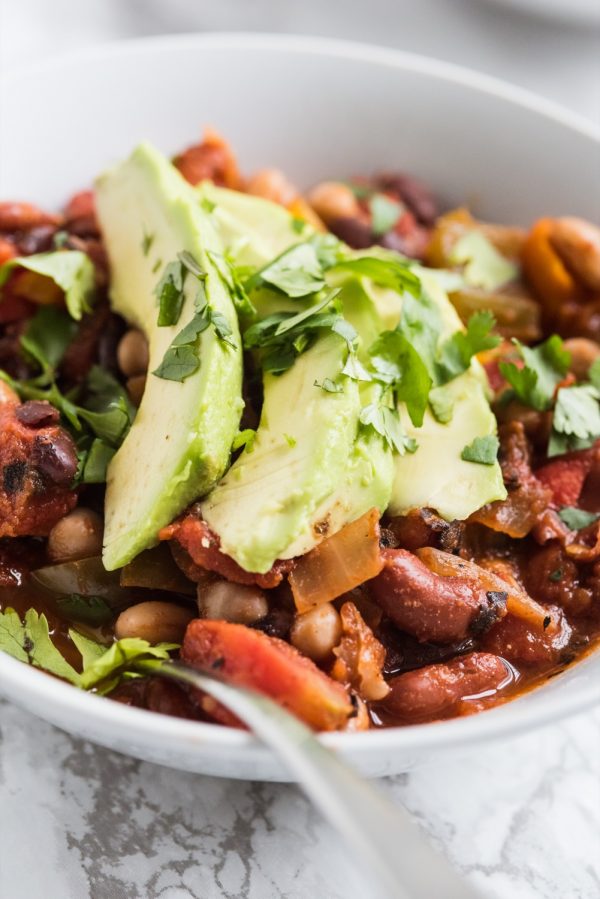 Happy Monday! It's Super Bowl week and I'm not ashamed to admit that I'm completely excited. For one, we're hosting the festivities this weekend and I always love throwing a party. For two, I really enjoy screaming at my television on occasion. (Uh, that's true.) For three, I have a ton of Super Bowl recipes to share with you this week, starting with this awesome chili recipe. This year we decided to put a twist on the traditional Super Bowl party and we're hosting ours as a chili cook-off. We invited guests to each bring a pot of chili at a buy-in of $10 a pot. Everyone in attendance will get a vote and the fan favorite chili will take the entire pot! Today I'm sharing the first of two chili recipes we'll be submitting for consideration for the prize. This one is a four bean veggie chili recipe that is not only a vegetarian chili, but actually a vegan chili recipe, too! (Just skip the sour cream and cheese on top, of course.) This is our go-to chili. The meat eaters in the family love it just as much as I do and we've served it up at more than one party to universal approval. Most people don't even miss the meat, plus you can't go wrong with a big pot of beans, veggies and tomatoes when it comes to serving up a dish that is both hearty and healthy.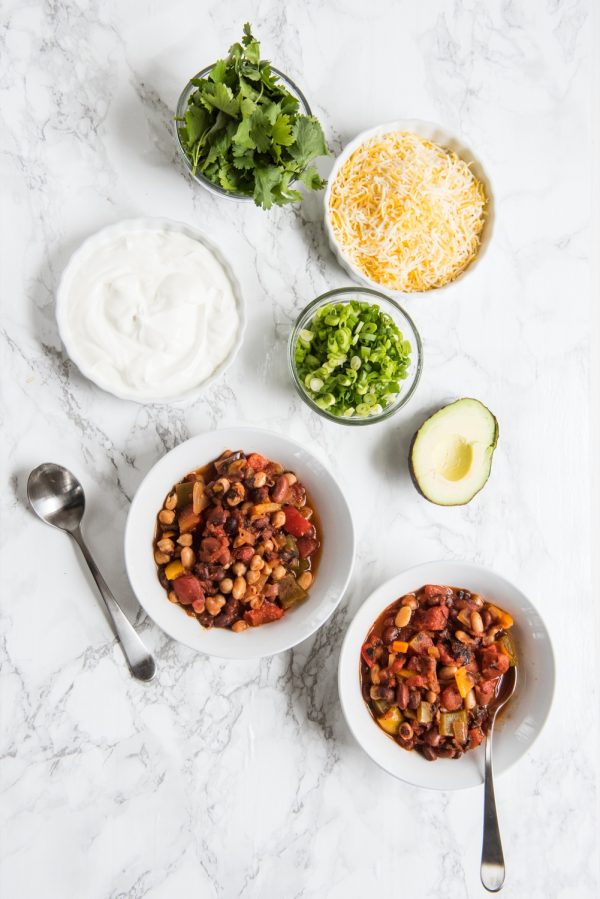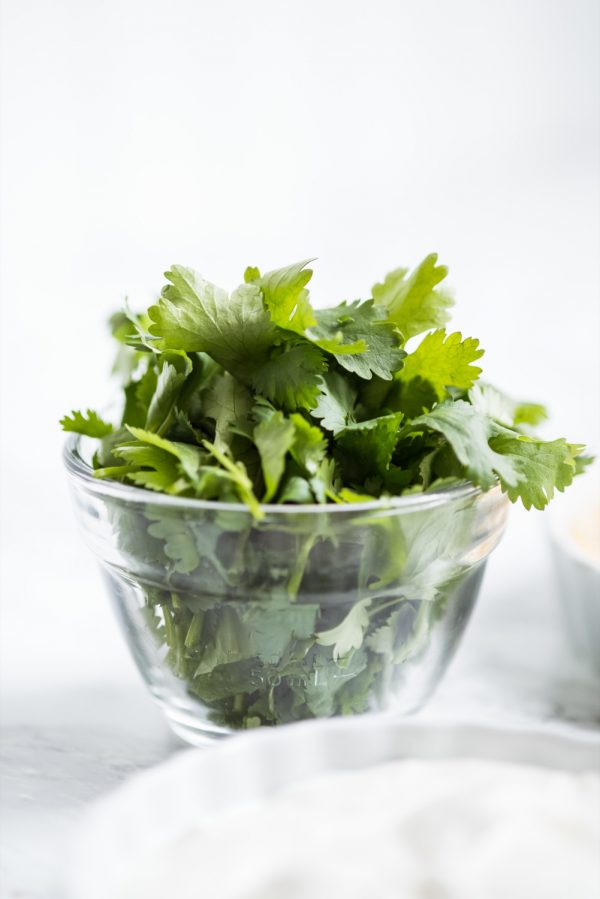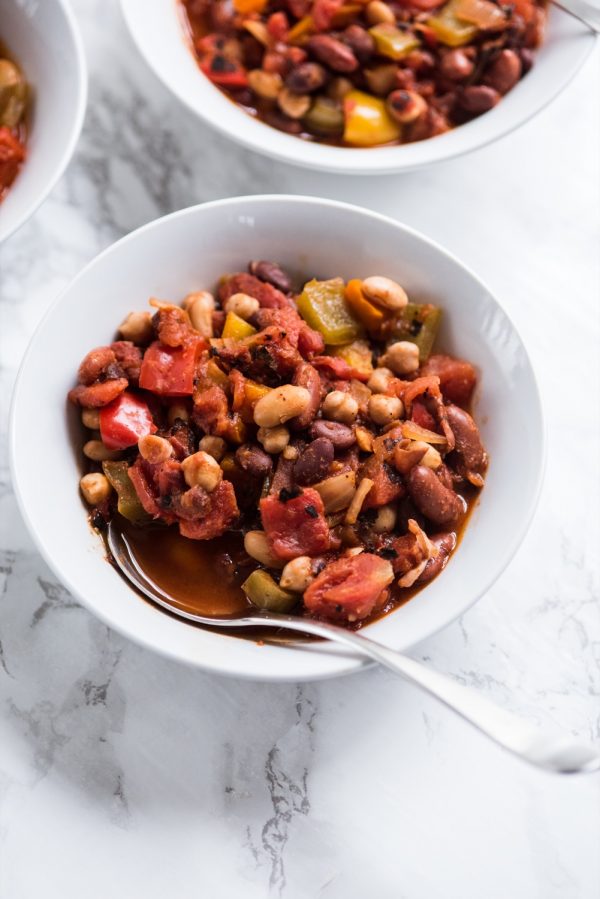 We generally like our chili about a medium on the heat scale, but I intentionally scaled it back here for those of you who aren't into overly spicy things. This ratio of seasoning will give you a nicely flavored chili that falls decidedly on the mild end of the heat index. I'd suggest starting here and then increasing the spiciness to your tasting if you like things with more of a kick. I personally would increase the chili powder, cayenne and paprika if you want to take things up a notch or a few. With chili, the flavor really builds over time so add a bit, check it a while later, then add more as necessary to suit your personal preferences. Also, don't skip the mix of the four types of beans! It adds a lot of flavor and great texture.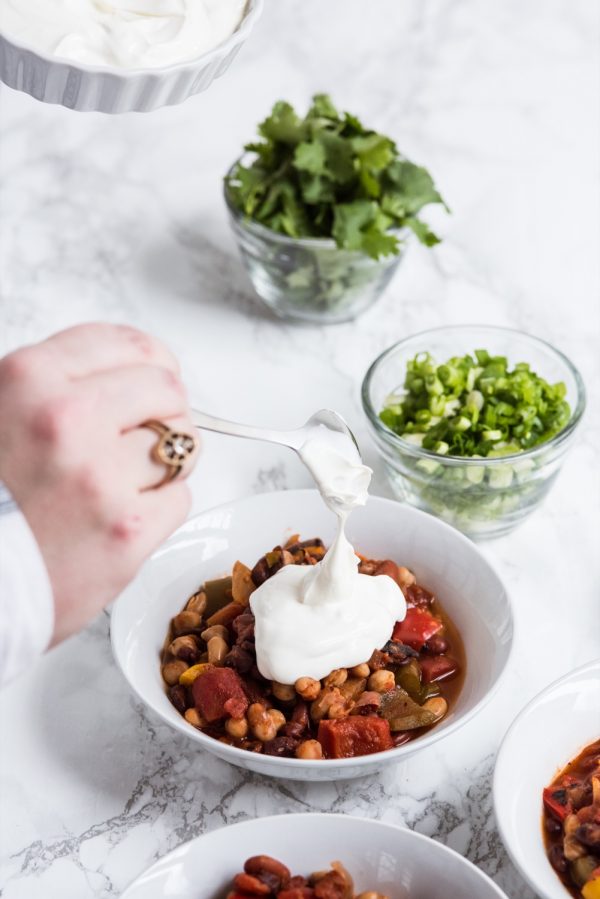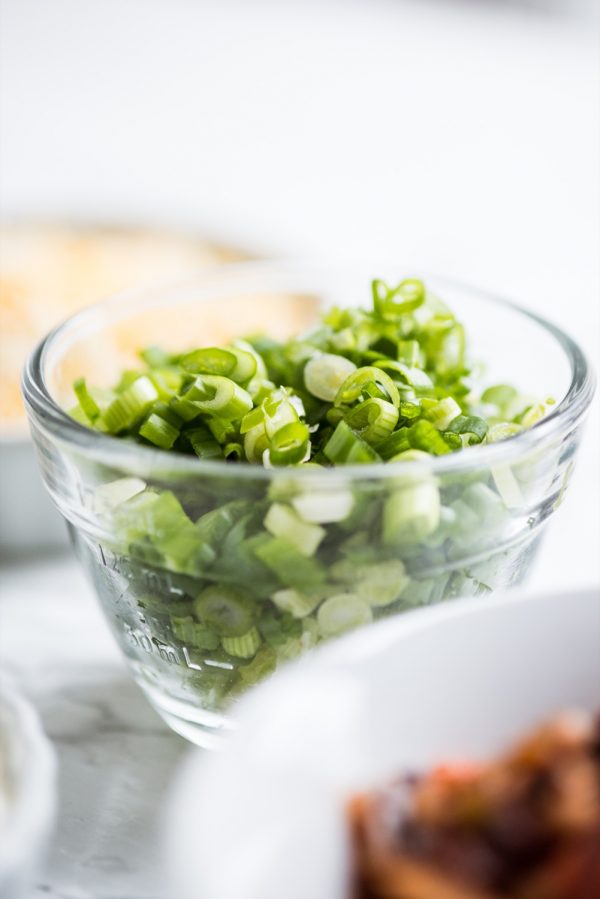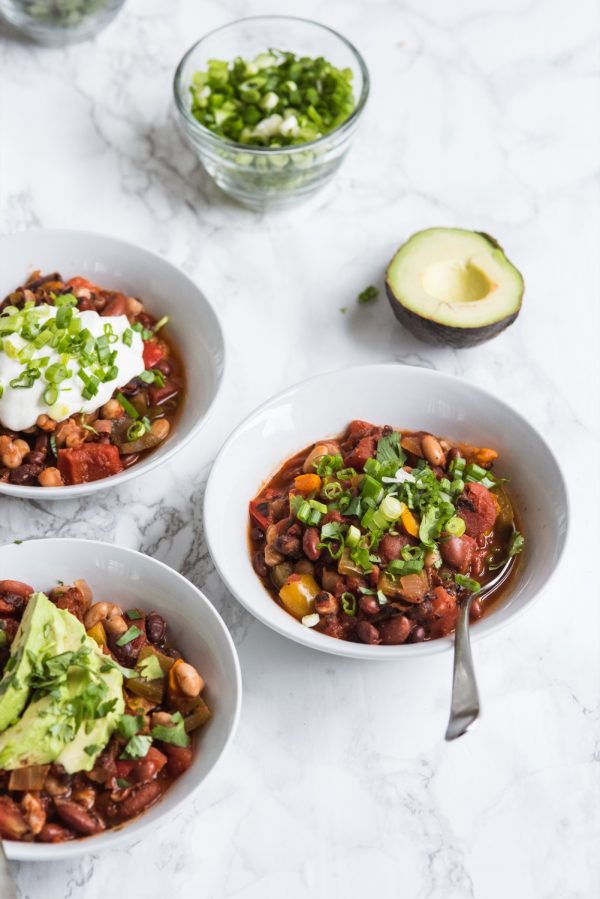 Four Bean Veggie Chili
Ingredients
(1) 15 oz can black beans
(1) 15 oz can garbanzo beans
(1) 15 oz can great northern beans
(1) 15 oz can kidney beans
(4) 15 oz cans fire roasted diced tomatoes
1 medium red bell pepper
1 medium yellow bell pepper
1 medium orange bell pepper
1 medium green bell pepper
2 tablespoons chili powder
1 teaspoon ground cumin
½ teaspoon cayenne
1 teaspoon smoked paprika
1 cup diced red onion
⅓ cup dry red wine
Instructions
Drain and rinse beans very well until all the packing liquid is completely rinsed off.
Place beans in the crock of a large slow cooker.
Dice the bell peppers, add to the crock.
Add all other ingredients, then mix well and cook on high heat for two hours.
Reduce to low heat and allow to simmer for another hour.
Serve warm and and top to your liking with sliced avocado, fresh chopped cilantro, cheese, sour cream and/or diced scallions or white onion.
Remember to skip the sour cream and cheese if you'll be serving this to your favorite vegan friend!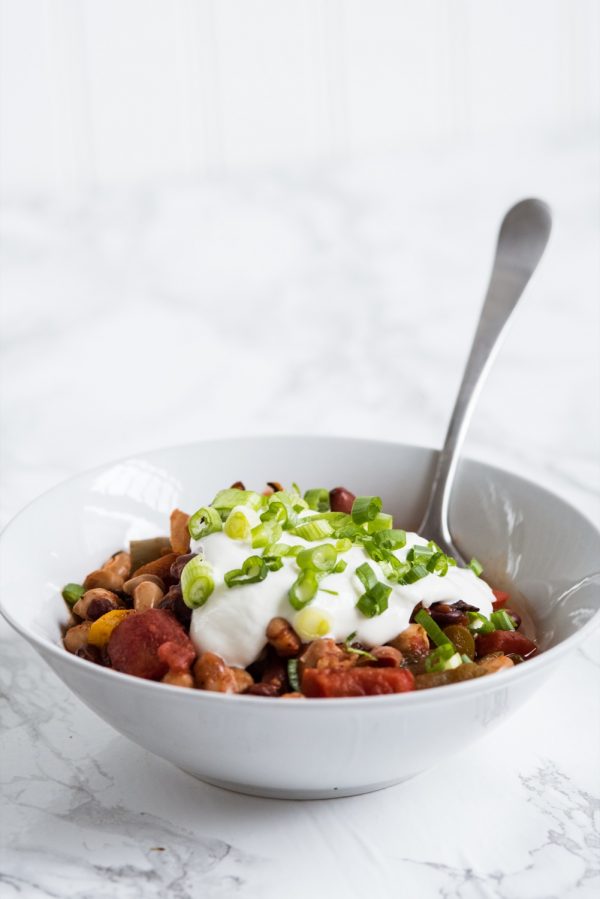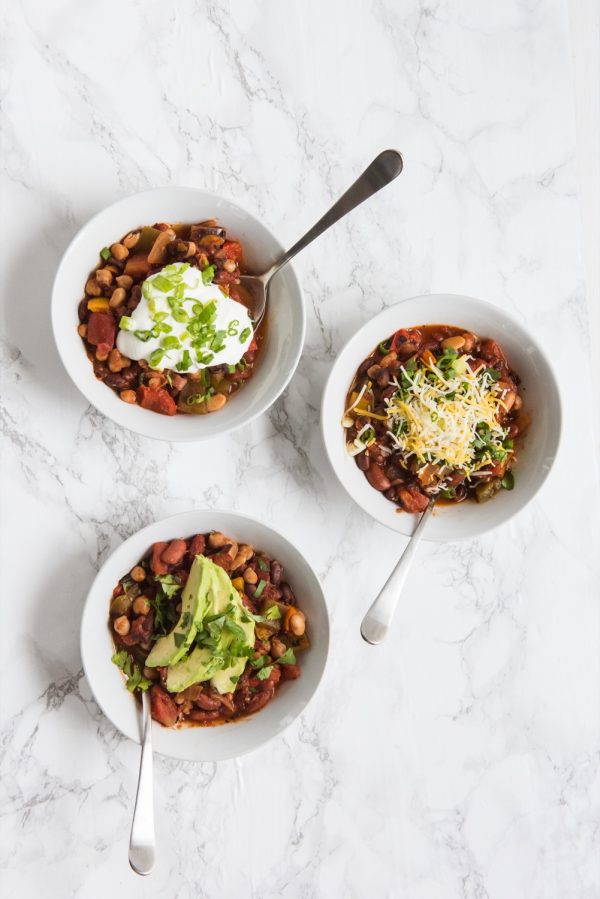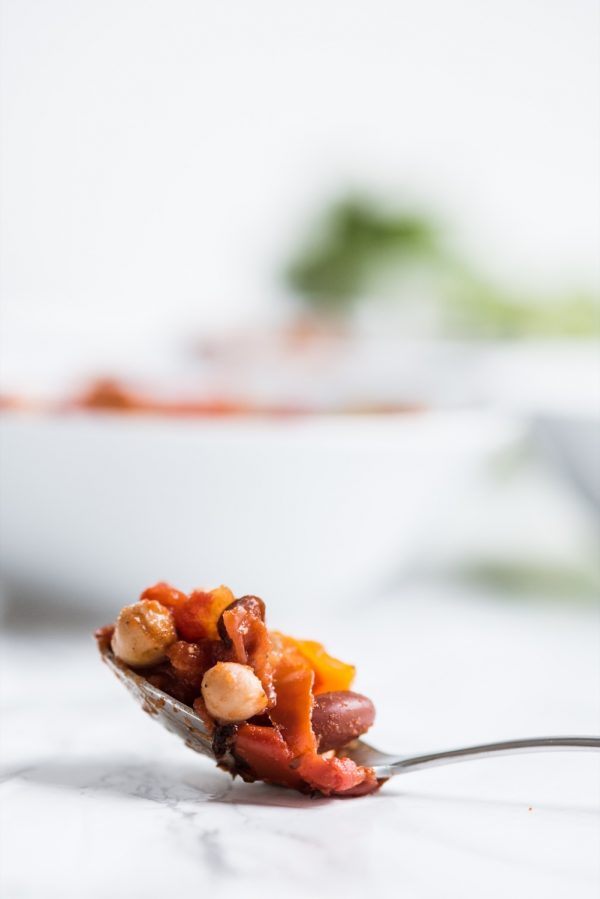 [Recipe + art direction by Cyd Converse | Photos by Alice G. Patterson.]