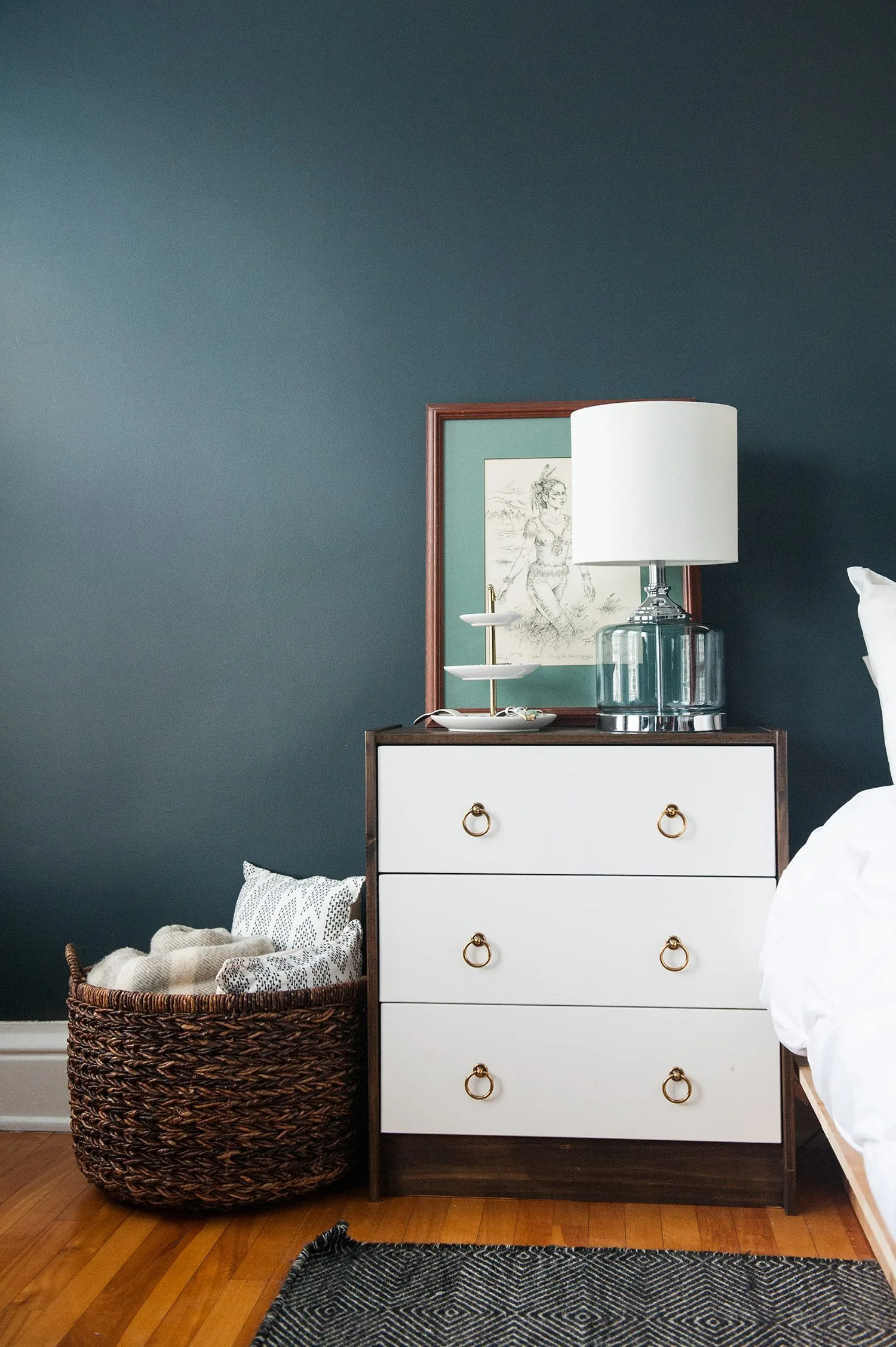 Has anyone else noticed that since buying our house going on two years ago I've never talked about the bedrooms? It's true! This is the part where I'll now admit that we've done nothing to the bedrooms in the entire time we've owned the house. We dumped our existing furniture into the rooms, we tossed our clothes in drawers and closets and that is all that has happened. Not one wall has been painted, not a single curtain has been hung. I guess it's just a side effect of jumping feet first, head first and life first into a whole home renovation. The bedrooms just haven't felt that important, or the upstairs at all for that matter since we haven't touched anything up there. Ok, actually, we still have most of the rooms in the house left to renovate and I'm getting a little crazy right now thinking about the long list of everything left to tackle. The master bedroom though? It is time. It's high past time truthfully. I am finally at a point where I feel like I really want and even need our bedroom to be settled and a place of respite at the end of a long day. The trick? By modern standards, and certainly in comparison to the size of our house overall, our master bedroom is tiny! It clocks in at just roughly 13′ by 12′ so things like loads of storage and luxurious king size beds aren't in the cards for us. I have been searching around for loads of small master bedroom ideas though and today I'm sharing a bit of my design plan as we move forward!
The photo above is from the last time you've seen our bedroom, back in late 2015. We still have the same rug in our current bedroom, but the nightstands (which were a DIY project several years ago) now hang out in the foyer, because they don't fit in the room alongside the bed because, again, it's pretty tiny for a master. (And truthfully they maybe aren't the best fit in the foyer either, but I still love them so who knows if they end up staying or going entirely.) At any rate, I opened the post with this photo because we loved that paint color so much (it's Valspar Sooty Lashes VR115A) that we are both really intent on using it again in our bedroom. (Throughout the post are other dark bedrooms that I'm feeling totally inspired by as I design our space!) This room is about half the size of that room though, so I suspect it's going to feel cozier and moodier with such a dark color. Either way, I'm into it! I'm also pretty sure that for now we'll be using the same rug since we still love it and it's in great shape, so why fix it, right?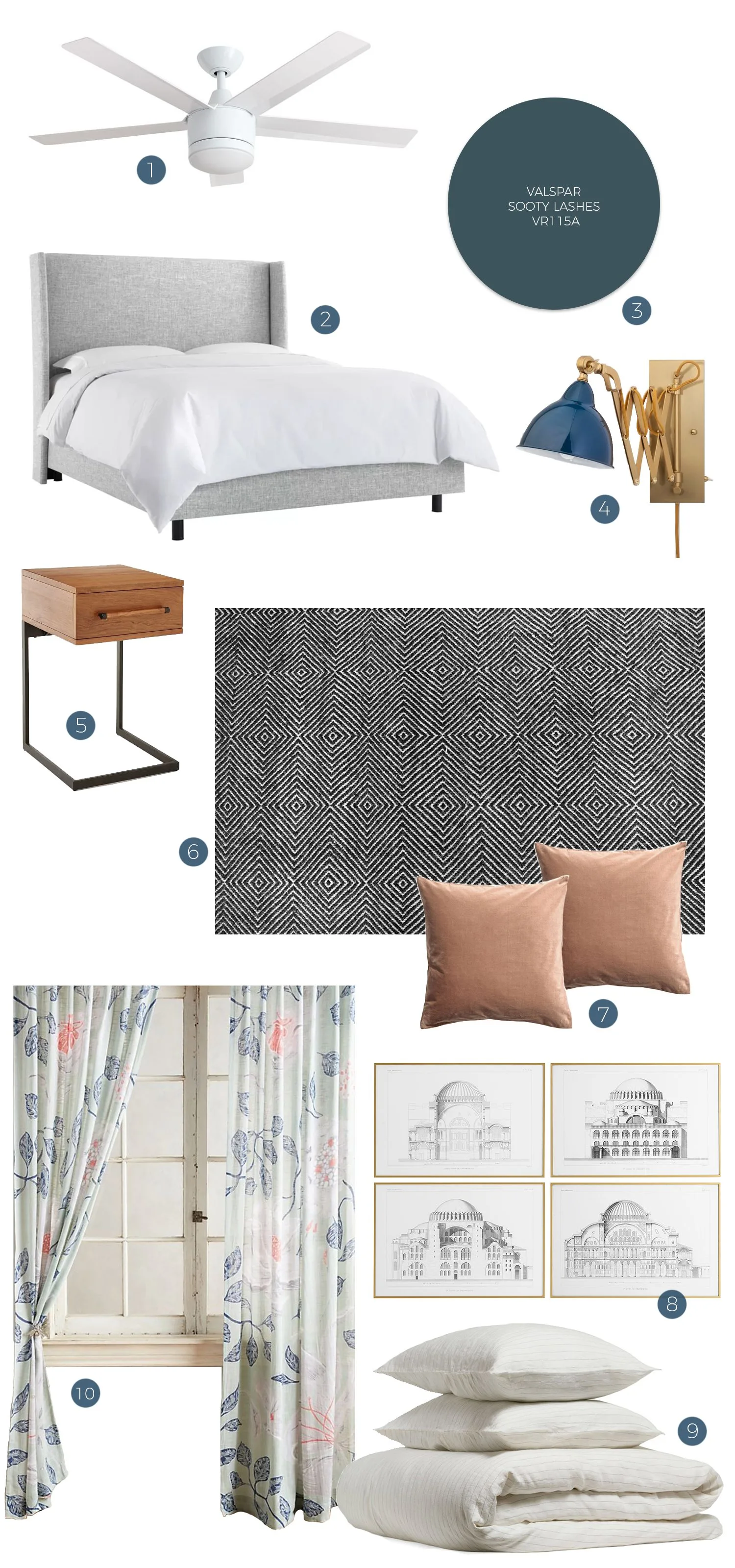 Things we definitely need? A new bed! Our current platform bed (also shown above) is an old DIY project dating back to one of the houses we rented with super low, slanted ceilings that required we sleep as close to the floor as possible for Bob to not smash his 6'2″ self on the ceiling constantly. It was great at the time, it has served us well, but we are ready for a grown up bed again. I am really loving beds with super tall headboards right now. I think after years of being low to the ground with no headboard, it just feels super luxurious. Also, I love playing on scale and I kind of love the idea of this tall showstopper of a bed in a tiny little room. We also really need lighting! Again, because space is limited, I am going with sconces for either side of the bed and then we'll probably go with some kind of very simple, sleek floating nightstand for either side. I've actually already purchased these sconces because they're just too gorgeous! Does the blue work with the wall color? I'm not sure! Part of me loves the two rich blue tones layered together, part of me isn't sold on it quite yet. I might end up spray painting the shades a matte black or I might switch up the wall color? I'm really not sure, but the shape, price and style were perfect so they had to be mine. (Under $50 each for gorgeous scones?! Sold.)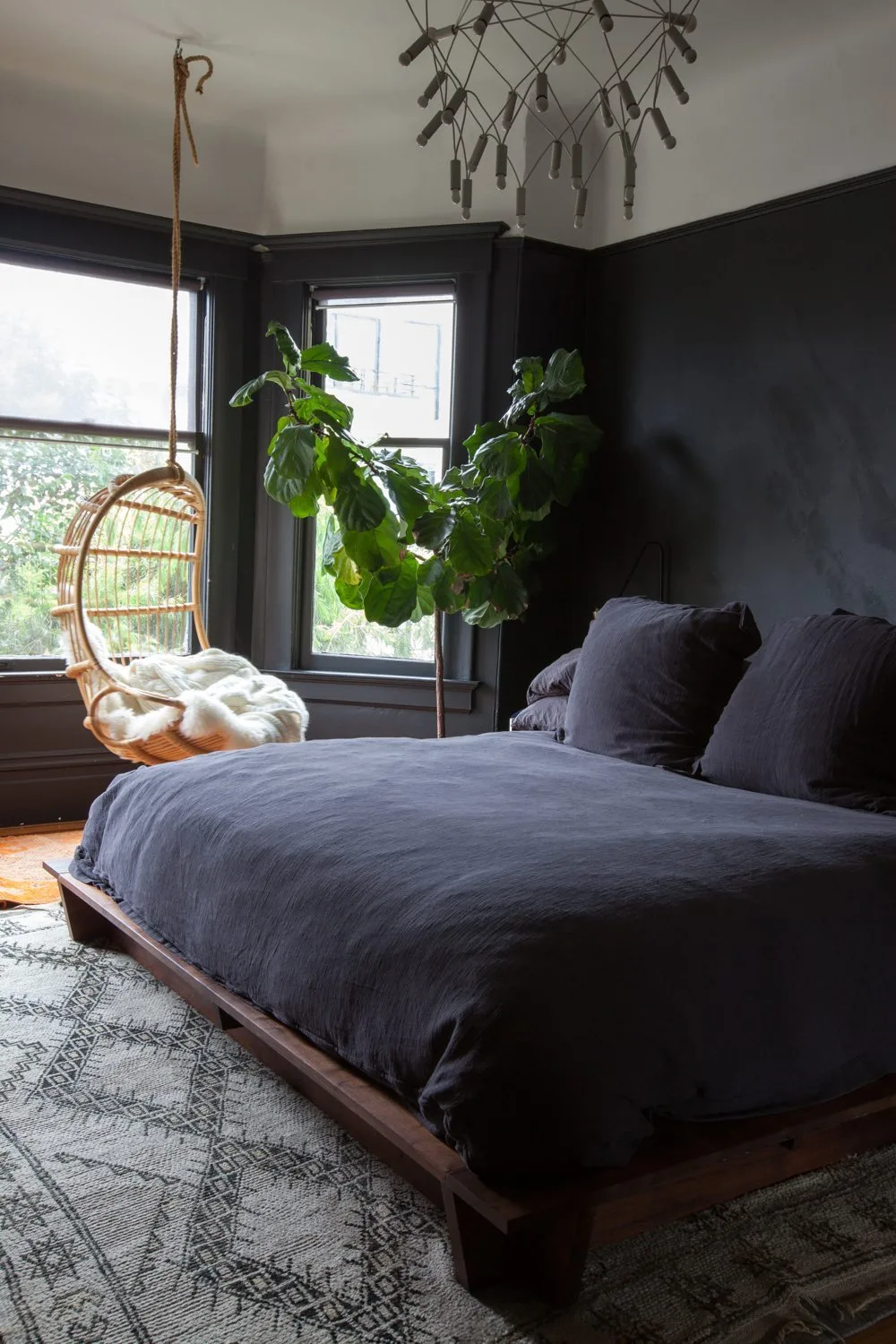 Also, a ceiling fan. I know, I know. So many people loathe them, and I used to be one of them. But we live in a tall, old house with no central air (which is typically the case in our area) and there are a lot of months where a ceiling fan would make the bedroom so much more comfortable. Eventually we want to put central air in the house and at that point I might opt to put a light fixture back in though (so I'll be saving the original fixture for sure) so I don't want to spend a ton. At the same time, I still want something very sleek, minimal and clean-lined in hopes that it visually just sort of goes away. Read: I'm not looking for our parents' ceiling fans from the 80s and 90s. I think this very affordably priced white option checks all those boxes, but it also comes in matte black version, too, that is really sharp. Decisions!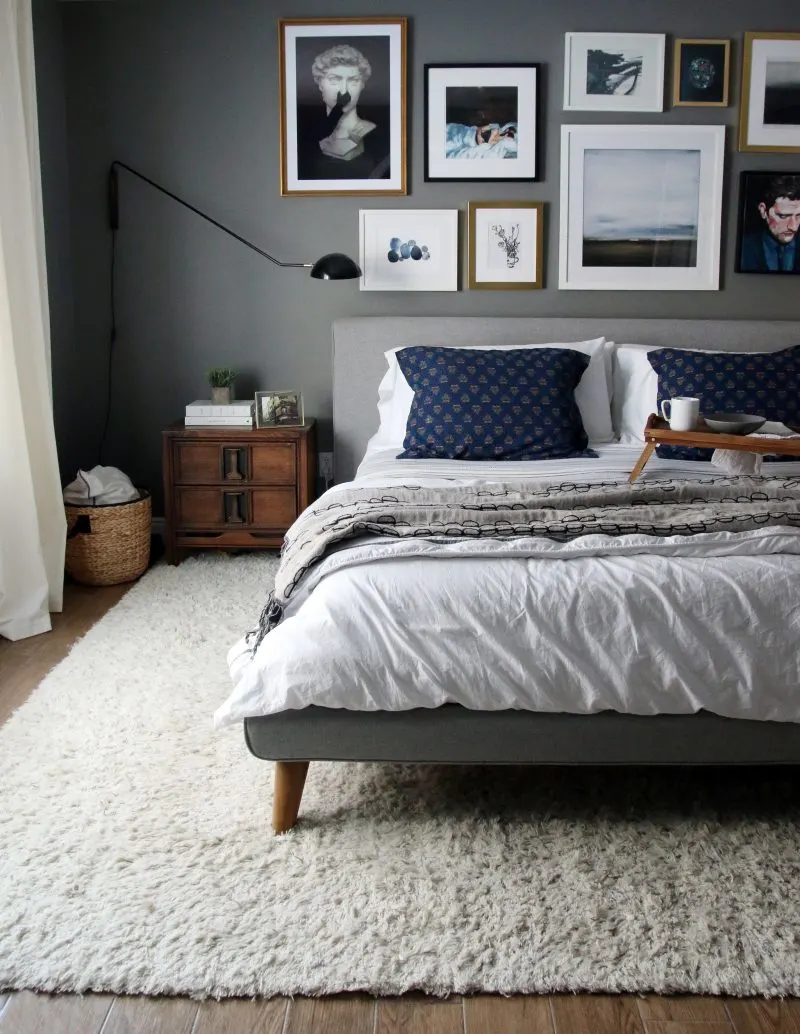 Overall I want the vibe in our bedroom to be really cozy and masculine. I don't have an overly feminine style to begin with, but because I definitely take the reins on all of the decorating and color decisions in the house, with the exception of veto power if Bob really dislikes something, I love the idea of a bedroom that reads more moody and masculine. That said, my bohemian heart has never met a floral pattern I don't love, so I'm thinking I'm going to bring in something soft and floral for the curtains to break things up a bit. I also want to update our bedding with something gorgeous and likely of the Belgian linen variety. Bob and I are both fans of a bed that makes you feel like you're in a luxury hotel (we are obsessed with our Gelfoambed mattress), so the bedding is key. I've also considered dark forest green walls in here. Bob put the veto on that one. Wish me luck convincing him that we should have green somewhere in the house though!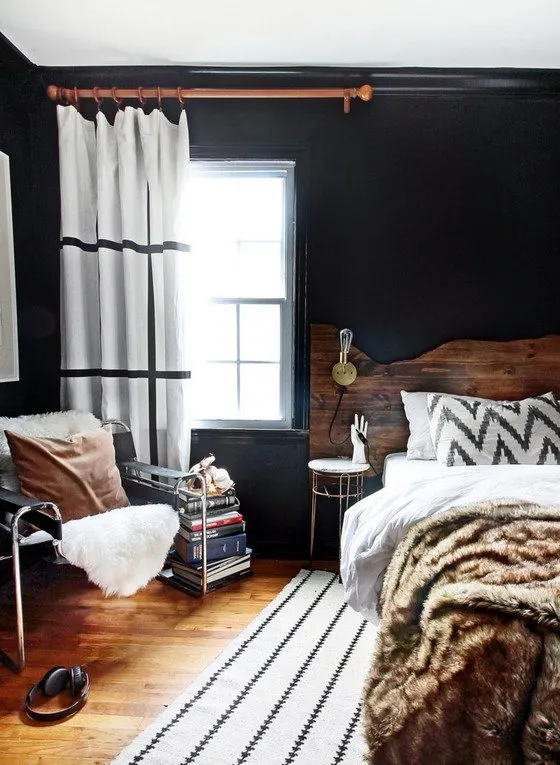 There isn't a ton of wall space in our room what with two large windows, a closet door, the door to the hallway and the wall the bed is on to be dominated by the tall headboard of my current dreams. I do think this is the perfect space for some of the architectural sketches and drawings I have from eons ago – some I purchased while traveling throughout Europe in college, and some that are works created by one of my professors in architecture school. I've never seemed to find just the right place for them and I think they'd be perfect in our bedroom in very simple brass or wood frames.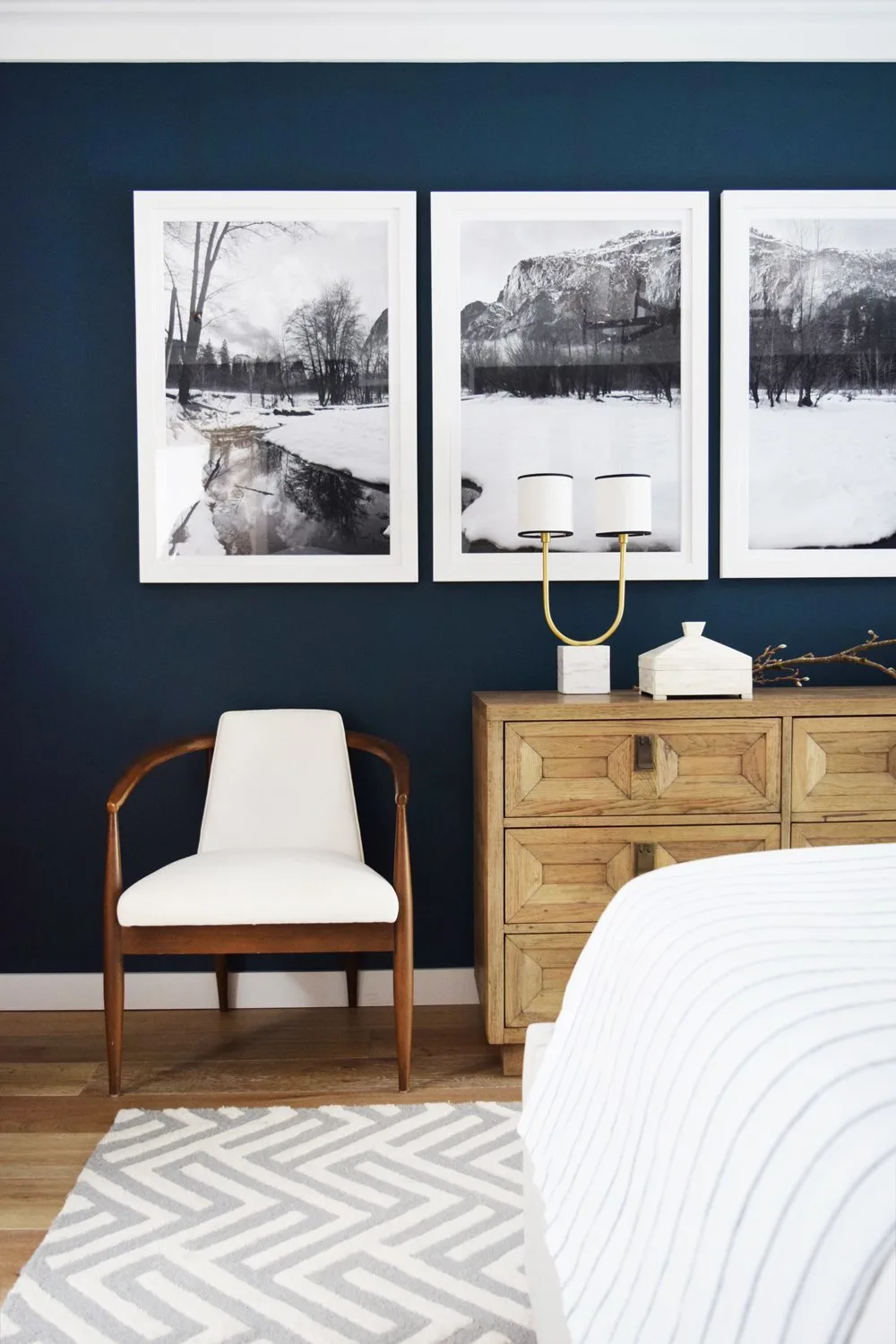 What about you? Anyone else planning a master bedroom makeover? Anyone else have an exceptionally small master bedroom? Stay tuned for updates as we start to finalize decisions and tackle the fun things like painting trim and ceilings for days. Hip hip hooray!
[Photos, from top: Alice G. Patterson |Paul Ferney from A Cup of Jo | Chris Loves Julia | Domino | Orlando Soria.]
Shopping Guide –
Some of these links include affiliate links
1: Home Decorators Collection Merwry ceiling fan | 2: Jennifer upholstered bed | 3: Valspar Sooty Lashes VR115A | 4. Accordion wall lamps | 5. Teak nighstands | 6: Sierra Paddle rug in black | 7: Velvet cushion covers | 8: Hagia Sophia wall art collection | 9: Striped linen duvet cover set | 10: Catamarca curtains