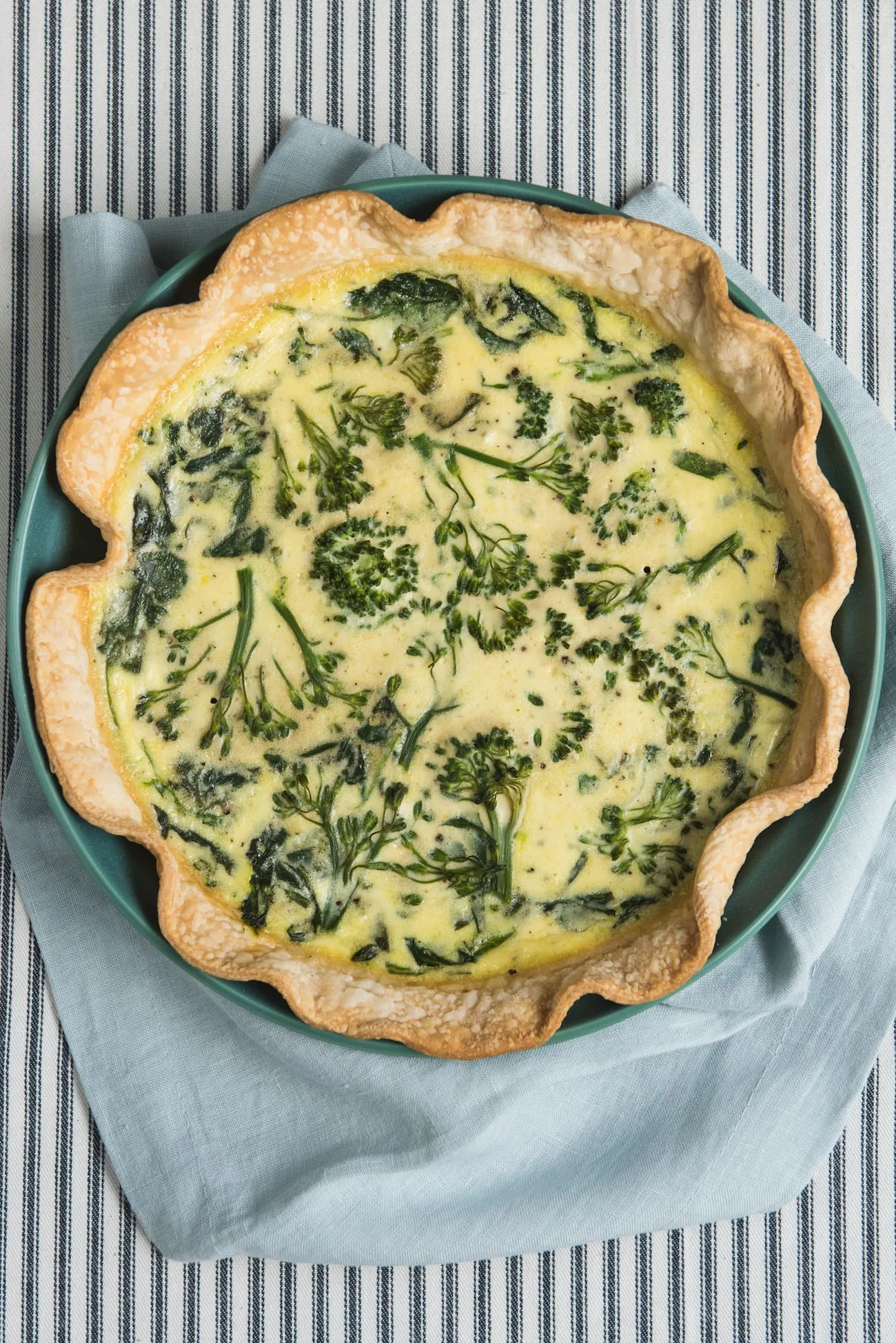 One of my favorite ways to host over the holiday season is with a brunch in lieu of a full dinner. We host pretty much weekly this time of year and if there is one thing I can promise you it's that people love brunch! I made this spinach broccolini quiche loaded with goat cheese as part of the Friendsgiving brunch I created in collaboration with Bed Bath & Beyond and it's not only delicious, but it's also one of the prettiest things I've ever made.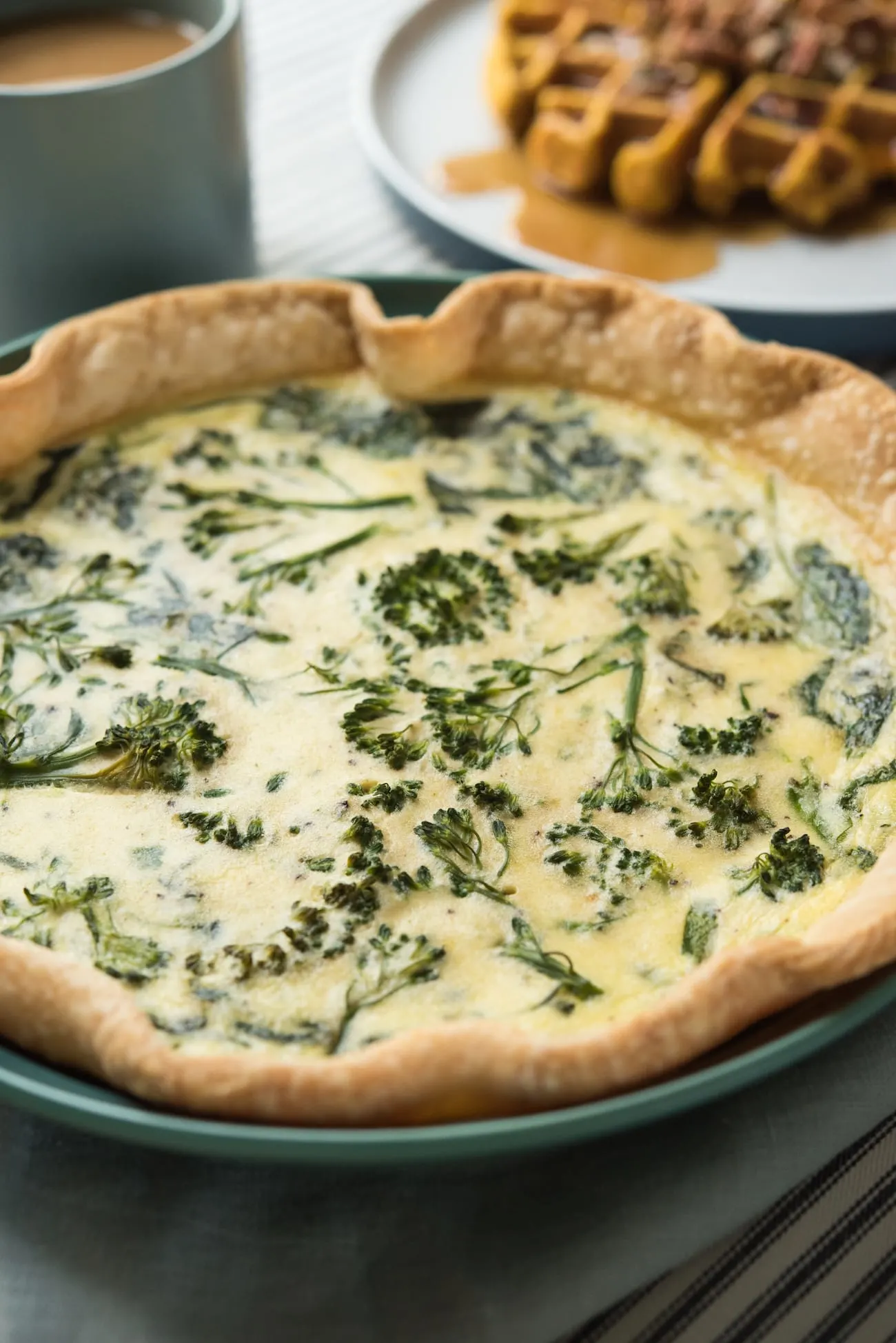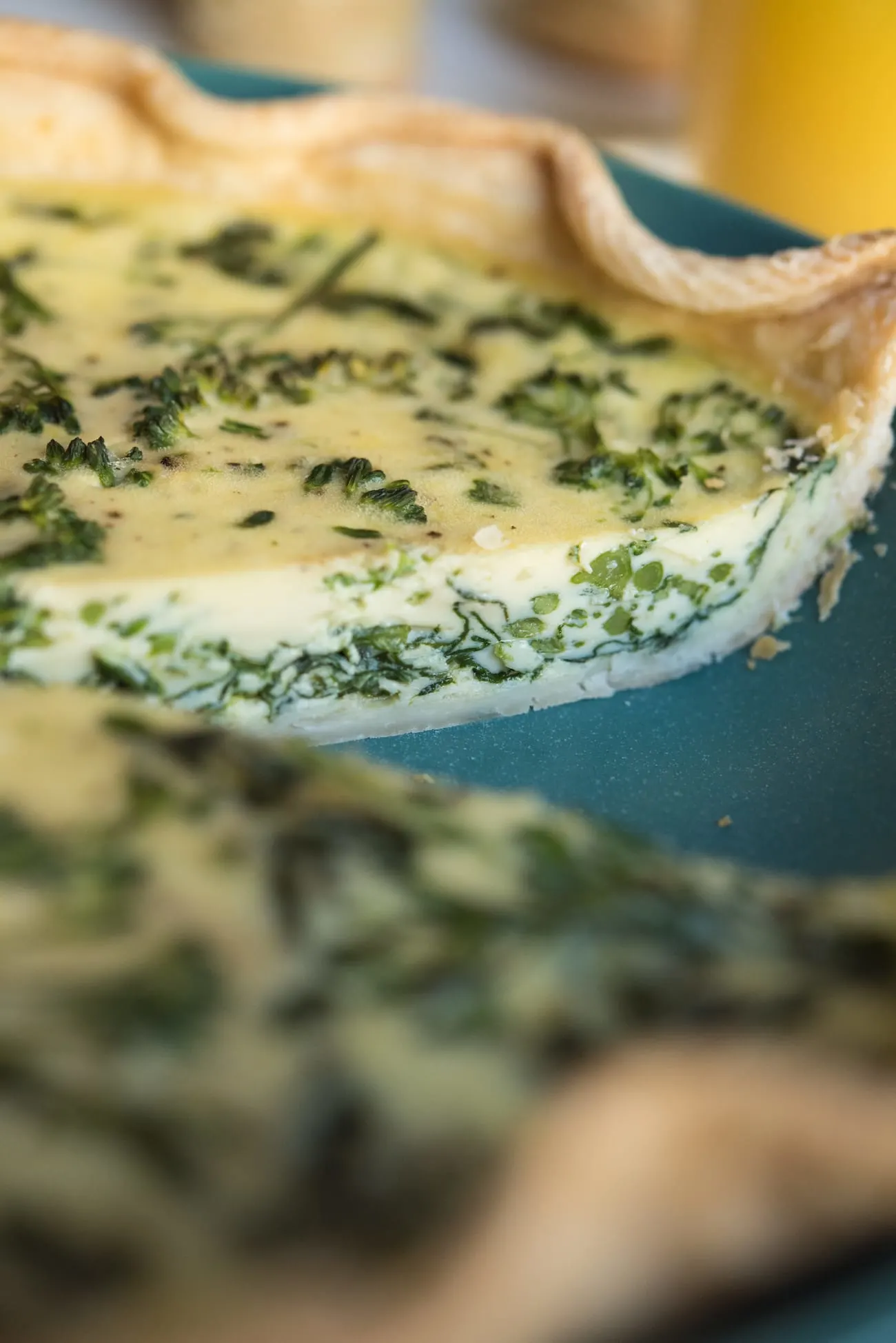 You can absolutely make homemade pie crust for this quiche, but store bought crust is entirely acceptable because the star here is the combination of spinach, broccolini and goat cheese. Making pie crust is very simple and I usually always make my own, but I also recognize that if making crust is the going to be the deal breaker for some people then a store bough work around is going to be welcomed. Done.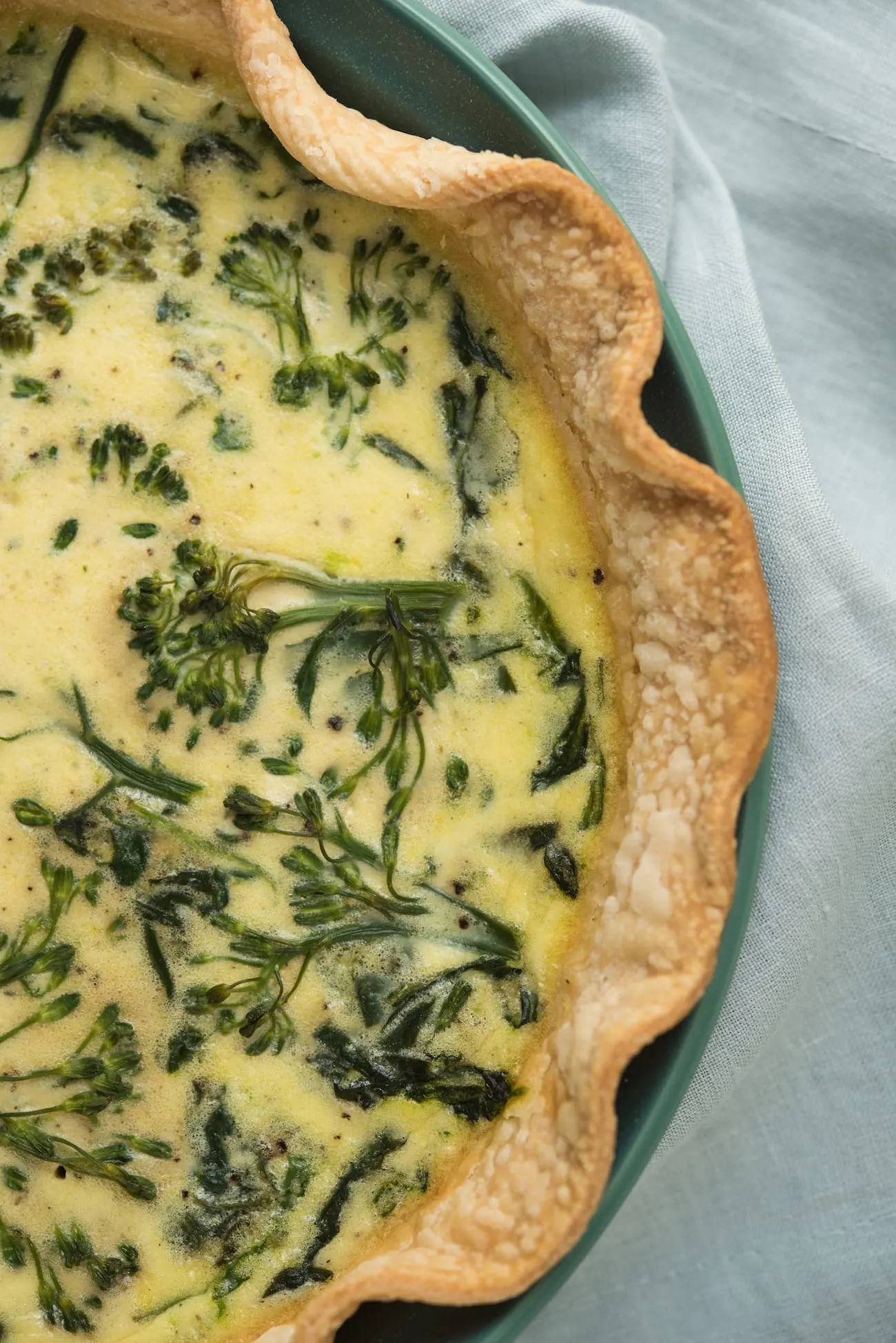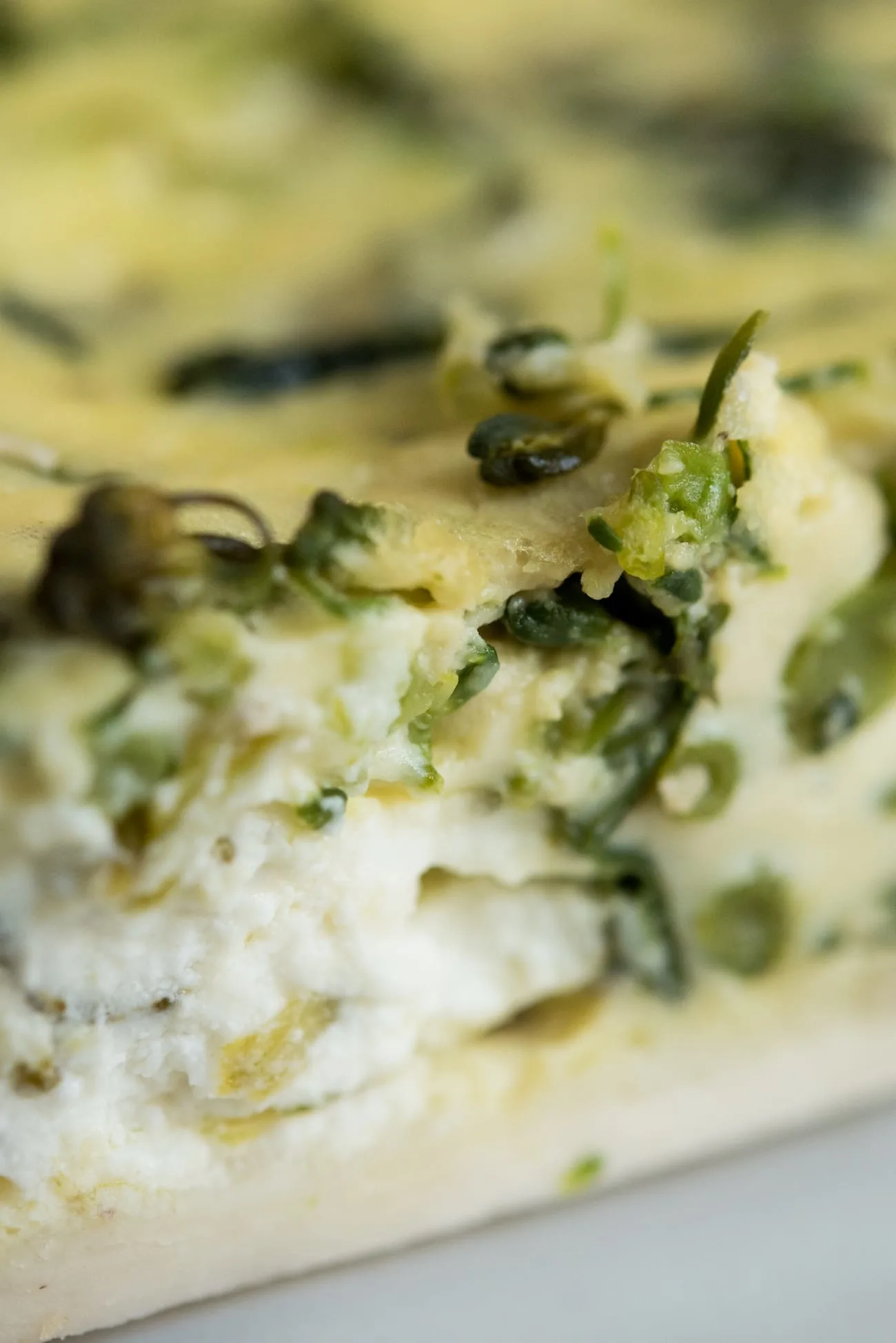 To make my pie crust look so so pretty, I just took a store bought crust (which is about 12″ in diameter) and centered in in a 9″ pie dish. Rather than pulling the crust out to the edges of the pan and crimping it, I let the crust naturally fall into waves and folds, some of which I exaggerated to get that great shape. And that was it! It's honestly so easy and it makes for such a dramatic look that's a real stunner.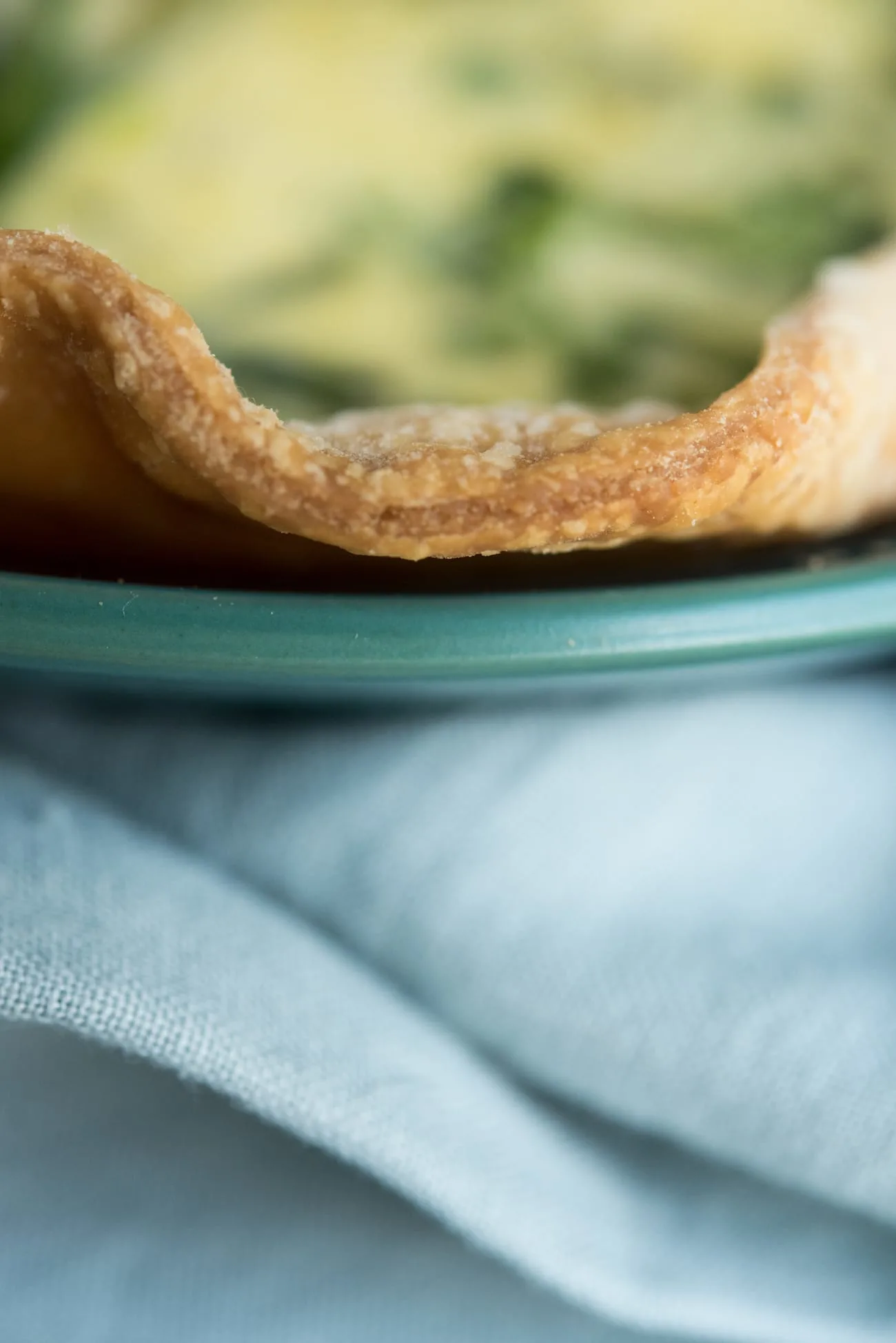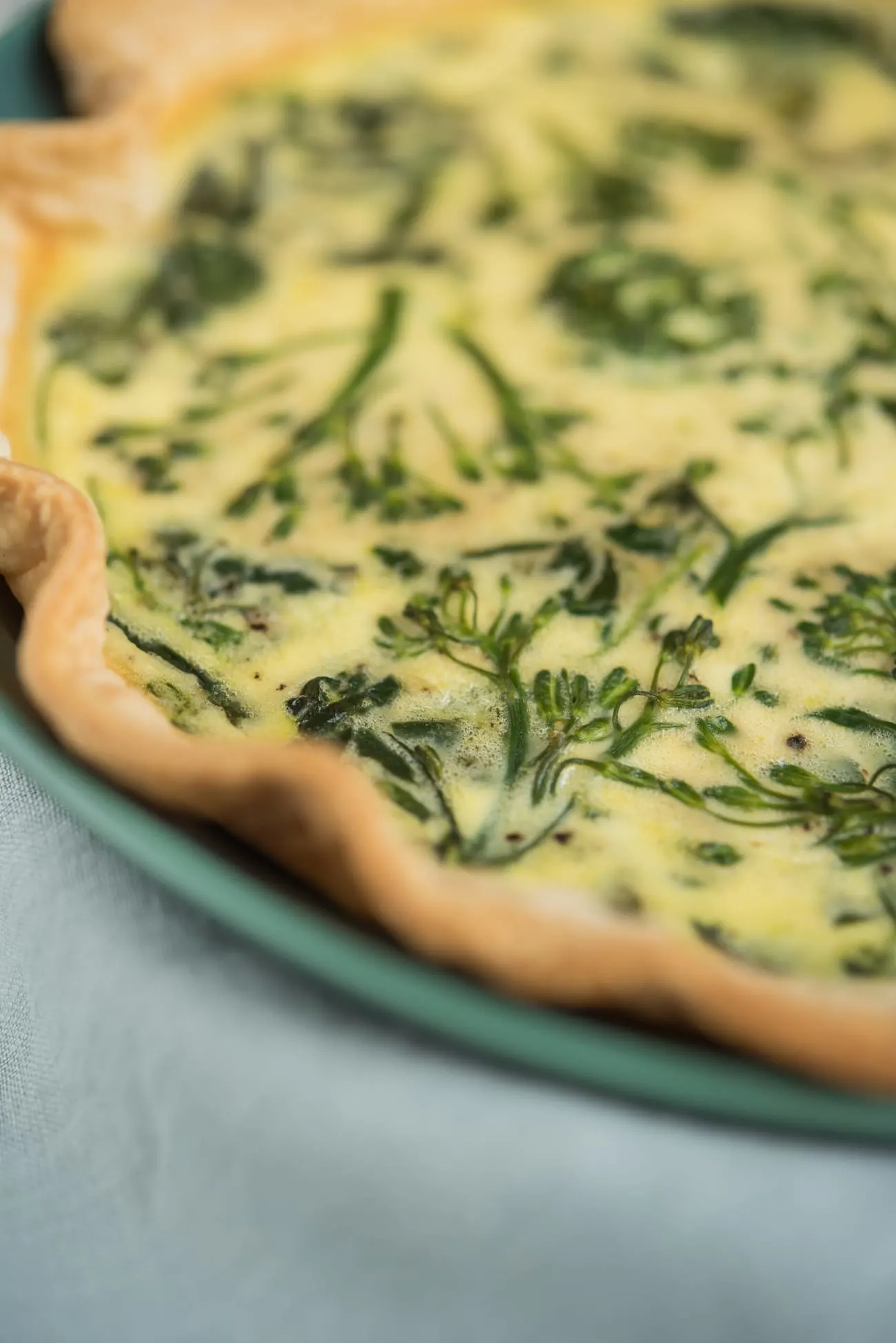 Spinach Broccolini Goat Cheese Quiche
Ingredients
1 store bought pie crust
2 tablespoons olive oil
3 packed cups fresh spinach
1 small bunch broccolini
4 large eggs
½ cup milk
½ cup heavy cream
4 ounces goat cheese, crumbled
Salt and pepper to taste
Instructions
Remove pie crust from the refrigerator and allow to warm slightly at room temperature
In the meantime, preheat oven to 350°
Warm olive oil in a skillet over medium heat
Add spinach and cook until thoroughly wilted, set aside
Steam broccolini in a steamer basket over lightly salted water
Remove from the heat, allow to cool slightly then cut off the stems, reserving the top florets
Gently unroll pie crust and place in a 9" pie dish
Rather than crimping the edges, all the pie crust to settle into folds
Use a fork to lightly pierce all over the bottom and side of the crust
Pre-bake pie crust for 6 minutes at 350° then remove from the oven
In the meantime, vigorously whisk eggs in a mixing bowl
Add spinach, milk, heavy cream, salt, pepper and goat cheese
Whisk until well combined (the goat cheese will remain clumpy)
Pour mixture into the par baked pie crust
Gently place the broccolini florets on top
Bake for 35 - 40 minutes until the edges are golden and the top is no longer jiggly
After 20 minutes, add a pie shield to protect the edges from getting overly crispy
[Recipe + styling by Cyd Converse | Photos by Alice G. Patterson.]