This post was sponsored by Bed Bath & Beyond. Thank you for supporting
the sponsors that help make The Sweetest Occasion possible!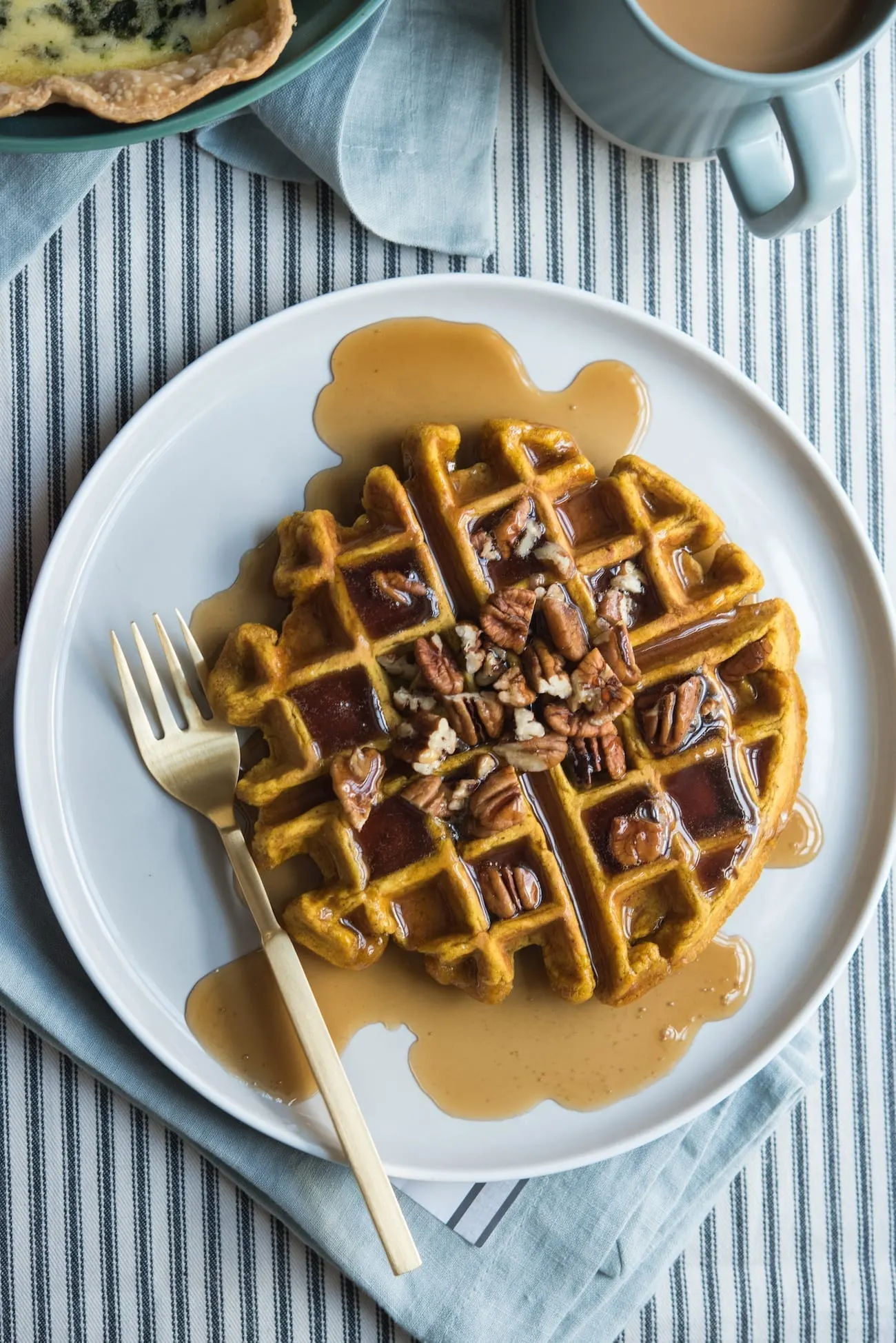 My love for entertaining comes from a deeply rooted passion for bringing people together in celebration and in love. It's for that reason I love the Friendsgiving trend of recent years as a way to welcome the friends you love to your table and into your home. Today I've teamed up with Bed Bath & Beyond to inspire your own Friendsgiving feast, but with a slight twist. We're ditching the turkey in lieu of brunch with a spread of food that will have you passing over your roaster pan in favor of the waffle maker. My hope is that you'll spy something here (like perhaps my spinach and broccolini goat cheese quiche recipe) that will move you to send out a group text that says something along the lines of, "Hi, friends. Come on over. Let's do brunch."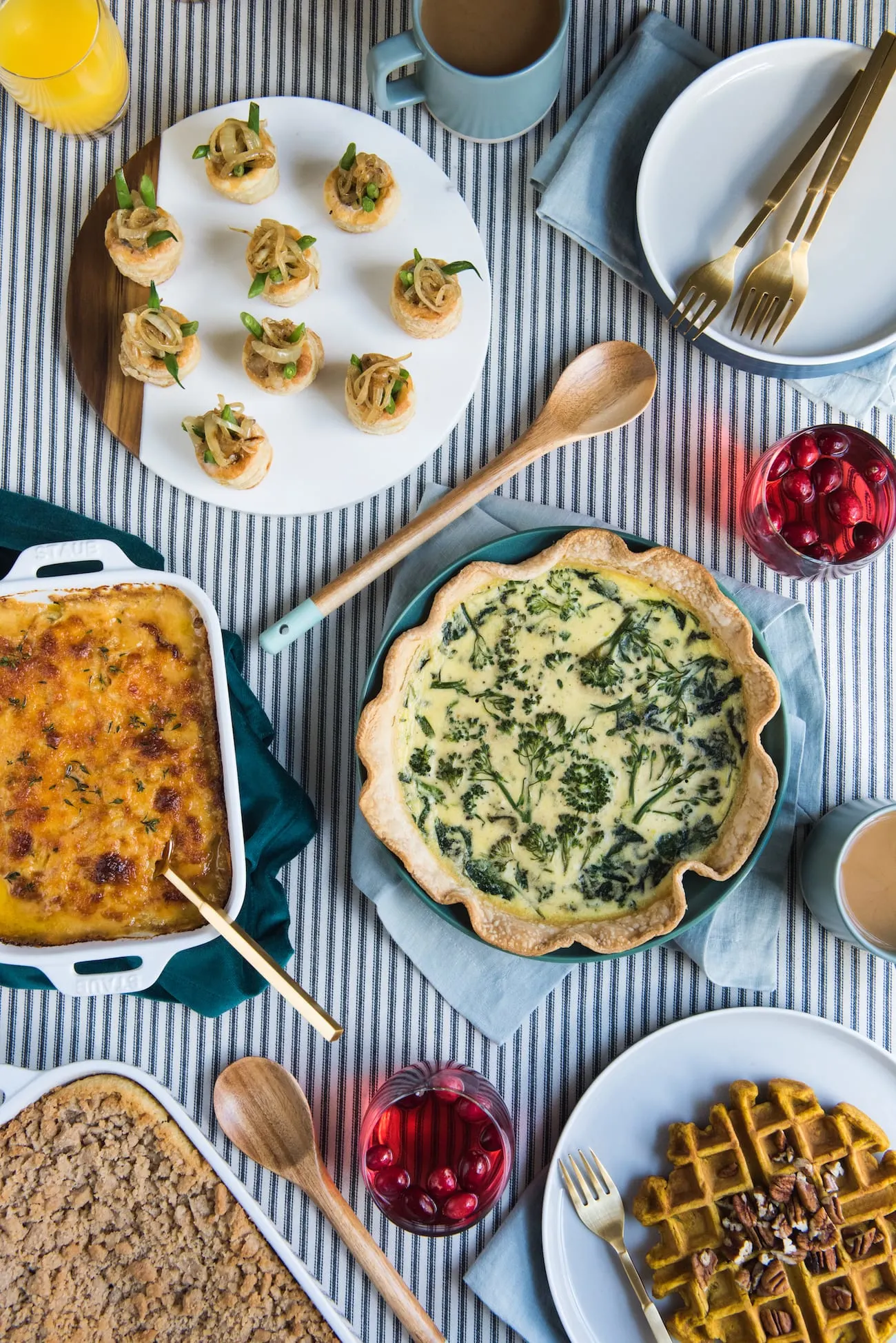 Here's what I love about a Friendsgiving brunch – it's just so much easier than putting together a dinner. One friend can bring along a coffee cake, another can bring an appetizer, and you can whip up a quiche. Once everyone is together sipping on coffee and cranberry champagne punch, you can mix up a batch of pumpkin waffle batter and make waffles together before sitting down to eat. It relieves so much of the pressure, especially if you're already hosting a full Thanksgiving dinner.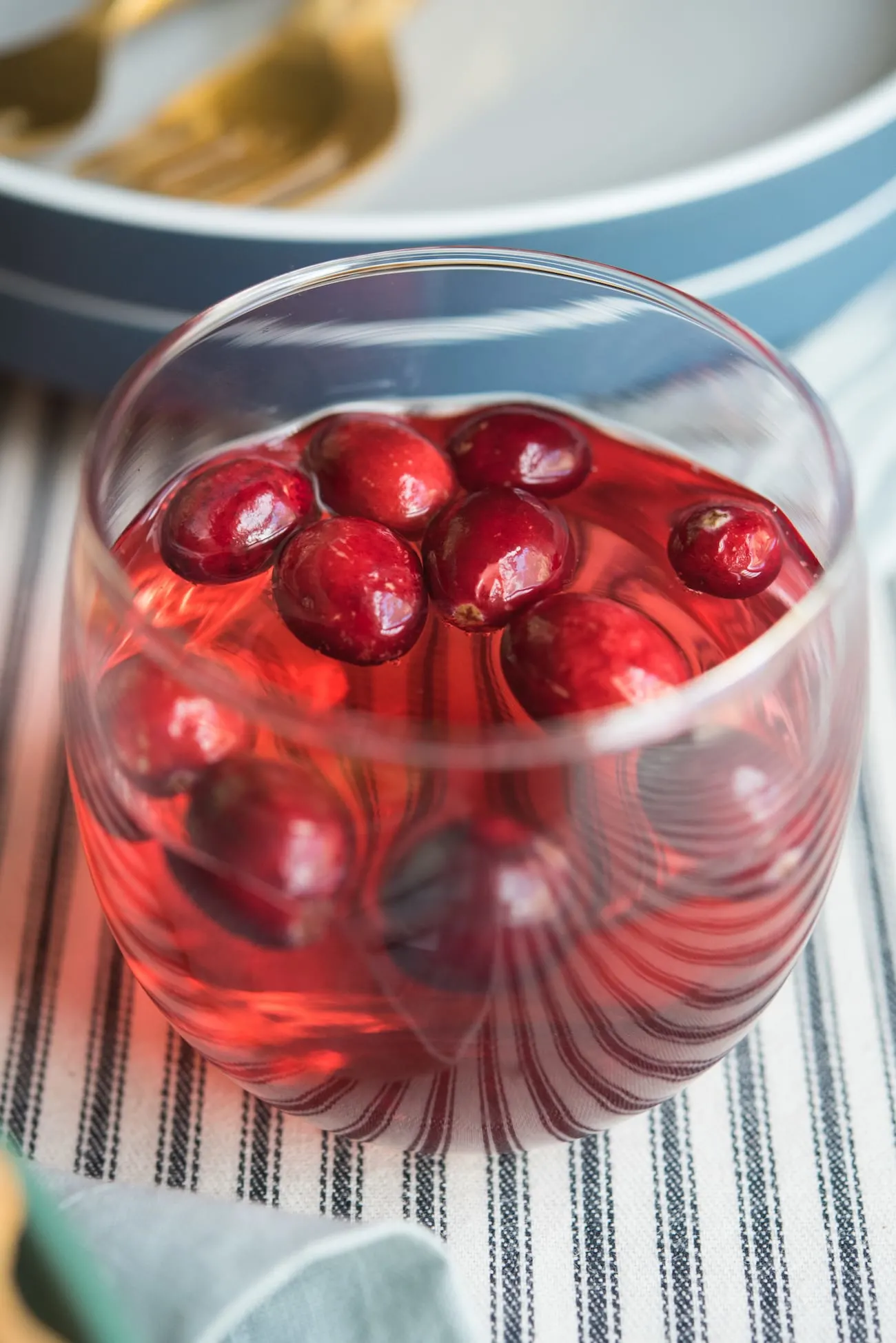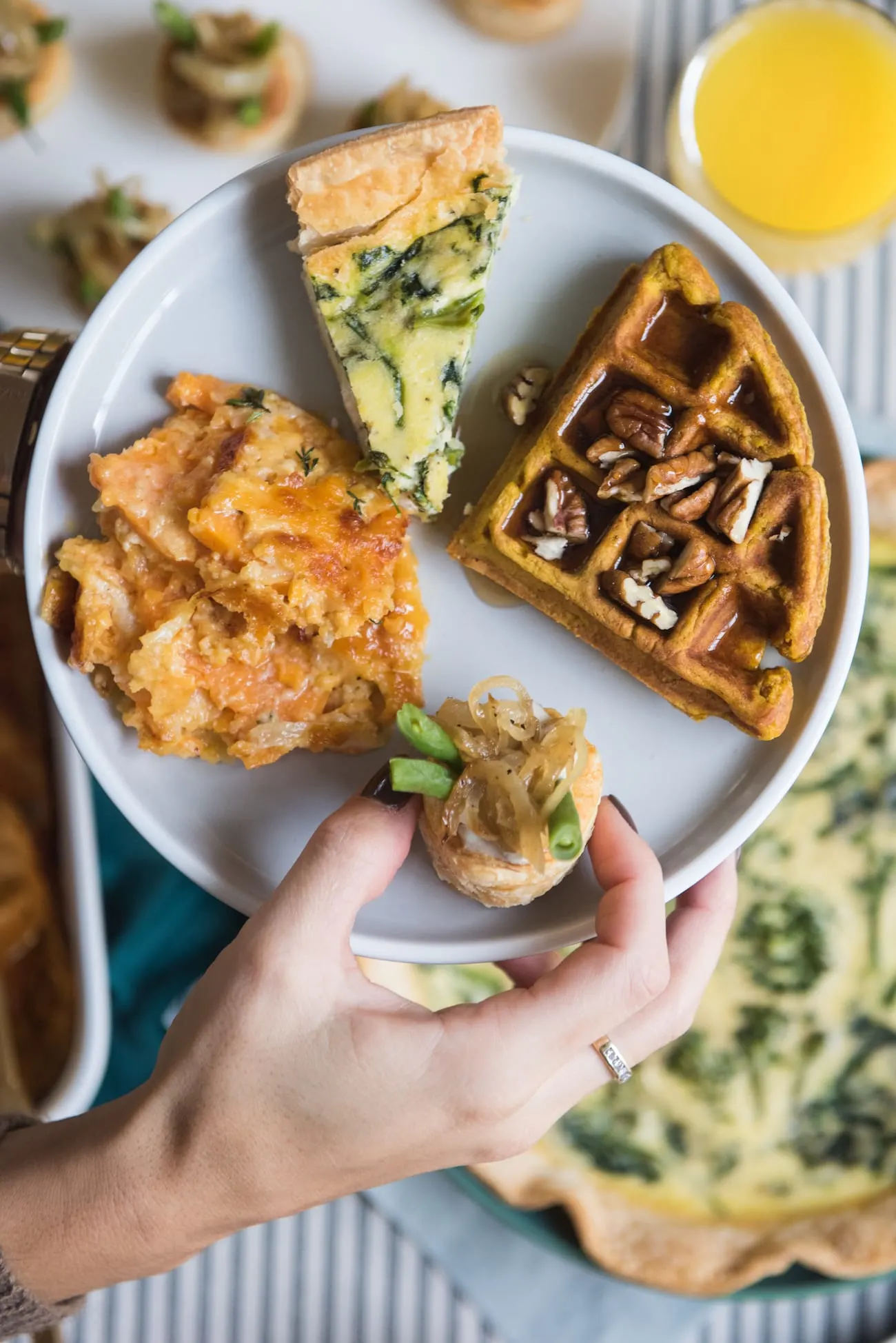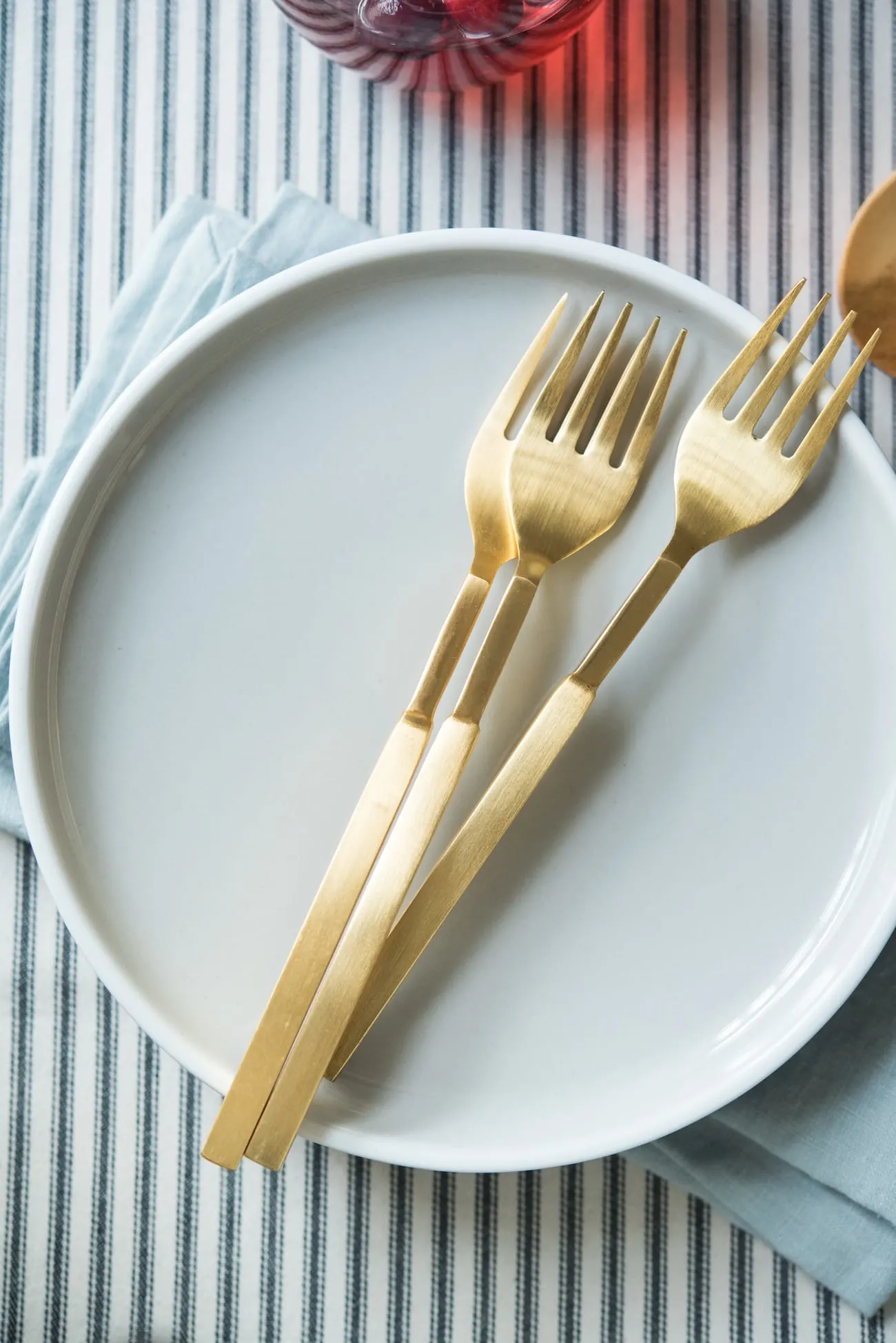 Just because you're keeping the food service a bit more casual doesn't mean you should skimp on style. I love that Bed Bath & Beyond has so many beautiful pieces to make my holiday table come to life, from the perfect Noritake dinner plates to beautiful linen napkins to stunning gold flatware that instantly makes a place setting come to life. They also have the prettiest serving pieces like marble boards and classic Staub baking dishes that transfer right from oven to table. If you don't have a waffle iron yet, what are you waiting for?! You can hook yourself up with one of those at Bed Bath & Beyond, too.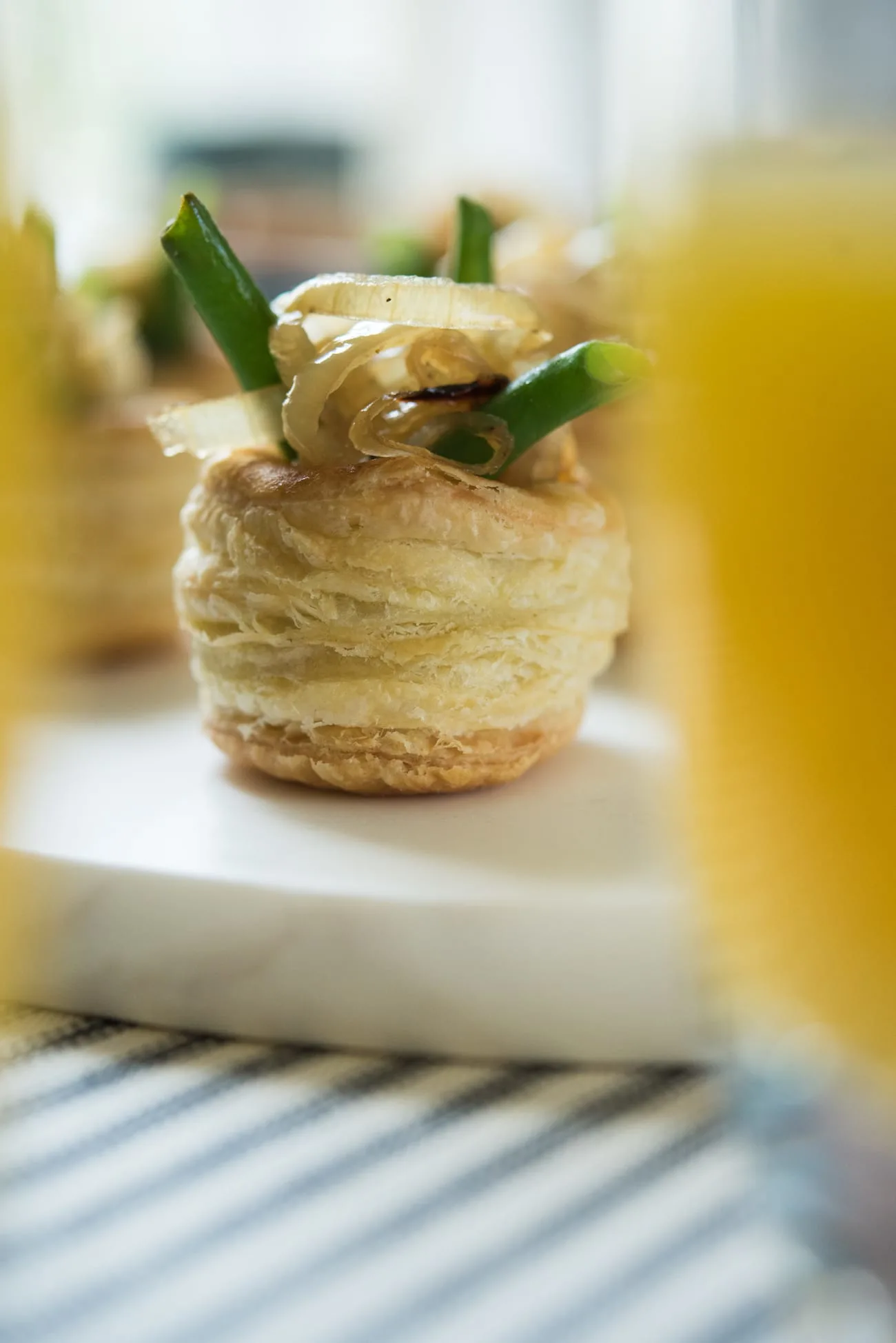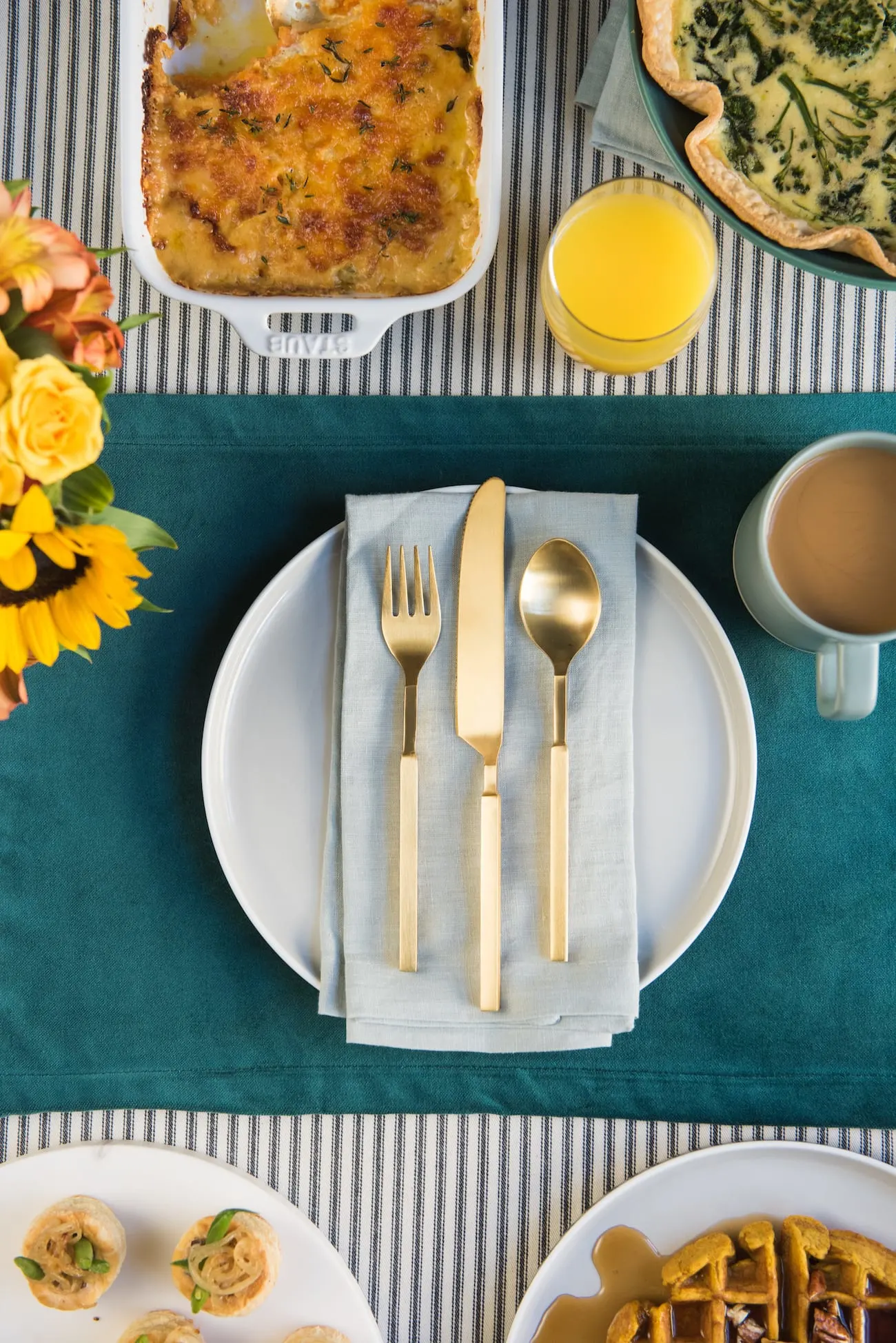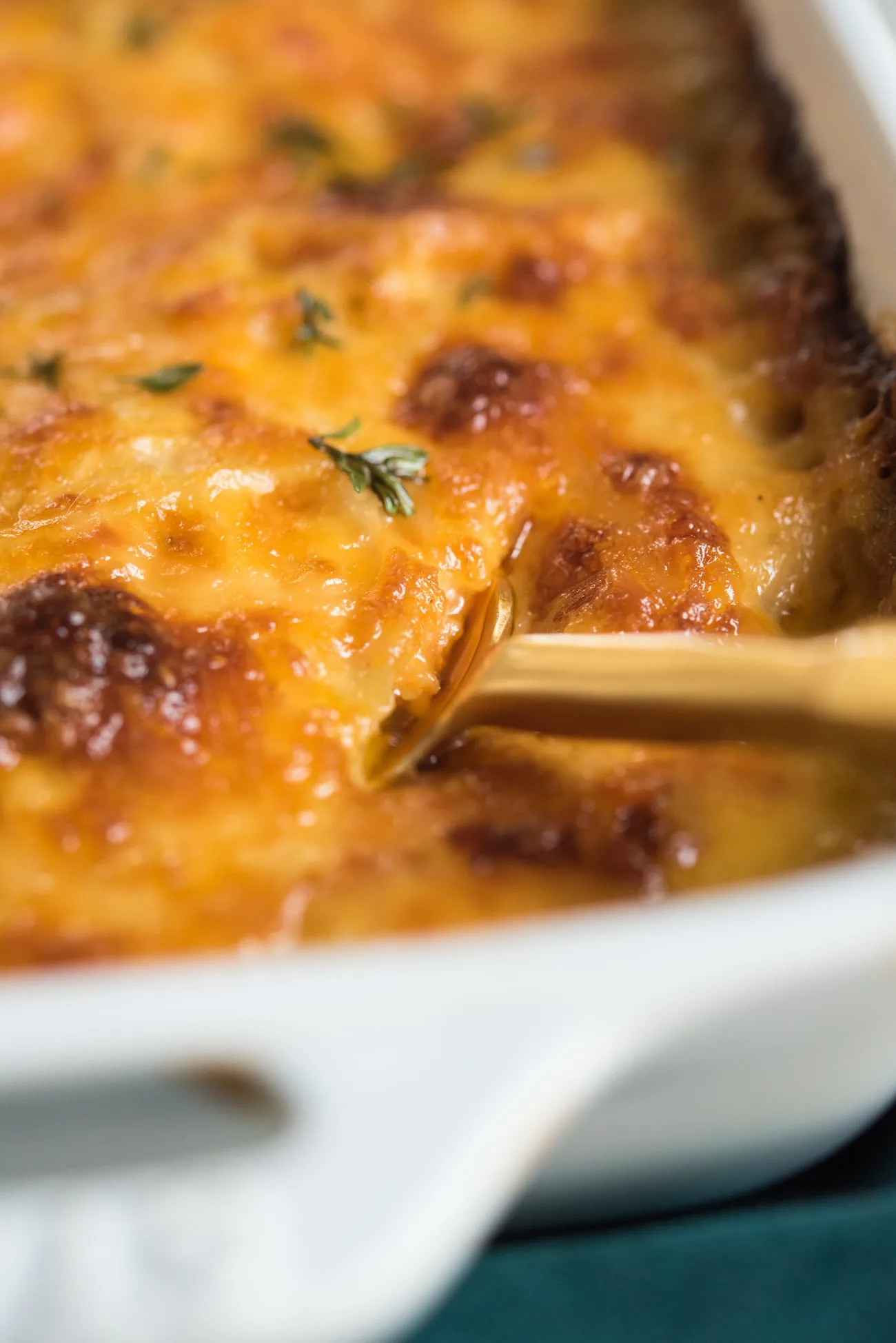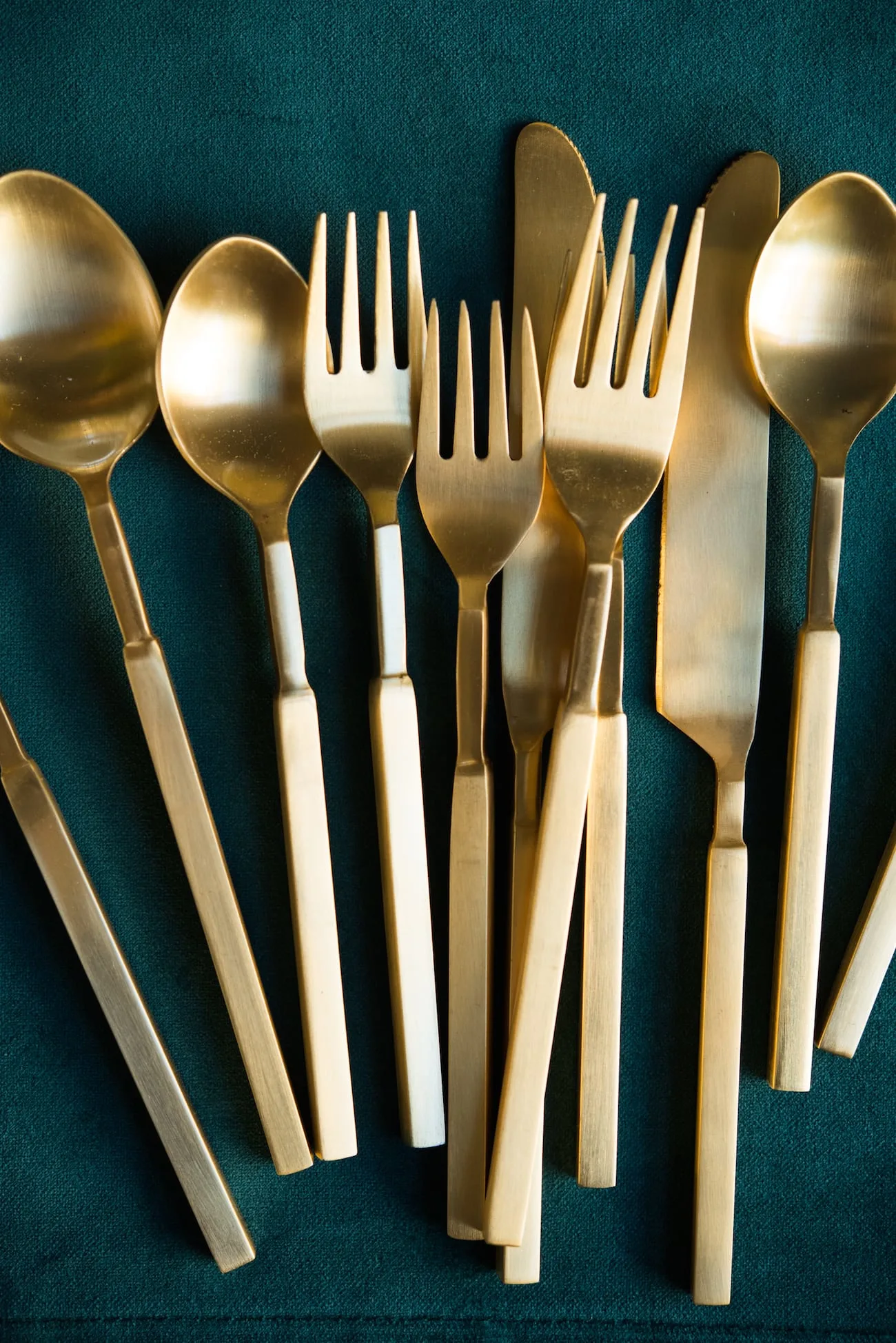 When I'm setting the table for an occasion like Friendsgiving, I like to focus on a few little details that make guests feel really special. It doesn't have to be fussy or over the top, it's just about creating an atmosphere that makes friends instantly feel warm and welcome when they step into your house or your kitchen. A big glass punch bowl with my cranberry champagne punch (you can find the recipe below), a cluster of mugs by a fresh pot of coffee, a few flowers tucked into a simple vase. You can pop into your local Bed Bath & Beyond to shop for the pieces you need to bring your party to life – from linens and tablewares, to serving pieces and cutlery, to small appliances and so much more. Then just set the mood with a great playlist and toast the day away!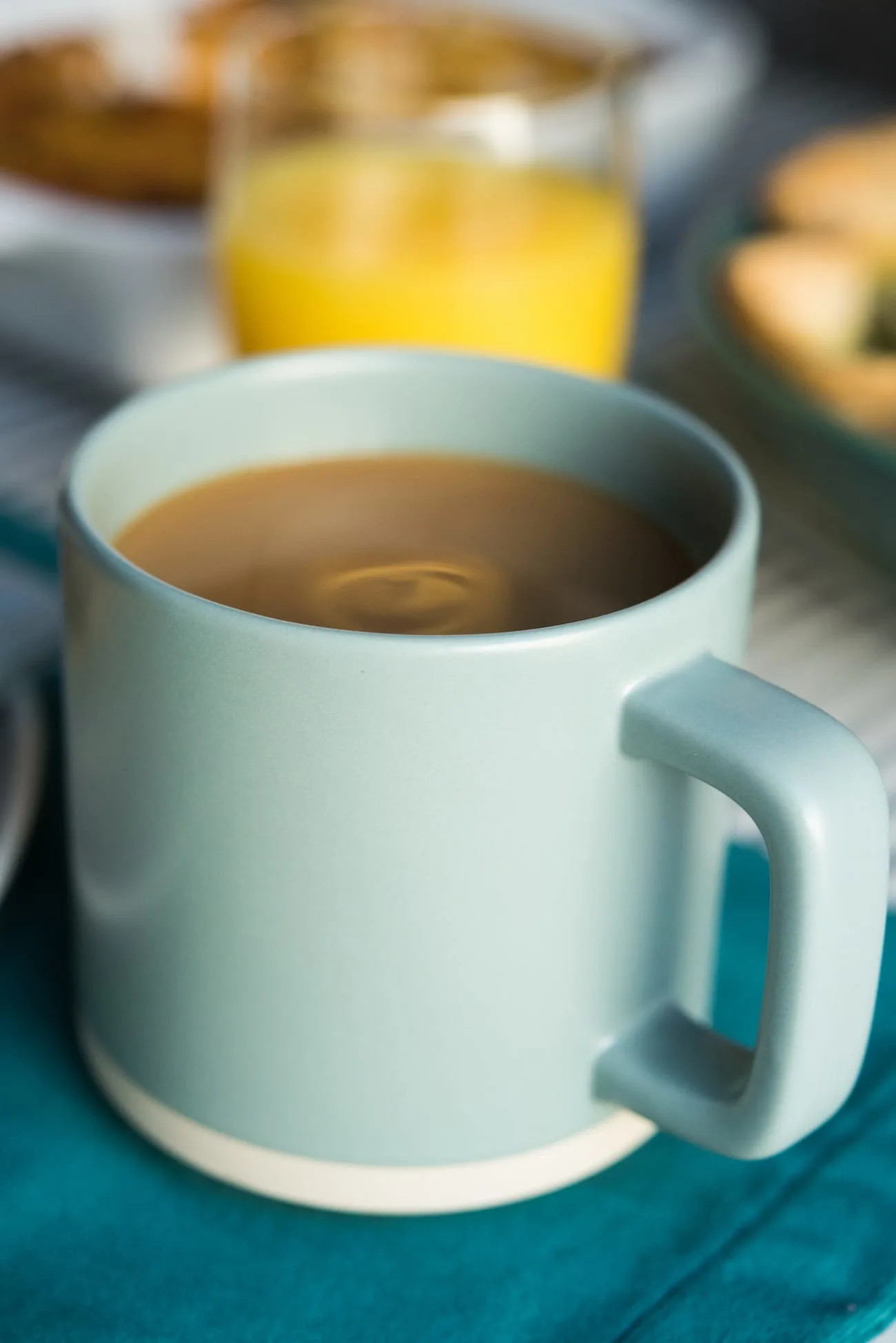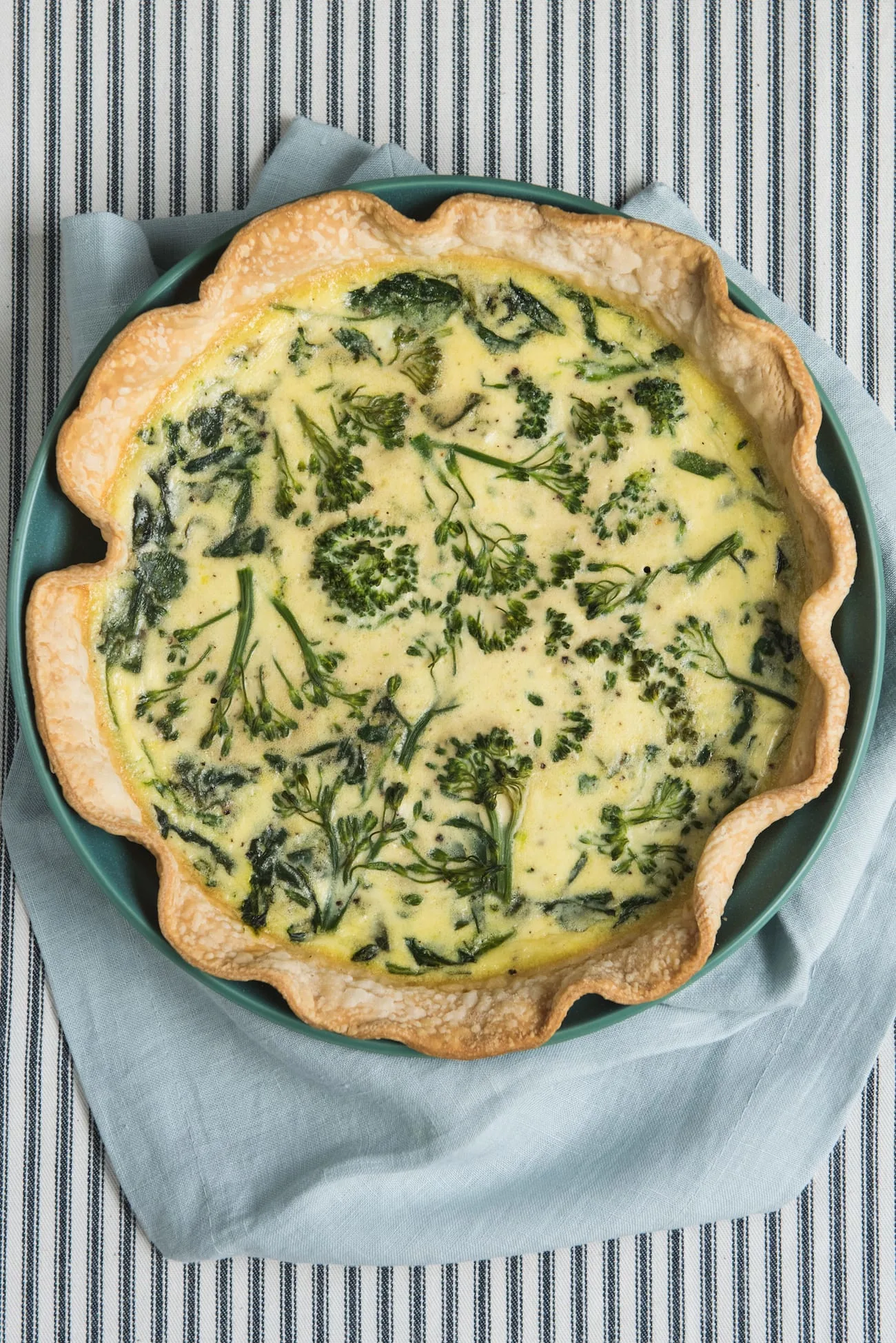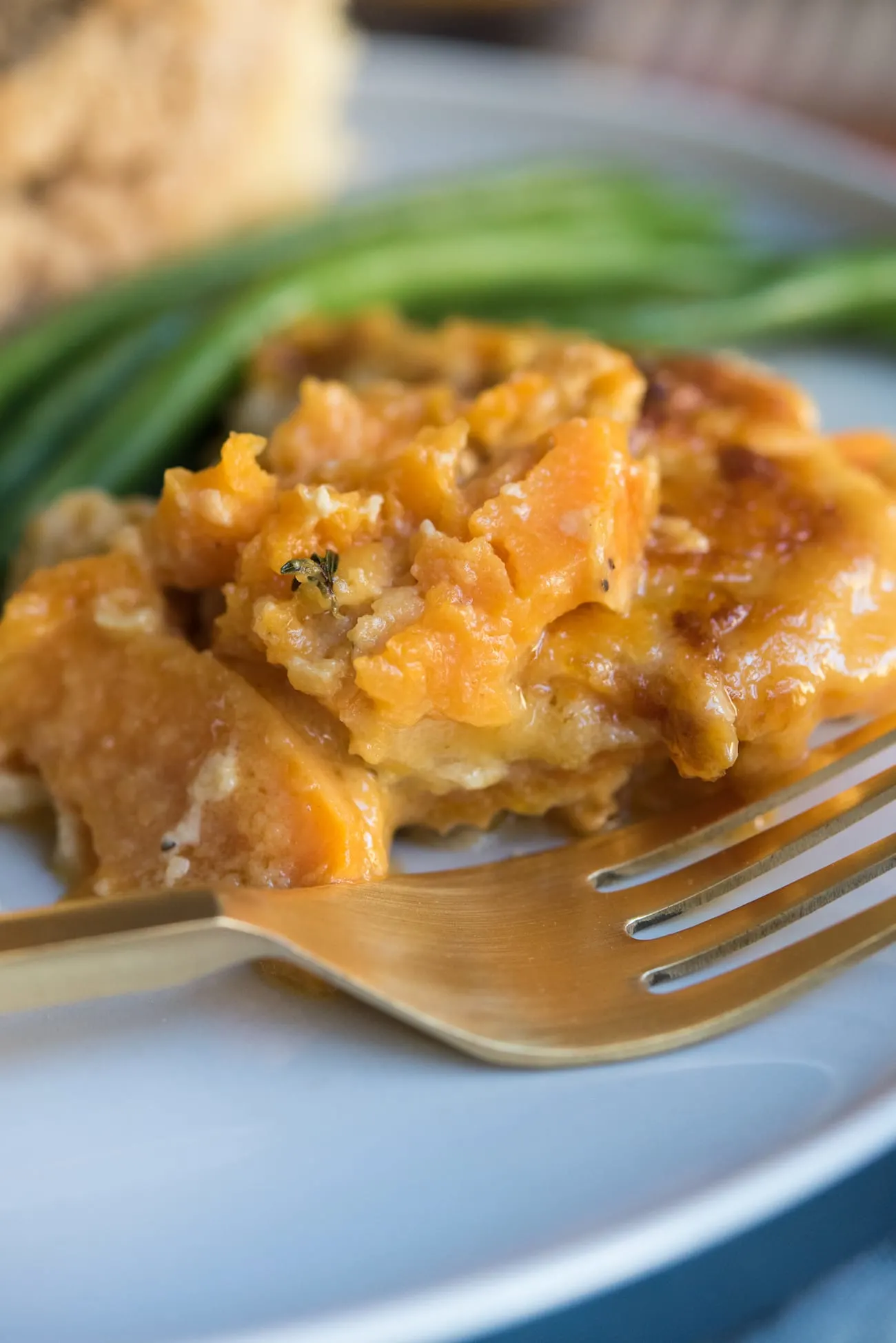 Below you can find a complete shopping guide featuring all of the Bed Bath & Beyond pieces that helped set the stage for my Friendsgiving brunch. I am personally partial to what I'm pretty sure is the loveliest gold flatware this side of anywhere! It will be in heavy rotation at our house throughout the holiday season and beyond for sure.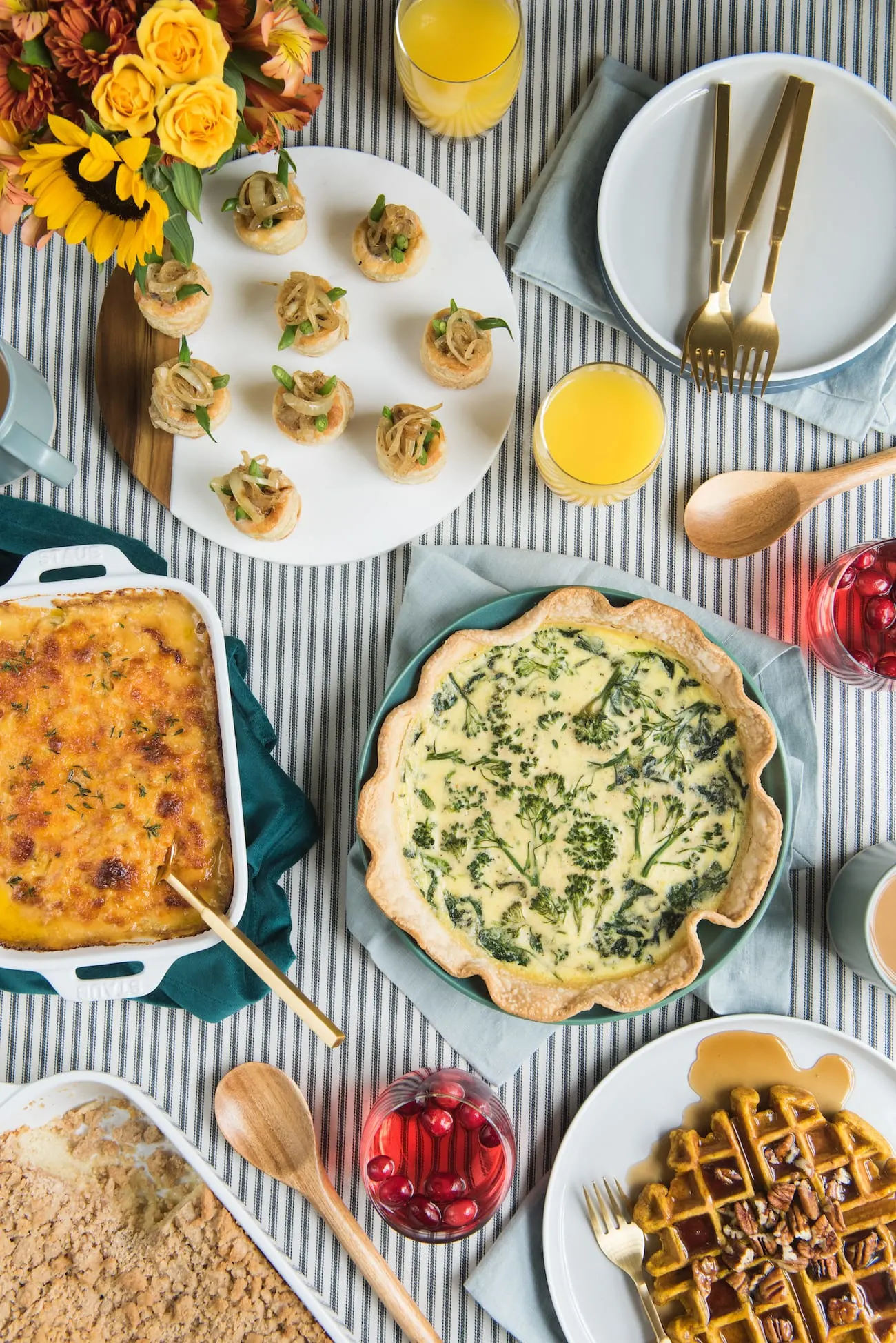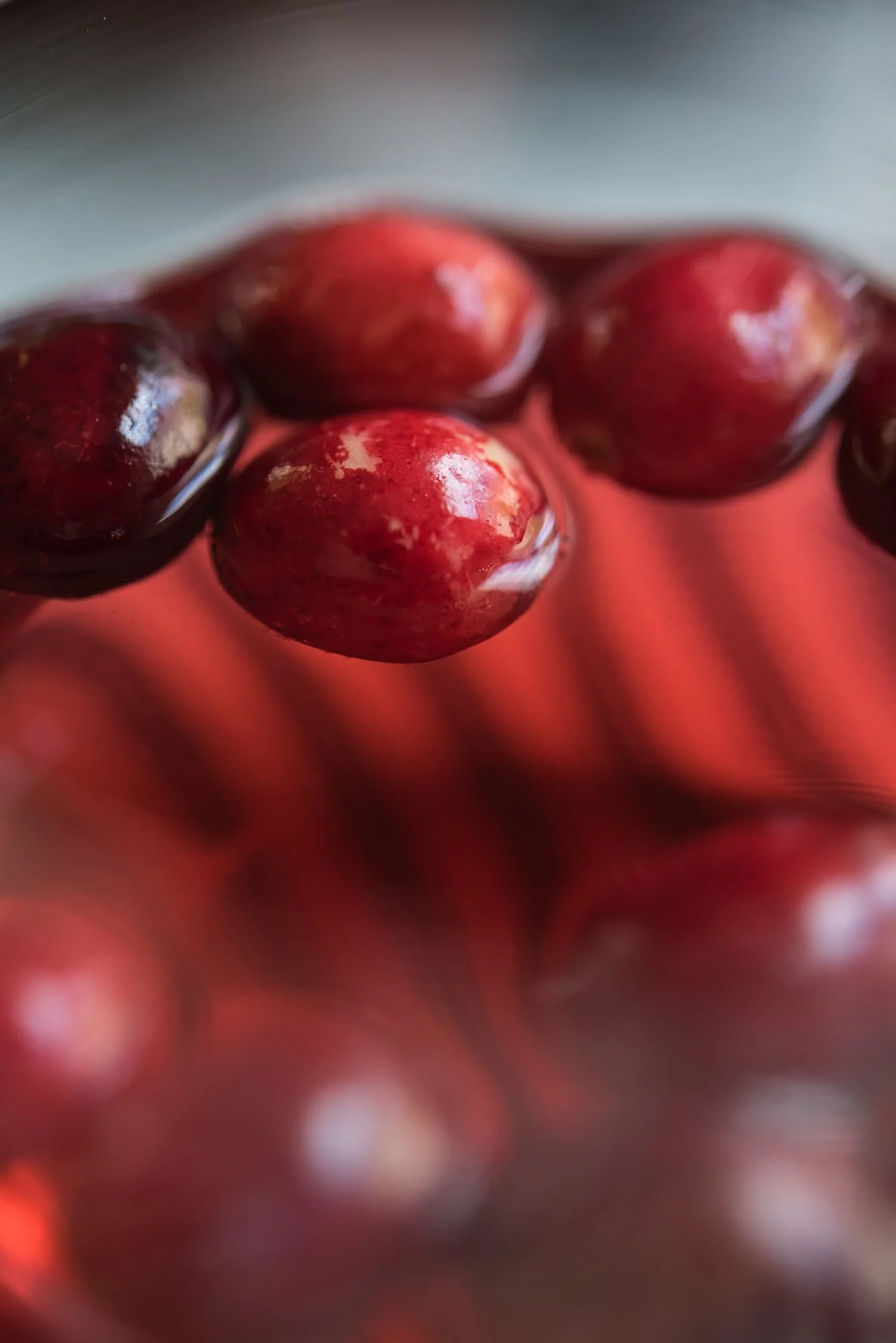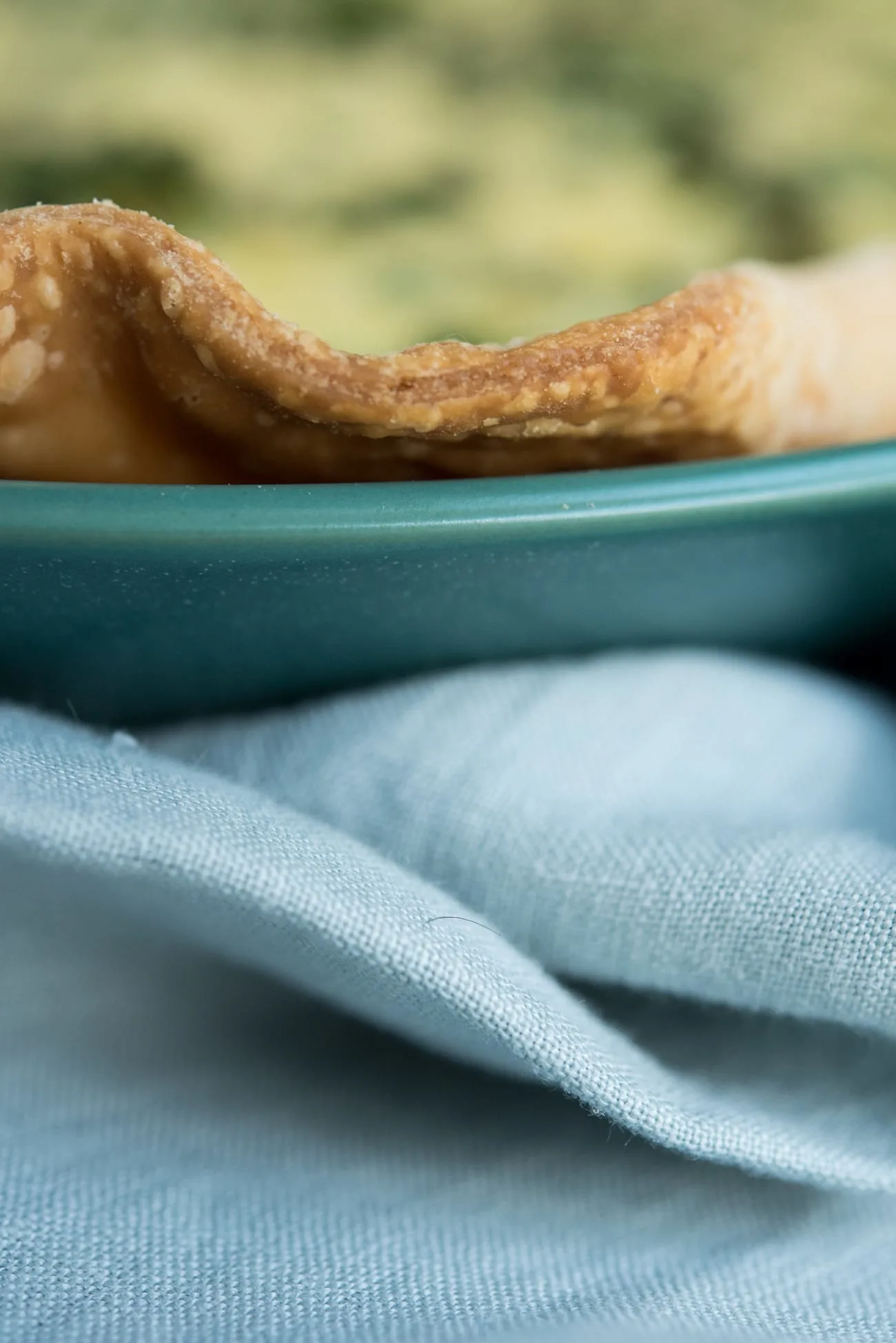 I'll be sharing more of my Friendsgiving recipes in the coming days, many of which you can prep ahead to make your life a little easier. I always suggest coming up with a menu and then having each friend take point on a dish or two so it spreads out the workload. Friendsgiving is all about celebrating friendship and taking a moment during the crush of the holidays to show love for one another. Keep it simple, make it beautiful with a few special pieces from Bed Bath & Beyond, and make sure to pass along a 'pajamas optional' dress code so friends know they're at home when they're brunching around your table.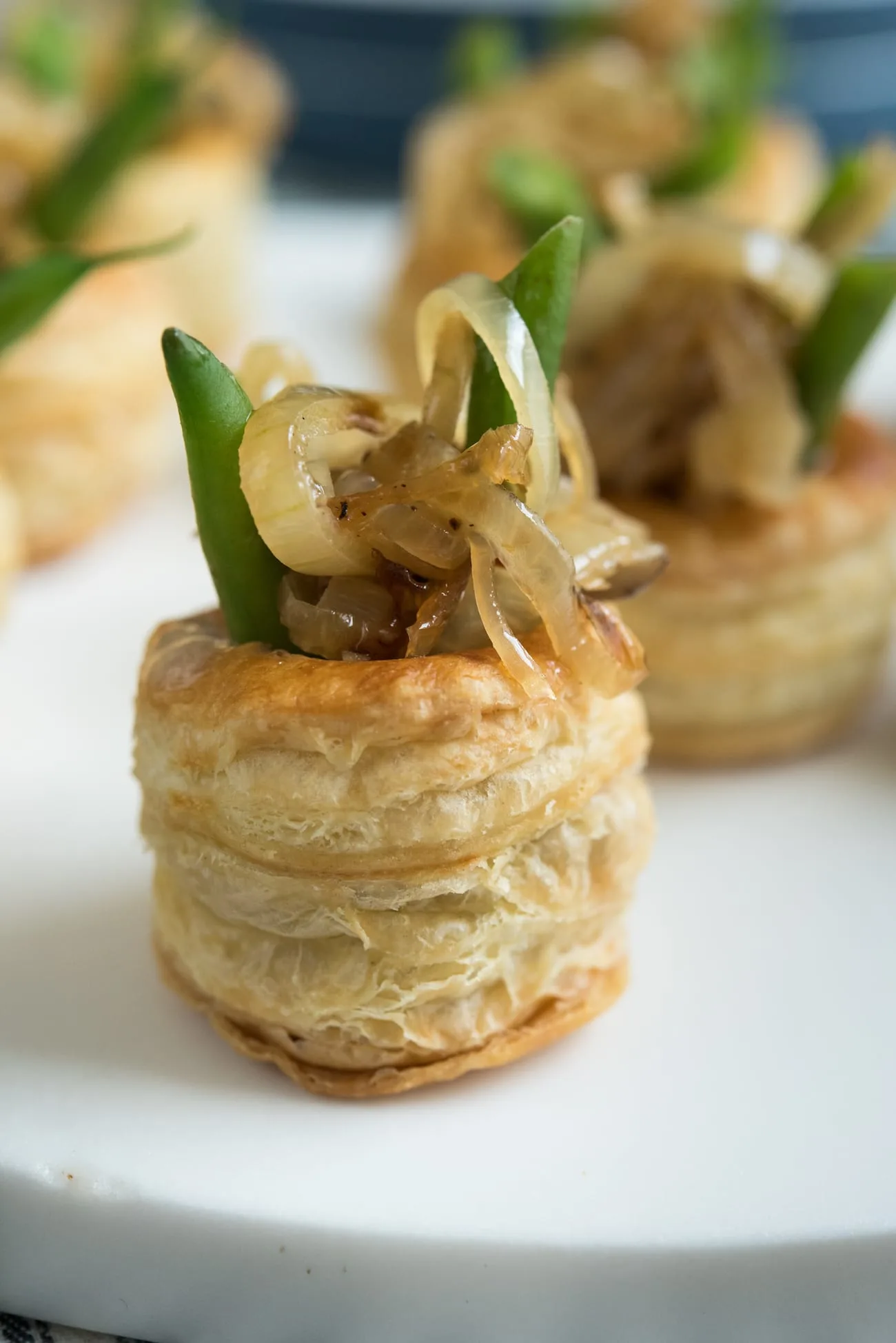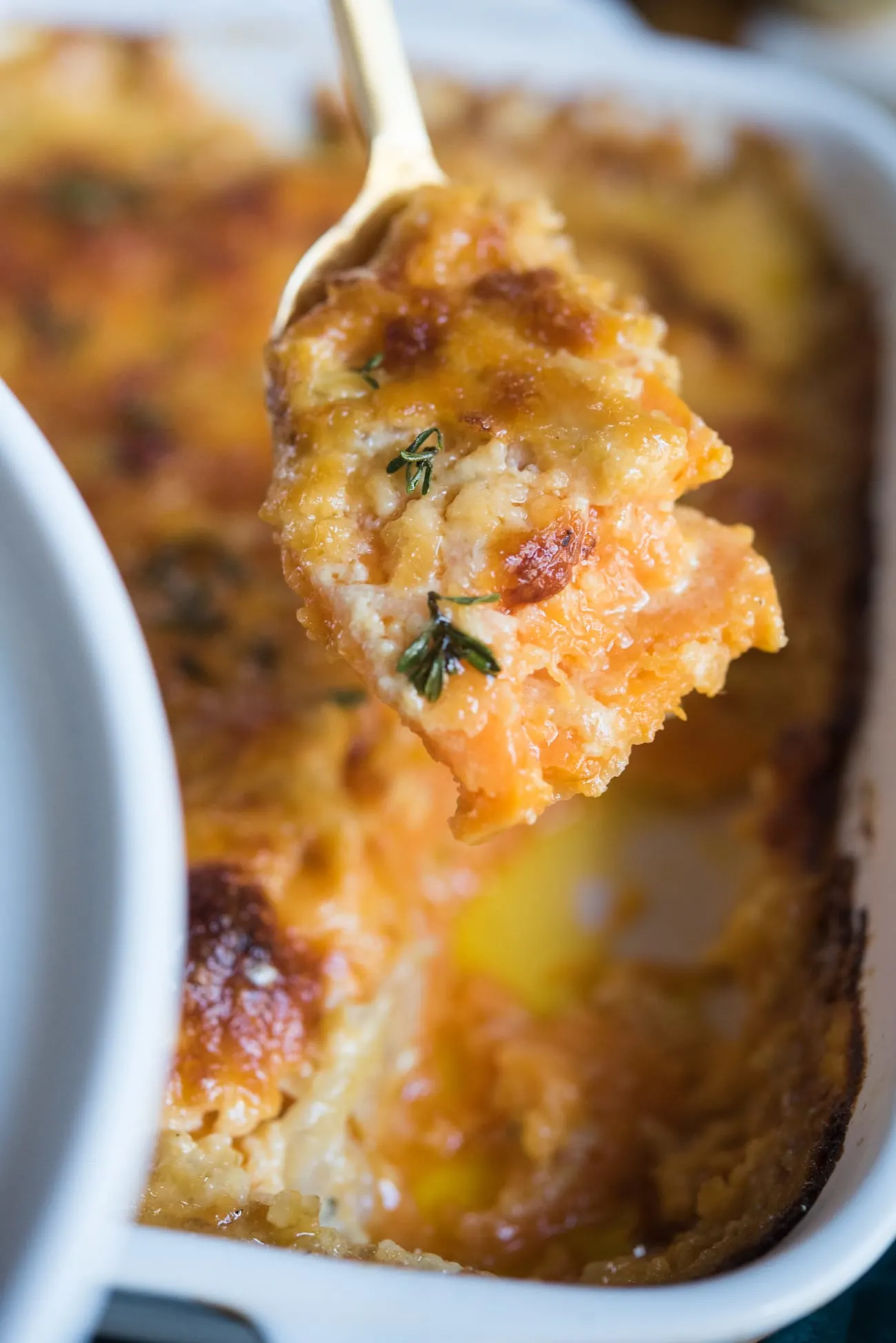 1. Dinner plates – Noritake® ColorTrio Stax Dinner Plate in Blue/Grey | Appetizer plates – Noritake® ColorTrio Stax Salad Plate in Blue/Grey
2. Gold flatware – Godinger Square Handle 20-Piece Flatware Set in Gold
3. Marble and teak serving board – Anolon® Pantryware 10-Inch Round Serving Board in White Marble/Teak
4. Green stoneware pie dish – Noritake® Colorwave Round Baker/Pie Dish in Spruce
5. Linen napkins – Kenneth Cole Reaction Home Mercer Napkin in Light Blue
6. Coffee mugs – Artisanal Kitchen Supply® Edge Mug in Celadon
7. Punch bowl and glasses – Dailyware™ Intent 10-Piece Punch Bowl Set
8. Wooden spoons – Jamie Oliver Wooden Spoons in Natural/Blue
9. White baking dishes – Staub Rectangular Ceramic Baking Dishes in White
10. Juice glasses – Luigi Bormioli Michelangelo Masterpiece Sparks Juice Glasses

Cranberry Champagne Punch
Ingredients
1 bottle champagne or prosecco
2 liters lemon lime soda
1 bottle cranberry juice
2 cups fresh cranberries
Instructions
Add champagne, soda and cranberry juice to a punch bowl.
Stir gently to combine.
Top with fresh cranberries to garnish
Serve chilled or over ice
[Art direction + styling by Cyd Converse | Photos by Alice G. Patterson.]
This post was sponsored by Bed Bath & Beyond. I received compensation for this post, but all opinions are my own.