I make no secret of the fact that by the time summer comes along I have about zero interest in being kept inside. Once the sun is shining and the days grow long, I'm all about getting outside and enjoying every minute. Give me sunscreen and bug spray and send me out into the woods or to linger along the lake, and I'm about as happy a camper as any you'll ever find. With at least one, hopefully two, summer camping trips in the works for the season, I've recently taken to getting our stores of camping essentials in order. (Which basically means pulling them from the back of our little storage room to the front and staring at them daily until it's time to pack 'em all up for a little camping adventure.)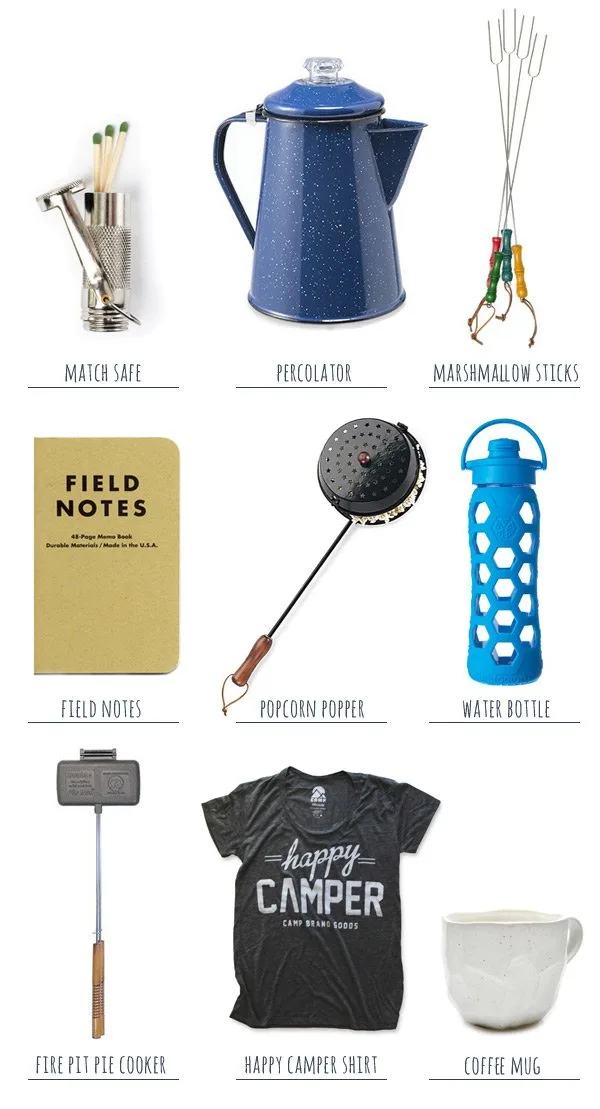 A big supply of camp cookers is a must for any good camping trip. Marshmallow sticks, hot dog skewers, pie cookers – all the good stuff! We always make our coffee either French press or pour-over style and we don't even own an auto-drip coffee maker, so our vintage percolator is another must-have among the camping arsenal. And don't forget the coffee mugs! I made that mistake on a camping trip last summer. Turns out a big supply of coffee isn't very useful when you're trying to pry the tops off beer cans with a can opener to use them for sipping your morning coffee. (True story. That actually happened.) Anyone else itching to take a summer camping trip? I'd camp every day if I could!
p.s. For more summer essentials, be sure to catch my picks for a day at the beach and a backyard dinner party!

[Shop: Match safe | Percolator | Marshmallow sticks | Field Notes | Popcorn popper | Water bottle | Fire pit pie cooker | Happy Camper t-shirt | Coffee mug.]