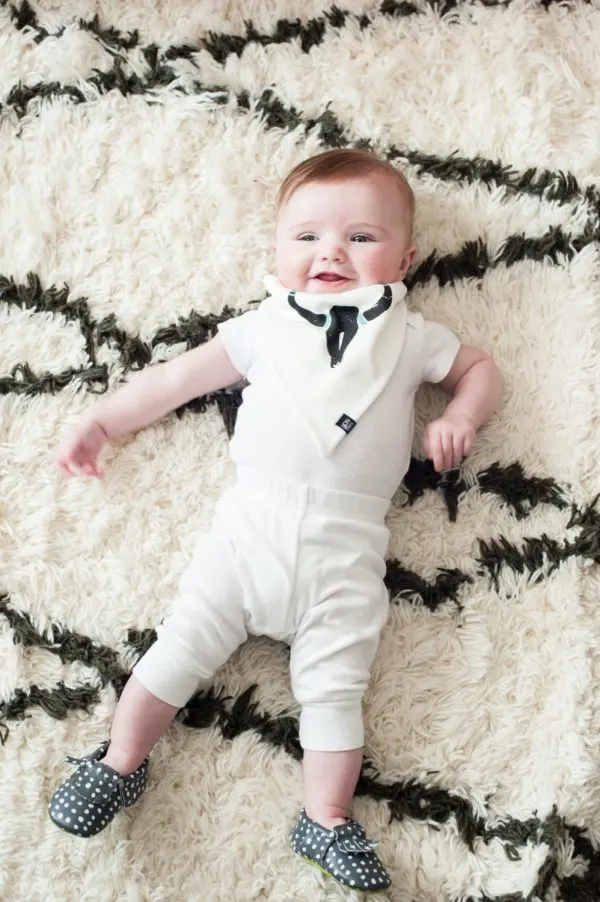 Emerson turned five months old over the weekend and I am fully embracing the cliché when I say I just can't believe how fast these first handful of months have flown by. I have been thinking a lot lately about the juggle and the struggle to find balance since I first shared that I was floundering a bit at the moment. Undoubtedly I have been putting a lot of pressure on myself since the baby was born and with my passion for my work and my work ethic, I thought by now I'd be fully back to my old pace and productivity level. And, guys, I have been seriously down on myself for letting myself down on that front for a couple of months now. Until a week or two ago when I decided, no. No, I am not going to spend this first year of her life beating myself up because I'm not doing enough. When she's two and five and fifteen and twenty, the only thing I'll beat myself up for is not being present in this fleeting moment and absorbing every last smile and giggle that I possibly can.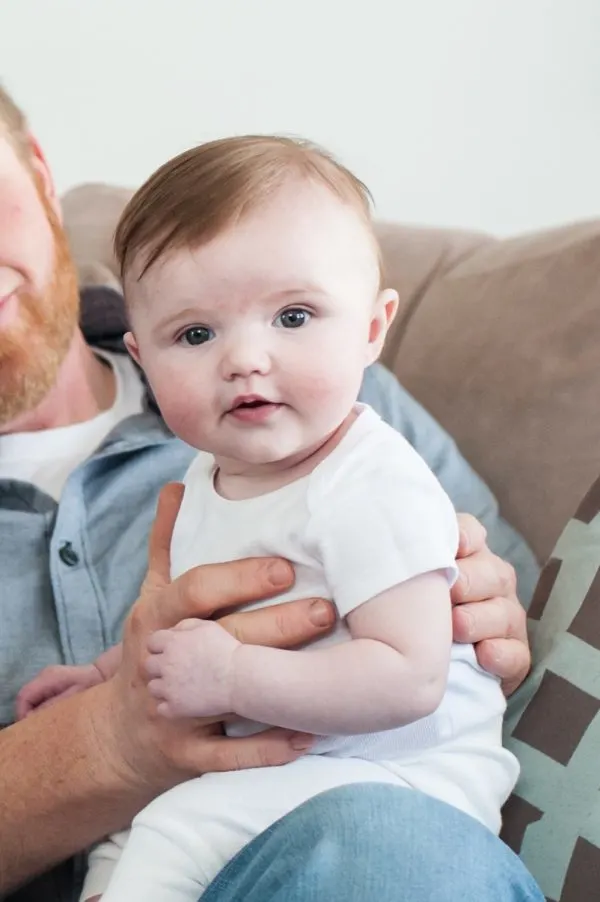 So today, I wanted to just take a quick moment to try and capture where she is right now. I am loving this stage and have found myself tearing up occasionally because I so desperately wish I could just freeze time for just a tiny little bit. I know there are so many fun stages to come, but right now she's just growing and learning so quickly and her little personality is blossoming, and it is just so fun to hang out with her and watch her grow and thrive. We started solid foods last week! So far she's just had cereal (we opted for this organic baby oatmeal instead of rice cereal) and a bit of sweet potatoes and apples. We're trying to keep everything organic and we're making her food. Because we spend a lot of time in the kitchen cooking anyway, it's really easy for us to make her food, too. I think she was really ready for solids by the time we introduced them and she has been loving everything she has tried so far. We're planning to start working avocados into her diet this week as long as I can get my hands on some organic ones, which I could not find locally last week. (Oh, and these bibs. We're loving them for easy clean up!)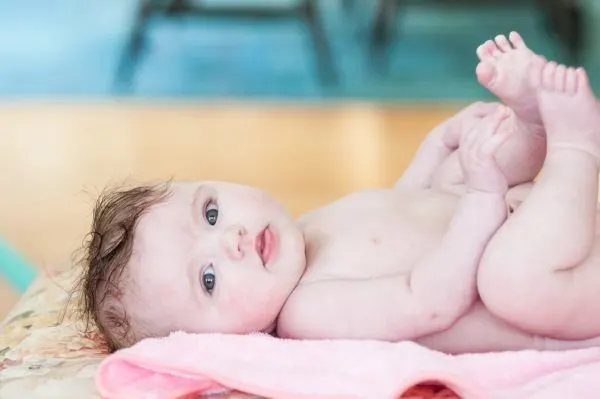 A few weeks ago we started attending a weekly Kindermusik class for infants. She loves music so much and will get all crazy kicking her feet and flapping her arms and giggling when her jam comes on, so I wanted to try out some kind of class just for fun. Turns out, she loves music class! There are six or so other babies in the class and each week we love seeing them interact more and more with one another. Even once we have some kind of more consistent day care arrangement going in the next couple of months, I definitely plan to work my schedule around our Thursday morning music class so I can take her every week. She's also loving toys more and more every day and has reached that phase where she gleefully shoves everything she can get her hands on into her mouth, including her feet. Which, guys, nothing is cuter than a baby gnawing on their toes. Why is that? We've finally mastered the art of rolling over, too! She was resisting the back to the belly roll for the longest time, but as of last week she has started flopping over and won't stay put now.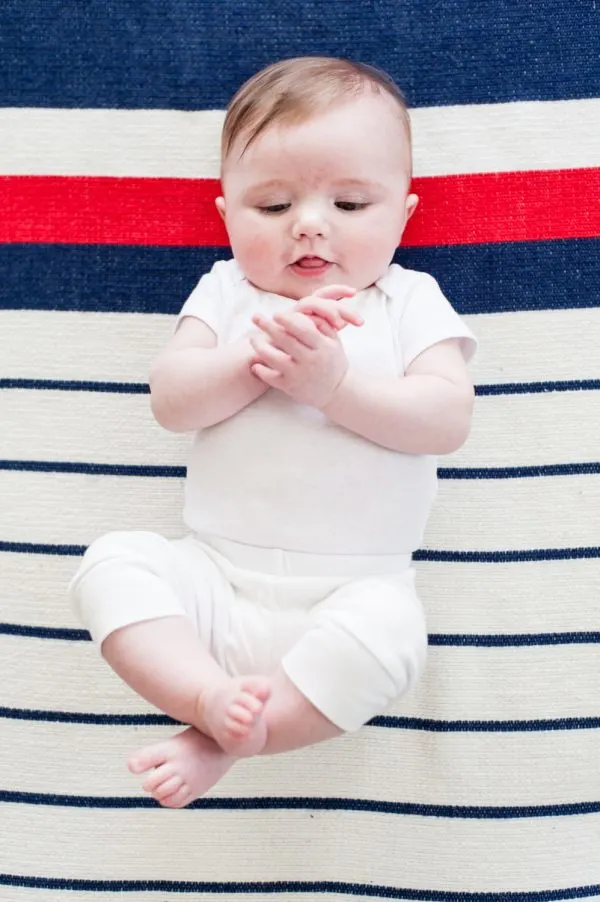 Every day right now she is changing and learning so quickly. A few nights a week she'll sleep like a rockstar and then nights like last night, we're up every two hours like clockwork. She still hates naps, so she usually hangs out next to me while I work either playing on one of her play mats (she has this one and this play gym and loves both) or batting at the toys on her bouncer chair. Peek-a-boo is officially a hit around here these days. She can't get enough! We've also been trying to walk 2 or 3 miles every day now that the weather is finally warming up here. She gets so excited when she sees her stroller and she is really intent on watching the world roll by while we make our rounds through the neighborhood every day. (Also, we "visit" our new house every day on our walks, too, as it's only four or five blocks from where we currently live which makes mommy very happy!) And the giggles! And the giant, happy lopsided smile! In general she is such a happy baby and it's completely infectious.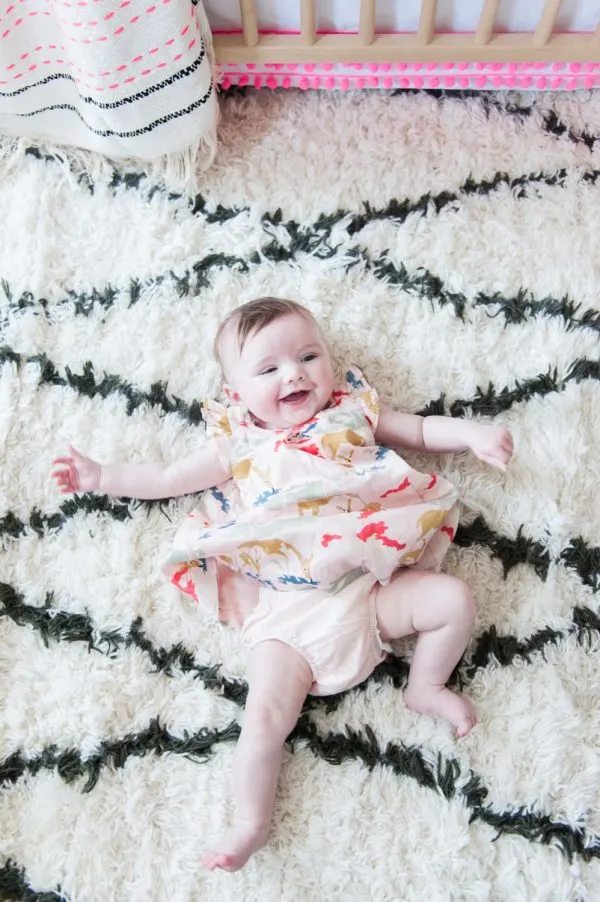 And that's our girl at five months in a nutshell, long legs and giant feet and happy dances and all. It's amazing to me how enthusiastic she is about every new things these days and I hope we're able to foster that pure, glorious glee her whole childhood. We always refer to her as our little sidekick because she really does feel like our little buddy already. Have baby, will travel. That's our motto these days. A year ago today, when I still had no clue I was pregnant and wouldn't for another week or two, I said a heartbreaking goodbye to my grandmother and my heart was seriously shattered. I had no clue how dramatically things were about to change and right now as I think about this past year and these last five months in particular, it feels especially poignant. I'm just trying to bask in the glow in this moment of life and soak it all up, friends. This one life we have is so precious and I'm so grateful that I get to spend the rest of my life as this little girl's mommy.


Baby's Outfits –
Steer bib bandana c/o Vonbon | White leggings from Carters (similar) | White onesie from Carters | Moccasins c/o Itzy Ritzy | Pink woodland dress from Baby Gap |
[Photos by Alice G. Patterson.]
This post is not sponsored in any way, although it does contain some affiliate links. The products mentioned are ones we use and love daily. Read more about our editorial policies.