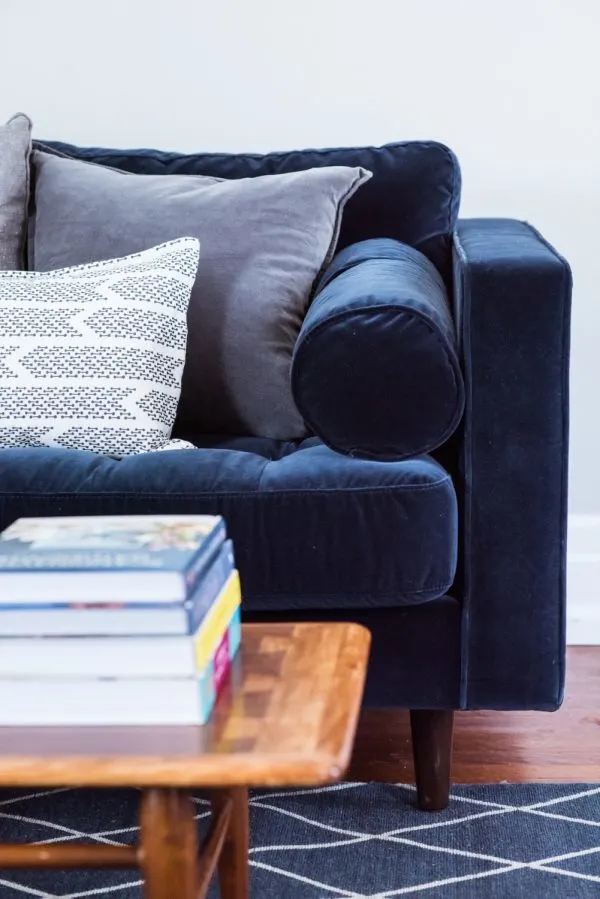 When we last left off with our home renovation and decorating adventures, I shared that we were starting to really work on a design plan for our living room. I created a mood board to help capture the vibe and color palette I was after and then jumped into the details of pulling things together. Our initial living room renovation, which we tackled as soon as we closed and actually before we even moved in, included removing multiple layers of wallpaper, fixing the original 100+ year old plaster walls, painting every square inch of wall and trim, removing the 40+ year old carpet, cleaning up the hardwood floors and on and on. It felt like we'd never finally have a room that felt comfortable for watching movies, having friends over to watch the game or for cuddling up with a good book. Today I finally have another huge update to share, which makes me nearly giddy. Many of the pieces are coming together and, most excitingly, we have a new sofa! The amazing folks at Article sent along the most stunning blue velvet sofa (the Sven sectional in Cascadia Blue) which is now the undeniable star of our living room. I've clocked more than one nap on it already as I was struggling to get healthy over the holidays, so I can attest to it easily being the prettiest and comfiest piece of furniture I've ever owned.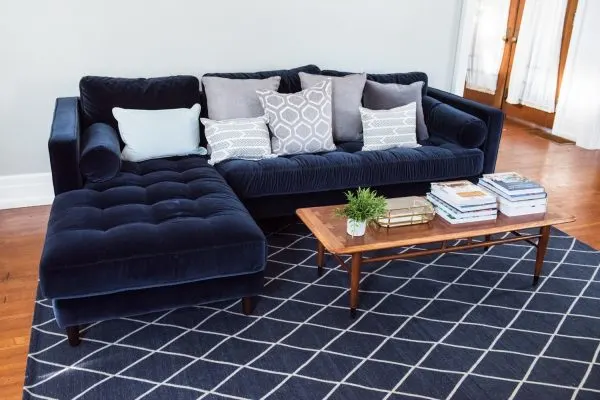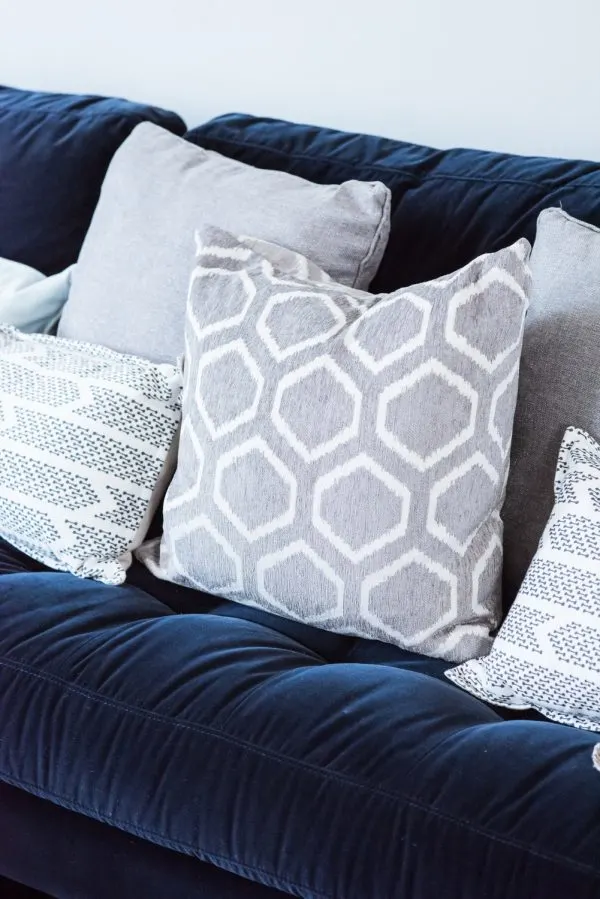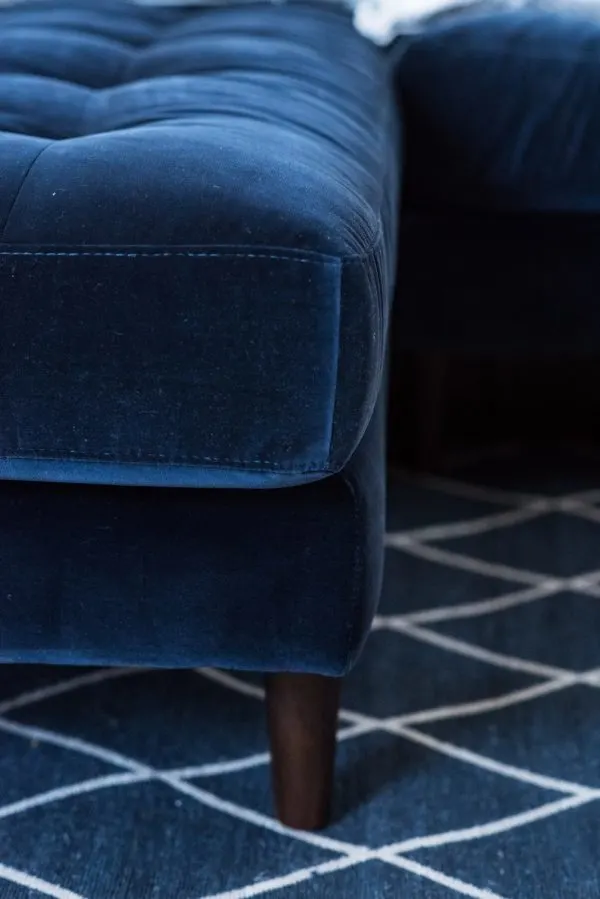 If you're not familiar with Article, I hope this serves as a super enthusiastic introduction! Article is a pretty incredible brand, producing really beautiful furniture and accessories at amazing prices. Pieces, I should note, that ship easily, quickly and without hassle throughout Canada and the lower 48 for an incredibly reasonable rate of just $49. Plus, if for some reason you don't love your purchase, you have 30 days to return it, all you have to pay is the $49 to ship it back. Seriously, friends, this is brilliant! All of this is really deeply important and notable to me personally, because where we live our only furniture options are very traditional showroom retailers where prices are high and selection is slim to none. As someone who is really design conscious, walking into a furniture store and slapping down several thousand dollars on some overstuffed mushroom colored microfiber sofa was just not an option. Actually, that description pretty well describes the sofa set we kicked to the curb that I'd had for several years after buying it secondhand on Craigslist. The stuff was literally falling apart, but I refused to replace it because 900 trips to every furniture store within an hour of us had proven to be a waste. And then, along came Article. With beautifully designed furniture where every detail is considered, where the quality is truly amazing, where you order it online, skip the showroom markup, and a couple of nice people show up in a big truck and unpack it in your living room right where you want it. Mind boggling, earth shattering, life changing if you're a lady like me. Trust me when I say, the hyperbole is completely warranted.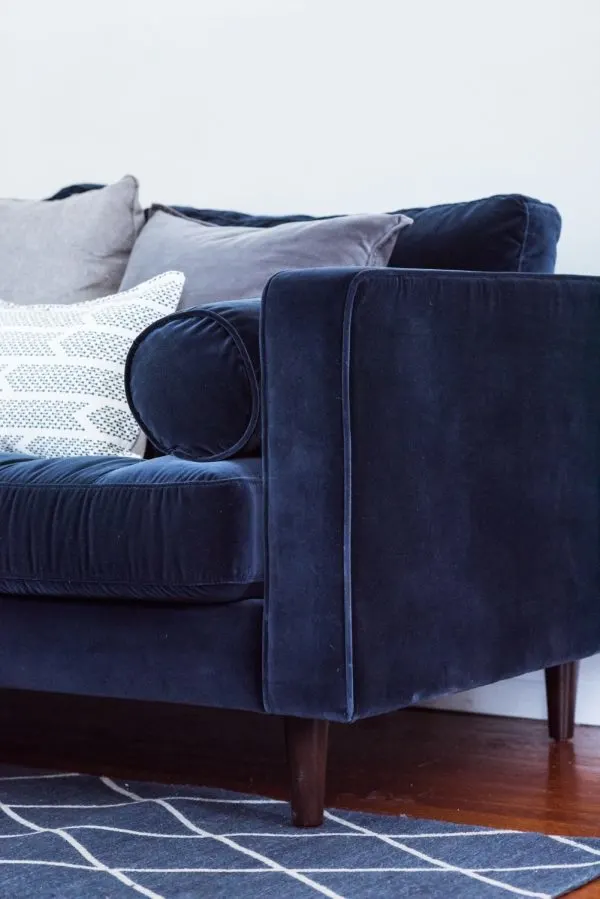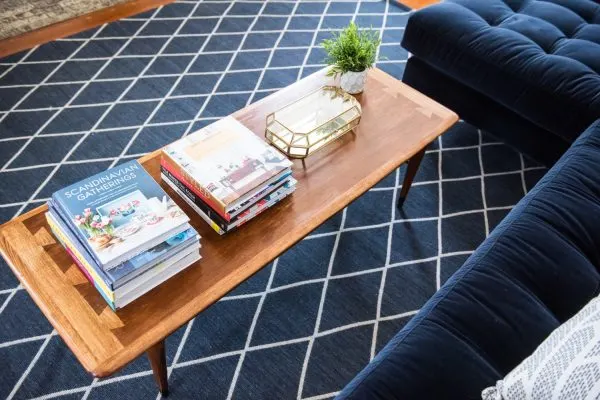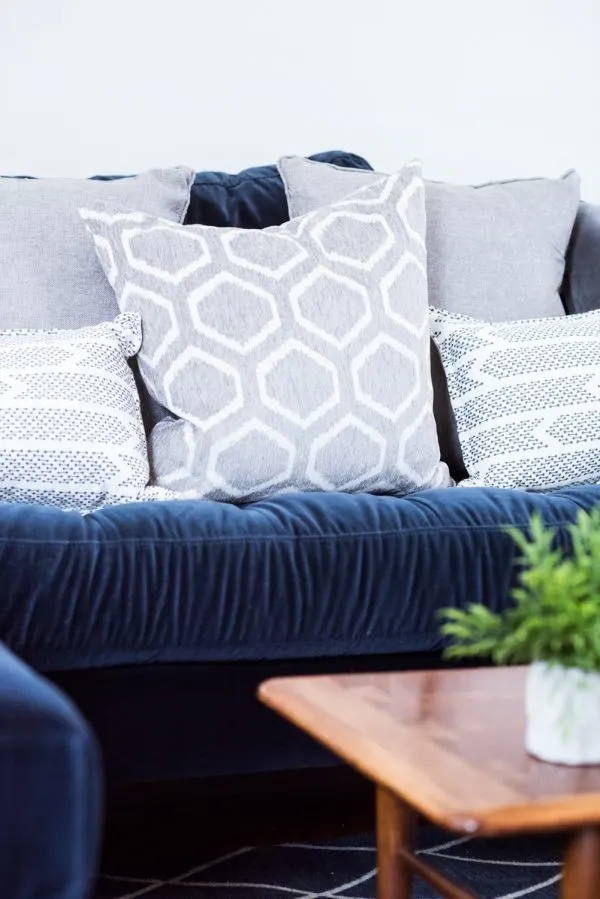 In addition to the new sofa, we also have curtains hung on all of the big, huge old windows and a new area rug anchoring the primary seating group in front of the fireplace. I sort of love the monochromatic blue-on-blue look and the flat weave of the wool carpet makes it really easy to clean up spills. Speaking of, I was a little wary about velvet upholstery in a very kid-friendly house but so far I'm impressed. The few little smudges we've had have cleaned off easily and a quick lint roll has easily cleaned up the inadvertent dog hair that has landed on the sofa. (Although I should mention that we don't allow our dog on furniture so this is just hair that collects there despite our best attempts. Haha!) I'm currently finalizing decisions for a few other key pieces in the room, primary among those being a pair of arm chairs to flank the fireplace opposite the sectional. The fireplace is actually going to undergo a little bit of a makeover this week, too, until we're able to invest in a gas insert and a tile or stone surround. We also have a big television that's going to be mounted over the fireplace (we can debate the merits of that move another day) and art work that needs to be hung, too. Finally, once all those other pieces are in place, Emerson's little play area at the end of the room will come together really easily and I plan to break that down in detail once we get to that point. So, stay tuned for a handful more living room posts before the big final room reveal! (Which I also plan to share on Facebook Live, so you can really check out the flow of the room.) I feel really impressed with myself using those words, but I am also so excited to be at this point. I've dreamed of having a really beautiful main gathering space in our home for seemingly a million years so it feels like a dream watching it all come together. Stay tuned! I can't wait to share how it all comes together.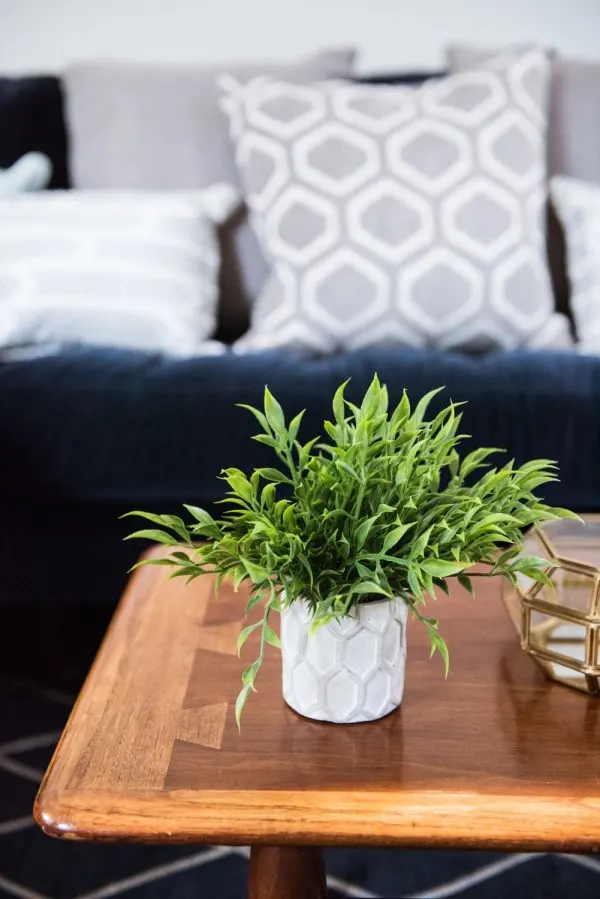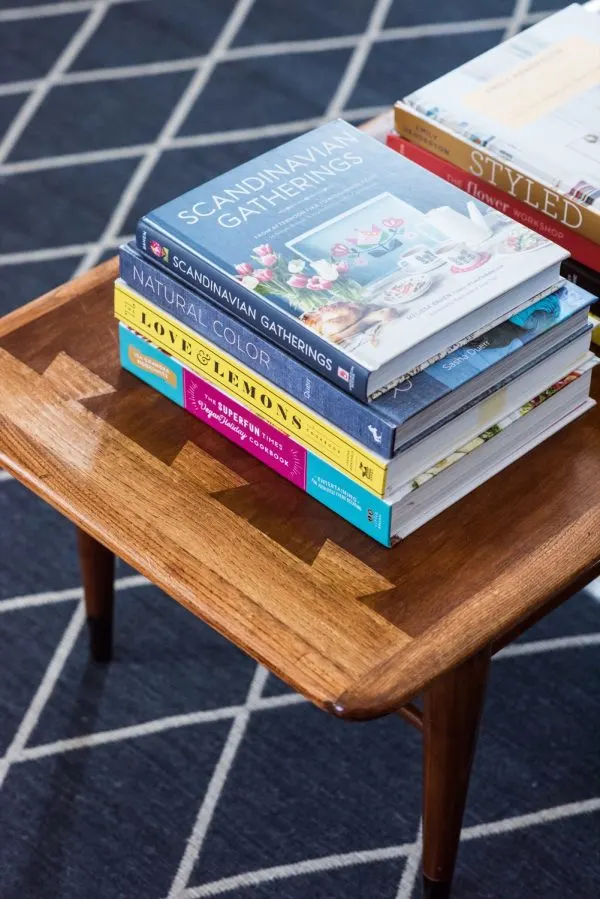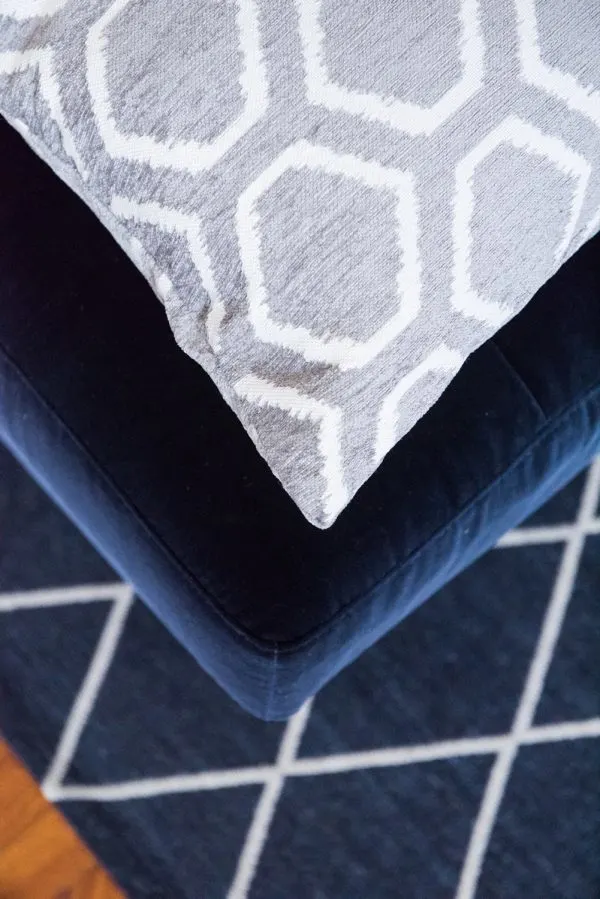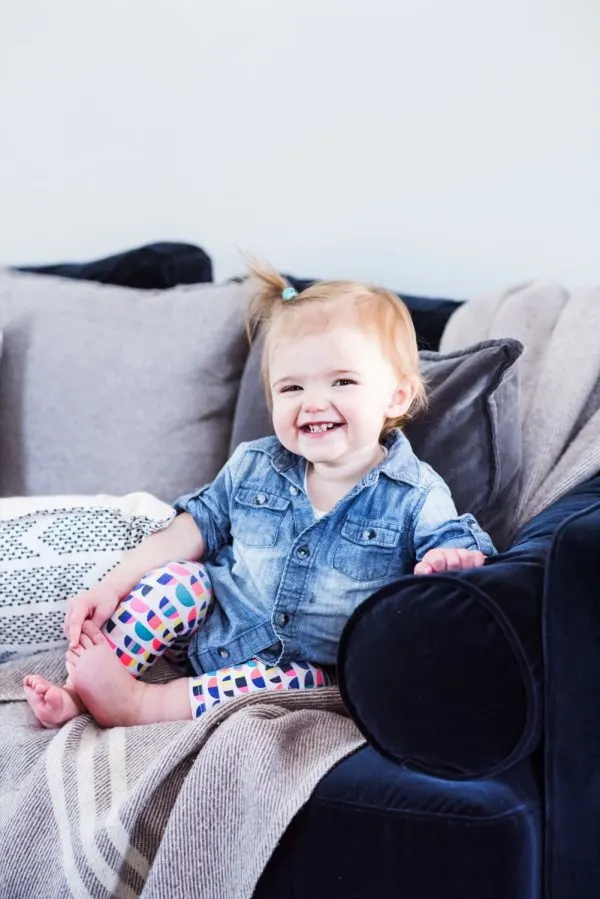 p.s. If you just so happen to be wondering, yes. The sofa is Emerson approved. Also, our child is a complete ham for the camera any chance she gets. And check out all those teeth!

I did not receive compensation for this post, although Article did provide the Sven sofa for review. All opinions and over the top gushing are completely 100% my own. Read more about our editorial policies.
[Art direction + styling by Cyd Converse | Photos by Alice G. Patterson.]