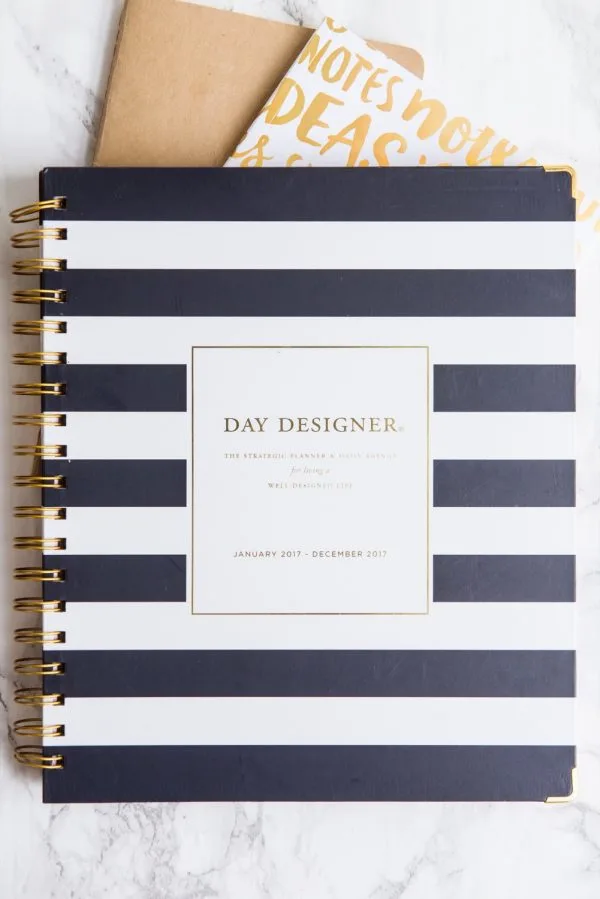 Friends, let's talk about planners! Does anyone else love starting the year with a fresh, crisp, clean new planner? For me it's a carry over from my college days and while I use Google Calendar for tracking my editorial calendar and deadlines (gotta love those reminder alerts), my daily go-to system for staying organized is a classic tangible pen-on-paper planner. A few years ago (I think it was 2104 to be more precise), I got myself on the wait list and picked up one of the seriously coveted Day Designer planners. (I mean, come on, there was a wait list for a planner!) I was really really excited because of the unique daily layout featuring both a schedule and a to-do list. At just shy of $60, it felt like a small investment of sorts and I was so worried it wouldn't live up to the hype, but all of that was for naught. I loved my Day Designer and I've been a loyal addict ever since.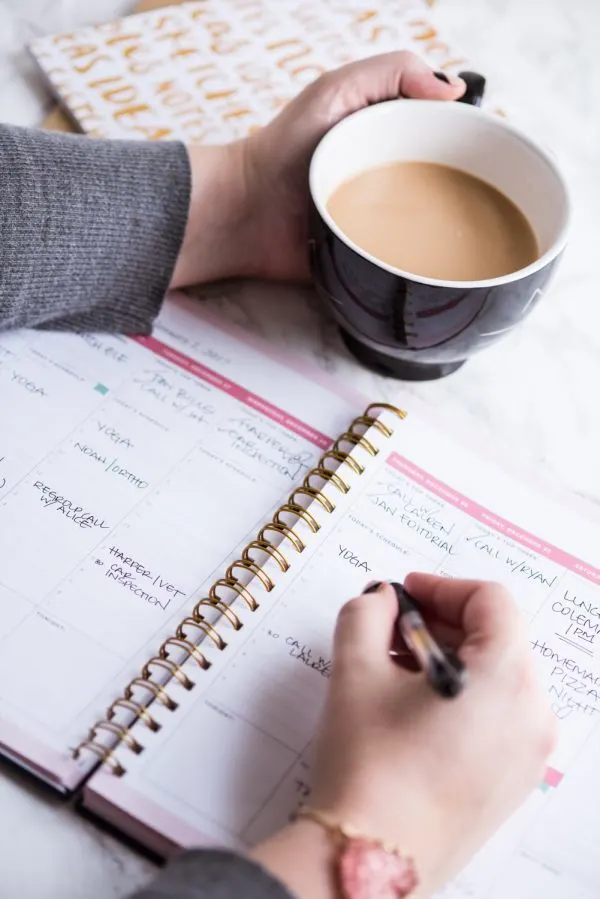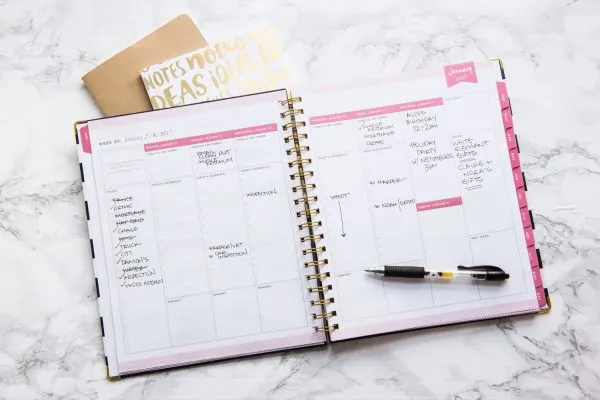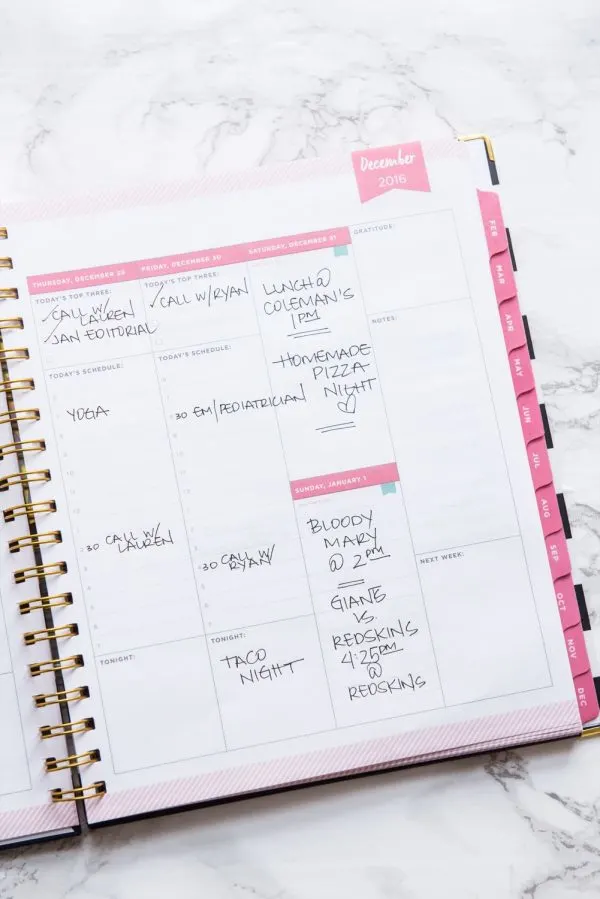 Last year, with a newborn in the mix, I made a slight change and started using the Blue Sky edition of the Day Designer. It packs a lot of the same punch as the original Day Designer including the helpful worksheets at the front to help you get focused and organized for the year. Where it differs is in the layout, which is weekly instead of daily. So instead of one day per page, this version features one full week per spread, but still features a really handy schedule with a to-do list for the week and the top three tasks you need to tackle each day. Since having the baby, my weeks are much more fluid and entirely less regimented so being able to see the whole week at once is a much more useful layout for me at this point in time. Bonus! The price is a little less than half of the original Day Designer, although I have to say, I do feel the Day Designer is entirely worth the price if it suits your lifestyle and needs.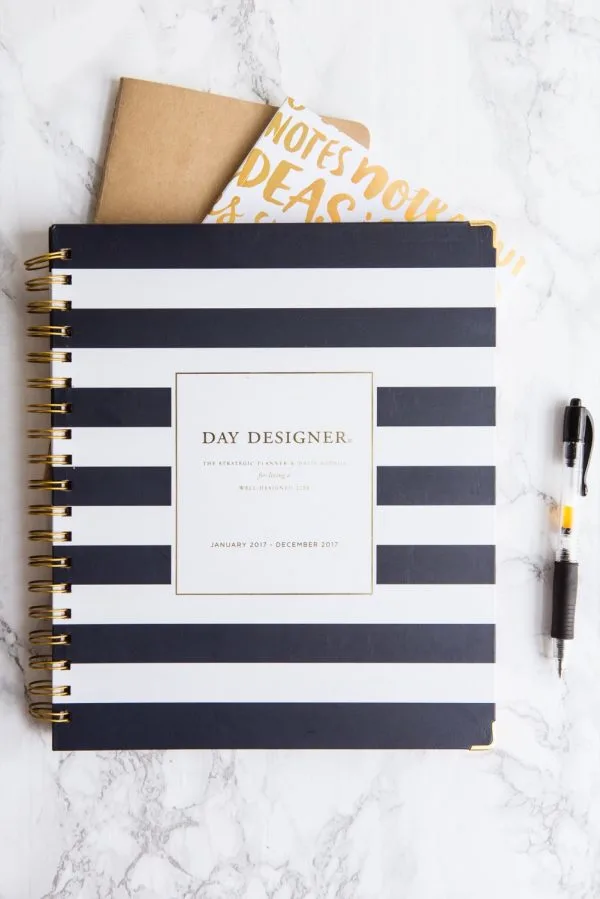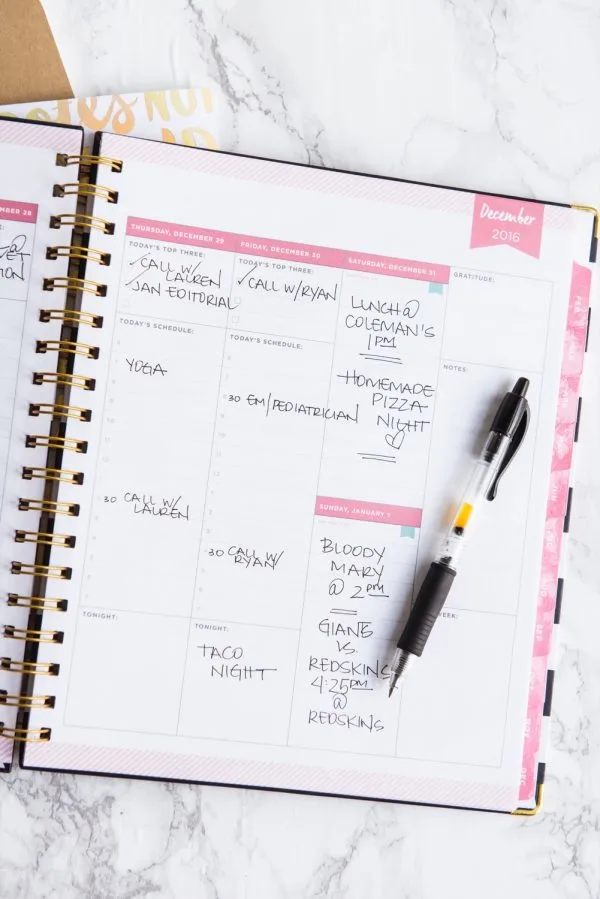 Each month in the Day Designer (regardless of edition) opens with a monthly calendar view that then leads right into the month itself, either daily or monthly pages. This monthly view spread is where I keep a detailed overview of each month. The spaces are large enough where I can keep a written copy of my deadlines, track orthodontist appointments, birthdays, etc. and keep our family and my work obligations all neat and organized in one place. Between the two versions, this is now my fourth year using a Day Designer and I am such a fan that I thought it warranted sharing with you. Also, if you care about such things (as I very definitely do), I am a loyal Pilot G2-05 user and have been since architecture school. (In black, only.) I honestly have not bought any other kind of pen in a solid 13 or 14, possibly even 15 years, no joke. I keep them stashed in my desk, the kitchen drawers, my purse, the diaper bag, my camera bag, and on and on, and very rarely even write with any other kind of pen. My Pilot pens and my Day Designer are a little dream team for the Type A side of my brain. Sitting down to start filling out my week or the month ahead with a cup of coffee is one of the most satisfying things to me and without this planner I'd be chasing my own tail at least 50% of the time. What about you? Any other great day planners you love? What about pens? I sincerely doubt I'm cheating on my Pilot pens anytime soon (please let them never be discontinued!), but maybe you can at least assure me I'm not alone in the crazy pen lady department?

[Art direction + styling by Cyd Converse | Photos by Alice G. Patterson.]