These colorful marble mugs are a simple craft made with nail polish! This nail polish marble technique easily creates pretty marble dipped mugs to gift or to keep.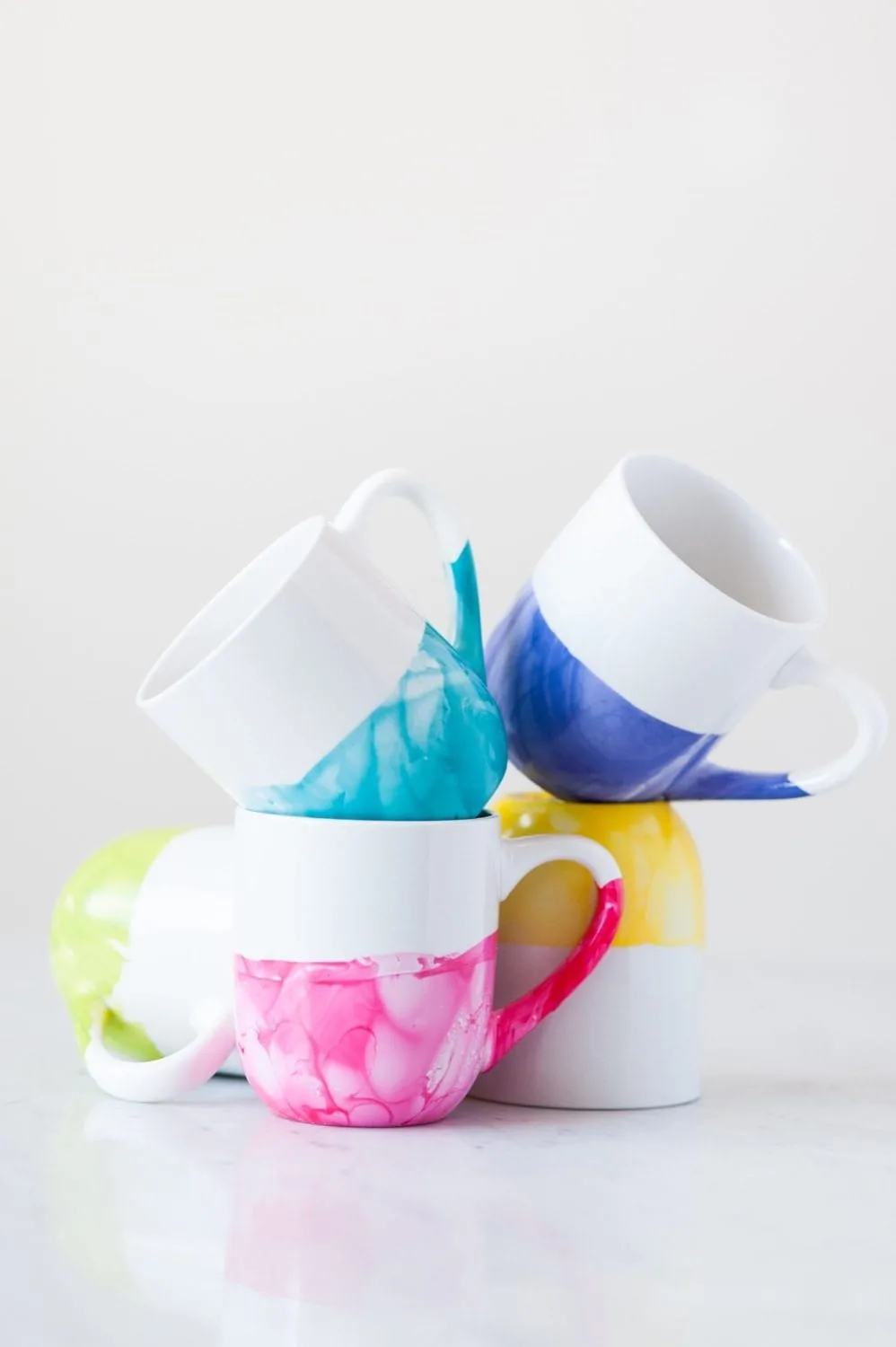 Remember a while back when I made what was arguably the world's prettiest DIY marble pitcher? Well, I couldn't get enough of playing with nail polish and that made resisting the urge to make DIY marble mugs impossible. The process here is much the same so scroll through for details!
I love the idea of making a set of mugs in different bright, happy colors (like I did here) to either keep yourself or split up and give as gifts! This is another sweet, simple, inexpensive projects that is so fun. And addicting. Consider yourself warned!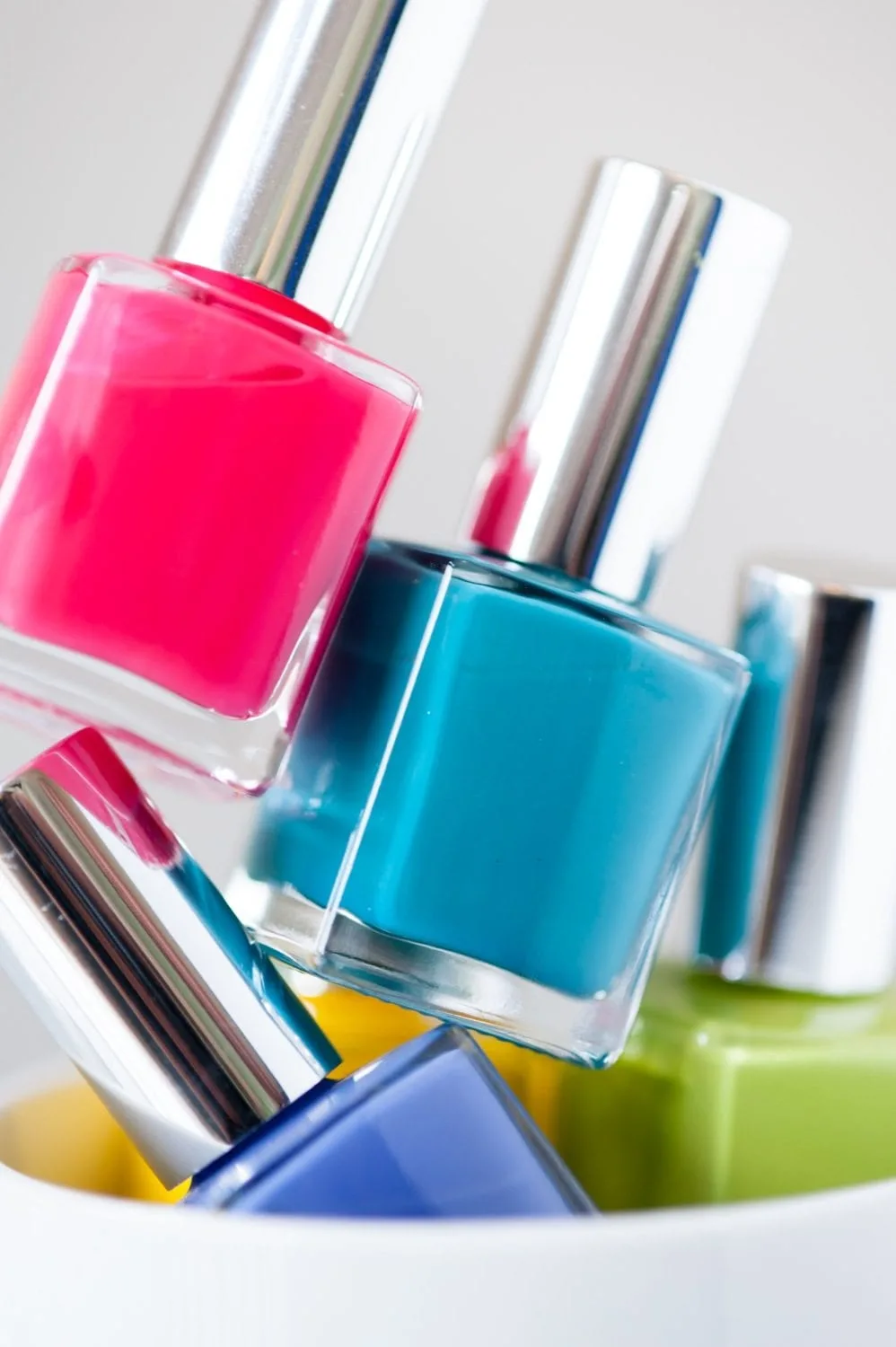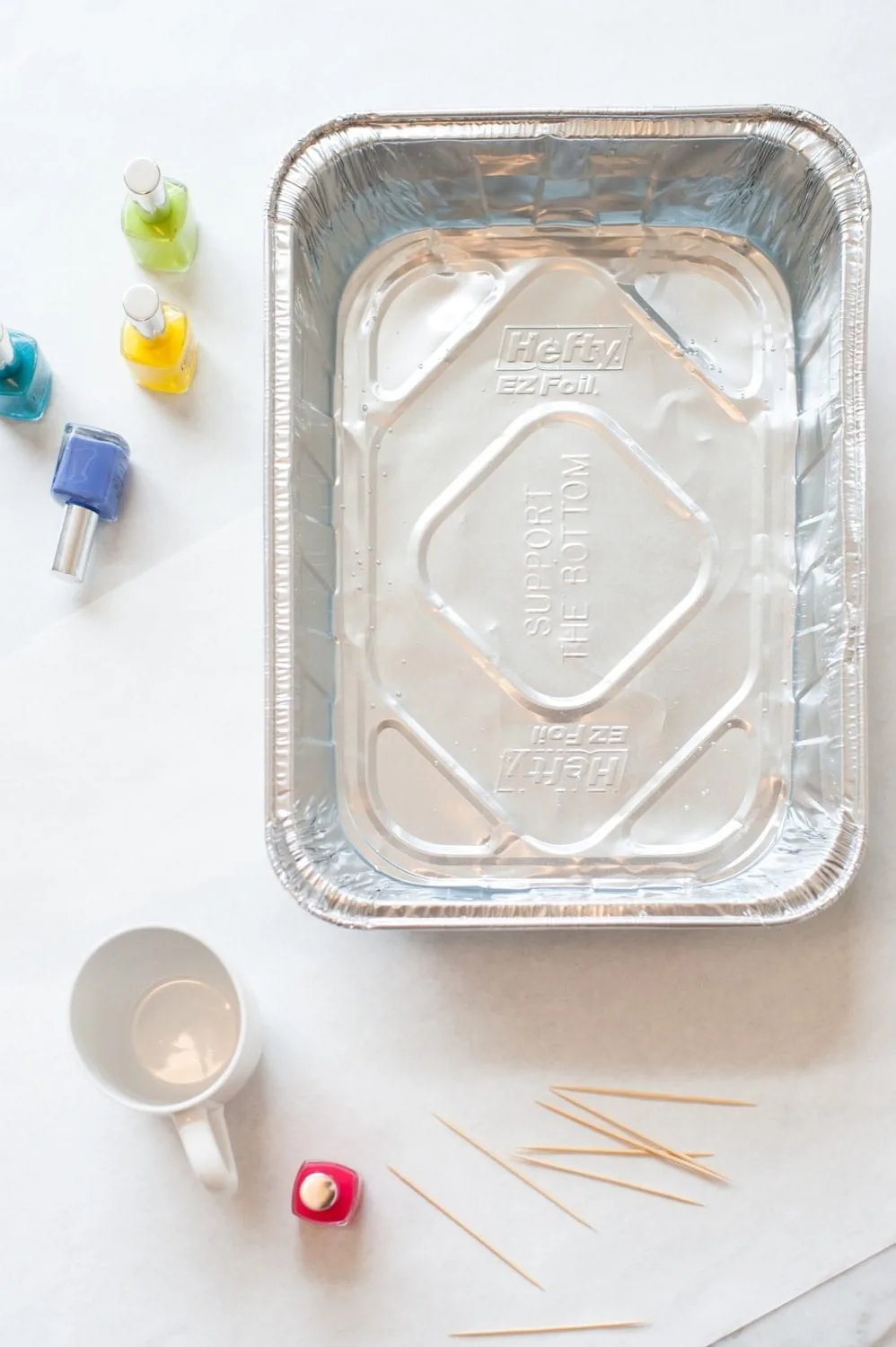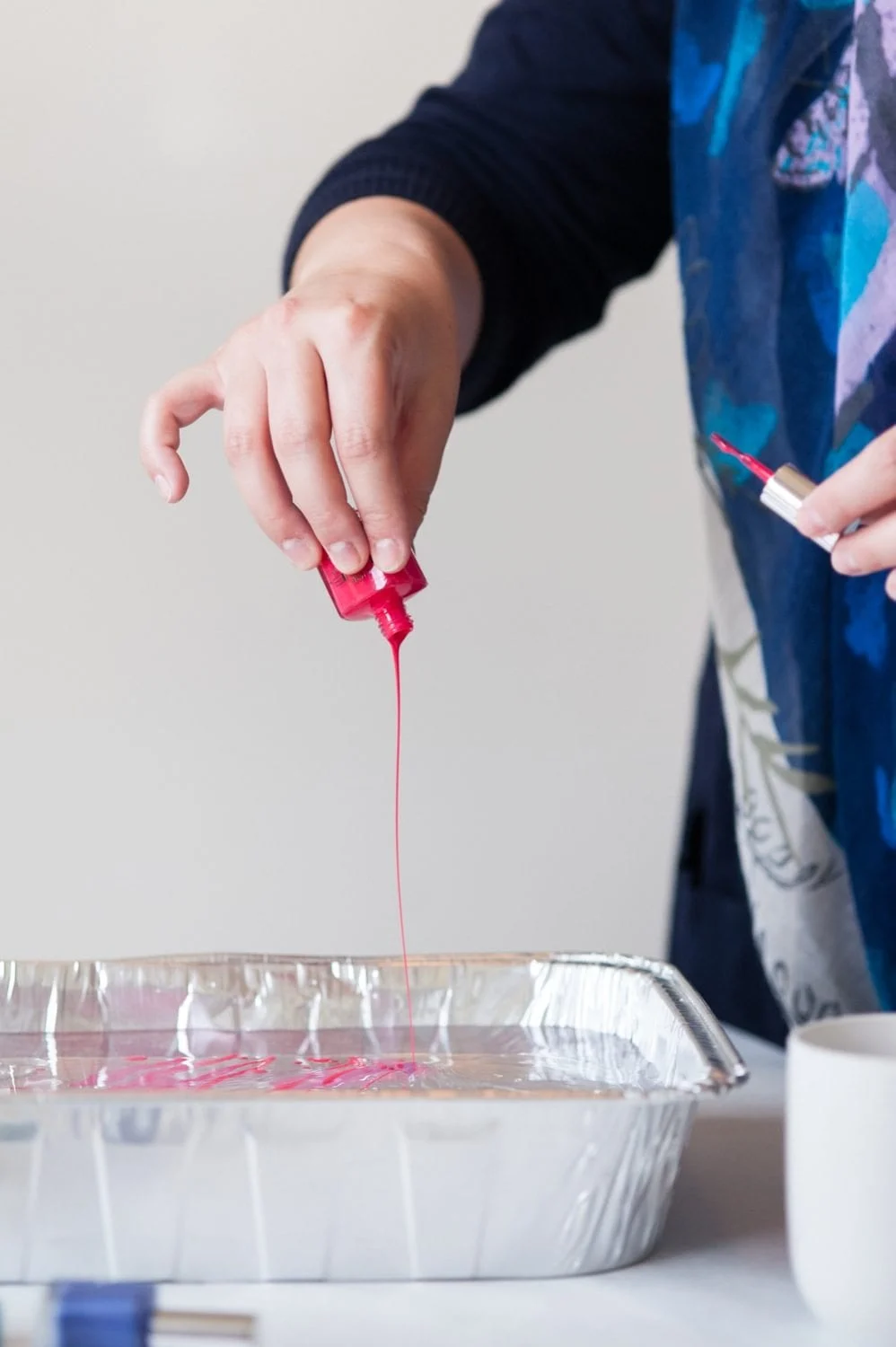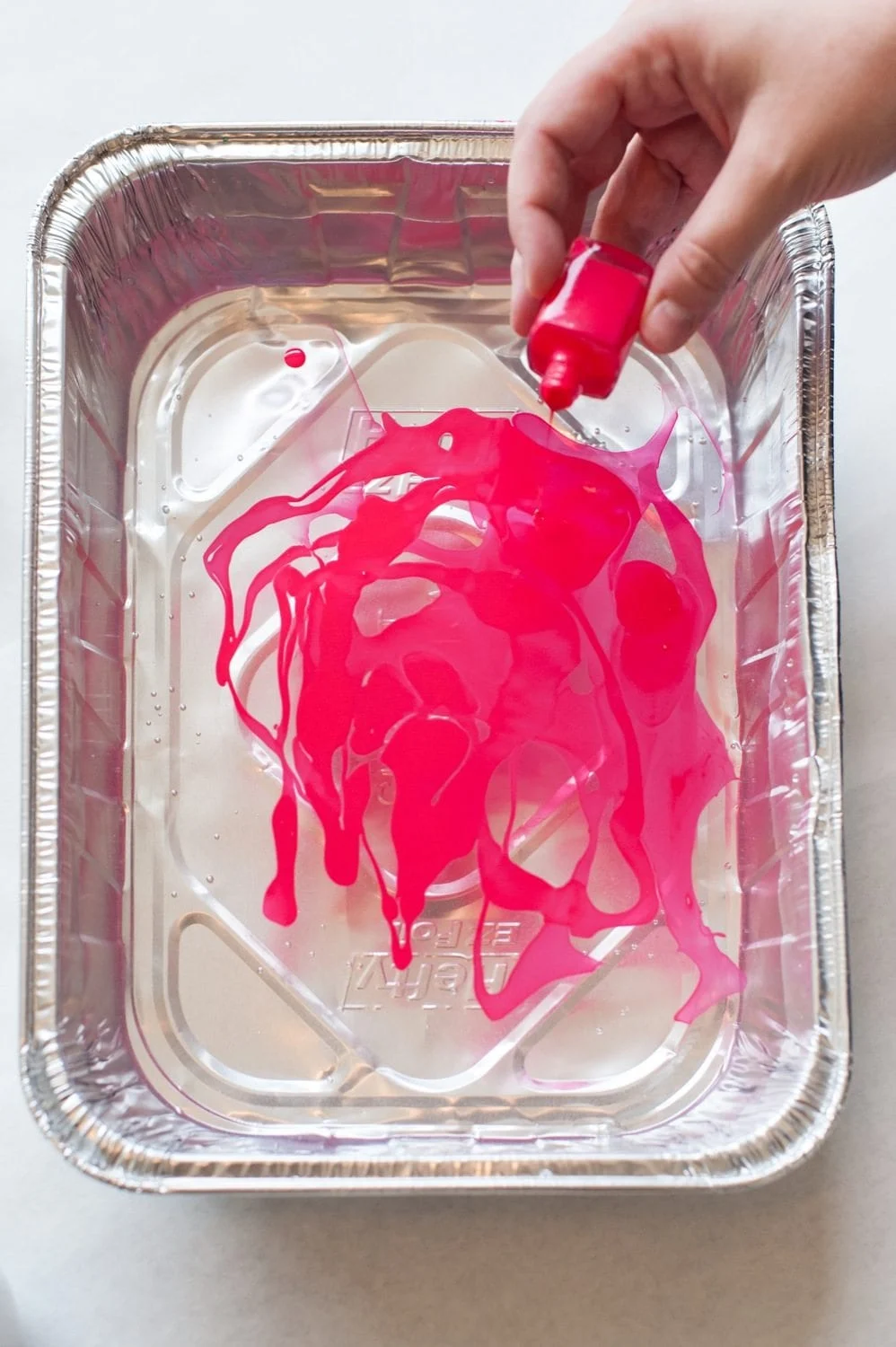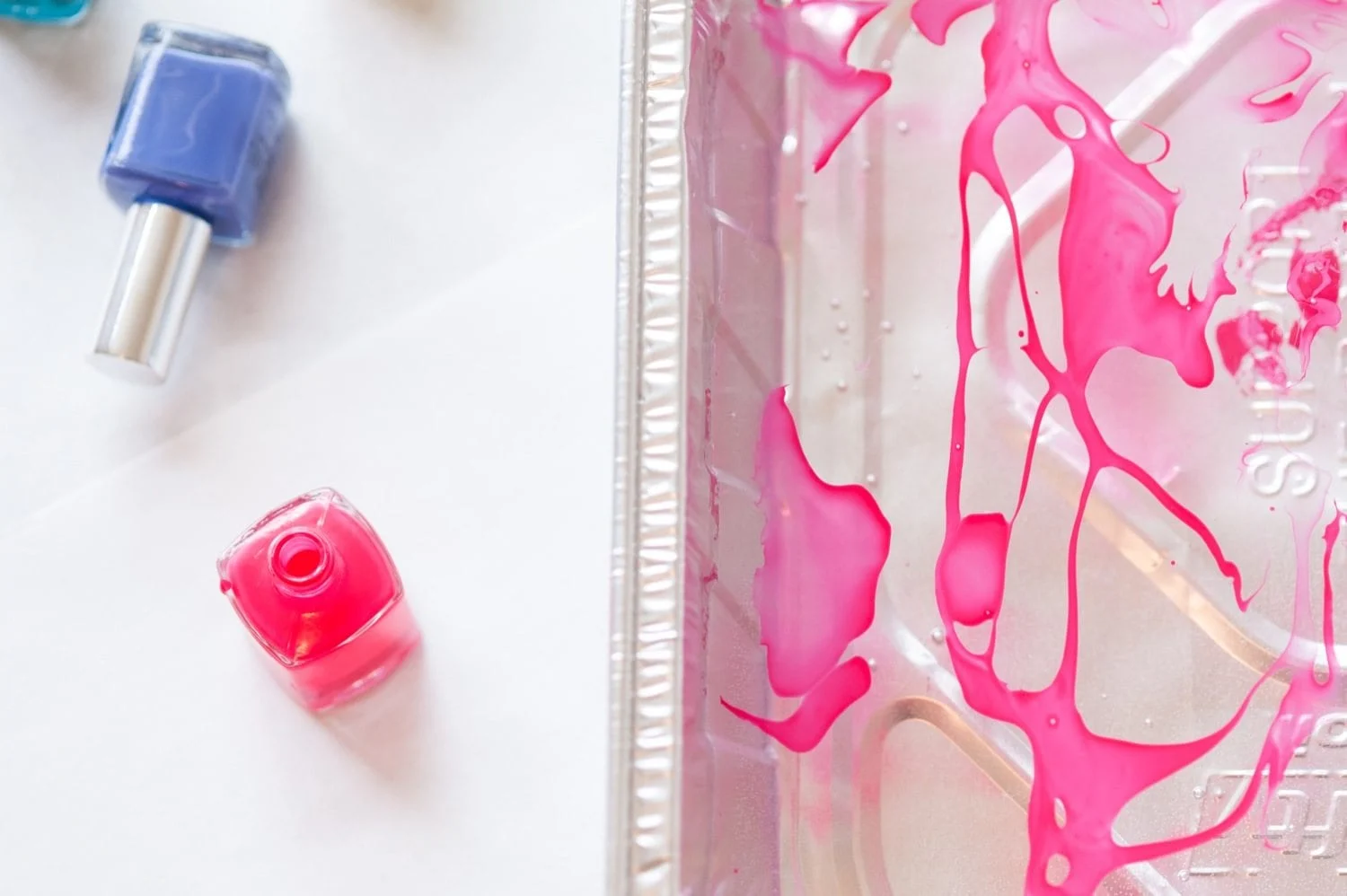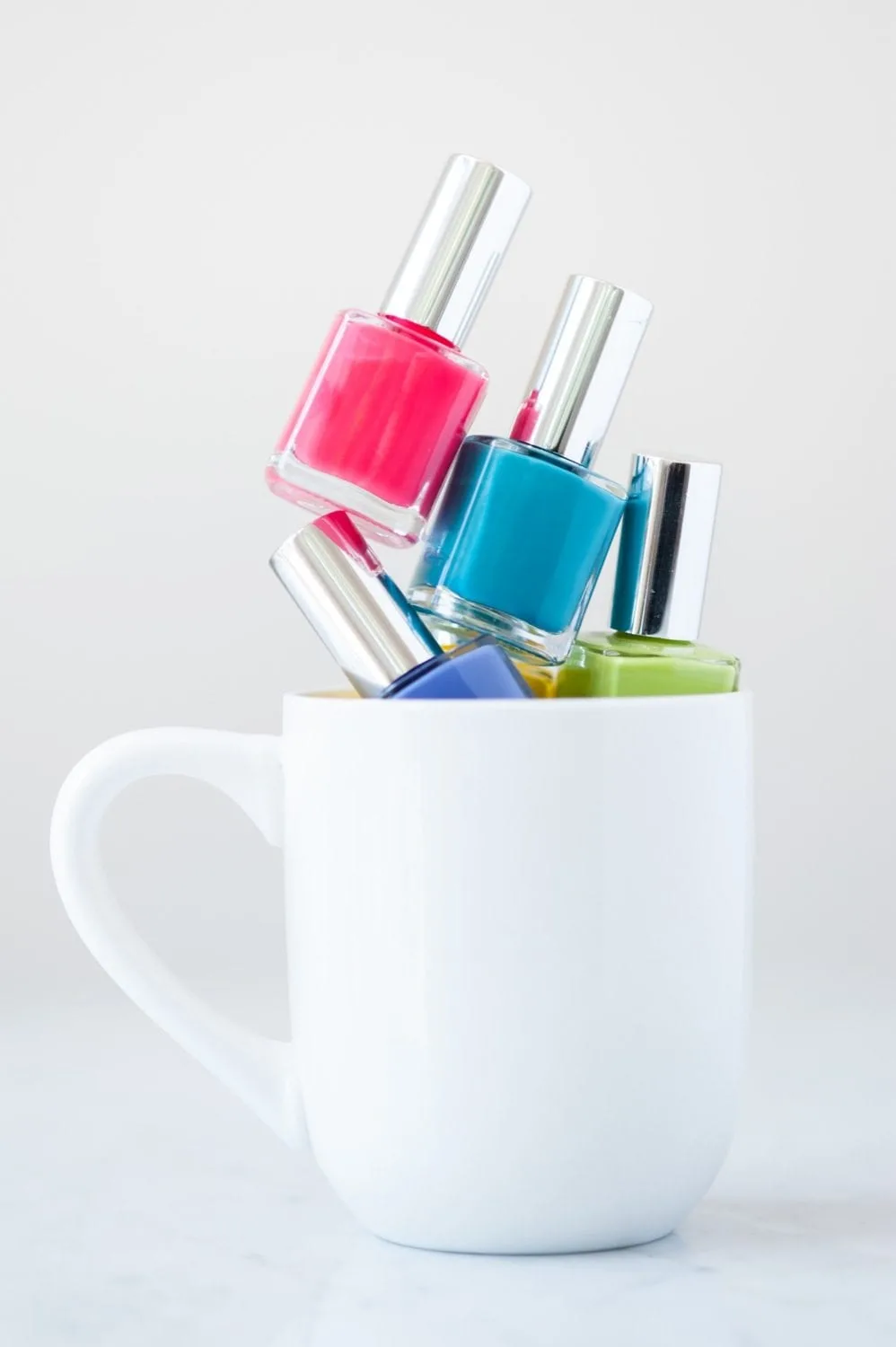 The first step to marble dipping the world's loveliest mugs is filling a a disposable pan (or something you don't mind getting permanently colored by nail polish) 2 – 3″ full with warm water. Add more or less depending on how high on your mug you'd like the color to reach. Make a mark on the inside of your pan to indicate the water level so you can fill it to the same spot each time if you're making multiple mugs. Then, add your nail polish! Pour it onto the surface of the water, adding more or less depending on if you'd like more or less white to show through your marble pattern. Working super quickly, use a toothpick or skewer to swirl the nail polish across the surface of the water to help create the marble effect, but don't think too hard about it! You don't want to drive yourself crazy overcomplicating a simple process and you want to move quick so the nail polish doesn't set up on the water.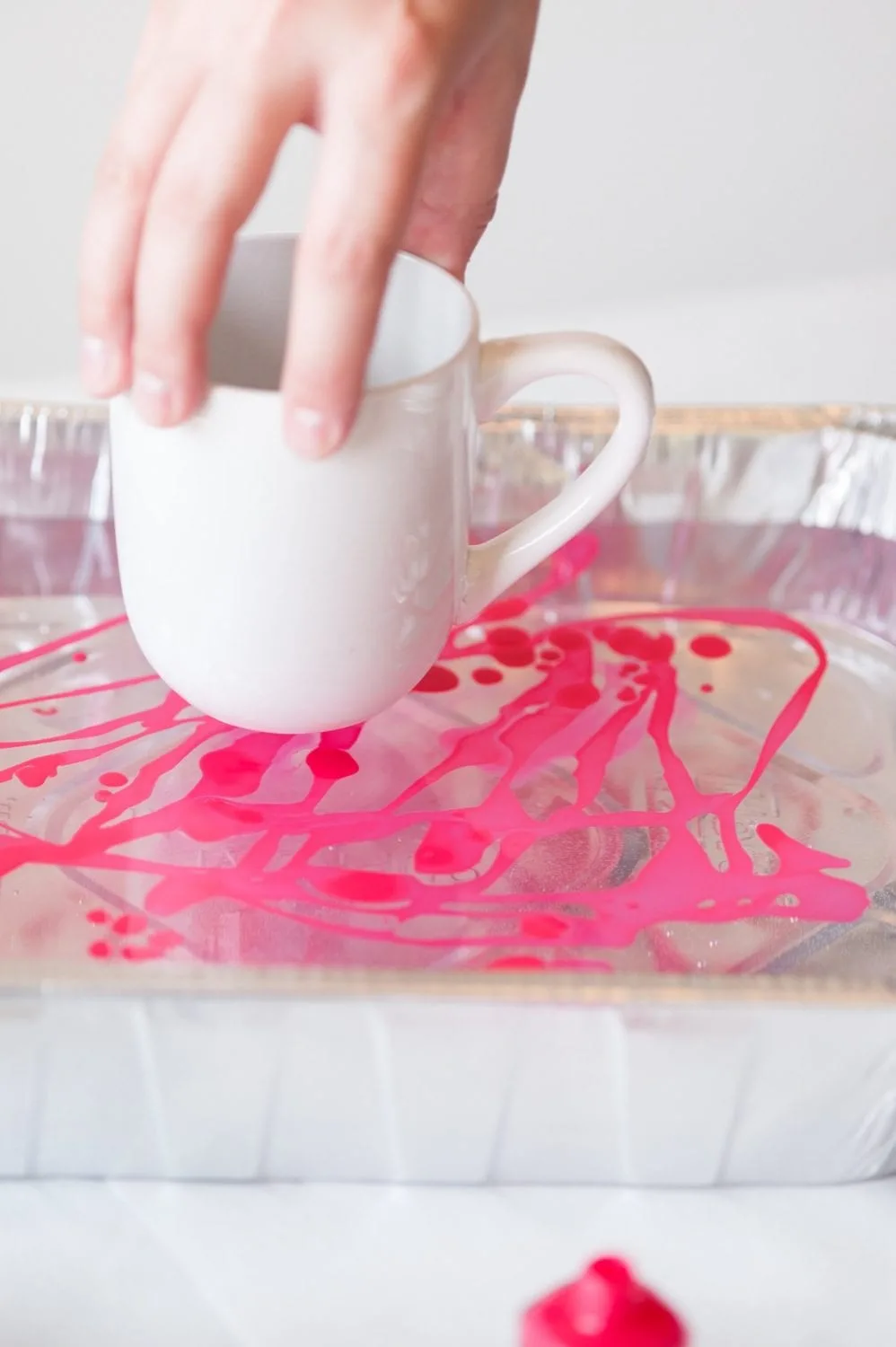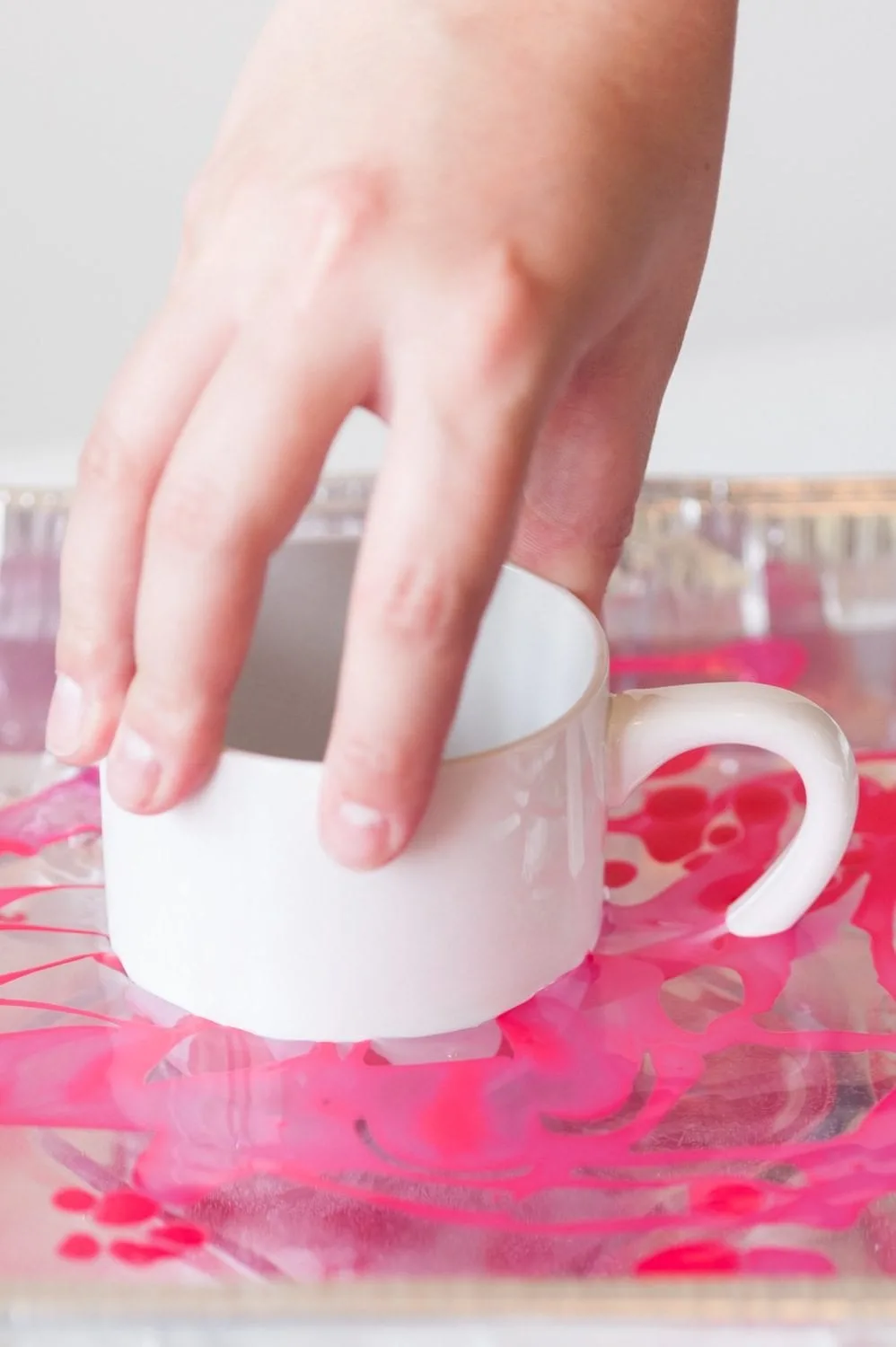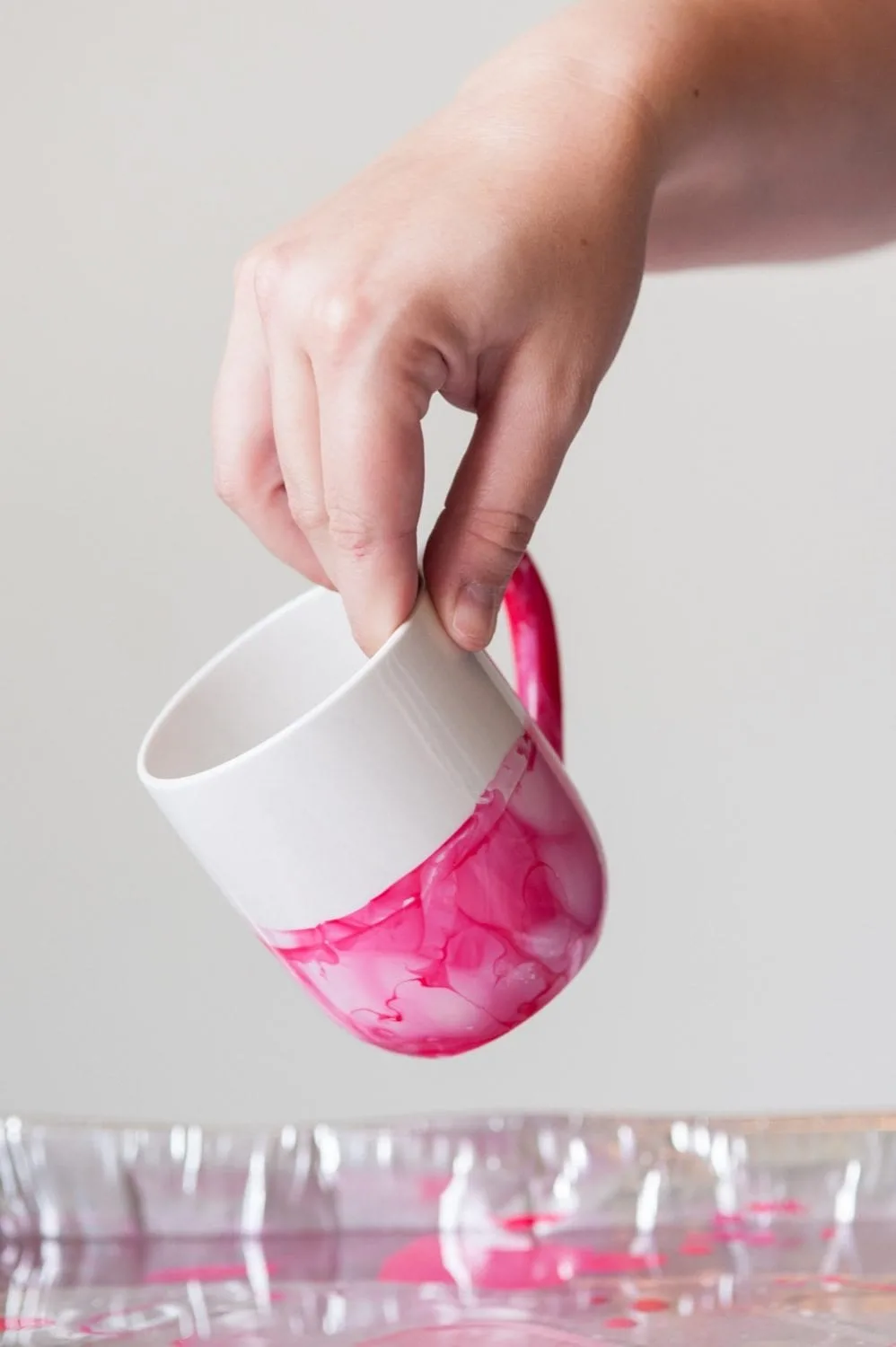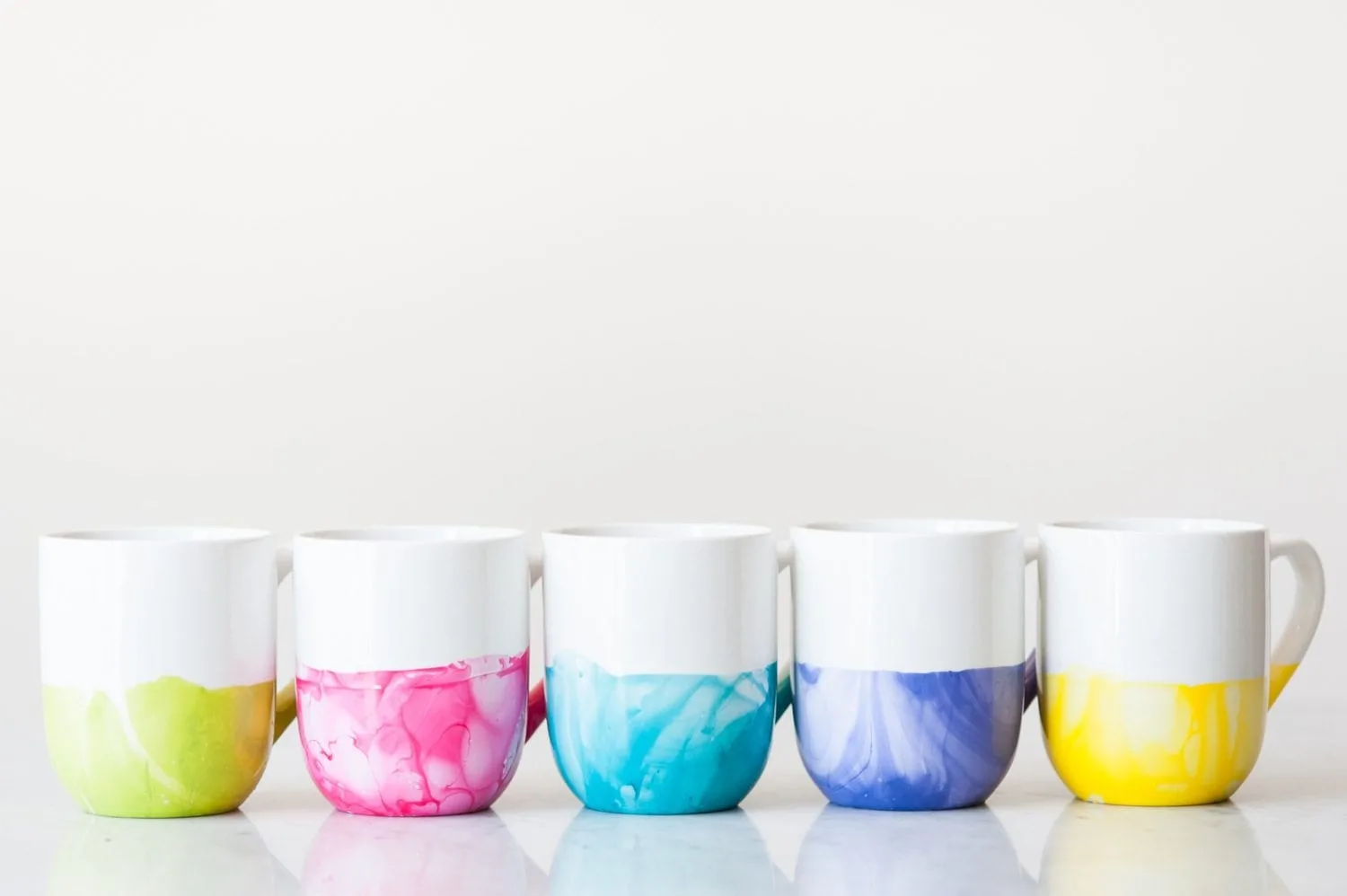 Moving equally as quick, the next step is to dunk your mug into the nail polish water. Go straight down and straight up to achieve the dipped look. Move the mug to a protected surface to dry completely, avoiding rubbing the surface of the mug until completely dry. I prefer to sit mine on top of a something to elevate it a little bit (such as a couple skewers) so it doesn't stick to the surface it's drying on, and I let them sit and dry overnight before touching them again. For each mug you'll need to dump the water and start over, regardless of whether or not you're changing color. Because the nail polish will start to set up on top of the water, it will be too thick and gloppy to get more than one dip at a time. Other than that it's a simple process of swirling and dunking! Once dry, a super light and thin coat of dishwasher safe ModPodge (like we used with the gold glitter mugs) and your mugs will be protected when washing, too! (But hand washing to be safe is never a bad idea.)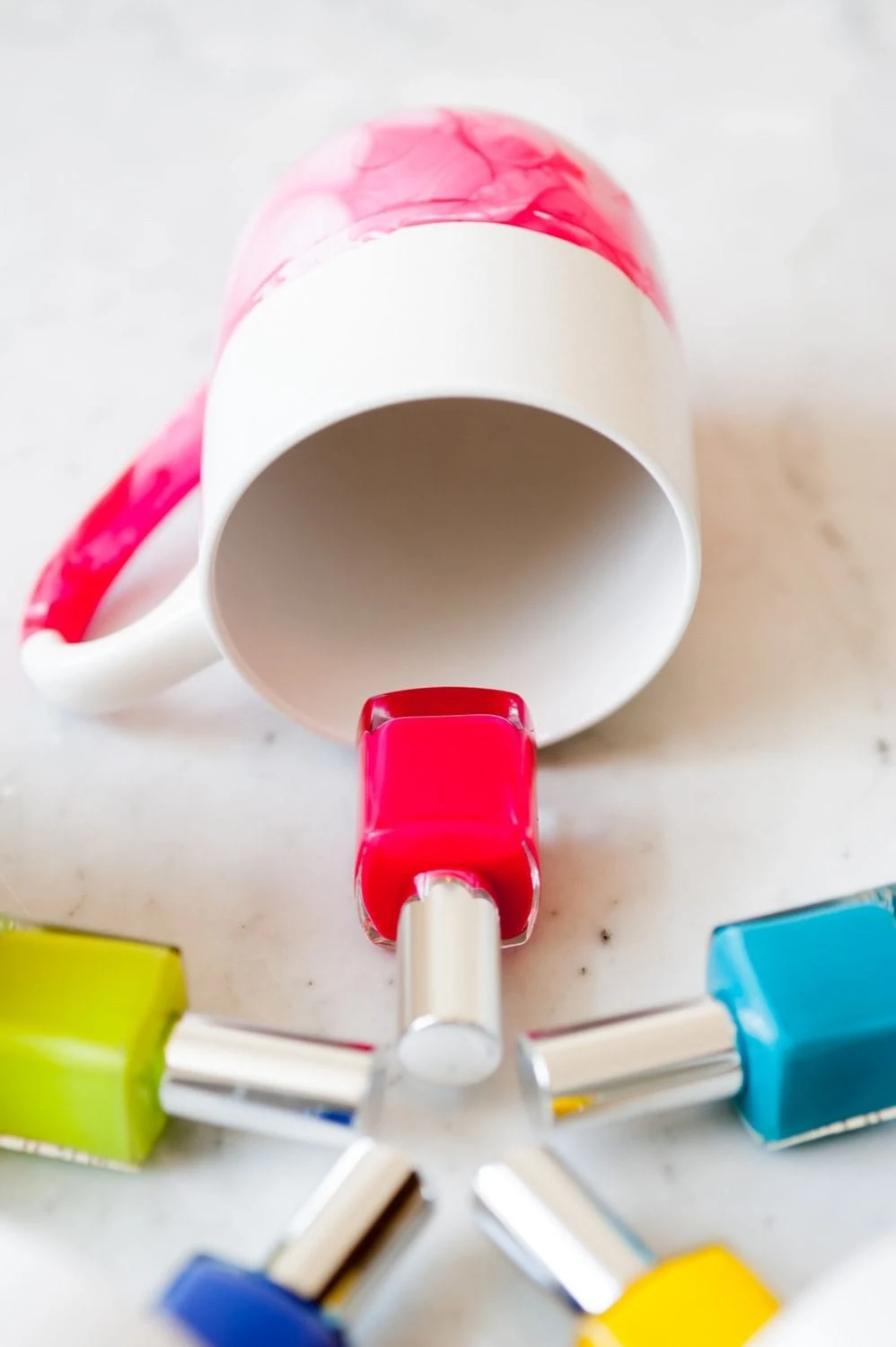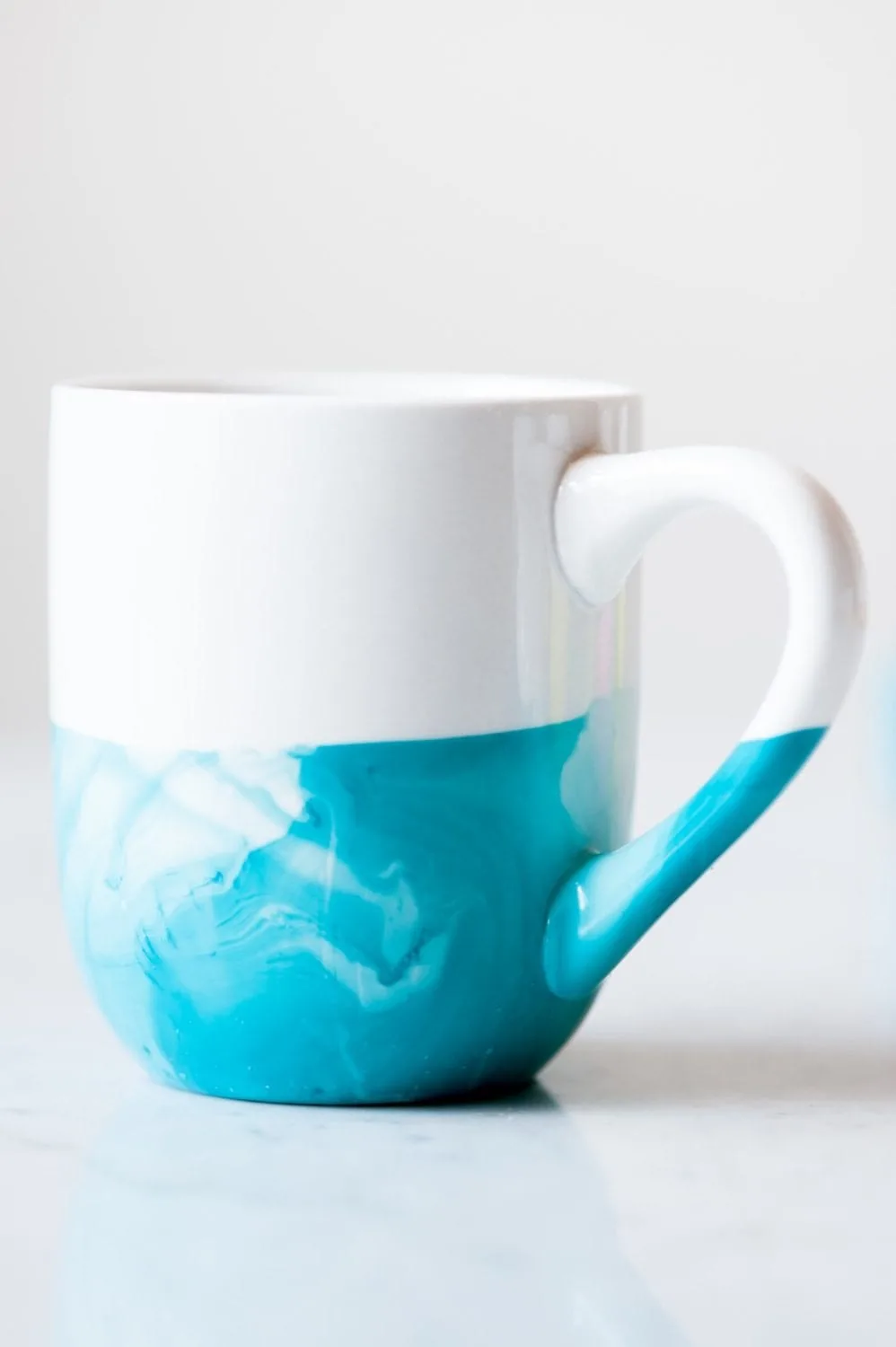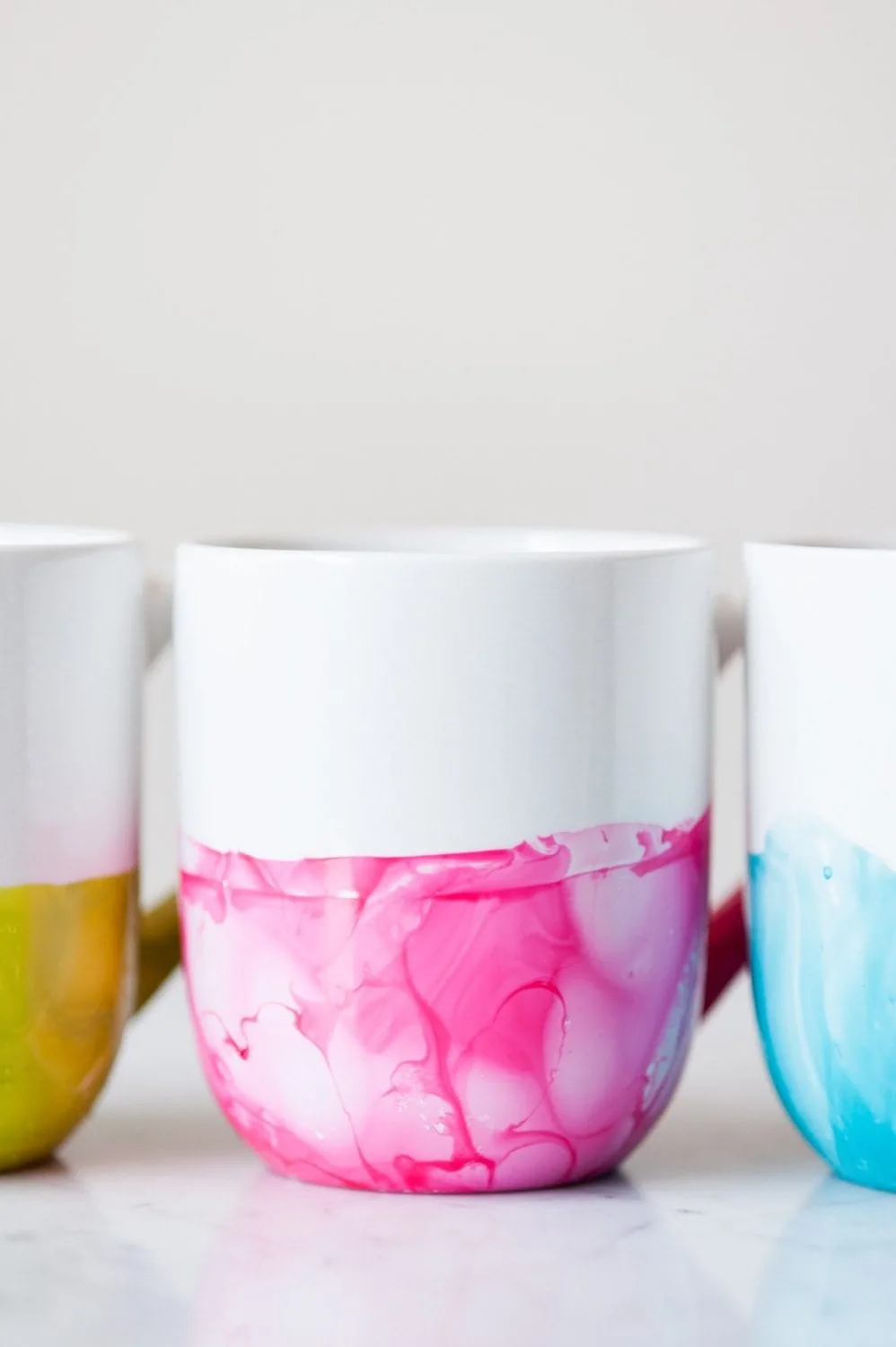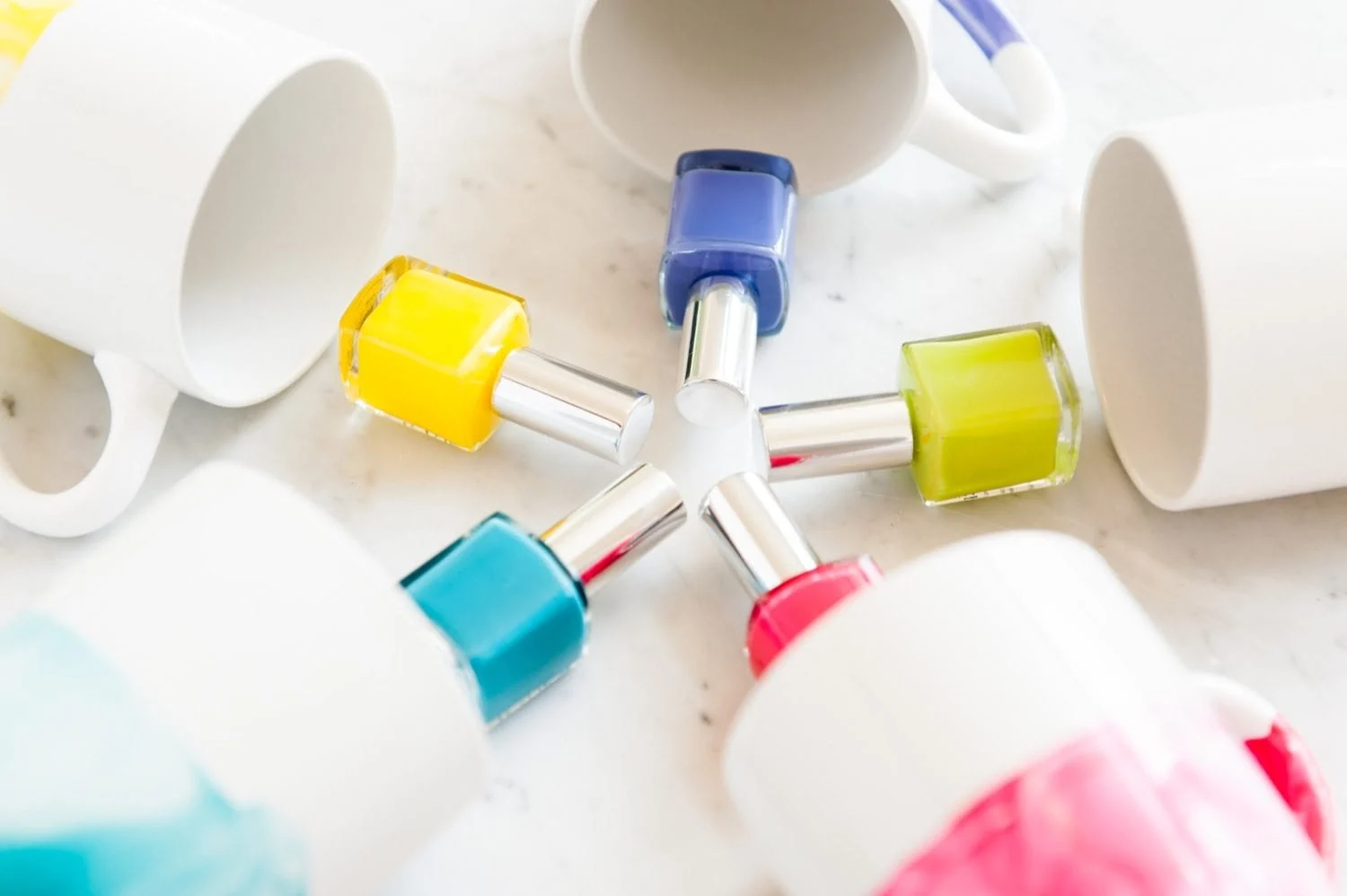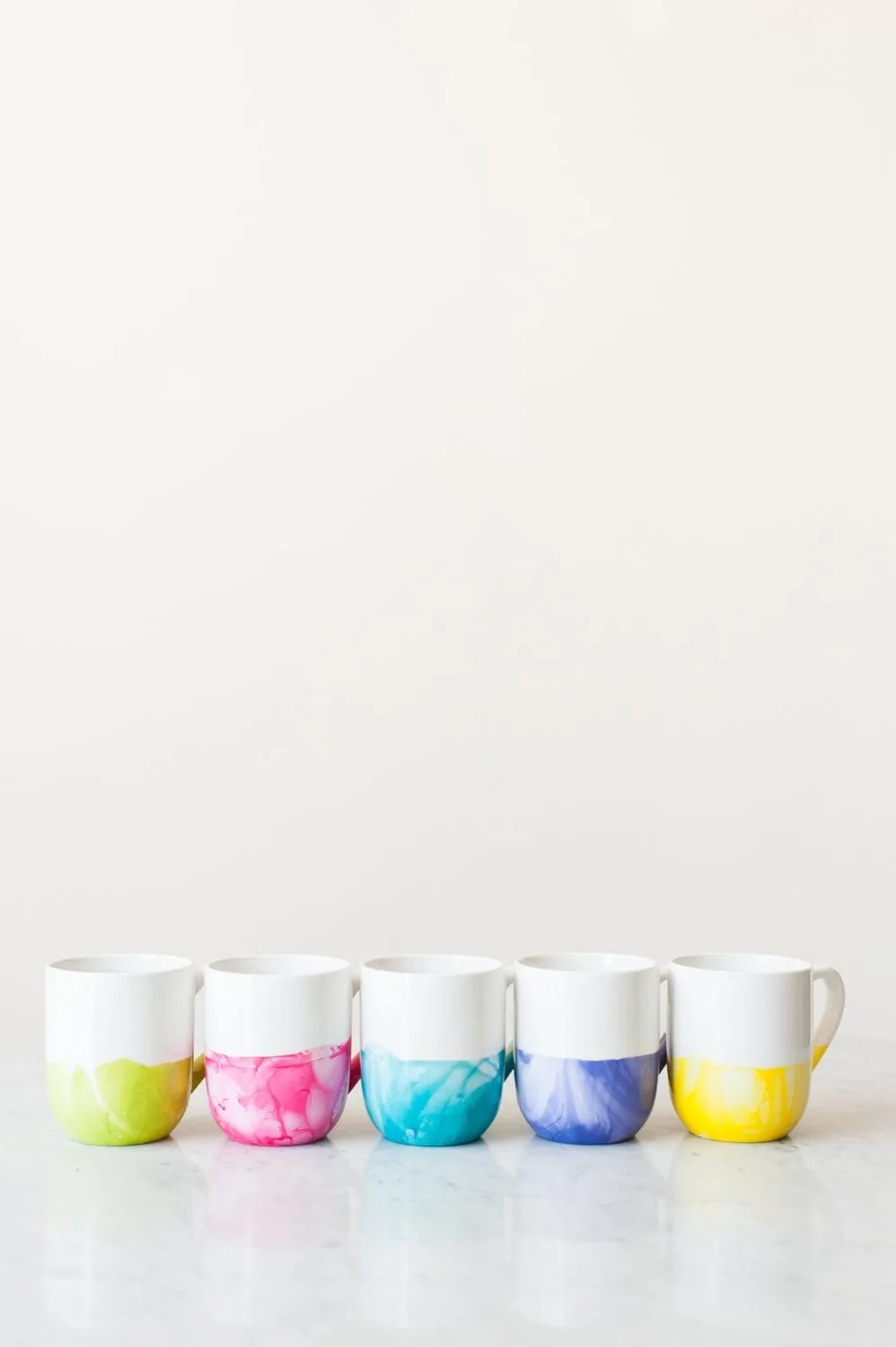 And that, friends, is all there is to it! I hit up the dollar store for these nail polish colors and picked the happiest, brightest colors I could find to make a set of mugs that's pretty much adorable. (The lesson? This is not how you use up your $8.99 bottles of Essie!) You could split them up and give them one by one, gift the entire set or just dress up your own mug collection! You do have a mug collection right? Ours is pretty extensive and because I can't stop dressing them up with things like nail polish and gold glitter and Sharpie marker, it just keeps growing. Oops! Feel like making some mugs or feeling otherwise inspired to get crafty? I'd love to take a look! Use the hashtag #thesweetestDIY on Instagram so I can see!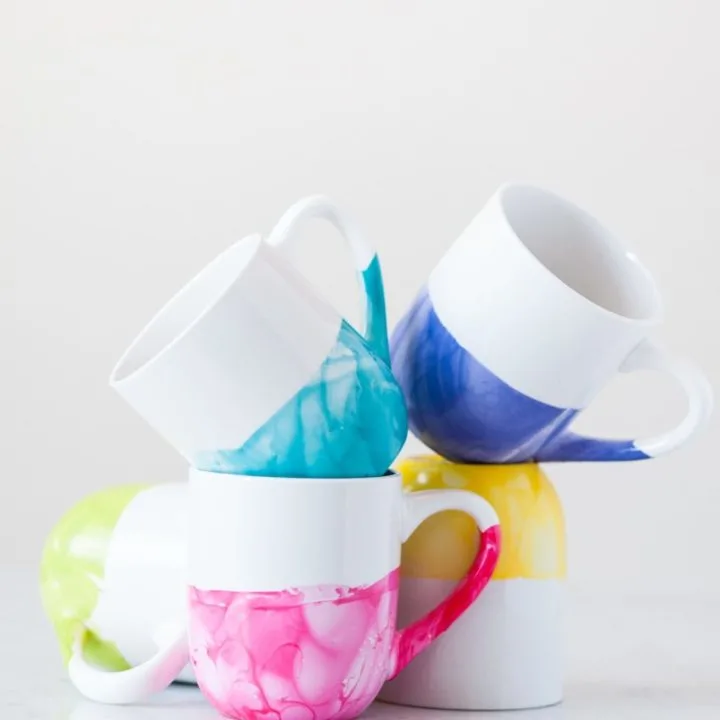 DIY Marble Dipped Mugs
Active Time: 10 minutes

Total Time: 10 minutes

Difficulty: Beginner

Estimated Cost: $3

Make colorful DIY marble dipped mugs using inexpensive materials like dollar store mugs and an easy nail polish marbling technique!
Materials
Basic white ceramic mugs
Nail polish (cheap stuff is fine)
Wooden skewers or toothpicks
Warm water
Disposable pan or bucket (it will get ruined)
Nail polish remover
Cotton balls or cotton pads
Dishwasher safe ModPodge
Small craft brush
Instructions
Fill a disposable pan (or something you don't mind getting permanently colored by nail polish) 2 – 3″ full with warm water
Add more or less water depending on how high up on your mug you'd like the color to reach
Make a mark on the inside of your pan to indicate the water level so you can fill it to the same spot each time if you're making multiple mugs
Add nail polish by pouring it onto the surface of the water, adding more or less depending on if you'd like more or less white to show through your marble pattern
Working super quickly, use a toothpick or skewer to swirl the nail polish across the surface of the water to help create the marble effect
Dunk your mug into the nail polish water. Go straight down and straight up to achieve the dipped look
Move the mug to a protected surface to dry completely, avoiding rubbing the surface of the mug until completely dry
Let them sit and dry overnight before touching them again
For each mug you'll need to dump the water and start over, regardless of whether or not you're changing color
Once dry, a super light and thin coat of dishwasher safe ModPodge applied with a small craft brush (I like foam brushes) will keep them protected when washing
[Art direction + styling by Cyd Converse | Photos by Alice G. Patterson for The Sweetest Occasion.]