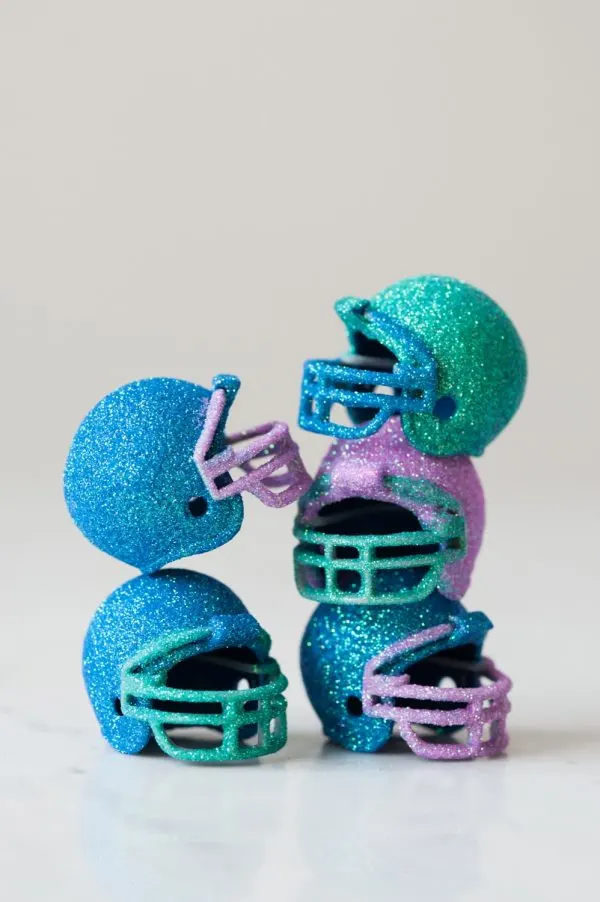 Well, I'm entirely unsure as to how it happened in an instant, but Labor Day has come and gone and it's officially time to gear up for football season! We're big football fans in this house, mainly NFL, but we do enjoy a good college game, too. (Also, we have a football player of our own so we spend many an evening and weekend at games all season long.) While I love a good game, I can't pretend that I'm a super fan of the stereotypical football party regalia, so today I thought I'd celebrate this week's NFL season opener with a little football party decor that even I can get behind. Namely, glitter. Always, glitter. That's right, we're making DIY glitter football helmets!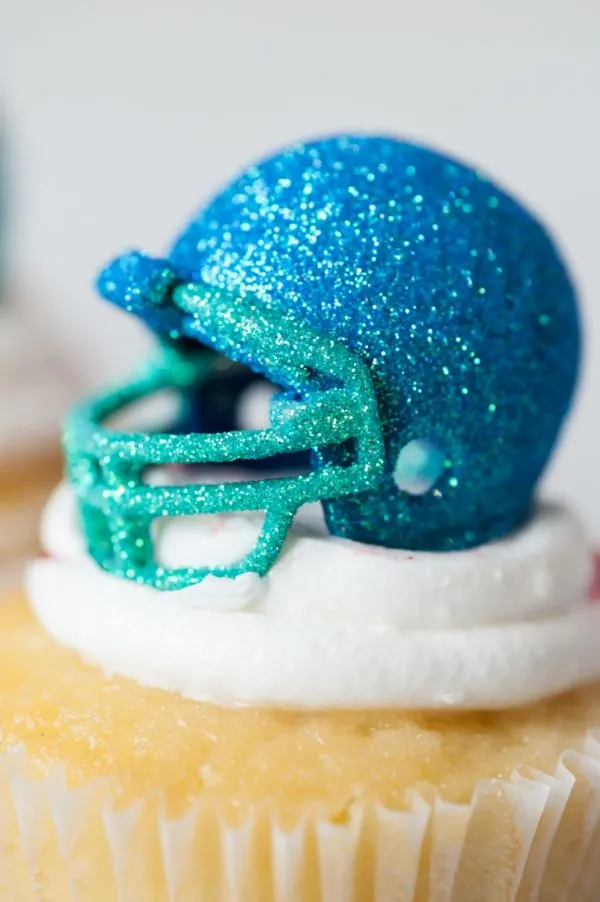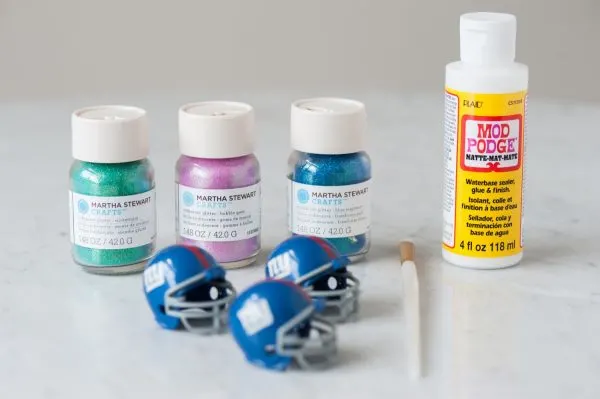 Mini football helmets
Various colors of glitter
ModPodge or decoupage glue
Paint brush
Clear coat or spray sealant (glossy is best)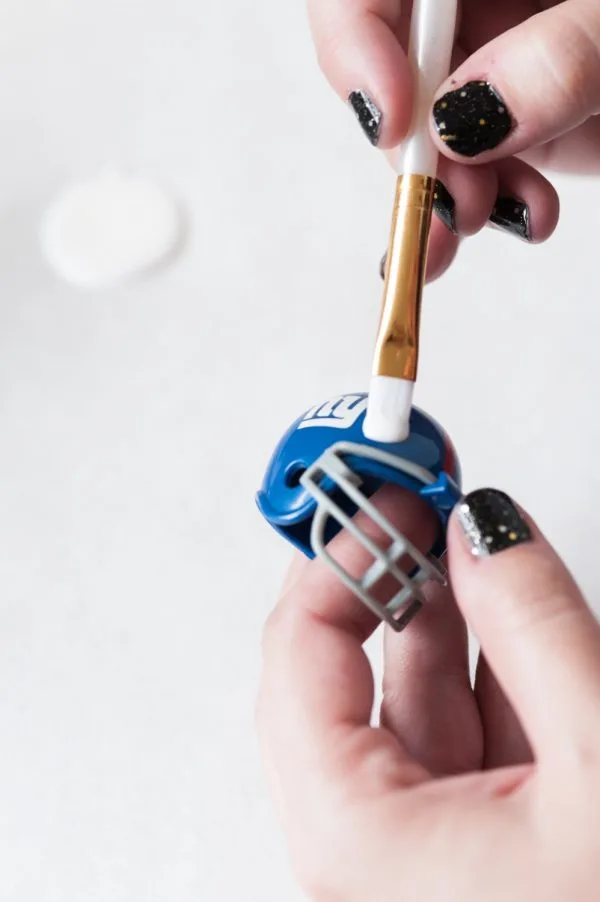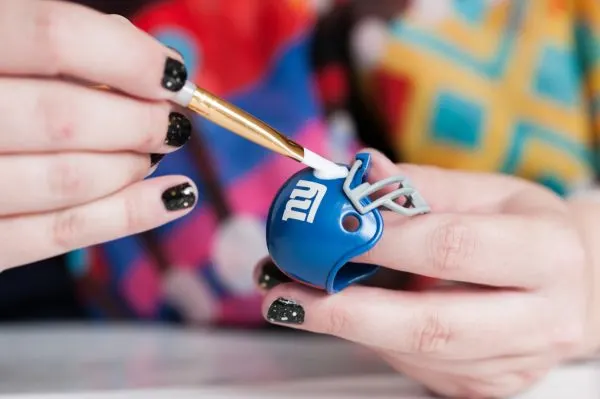 First up, grab yourself a package or two of these mini football helmets. (I got mine from Amazon, but I know they have them at Party City, too.) It doesn't really matter what team you get because they're going to get covered, but for the purposes of these tutorial photos I made sure to rep our resident home team. Then begin by giving the entire outside and edges of the helmet a coat of ModPodge using a small paint brush. If you want the face mask to be a different color, avoid covering the face mask as you'll do that as a separate step once the helmet itself is complete.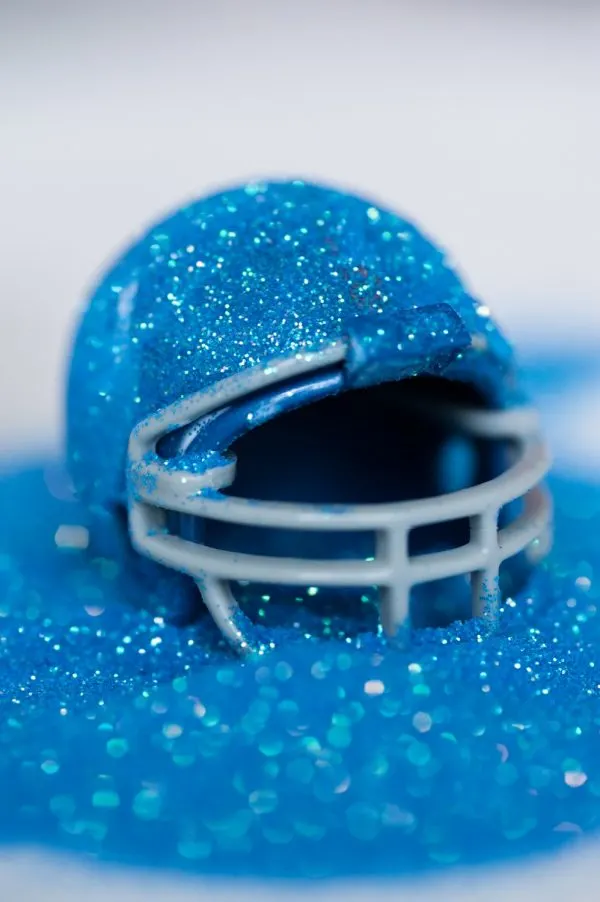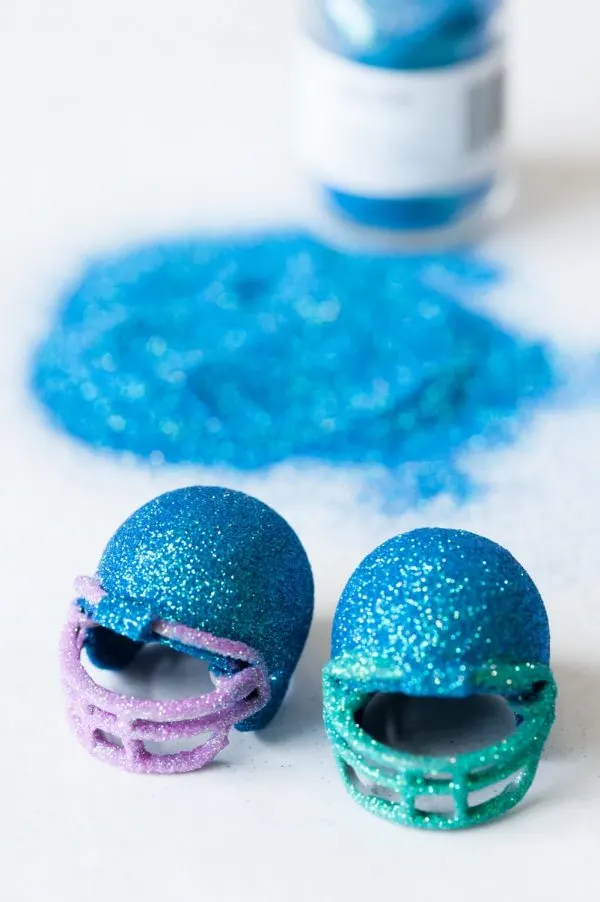 Once the helmet is coated in ModPodge, dump glitter all over the it generously. Tap gently to release the excess glitter and allow everything to dry completly. Repeat as necessary with multiple layers of glitter until the glitter solidly covers the helmet design underneath. From there, it's time to repeat all of these steps on the face mask. Be sure to shake loose any excess glitter as necessary and then give everything a quick spray of clear sealant before allowing your helmets to dry overnight. (A glossy clear coat is best as a matte finish will dull the sparkle of the glitter.)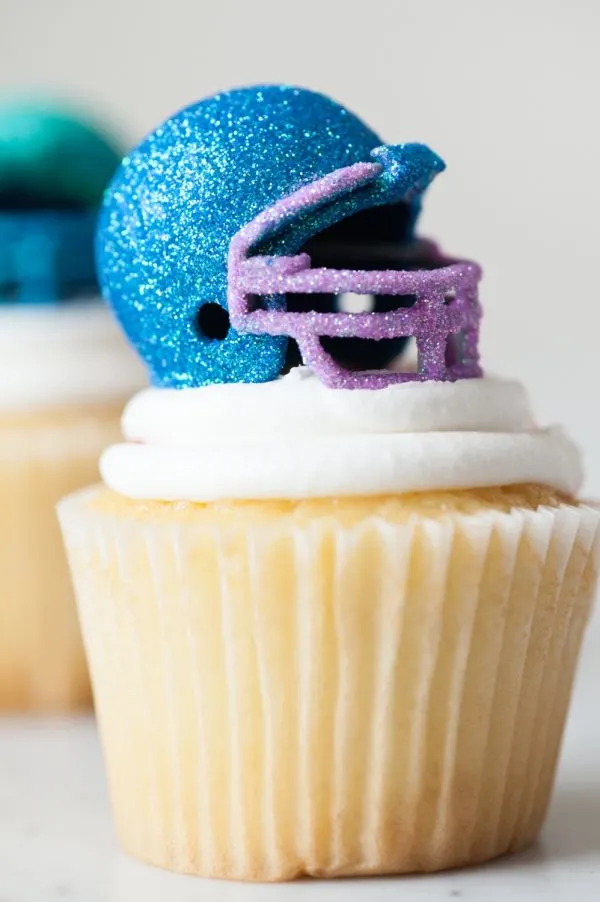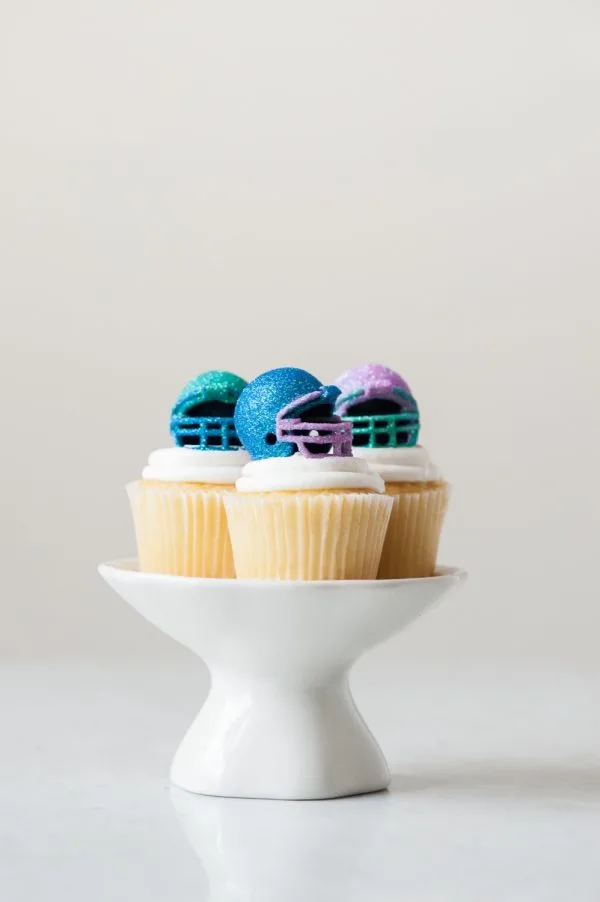 Once they're all done, your glittery football helmets make perfect little cupcake toppers or, heck, even slider toppers. Slider toppers. I guess we just officially made that a thing! I went a bit rogue and chose non-team specific glitter colors, but you could easily coordinate your glitter to your team's colors. It's totally up to you! Wouldn't these be adorable for a pop warner or high school team party, too? (Um, yes, they would.) So much fun!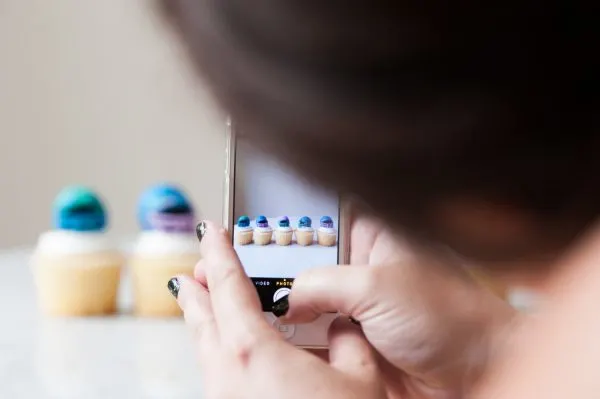 I couldn't resist sharing this quick little behind the scenes peek at what goes on when we're shooting DIY tutorials. Alice is always working on getting the perfect shot, while I'm obsessively styling and tweaking every last little detail, right down to making sure things will photograph well for Instagram. Yup, that's truth. Speaking of which, I want to see what you're crafting! Use the hashtag #thesweetestDIY on Instagram and share your DIY projects with me, whether it be recreating one of ours or dreaming up your own. Oh, and happy football season!


[Art direction + styling by Cyd Converse | Photos by Alice G. Patterson for The Sweetest Occasion.]
The fine print: Please link with love! As with all of our posts, DIY projects featured on The Sweetest Occasion may not be copied, distributed or reproduced without express written permission. Love and links are always appreciated! If you'd like to share a maximum of 1 – 2 images from this post, please link to this post directly for the DIY tutorial and do not include the instructions in your own post. Thanks so much! xoxo