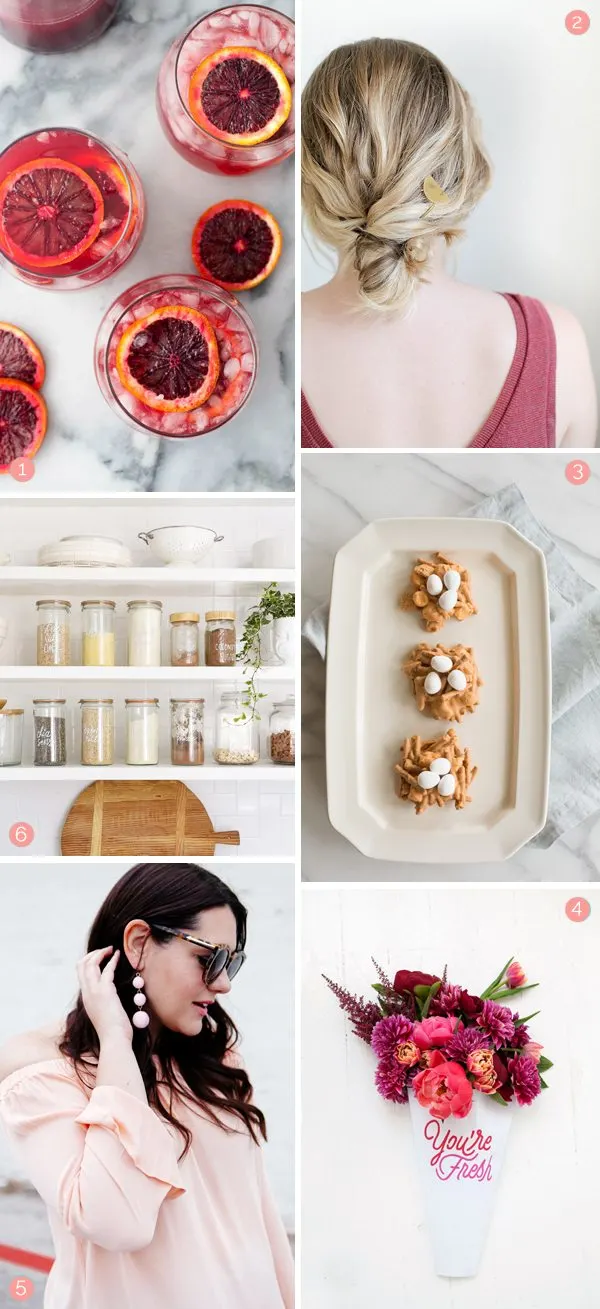 We have a tiny girl who has been pretty miserable this week, so I'm really looking forward to the weekend and hopefully a bit of time to unwind. (You can't blame the one year old teething and running incessant fevers, but it does make the week feel a lot longer!) We don't have much on our agenda this weekend, which feels really nice, so we might start getting organized for the next batch of renovation projects we want to tackle around the house. (Ugly ugly ugly kitchen, I'm gunning for you!) Other than that I found myself loving all the prettiest spring-inspired things this week. Tomorrow we're expecting wind chills as low as -16° (no, that's not a typo) so I can use all the spring I can get right now. Here's wishing you a great weekend! xoxo
1 | Sugar & Cloth's Blood Orange Sangria
We've been on such a blood orange kick this winter and, naturally, I'm a sangria fan from way back. This is the perfect, easy sangria recipe for entertaining this week. And that color is just gorgeous!
2 | Say Yes's DIY Banana Bun
I love this pretty, easy look for an alternative to my go-to top knot on days when I just can't be bothered to do my hair like a proper adult. (Read: Every damn day.)
3 | Julie's Edible Egg Nests
Easter practically begs for cute on-theme desserts, and these sweet little edible egg nests are absolutely adorable. I love that these are really easy to make, too, and perfect for little helpers to pitch in a hand!
4 | DesignLoveFest's Printable Bouquet Wraps
I can't think of any occasion where giving flowers isn't a great option. I love giving and receiving flowers! These pretty printable bouquet wraps make a simple bunch of flowers even more special.
5 | Kendi's Pretty in Pink Look
Kendi has long been my favorite fashion blogger. I'm crazy about her style and love the pieces she pulls together. This pretty pink look for spring is really lovely and it's also giving me major bag envy.
6 | The Open Shelving in Elsie's Kitchen
All of Elsie's kitchen makeover is pretty great (I love all that white and brass), but I particularly love the open shelving. These great glass jars holding pantry staples are my favorite detail. (I do something similar!)