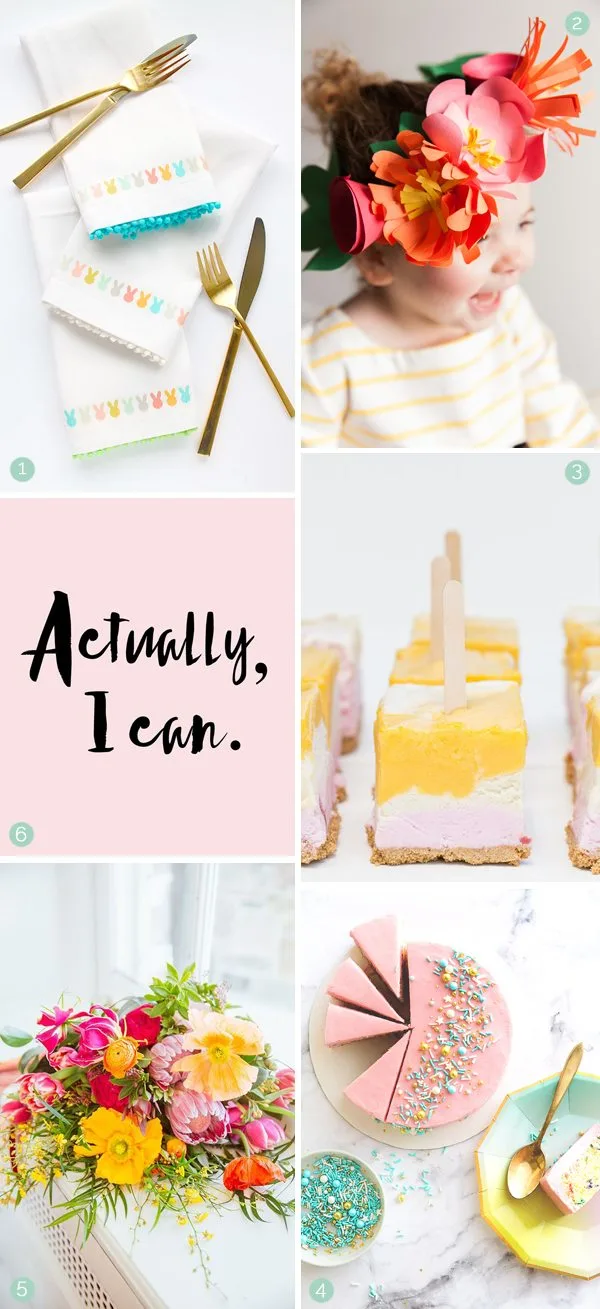 Well, friends, tomorrow is my birthday! And is the case at least 50% of the time, it's supposed to be cold and possibly even snowy tomorrow. (The other 50% of the time it's 70 and feels like a heat wave. Ahhhh, April in upstate New York!) So while I'm anticipating a birthday that feels very little like spring at all and should be rather gray, I'm channeling all of the bright, happy spring-like things today in the run up to Easter in a couple weeks. From fun Easter crafts to bold florals to pretty pastel cakes, these are the things that caught my eye this week.
1 | Tan's DIY bunny napkins
These cute bunny napkins are genius! Believe it or not, they're actually a downloadable iron-on transfer to help make craft time a cinch! (You could even whip these up last second before your Easter brunch guests arrive.) The pom pom trim is just the icing on the cake.
2 | DIY paper flower crowns
I've never hated a paper flower crown in my life. Place said paper flower crown on a cute toddler's head and we've got next level obsession going on. This tutorial is pretty easy to follow and now I'm all fired up to make Em a flower crown for Easter this year!
3 | Eden's layered ice cream pops
In short, ice cream is my love language. These sweet little layered ice cream pops are so pretty and would be as big of a hit with the littlest people as they are with the big ones.
4 | Mini sprinkles cake
Speaking of sweets and treats, this mini sprinkles cake all decked out in Easter pastels is just too pretty for words. It would obviously also make a great birthday cake, but we all know by now that my personal birthday cake is all worked out already. Thanks, Mom!
5 | Cuban inspired tropical flowers
Flowers are a must for me basically whenever and wherever. I like to keep a big vase on the dining room table at all times. While mine are never this fancy, I'm feeling inspired by these bright tropical blooms this week!
6 | Laurel's 'Actually, I can' free printable
Laurel rounded up a bunch of cool, free fonts and in addition she created this free art print download that has just the right kind of positive affirmation that I live for these days.