This festive and easy chocolate bark recipe uses your favorite Easter candy to create a sweet, seasonal treat that's almost too pretty to eat! Leave a few pieces for the Easter bunny or make chocolate bark with your leftover Easter candy.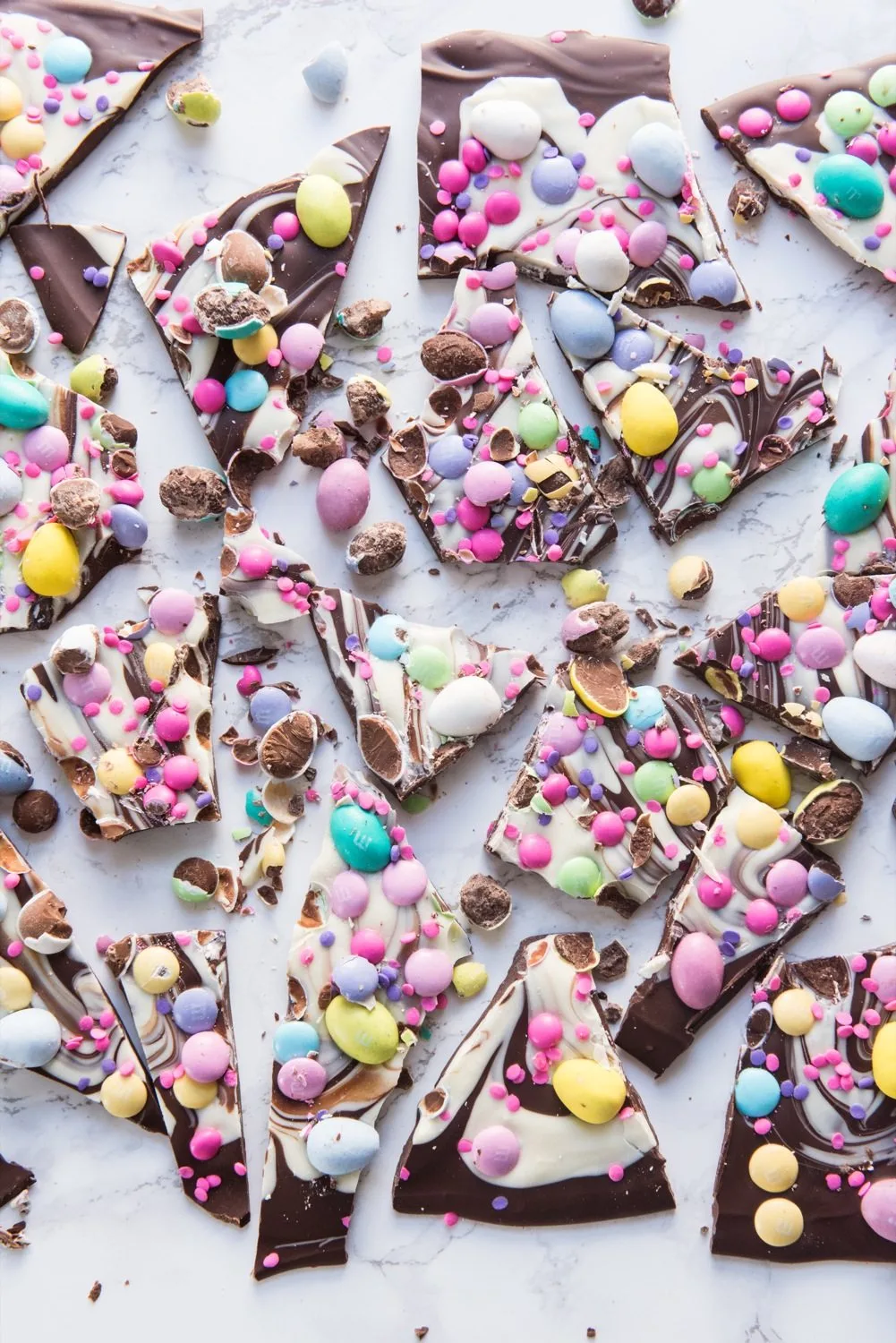 When I started making chocolate bark (first Halloween candy bark and then Christmas chocolate bark), I was pretty sure I'd started something I wasn't going to be able quit. Fast forward a few months, dump bags of my favorite Cadbury Mini Eggs on every store shelf and, well, I was right! This, friends, is Easter candy chocolate bark.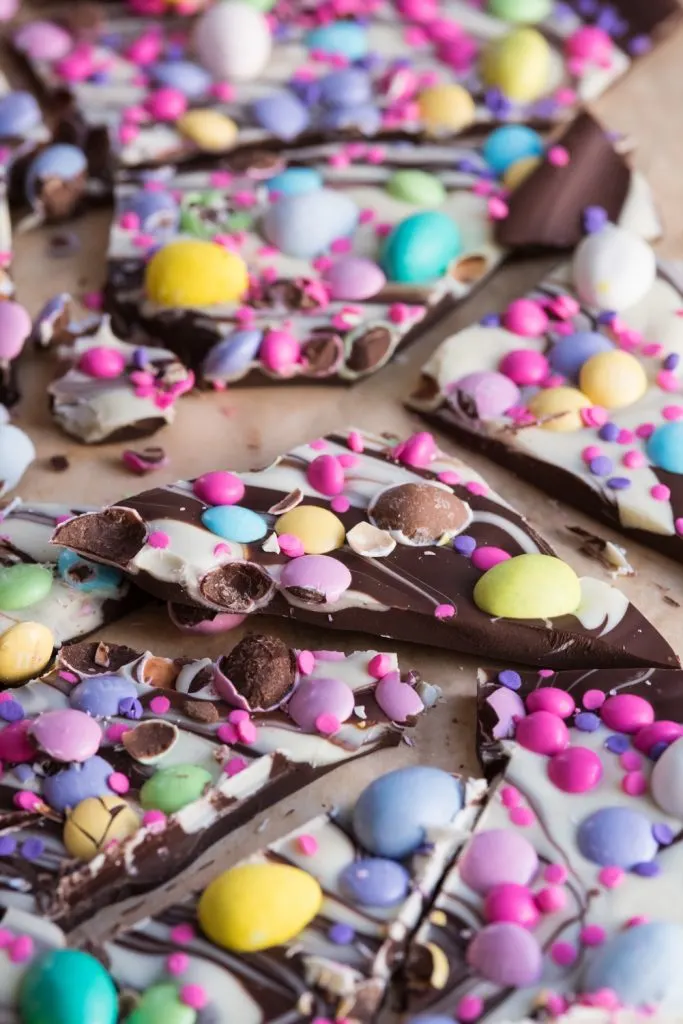 To Make Chocolate Bark, You Will Need:
You can make this Easter candy chocolate bark with your personal favorite Easter candy, sprinkles, M&Ms and whatever other Easter colored edible bits you heart feels compelled to use. I included an exact measurement of each of the candies I chose in the recipe card below, but the beauty of chocolate bark is how easily it can be switched up to suit your own taste.
Milk chocolate morsels
White chocolate morsels
Cadbury Mini Eggs
Easter M&Ms
M&M eggs
Sprinkles
Chocolate melts
Baking sheet
Parchment paper
Rubber spatula
Double boiler or microwave safe bowl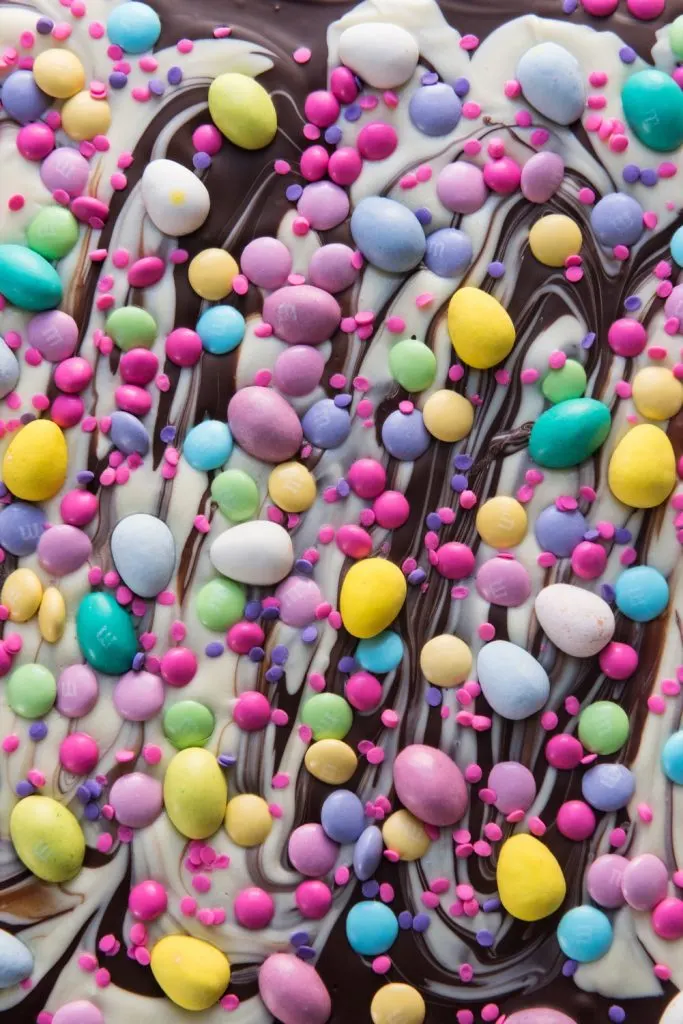 How to Make Chocolate Bark
When making chocolate bark I like to first arrange all my chocolate bark toppings into individual bowls so it's easier to grab them when it's time to assemble the bark. If you're making chocolate bark on the fly, even just one or two types of toppings works!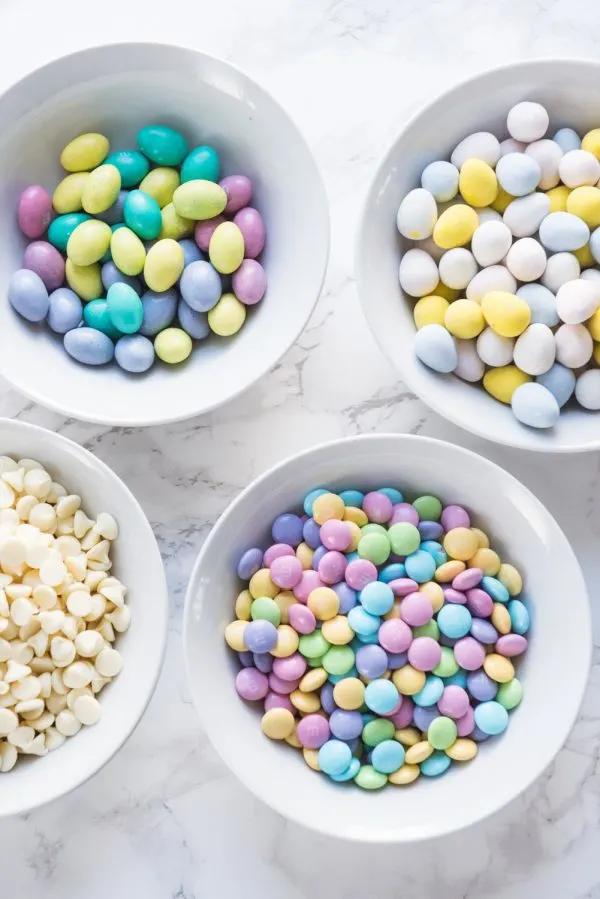 Of course to make chocolate bark you will need to melt chocolate. If you want you can melt your chocolate in a microwave in a heat safe bowl. We live in a household sans microwave so I melt mine over a double boiler, which I find just as easy. I've included instructions for how to create a double boiler at home below.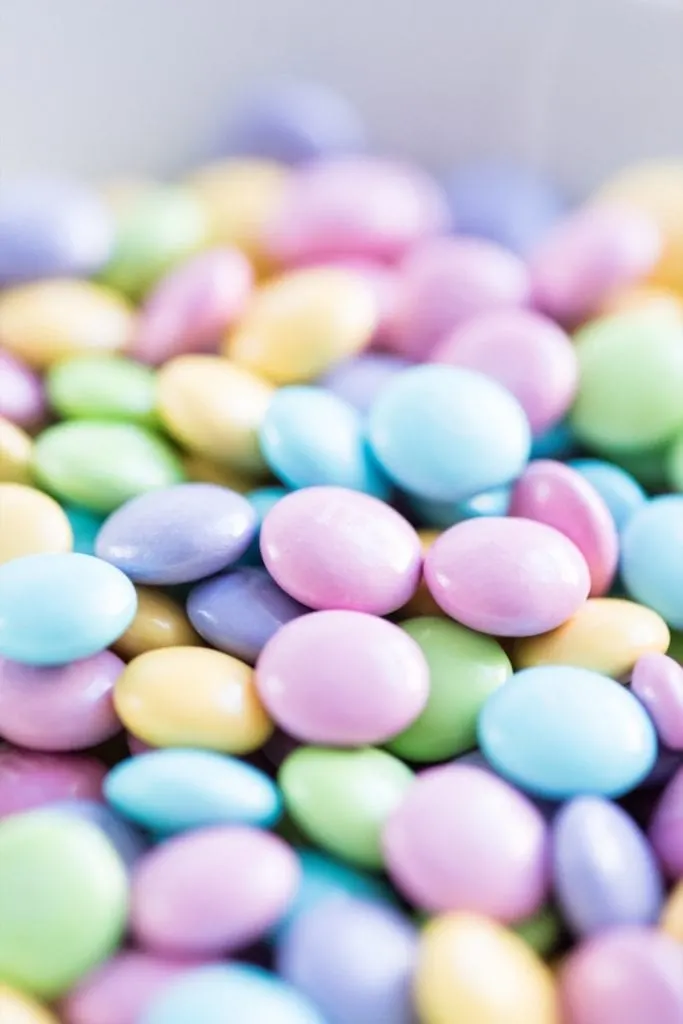 Once your chocolate is melted, you'll spread it out onto a baking sheet lined with parchment paper. I like to use a rubber spatula to do this. If you use a second variety of chocolate (here I also used white chocolate for my chocolate bark) you'll then pour it on top and use something like a bamboo skewer or butter knife to drag and swirl the second type of chocolate through the first.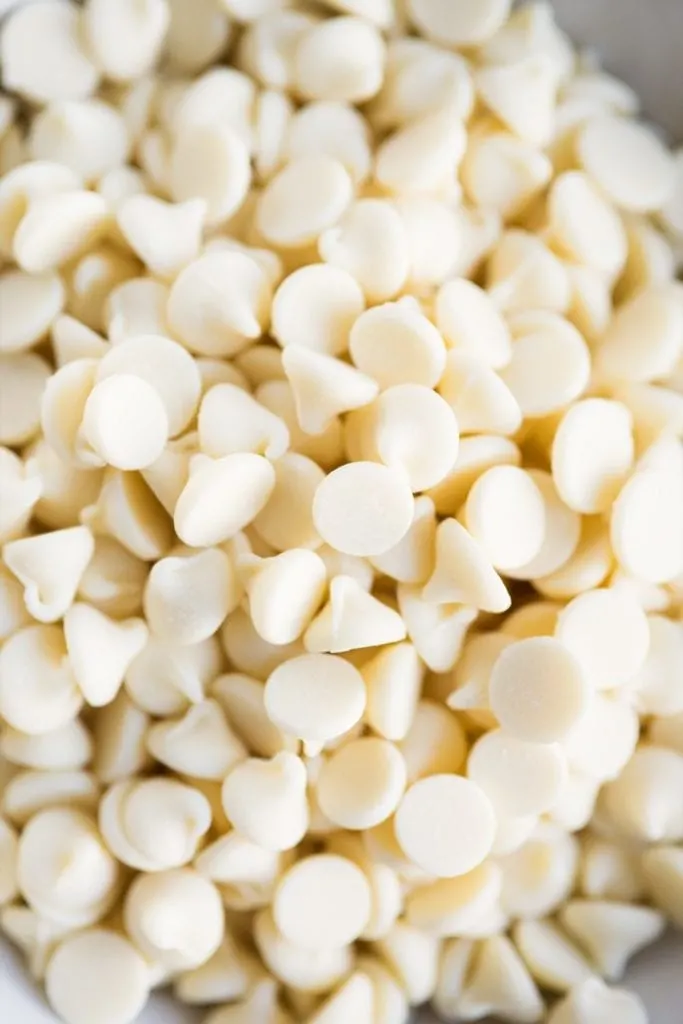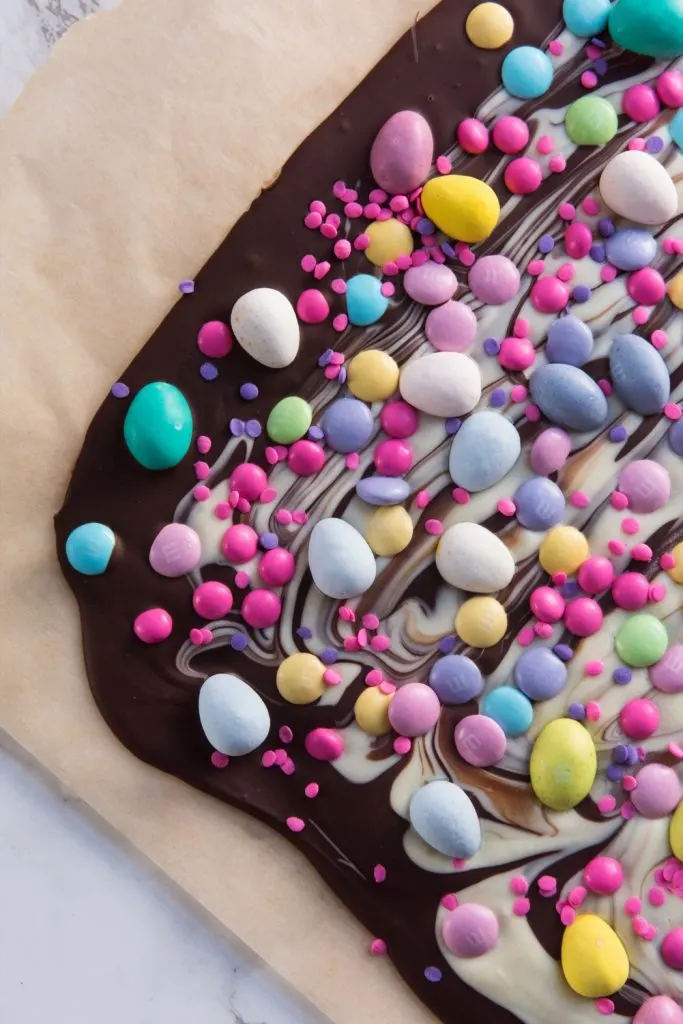 Then you just sprinkle on the toppings! Finally, you refrigerate everything until firm and break up into snack sized chunks of chocolate bark!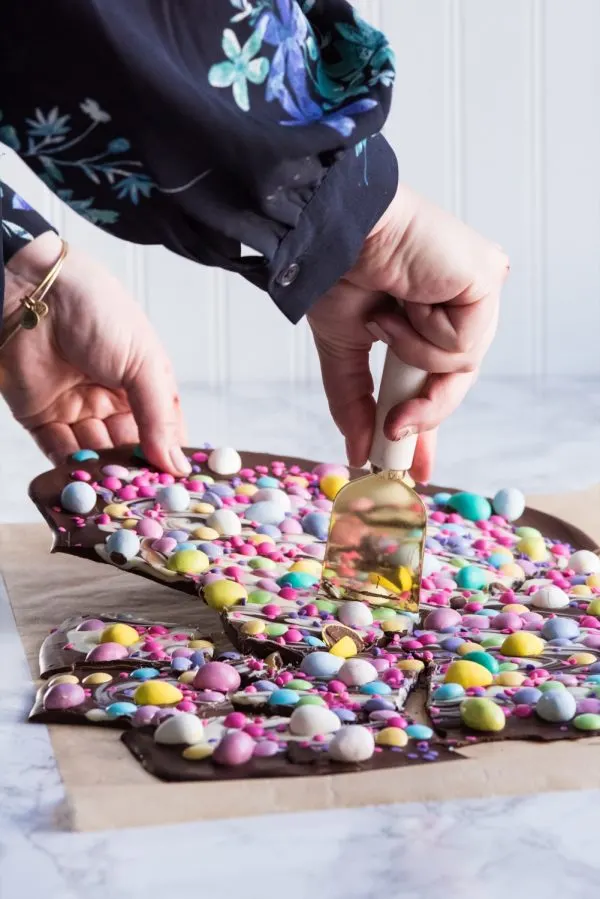 How to Make a Double Boiler
It is easy to make a double boiler at home so you can use the double boiler method for things like melting chocolate for chocolate bark. This allows the chocolate to melt smoothly and evenly without burning!
Place 1 to 2 inches of water in the bottom of a pon
Place a heat safe glass bowl (something like a Pyrex bowl) over top
Make sure the bottom of the glass bowl does not touch the water
Turn the heat to medium so the water will heat, releasing steam that will be trapped between the pot and the bowl, heating the bowl
Pour in your ingredients (in this case chocolate morsels) and whisk as they're melting until smooth
Carefully remove the bowl from the pot when done to prevent burning yourself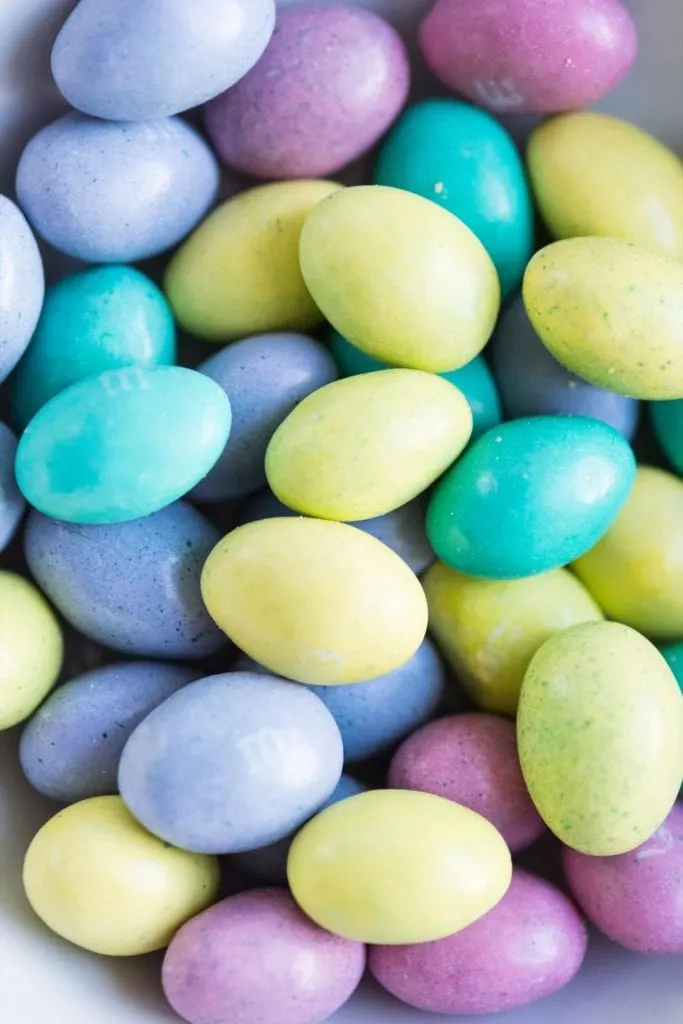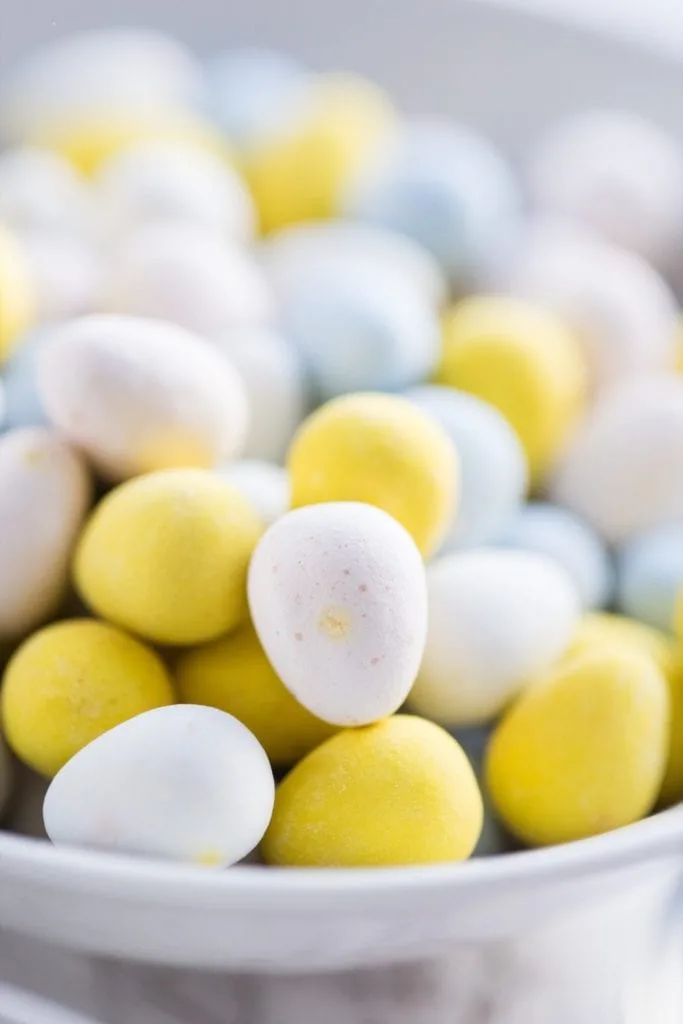 How to Melt Chocolate in the Microwave
If you have a microwave and prefer to go the microwave route for melting your chocolate, the process is similarly simple!
Transfer your chocolate morsels to a microwave safe bowl
Microwave for one minute then carefully remove the bowl and stir
Microwave for an additional 30 second then remove and stir again
Repeat this process in 30 second intervals, stirring in between until everything is completely smooth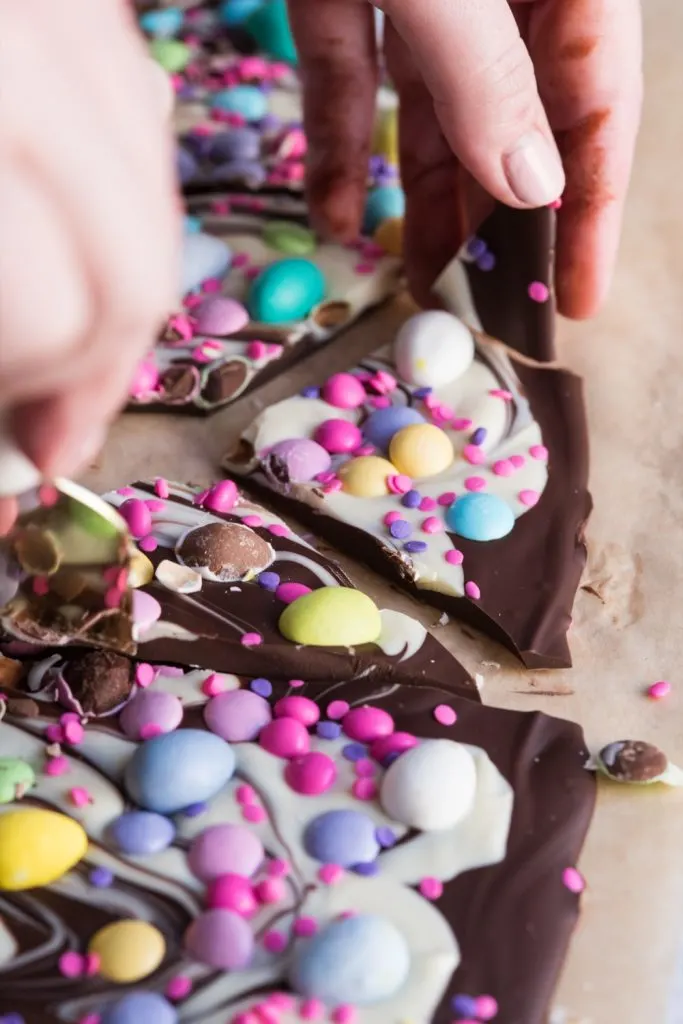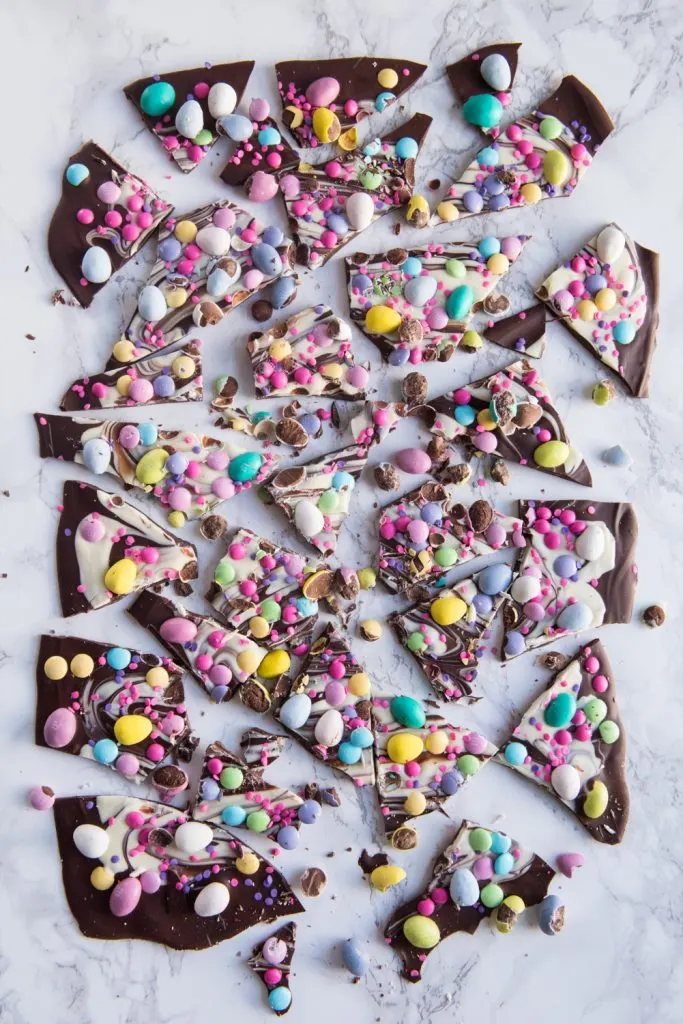 How Long Will Chocolate Bark Last
I prefer to store chocolate bark in an airtight container in the fridge, where it will easily last for a couple of weeks. The exception to that may be if you use things like pretzels or cookies in your chocolate bark, as those toppings may become stale after five days or so. Strictly speaking, you don't need to store chocolate bark in the fridge, but depending on your climate and the time of the year, it will store best in a chilled environment where it isn't going to melt or get sticky.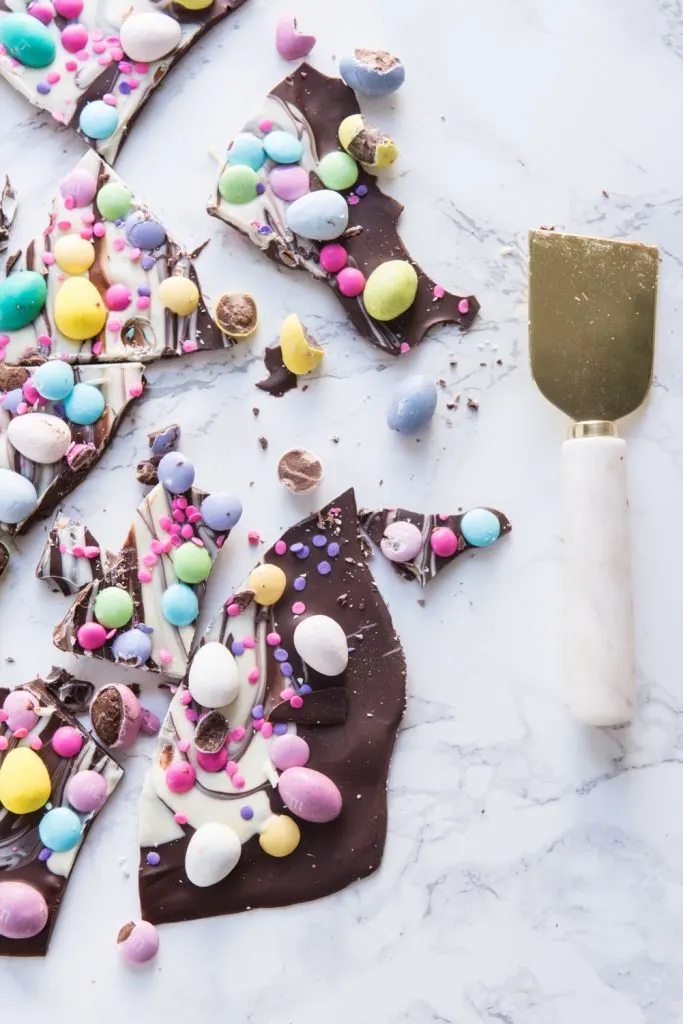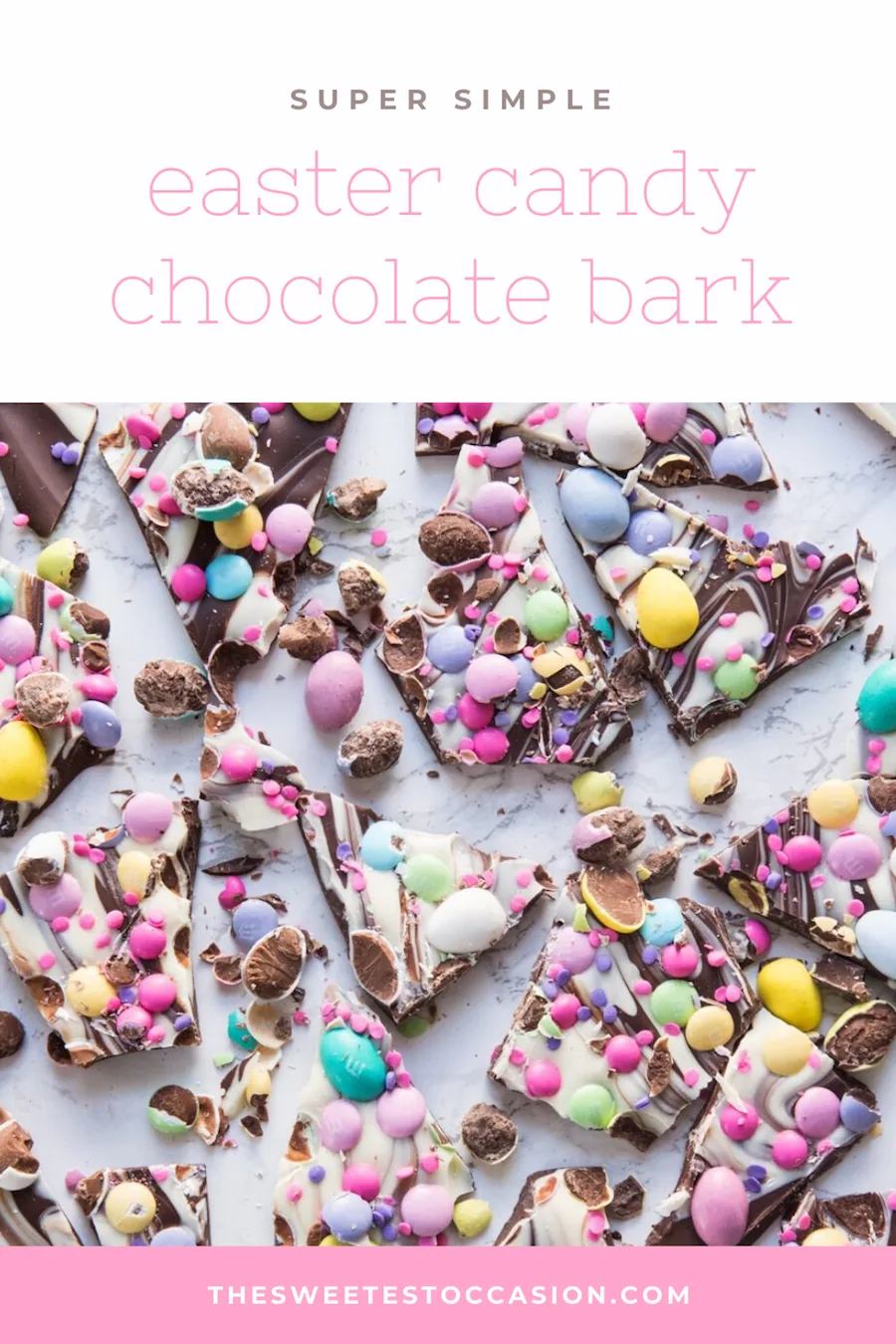 [Recipe + art direction by Cyd Converse | Photos by Alice G. Patterson.]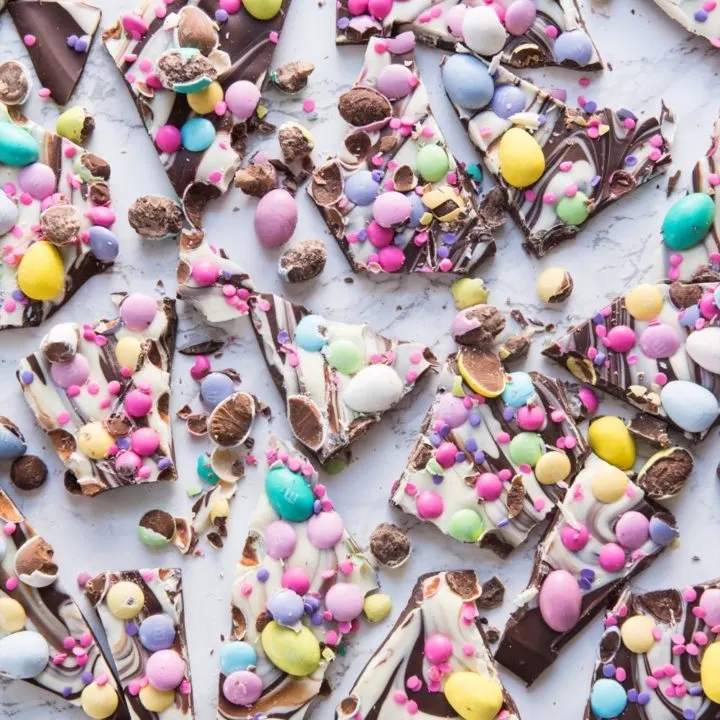 Easter Candy Bark
Ingredients
4 cups milk chocolate morsels
2 cups white chocolate morsels
1/2 cup Cadbury Mini Eggs
1/2 cup Easter M&Ms
1/2 cup M&M eggs
1/4 cup sprinkles
1/4 cup chocolate melts
Instructions
Line a baking sheet with parchment paper and set aside.
Carefully melt each of the chocolates over separate double boilers, mixing often with a rubber spatula until fully melted and smooth. Alternately, you can microwave in a heat seat bowl, microwaving in 15 – 20 second intervals and stirring in between to ensure even heating.
Once fully melted, carefully pour melted chocolate onto the center of your baking sheet, then use a rubber spatula to gently smooth out until approximately 1/4" thick.
Pour the white chocolate on top of the milk chocolate in a bit of a zig zag pattern. Take a bamboo skewer (or similar) and use the tip to swirl the two chocolates together.
Then one by one, sprinkle each of your Easter candy and sprinkle varieties over the chocolate before it begins to harden.
Transfer the baking sheet to the fridge and chill for at least one hour or, ideally, overnight. Remove from the fridge and use the back of a spoon or similar to smash the bark into pieces.