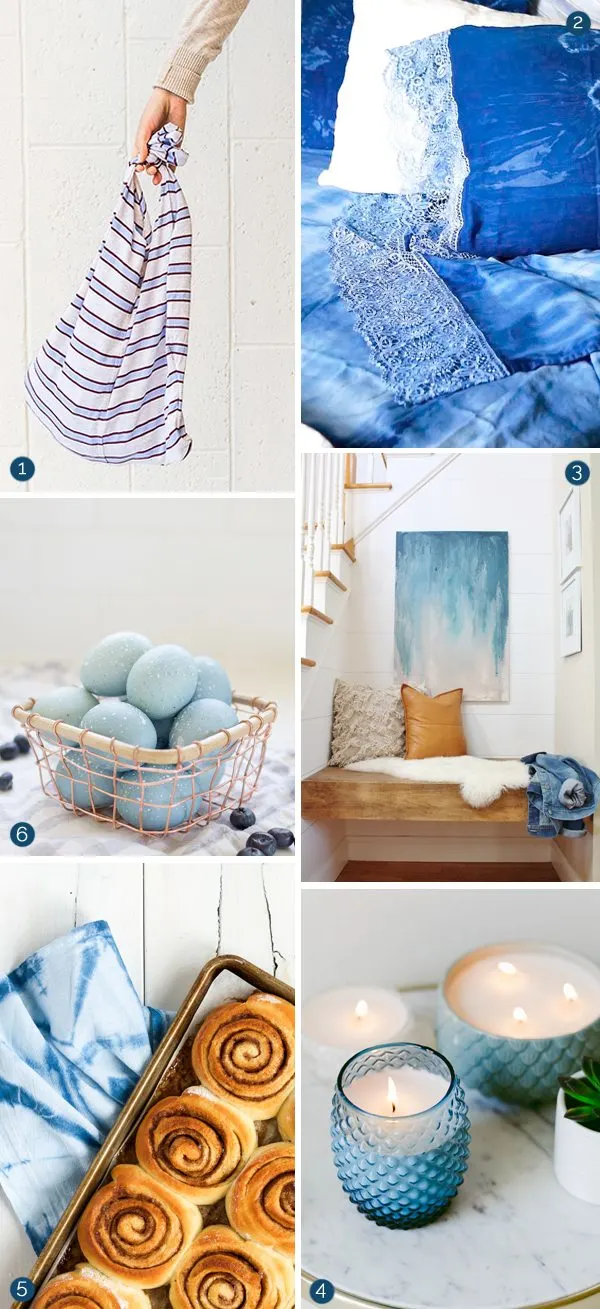 Is anyone else really really glad it's Friday? I hate to be that person living for the weekend all the time, but this week has been so dark and rainy and gray and drizzly that it has been all I can do to stay awake the last few days, let alone feel motivated on any real level. We are finally expecting a bit of sunshine over the weekend and I need it so much more than I can even tell you. I'm also glad to have a pretty quiet weekend ahead of us for the first time in a while, which always feels nice. There's really nothing I love best than a weekend with no plans and very few obligations. In the meantime, here are a few of the things I stumbled upon and loved this week. Apparently I was feeling blue this week in more way than one? Hahaha! Happy weekend, friends! xoxo
1 | Britt's upcycled grocery totes
I love these t-shirts upcycled into cool, patterned grocery totes. What a genius idea! (But then again, most of Brittni's are!)
2 | DIY indigo dyed linens
I was combing through the archives this week and stumbled upon these DIY indigo dyed linens that we posted a few years ago. This is still one of my favorite projects to date!
3 | DIY floating bench
I love a great entryway or foyer, and this DIY floating bench would be perfect for either or even a mudroom. A little place for sitting down to put on your rain boots!
4 | How to make soy candles
Making candles is so much fun, although it's been a long time since I've made any. This post and these pretty glass vessels makes me want to make some again soon!
5 | Melissa's homemade cinnamon rolls
Cold, drizzly spring mornings definitely call for homemade cinnamon rolls. With any luck our weekend is not drizzly, but I'm planning to make these anyway!
6 | Leah's DIY blueberry dyed Easter eggs
I'm always fascinated by natural dyes and these blueberry dyed Easter eggs are so insanely pretty!