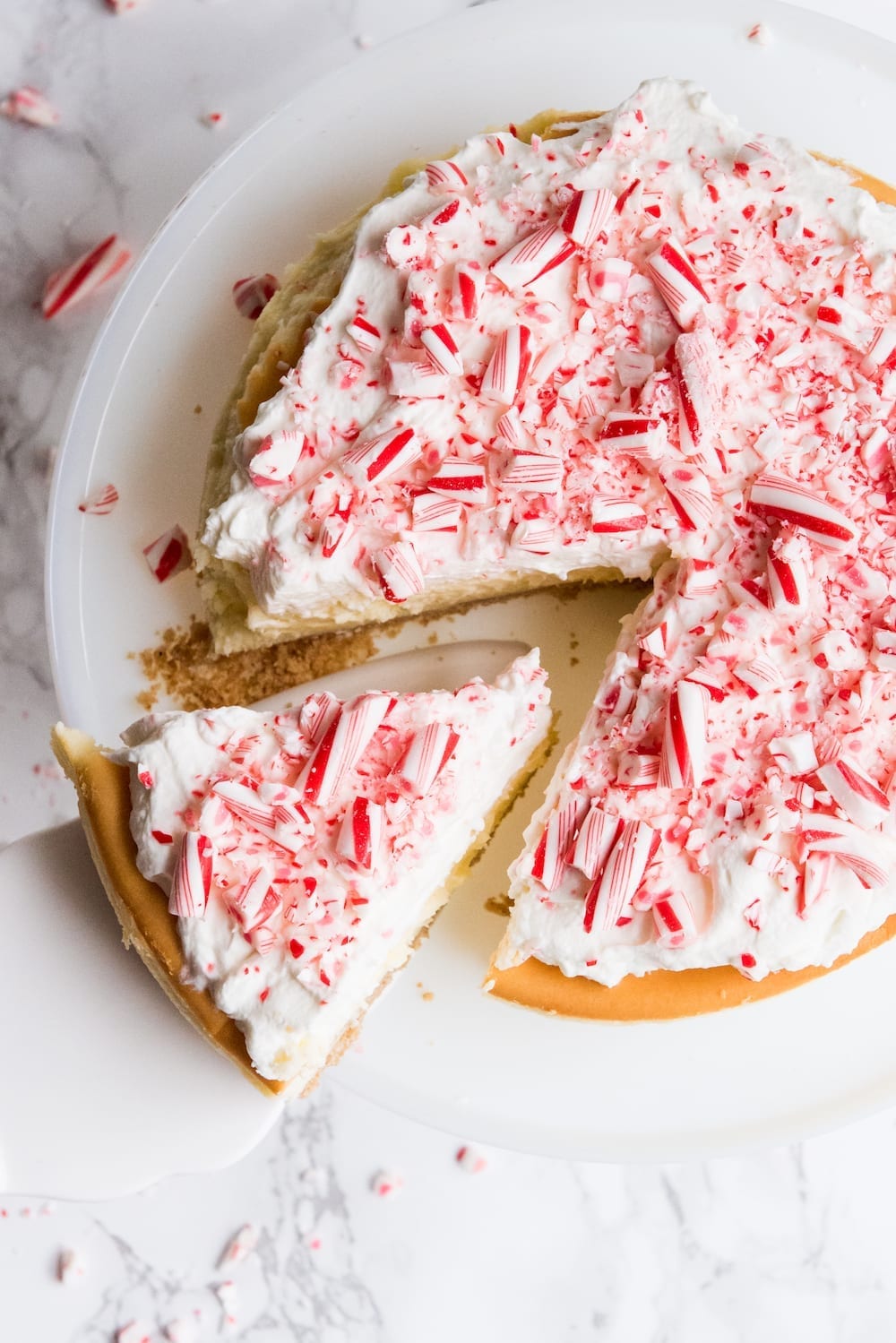 I am a huge fan of a classic cheesecake recipe. Homemade cheesecake is actually one of my favorite desserts to bake! But we aren't doing that today. Because the holidays are upon us and ain't nobody got time to tie up the oven baking cheesecake. So instead, I'm sharing the easiest Christmas cheesecake hack!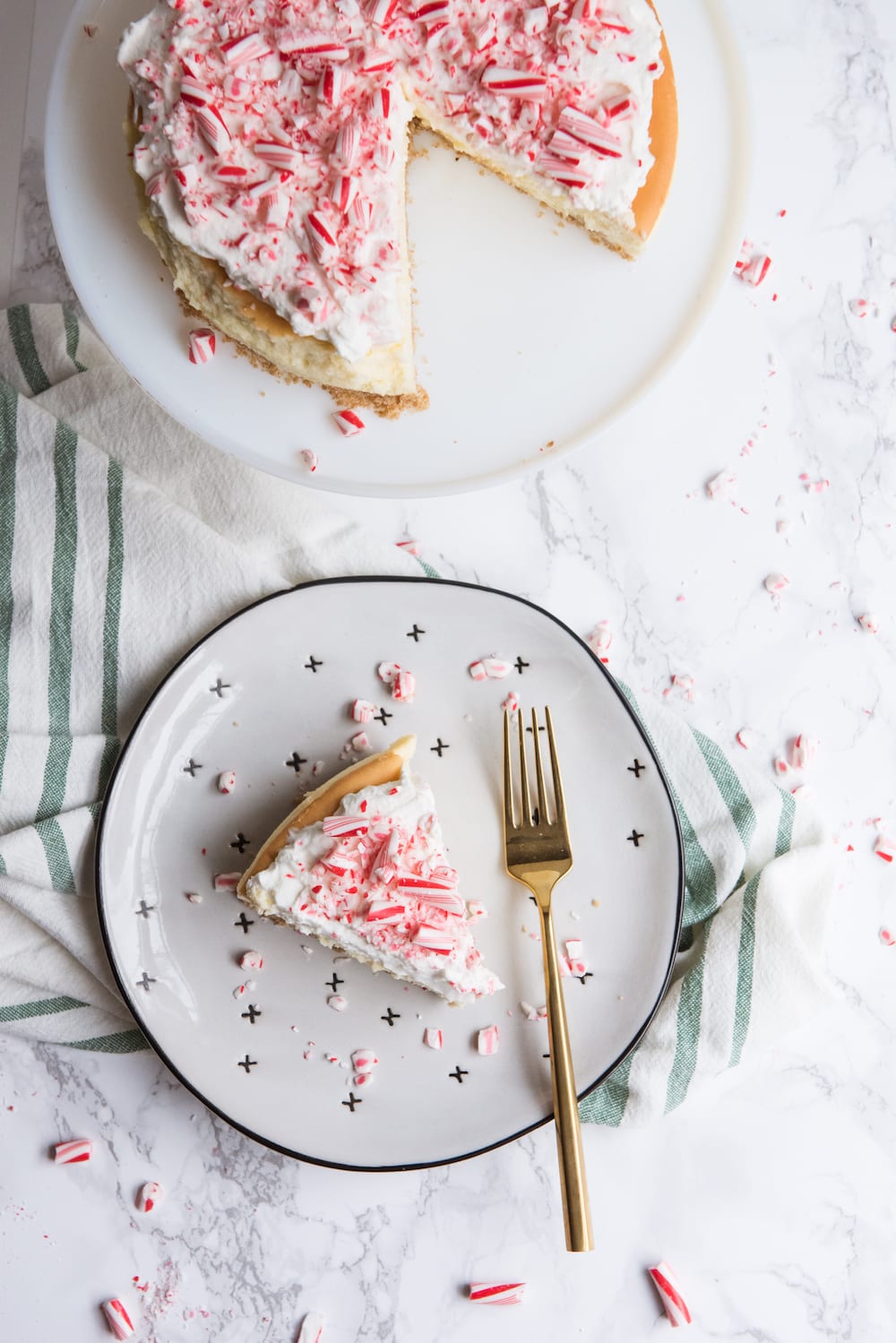 How to Make the Easiest Christmas Cheesecake
For a Christmas cheesecake that your family will love (and that doesn't take hours to make, bake and cool), start with a good store bought cheesecake. You could buy one from a local bakery or pick one up from the freezer section of the grocery store.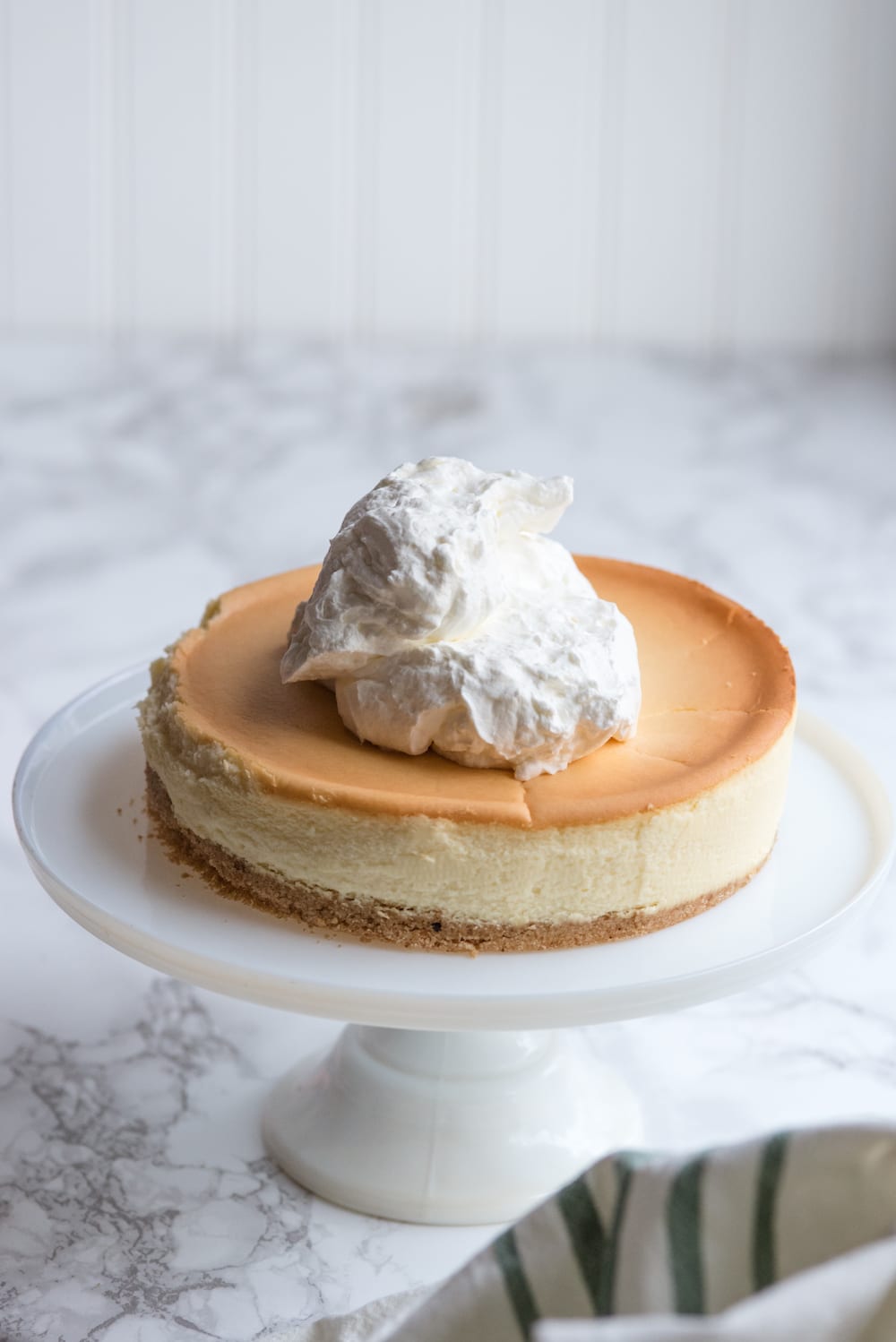 The next step is a good, homemade whipped cream. Making homemade whipped cream is so super simple, so don't let it be intimidating! I've included my homemade whipped cream recipe below.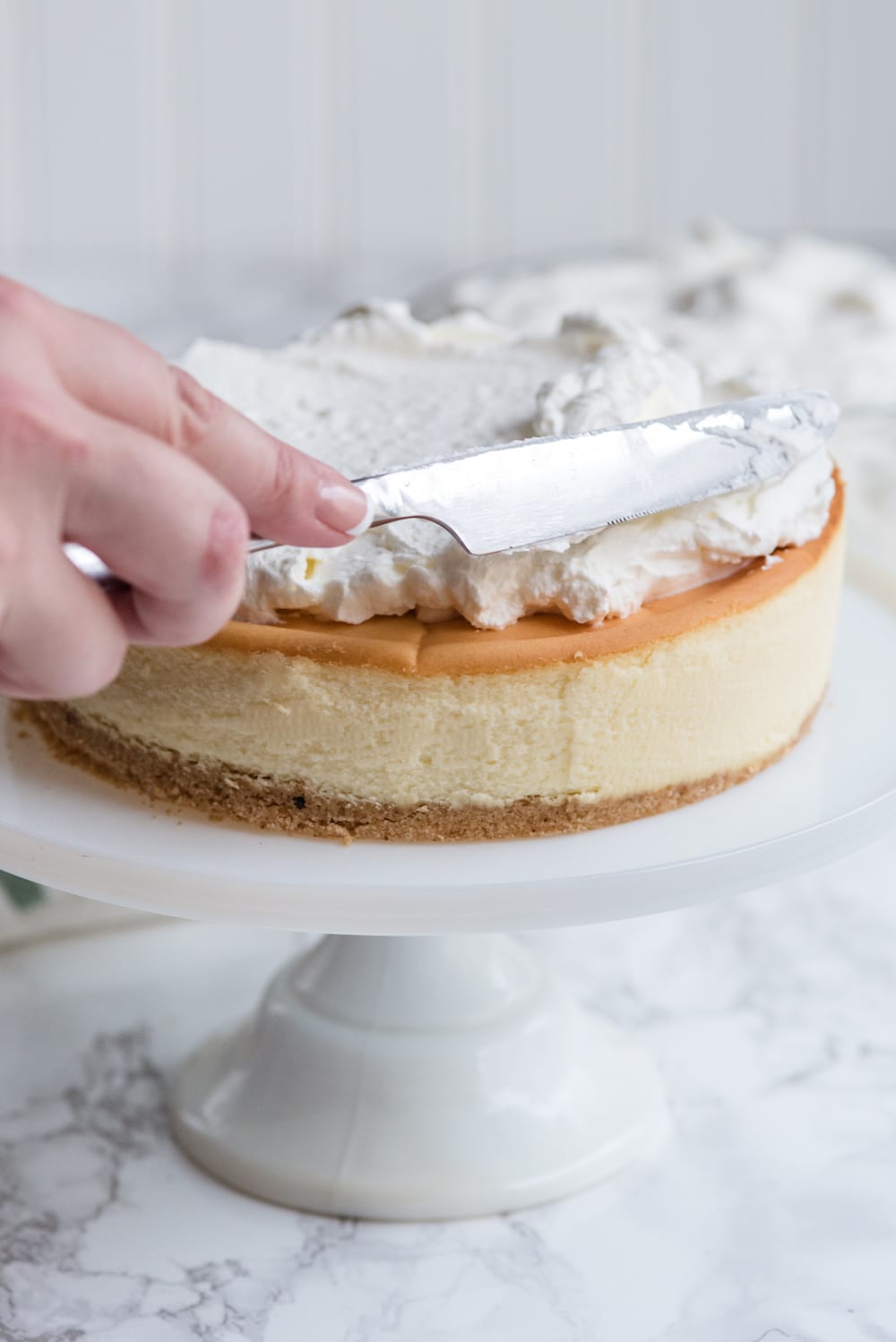 I think there is definitely a time and place for the whipped topping that comes in the plastic tub. This isn't it! Since we're already skipping a lot of the work by starting with a store bought cheesecake, homemade whipped cream is a must.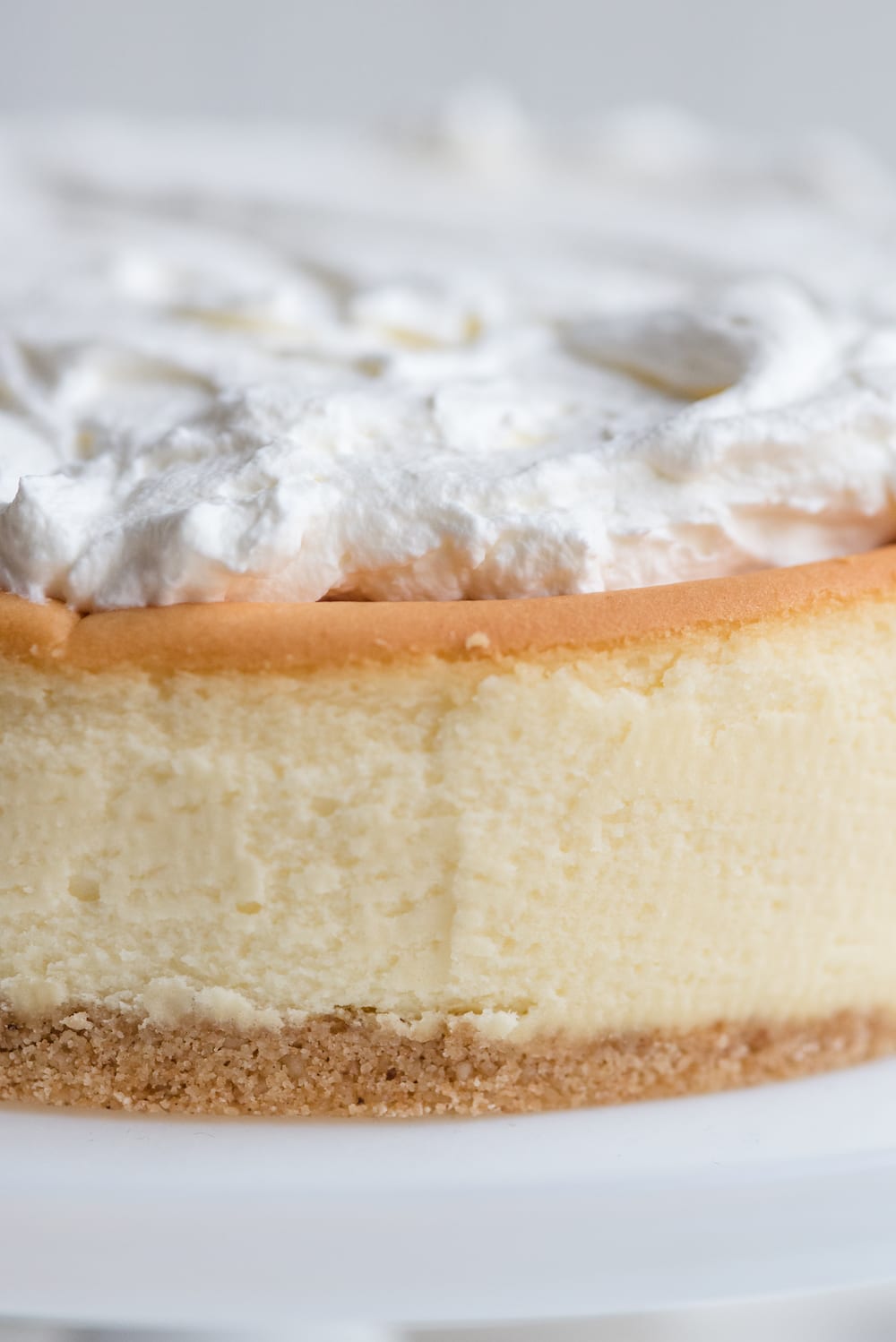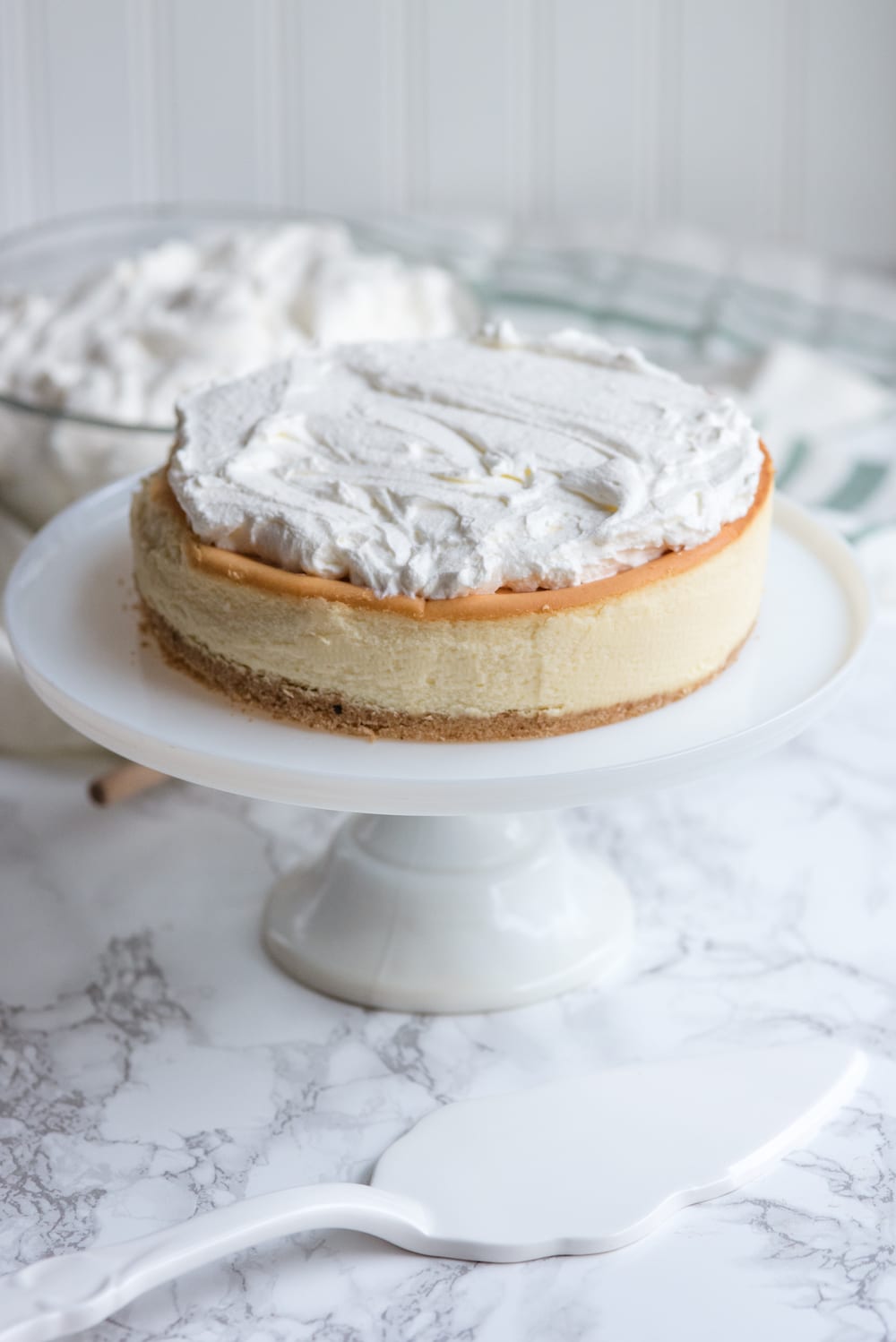 You can pile the whipped cream onto the top of the cheesecake as thick and high as you want. I really don't think you can go wrong with more, especially since we're talking about a Christmas cheesecake here! Add all the whipped cream, friends.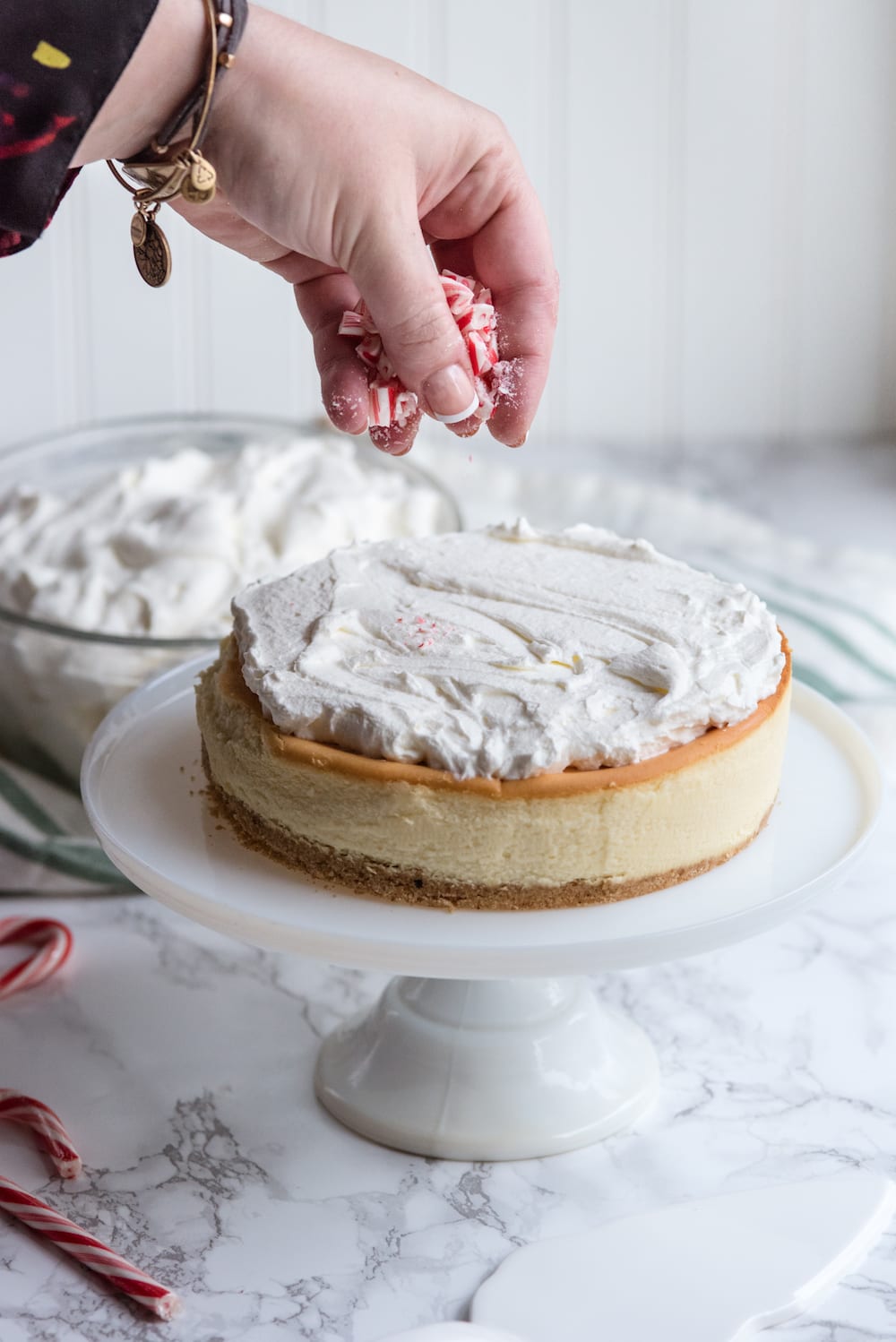 How to Decorate a Cheesecake
I'm pretty sure you're catching on to what we're doing here, but you're going to need a bunch of classic peppermint candy canes. Place them in a plastic bag and smash them up good with a mallet or the back of a heavy spoon.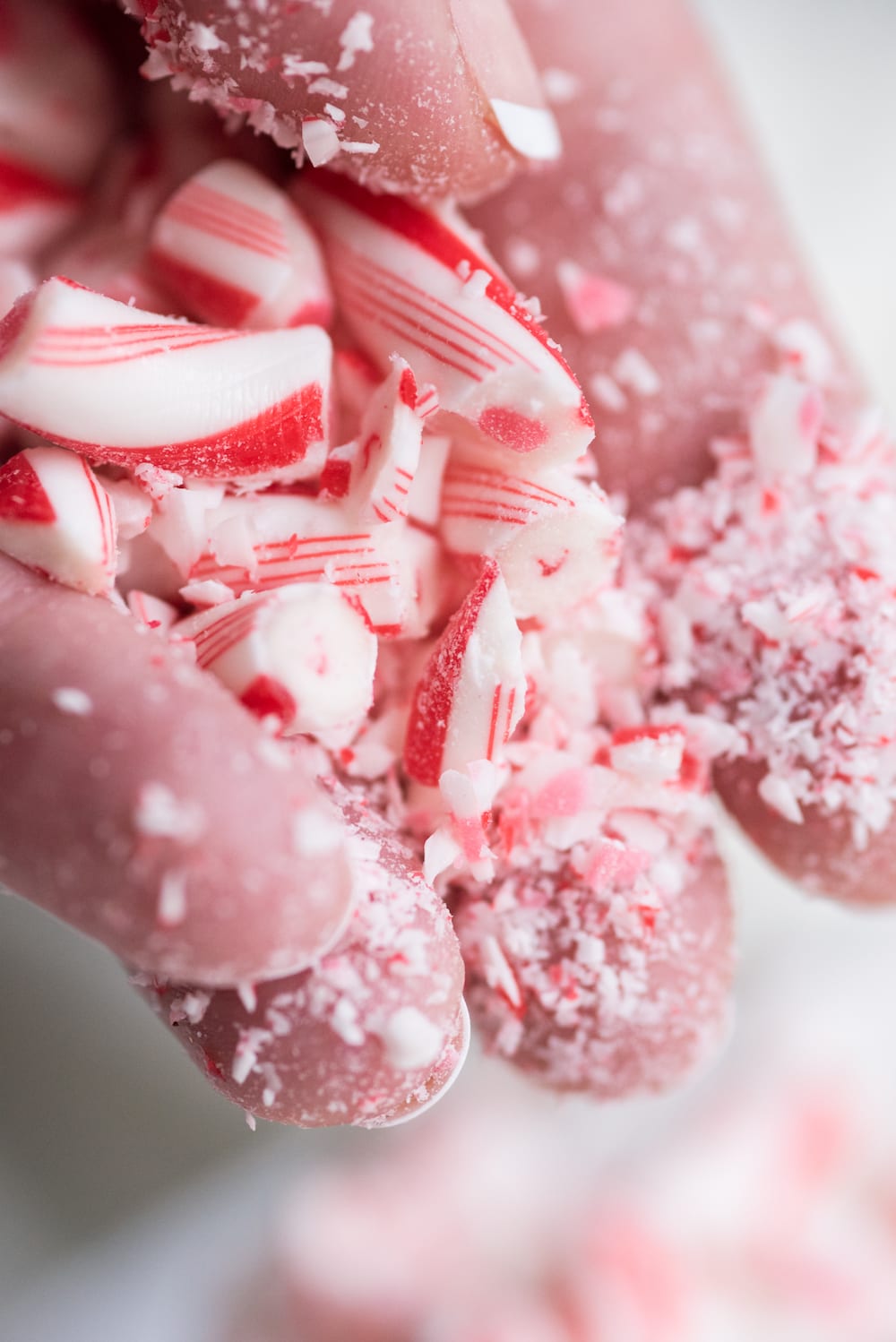 I like to have larger pieces and crushed up pieces that are almost dust-like. It looks so pretty decorating the cheesecake and lends such a festive touch! Then everything gets sprinkled on top – the more the better. (Are you sensing a theme here?)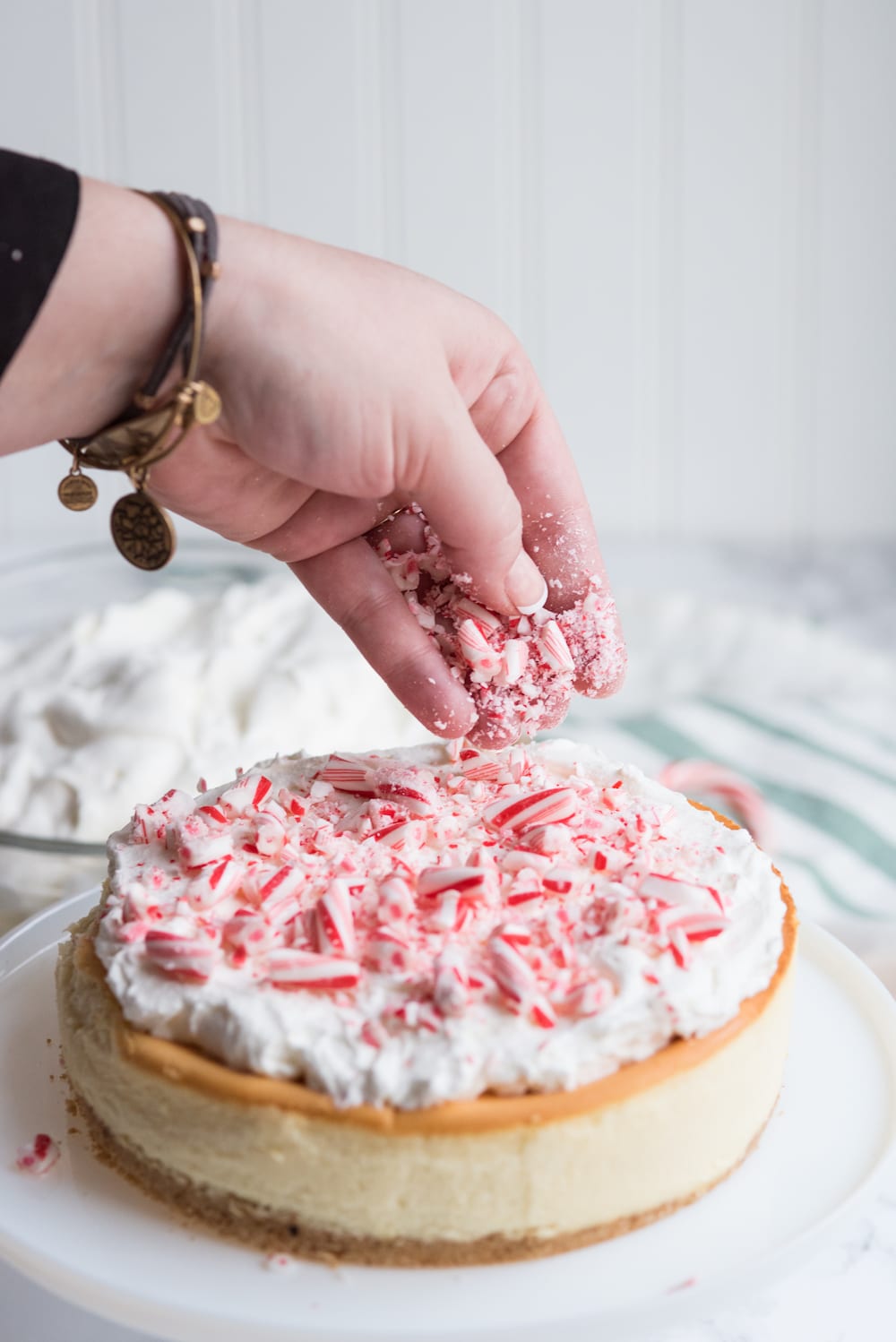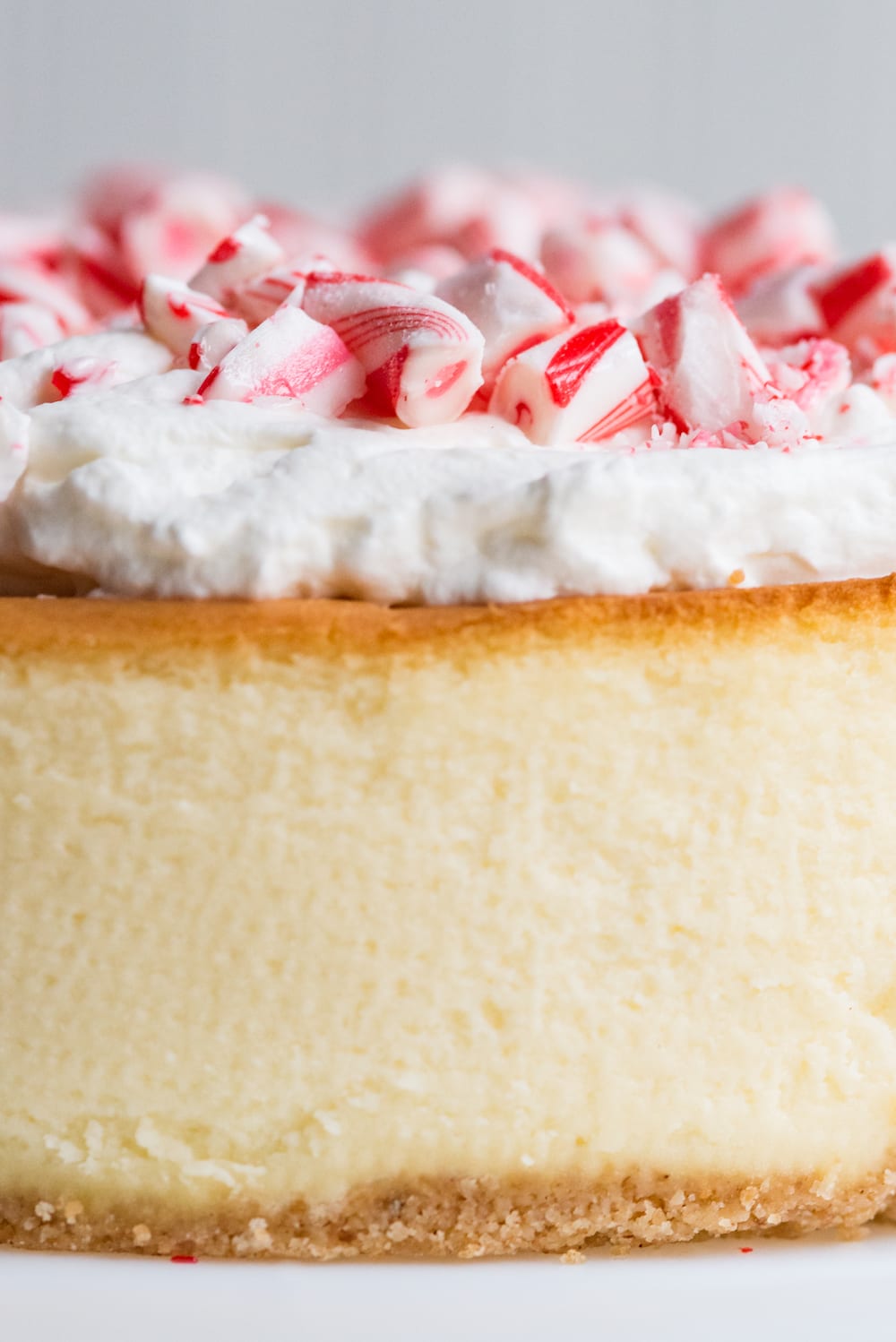 This is such an easy easy Christmas hack. Seriously. From start to finish you can have the prettiest Christmas dessert made in under 15 minutes! Do you have a favorite Christmas cheesecake hack? Leave a comment below and tell me all about it!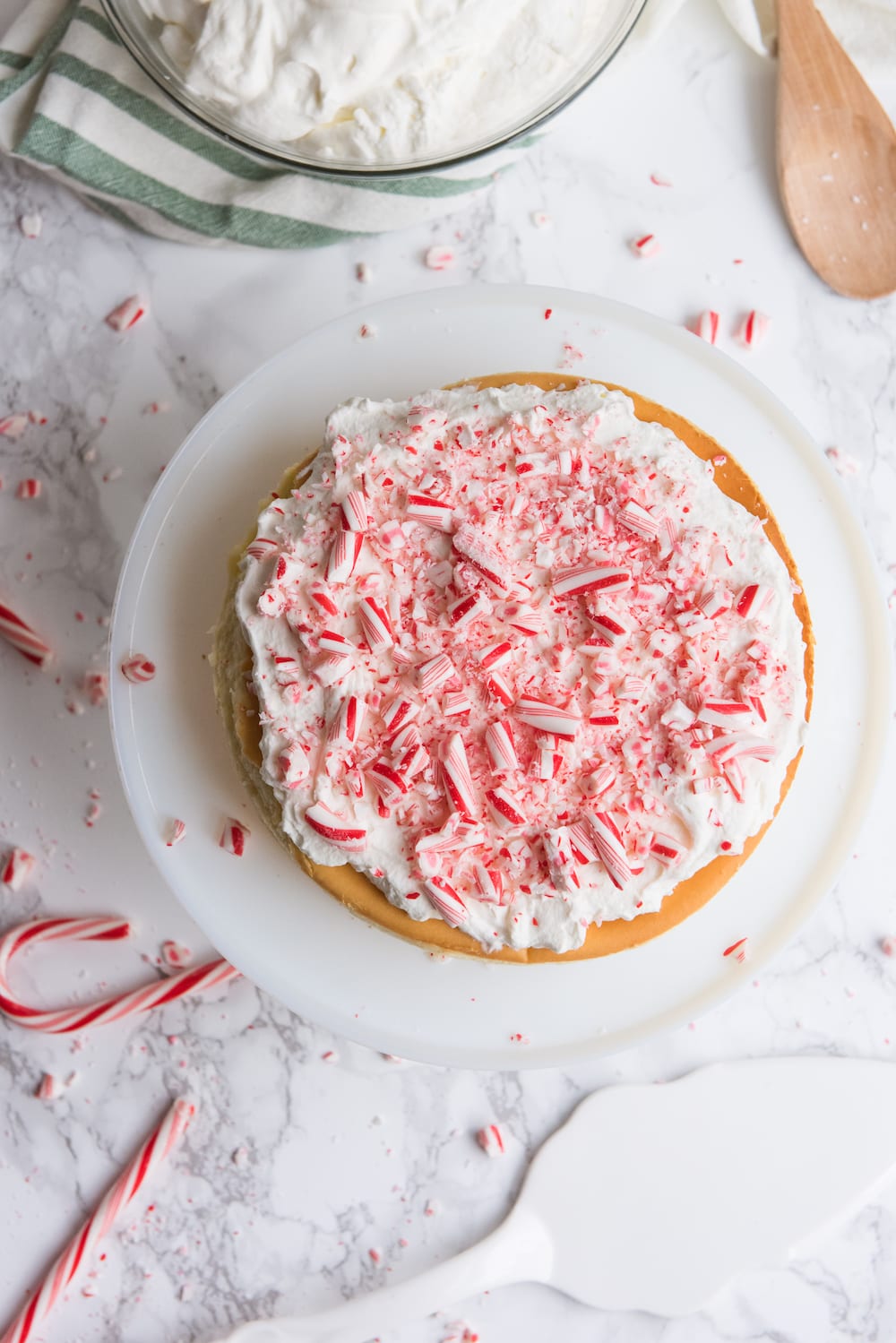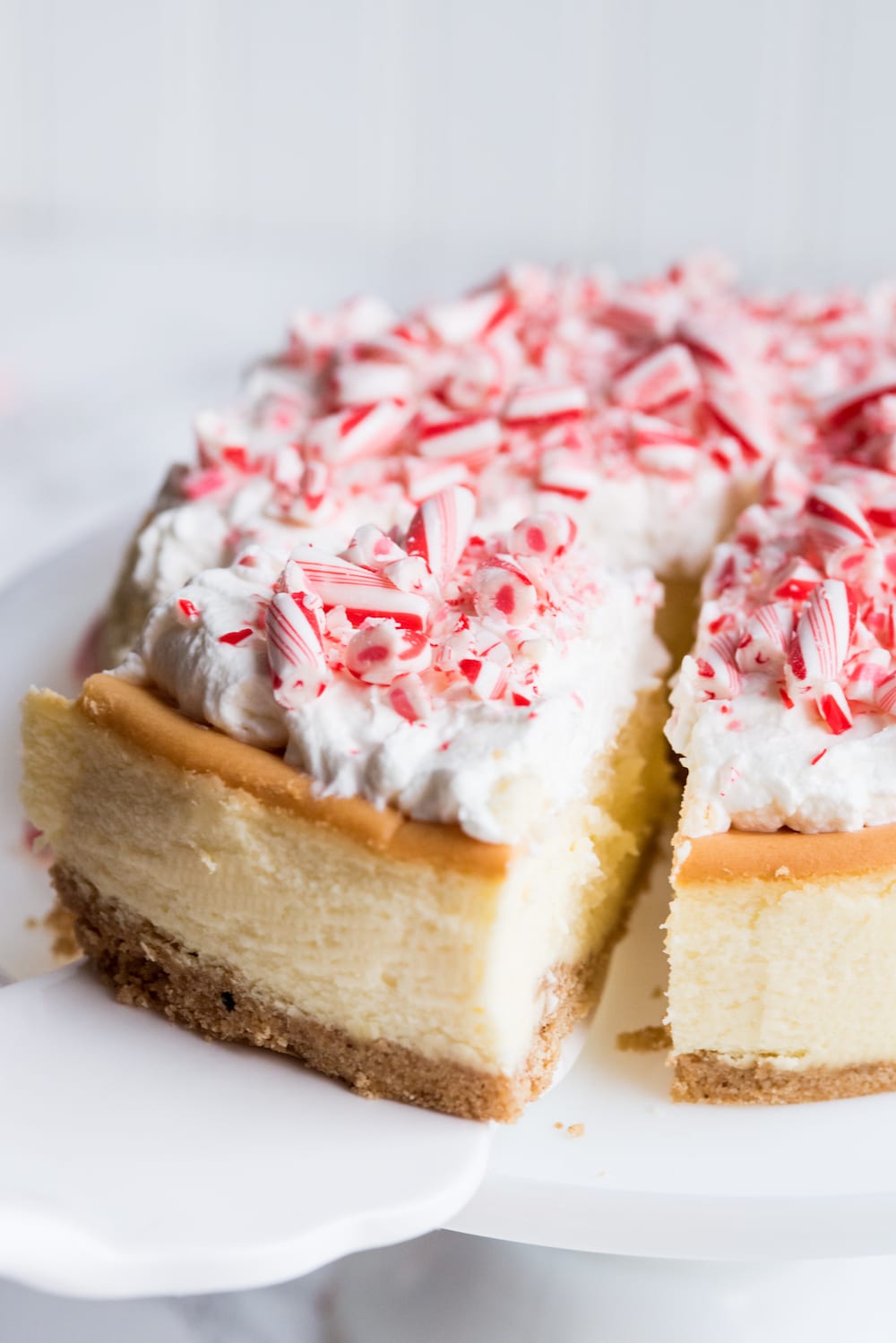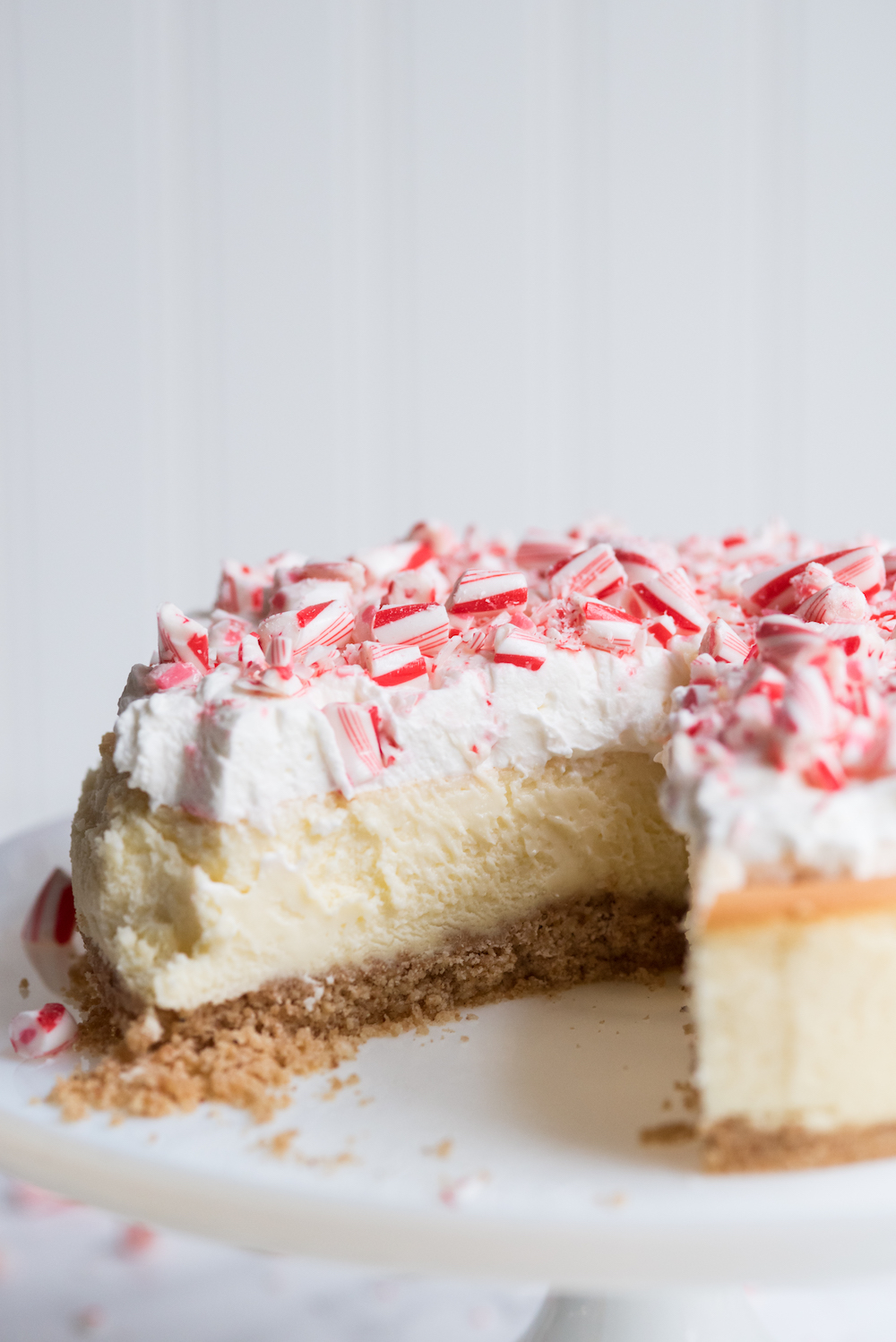 Check Out These Other Peppermint Recipes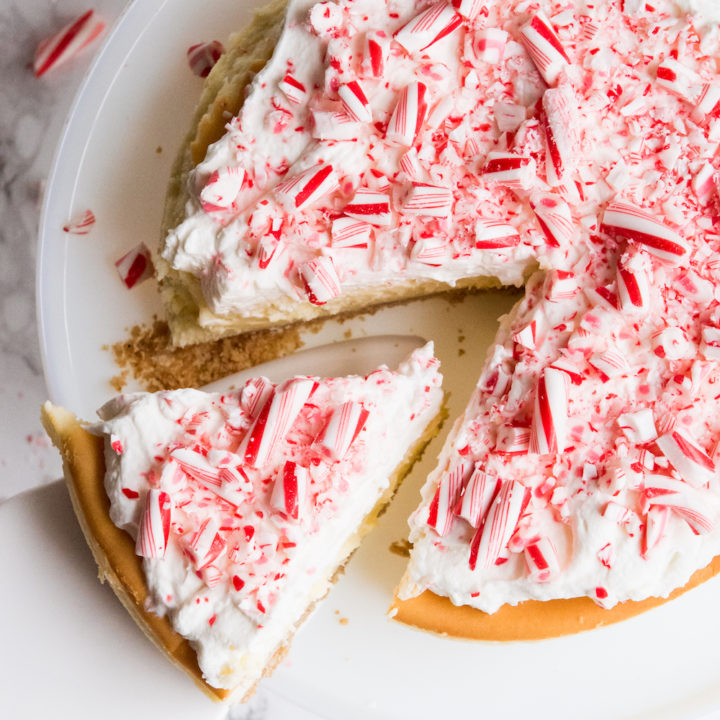 The Easiest Christmas Cheesecake
Yield: 6 servings

Prep Time: 15 minutes

Total Time: 15 minutes

A simple yet festive Christmas cheesecake recipe that can be made in under 15 minutes right before your holiday guests arrive!
Ingredients
1 store bought cheesecake
1 1/2 cups heavy cream
1/2 cup powdered sugar
2 teaspoons vanilla extract
6 candy canes
Instructions
Start with a cheesecake that is cold but not frozen
In the bowl of a stand mixer, or a mixing bowl, combine heavy cream, powdered sugar and vanilla extract
Begin beating at low speed, gradually increasing to high. Continue beating for 3 - 5 minutes or until thick peaks form
Top cheesecake with as much whipped cream as you'd like, using a spatula or knife to spread it evenly over top
Place candy canes in a plastic bag and smash to to break up. Sprinkle candy canes over the top of the whipped cream and serve!
Notes
Cheesecake should be served within an hour of making since the whipped cream will lose some of its thickness over time.
More Favorite Christmas Recipes
[Photos by Alice G. Patterson for The Sweetest Occasion.]